Husband and wife duo Luke Atkins and Veronica Paiva are the new kids on the Australian furniture scene and we're tipping them as the ones to watch!
We recently discovered them when exploring Instagram — a photo of their three-legged stool shot from above, revealing the latte and chocolate wood grain, gave us major heart eyes!
Naturally, we contacted them immediately to tee up a chat.
Related article: The myriad of creativity and colour that is Sage x Clare
Related article: Explore the stunning artisan hand printed textiles by Walter G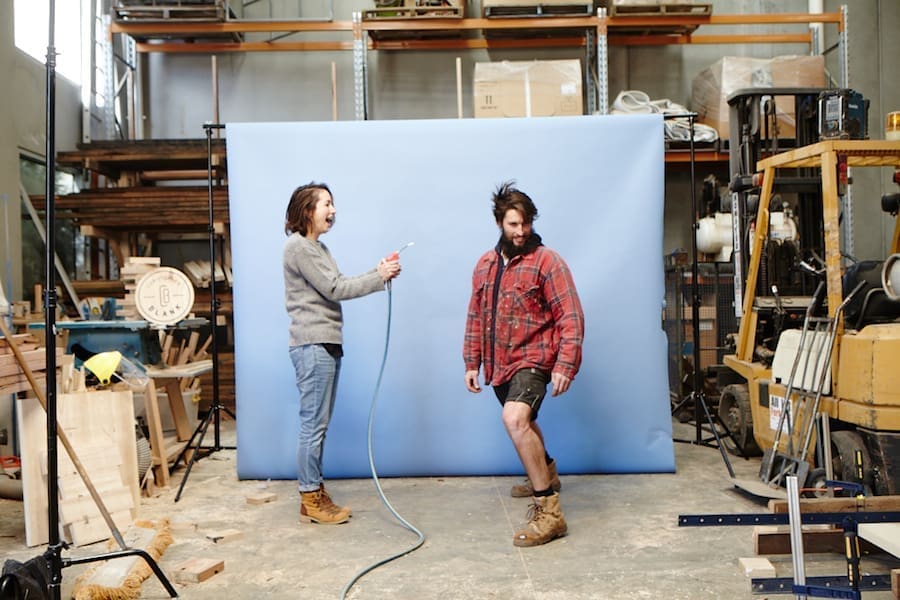 Can you tell us how Christopher Blank came about?
"The carpentry game changed a lot from when I started. It's all just high density living now and I began to lose interest in that pretty rapidly," says Luke.
"Late last year I had a knee reconstruction and I couldn't work. I bought a table saw and started cutting timber in the back yard.
"I don't know how or when I got it into my head that I could make it. I was so desperate to get out of building that I had no choice but to go for it and try something new."
"It was a really good progression and happened organically," says Veronica.
"If you look back at how it all happened and all the signs, without wanting to sound corny, you would really say it was meant to be."
Veronica is the national visual merchandising manager for Mecca Cosmetica. With her eye for design, she manages all the marketing for Christopher Blank and is deeply involved in designing the pieces.
"I've always loved product design, 3D design, interiors and bringing concepts to life," says Veronica.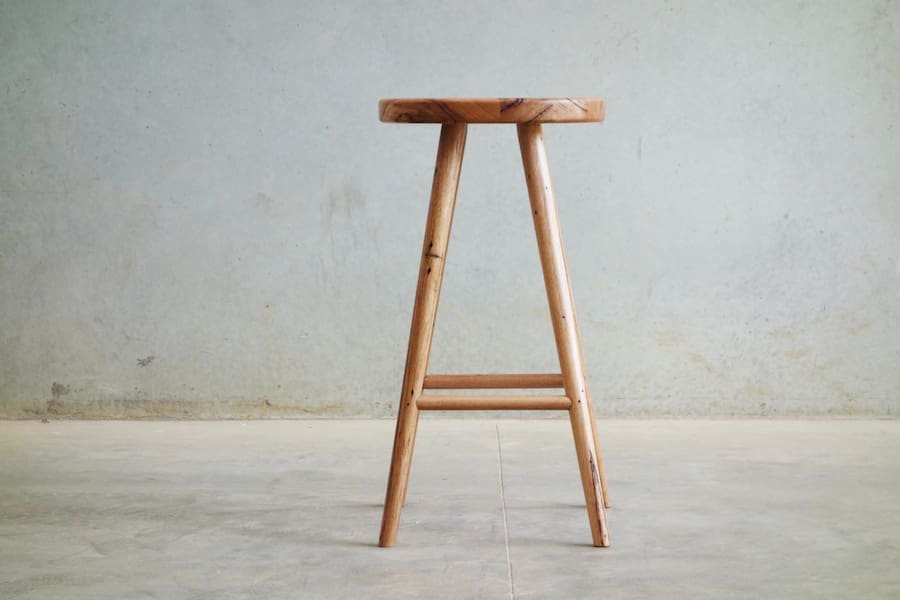 Talking about design, how would you describe your style?
"Ah, I knew you'd ask that," laughs Veronica.
"Some clients like totally clean pieces and others like a look that's organic and textured," says Luke.
The wood you use is so beautiful, where do you source it from?
"A lot of builders I've known over the years will contact me if there's a house demolition and I'll grab the wood," says Luke.
"Often it can look ordinary and then you strip it back and it comes up beautifully."
"And sometimes how you create a piece by the placement and composition of different timbers together can make all the difference," says Veronica.
Looking at some of your Instagram photos and videos where you're wielding a hammer, it seems like at times you have a bit of a love-hate relationship with your work.
"I'm always being an idiot," says Luke. "It's the only time Veronica encourages it! I'll ask, 'Can I put a cape on' and she's like 'Go for it'!"
"We like to show our personalities and have fun. For each piece we'd like to come up with a short video or photo," says Veronica.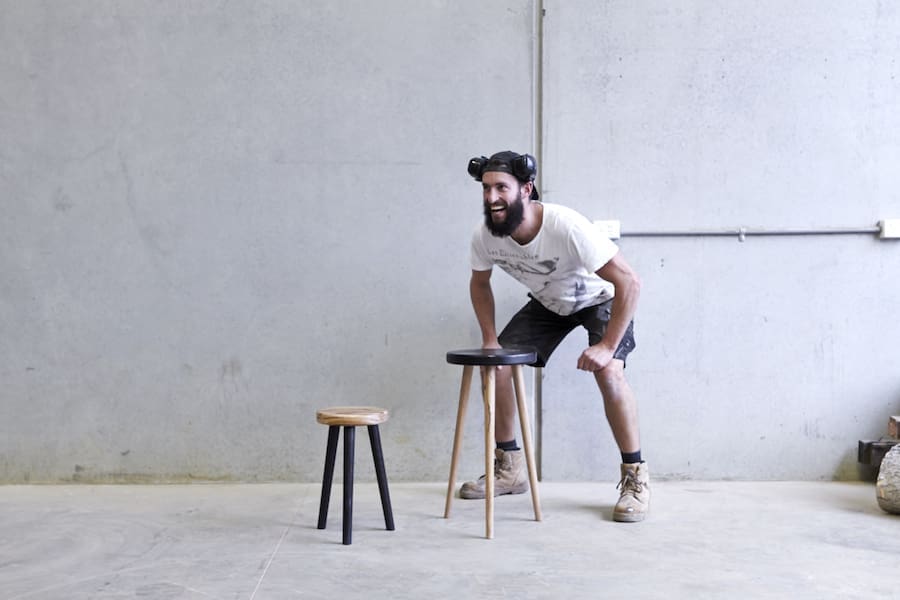 "We also send clients progress shots along the way like 'We bought the timber today' and it's a nice way of involving them and taking them on a journey."
That fun energy certainly comes across, especially in all the adorable photos of your fur children Betty and Barberella. Do they have a big influence on your business?
"Absolutely! They play a really big part," says Veronica.
"We're always thinking of them and how we can include them, like making dog bowls or dog houses.
"But they're pretty scared of the machines in the workshop — especially Betty," says Luke.
"Even a broom and she shits herself and runs away," he laughs.
"We only take them down on the weekends when we can keep an eye on them."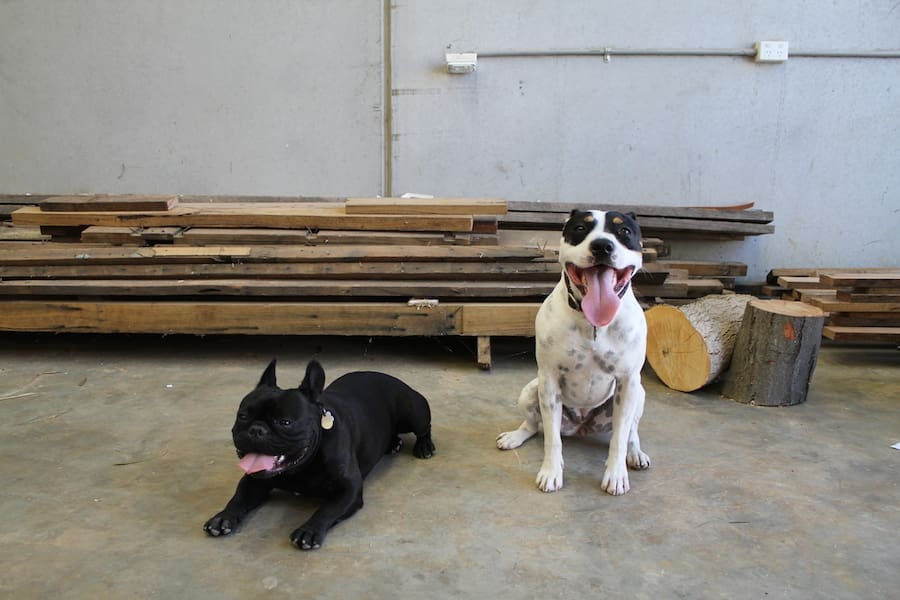 Is it just you, Luke, who is creating the furniture or do you have other helpers?
"I make all the pieces and Veronica does all the marketing and background stuff," says Luke.
"I'm pretty much running around like a crazy man, working 12 hour days, but it's lots of fun.
"I've tried to cut down the amount of stuffing around I do.
"If it steps up another 10-15%, I'll need to call on help but we'll keep it in the family, like getting my dad who is retired to help out."
Where did that name Christopher Blank come from?
"We thought for a long time what we would call the business and none of the names worked," says Veronica.
"One day we were catching up with one of our friends, Todd, who is our graphic designer and he suggested 'Paiva Atkins' our surnames but I didn't want it to be our names.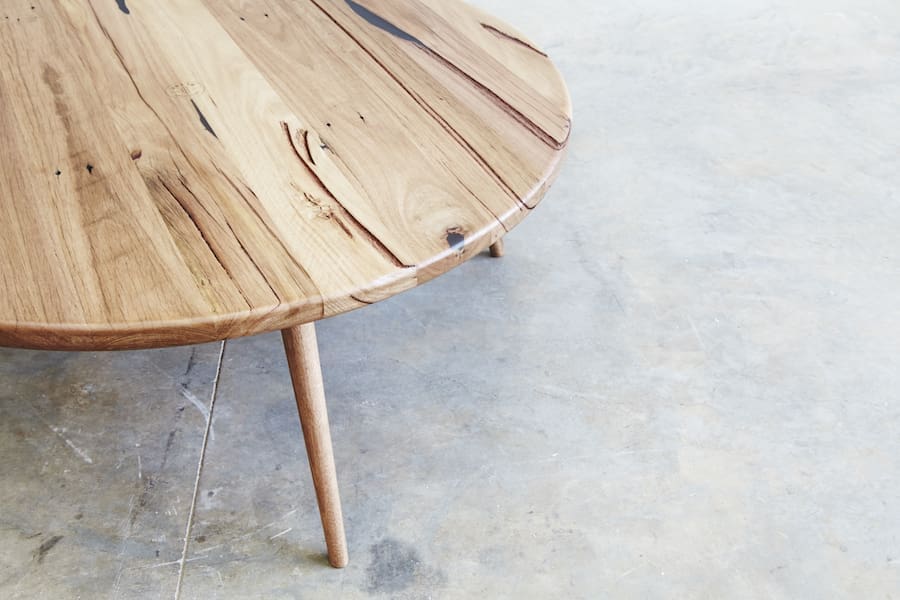 What are your goals for Christopher Blank?
"We'd love to have a range that's just ours. At the moment everything is made to a client brief but we'd like to create our own proprietary range," says Veronica.
"We always say we'd like our someday to become our everyday, even if it's just the two of us.
"Luke always jokes about global domination," laughs Veronica.
"We always have more ideas of what we can do with the business, it's just a matter of having the time — we have a running list of things to do!
"Our dream is to design. I'd love to do it full time as well, along with other freelance work.
"We would like to have a fully functioning e-shop ["What's that?" asks Luke] with 10 core products by Christmas.
"It's a good problem to have that we're so busy we haven't had the time to do those things yet.
"We prefer to do things really well even if it means taking a bit longer."
Thanks so much Veronica and Luke for sharing your story. To check out more of their work, go to their website or Instagram account.