Bright, vibrant and full of texture, there's so much to love about the works of tapestry artist Pi Williams. From the second we discovered her gorgeous works on Pinterest, we couldn't wait to feature this artist on the blog. Thankfully she agreed!
Today we sit down with this incredibly talented maker to hear all about her beautiful craft and how it helped lift her out of postnatal depression.
Related article: Art as meditation: The warm and textured works by textile artist Monica Henry
Related article: Weaving magic through her art: A chat with Australian tapestry artist Lee Leibrandt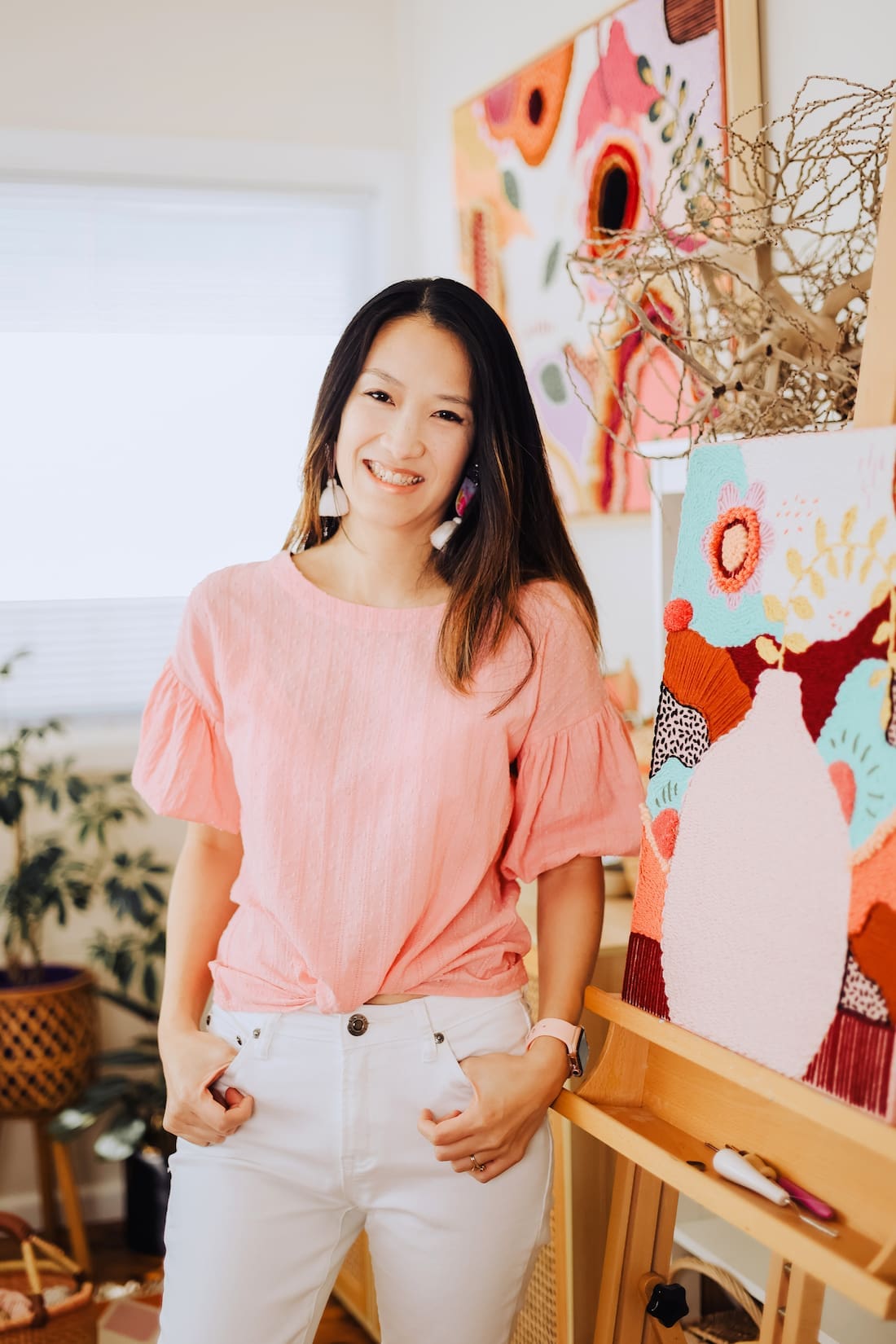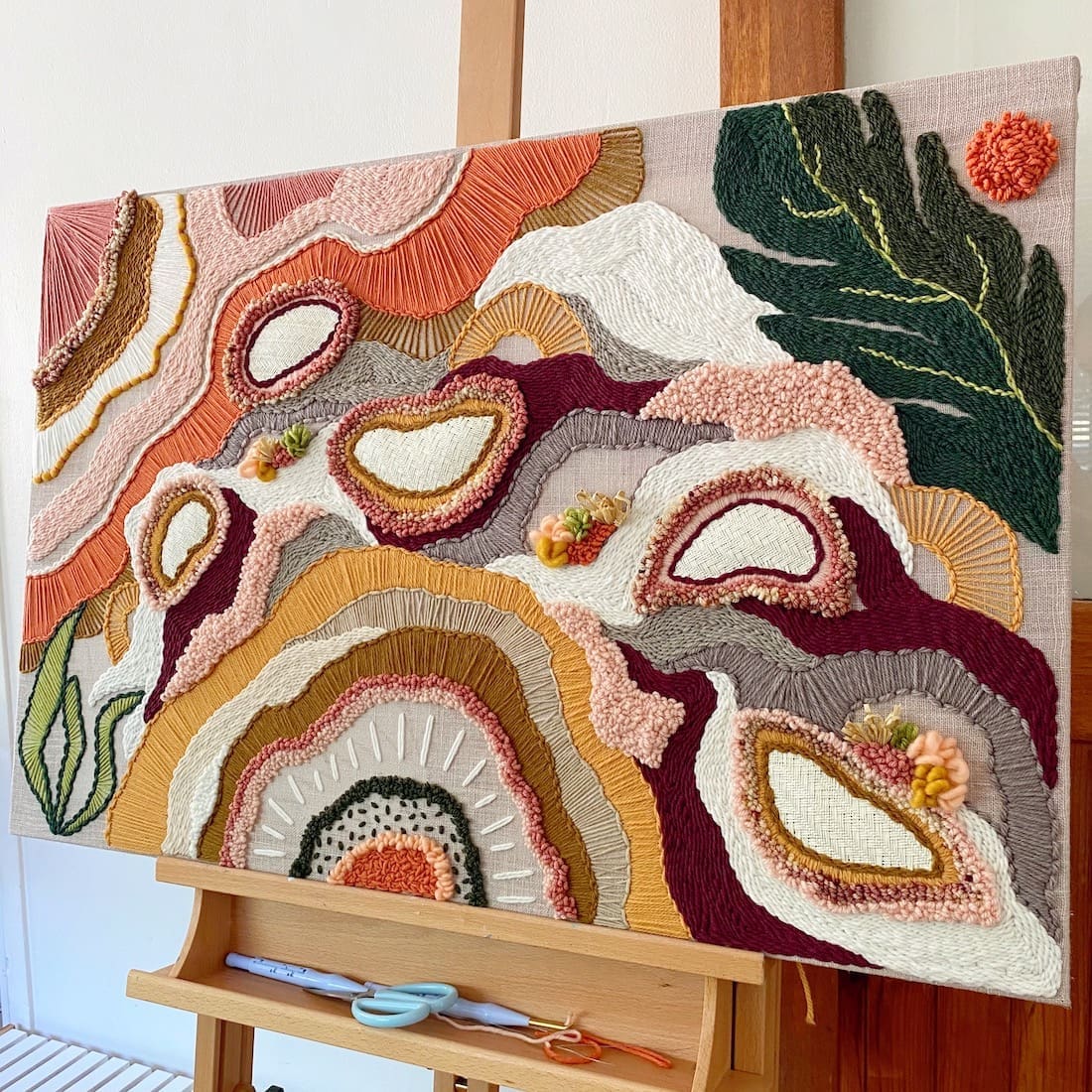 Describing herself as a creative soul, tapestry artist Pi Williams has always found joy in art.
"I'm a Mum to 3 young children — and a proud boy Mum — which tends to keep me busy. My boys are 7, 4 and 3 months so I guess you could say I have my hands full all the time," laughs Pi.
"I consider myself a creative soul and have always felt connected with making art in some way. I try to use my creativity wherever I can apply it.
"My parents separated when I was just 1 year old and as I grew older, I only got to spend time with my father on the weekends. We would spend the day at the markets and then go back to his place where we would sit down to do some craft together.
"These are memories I cherish. I have tinkered with all sorts of arts and crafts throughout my life."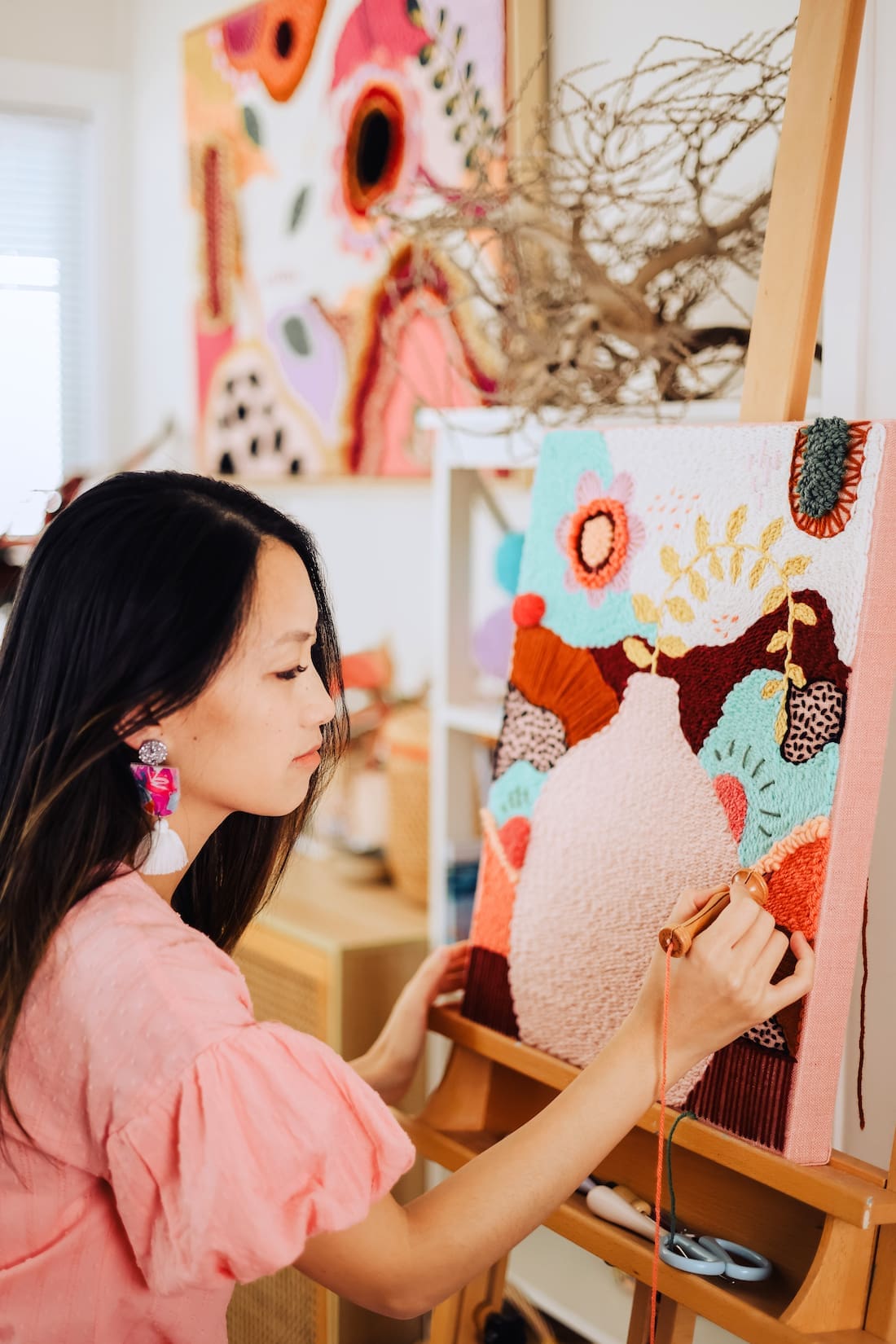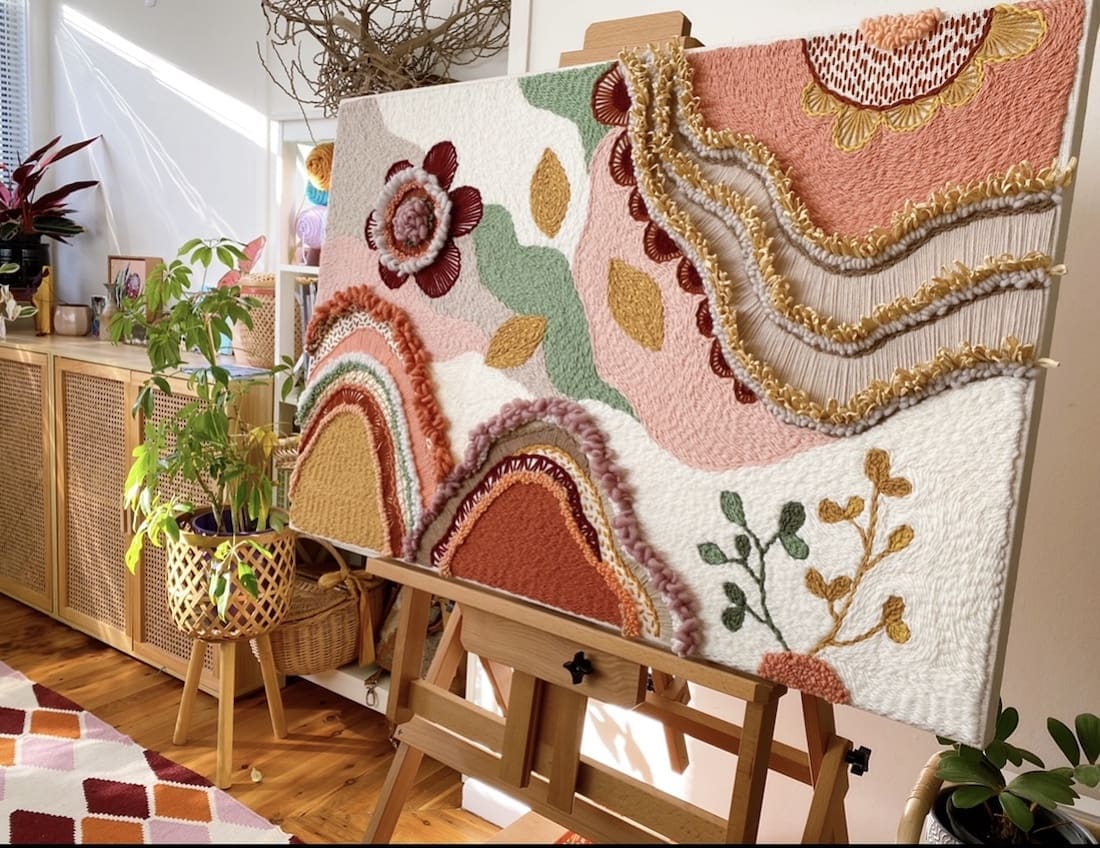 Struggling to adjust to life as a new Mum, Pi found joy and peace through art.
"My background is in fine arts, however I didn't really pursue my creative journey until after my first son was born. It was an enormous change for me to become a stay at home mum.
"First, I embarked on a 30 day watercolour challenge. Then I ventured into ceramics, printmaking and painting. A few years later, I went to a weaving class and that triggered my interest in textiles and fibre art.
"Creating quickly became a huge part of my life again but it wasn't until my sister-in-law commissioned an artwork for their holiday house that I finally realised that I could do this as a career.
"It sparked something in me and set me on my journey to be a professional artist. I now predominantly create with textiles as I truly feel connected to them."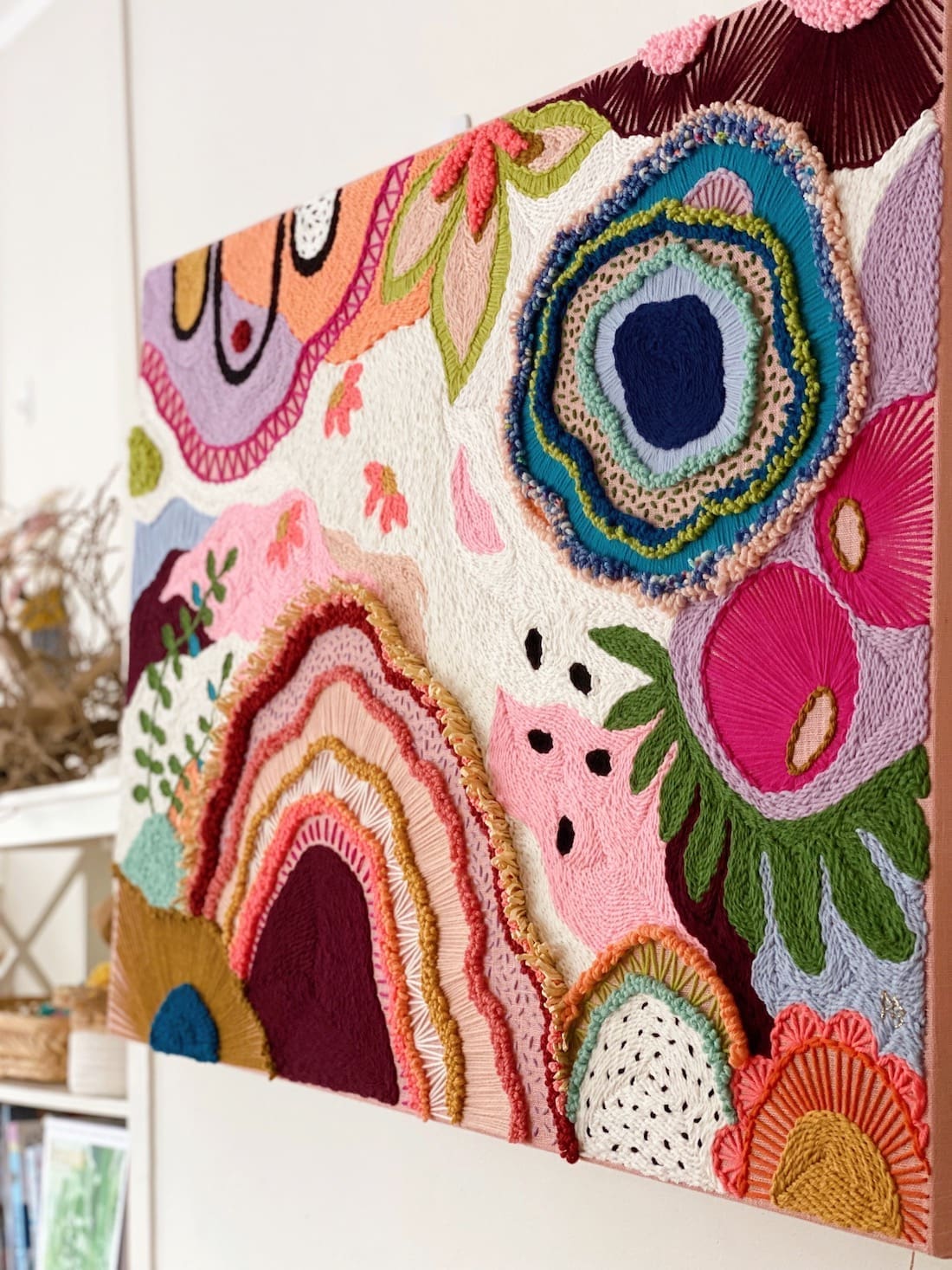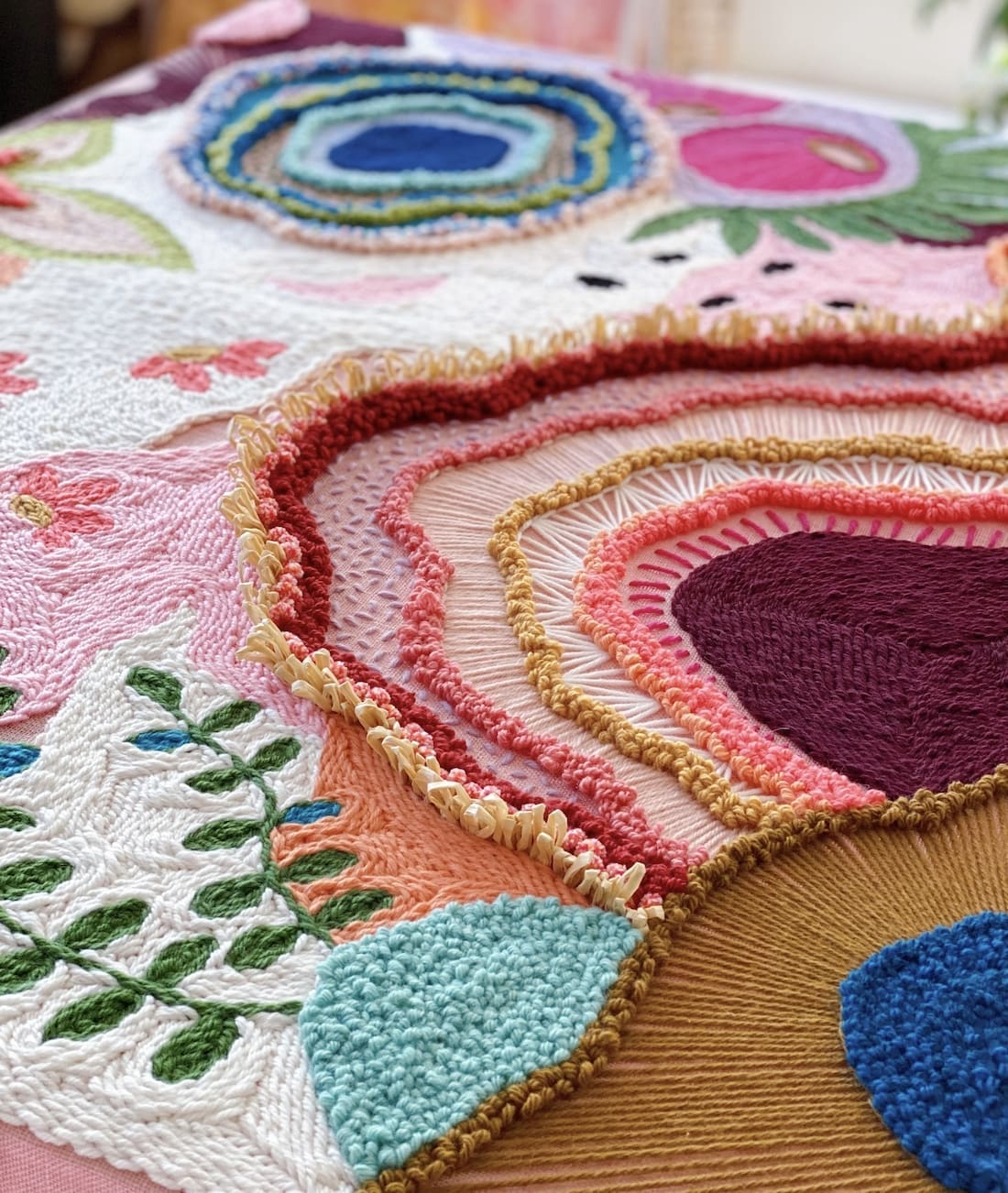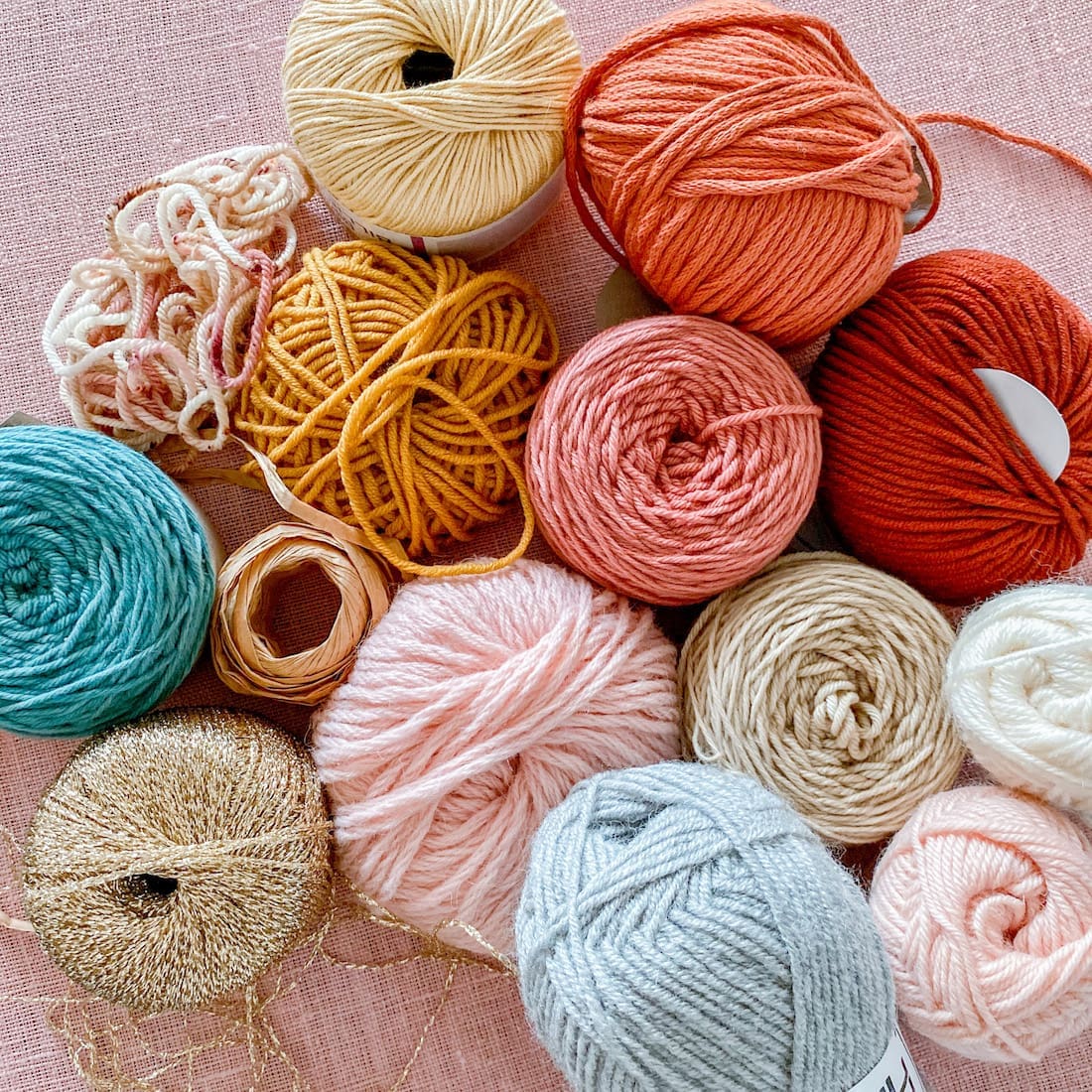 Inspired by nature, the delicate elements in Pi's tapestries are well thought out and incredibly detailed.
"Most of my inspiration comes from my experiences from all the different places we've lived. Thanks to having 3 busy little boys, we love being outside whether that's by the beach, bike riding or taking walks through the national park," says Pi with a smile.
"I don't like to cling to just one subject matter. I adore experimenting and delving into whatever I'm currently curious about. My greatest joy when creating with textiles is the challenge that comes with interpreting a range of subjects into a textile work of art."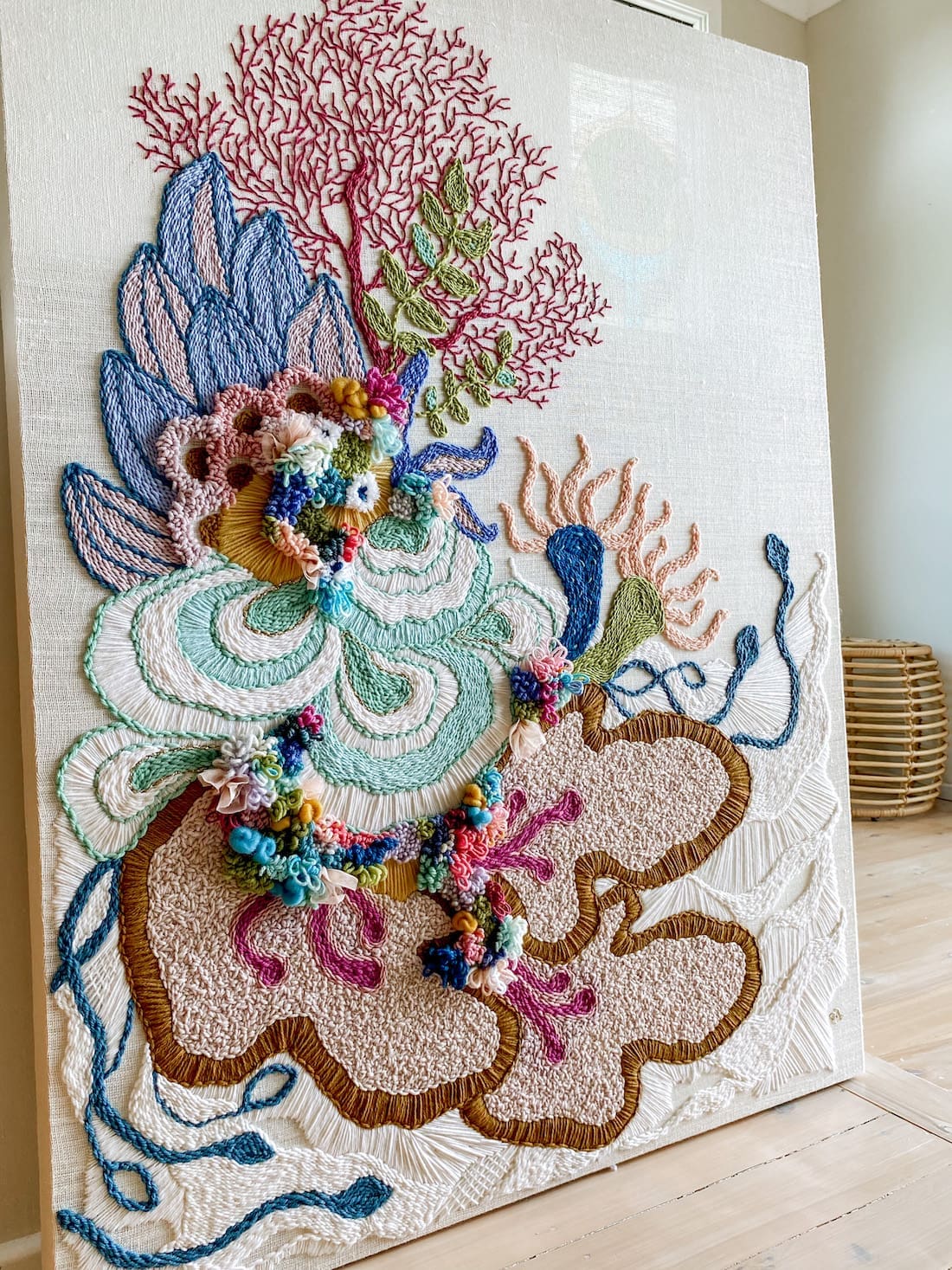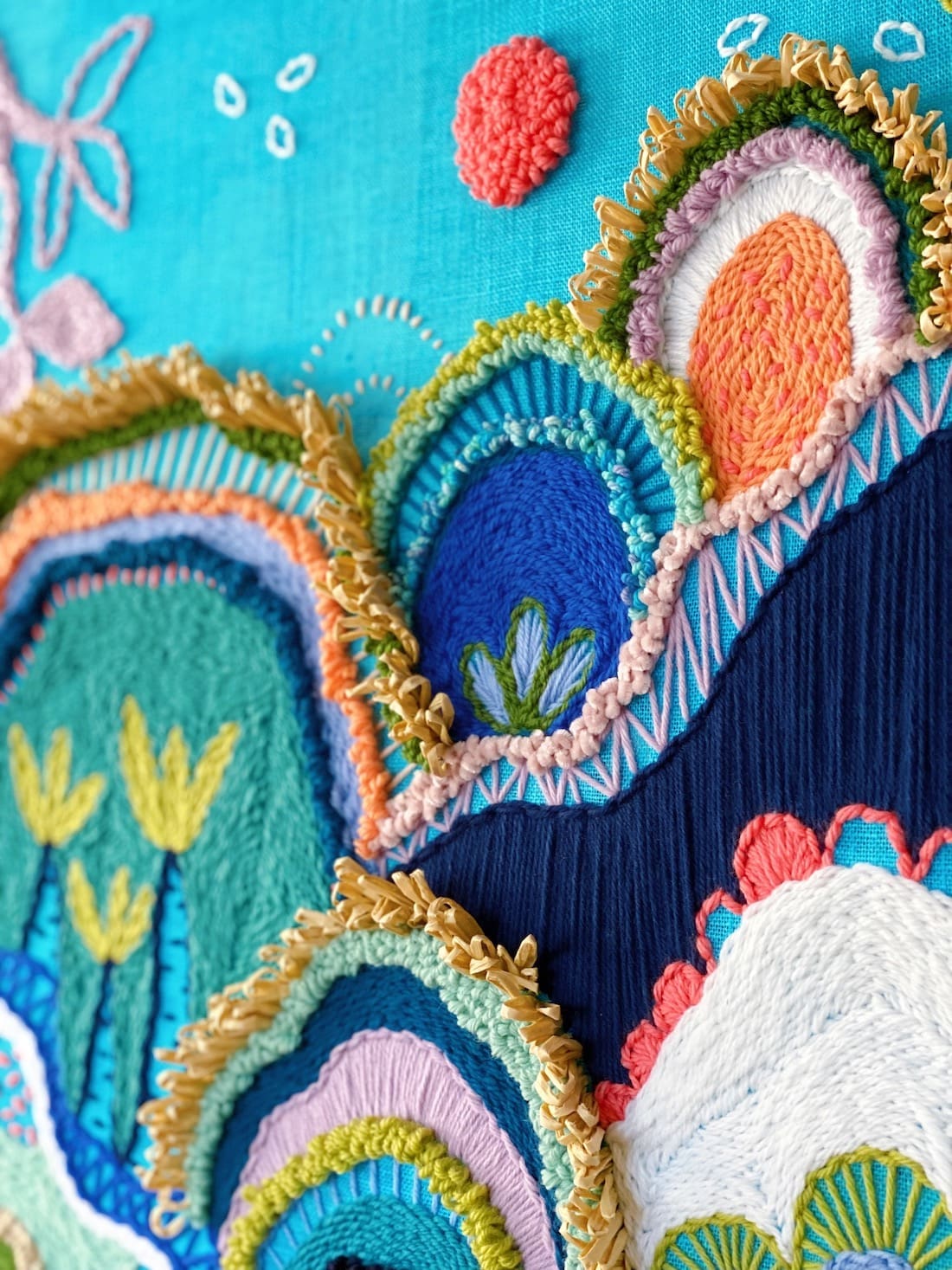 The layers of colour, texture and interest in Pi's works are something really quite special.
"I really enjoy experimenting with combining different wools, fabrics and materials like linen, leather, tulle and raffia. I sometimes work in layers and I like to incorporate stitching techniques to create different patterns through hand embroidery.
"My works often start from a sketch or photo I've taken for inspiration on my walks through the national park on our beach visits. I work intuitively with each piece and don't tend to stencil or sketch the design onto the backing fabric," explains Pi.
"I like the work to guide me and love the challenge of problem-solving throughout the process. It can be a surprising or unexpected result when it's finished.
"The thing I love about creating with textiles is that it's so easy to pause work and then continue an hour or so later. Unlike painting where things can get quite messy and need additional set up and pack down time.
"I love that I can be relaxed and fully immersed in my work when I'm in 'the zone'. Having 3 young boys at home can really affect how long I am able to stay in that zone but I love that I'm able to spend time with them while doing what I love. I'm learning to embrace the chaos!"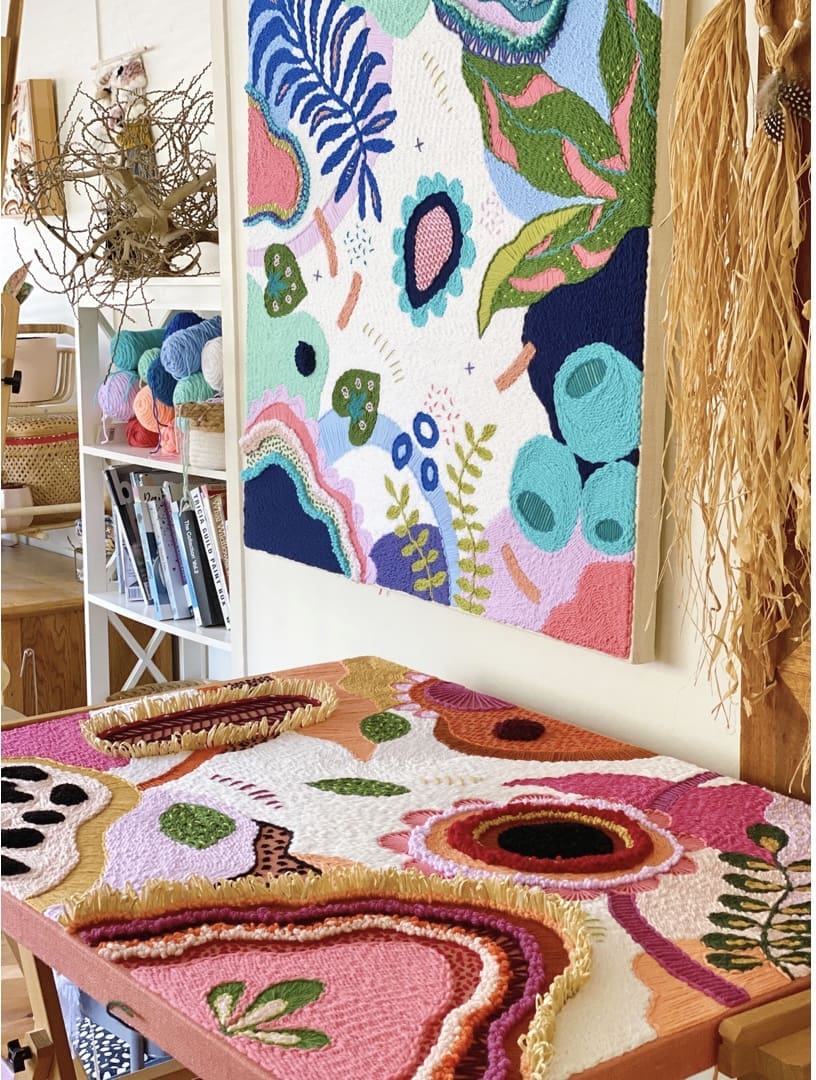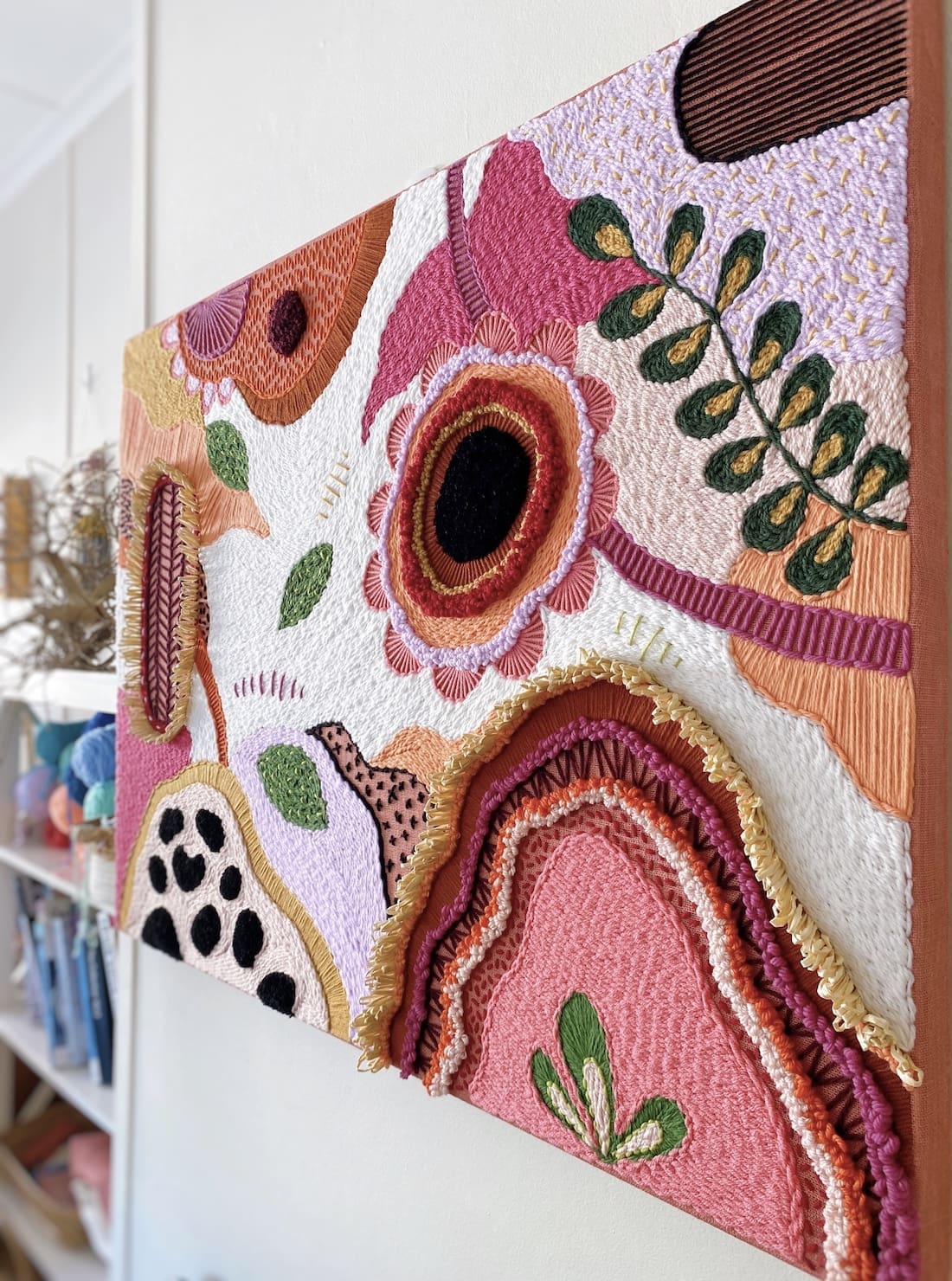 As if she wasn't already busy enough, Pi has recently started teaching online workshops.
"To add to my already full plate, I also offer online workshops. It's a wonderful way to connect with people from around the world.
"I'm still new to teaching and I often get nervous speaking in front of my students. But I know that I learn from each of these sessions just as much as they learn from me," says Pi.
"I feel like this is just the beginning of my creative journey. Someday I hope to have a bigger studio space so I can create larger works. I want a place where I can continue to teach workshops and share my passion with others."
Photography — Oak Street Creative
Thank you so much to Pi for taking time out of her busy schedule to share her creative journey with us. If you'd like to see more stunning creations or perhaps check out her online workshops, visit Pi's website or take a colourful scroll through her Instagram page.