We love seeing your renovation projects and especially love it when you let us share them on the blog!
Jane has been following SC since the beginning and her passion for interiors has since seen her start her own blog Design Hamlet where she journals not just the build of her new home but renovation projects too!
Today we're sharing one of her renovations — transforming a dated original condition 1989 ensuite with blue tiles and sky blue painted walls into this fresh and modern ensuite.
So you get the full effect, here's what she was working with…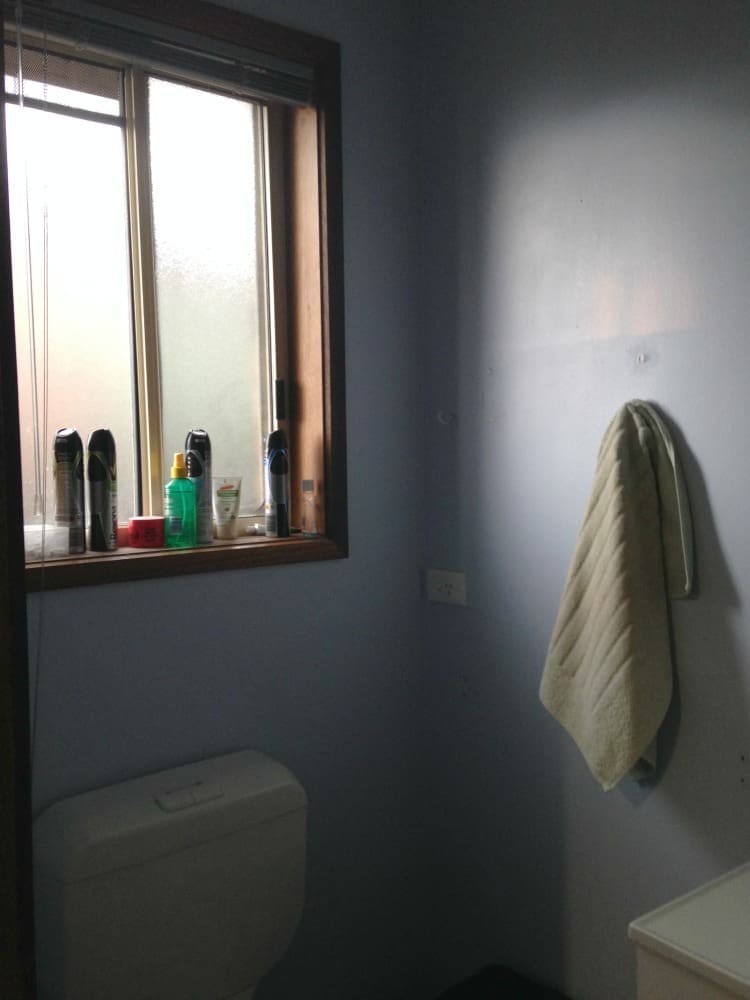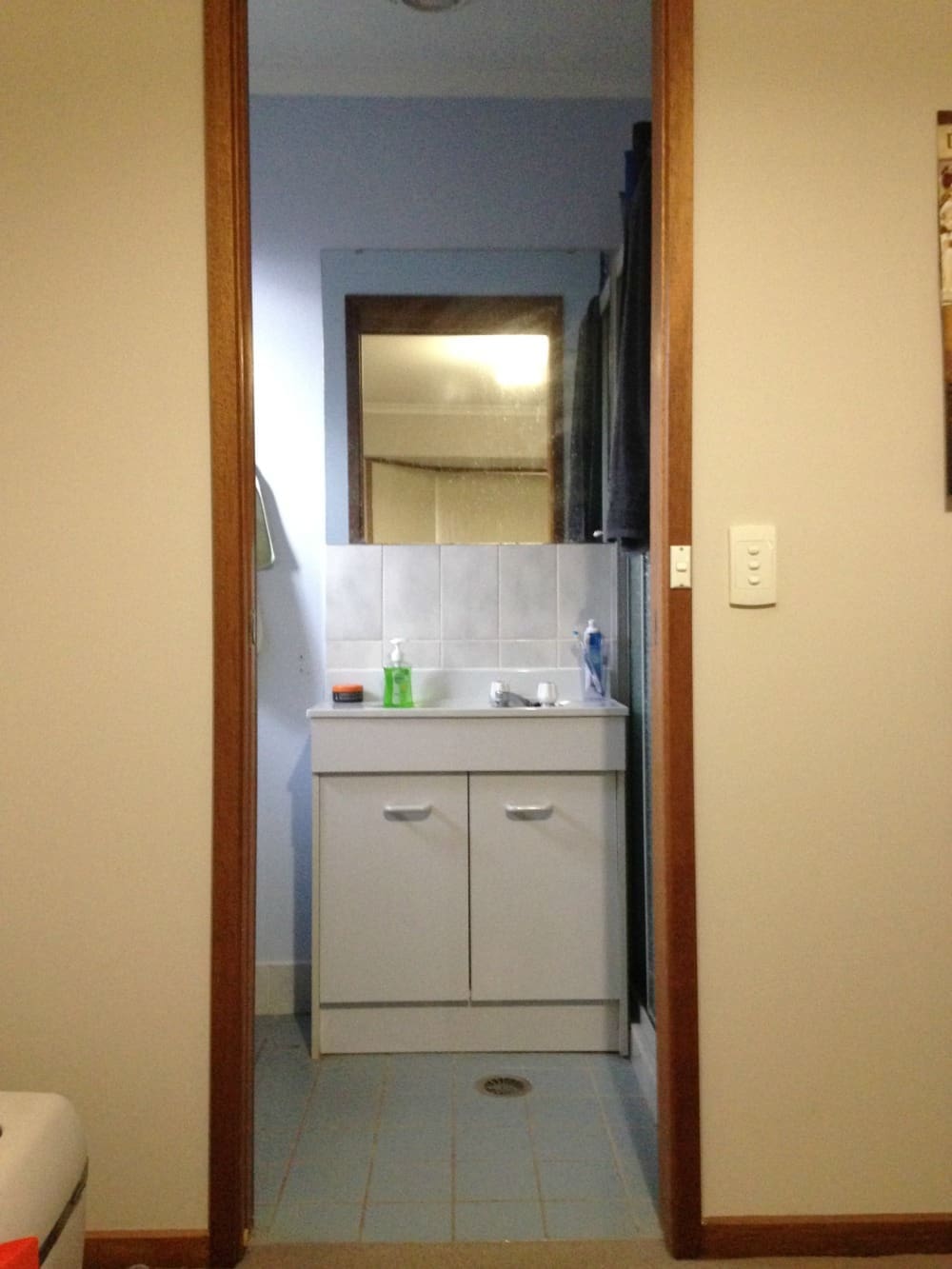 "The original ensuite felt quite oppressive — it was a compact space (1.2m x 2.5m) with only a small east-facing window and the assault of blue didn't help," laughs Jane.
She saw the space was functional though and only needed a cosmetic overhaul.
"We gutted the room and re-sheeted and waterproofed, replacing the basin taps with a wall mixer set and upgrading the shower rail to a ceiling mount shower head.
"I wanted the space to feel brighter and inviting, with a touch of luxury, so chose white gloss large format tiles for three walls to reflect the light and a soft matte grey marble hexagon feature tile for impact.
"The new space was fitted out with a back to wall toilet, custom timber vanity with 'floating' basin and semi-frameless shower screen."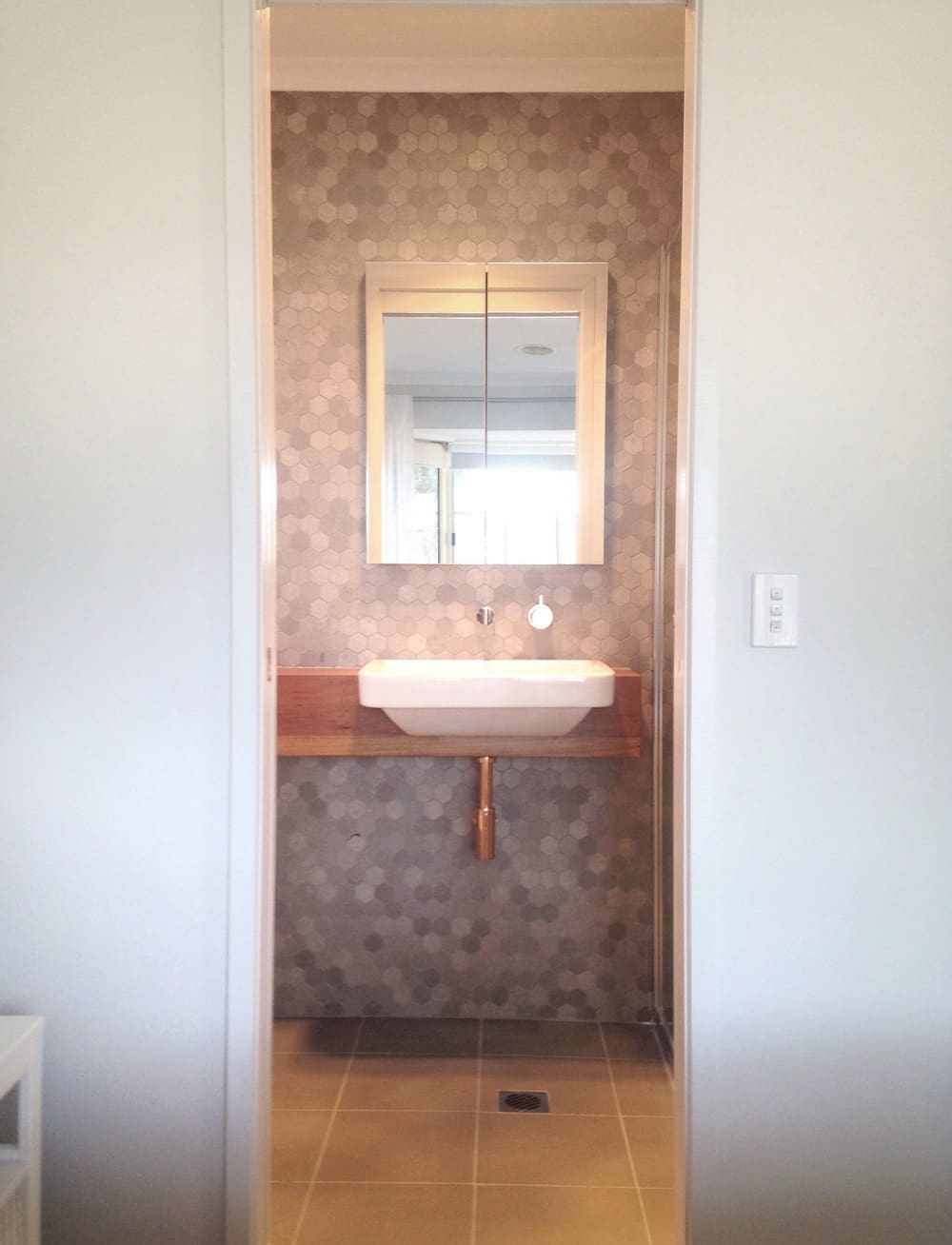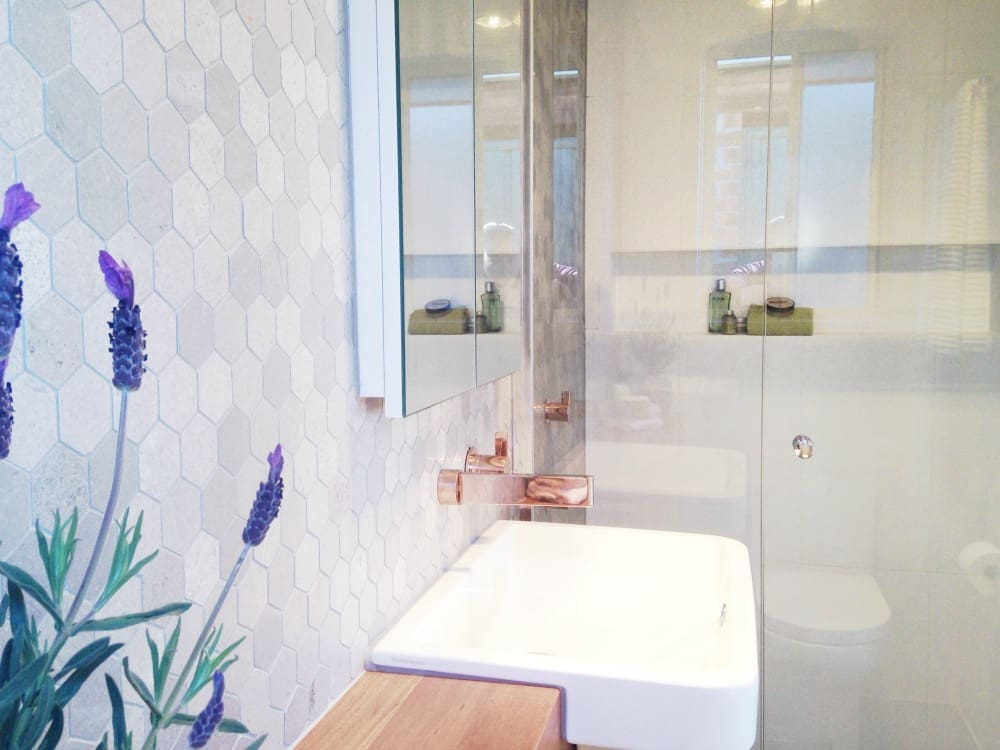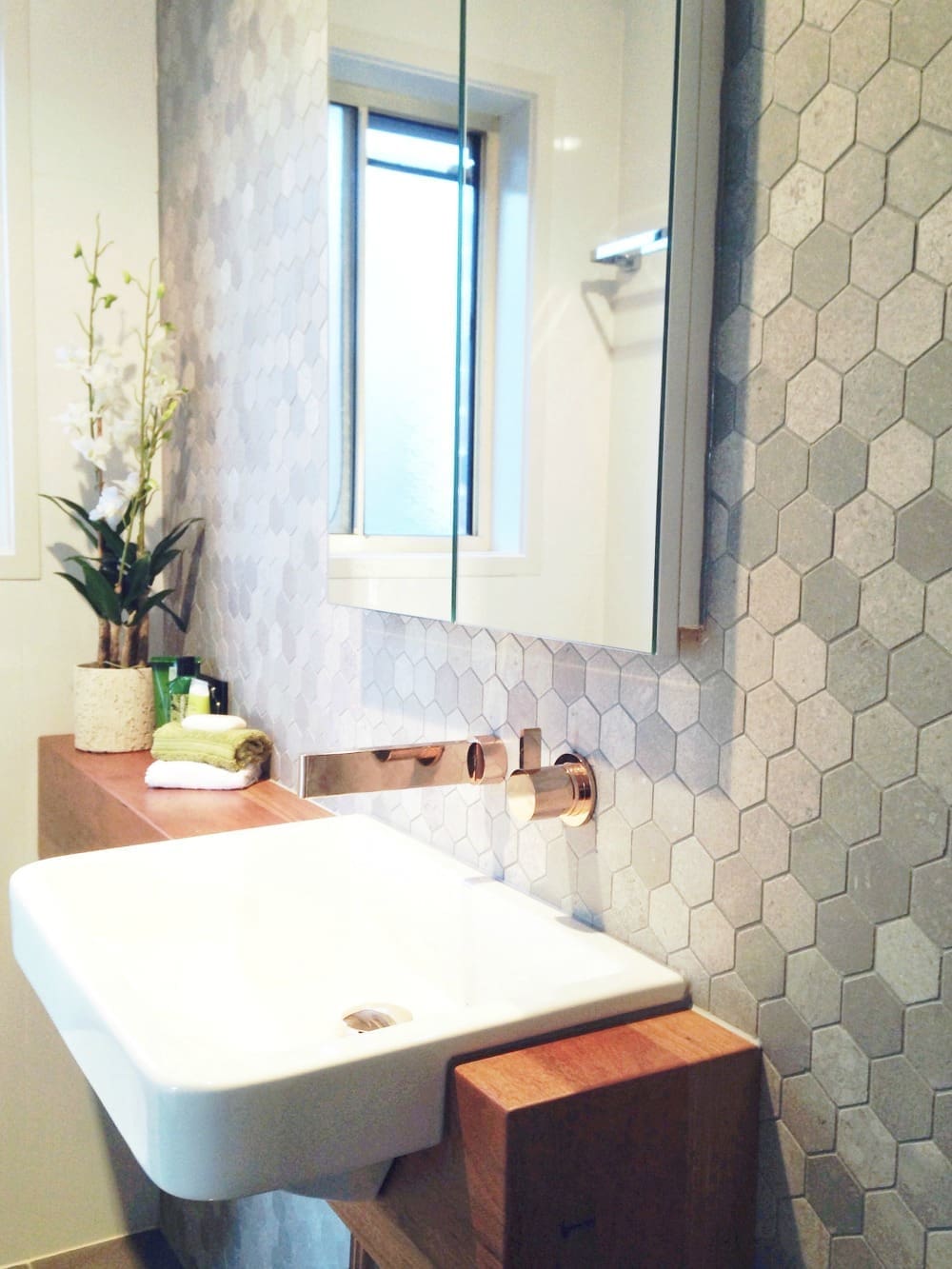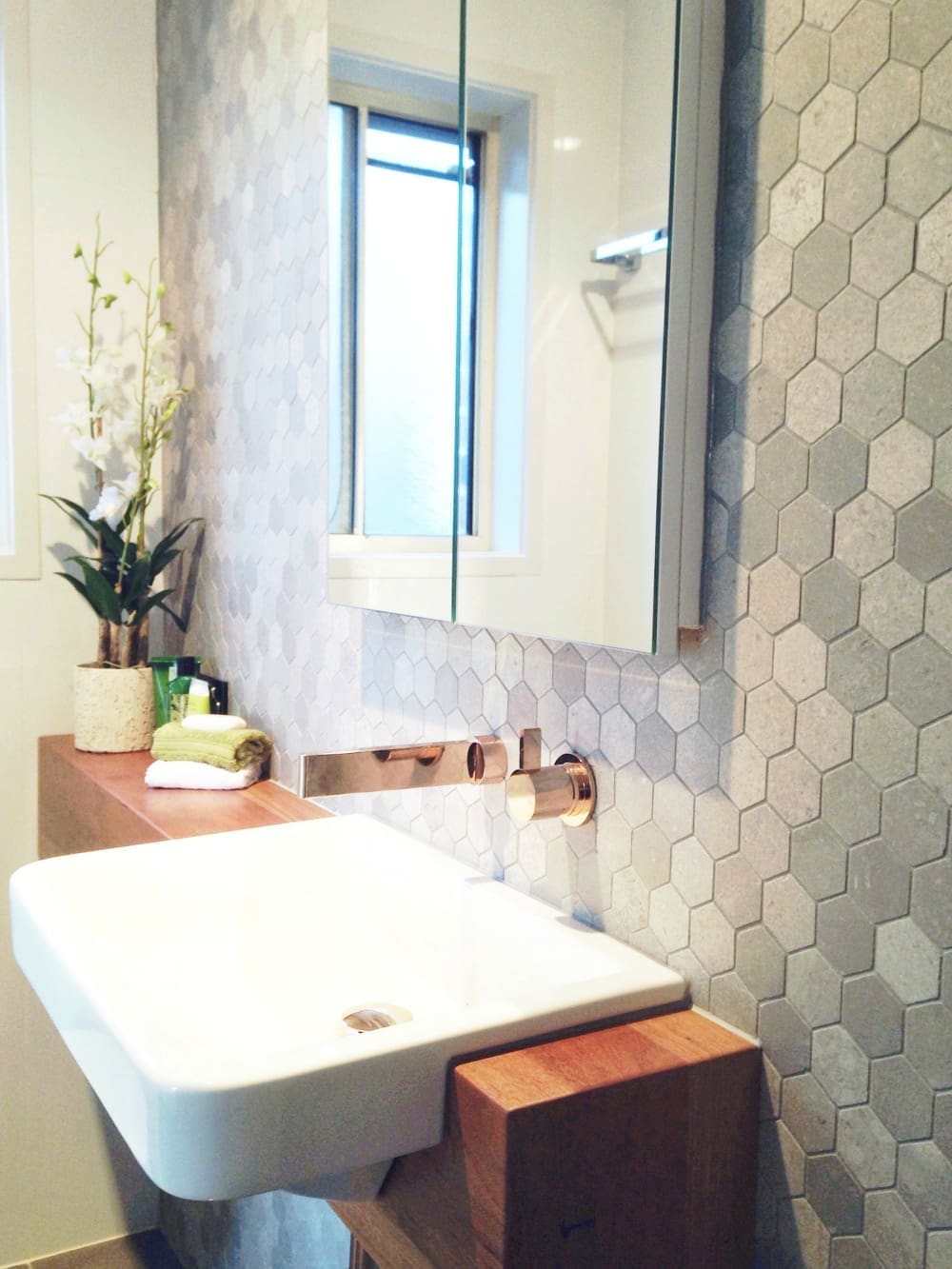 Like with any renovation, there were of course some challenges.
"The original basin was pretty mean so I wanted to incorporate a more generous replacement without compromising on access to the shower. I settled on the most slender wall mount basin I could find but went extra generous on the width and asked a local craftsman to make a custom vanity in recycled Blackbutt timber to perch it on.
"I found that wall mounting objects opened up the space by freeing up the floor from bulky items and the old recessing trick allowed me to borrow extra space from wall cavities for a shower niche and mirrored shaving cabinet."
We love the transformation and Jane tells us her favourite features.
"The recycled Blackbutt timber vanity from Canberra's Thor's Hammer, rose gold tapware from Sussex Taps and mosaic cinder grey dark hexagon tiles from Beaumont Tiles are top of the list."
Is there anything she'd change about the renovation?
"I had my heart set on the rose gold taps before making the other selections and didn't pay close enough attention to how the colour would look against the particular grey of the feature tiles. In hindsight, brass would have complemented the colour scheme more.
"My three favourite selections were also the most expensive but I think I got the balance right this time. Those items take centre stage opposite the doorway and since the basin area is the most used space, I was happy to direct more of the budget towards them."
Thank you Jane for sharing this ensuite transformation with us and for those great insights!
Have you recently completed a renovation? We'd love to see it! Email us hello@stylecurator.com.au or tag us @stylecuratorau when you post it online.