Many people see the bathroom as a functional space, but it's much more. It's a sanctuary — a place to relax, unwind, and escape the stresses of daily life. You don't need a hefty budget to transform your bathroom into a luxury spa. With creative DIY tricks and thoughtful planning, you can have the bathroom of your dreams without breaking the bank.
Keep reading for our ultimate DIY bathroom guide where we cover all the important aspects of a bathroom renovation, and plenty of insider tricks to get a luxe for less look!
Related article: A fresh take on subway tiles: 5 of the most popular ways to lay subway tiles
Related article: Common plumbing problems in old homes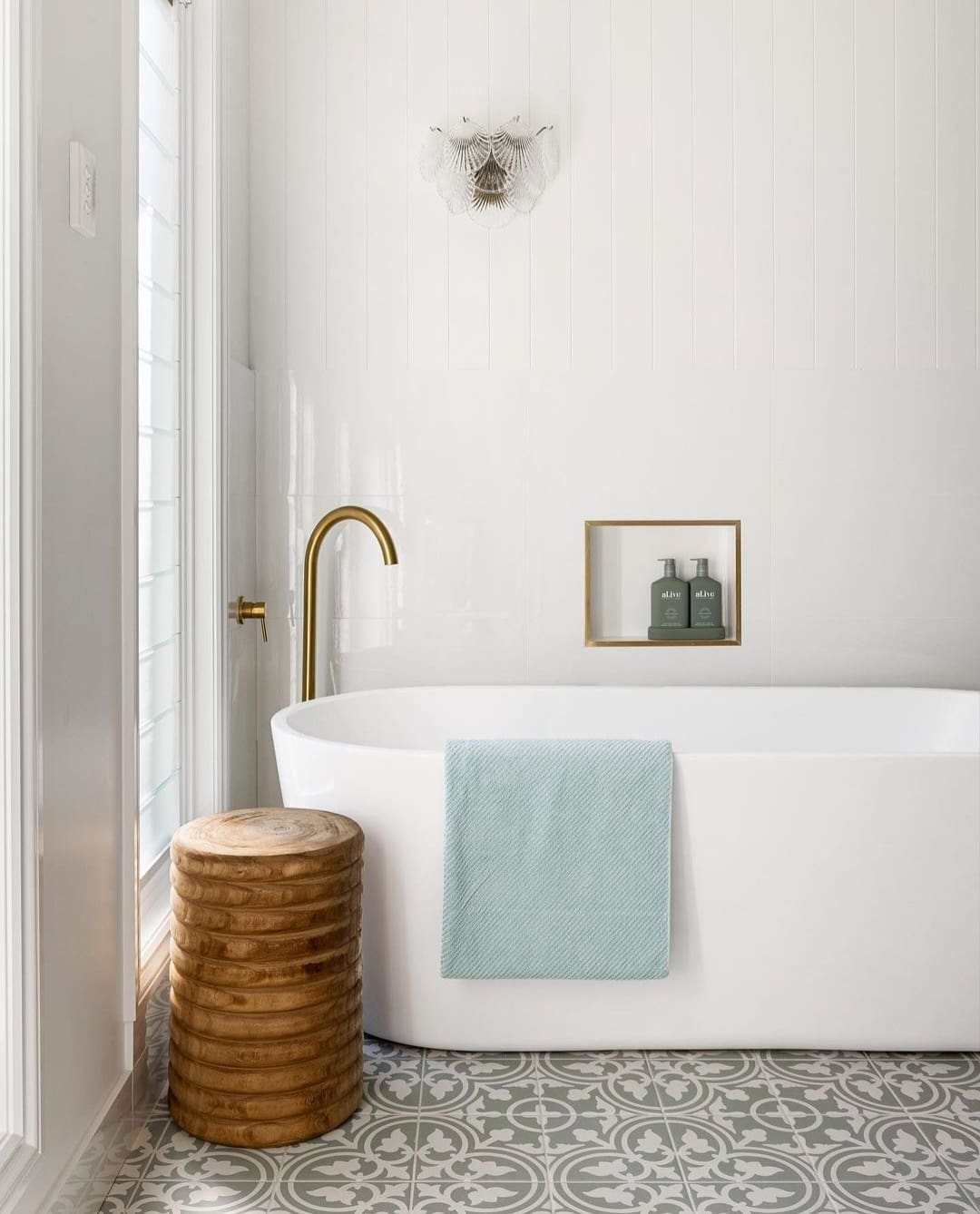 Planning is key
The blueprint of success
Before reaching for a hammer, it's crucial to have a well-thought-out plan. Sketch your existing bathroom layout and envision what you want the final result to look like. Consider what works well in your current bathroom and what you desperately want to change. Do you lack storage? Or is the shower in an awkward spot?
Use free online design tools to help you visualise your dream bathroom better. But keep in mind, moving your plumbing will increase costs significantly so if you can keep your sink, shower and toilet in the same location or move them minimally.
Or if you're planning a new bathroom space, consider what's most important to you, such as a large bath, and prioritise that in your floor plan. Often it isn't possible to achieve everything you want in a bathroom. It's better to focus on your hero elements and allow these to shine than try to squeeze everything in.
DIY hack: Use painter's tape to map out the dimensions of fixtures on your floor and walls. This will give you a sense of the space and help you make more informed decisions.
Budgeting: The cornerstone of your project
Set your limits
A well-defined budget is essential. List down all possible expenses, from tiles to fixtures to labour costs. Because budget creep and unexpected costs always arise, allow an additional 10-20% for unforeseen expenses. Knowing your budget limits will help you make smarter choices throughout the renovation process. It also means you won't have to compromise on important things at the end of the reno just to finish!
When planning your budget, consider the resale value of your choices. According to a report by the National Association of Realtors (US), bathroom renovations have a strong return on investment.
Tips for smart budgeting:
use a spreadsheet to track all expenses
be on the lookout for sales and discounts
consider the resale value of your choices.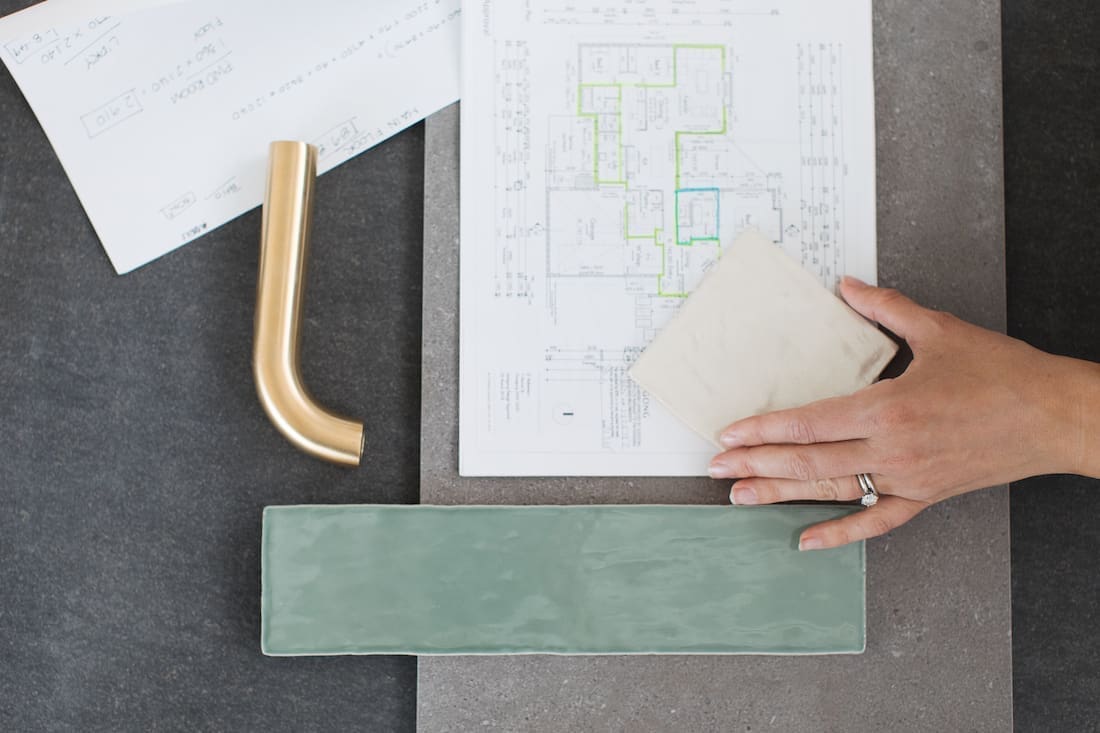 The importance of quality
Investments that last
You often get what you pay for when it comes to fixtures and materials. High-quality fixtures are more durable and will save you money in the long run, as you won't have to replace them frequently. For instance, taps undergo the most wear and tear, so investing in a good one can pay off in the long run.
DIY hack: Mix and match. Splurge on frequently used fixtures but save on items like towel rails or shower curtains.
Plumbing: The backbone of your bathroom
Don't cut corners
No matter how beautiful your bathroom looks, if the plumbing isn't done correctly, you're setting yourself up for problems. Plumbing should never be DIYed — always consult professionals like a plumber in Bondi for a quality job.
Material choices:
Copper: Durable but expensive
PVC: Easy to work with and budget-friendly
PEX: Flexible and perfect for tight spaces.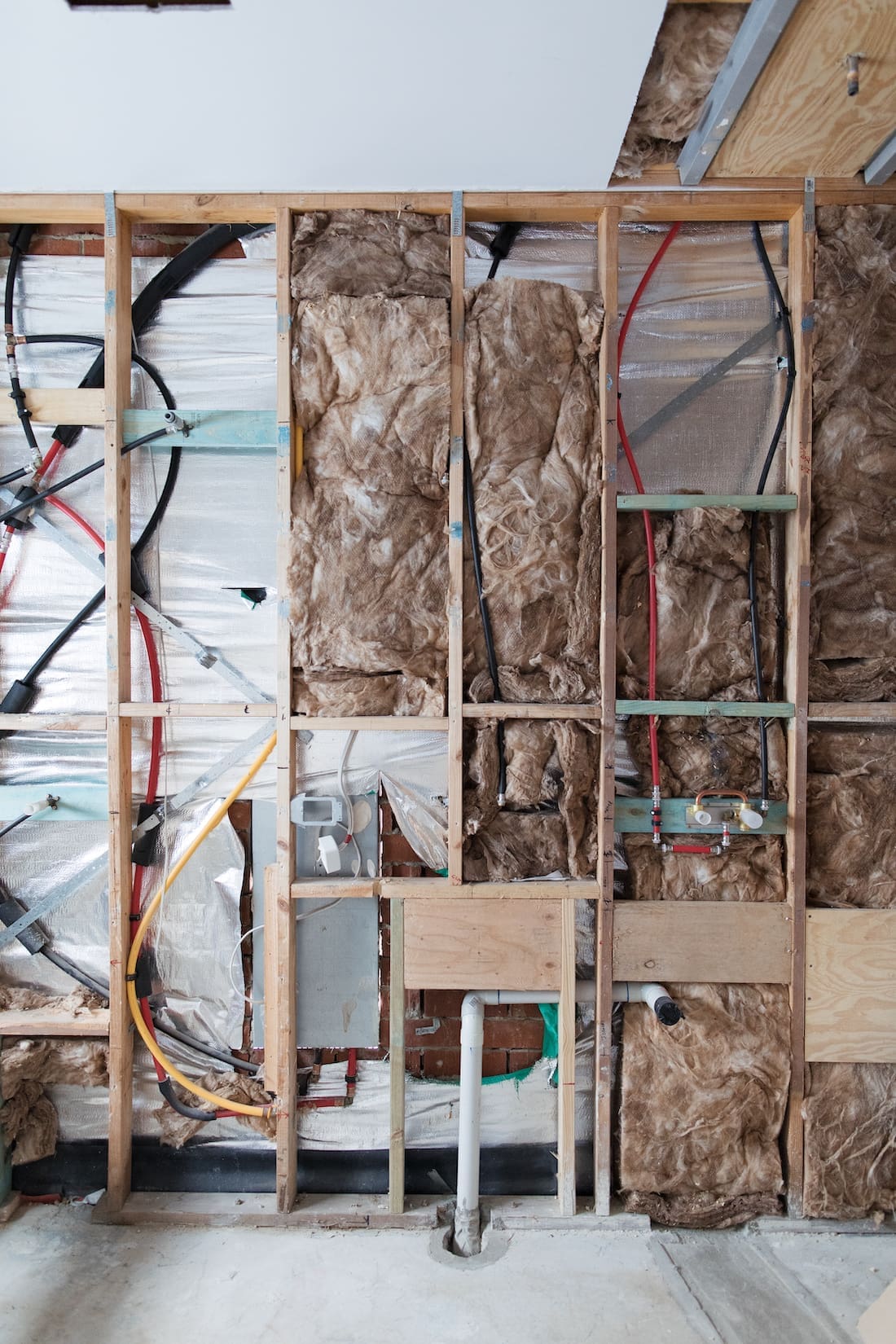 Flooring: The foundation of aesthetics
Setting the tone
Your choice of flooring can make or break the aesthetic of your bathroom. While materials like marble scream luxury, natural stone also requires careful maintenance and can quickly blow your budget. You can achieve a similar look with high-quality porcelain tiles that mimic the appearance of natural stone without the upkeep or expense.
DIY hack: If you're renovating, cut costs by doing some of the demolition yourself or assist as a labourer to your trades. Alternatively, if your tiles are in good shape but just look dated, consider painting them! From terrazzo chip paints to tile stencils, there are so many ways you can give your tiled floors a modern makeover.
Walls: More than just a backdrop
Elevate your space
The walls of your bathroom offer a canvas to express your creativity. You can transform your bathroom's ambience through paint, tiles, or wall fixtures. Neutral colours offer a timeless look, while bold hues make a striking statement.
Wall design tips:
consider a feature wall to create a focal point
use waterproof paint to protect against moisture
experiment with tile patterns for added character
VJ panel is an affordable alternative to tile for walls (other than in the shower!).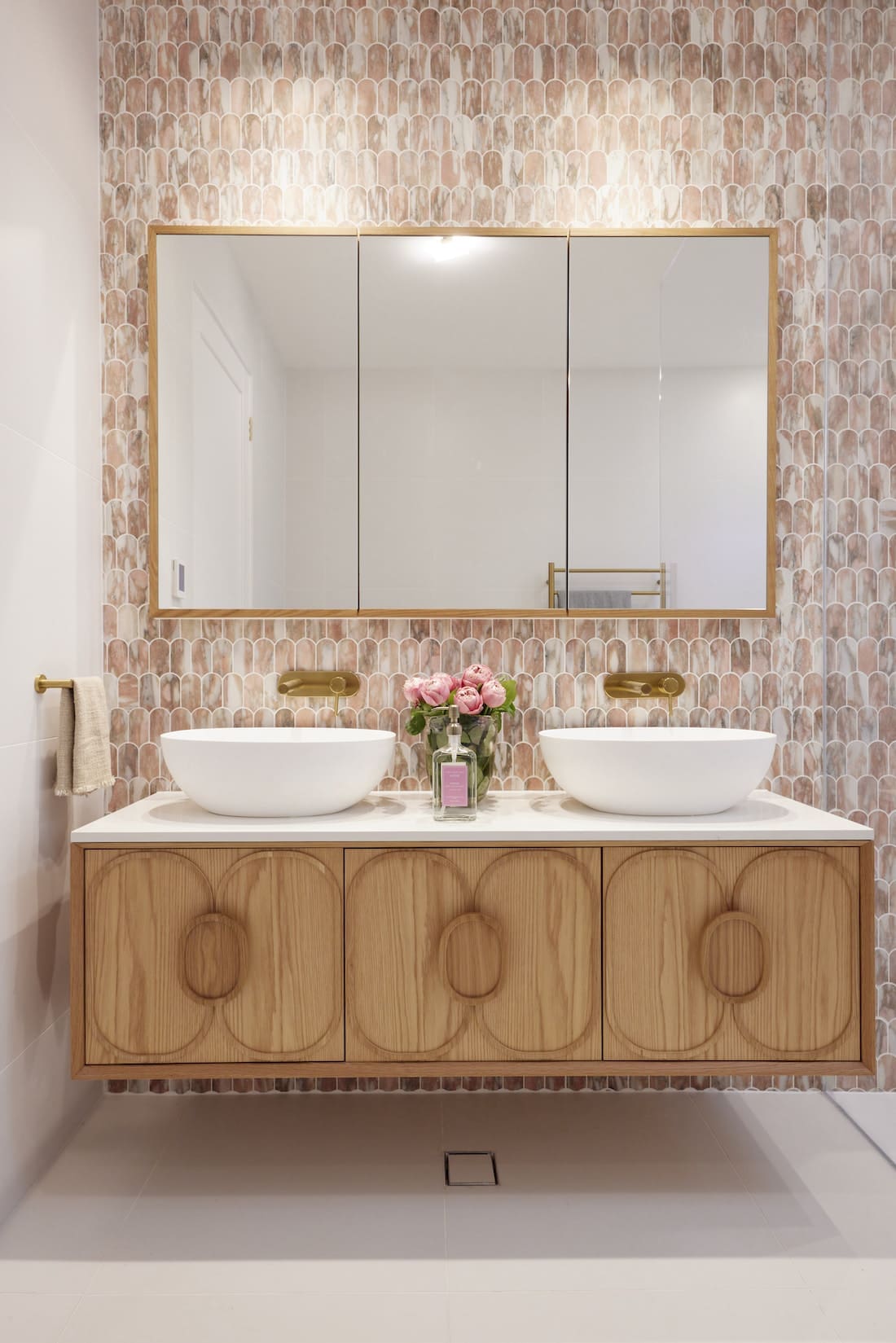 Lighting: Setting the mood
Illuminate your sanctuary
Lighting plays a crucial role in defining the ambience of your bathroom. A well-considered lighting plan can give your bathroom an architectural look for little expense. From wall lights at your vanity to recessed ceiling lights, LED strip lighting or hanging pendants, there are many ways you can use lighting to add interest to your bathroom. Read our expert bathroom lighting tips here.
Tip: LED bulbs are not only long-lasting but also incredibly energy-efficient. According to the Department Of Energy, they use up to 75% less energy than traditional lighting. These are available in warm or cool light temperature so you don't have to compromise on the ambience you want to achieve.
Lighting tips:
use dimmable lights to set the mood you want
opt for LED bulbs for energy efficiency
install a skylight, if possible, to maximise natural light.
DIY hack: Use adhesive LED strips under cabinets or behind mirrors to add a soft glow without any electrical work.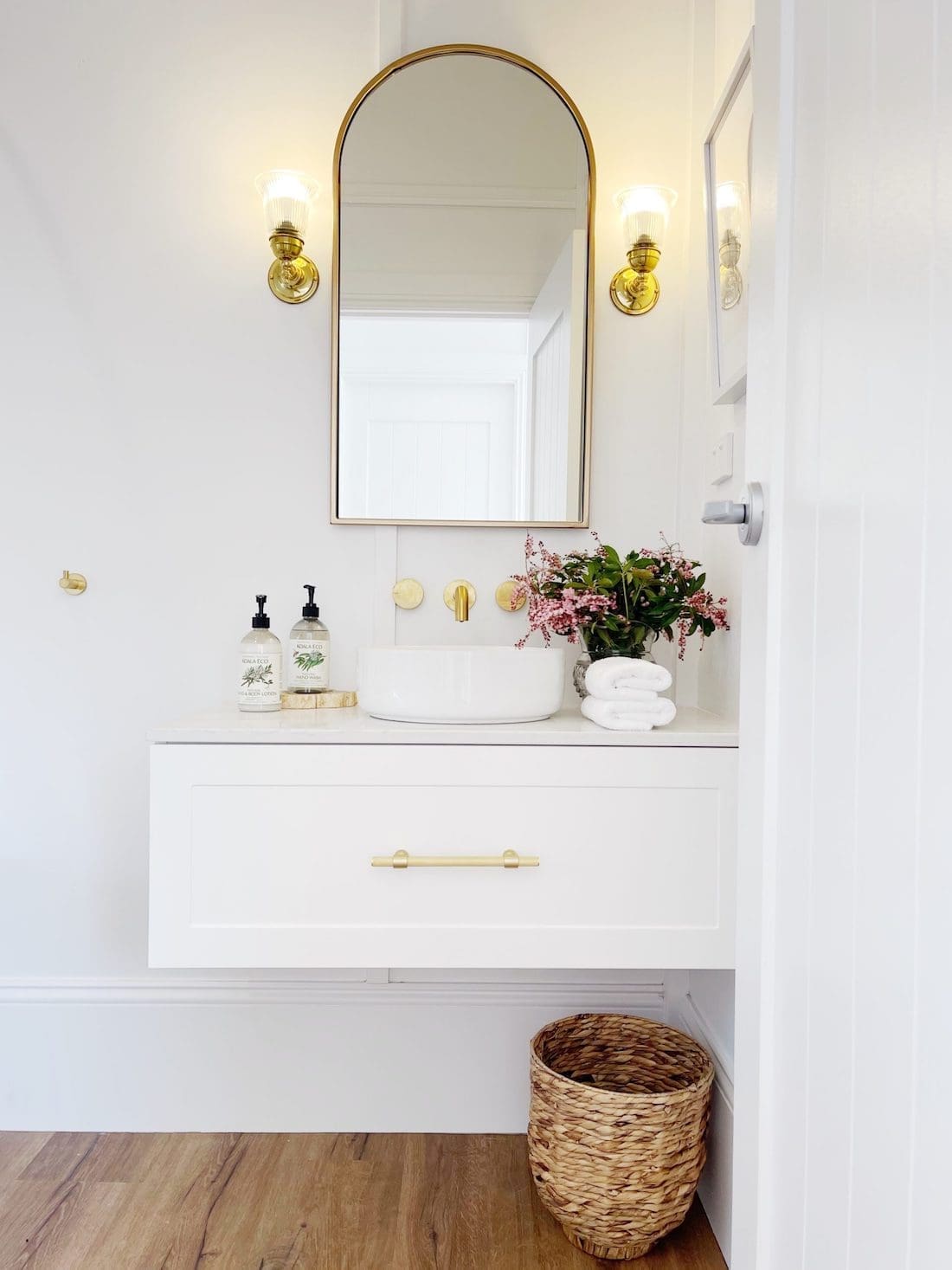 Sustainability: Luxury meets responsibility
Go green, not just for the planet
Incorporating sustainable materials or finding energy efficiencies benefits the environment and can save you money in the long run. From low-flow taps to energy-efficient lighting, going green doesn't mean compromising on luxury.
Low-flow toilets and taps can significantly reduce your water usage. According to the Department Of Energy, low-flow taps can reduce tap water use from 15-18 litres per minute to as little as 2 litres per minute.
Sustainable choices
low-flow toilets and taps
recycled or sustainable materials for counters
non-toxic paints and finishes.
DIY hack: Sydney plumbers Bayside Plumbing suggest repurposing your vanity where possible by giving it a fresh coat of paint and new hardware. This can give your vanity a brand new look while saving you big and preventing unnecessary waste ending up in landfill!
We hope this article has given you plenty of ideas on how you can transform your bathroom into a luxurious oasis. Just remember, you don't need a big budget when you use creativity, planning, and have a willingness to get your hands dirty. By following this ultimate DIY guide, you'll be well on your way to achieving a bathroom that not only looks high-end but also increases the value of your home.