Supported by Popic
When we think of gallery walls, we naturally think of large walls with an assortment of frames filled with photographs and artworks. But sometimes in our home, we have small wall spaces that are perfect for a gallery wall… a high impact, low clutter gallery wall that is.
Rather than focussing on filling these spaces with frames, I suggest a more minimal approach. In this article I'm sharing my top 3 tips to create a small space gallery wall with impact thanks to Popic.
Related article: How to: Style a bookshelf
Related article: 21 decorating hacks for rental properties
1. Measure up the space and decide on your frames
The starting point to any good gallery wall — large or small — is coming up with a plan. In small spaces, I suggest going as large as possible with your frames and arranging these in a symmetrical way. Such as vertically (one frame above another) or in a simple grid layout as I've done.
It's often said when decorating that filling small spaces with small objects (furniture or decor) makes a space feel even smaller and this rings true for gallery walls.
In this gallery wall, I've used 4 A3-sized frames and arranged these in a 2 x 2 grid layout. It makes full use of the wall space and allows the largest photos possible without it feeling cluttered.
2. Curate your photos or artwork
Just because you've got fewer frames to fill on your small space gallery wall, doesn't mean you can't display many photos. I recently discovered Popic, an online photo platform that makes printing photos or turning them into unique gifts simple. They've got a wide range of products, including canvas posters, wrapping paper, magnet tiles and photo strips.
My favourite Popic product are their photo posters, where you can create elegant photo collages. You can choose from a range of collage options, in colour or black and white, landscape or portrait, and in a range of sizes too. With a simple drag and drop interface, it only took a few minutes to create the posters for my 4 frames. I selected a couple of single image poster frames, a 3 photo poster and 4 photo poster as well.
These are printed on high quality paper and arrive at your door step in no time.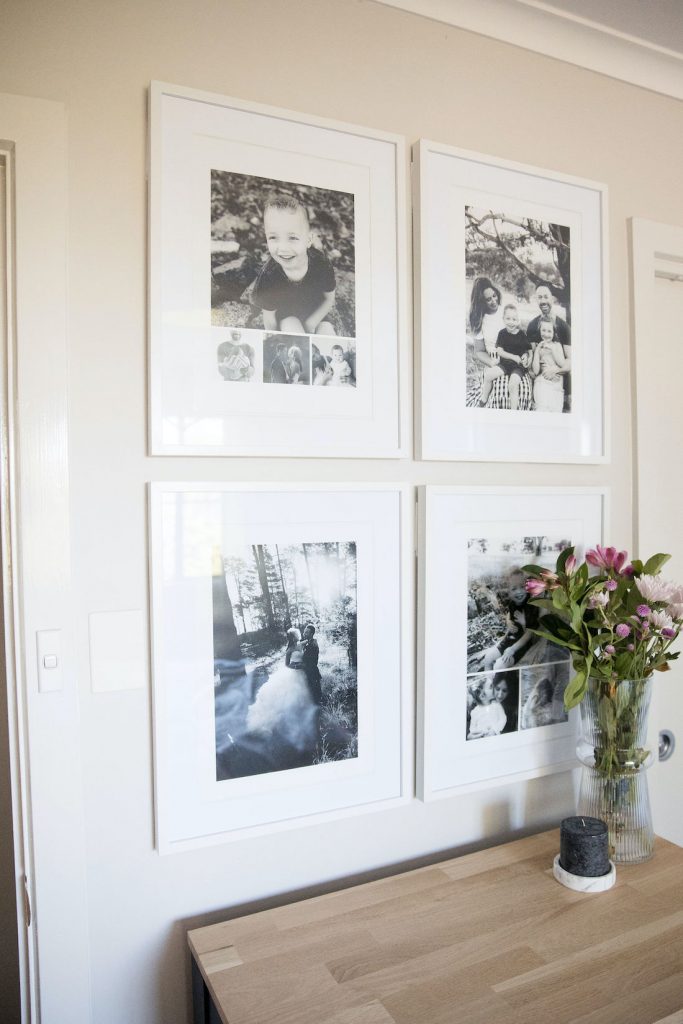 3. Take your time to mount the frames
The devil is always in the detail so my final tip is to take your time to mount the frames. Before taking nail and hammer to wall, be sure you're happy with your composition of photos. Lay these out on the ground and move them about until you create a layout you love.
Decide on the best method to mount them. Picture hooks or removable Velcro strips? There are a lot of options on the market now — whatever you choose, be sure it can support the weight of the frames.
Measure up the wall and do some quick maths to get the spacing of frames perfect. Gallery walls are often mounted too high — you want them to be at eye level. If you've got access to a laser level, this will make life a lot easier. Otherwise, it's a case of measuring the wall and drawing a level line in pencil across so you can mark out the centre points for each frame.
Then hang your frames and stand back to admire how you transformed an otherwise blank wall into a moment of interest in your home.
If this article has inspired you to create a small space gallery wall of your own, check out the wide range of photo printing options on the Popic website or connect with them on Instagram for even more gallery wall inspiration.