In an art world dominated by painters and potters, it's wonderful to spy something new and a little bit different. We are delighted to introduce you to Studio Nom, another Etsy artist showcasing her unique woven wall art pieces.
Hailing from Alkmaar in The Netherlands, we sat down (virtually, of course) with this talented artist, Mum and small business owner to discover more.
Related article: Merging photography and nature to create unique layered artworks by Paper and Flower
Related article: Discovering the beautiful and unique embroidery art of Fleur Woods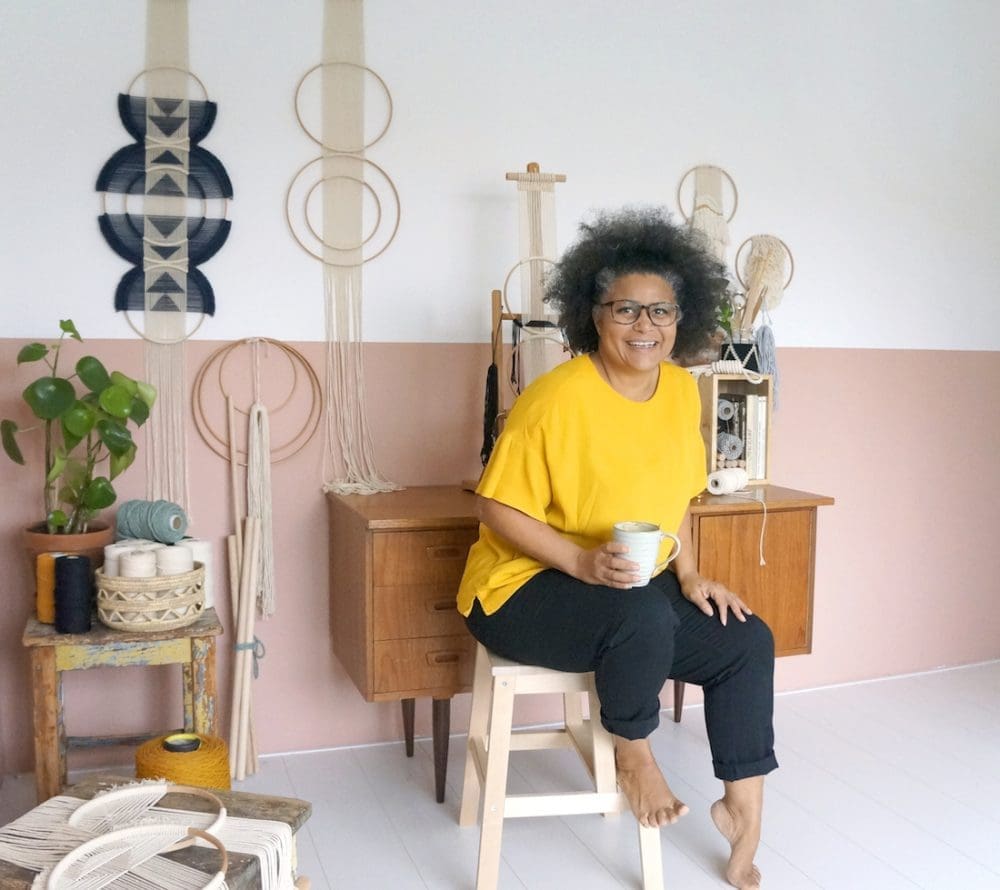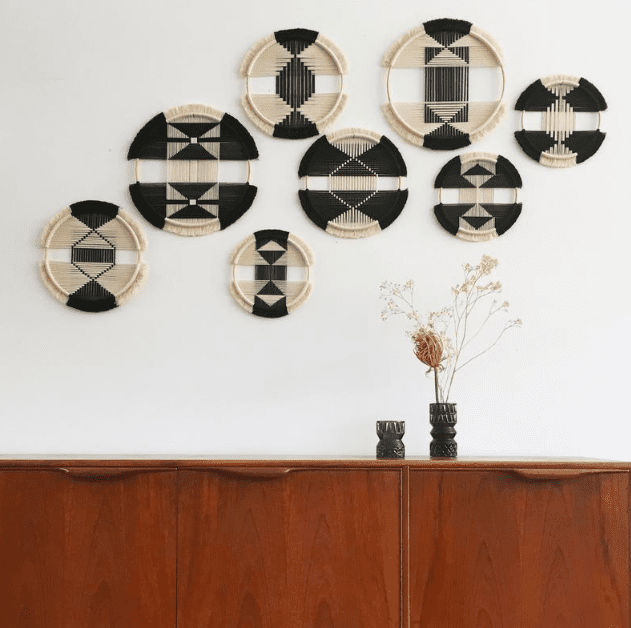 Born in Swaziland but living in The Netherlands, Nom has been a creative soul her whole life.
"My full name is Nompumelelo but I'm called Nom for short," Nom smiles.
"For as long as I could remember, I've loved creating things. I would make my own barbie clothes and give my room a makeover almost every week!
"As a young girl I had my heart set on a career in the fashion industry. So, after graduating from a fashion design academy, I began working as a fashion designer.
"It never felt quite right to me though. It wasn't the perfect fit. So around 8 years ago, I decided to make a change to my creative life.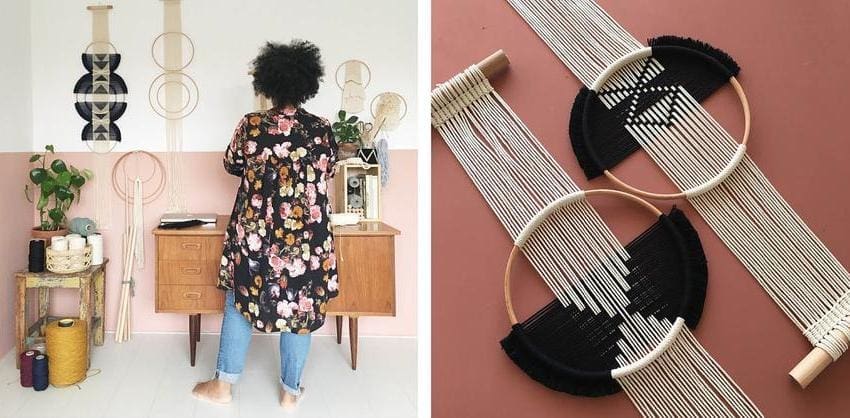 Her new, undeniable talent now lies in weaving — not your everyday technique!
"When I was looking for a new creative outlet, I stumbled across a small table loom at a thrift store and just started. I taught myself, learned along the way and simply fell in love with it.
"I could never have dreamed this was the path my life would take, but I couldn't be happier," says Nom.
"In the beginning, I wanted to do it all! I used lots of techniques, structures and colours in each art piece.
"As my confidence grew, I started to leave things out, and that's how my geo wallhangings started to take shape."
Shop the Studio Nom collection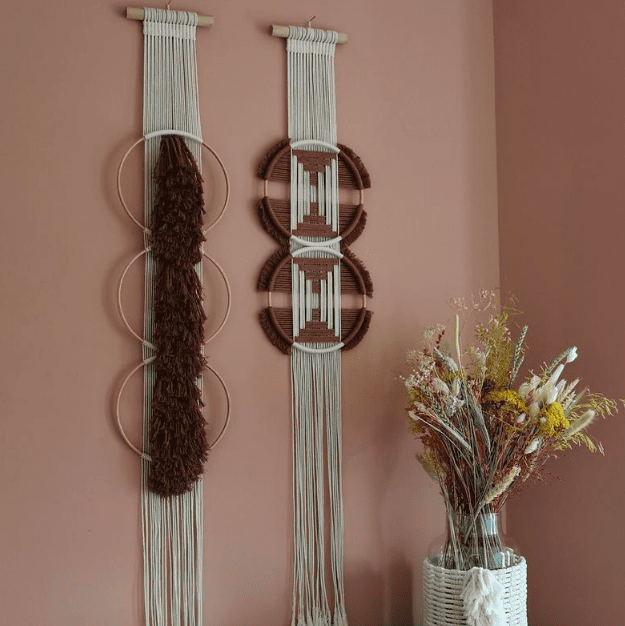 Not only beautiful, Nom's woven wall art pieces also have a strong emphasis on 'reduce, reuse, upcycle'.
"I think we can all agree that our world is cluttered enough already. This is why I strive to find, or better yet, create, beauty through simplicity. I like the idea that my designs will stand the test of time.
"Sustainability is extremely important to me. My designs are as sustainable as possibly by carefully selecting my materials and reducing waste," Nom explains.
"For example, the design for the fringe wallhangings was created while looking for a way to use my scrap yarn.
"And my bottle vases were created from old bottles I had lying around my kitchen. Sometimes you just need to look around in your own living space to find the perfect piece to create something new."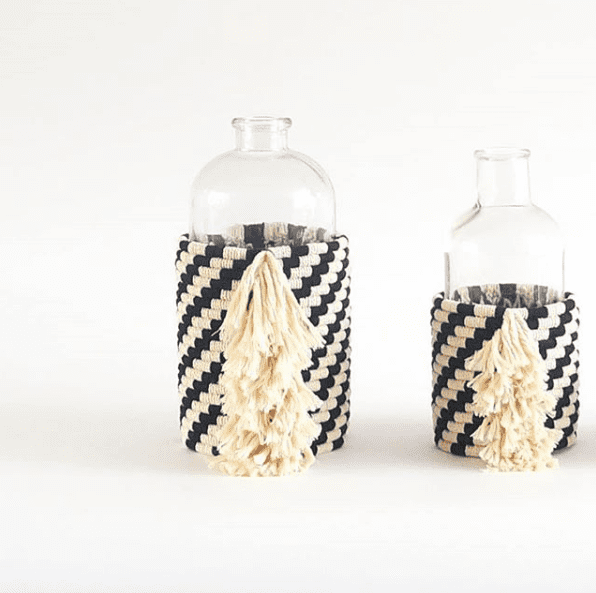 The creative process for Nom's gorgeous works of art start simply and organically.
"I am in my studio almost every day and feel the best way to start is to just show up and do the work," says Nom.
"Inspiration is everywhere. I have loads of scribbles lying around with bits and pieces of ideas.
"I find the best technique for me is to jump right in, step back, look, then look again. There are a lot of do overs, but that's all part of the creative process!"
Big thank you to Nom for showcasing her stunning, unique woven wall art pieces with us. To take a look at her full range, check out her Etsy store, Instagram, or visit her website.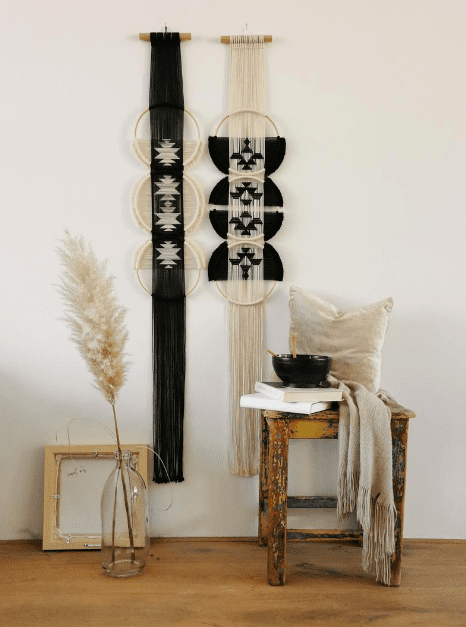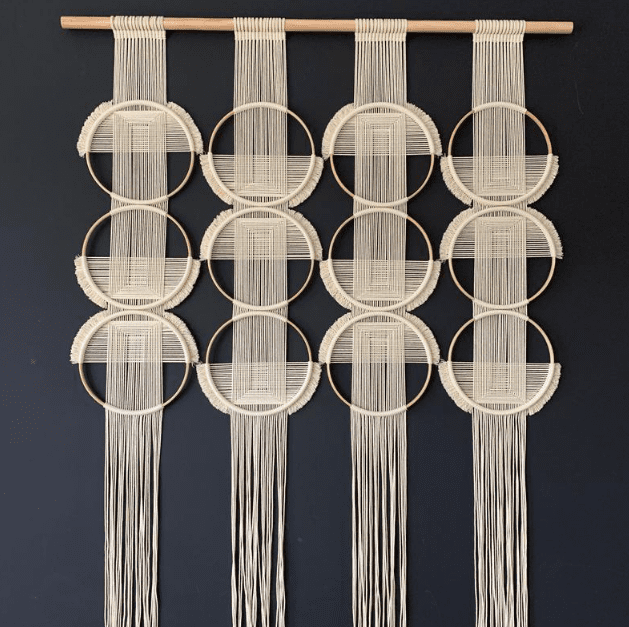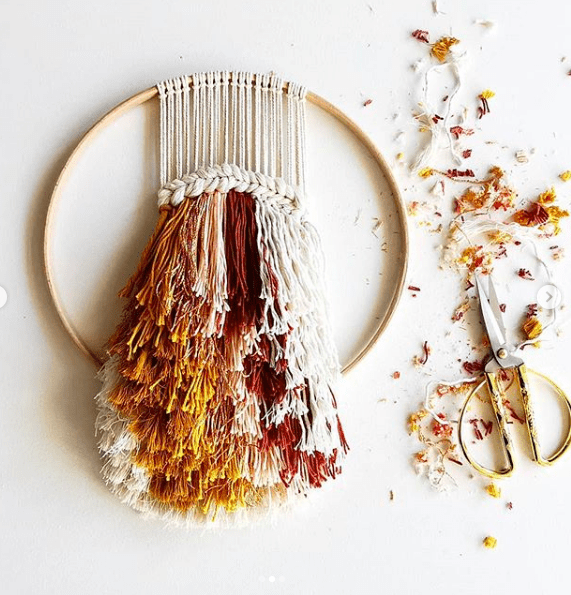 Shop the Studio Nom collection
Disclaimer: This article contains some affiliate links. This means that when you click on a link and purchase something from that site, we may make a small commission at no extra cost to you.