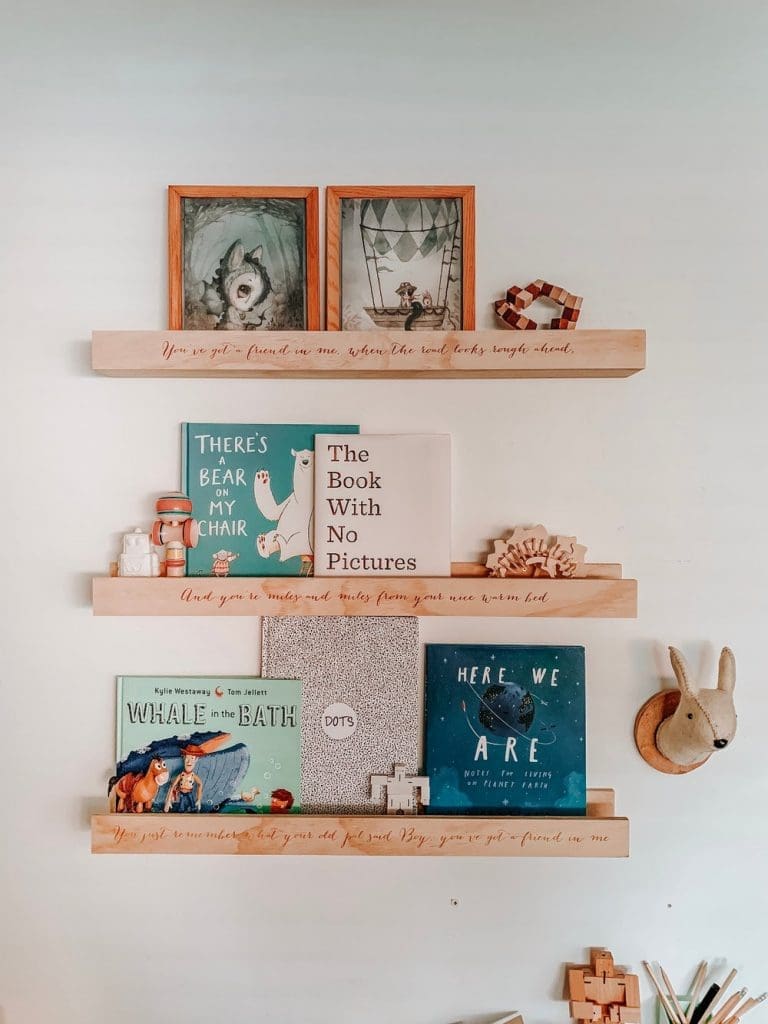 There's no denying a wall shelf is a must in a nursery or child's room — a perfect way to display treasured toys, rest artwork or keep other precious items out of reach from tiny hands!
Because there's no such thing as too much nursery inspo, here is our round up of the most stylish wall shelf options on any budget!
Keep scrolling for our top picks from less to luxe.
Related article: Room reveal: Stylish girl/boy shared children's bedroom
Related article: 5 tips to create a stylish and functional kids bedroom
IKEA picture rail
We just love these IKEA picture rails — they are super affordable, stylish and versatile.
Available in black or white, in short or long lengths, there's no limit to the ways you could style them!
Kmart round wall shelf
It would just be rude of us not to include something from Kmart, right? This round wall shelf is perfect to display small objects in your little one's room. And the price is too good to ignore!
If you feel like getting crafty, check out this Kmart hack where one clever mama turned it into a moon shelf.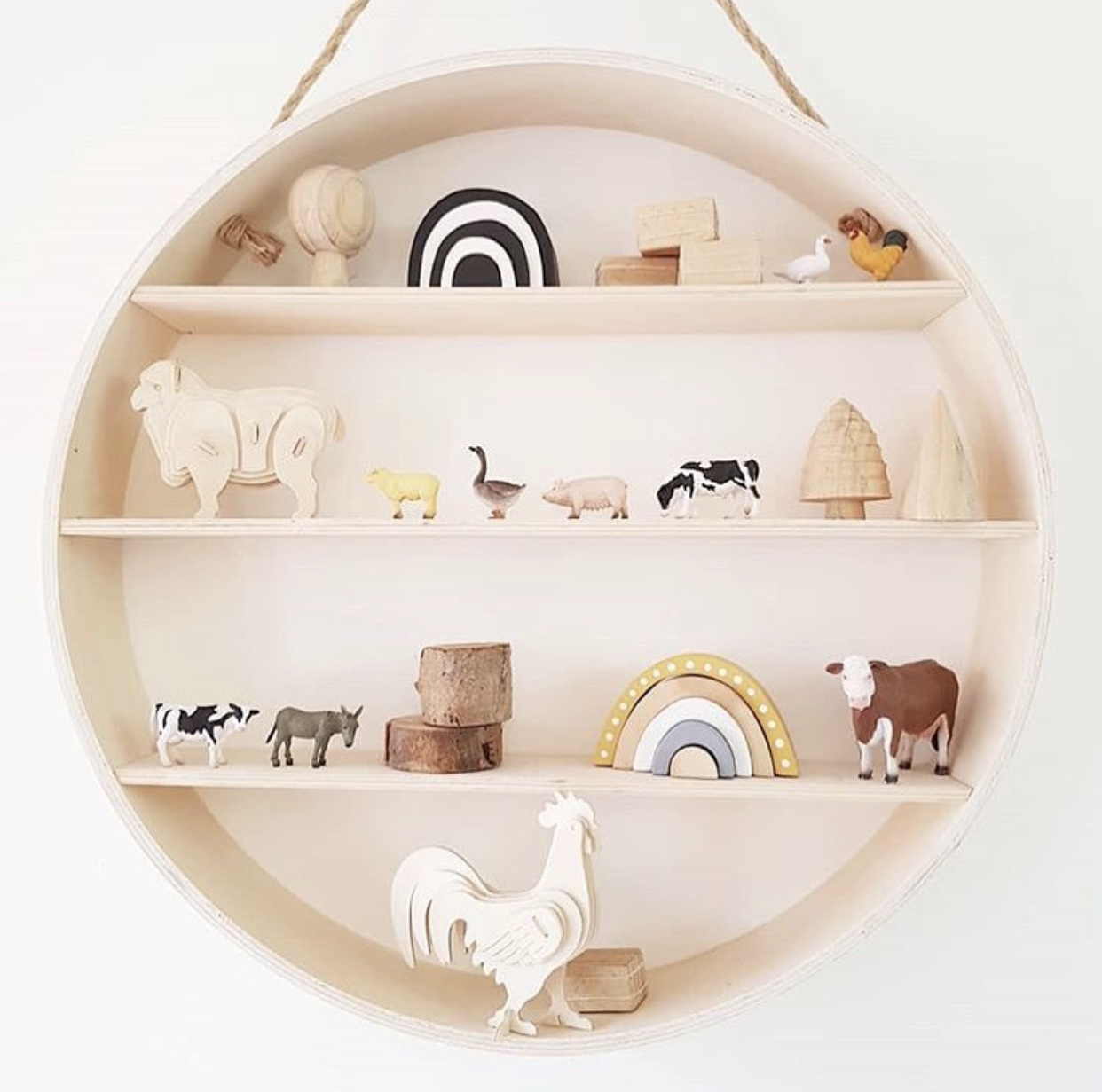 IKEA Burhult / Sandshult shelf
If you're looking for an affordable shelf that has good depth to it (so you can layer items in front of each other), look no further than the Burhult / Sandshult shelf.
Combining timber brackets with white shelves, they look modern while adding warmth. You can also hang a coat hanger or light decor from the brackets.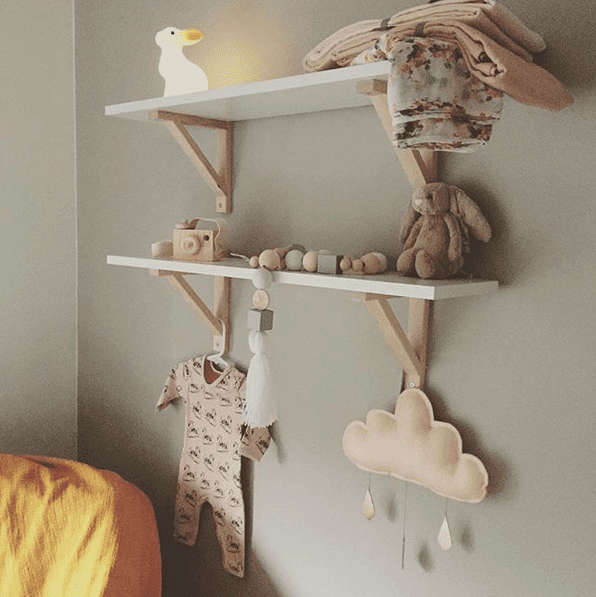 Personalised shelf by Kids Kulture
When we came across these personalised shelves from Kids Kulture, it was love at first sight.
Available painted or in raw wood, you are able to choose any wording you like to adorn these simple yet beautiful shelves. A truly unique and special item that will stand the test of time.
Little Pine peg shelf
This unique and handcrafted shelf from Little Pine just had to make our list. Made from sustainably sourced Australian pinewood, it has handy pegs for hanging as well as a sturdy shelf for displaying those extra special items.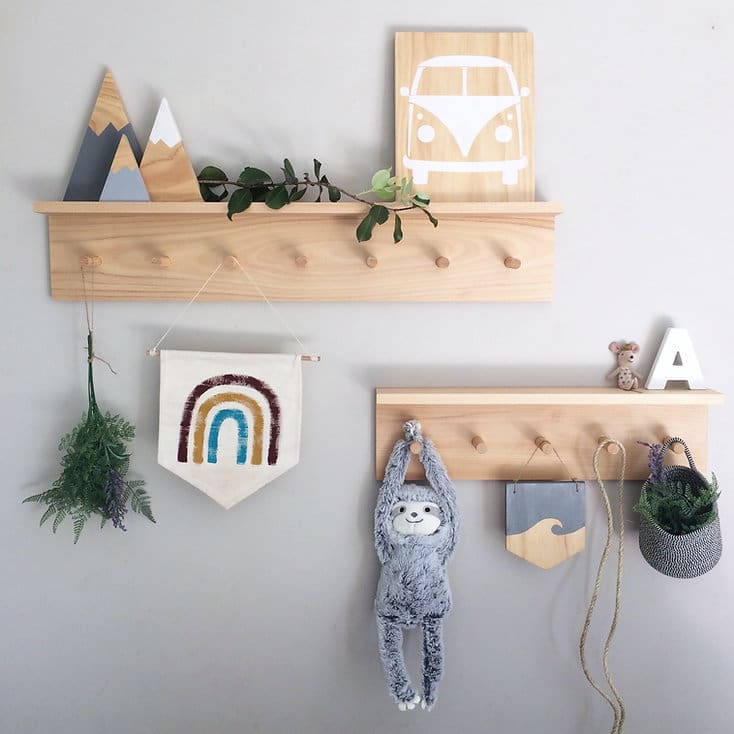 White metal cloud shelf from Temple & Webster
Adding a whimsy feel to any nursery, we adore this sweet cloud shelf from Temple & Webster. It's a great option if you want to add a interest to your walls but don't have loads of decor to display.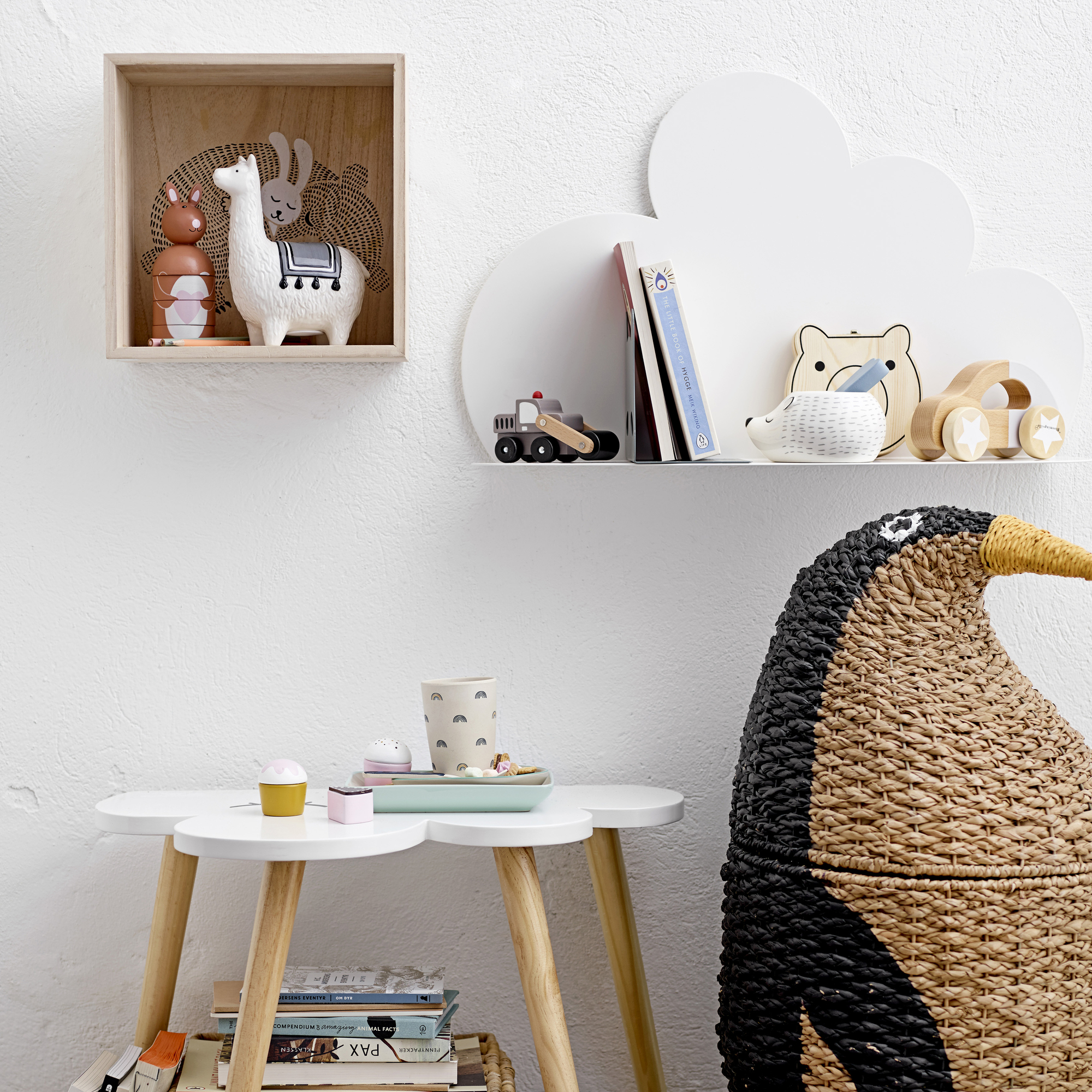 Petite Jolie cloud shelves
Keeping with the cloud theme, just take a look at these locally designed and made shelves by Petite Jolie.
Available in 5 colours — white, blush pink, pale grey, dusty blue and sage — is there a prettier way to display books in your bub's nursery?! We think not!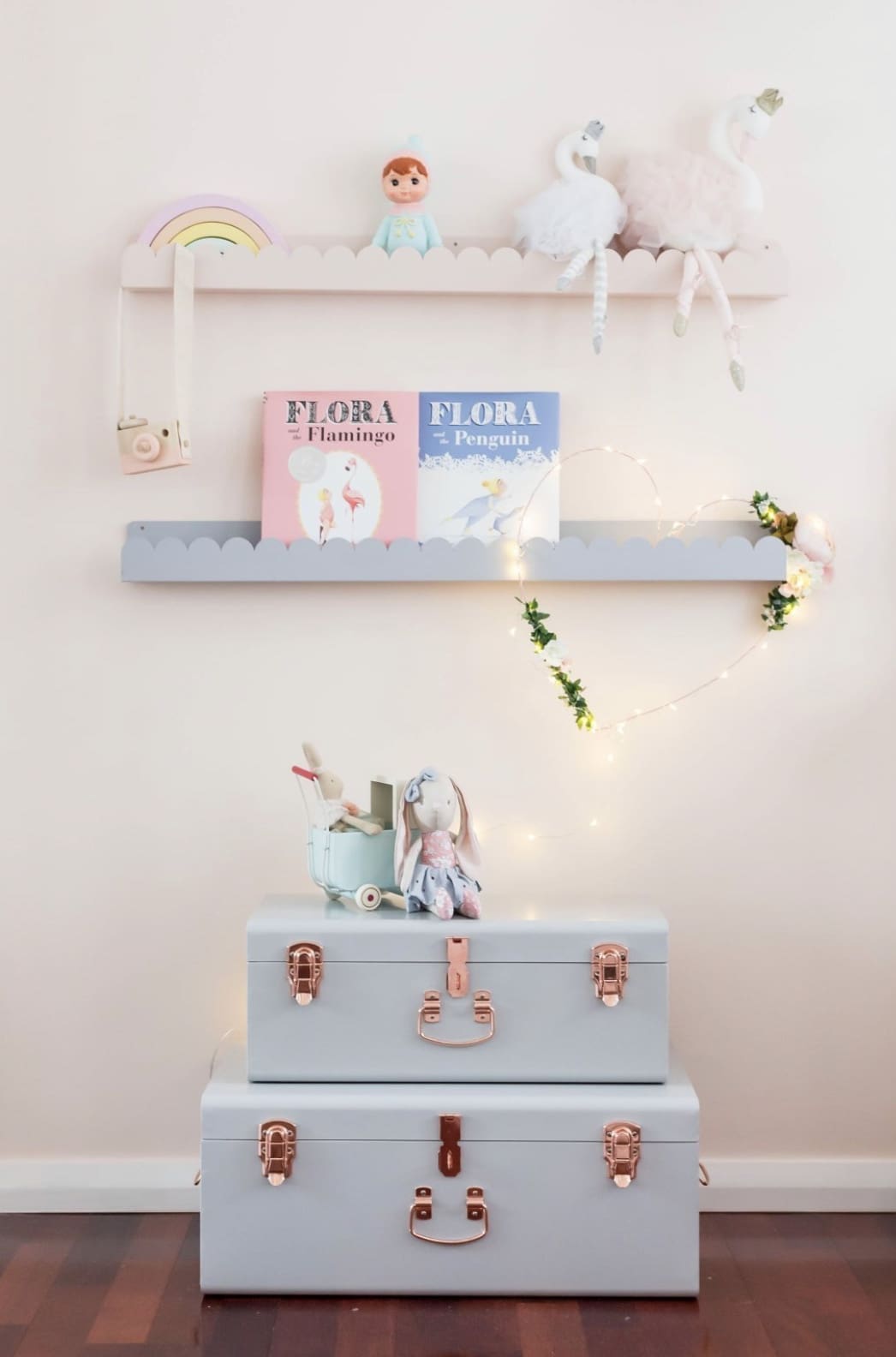 Hyde bamboo wall shelf from Temple & Webster
This bamboo shelf from Temple & Webster is a stand out if you want to bring those boho vibes or a greater sense of warmth to your nursery.
This beauty could certainly live in ANY room of the house and look absolutely stunning, however we just love the idea of adding it into a nursery or kids room.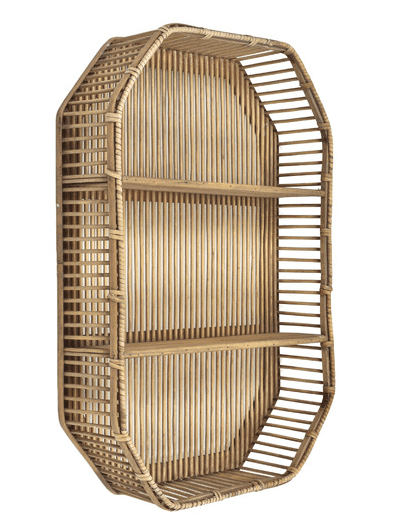 Leather strap shelf by Interior Motives
The next stylish wall shelf to make our list are these locally-made shelves that combine beautiful matte white or solid Tasmanian oak with black or natural leather straps. You also have the choice of rounded or straight edge leather, and black, silver or gold screw caps.
Customise the shelf to suit your space and know that you're supporting a small business, purchasing a product that's handmade with care.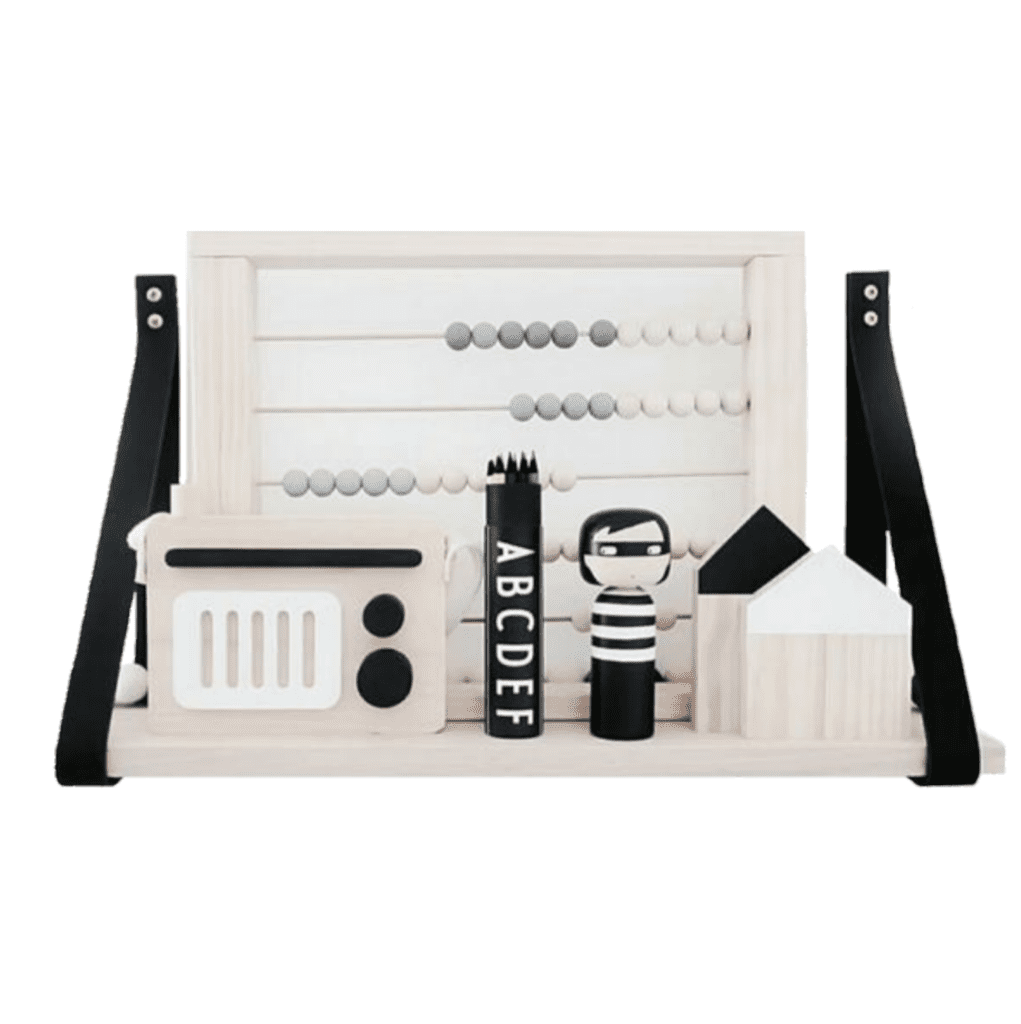 Vintage replica shelf by Au Fait Living
Vintage has always been on trend and this shelf is the perfect piece for anyone wanting to add character to their nursery.
Beautifully crafted with two shelves for displaying smaller items, and a rung to perhaps hang some of bebe's extra special clothes on, this piece is definitely a vintage treasure.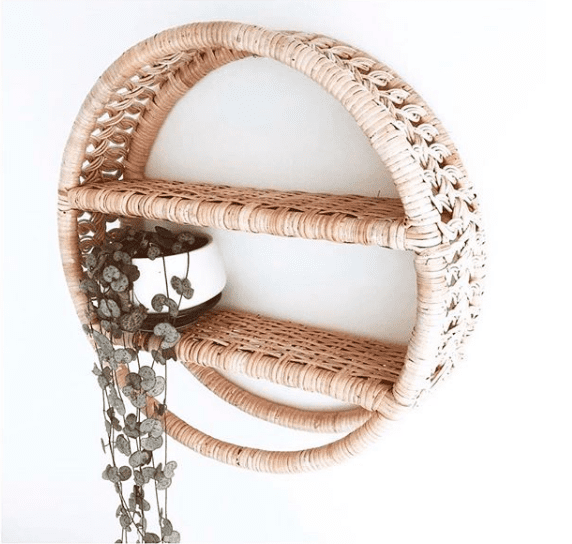 Rafa shelf by Rafa Kids
Topping off the list of stylish wall shelf designs, is this unique and functional shelf with curved wood details. Nailing the minimalist and Scandi style, this shelf is a splurge but seriously worth it. Right?!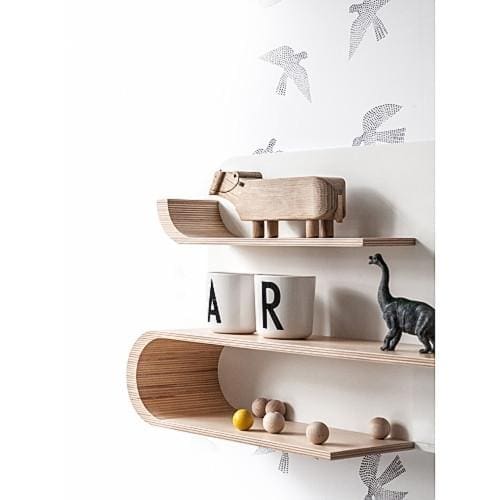 Have you spotted a shelf that you think should be on the list? Tell us in the comments below! And if you're not shy to DIY, you might like to check out our DIY bear shelf tutorial here.
This article was originally published in February 2018 and continues to be updated with latest information and images.
Disclaimer: This post contains some affiliate links. This means, if you purchase an item we may receive a commission on that sale of the products at no extra cost to you.