If the contestants thought last week was a biggie, then nothing could prepare them for an even crazier week with the front garden and facade reveal.
Many of the teams said last week was hard, but this was the real hell week, due to time constraints and minimal budgets (so… like every week on The Block, then?!). Throw in a public holiday where no power tools were allowed to be used, and tradies charge extra and you've got yourself a bit of doozy!
Related article: The Block 2020: Week 9 — Hallway, powder room and laundry reveal
Related article: The Block Glasshouse: Week 9 room reveals
Harry and Tash
Scraping the bottom of the budget barrel (as in, they're in the red from last week) Harry and Tash opted not to have trades working on their house for the public holiday to try and save some cash.
It's pretty clear delegating and working under pressure aren't Harry's strong points so these guys were a bit all over the shop this week. But despite the constant nagging from Scotty, Keith and Dan, they got it done, pulling off a beautiful front garden and facade reveal.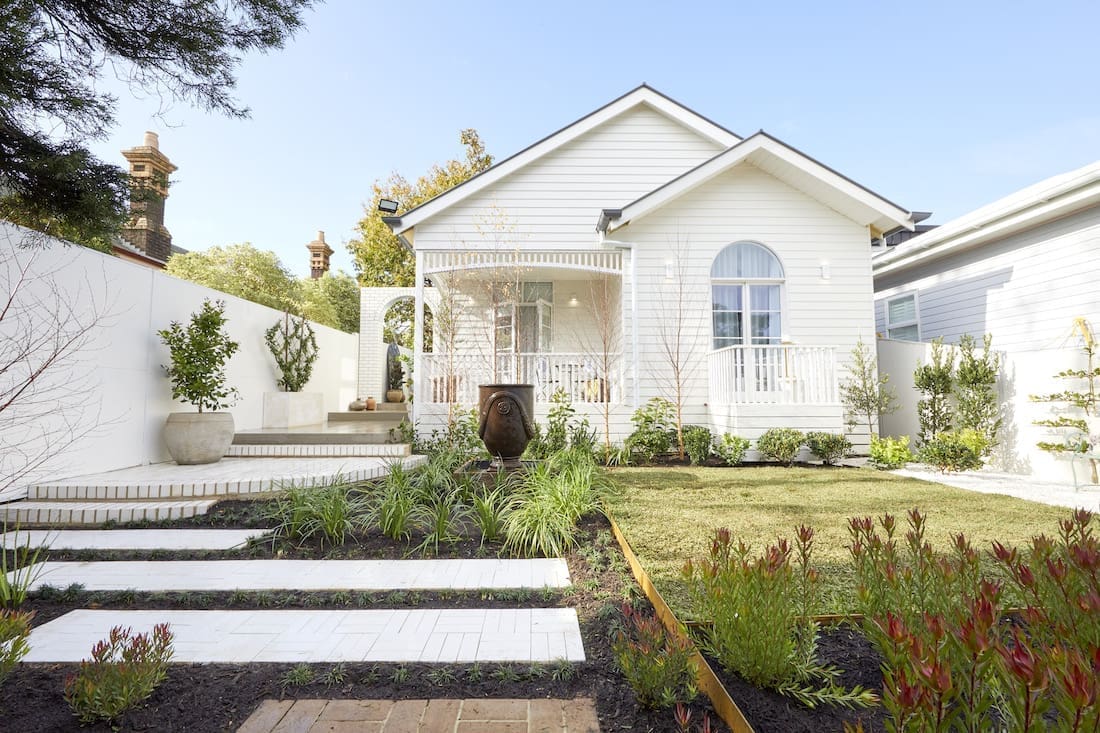 So… they got it done, but certainly didn't win like they hoped. The judges praised Harry and Tash for their white brick steps and gorgeous archway. The plants they chose were lovely, but the judges felt for a family home, the lawn space was too small and overall, the garden felt too busy.
We, unfortunately, agreed with the judges. The space was lovely, but VERY busy. And while we liked the idea behind the Juliette balcony, it didn't really add much to the home and if anything, distracted from an otherwise beautiful facade.
Score: 26 / 30 (technically 3rd place with the other scores, but actually… 5th place)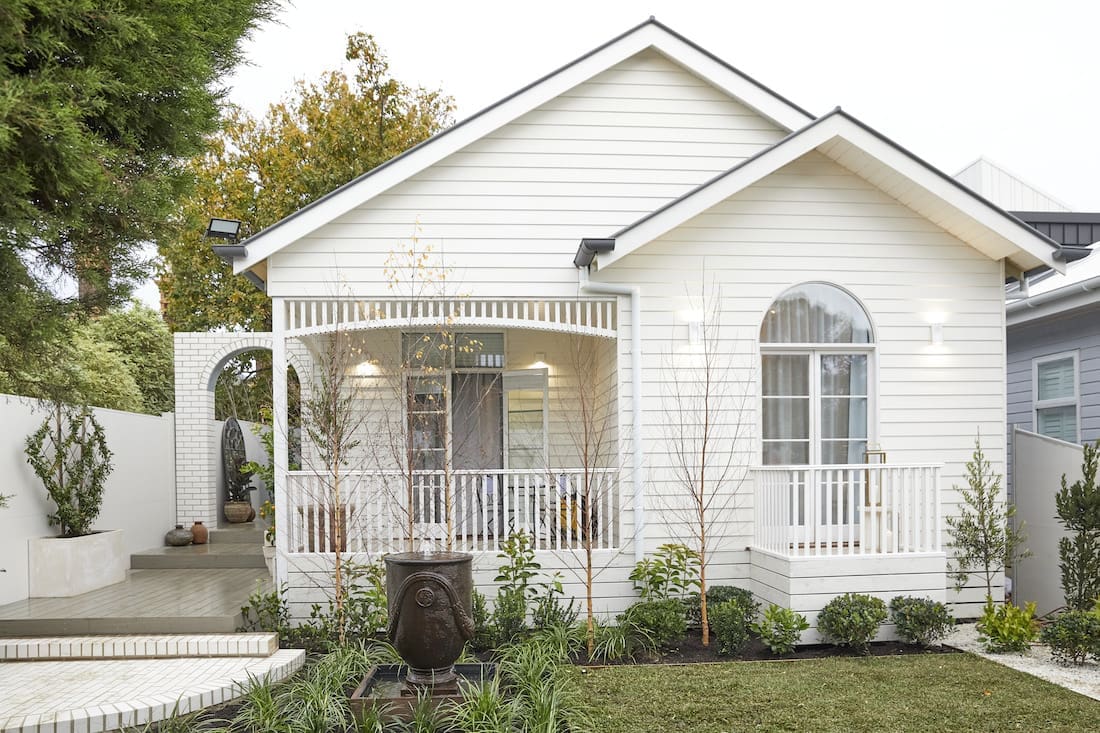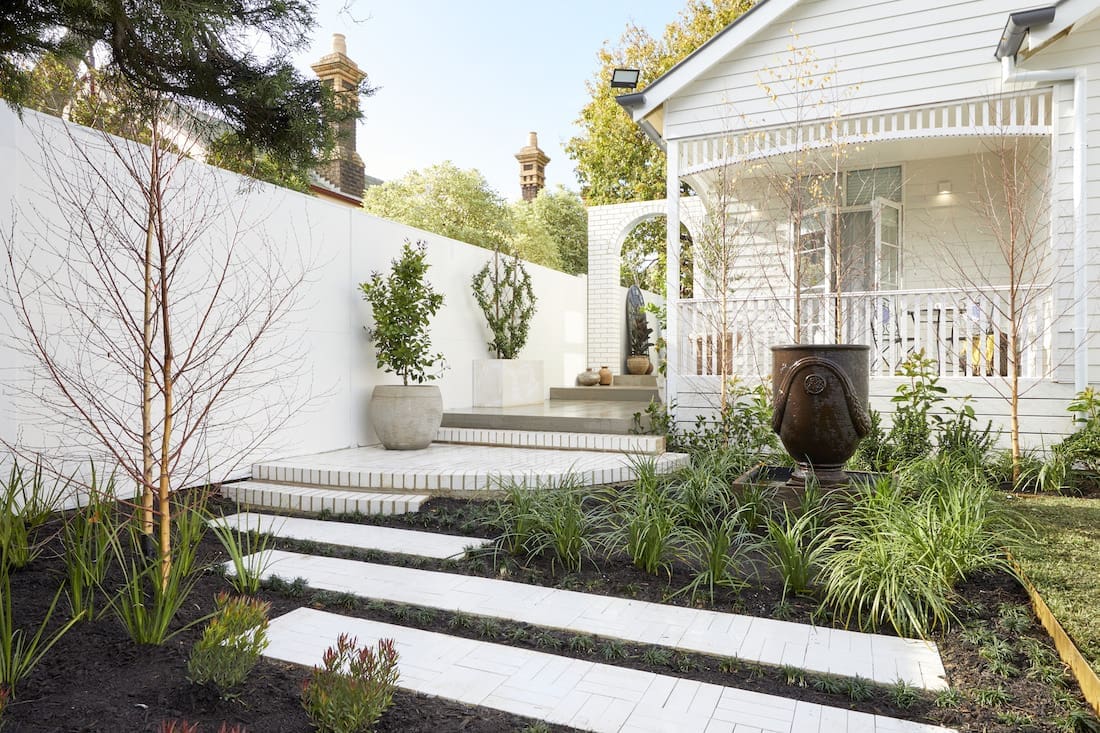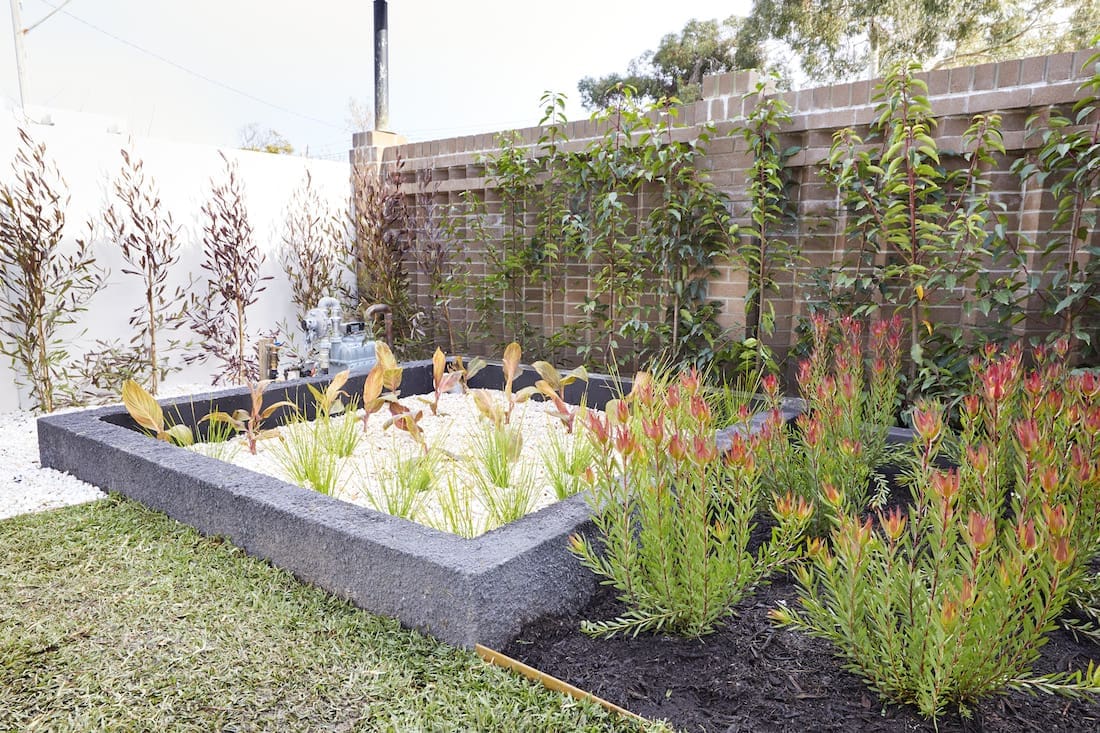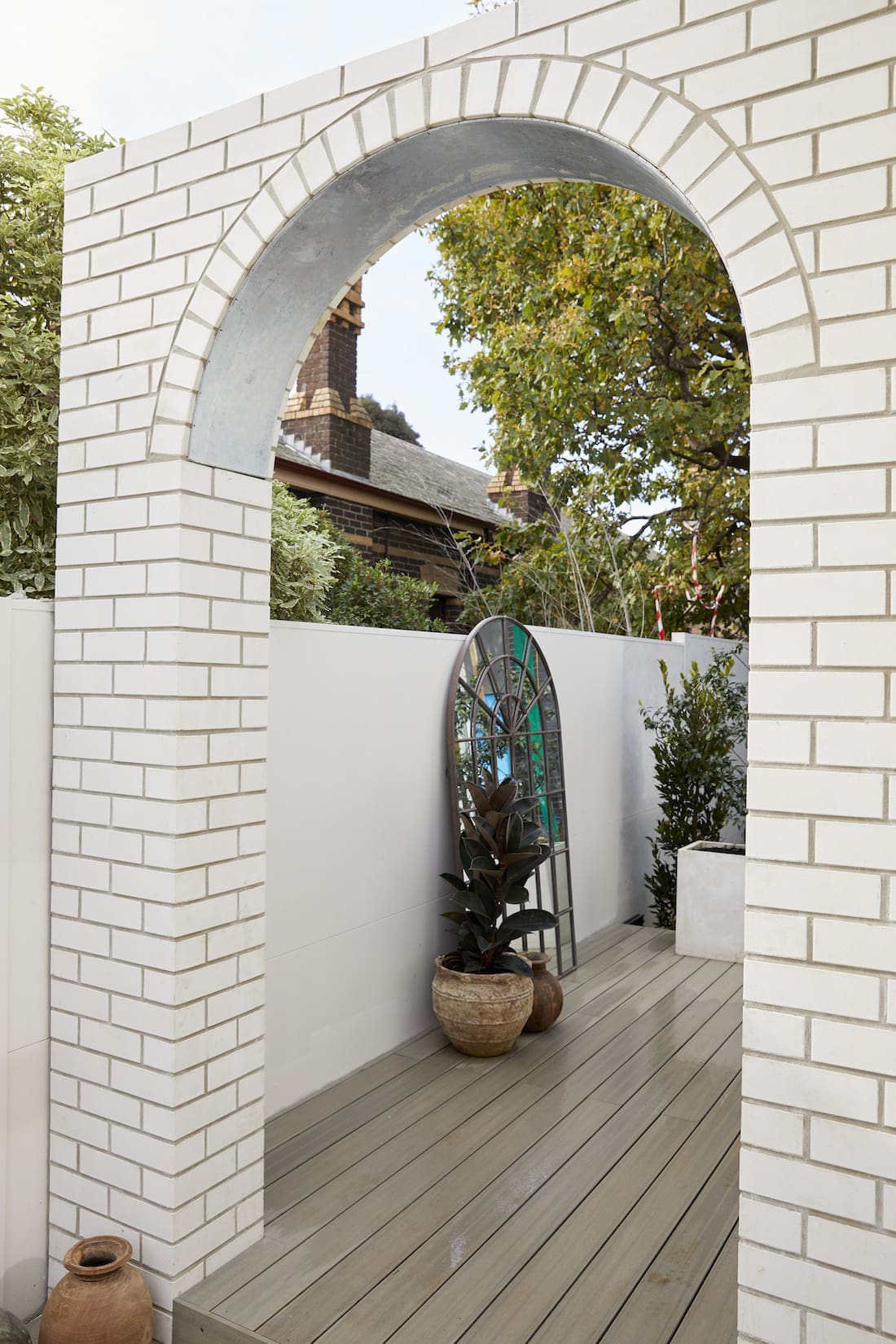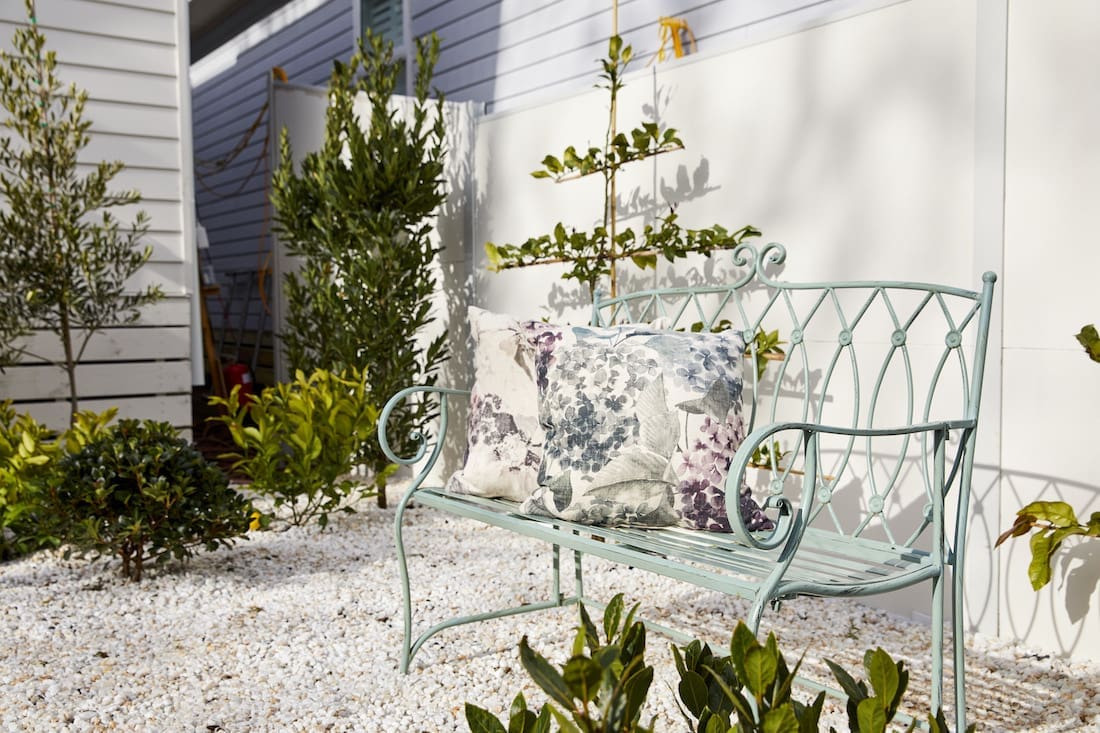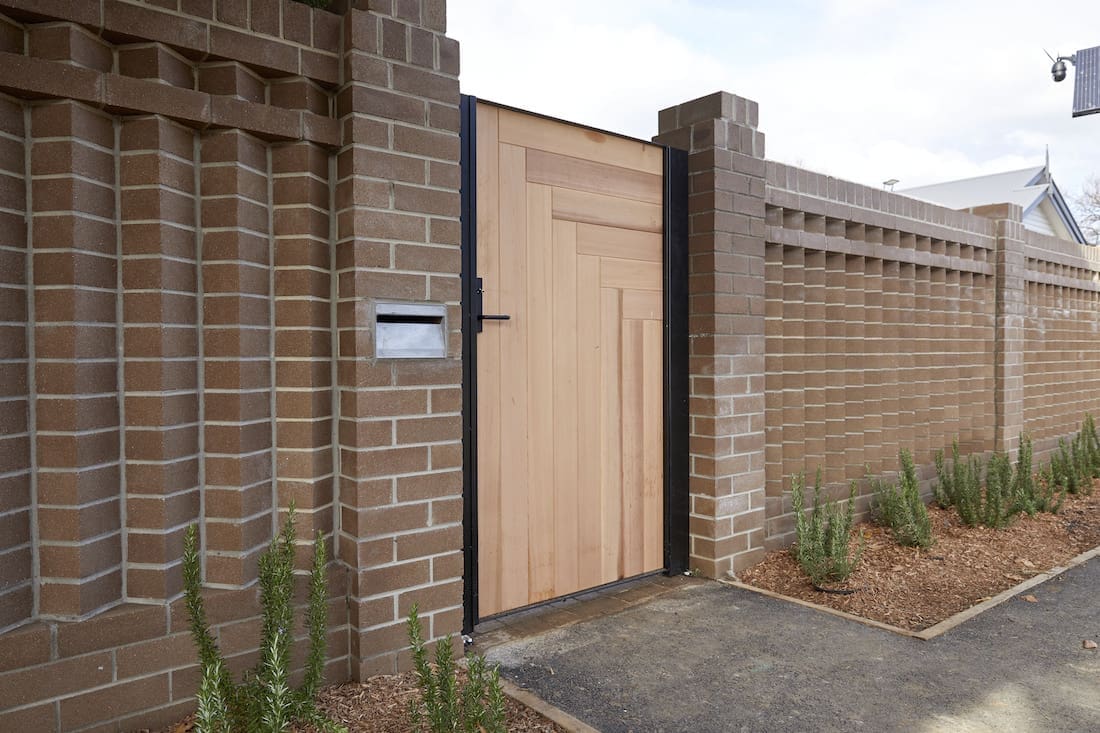 George and Sarah
Nabbing The Block's fave landscaper, Dave Franklin, George and Sarah were hoping he'd bring them some luck and a much needed win for front garden and facade reveal week.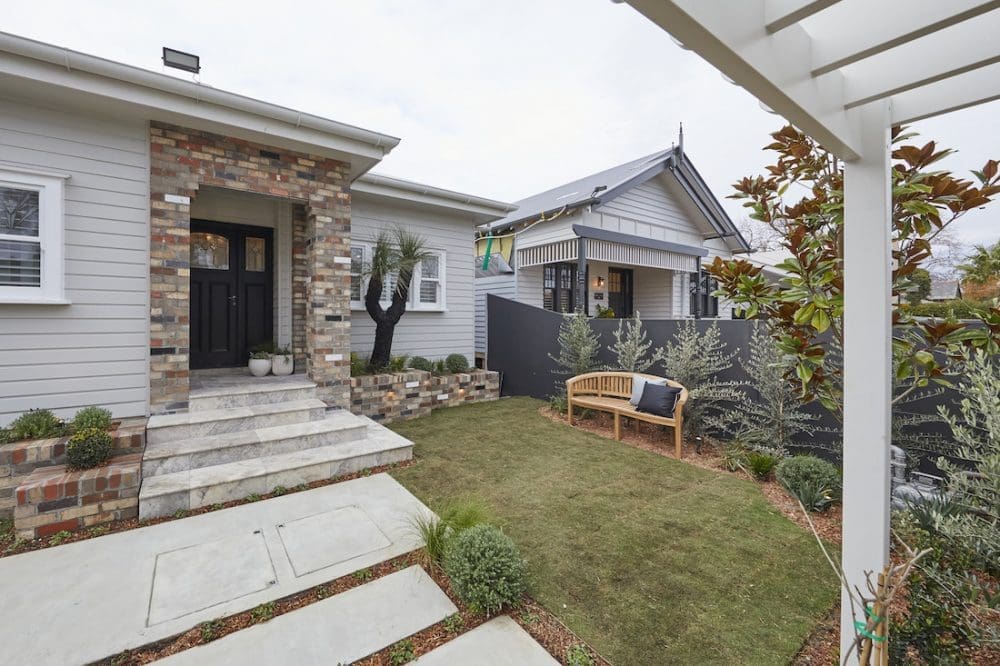 Dave Franklin, King of landscaping, retained his crown with George and Sarah taking out (joint) top spot this week. Their second win of the season. The addition of Sarah's beloved 200 year old, 400kg grass tree was a great addition. Turns out using a crane to get it into position was worth the effort (and beers it cost them to thank the crane operator for helping them out).
Their entire front garden and facade reveal was simple, elegant and loved by the judges. The coloured bricks also impressed and the judges felt they were very fitting for the 1940s era. There wasn't much the judges didn't love this week.
Look… it's not our fave, and felt a little too traditional for us. It would have been great to see some curved forms in the garden as they have done inside the house. We didn't not like it, we just wouldn't have picked it for top spot.
Score: 29 / 30 (joint 1st place)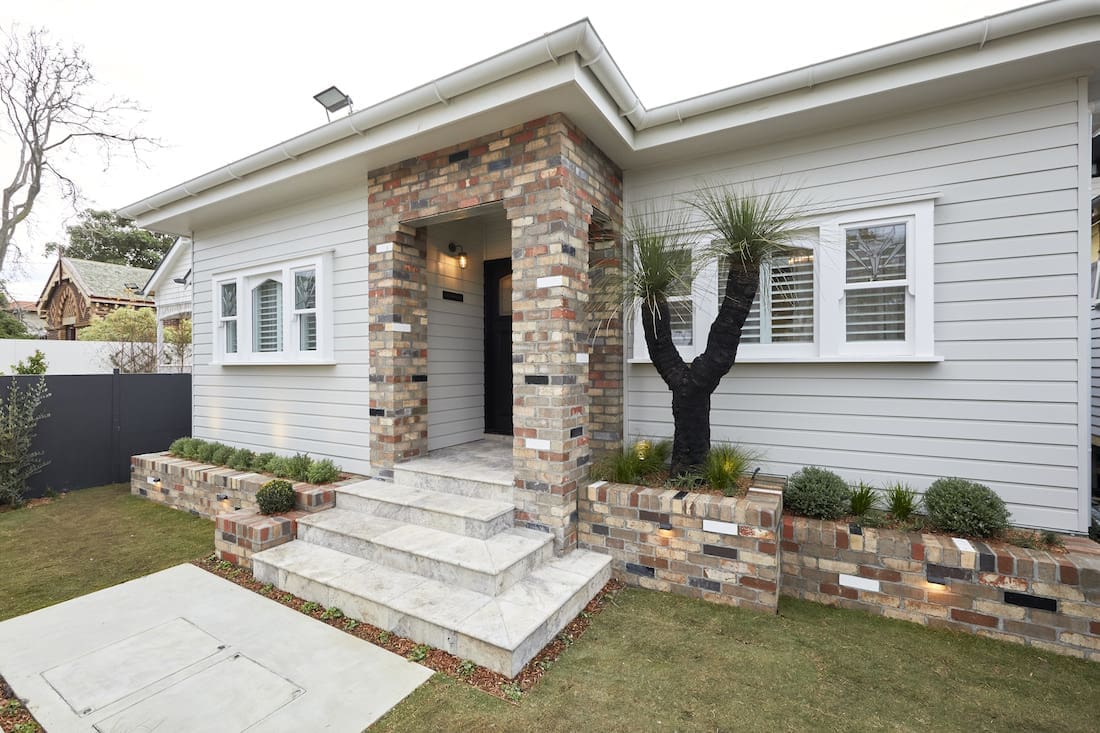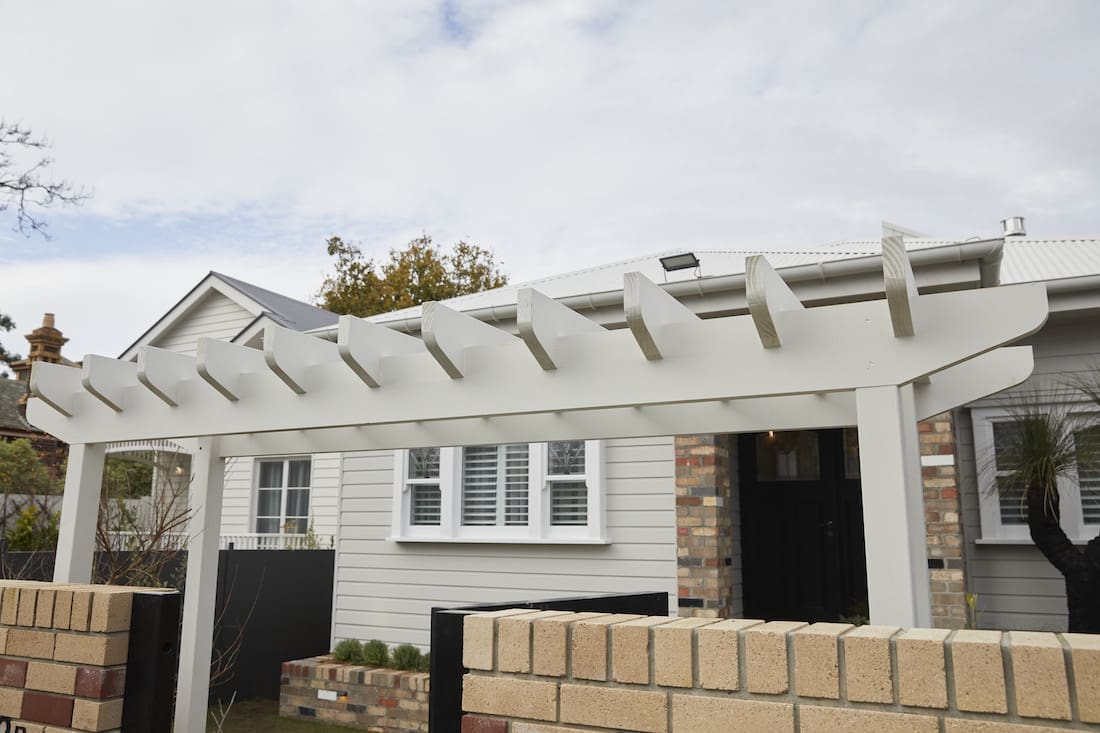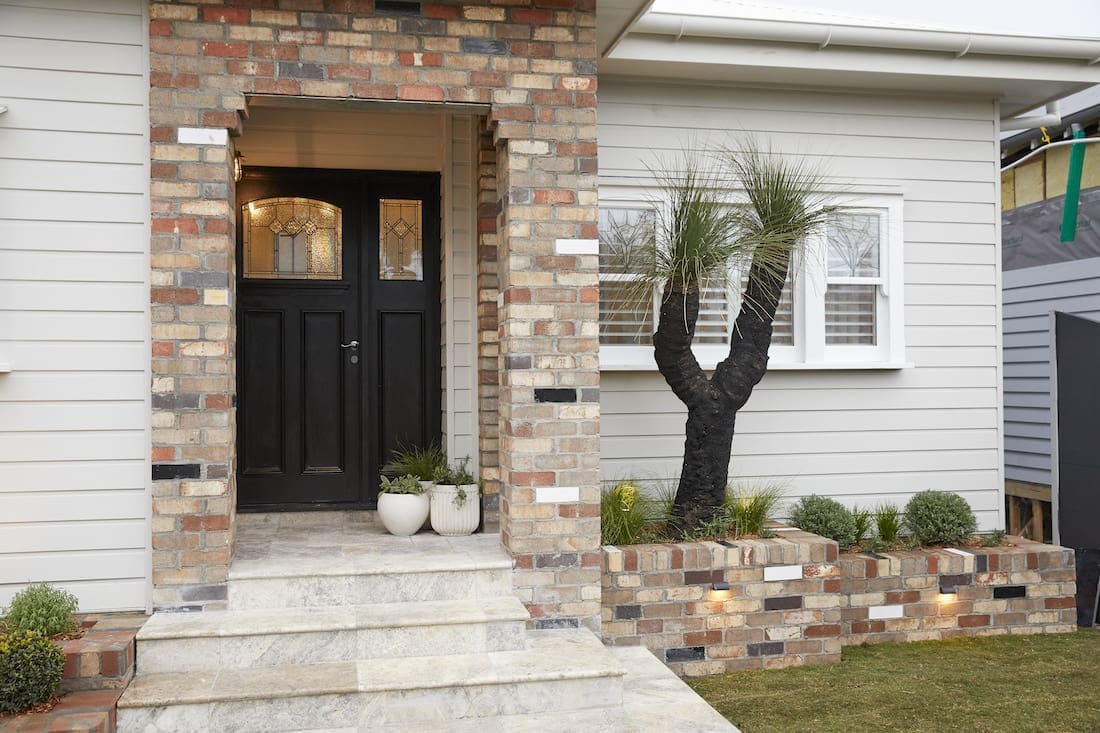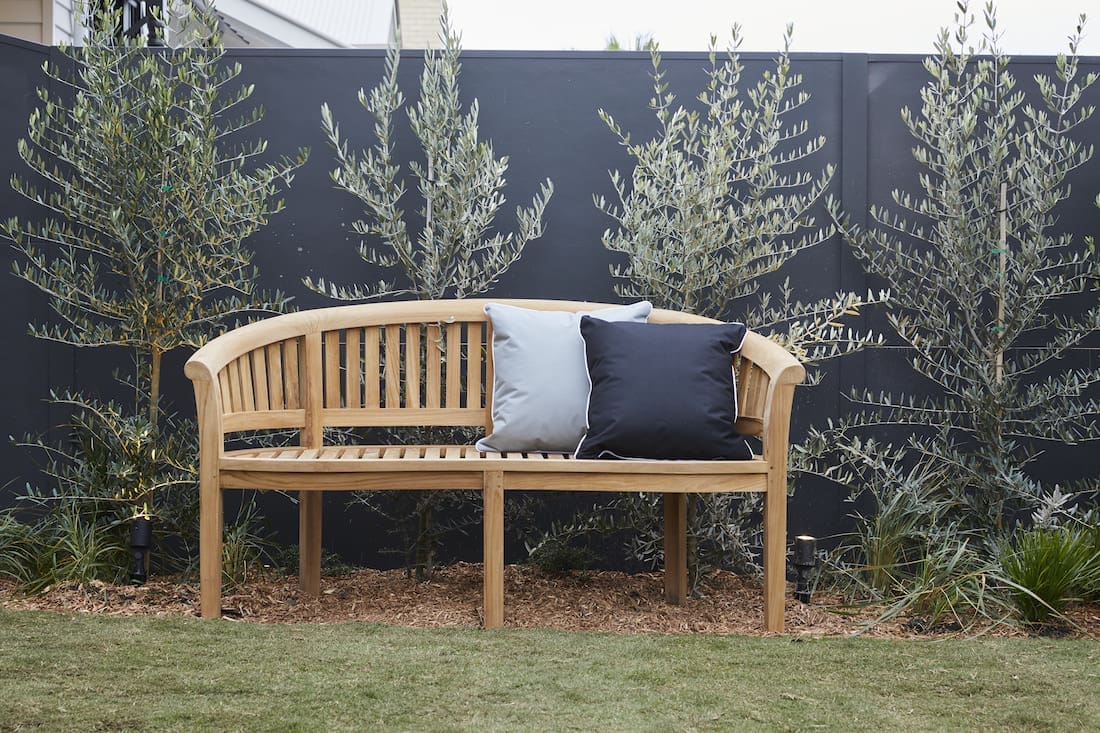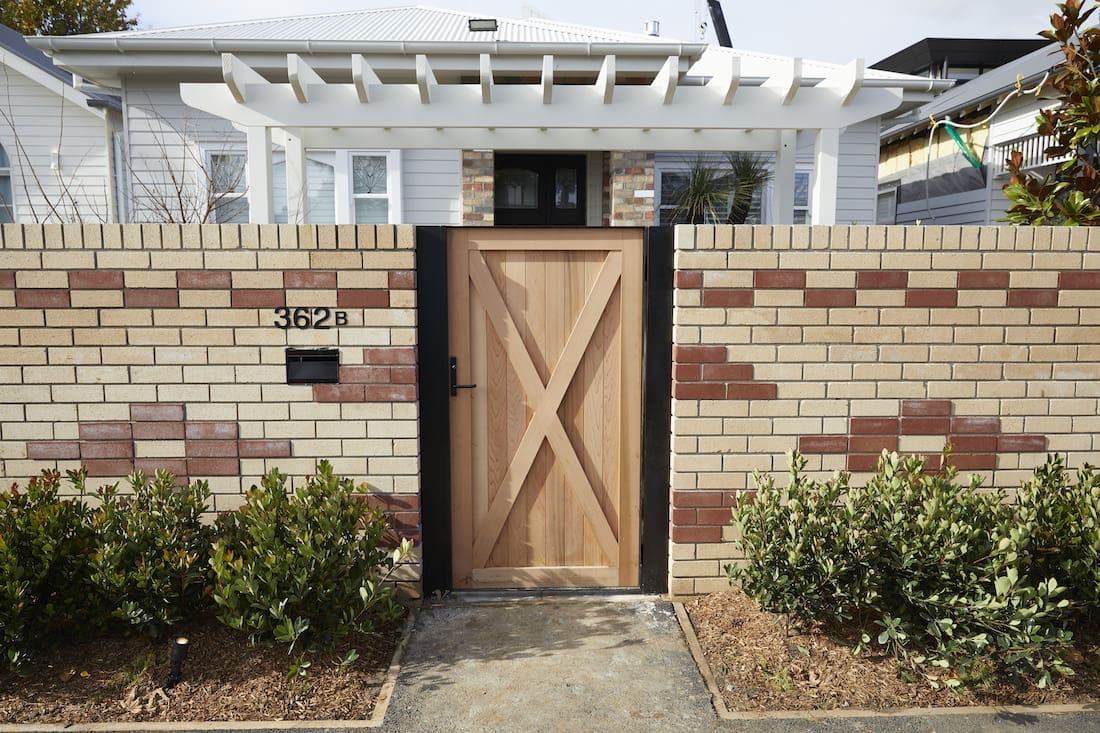 Daniel and Jade
With a suuuuper tight budget for their extravagant external plans, Daniel and Jade pulled the hipages lever to get themselves some extra tradies for this week's reveal.
The extra help didn't stop them from complaining and dropping a dozen extra F words. We had to giggle when Daniel continuously complained about how tough this week was and then we flick to a flashback of their pre-Block interview where he said all previous contestants were wingers and they should be tossed off the show for complaining. How's that humble pie tasting, Daniel?! 😉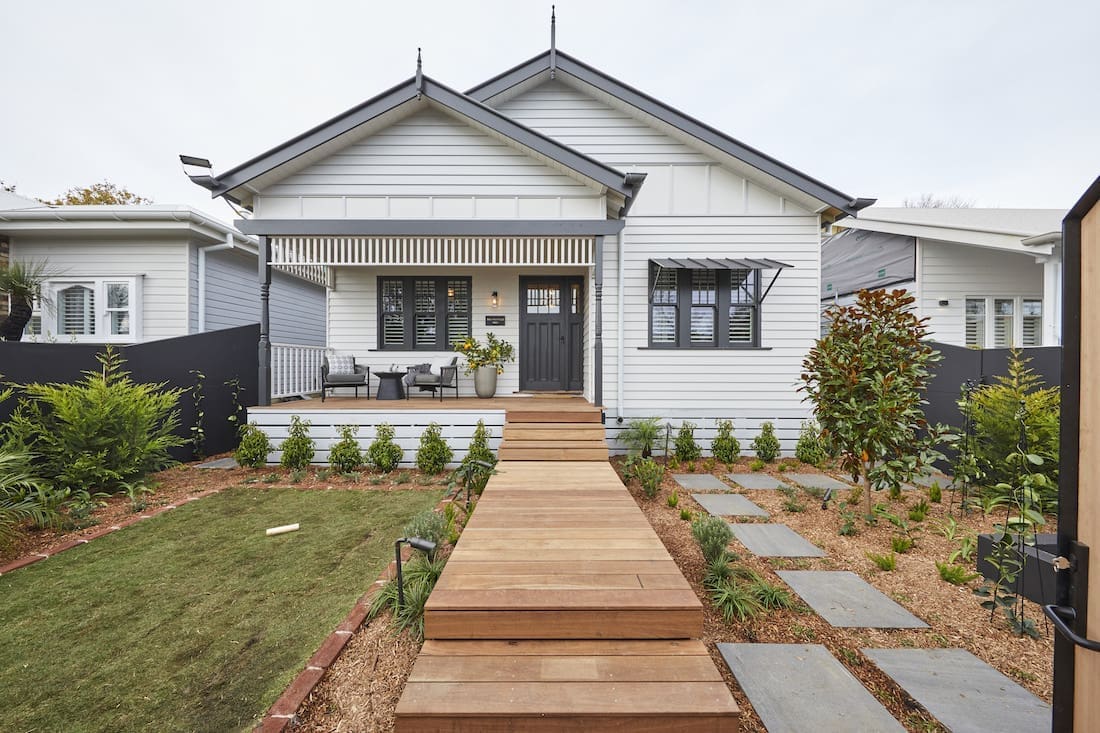 For Team 3, it's all about the facade. Theirs was one of the biggest on The Block and it took a lot of work to complete. The double gabled roof is just beautiful and gives the home amazing kerb appeal.
In terms of their garden, the judges felt Daniel and Jade really stuck to their 1940s era using plenty of traditional plants. They also loved the deck at the home's entrance, but thought it felt a little unfinished on the side of the steps.
But really, there wasn't much to dislike and they took out second place. Which is great… except it doesn't give them any additional budget next week which is what they really wanted (and needed).
For us, we loved the raised wooden pathway and large steppers through the garden. It felt grand, yet still practical and beautiful. Daniel and Jade's front garden and house facade would have been our pick for first place this week.
Score: 28 / 30 (joint 2nd place)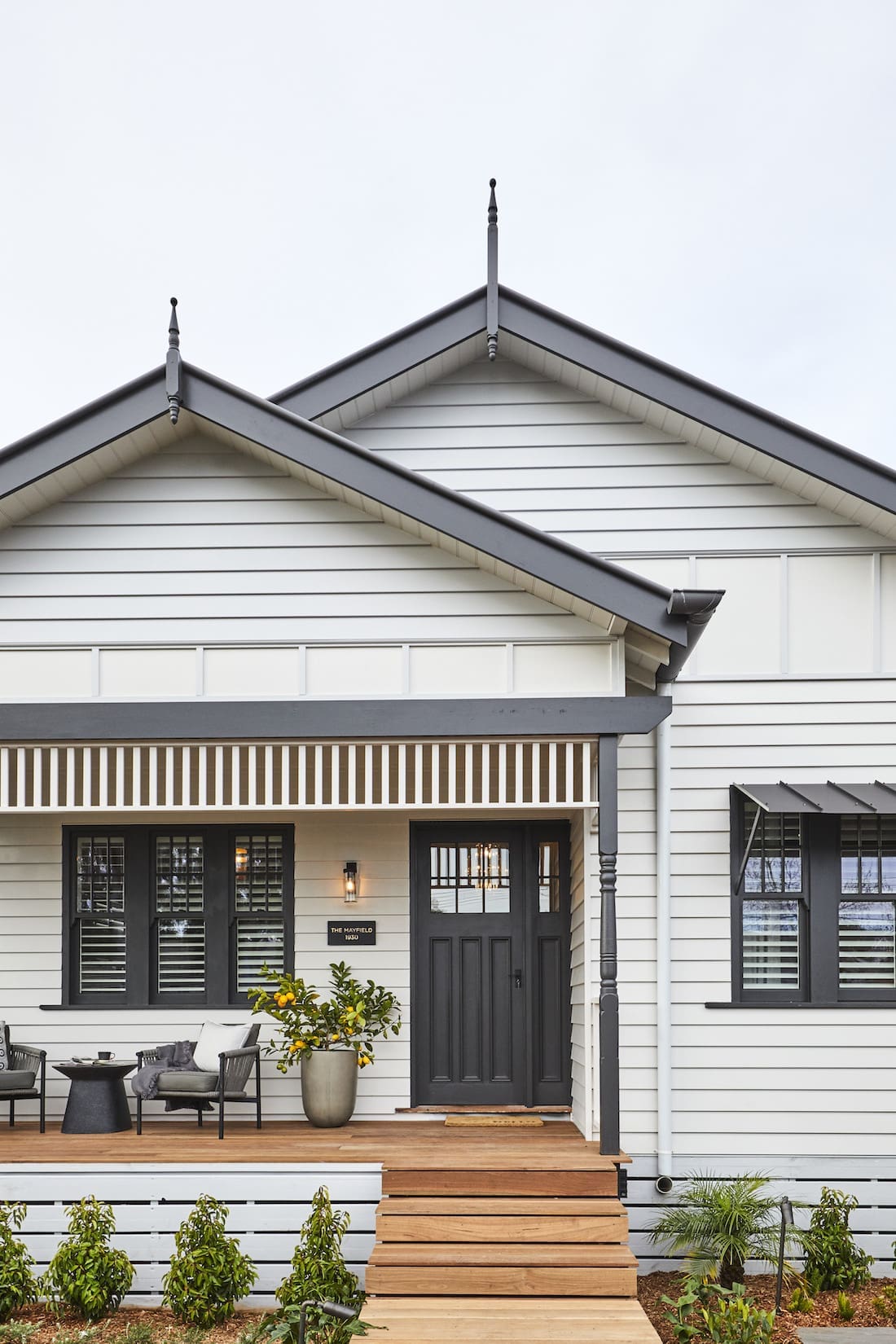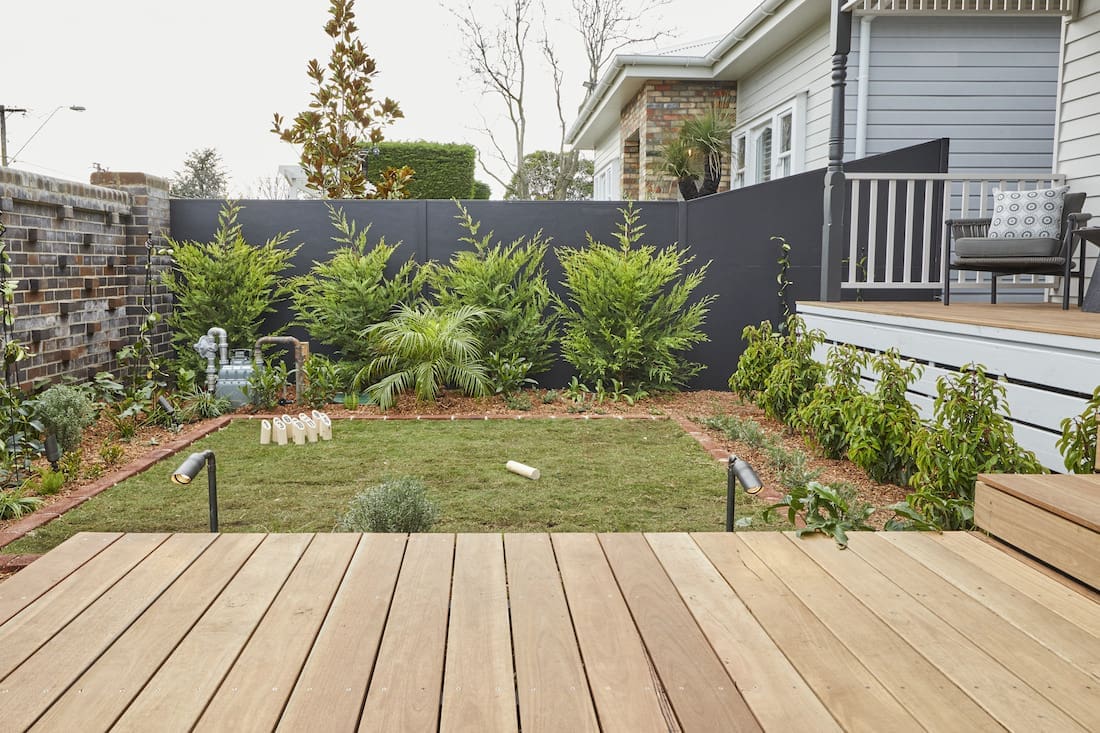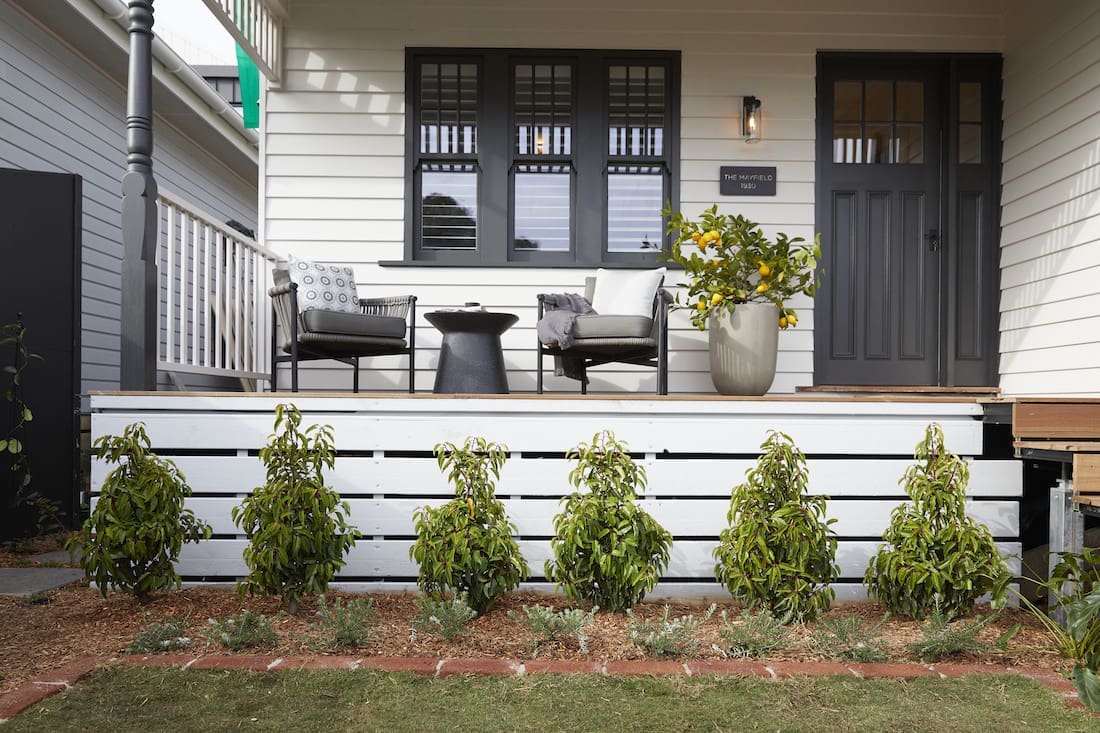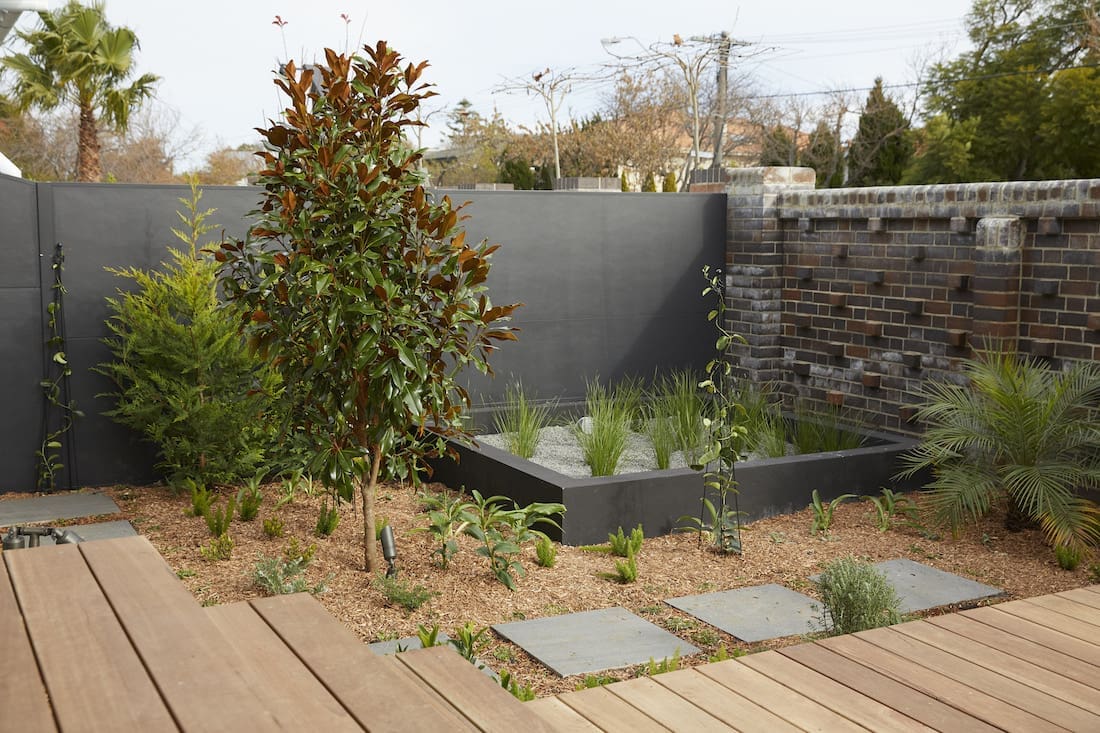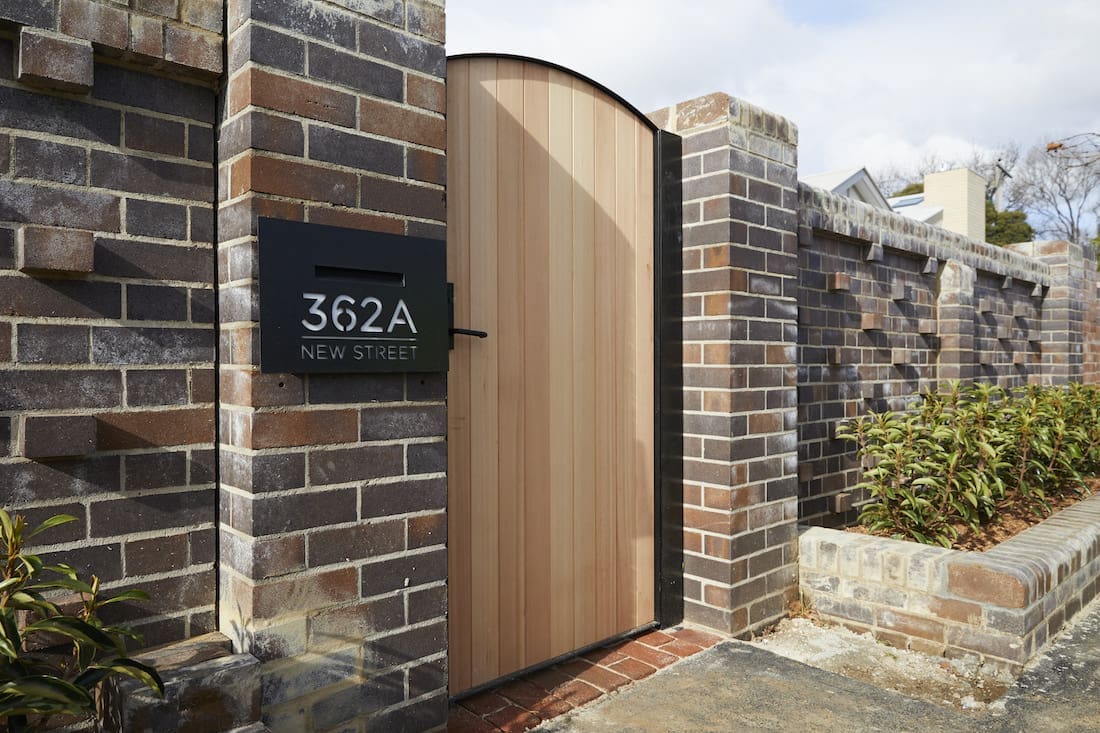 Luke and Jasmin
Being robbed of the win last week because of the pesky gnome point, Jasmin was not the happiest of Block contestants this week. It's the second time Jimmy and Tam have used a gnome point against them and taken away that much needed budget top up.
So yeah, Jasmin was a tad bitter at the start of the week but cheered up come challenge day. Together with Jimmy and Tam, and Daniel and Jade, these guys won the challenge and pocketed themselves $6000 each. Unfortunately when it came to their garden, they were yet again pipped at the post, taking out (joint) second place with an impressive score of 28 out of 30.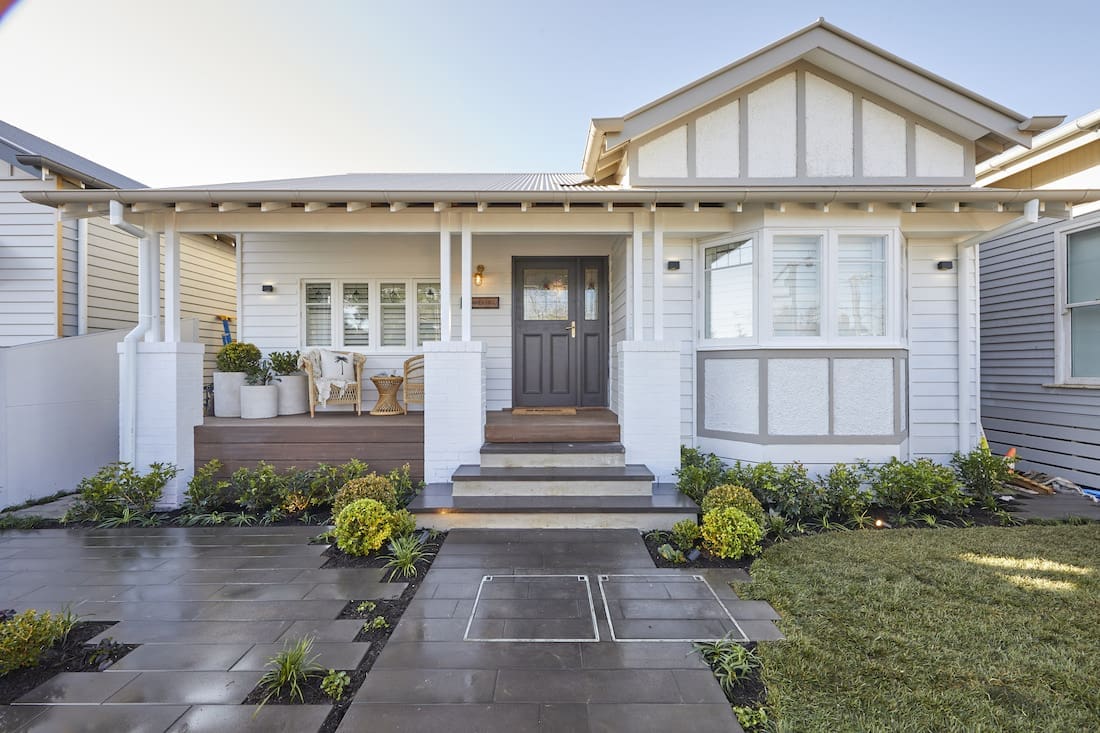 Dubbed 'the house of curves' (and we are all for celebrating curves!) Luke and Jasmin continued their theme outside too. For their front garden and facade reveal, they added a very unique curved garden edge / seat. It added some real character and a point of difference to their garden.
Their choice of plants was bang on. They not only provide a timeless look, but as they grow will give some much needed privacy. Neale wasn't a fan of the water feature, but Jasmin was adamant it was staying. We agree with Neale — it felt a little clunky for the space in an otherwise elegant and timeless garden design.
We also loved the seated area on the front porch. It ties in perfectly to the rest of the house and gives the entrance a warm and inviting feel.
Score: 28 / 30 (joint 2nd place)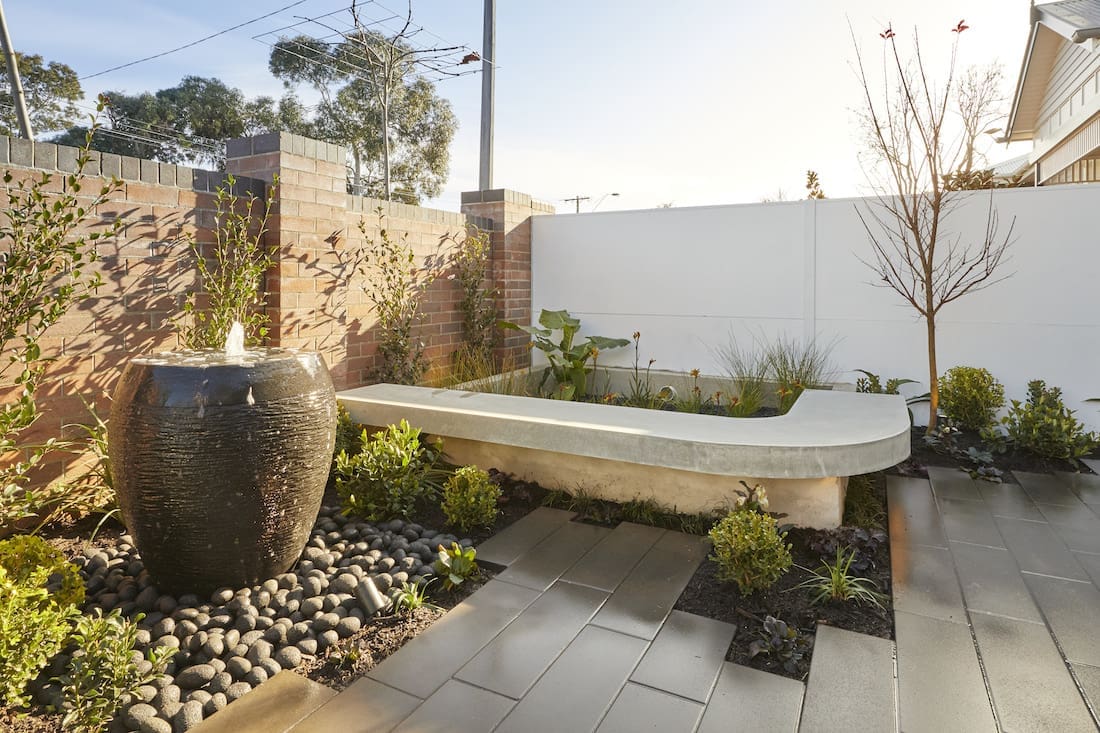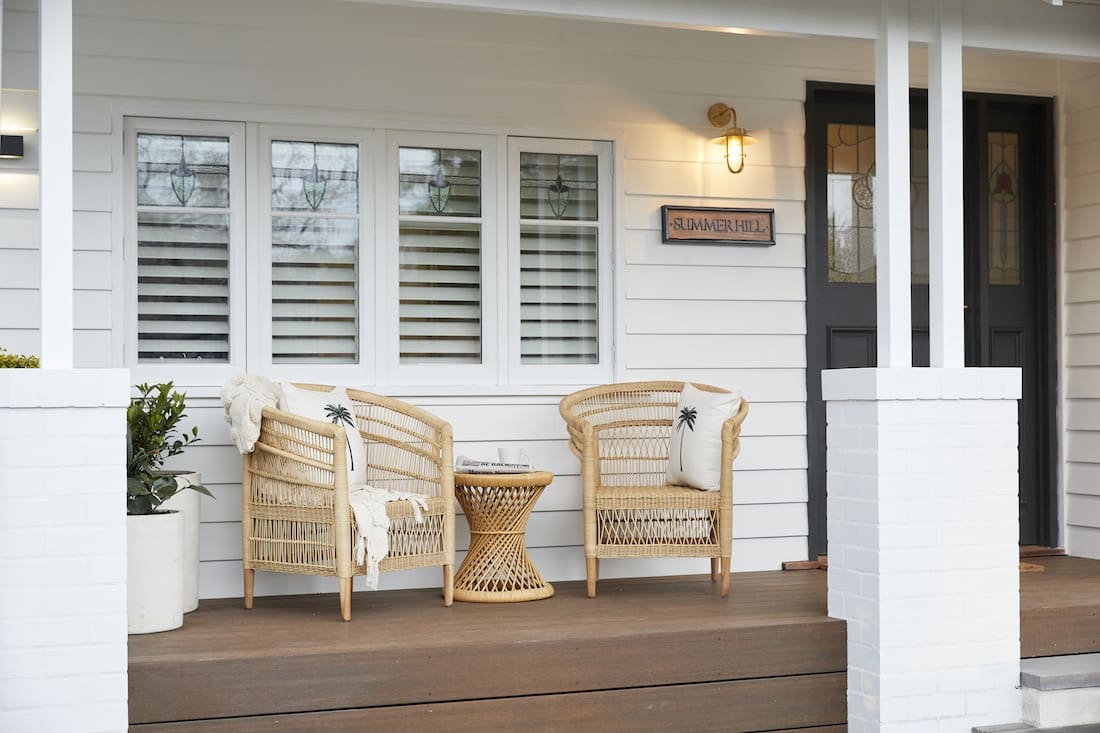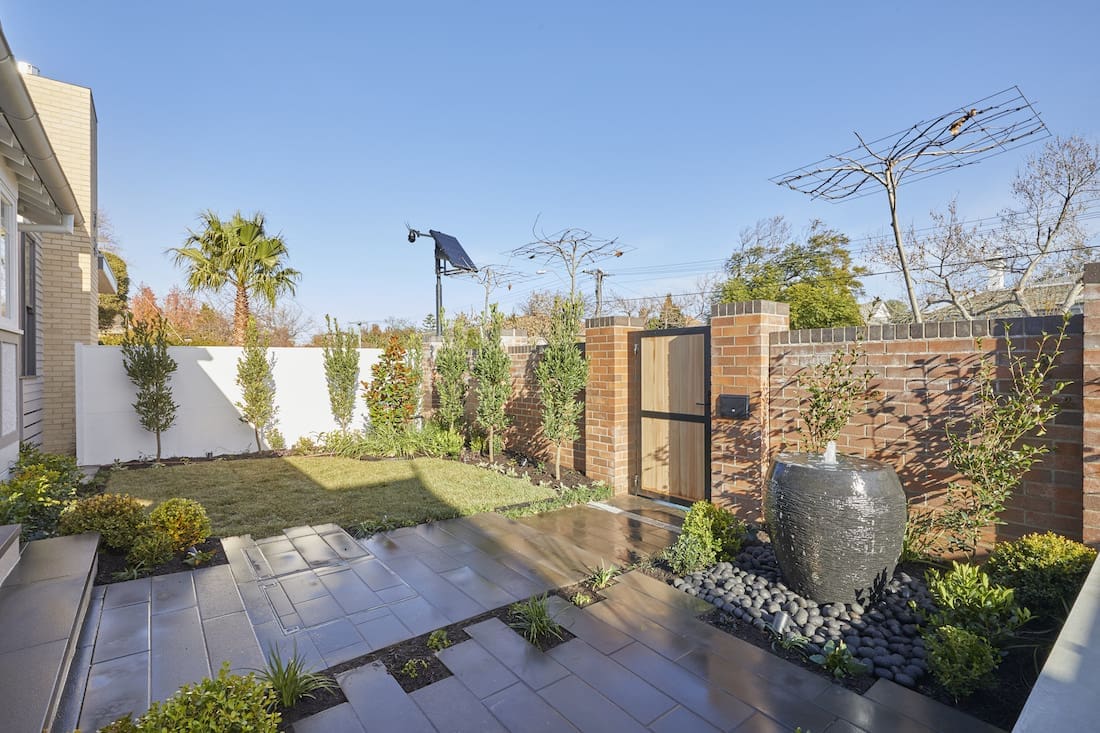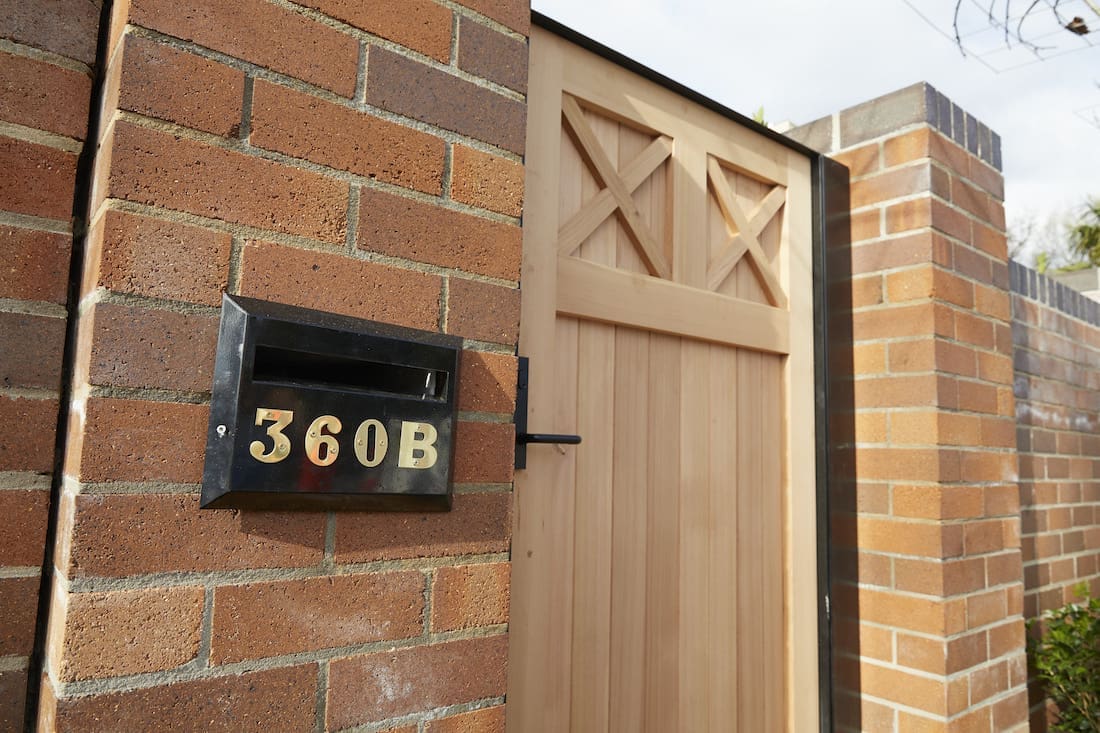 Jimmy and Tam
Feeling a tad guilty for stealing the win away from Luke and Jasmin last week, Tam offered to return the $2000 that House 4 gave them for helping out with some painting on their house a few week's back. Clearly grateful for the offer but still smarting from the gnome being used, Jasmin snapped it up before Tam could even finish her sentence!
This week, Jimmy and Tam aimed to deliver a Palm Spring inspired garden to make their beloved Darren Palmer palm tree feel right at home in Brighton.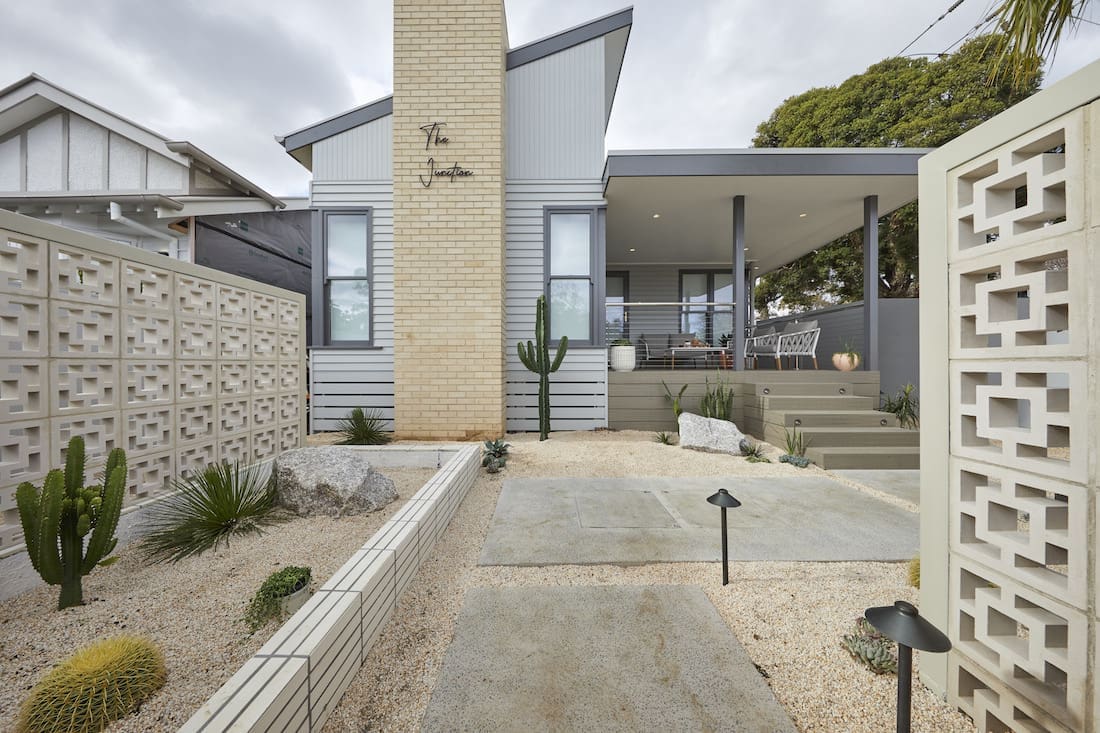 And boy, did their front garden and facade make an impression. The judges thought it was bang on brief, very unique and super original. No lawn (which unlike Harry and Tash, got no criticism…) lots of stones (and some very big boulders!) and cacti. While it's not for everyone, there's no denying this garden makes a statement.
The spacious deck was a great addition to the property and we loved the pop of colour on the retro front (side!) door. The addition of the white breeze blocks brought the whole space together and suited the Palm Springs feel to a T.
One criticism Darren had was he'd have liked to see more plants like the impressive cactus in the front garden. It seems Darren Palmer the ginormous palm wasn't enough for him! But overall, a great win for House 5 tying with George and Sarah for top spot.
Score: 29 / 30 (joint 1st place)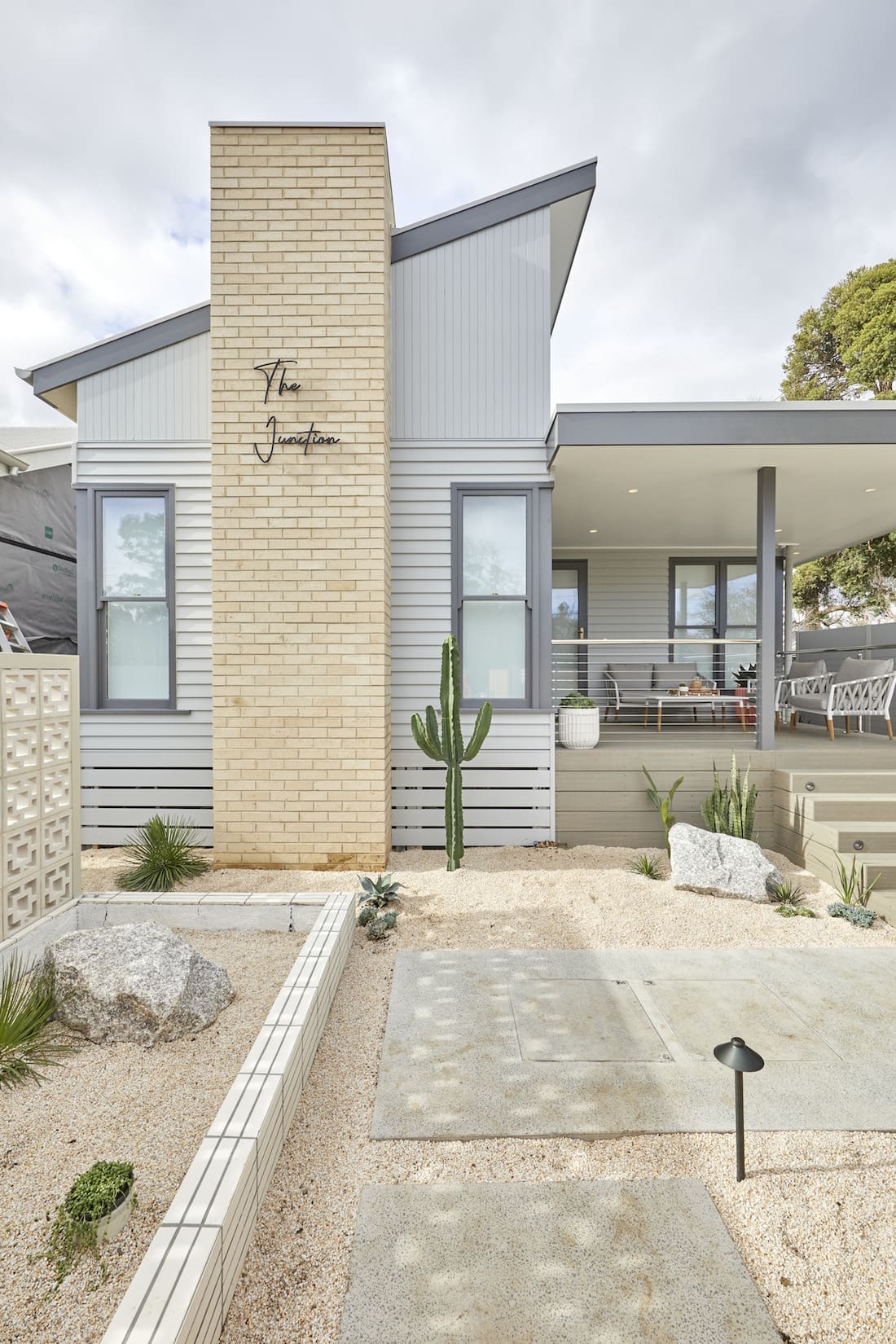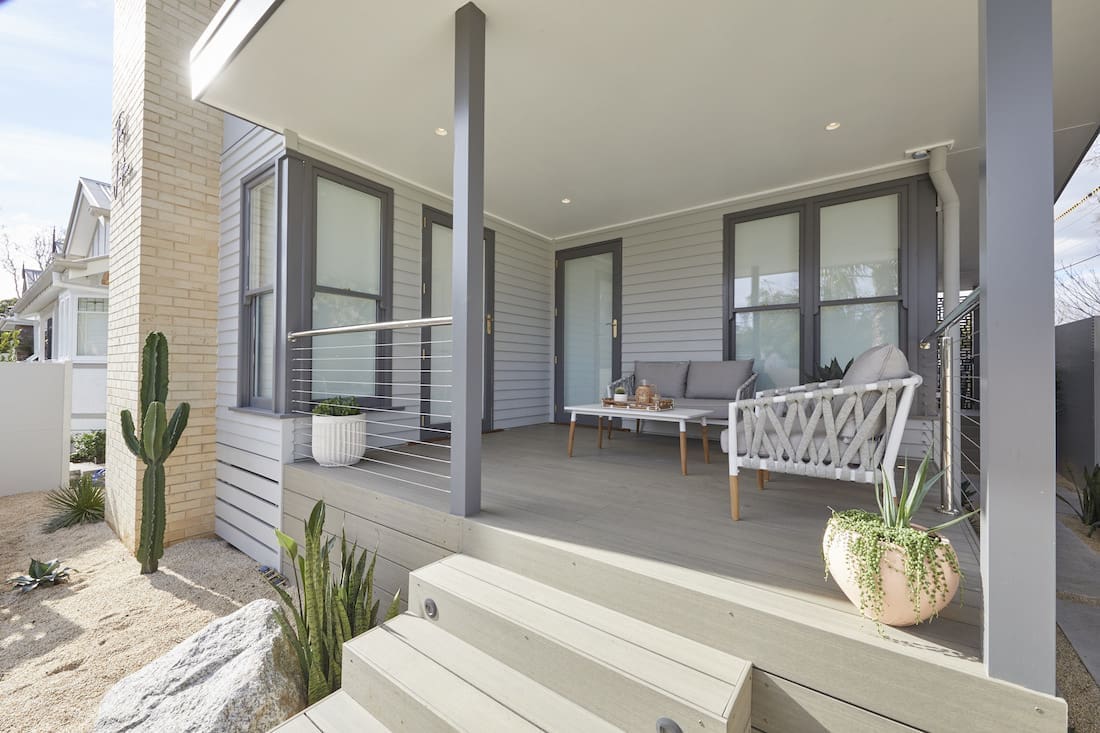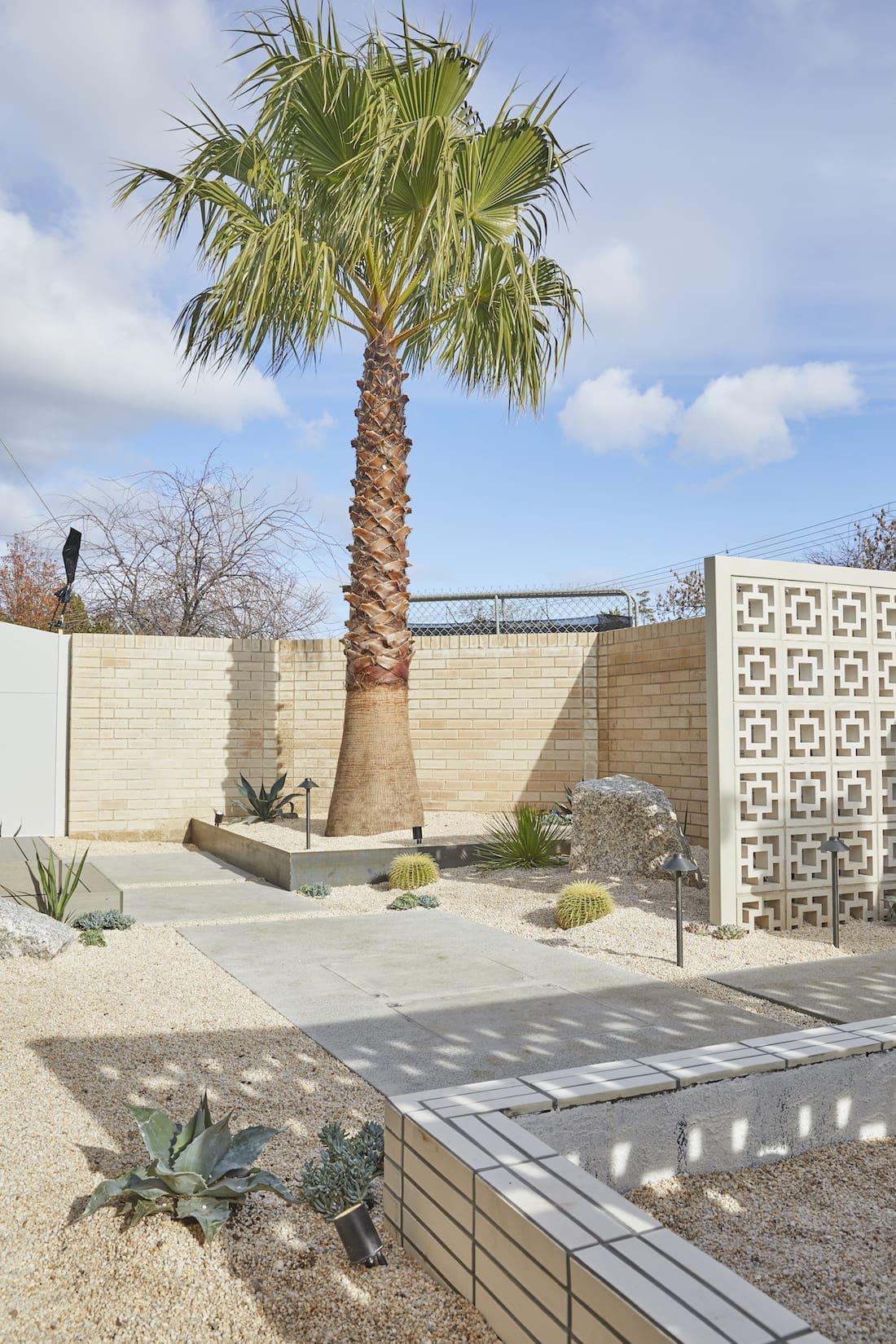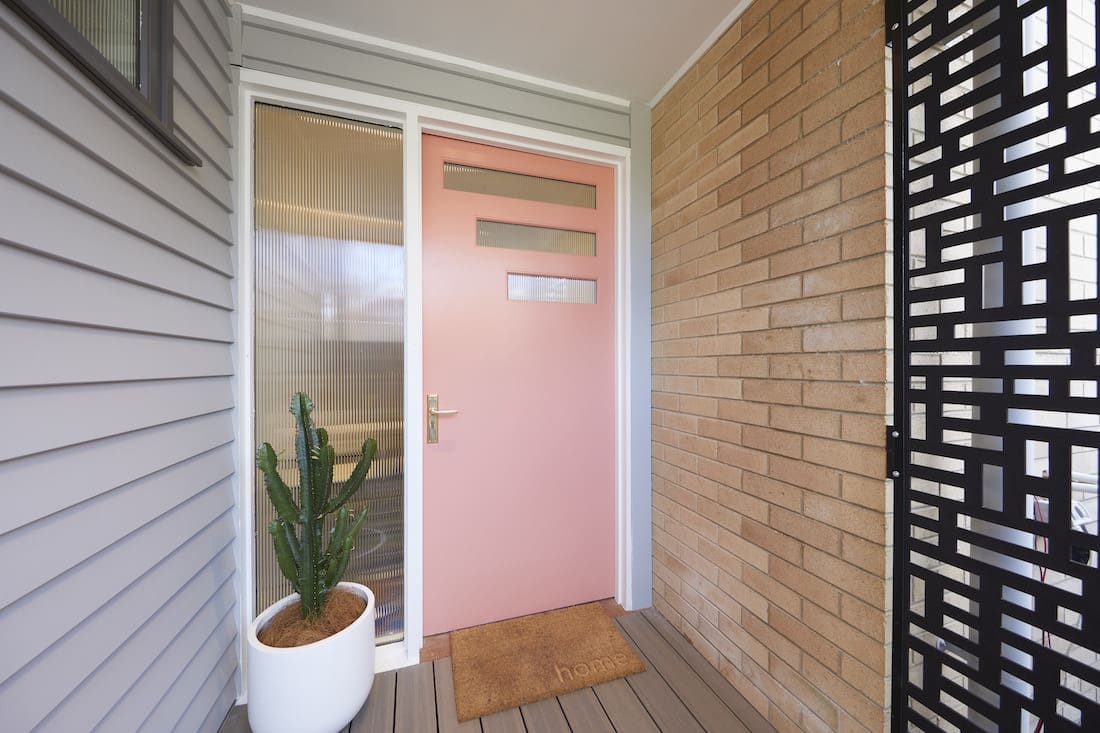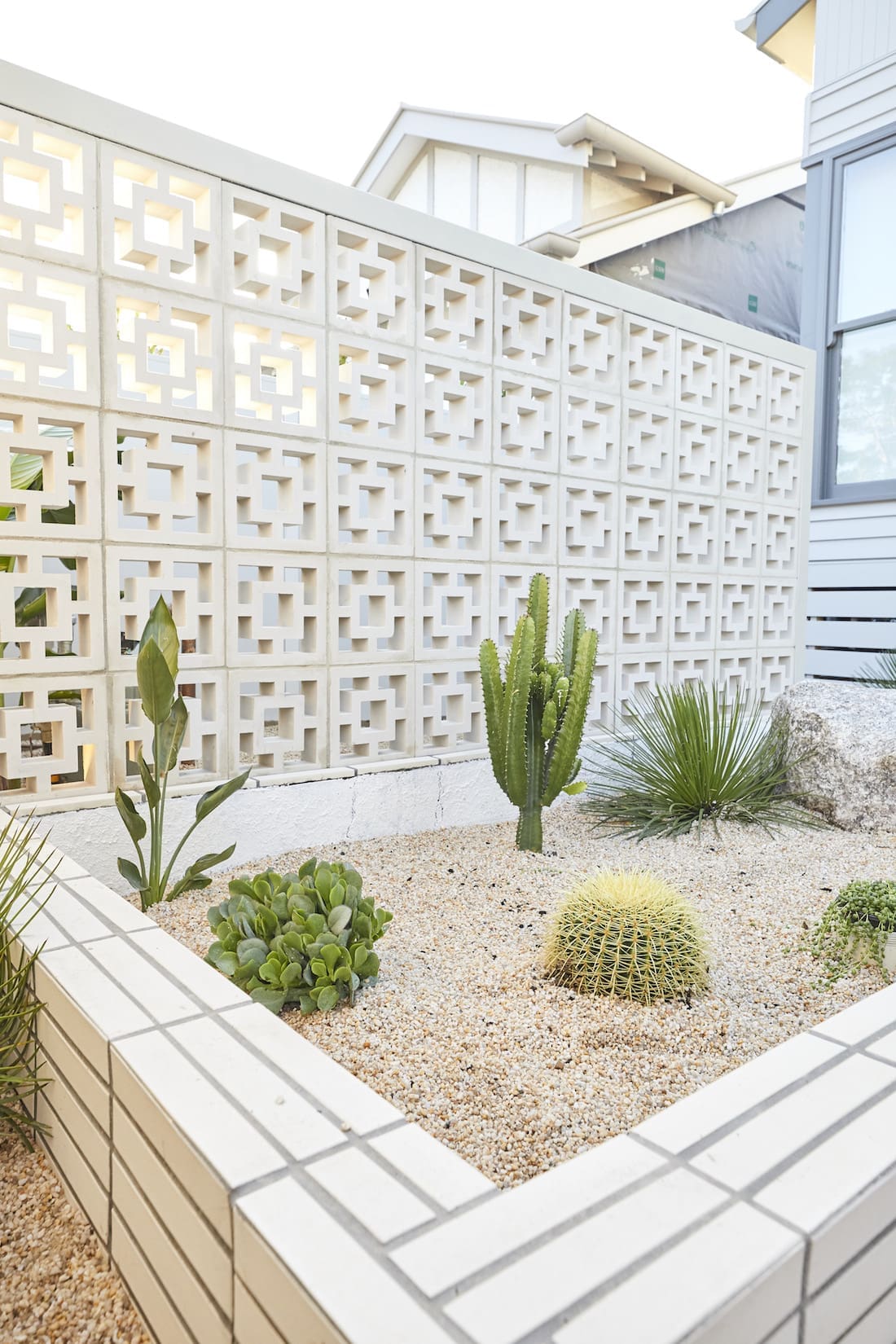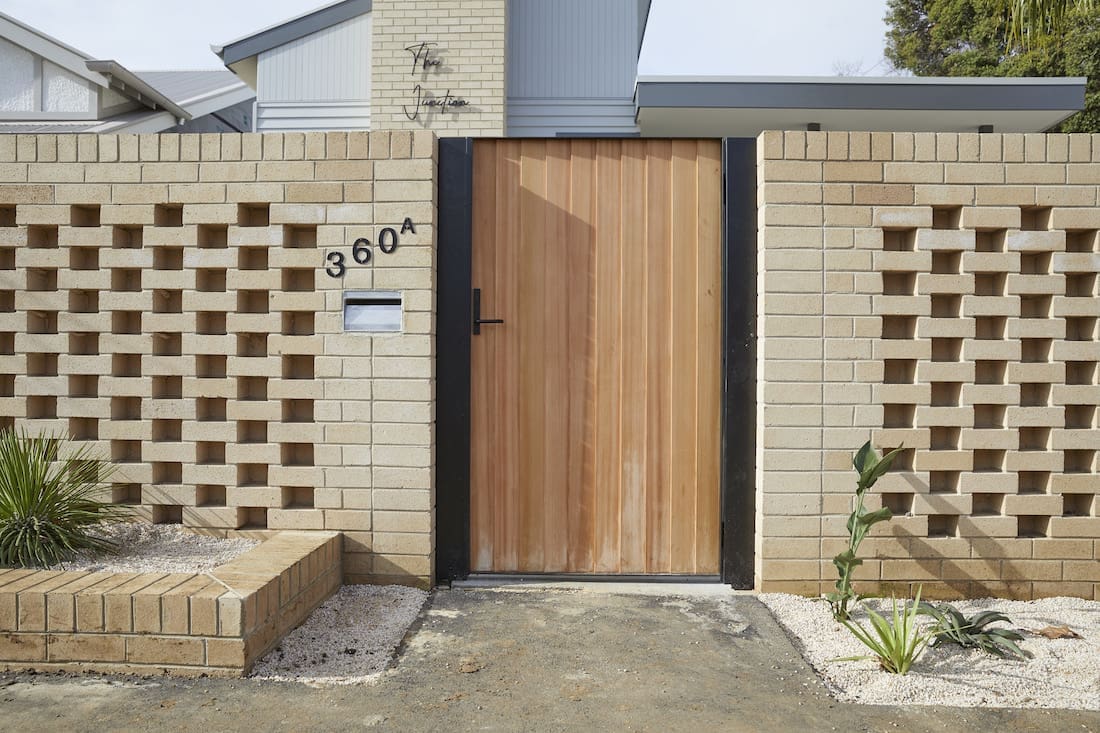 What did you think of this week's front garden and facade reveal for The Block 2020? Did you agree with the judges (or us?!). Tell us in the comment section below!
Be sure to check out The Block Shop if you've spied something you love in this week's reveals. And you can catch all The Block 2020 goss on the official website.
All imagery by David Cook Photography