You guys LOVED our round up of the best Kmart hacks last year so be prepared for our top 20 Kmart hacks list to feature every year. Here are our top 20 Kmart hacks of 2018!
Related article: 20 of the coolest Kmart hacks EVER!
Related article: Top 20 Kmart hacks of 2017
1. Lamp as DIY wall sconce
Using a simple triangle design and several pieces of wood, Rox has taken the Kmart lamp to a whole new level! These wall sconces look so Scandi and chic, and certainly pass as a designer buy.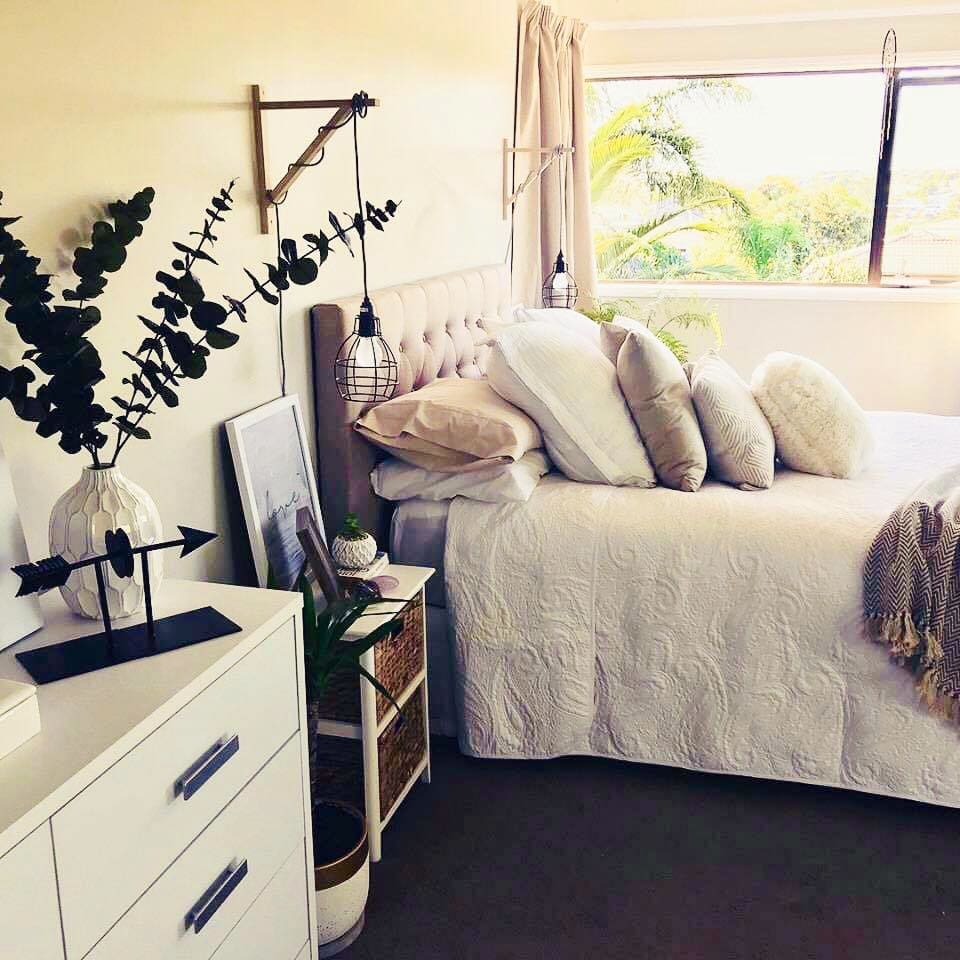 2. Hexagon mirror as statement wall art
Trying to find stylish and affordable wall art – particularly oversized wall art – is near impossible which prompted Misty to think outside the square and combine 5 hexagon mirrors. It creates such big impact and you'd never guess it cost only $60!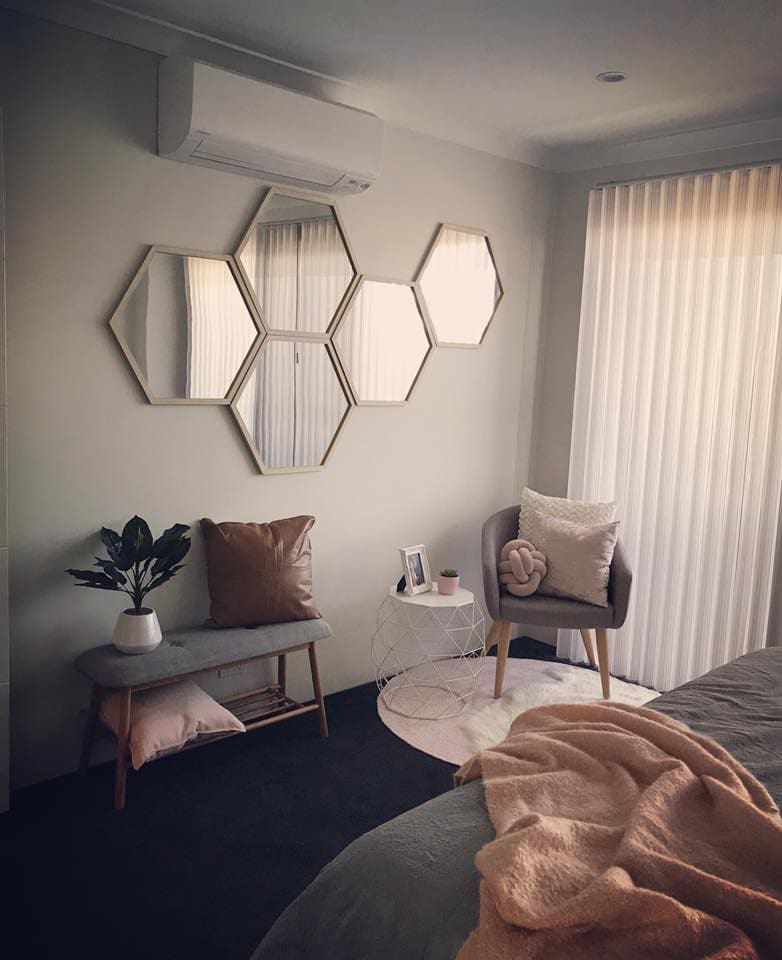 3. Industrial coffee table as luxe concrete table
Concrete top furniture costs a fortune but using a few easily accessible DIY materials, you can turn the affordable Kmart coffee table into a luxe designer-look piece!
We've already seen a few of you take on this tutorial and create stunning results. Find all the steps on how you can make your own concrete coffee table here.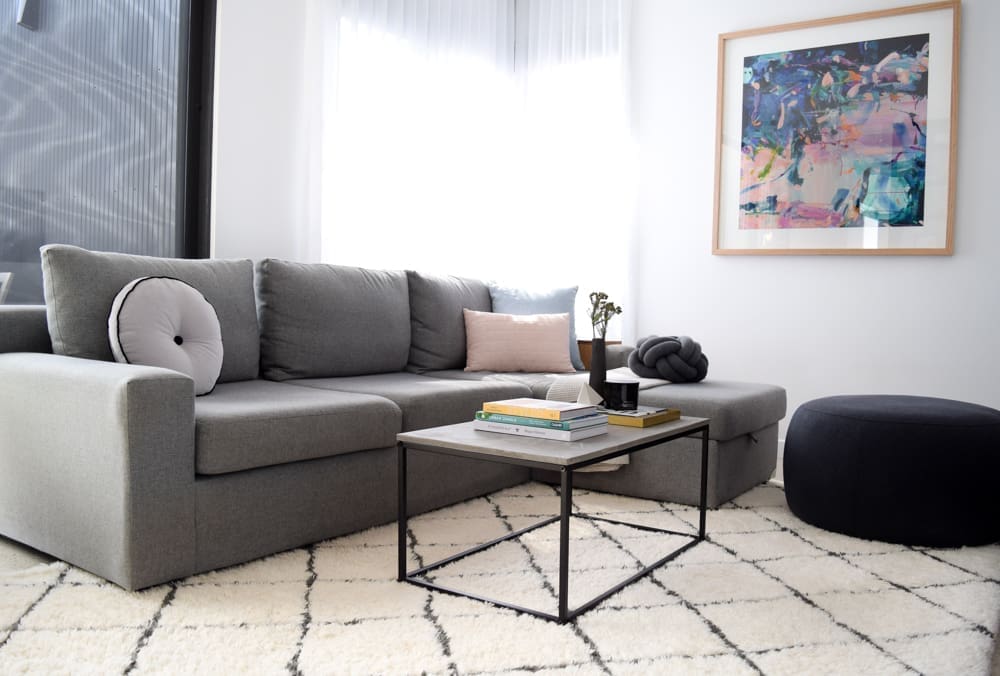 4. Woven baskets as kitchen storage
Talk about kitchen goals! Angela has used a selection of Kmart canisters and rectangle baskets to make the most of her open kitchen shelving.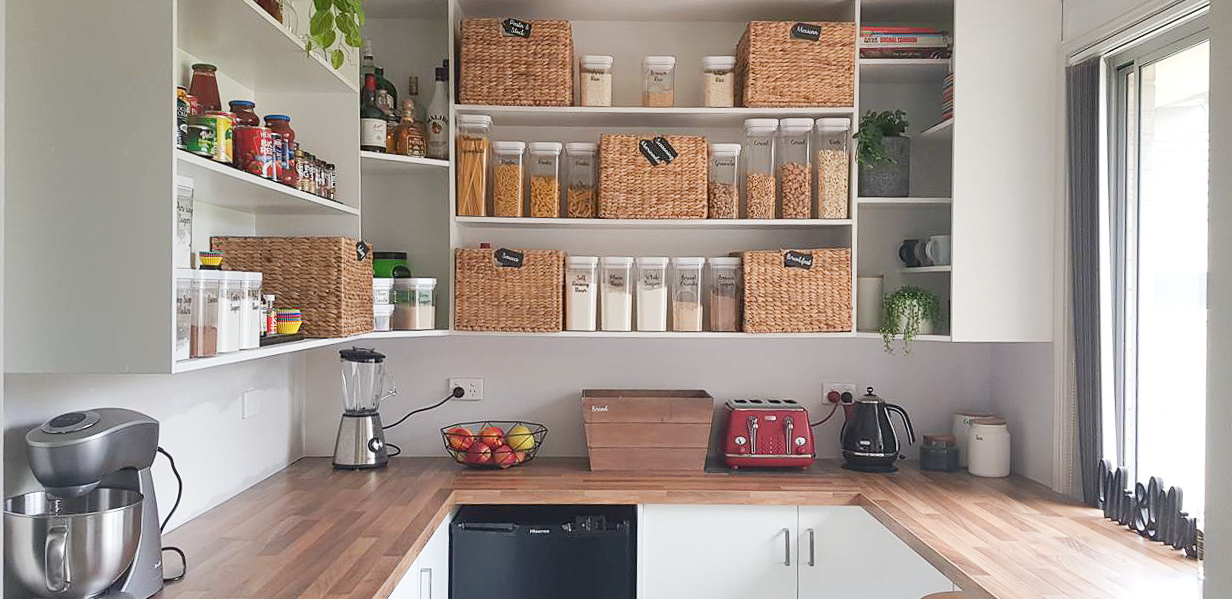 5. Shoe rack as kids grocery store
One of the most popular toys for young children is a play kitchen and/or grocery shop but with most store-bought play sets costing several hundred, it can be a large investment to make – plus the cost of all the play foods and accessories! Clever mum of five made an epic playroom for her children, including a DIY grocery store using the Kmart shoe rack!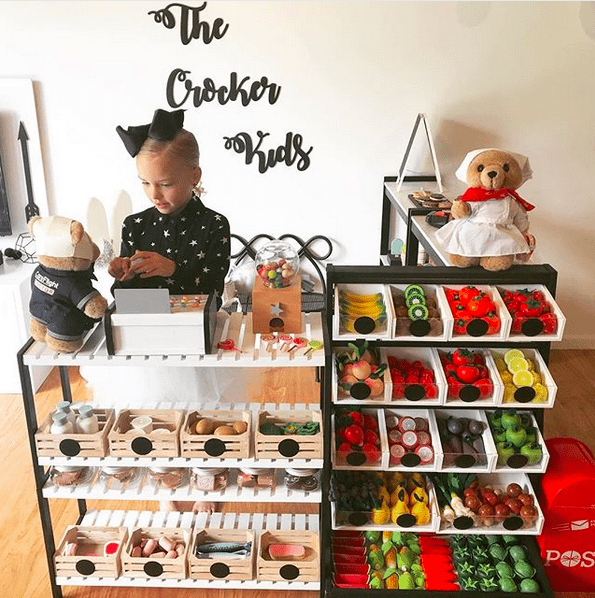 6. Placemats become cushions
Talk about thinking outside the box! Ashlee created these stylish boho cushions by simply sewing two placemats together. She shares all the steps, including how to make those sweet tassels, in her Youtube video here.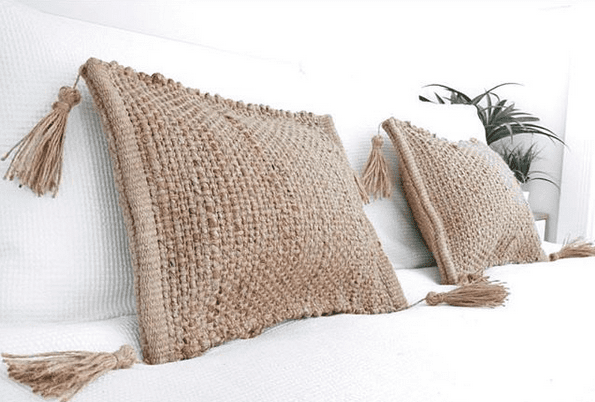 7. Baskets as coastal pendant lights
Continuing with the jute theme, we just love how Harlyard House hacked the Kmart baskets to create these on-trend pendants!
She removed the handles and placed the baskets over existing pendant lights to create these designer-look lights. Check out her account here for more inspo.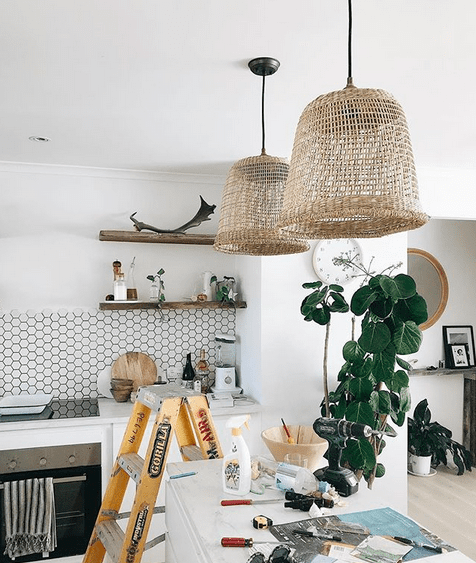 8. Kmart cubby hacks
Parents all over Australia are hacking the Kmart cubby to personalise it for their children. While there's no shortage of ideas on how you could decorate the cubby out there, here are some of our favourites.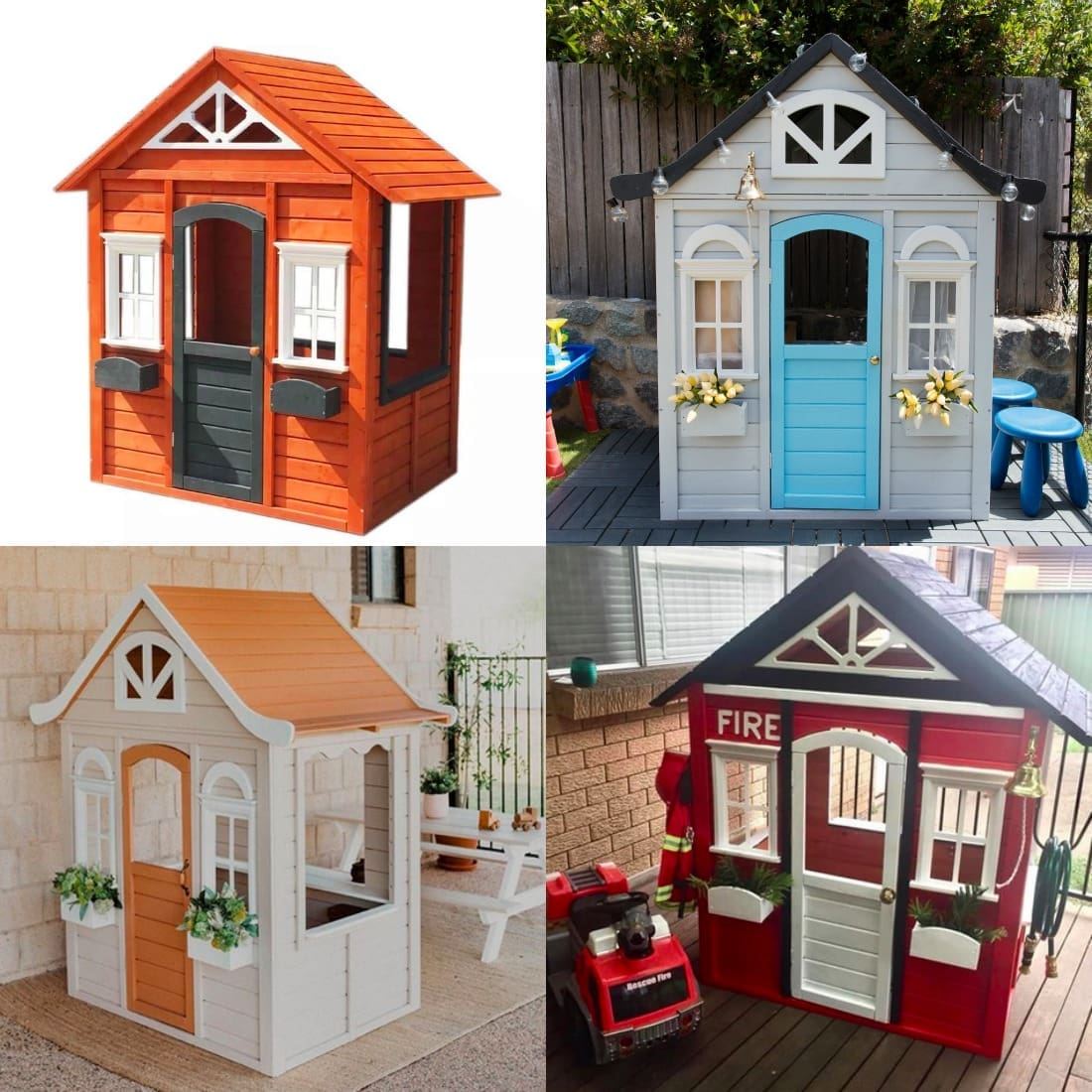 9. Caddy hack
There's more than meets the eye with this clever Kmart hack that Alanna made. She says it was an easy weekend job that required no power tools as she used the existing screws and holes.
"I wanted the caddy the same height as the bath so moved the tiers up and cut the legs to height. Then used the original top tier as a lid and now have somewhere to store my lady things," she explains.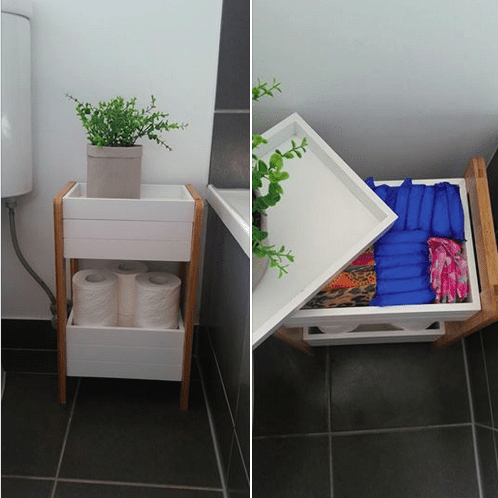 10. Table lamp gets a designer makeover
The new trend in interiors is all about creating personalised spaces that reflect your individual style. We love how Amy gave the Kmart table lamp a designer makeover using peacock print fabric and shoe polish!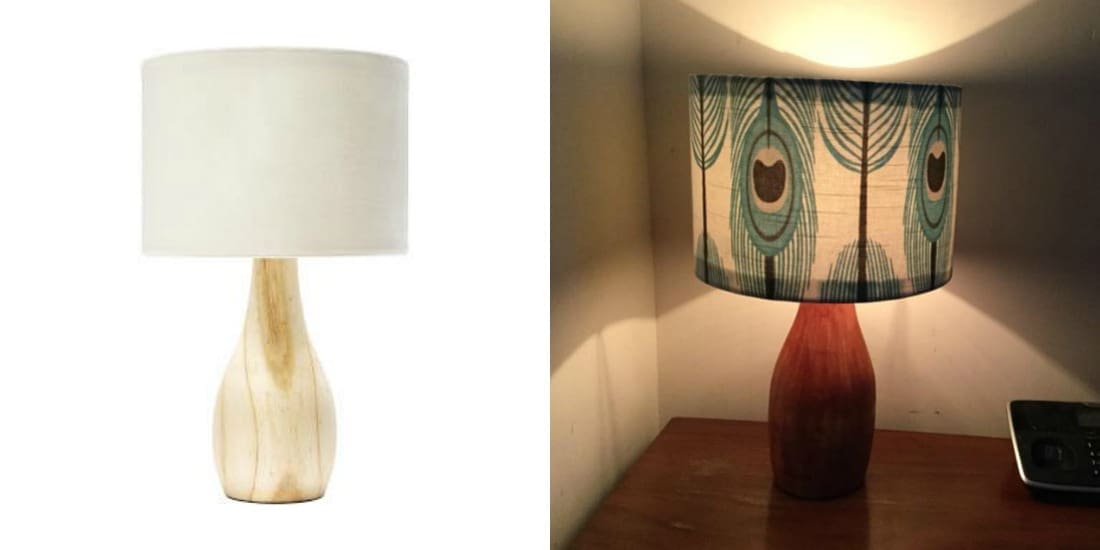 11. Memo board or lost sock holder?
Are lost socks a problem in your house? Kylie cam up with this great idea of using a memo board to 'Help find my sole mate', ha ha!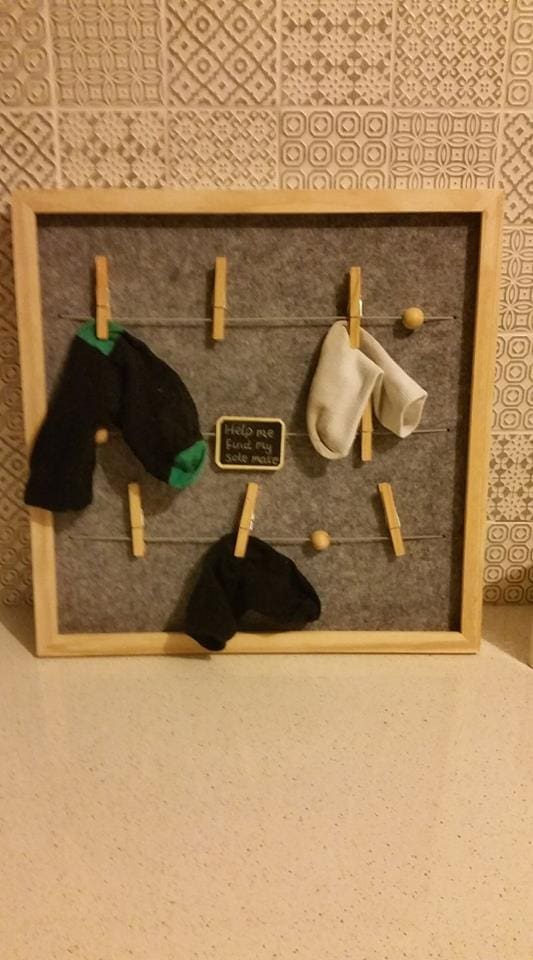 12. Kmart hack everything kids room
This stylish kids room is packed full of Kmart hacks! From the cowhide bench seat to DIY bedhead using memo boards and dowel, it goes to show you don't have to spend a lot to achieve an ultra-stylish kids room!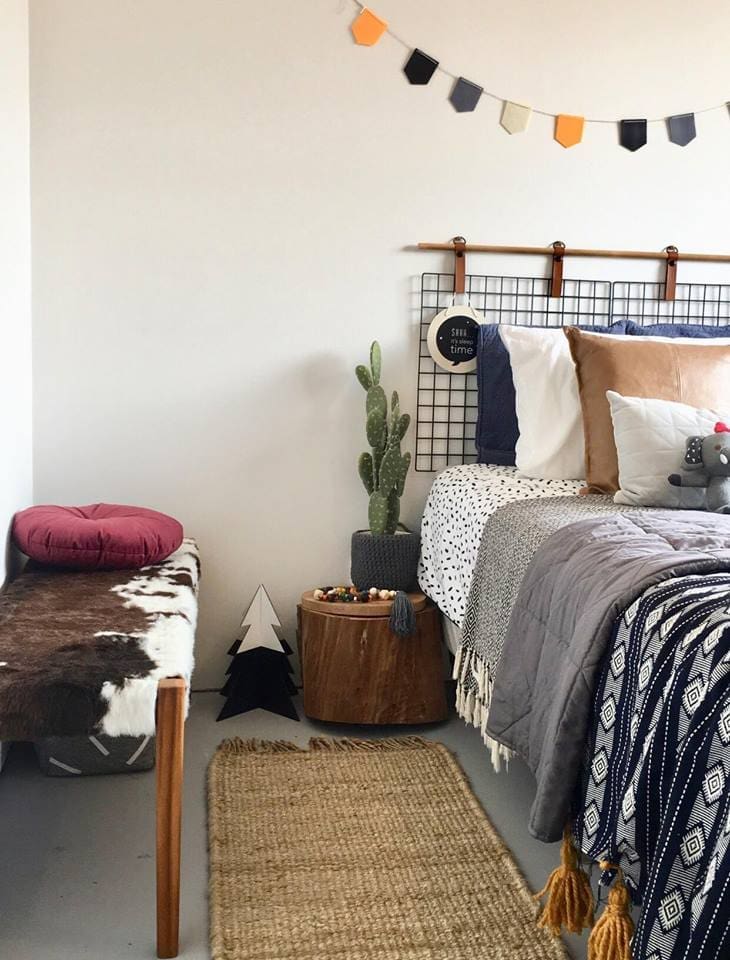 13. Veggie garden hack
It isn't until you go to buy a DIY veggie garden kit from the hardware store that you realise just how expensive they are! Libby came up with this solution using free foam boxes from the green grocer that she wrapped in Kmart timber look contact. Not only are they affordable, they're lightweight and easy to move about.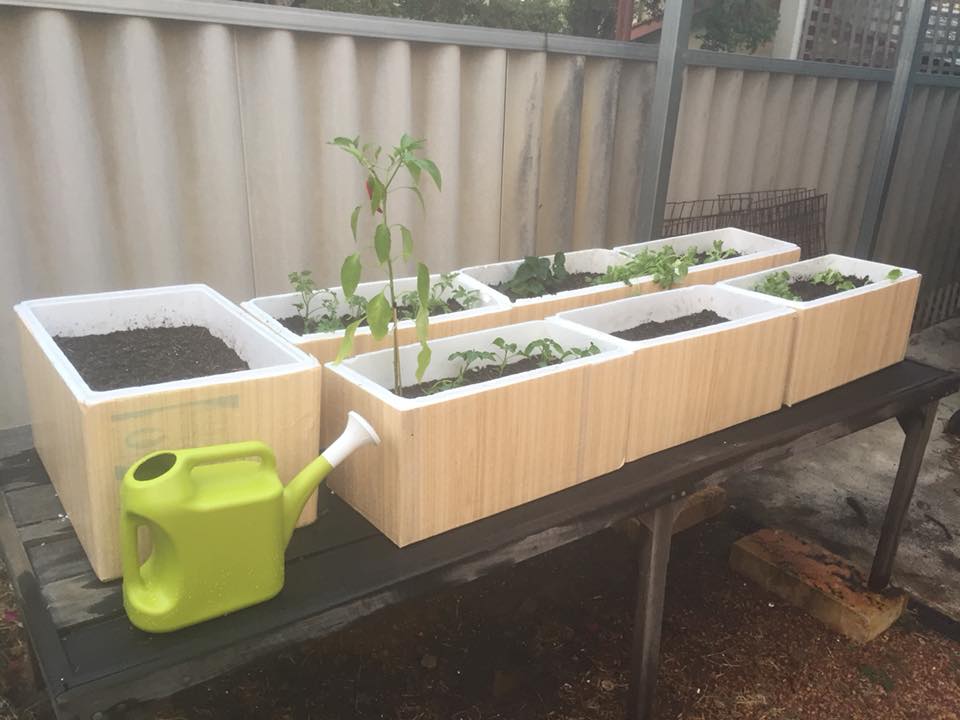 14. Towel rail as kids clothing rack
Whether it's to hold dress up clothes in a play room or baby clothes in the nursery, check out how fab the bathroom towel holder works as a clothing rack!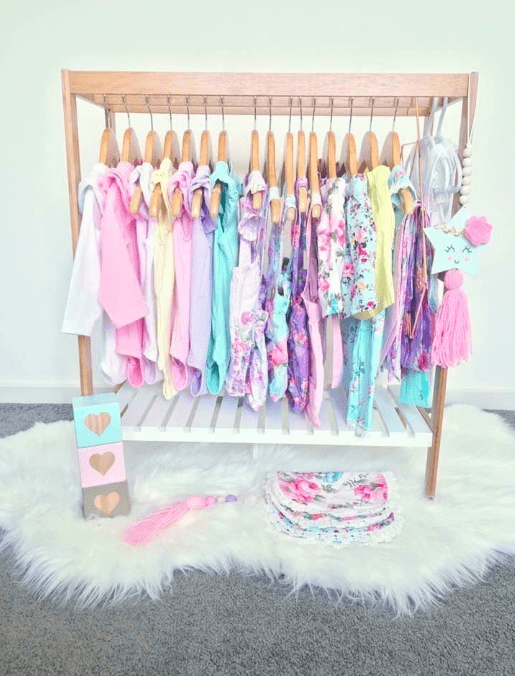 15. Hanging planters as wall pockets
You've most likely seen the Scandi-style wall pockets from high-end design stores but they come with a high-end price tag. Ashleigh created a similar look using the Kmart hanging planters. Genius!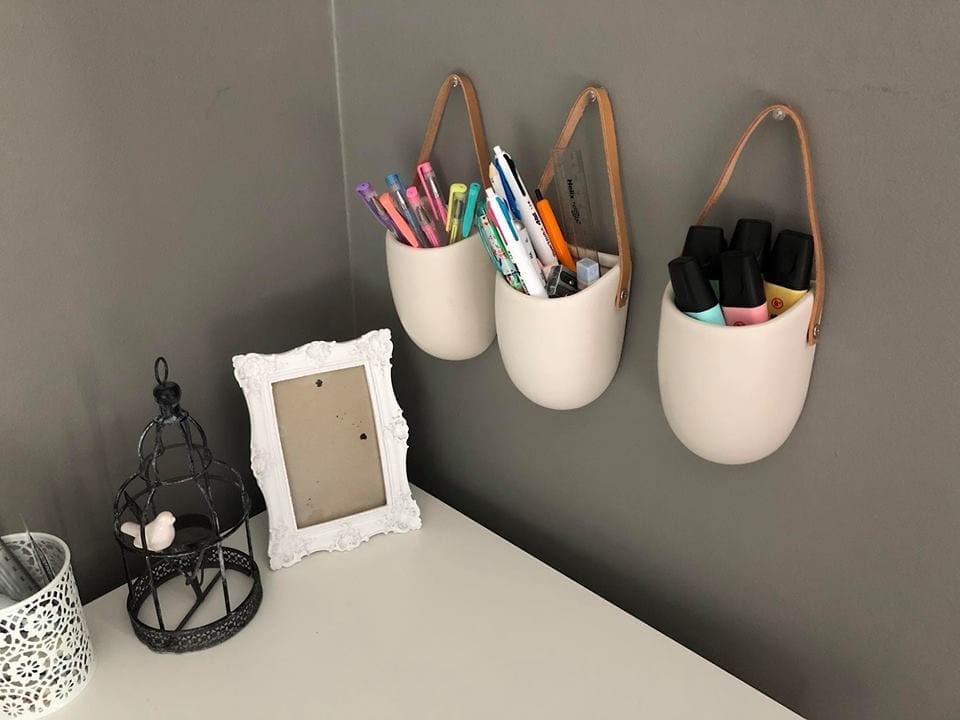 16. Bench seat as kids toy box
Struggling to contain kids toys in your house? Alana gave the outdoor bench from Kmart a stylish makeover by painting it a soft grey and applying timber letters to the face. "It fits so many toys in," she says.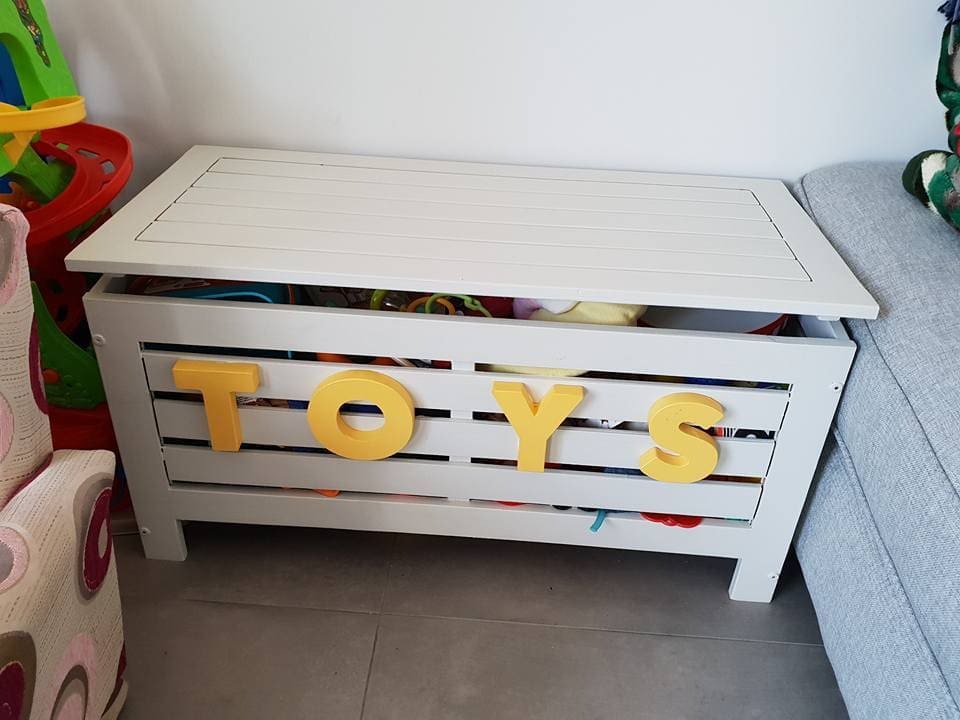 17. Bamboo drawer tidies as tiered spice rack
Well if this isn't stylish, tell us what is!
"We made a DIY spice rack using the bamboo drawer tidy's from Kmart by stacking them upside down to create a tiered effect," says Fliss.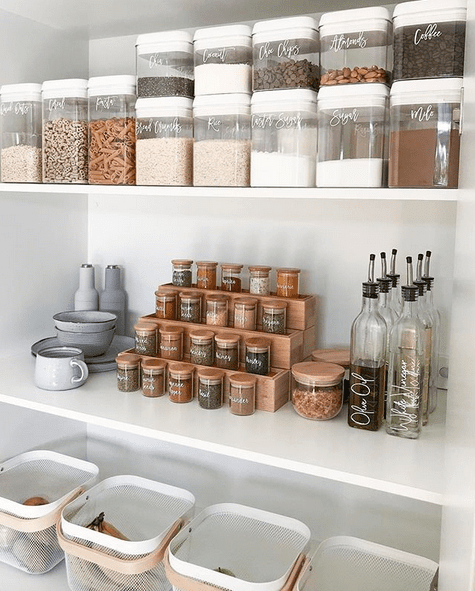 18. Bookshelves become kids storage lockers
Mum of five, Jessica-Louise made this clever storage locker hack for her children. What a great solution that many busy parents will surely want to try themselves!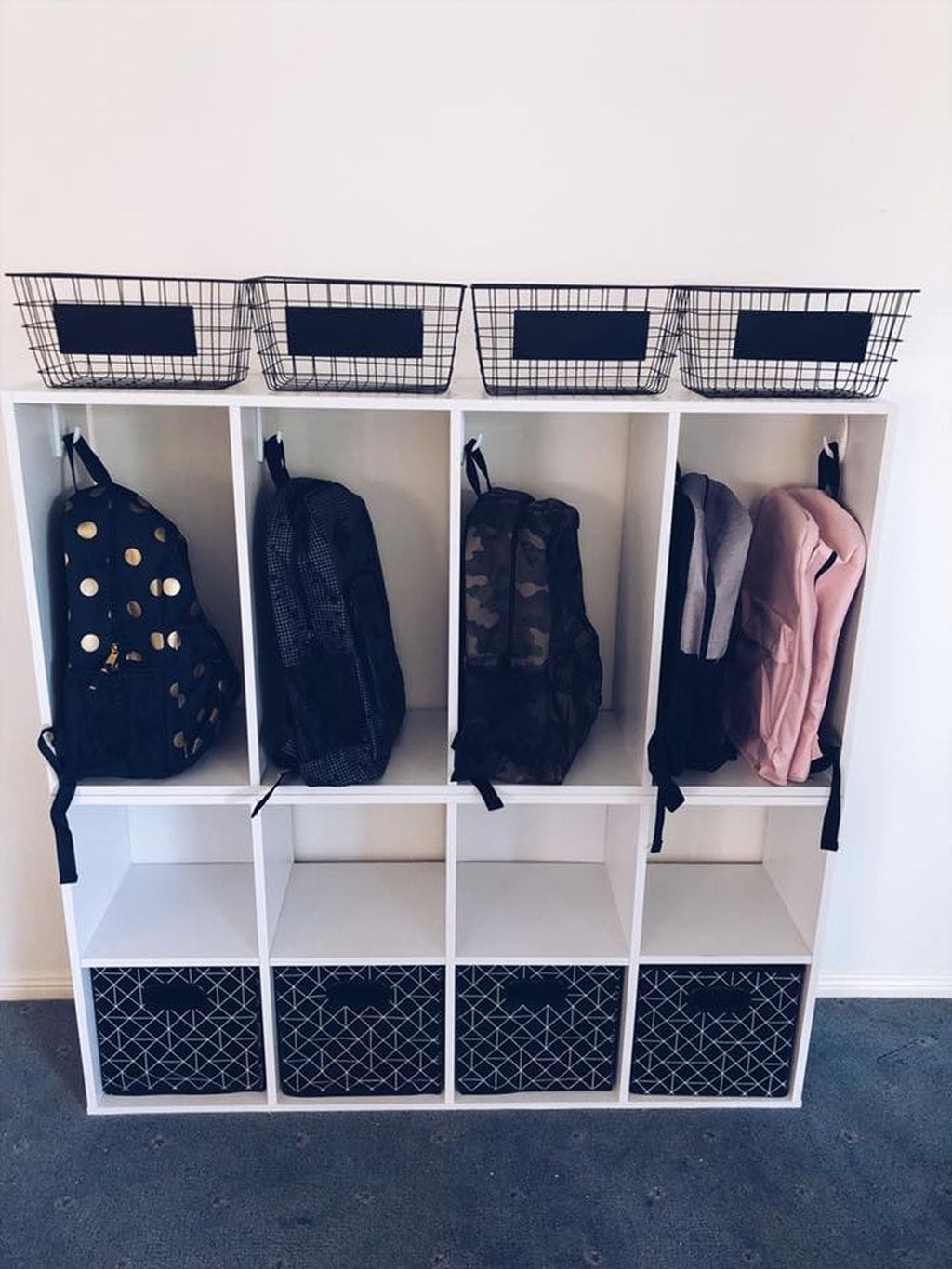 19. Bamboo utensil holder as succulent garden
Forget using the bamboo utensil holder in the kitchen when it looks this darn good as a succulent garden! The diagonal cut opening just invites indoor plants to drip over the edge
20. Boho style pot plant holder
Isn't it incredible what a bit of jute string can do? Turning this modern pot plant stand into a boho style piece that would easily pass a designer piece.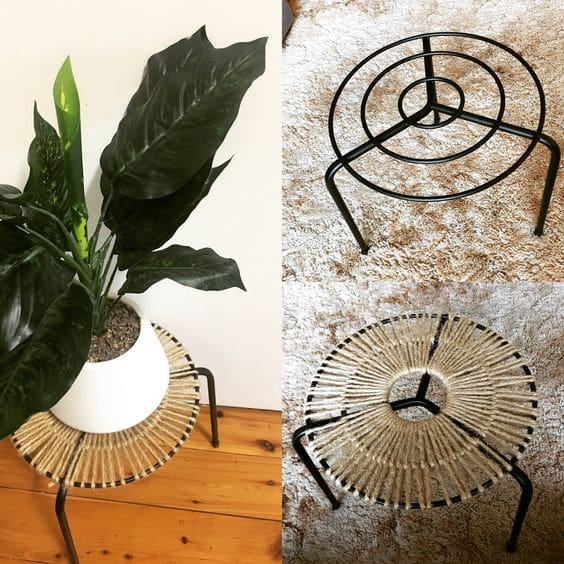 Have you spotted any other cool Kmart hacks? Share a link to them in the comments below so we can all check them out!