Over the Christmas holidays, I joined the legion of parents across Australia who made over the Kmart timber cubby for their kids.
Most of the cubbies I've seen are all white or have been done for girls with splashes of pink so I wanted to share my Kmart hack cubby for a boy. Patrick is obsessed with his cubby and the only reason I haven't shared it sooner is because he's held me hostage in it for days, ha ha.
Related article: Creating an epic outdoor play area for your child
Related article: 33 of the best-ever Kmart hacks for kids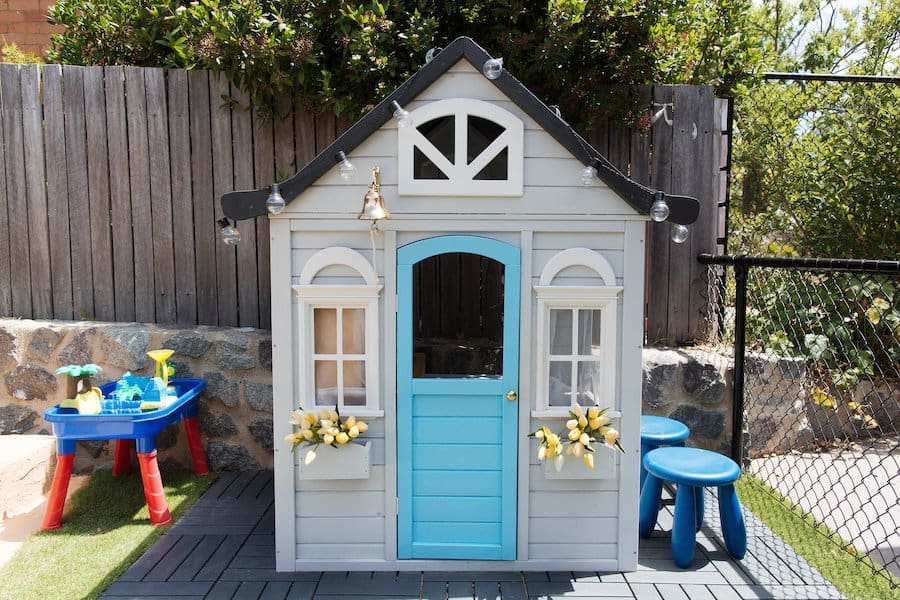 Kmart hack cubby for a boy
Colour palette
Patrick's favourite colour at the moment is blue so I painted the door in a bright shade. I used a gloss finish so it's easier to clean and really stands out.
The walls are 'Tranquil Retreat' by Dulux and the roof is painted in 'Monument' also by Dulux.
I also placed the cubby on dark grey IKEA plastic flooring (details in 'Supplier list' section below).
Outside accessories
I personalised the outside of the cubby by adding a shiny brass door handle and matching brass sailors bell. In the flower pots, I made clusters of white and yellow faux tulips that I set in concrete so they would stay put. I also strung up some solar lights.
On the outside, I'd still like to add a welcome mat, and create a serving bar at the large window where the blue stools are.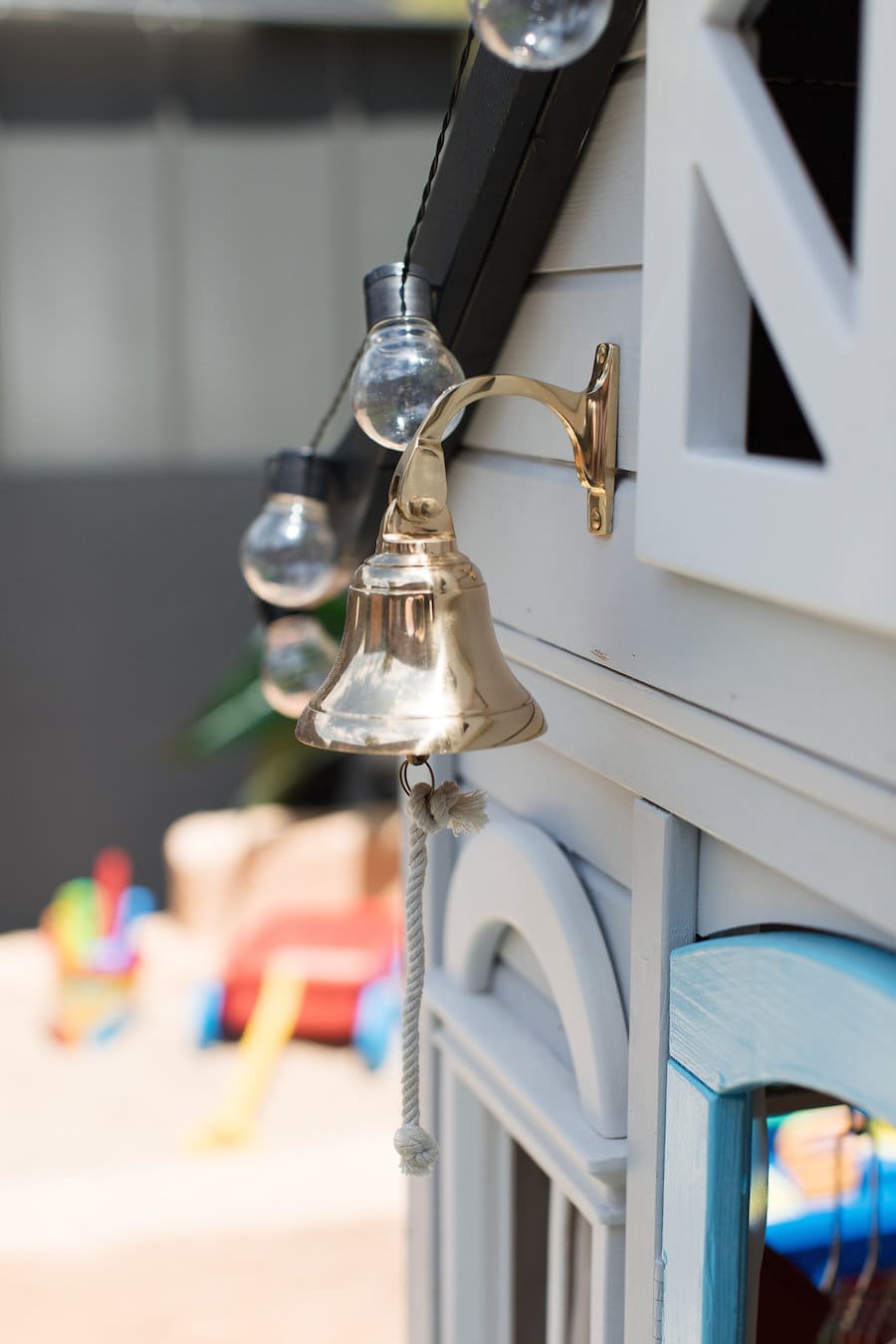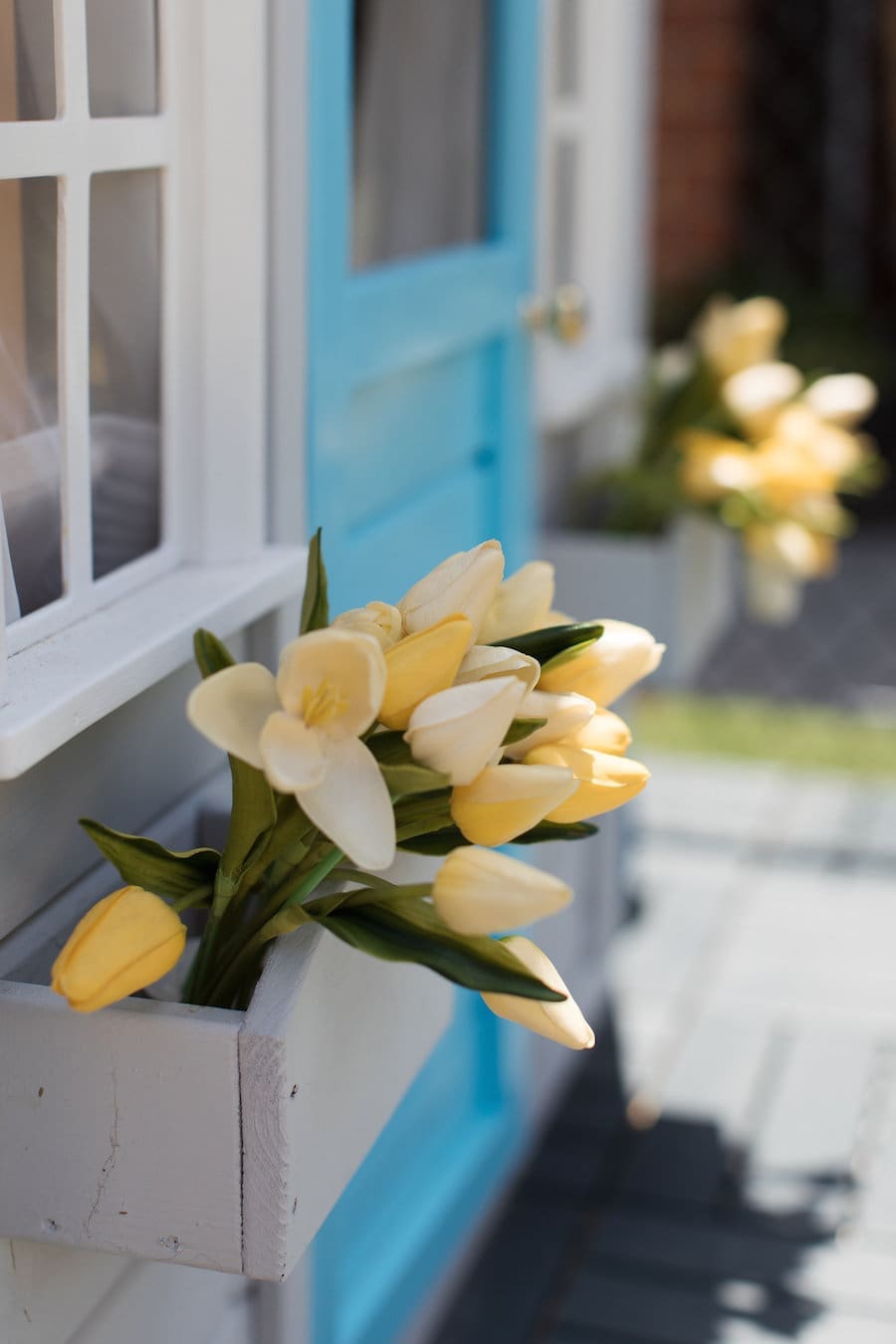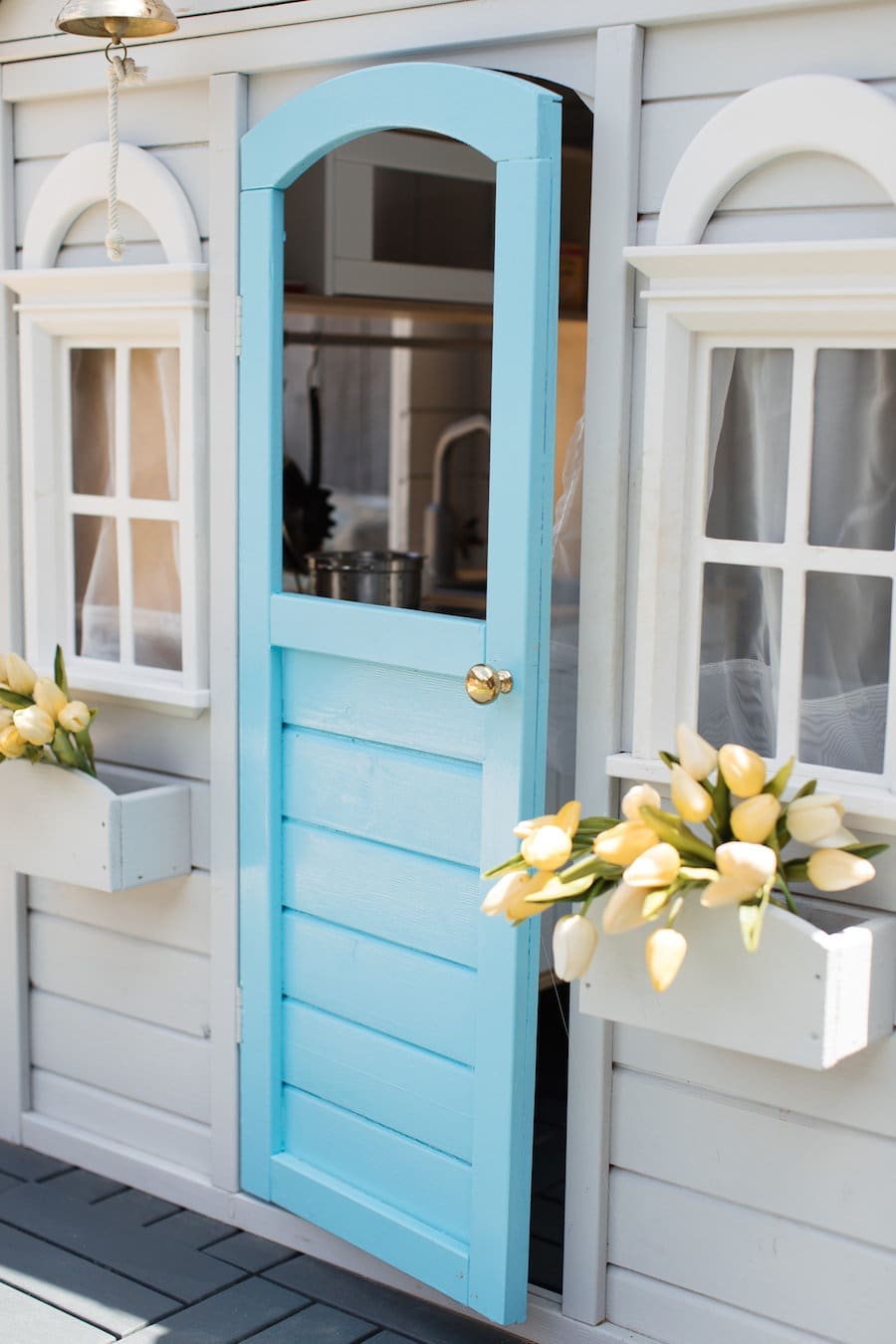 Inside accessories
Inside the cubby, I squeezed in the IKEA play kitchen (I know turning the cubby into a tool shed would have been more boyish but he's obsessed with kitchens and I'm raising him to be a good man who can cook 😉 ).
I have seen people leave the top section off the IKEA kitchen so it doesn't block any windows but Patrick loves the higher pockets and microwave so I placed the full kitchen inside. The kitchen is filled with timber play food, and the baking and saucepan sets from IKEA.
On the front windows, I also added sheer white curtains (cut down from a full size IKEA curtain) and I may add more sheers to the other windows.
In the next few days, I will add a few more accessories inside, such as a framed photo of our dog who Patrick adores 🙂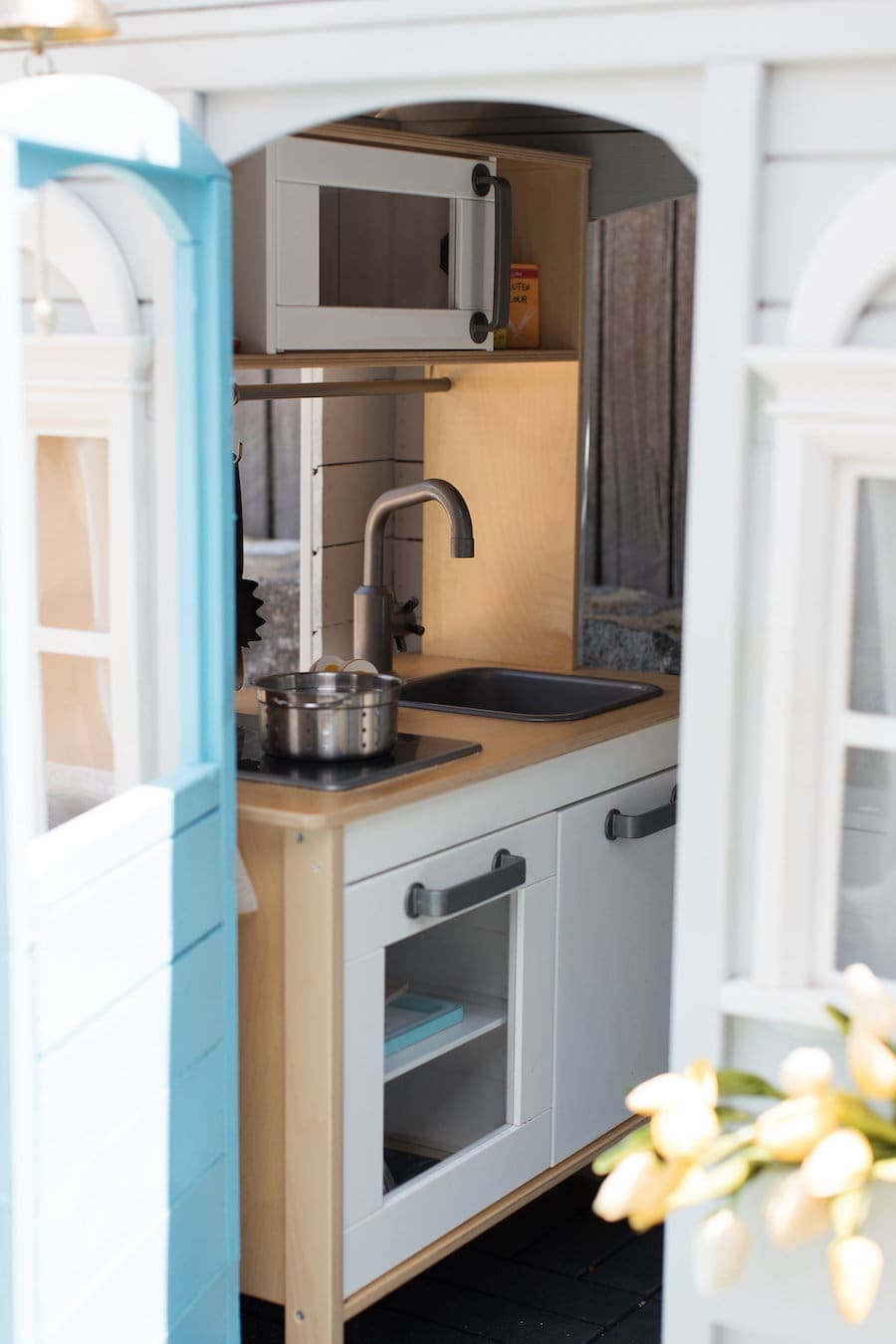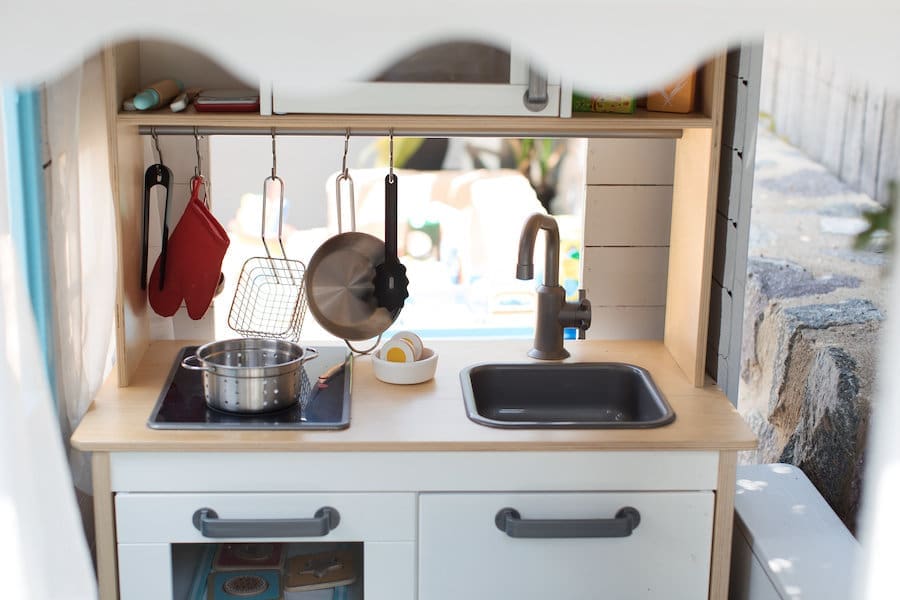 Products used
Cubby: Kmart $199 (although currently sold out online)
Flooring: IKEA $25 per packet (I used 4.5 packets)
Kitchen: IKEA $129
Bell: Bunnings $28
Tulips: Provincial $19 per bunch (I used two yellow bunches and one white)
Solar string lights: Kmart $10
Door handle: Bunnings $6.98
Timber food: Kidstuff $29.99
Play baking set: IKEA $24.99
Play cooking set: IKEA $14.99
Sheer curtain: IKEA $12.99
Have you made over a Kmart cubby? I'd love you to share a link in the comments below! This is part of a broader play area I'm making for Patrick and you can see the full outdoor play space here.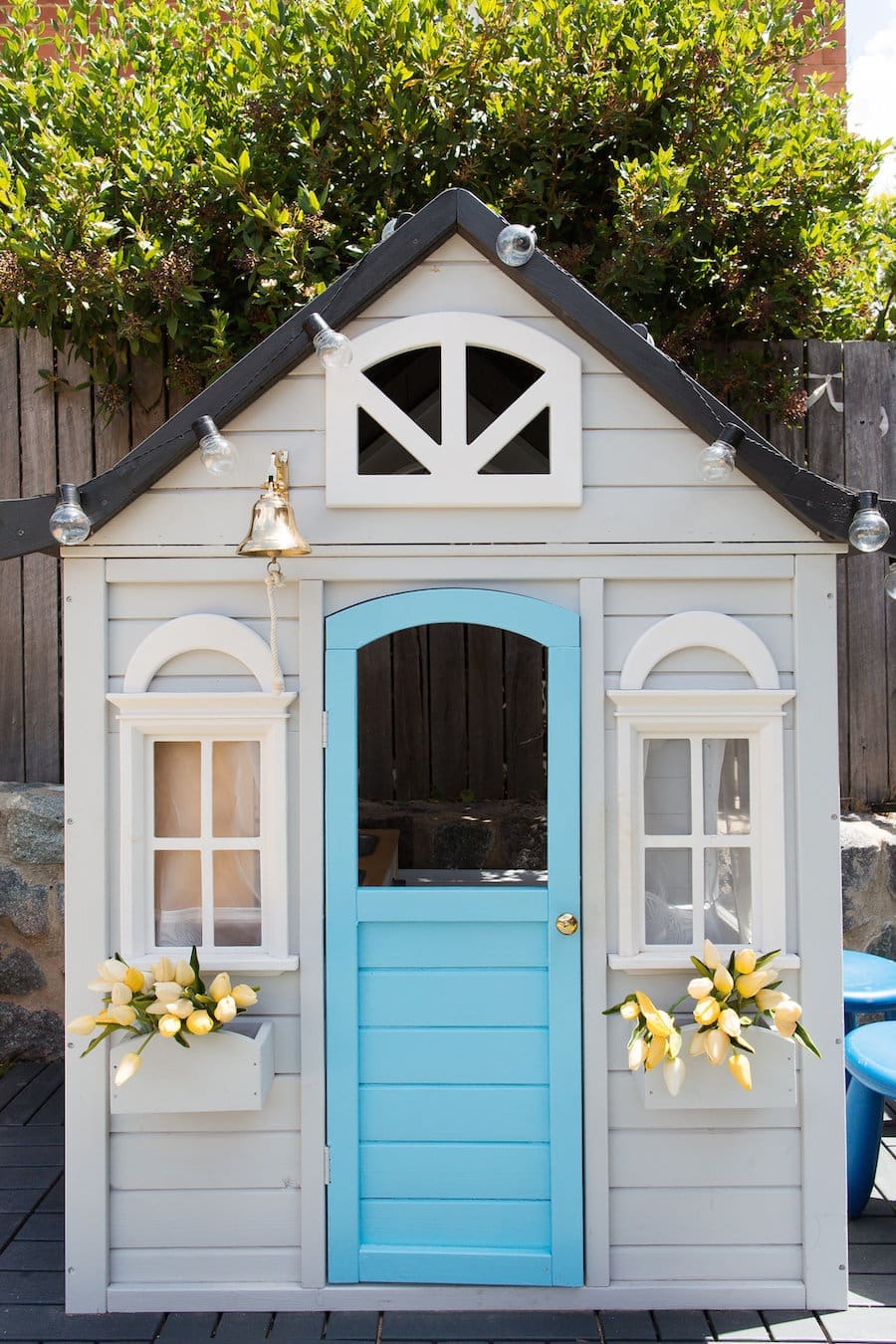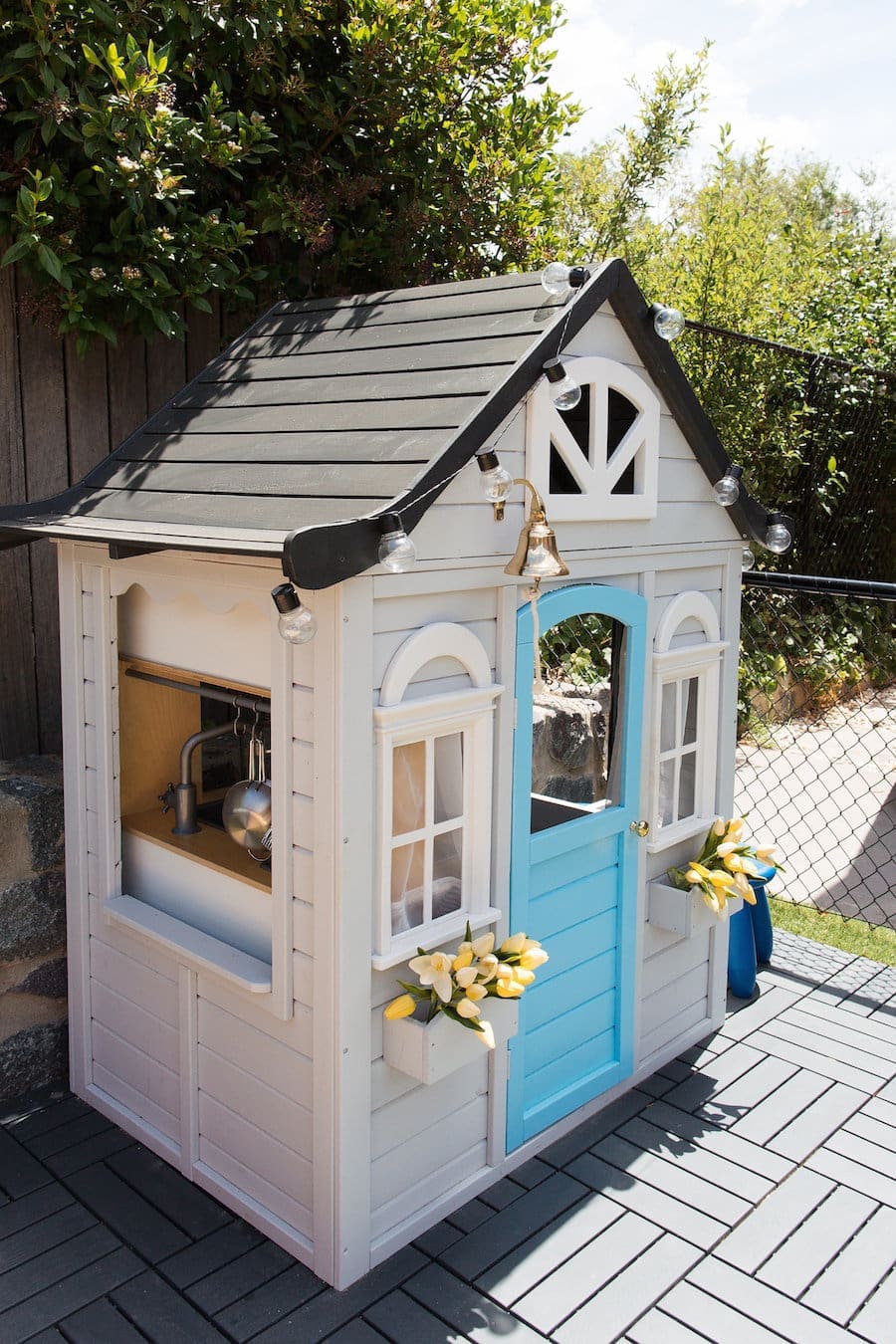 Photography by Thorson Photography