How's your sleep? Do you feel like your bedroom is a cosy haven or has it become one of the last rooms in the home to get your attention?
I truly believe that your bedroom environment can help you have a better night's sleep… or keep you tossing and turning!
Since becoming a mum, I value my sleep more than ever. After an exhausting day running after a little one (or dealing with banshee crying, because let's face it, that comes with the job), I want to be able to step into 'my' space, relax and of course sleep!
With Mother's Day just around the corner, I thought I'd share my 10 tips to help you turn your bedroom into a sleep sanctuary. And if you're looking for a Mother's Day gift idea, I promise she would LOVE a bedroom makeover taking on board some of these tips!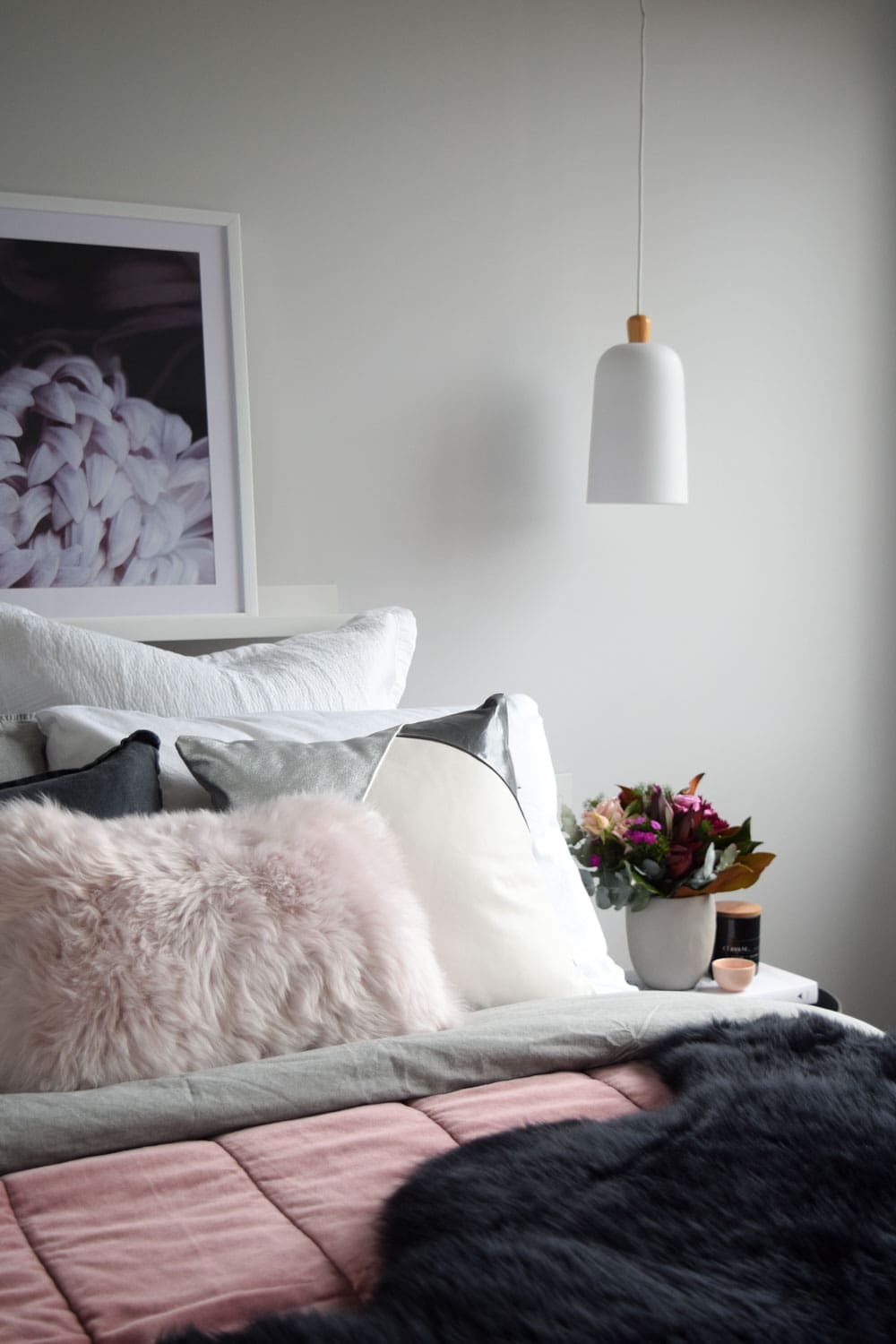 1. Declutter and start from a clean base
Start by pulling everything off the floor, bedside tables and anywhere else that's feeling chaotic.
If you've got time, I recommend doing a proper declutter where you look at all the items and decide what should stay, be donated or gifted, or tossed. Or if you're looking for an express bedroom makeover, just try and find a proper home for these items so they don't end back up on your bedroom floor.
Give the floor a good vacuum and wipe down all surfaces so you're ready to start the makeover.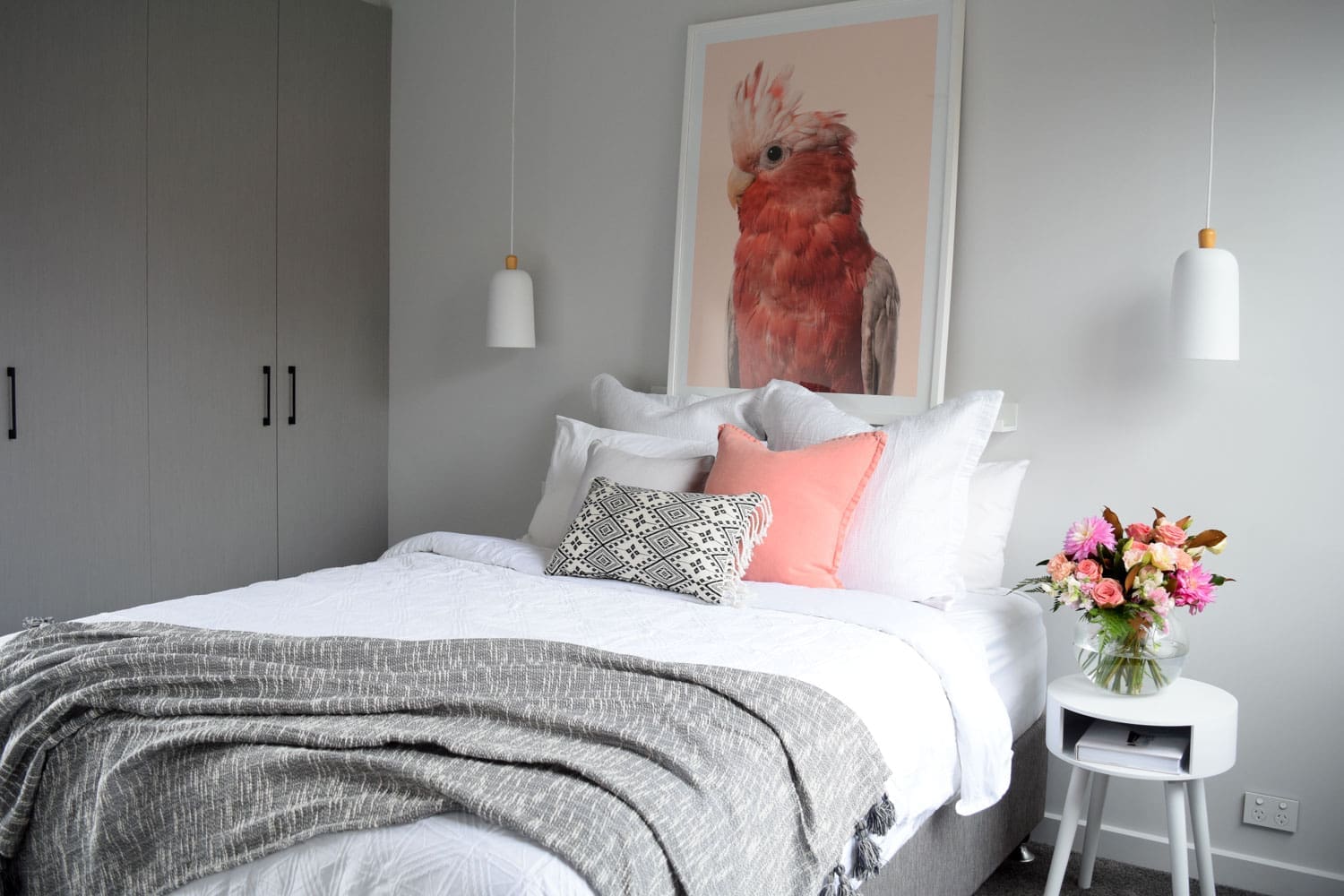 2. Decide on a theme
Everyone's idea of a sleep sanctuary is different so I've created two very different looks to help inspire you – one that's light and airy and the other that's warm and cosy.
I always suggest starting with a theme so think about the type of bedroom you (or mum) would like. How do you want to feel in the space?
Once you decide on the mood or aesthetic, selecting a colour palette and styling accessories will become easy. Here are some other ideas:
Tranquil – muted tones of soft greys, duck egg blue, or washed out sage. Items such as watercolour artworks or oversized mirrors look great and consider keeping styling balanced.
Happy – bolder or richer colours from shades of green, pink or yellow. Look for opportunities to bring happy memories into the space such as artwork that incorporates family photos.

Romantic – perfectly suited to the dusty pink and white colour palette or for a bolder look, embrace punches of navy. Floral wall art, fresh blooms, scented candles and rich textures suit this style.
Minimalist – simple colour palette such as greys, whites and pops of black or metallic. Keep styling restrained using clean line, contemporary pieces.
Bohemian – introduce textures and keep to a natural colour palette. Raw timbers, leather and indoor plants fit this brief well.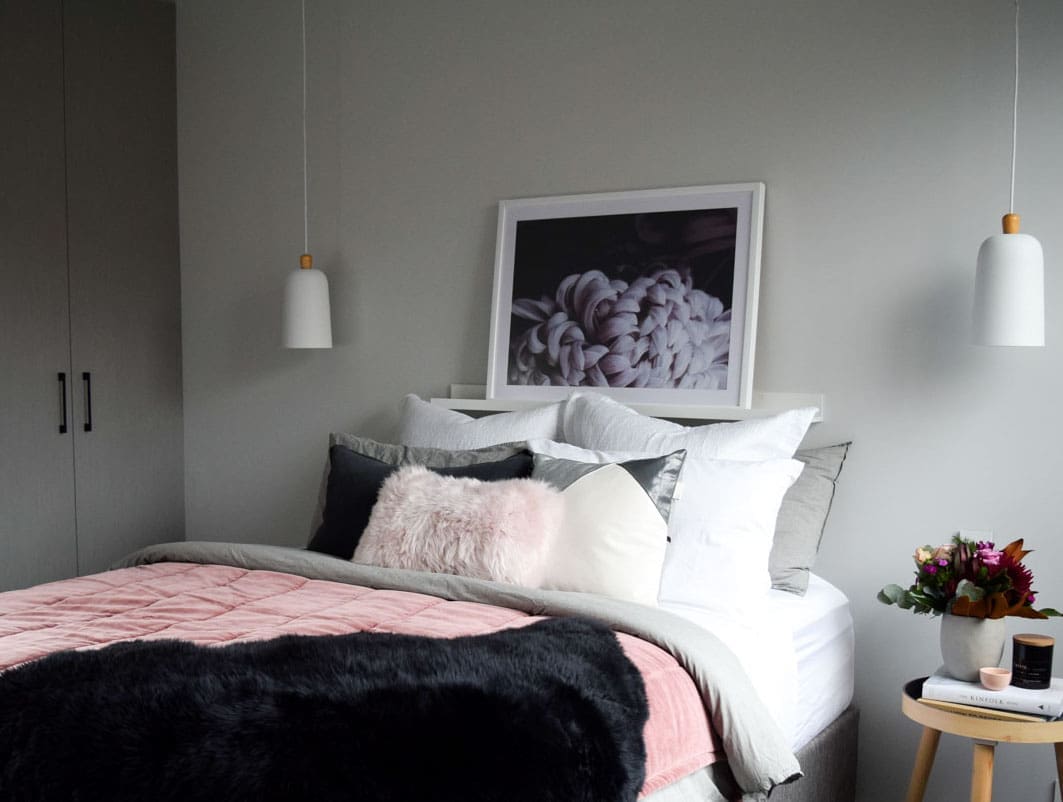 3. Assess your bed
Of course, it isn't just about how the bedroom looks. Your bed, particularly the quality and the support of your mattress, plays a big role in how comfortable you feel in your bedroom and how quickly you can drift off to sleep.
Sealy, handcraft their mattresses to ensure that you can achieve exactly that. A recent census by the bedding experts found that 80% of Australian mums rarely wake up feeling refreshed (yep, I'm one of them!) and most get less than six hours of broken sleep each night.
If you feel like your bed is letting you down and you'd like to make a change, you can seek advice from Sealy sleep experts here.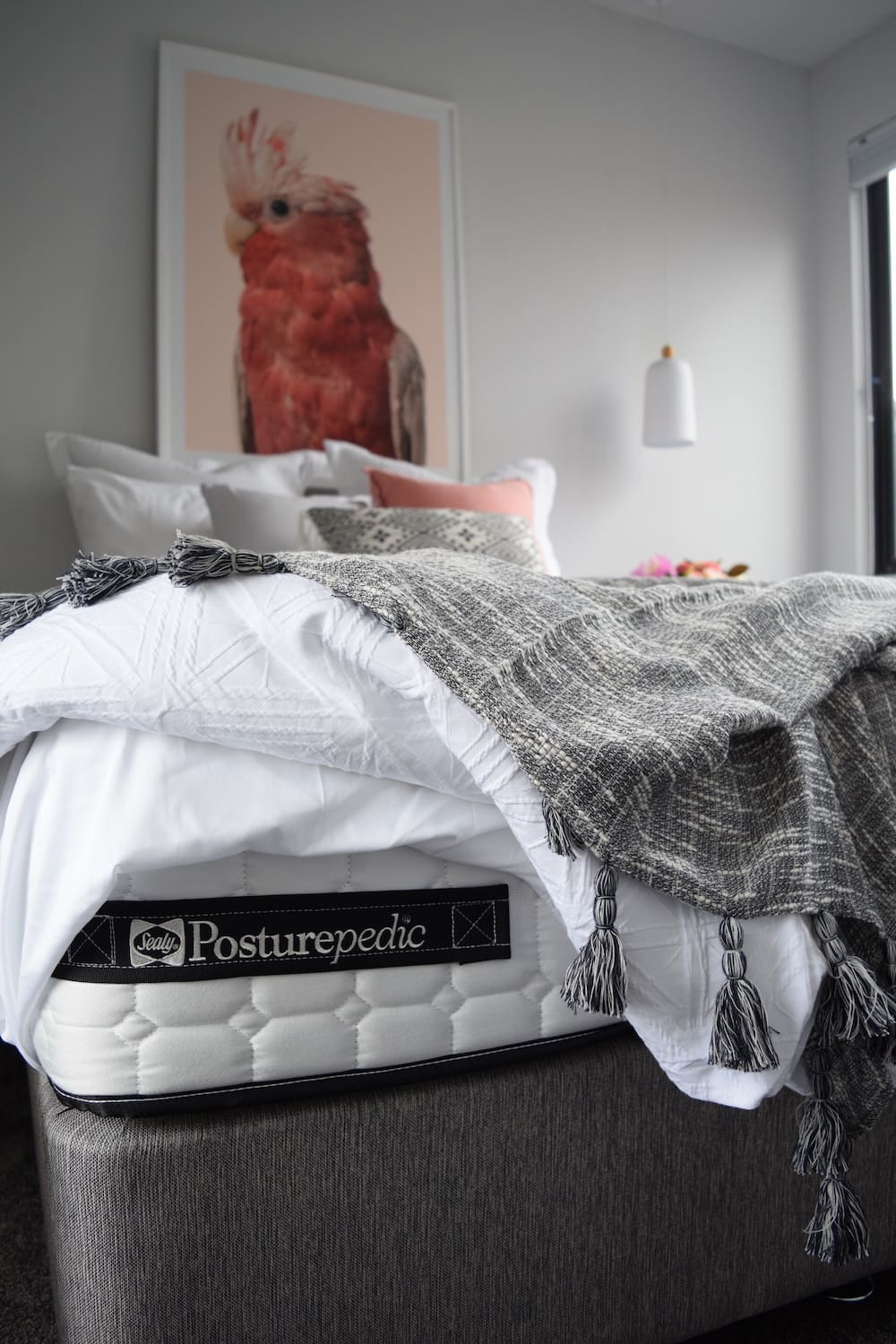 4. Bedding
I always recommend buying the best quality bedding you can afford and swear by natural materials. Pure cotton, bamboo or linen feel so much better than polyester. Even if you can't splurge on full sets, look at investing in fitted and flat sheets that are high quality natural materials.
Selecting neutral colours such as white and grey mean you can easily change the look of your bedroom using cushions, throws and artwork, and I talk more about this below.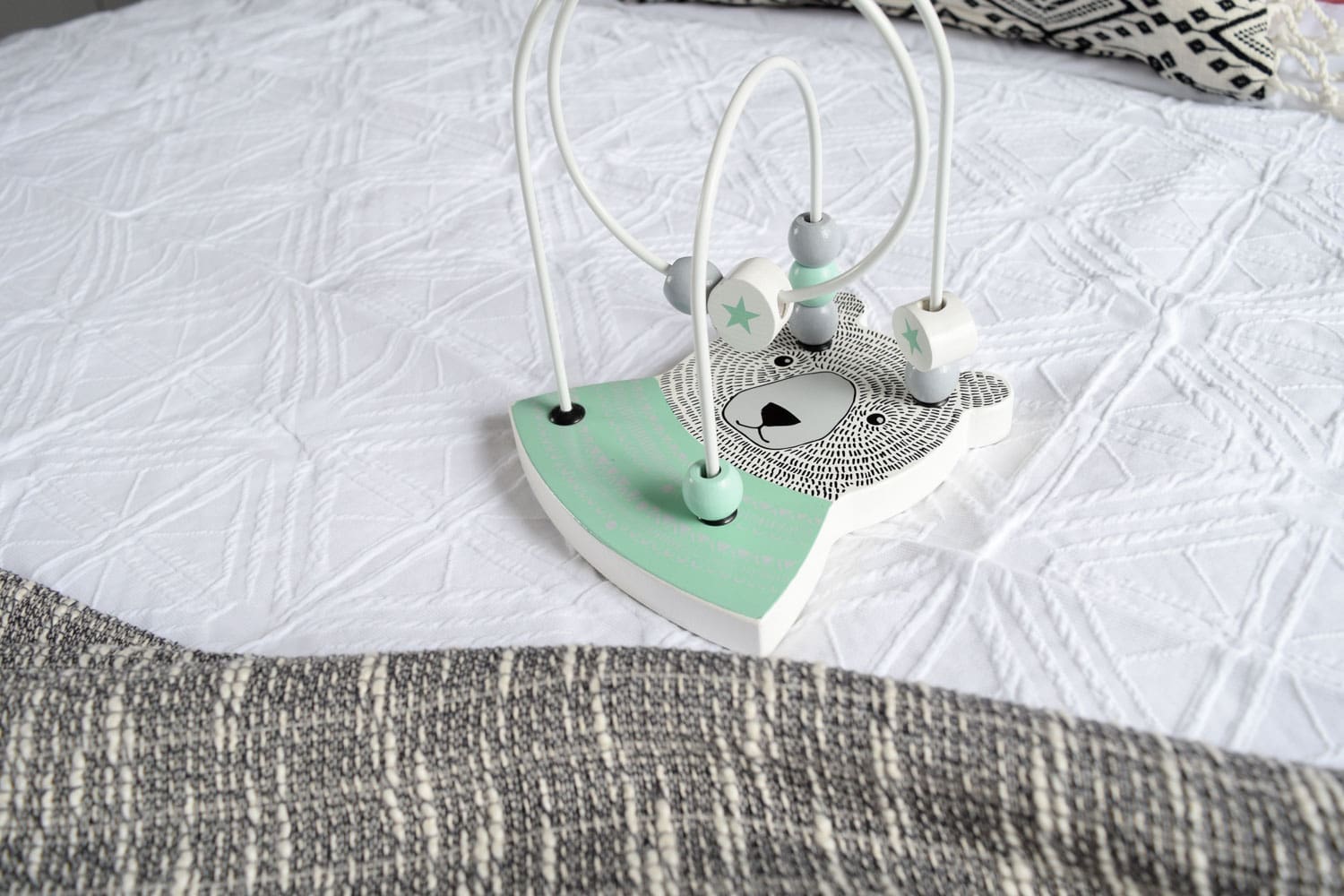 5. Clear away electronics
So many of us are guilty of sleeping with our mobiles on our bedside tables, or worse, under our pillow.
Keeping electronics away from our head means we won't be disturbed, such as when the phone vibrates or screen illuminates.
If you use your phone as your alarm clock, consider putting it on the floor at the foot of the bed or somewhere far enough away that it won't wake you. It also means you'll need to crawl out of bed to turn it off, helping you to get up in the morning!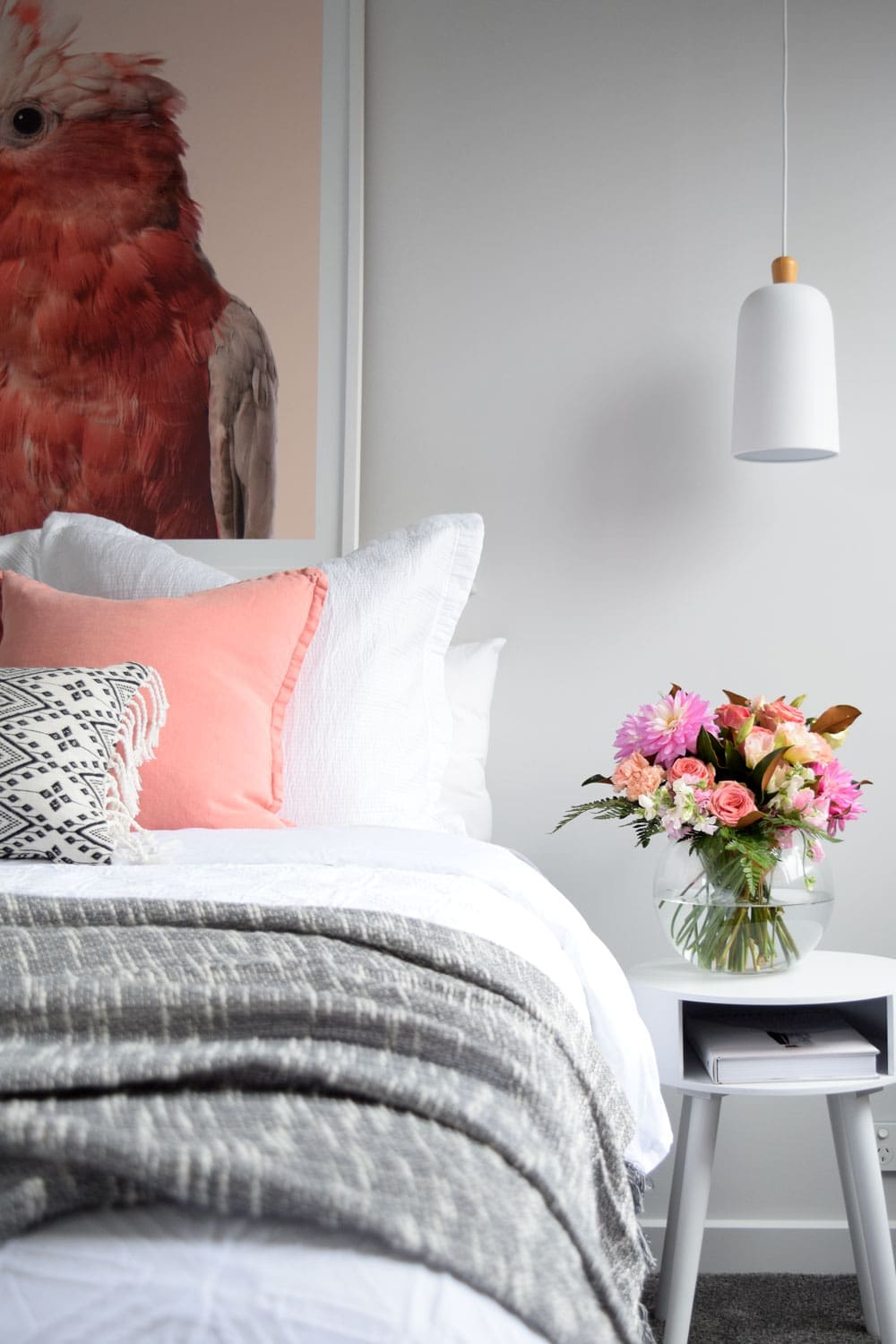 6. Add a pop of art
I believe in bringing art into every room of the home and love the energy and mood art can bring to a bedroom. There's such a wide range of affordable art on the market these days, the two I've used embrace photography (floral print by Adairs and bird print by Middle of Nowhere) but other ideas include:
– artist prints such as Mandala prints by Lumiere Art & Co or limited edition art prints
– watercolour artworks such as by New Zealand artist Sophie Melville
– typography prints such as by Rachel Kennedy Designs or Yorkelee Prints.
Gallery walls above the bed are trending more than ever or you could look at installing a small shelf like I have done so you can easily swap and change the look without damaging walls.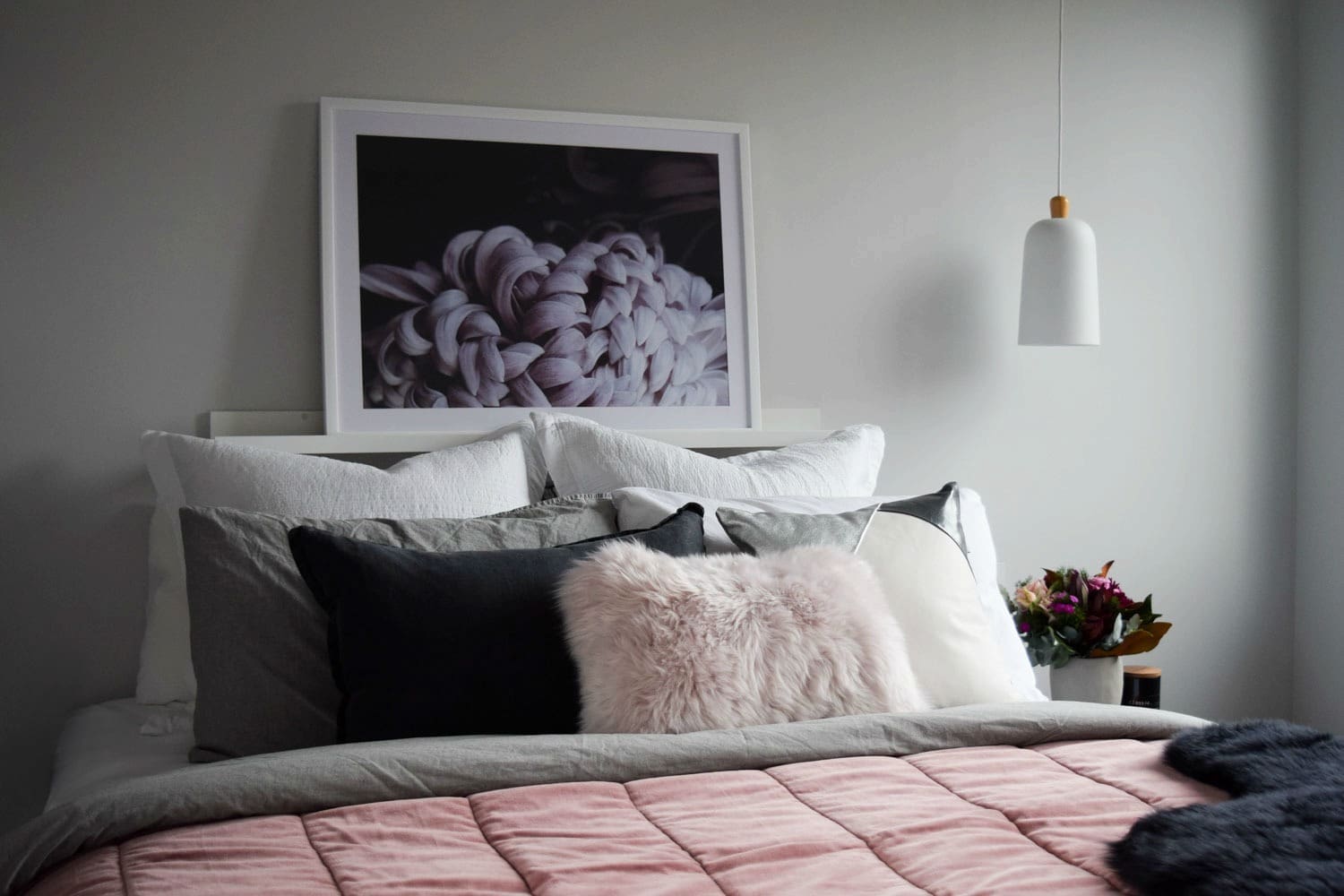 7. Cushion styling
This one is purely for aesthetics but to me it's important – a well-styled bed says 'hello, I'm ready for you' whereas one that hasn't been made or lacks styling just feels blah.
Often I hear people say they find it difficult to style cushions which is why we made a short video to help here. I generally opt for 2 euro cushions, 4 standard cushions and 3 feature cushions.
However many cushions you decide, remember:
– mix shapes and colours
– don't be afraid to create an asymmetrical look
– play with texture.
8. Fresh blooms or indoor plants
I adore fresh flowers and just the sight of them in the bedroom makes me feel happier and more relaxed. But some people can find the fragrance too much in the bedroom so indoor plants are also a great idea – and there are even plants that are said to help cure insomnia like the Snake plant, Aloe Vera, White Jasmine and English Ivy.
Find a vessel that complements your bedroom theme. For example in the warm and cosy look I've used a ceramic vase in a muted grey colour, and for the light and airy look I've used a clear fish bowl vase.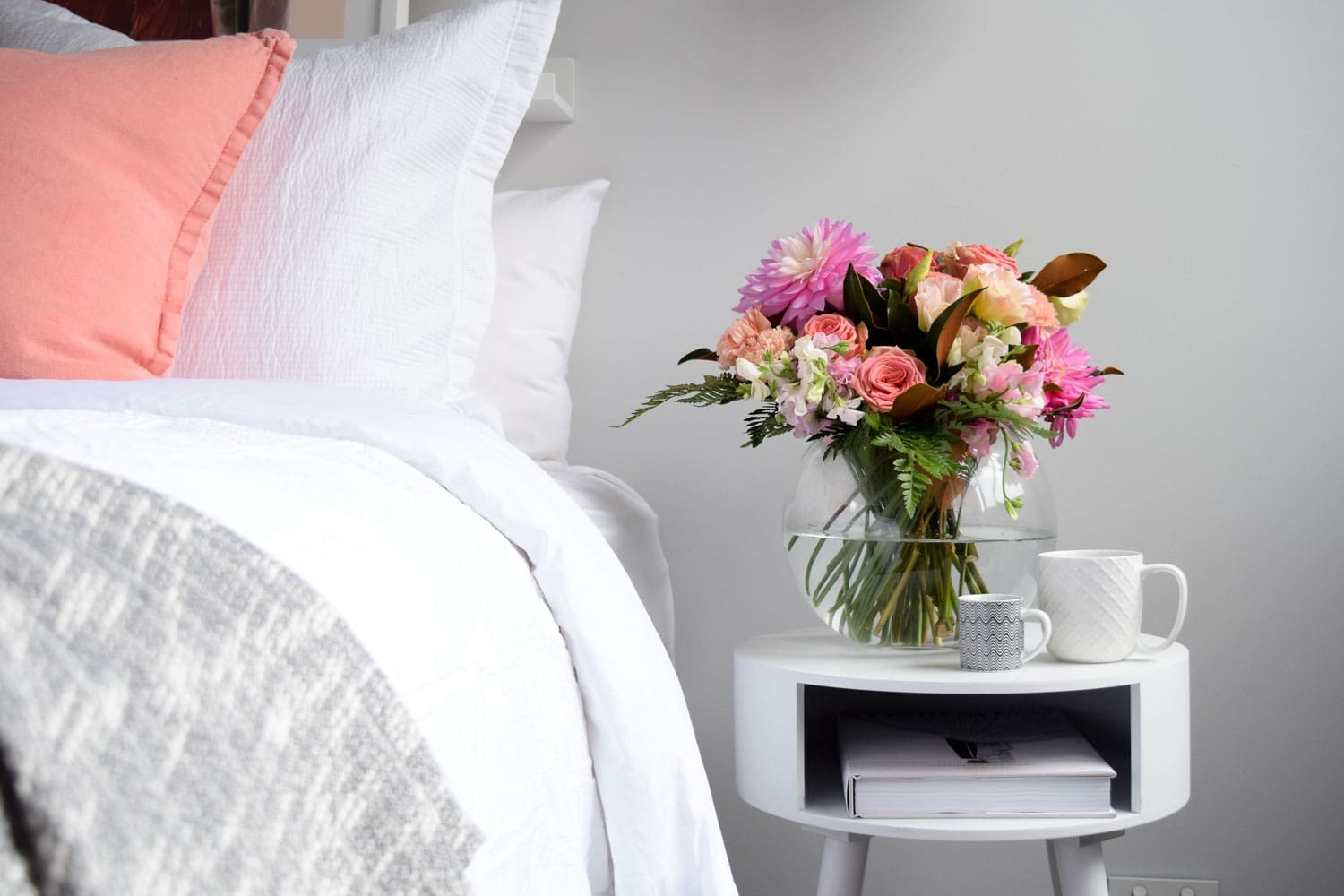 9. Candles
Keeping with the scented theme, candles are another winning idea in a bedroom sanctuary. Not only do they smell amazing, the gentle flicker of a candle flame can be incredibly relaxing – just be sure to pick a candle that uses natural wax and essential oil fragrances (and never burn it right before bed!).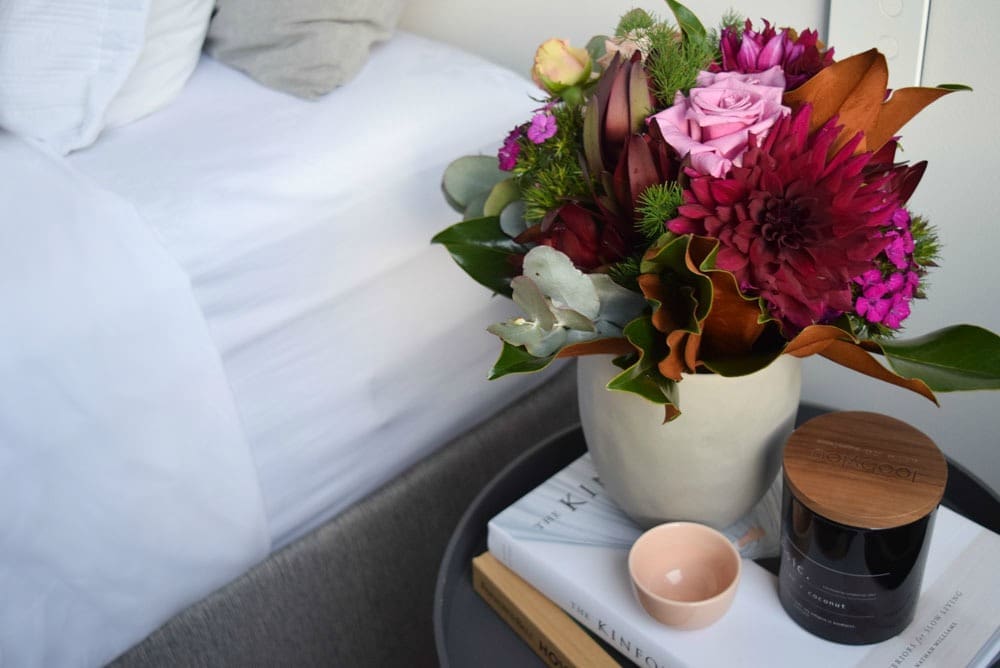 10. Make the space enjoyable
Above all, I want my bedroom to feel like a space that can be enjoyed. For me, that means morning cuddles with my bub… and then when he gets restless and I'm still waking up, I'll pop him on the floor with some toys. On Sundays I also love a cappuccino in bed while he sips on his babyccino!
Perhaps you love books so you'll incorporate an area in the room where you can have a small collection? Just be sure to design your bedroom around YOU and not just what looks good.
Hopefully by taking on board these tips you can create your own bedroom sanctuary or give mum the gift of a good night's sleep this Mother's Day!
*Disclaimer: this bed was provided for the purpose of this blog post.