With working from home still being a reality for many, we've been looking for ways to elevate your working from home situation. Keep scrolling to find our top 10 office inspiration ideas to create your own perfect workspace.
1. Luxe lighting
Create a space you want to work in with warm lighting from lamps rather than ceiling lights. It's amazing what a difference lighting can have on our mood, thoughts and productivity.
We like how these twin lamps anchor the sideboard while illuminating the wall art. The gold accents also create a sense of luxe.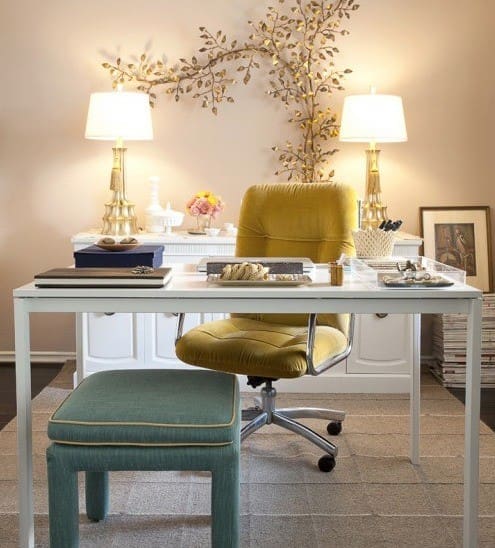 2. Art scene
Make it all about the art. If your mind is prone to wandering (like ours!), it might be best to opt for minimalist styling so you can keep a clean and focussed mind.
This oversized black and white photograph is just right in this space.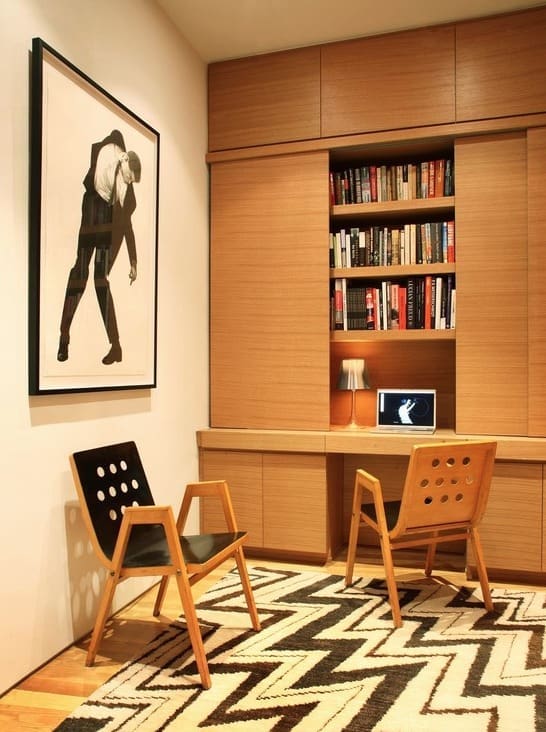 3. All wrapped up in wallpaper
Create impact in your workspace with graphic wallpaper. Repetitive or tessellated patterns like this one are softer on the eye and ideal for the office.
With wallpaper being back on trend, there is a wide array of modern prints in all colours so you'll be sure to find one that's just right for your space.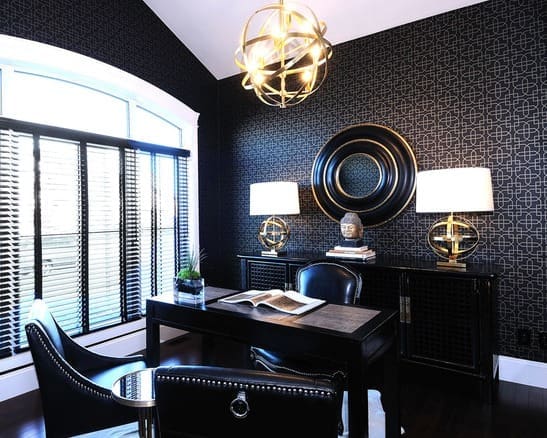 4. Inspiration boards
Inspiration or mood boards above your desk are a great idea in the office.
Not only are they a practical way to keep your creative energy flowing, wall-to-wall boards like this one can add texture and contrast to the space.
5. Storage solutions
Stay organised with a range of storage solutions.
We love the use of magazine boxes, desk trays and natural open baskets in this office. The shelving unit and square box wall shelves are also clever ideas for maximising space and keeping clutter away.
6. Double desk
Having two desk spaces — one for your computer and one for hand writing or drawing — is a great idea for people who do a lot of non-computer work.
We love that the desks aren't matching. The layout of having them back to back is perfect for people who can be easily distracted by email notifications!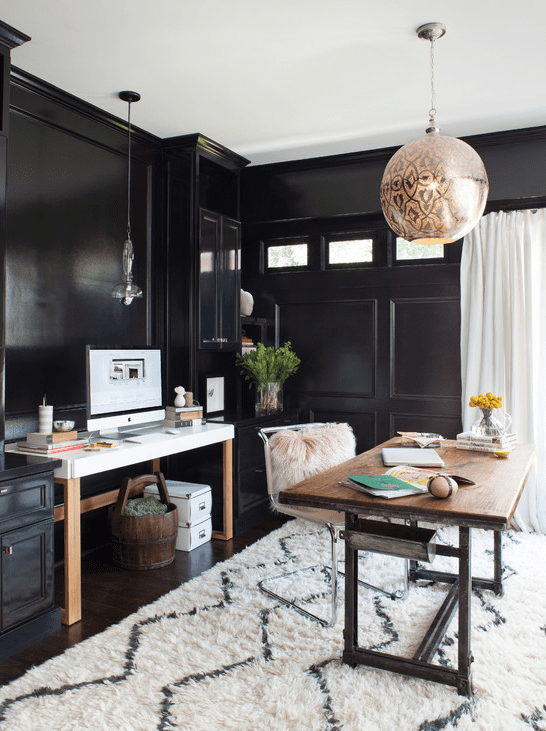 7. Rug-alicious
A good rug can be the feature of a room.
Animal prints are our favourite and we love the look of this zebra pattern.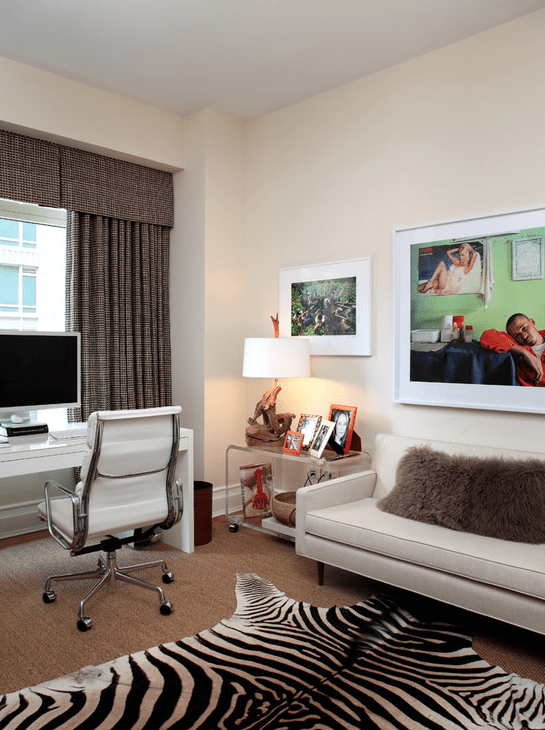 8. Room with a view
There's nothing more beautiful in a space than natural light. If you're lucky enough to have large windows, make them the hero of the room like this office.
Did you know you can get windows installed for less than you might think? We had a super-dark dining room and added a large window to look out to our cherry blossom trees. It solved our darkness issue and created the most beautiful view.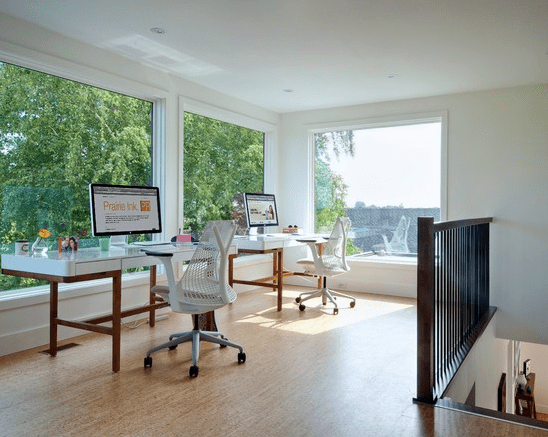 9. Add a splash of colour
Painting your office is an inexpensive way to update and freshen the space. This muted turquoise is the colour of the moment and adds a sense of serenity and depth.
If you need help deciding what colour to paint your office, our 'Colour and emotion' article with a Haymes Colour and Concept Manager gives insights into the psychology of colours.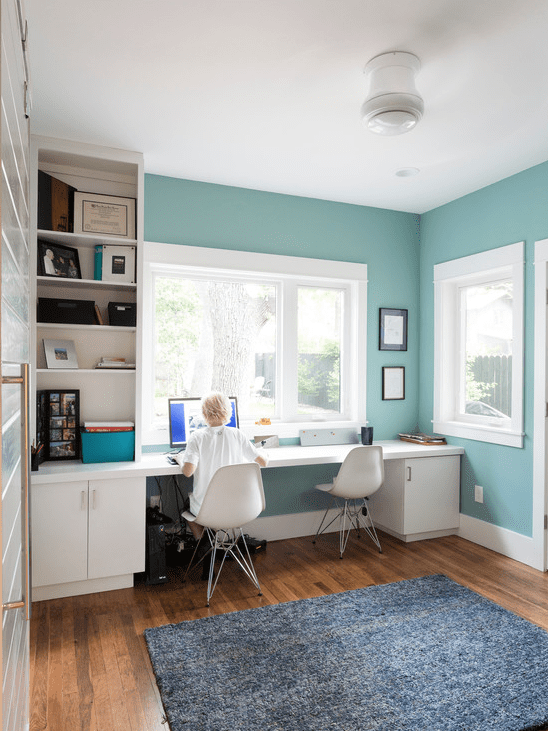 10. Liven it up
We like to add a living element to each room we style.
Indoor plants can help lower stress and negative feelings, improve your wellbeing and add interest to a space.
Peace lilies (Spathiphyllum x 'Clevelandii') are our 'go to' indoor plant of choice because they have beautiful glossy green leaves and serpent-like white flowers, and are almost impossible to kill!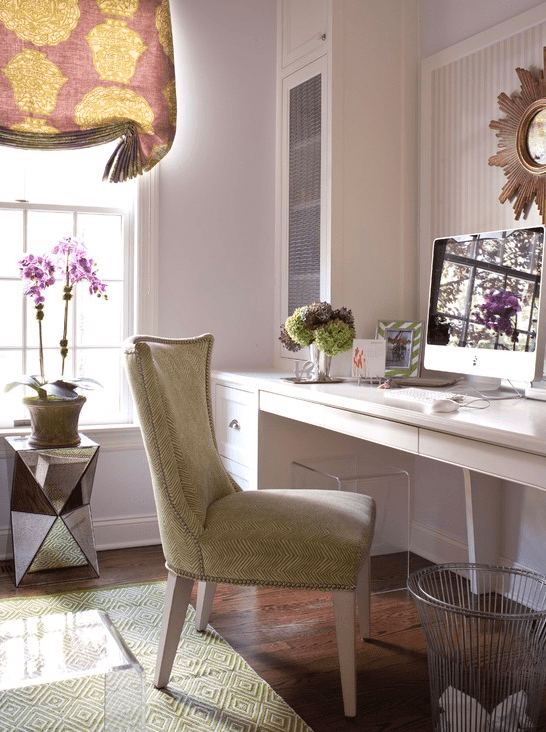 Do you have other office ideas? Share them in the comments below!