Is it time to dust away the cobwebs and get your garden shed under control? I recently tackled this job and it's made such a difference to free up valuable space in my garage by moving tools and gear into the shed — and to be able to step inside the shed without tripping over things! Here are 7 ways to organise your garden shed.
Related article: How to in the garden: Composting guide for beginners
Related article: In the garden: Summer gardening guide
1. Declutter
You had to know this would be on the list! There's no point in organising things you no longer need or want — it's only taking up valuable storage space.
The easiest way to do this is to pull everything out of your shed and start sorting into piles. By grouping all 'like' items together, such as all gardening products or all tools together, it's easier to see how much you have and to make quicker decisions on whether to keep, donate or throw away.
Be environmentally conscious when disposing of things from your garden shed. Many materials, such as paint or chemicals, can be taken to recycling points where they can be used for energy recovery and the containers cleaned and recycled. Planet Ark has a fabulous tool here where you can enter your postcode and what you are wanting to dispose of, and it will let you know about all the recycling points in your area.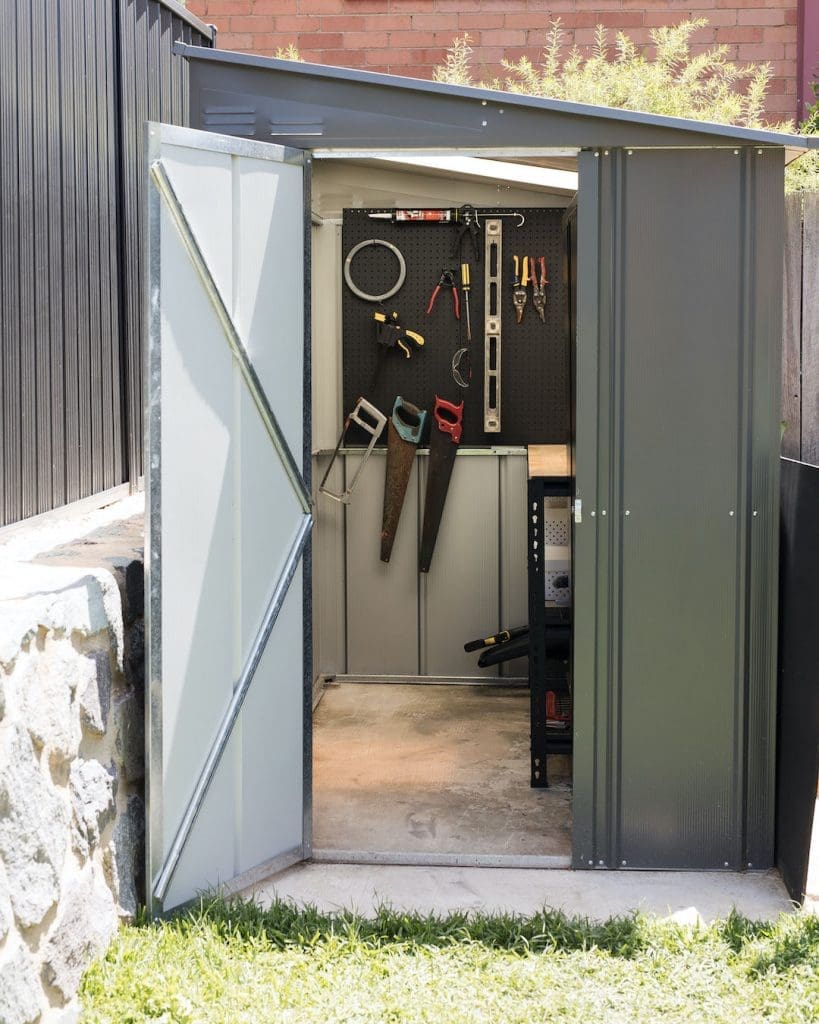 2. Pick up a bench that doubles as a storage rack
We all use our garden sheds slightly differently but it's hard to go wrong with a good work bench — and better yet, one that doubles as a storage rack!
A bench provides a sturdy work surface so you can work productively. Depending on the type of bench you pick up, it can be a lot more than that though! The one I got (pictured below) is from Pinnacle and has adjustable shelves, a solid timber top, and the option to add on accessories.
Before doing this garden shed makeover, I had some makeshift shelving that I created with blocks and planks of wood but it took up more space than it offered. As a result, I barely used the shed to store things and my garage (and laundry) became a dumping ground for things that should have been stored in the shed.
Tip: look for a bench that's adjustable so you can change it as your needs change (such as adding or removing shelves).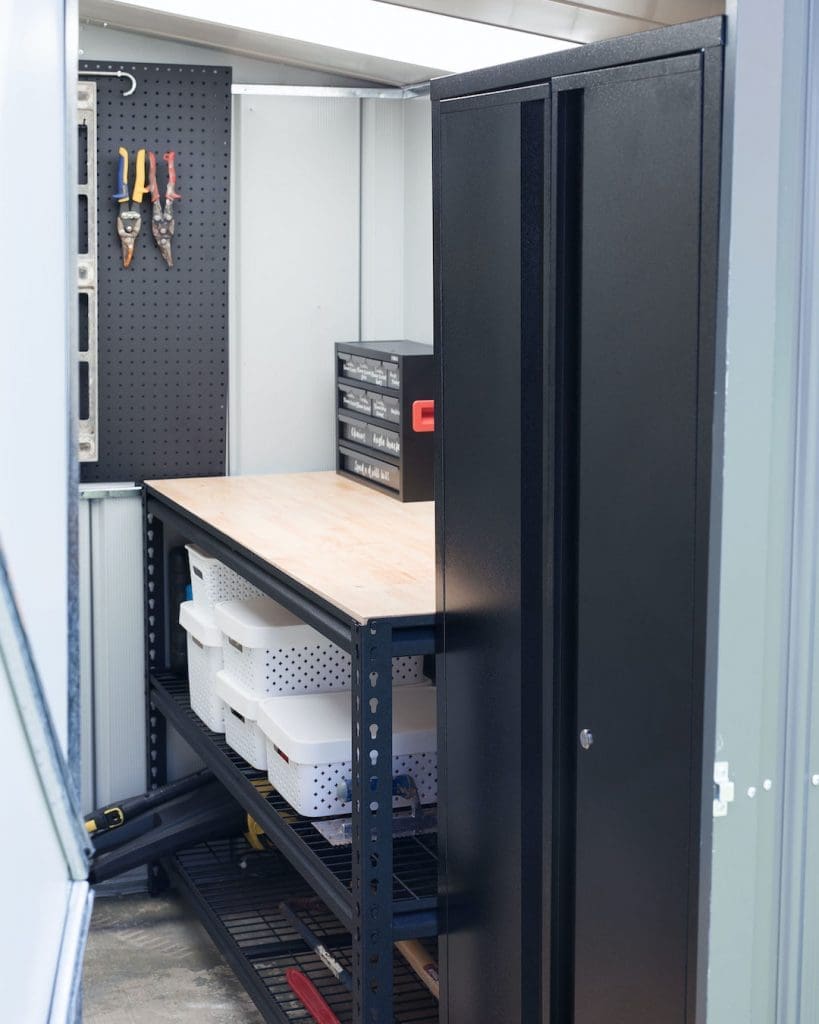 3. Get a lockable cabinet
Whether you've got young children and want to keep chemicals out of reach, or you're using your garden shed to store valuable tools that you want to keep safe and protected from the elements, a lockable cabinet is another winning storage solution idea.
There are cabinets in all sorts of sizes and configurations so you'll be sure to find one to suit your space and needs.
Tip: be sure to measure your shed twice before buying any storage solutions. Look out for brackets or other obstructions inside your shed which may reduce the amount of space you have. I only just squeezed the work bench and cabinet into my shed without a millimetre to spare!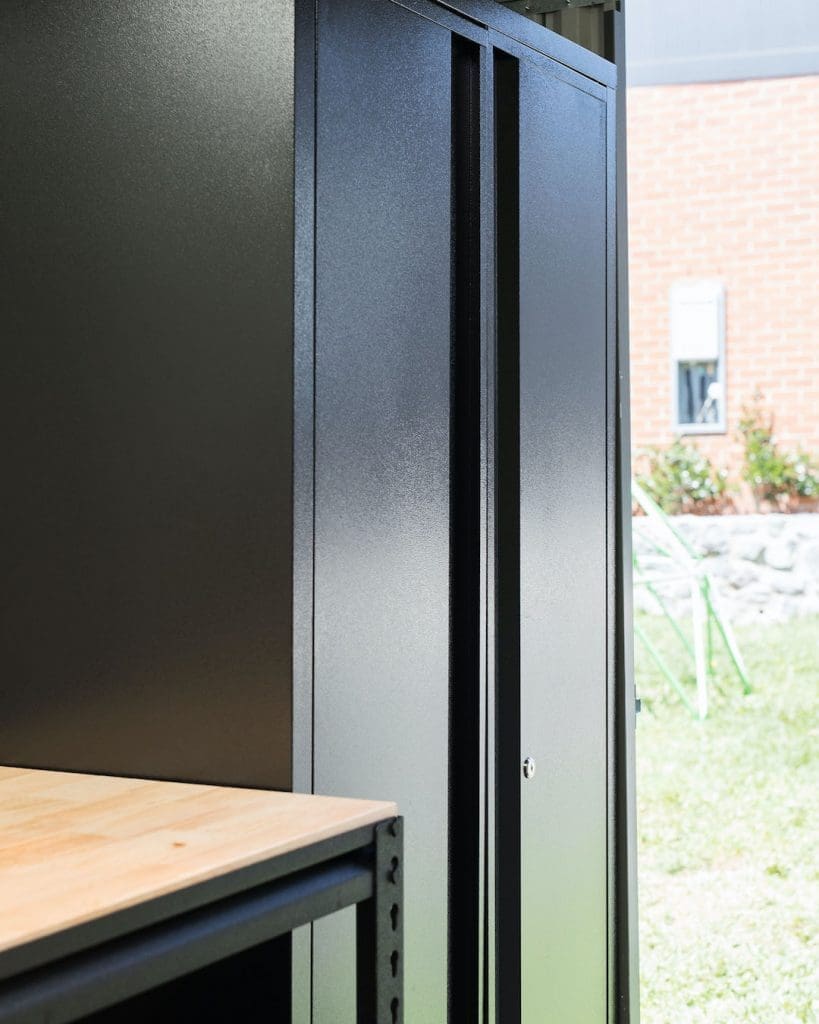 4. Install a pegboard for tools
Pegboards keep all of your most-used tools and items neatly within easy reach. These are sold as single sheets in various sizes and you can attach multiple boards together for additional hanging space.
I installed two pegboards on the back wall of my garden shed and as you can see, there's still plenty of space to add more tools.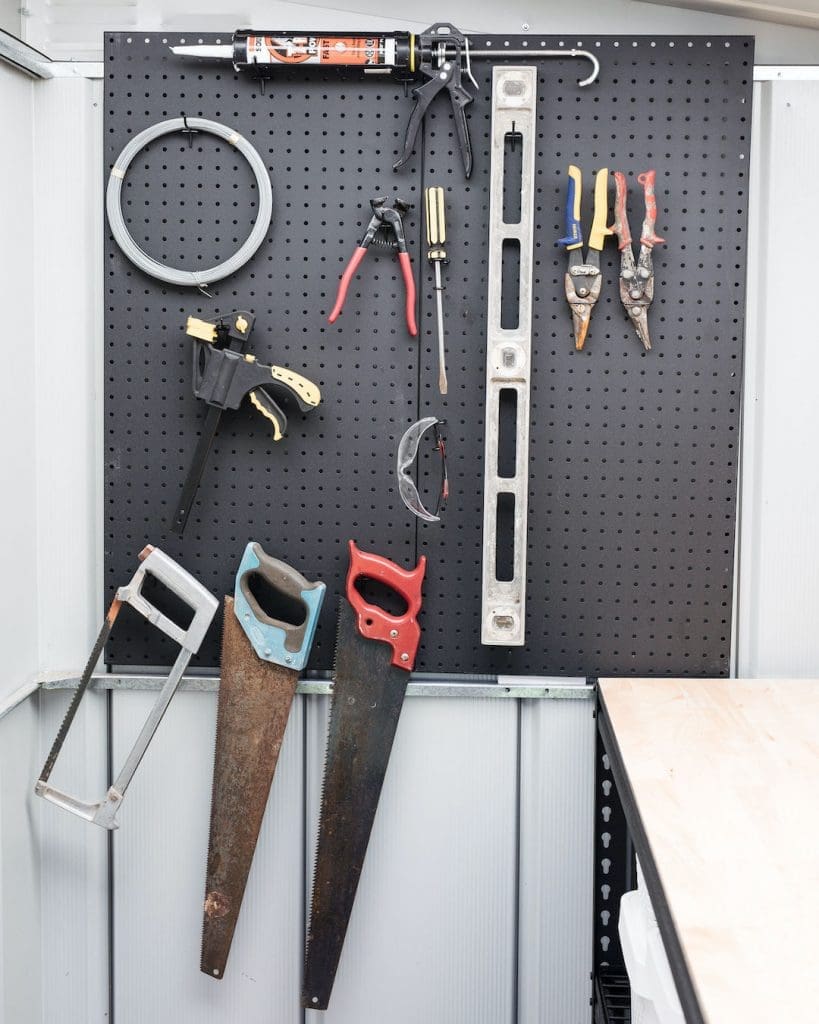 5. Use a drawer unit for smaller tools/hardware
Do you keep all your screws and brackets in tubs where it's impossible to find what you need?
I picked up a metal organiser with plenty of compartments to separate screws and other hardware. To know what's in each drawer, I made some vinyl labels (with my Cricut machine) but there are plenty of online stores that do custom vinyl labels if you want similar.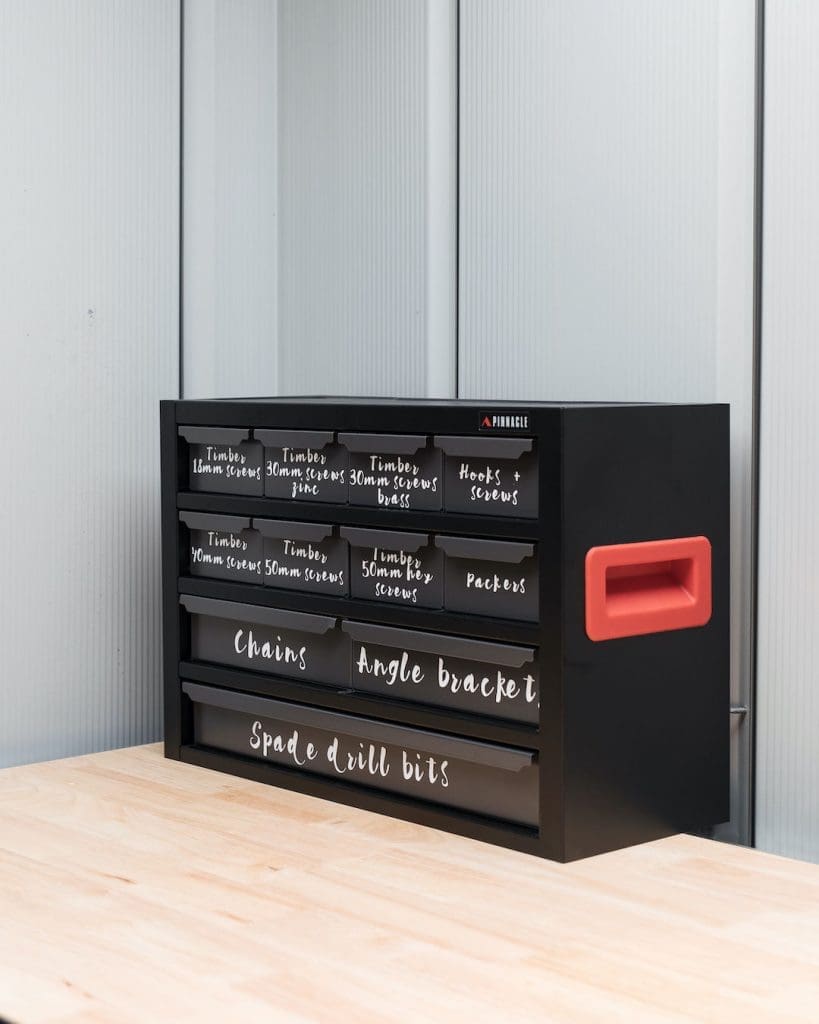 6. Take advantage of vertical space with hooks
So often when we organise a space, we think about how to maximise floor space and often overlook available vertical space.
We already mentioned pegboards above but another way to take advantage of wall space is with larger brackets to hang bigger tools and gardening gear.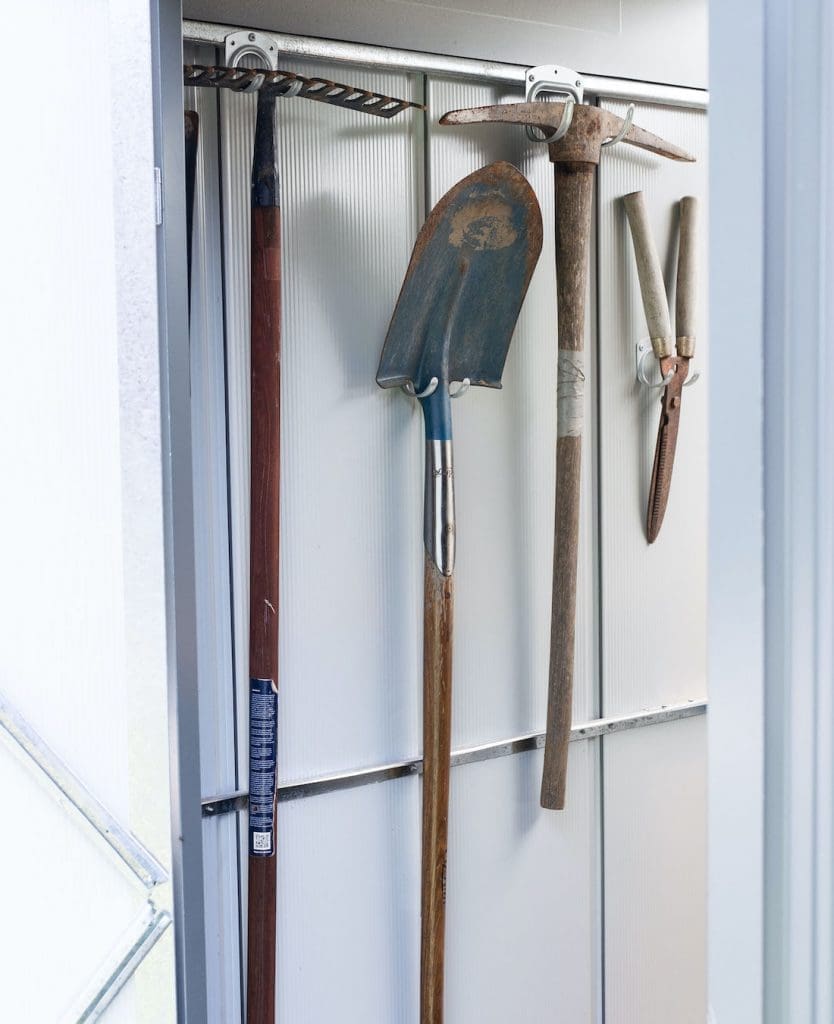 7. Use tubs to keep smaller items organised
Just as I love using baskets inside the home to keep smaller things organised and tidy, in the garage and garden shed I'm a big fan of using storage tubs.
Look for ones that are stackable so you can maximise the height of shelves and personally I prefer coloured tubs (rather than transparent) as it minimises visual clutter.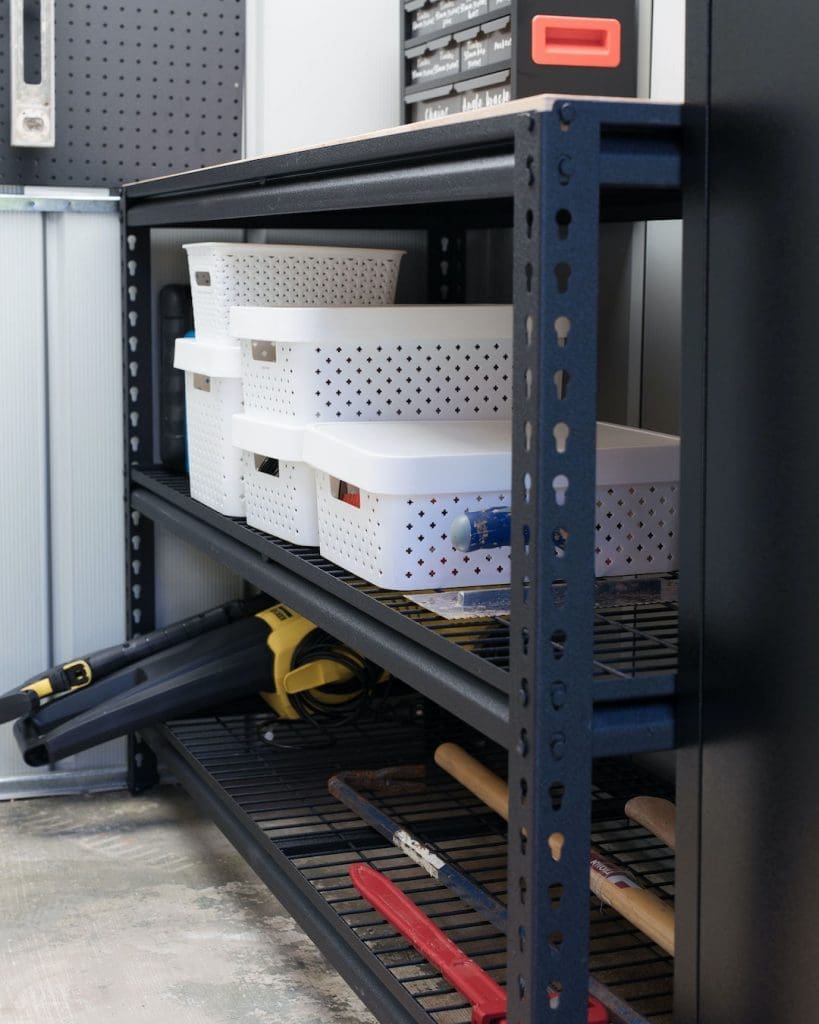 Have these ways to organise your garden shed inspired you to give your shed a makeover? Do you have more tips to add to the list? I'd love you to share them in the comments!
Disclaimer: some items pictured were gifted.