Lately I've been spending a lot more time on site of our new build — Bruno is often calling me out to make quick decisions (like this morning deciding where all the taps in our house would go), and to keep costs down we've been working there on weekends doing what we can.
But after one too many visits in my stilettos — or worse yet thongs — the boys on site cracked it (in a nice way) and banned me from reentering until I took their advice about safety on a construction site safety seriously. In the first video of Interiors Addict TV, Scotty Cam's number one tip about building was… you guessed it, safety. So it seems pretty timely to be sharing these tips with you!
Related article: 5 ways to better insulate your new home (and save money in the long…
Related article: Learning how to waterproof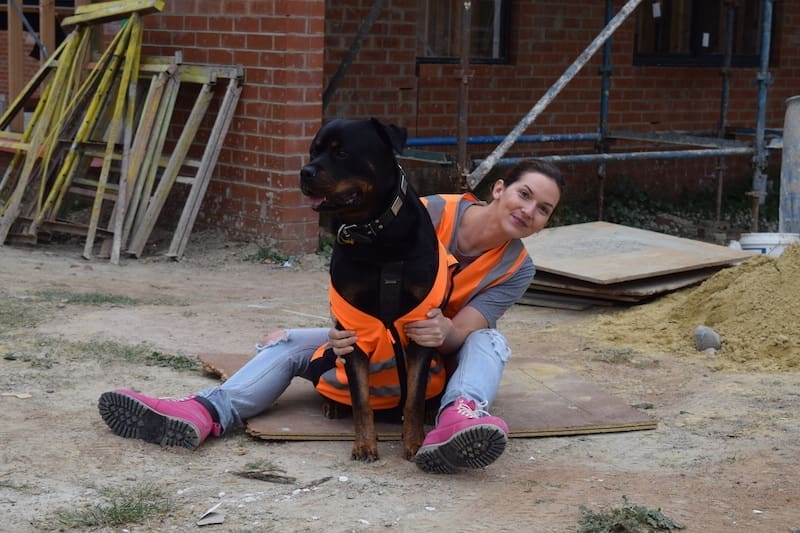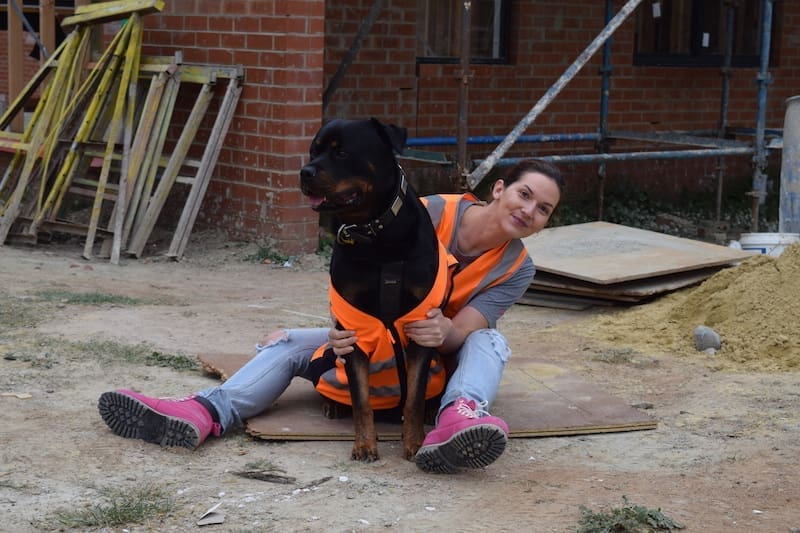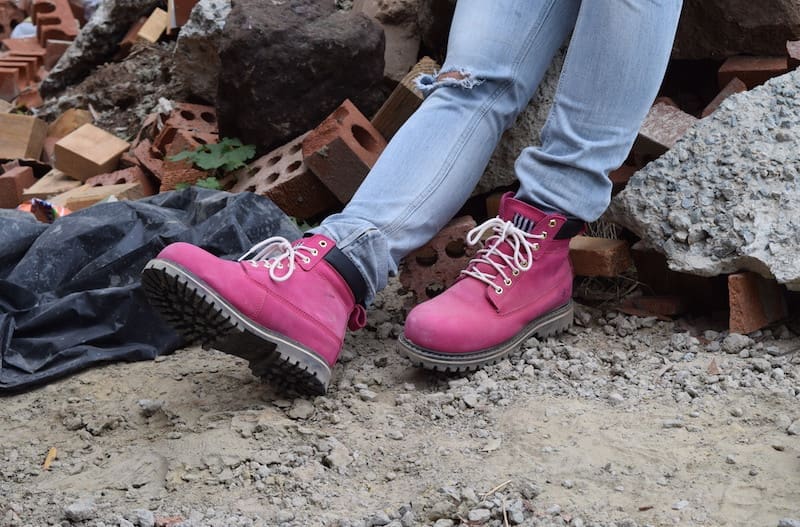 1. Proper footwear
High heels, thongs, anything peep-toe or slip-on are absolute no-nos. Might sound obvious but when you're just quickly 'popping onto site', it can be easy to get caught out… before you know it, you could be twisting your ankle or injuring your foot on sharp material. As a kid I stepped on construction waste and nearly lost my second toe — an emergency trip to the hospital later I was OK but better to avoid that kind of drama 🙂
So what does proper footwear look like? Fully closed and rubber soles are a must. I went one better and got actual work boots but not wanting to compromise on style (of course) opted for the super chic boots from she wear. You guys were loving the pic of these on Instagram on the weekend and I don't blame you — I'm in love! These boots comply with all the tough Australian/NZ standards, including steel caps and lots of padding.
2. Hi vis
I didn't know this but you can get fined for being on a construction site without hi vis clothing. When there are so many workers on site, people working at different levels and scaffolding blocking clear sight, it can be easy to overlook fellow workers. So, not wanting to take any risks Arnie also wore his vest when he came to work with us this weekend 😉 Thanks to one of our readers who gifted it to Arnie!
Depending on the work you will be doing, you may also need to wear a hard hat, safety glasses or long sleeve shirt and pants.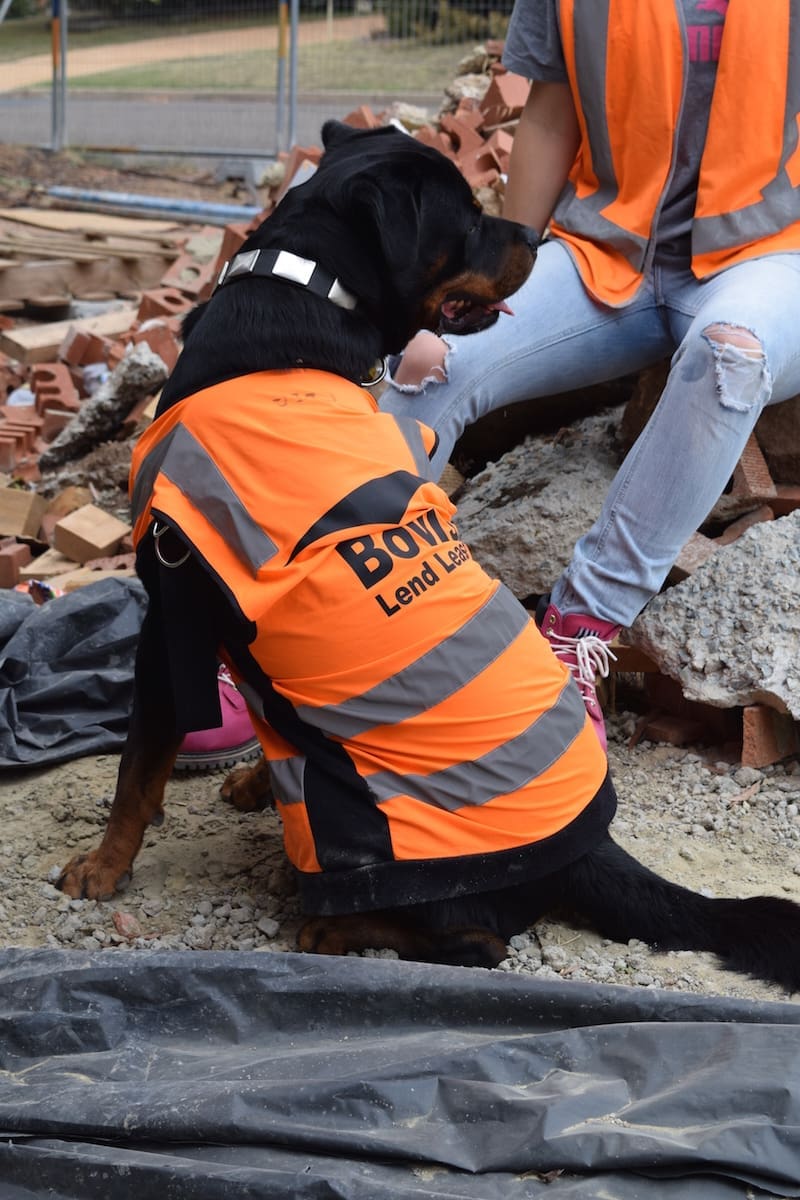 3. Maintain a clean construction site
Things can get pretty messy, very quickly on a site. Before this weekend our block was a scene of timber off-cuts, metal cladding scraps and broken bricks. We spent hours clearing out around both houses and inside every room. A truck full of rubbish later, our site was the picture of a safe work site. Regularly cleaning your site (or work area if you're renovating) removes potential trip hazards and gives easier access to workers.
4. General induction
We make sure anyone coming on site gets a quick run down on things to look out for, like low beams, or uneven and wet surfaces. This general induction of common hazards and how to control them is actually a requirement under safeworkaustralia.gov.au More full-on inductions are needed for people working on site.
5. Take personal care
While it may sounds silly to put 'take care' as a safety tip, it's the number one tip you'll find for workers in all state government work safe material and can be the mental reminder we need to listen to our better judgement. According to the latest Australian's workers' compensation statistics, the construction industry ranked in the top three industries for the highest number of serious work-related injuries. So whether you're just taking on a small renovation around the house or a new build like I am, I hope these tips help you avoid any nasty injuries.
What other construction site safety tips can you add? I'd love to read them below and avoid taking another trip to the hospital any time soon!