In collaboration with IKEA
The kitchen is the heart of the home and also the most expensive space to renovate so it's something you want to get right, first time!
We want to inspire you to create your dream kitchen – one that will last the distance in terms of style and functionality – so here are 10 of our favourite luxe features.
Some of these features will set you back in budget a little but if you plan them from the start, you may be able to identify other areas to save and still remain in your budget.
1. Clever cabinetry
Without a doubt one of the most valuable assets of a kitchen is storage! The type of cabinetry you select can make a big difference to the amount of storage space you have. For example, deep pull out drawers can hold more contents than regular cupboards, while also providing easier access. These are ideal for large pots and pans, plates and other bulkier items.
Another way to maximise cabinetry space is to use smaller internal drawers such as a pull out drawer above the bin to hold bags, or a smaller spice drawer in the pantry.
While at IKEA planning Bonnie's kitchen we were also inspired by the clever ways you can configure IKEA cabinets to take advantage of every centimetre of space. Whether it's a cupboard or open pocket above the fridge, a small corner cupboard or a narrow pull out drawer, often there's room to squeeze in one or two more cabinets than you may originally think.
2. Enclosed bin
You mightn't think a rubbish bin is anything to get excited about but once you make the upgrade to an enclosed bin (rather than having one out on the kitchen floor), you'll never look back.
There are all sorts of bins available now, with single or multiple compartments, so you can organise your general waste, recycling and compost.
An enclosed bin will free up much needed floor space, improve the overall look of your kitchen and prevent it from smelling badly.
You can even buy an electronic push opener so you can use your knee or foot to open the rubbish door when your hands are full.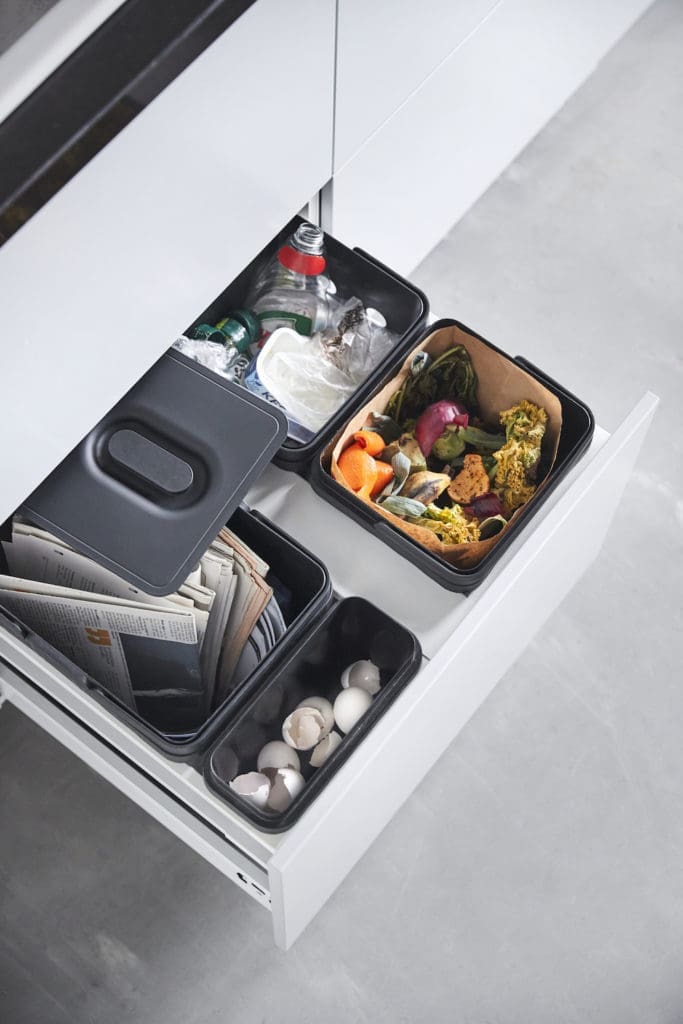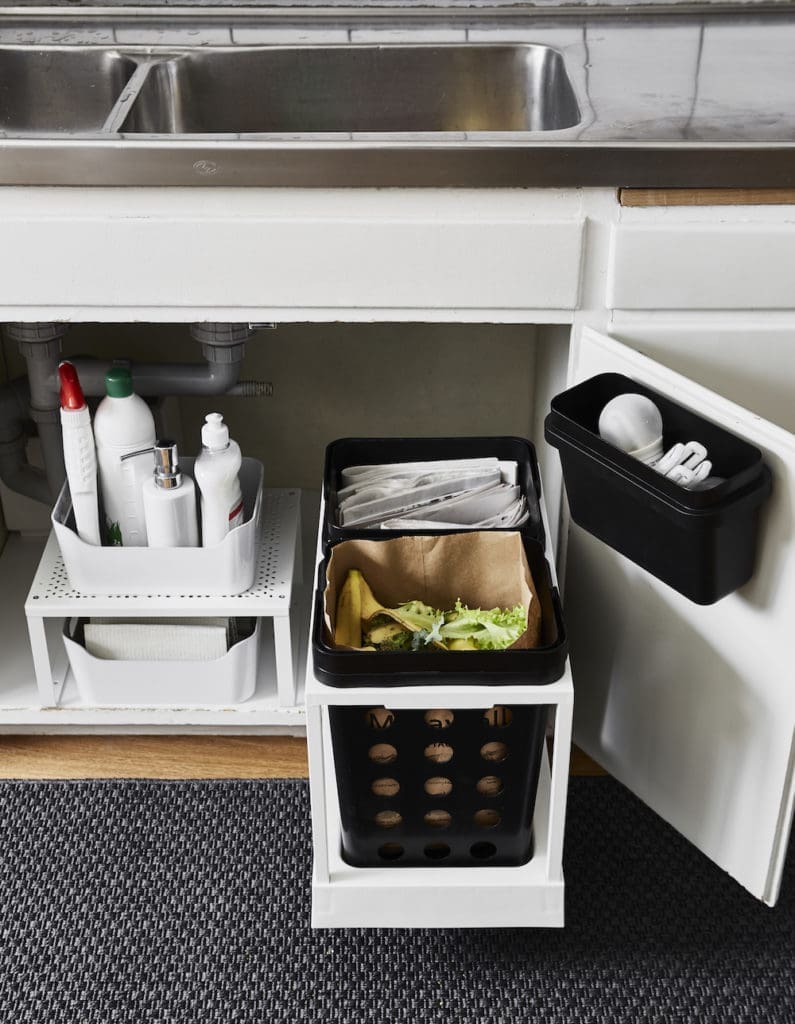 3. Lighting
You've heard us say it before – lighting plays such an important part of the design of any room in the home. It sets the mood and can help or hinder how you use the space. This rings particularly true for the kitchen which is generally the busiest spot of the house, and used for the broadest range of activities from food prep and cooking, to doing homework or light office work, entertaining with friends and more.
Consider integrating all three types of lighting in this space – task lighting, ambient lighting and accent lighting. Task lighting helps you perform particular tasks, for example in the kitchen lighting above the bench will help you when preparing food. Ambient lighting is the overall illumination of an area and downlights are often used for this, but softly illuminating a wall with a wall wash light is another alternative. And finally, accent lighting creates visual interest and can often make a statement – illuminating a feature such as artwork or texture of a wall, or being a statement light in its own right.
In Bonnie's kitchen we used strip lighting under the cabinetry, which is a beautiful accent light that shows off the texture of the brick behind her glass splashback. Stay tuned for the reveal of her new kitchen very soon!
4. Induction cooktop
The type of cooktop you choose – gas, electric or induction – will often come down to personal preference but there's a lot to love about induction. The sleek design and easy-to-clean nature often come high on the list of loves.
Bonnie chose the FOLKLIG induction cooktop from IKEA, which has all the basic functions, plus two cooking zones with power boosting (ideal for boiling water super fast or searing meat), and a child lock. It also comes with a 5 year guarantee.
Induction hobs are also extremely energy efficient, fast and precise as induction technology transfers energy directly into magnetic cookware. This cooktop also featured individual timers for each part of the hotplate – allowing for perfectly boiled eggs, rice or pasta.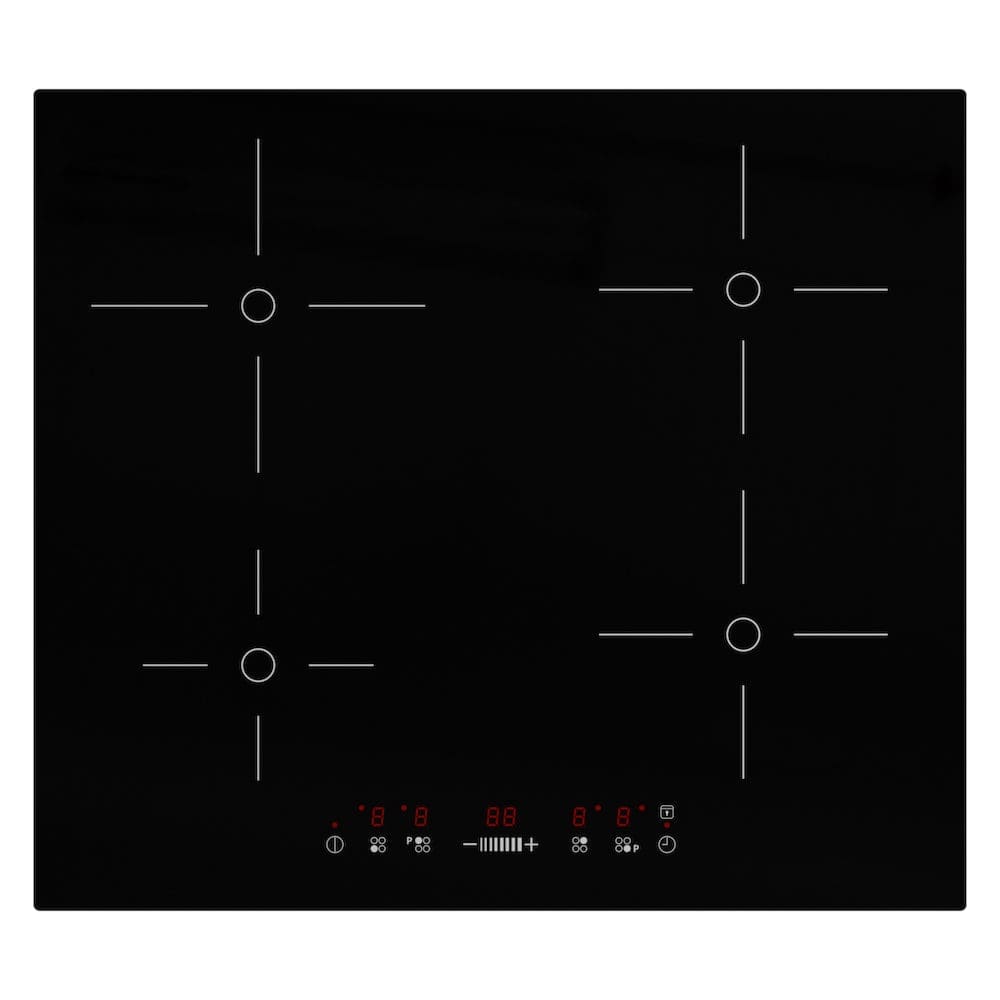 5. Hidden rangehood
Continuing with the theme of cooking, let's talk rangehoods. Unless you're going to make a statement out of your rangehood (such as a solid brass cylindrical rangehood), it creates a more modern look to have it concealed.
Hiding or integrating your rangehood into your overhead cupboards creates a sleek finish and avoids breaking the clean lines of the space.
6. Stone benchtops
A definite must have is a stone benchtop – nothing beats the quality, longevity and luxe feel of a solid stone benchtop. They are scratch resistant, stain resistant, and can handle heavy objects and hot pans – plus they look sophisticated and stylish.
While laminate and other products can often offer a similar look, they don't come close in terms of durability. For your dream kitchen, this is an area worth splurging.
According to realestate.com.au, stone benchtops are one of the top five features home buyers look for. Stunning stone benchtops make a great impression and hold their value exceptionally well.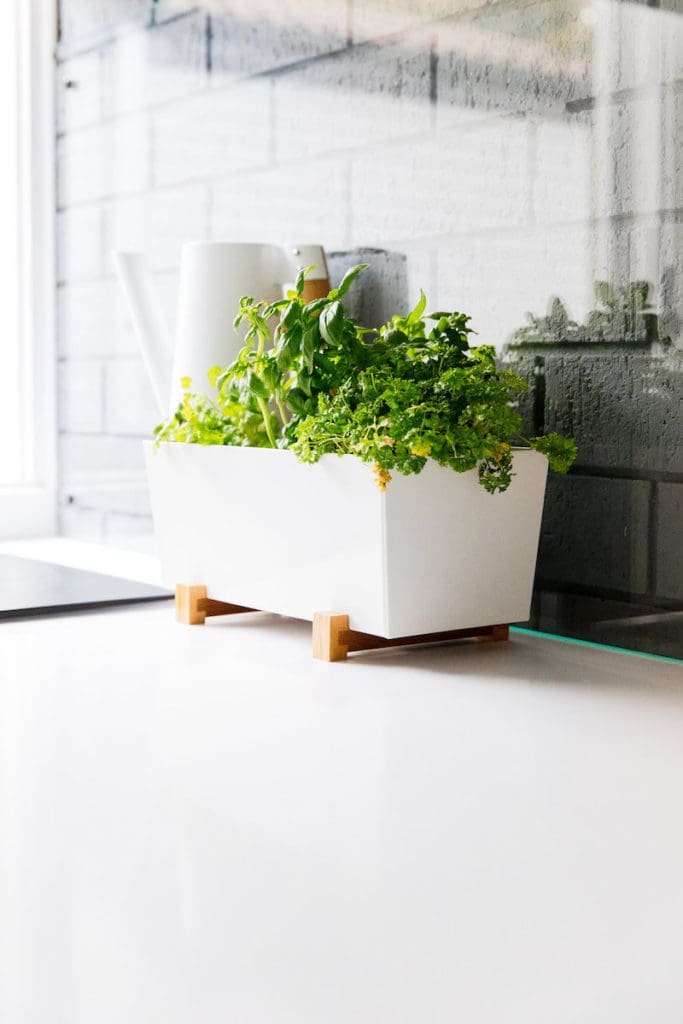 7. Integrated appliances
Built-in by definition, a fully integrated item like a dishwasher (we did this at Bonnie's house) ensures that appliances blend with your cabinetry. A fully integrated item doesn't disrupt your kitchen's appearance and creates a cool, sleek look.
Consider your needs when selecting appliances – it sounds obvious but when you're planning a kitchen it's easy to fall into the trap of doing what everyone else does (much like planning a wedding!) rather than thinking about your individual needs. For example, warming drawers were all the rage for a while but would you ever use one? Perhaps a second oven would be a better investment and use of space. Take the time to do your research and consider how you'll use the space.
8. Drawer organisers
Kitchen interior fittings turn messy drawers and hard-to-reach corners into things of beauty and efficiency. From drawer dividers to lazy-susans, IKEA is the mecca for organisation products!
If you get a kitchen designed and installed by IKEA, you can shop their organisation products with confidence knowing they'll fit perfectly. Or if your kitchen is made by another provider, you can measure your drawers and use a combination of products to fit.
Cutlery trays, small dividers, draw mats and spice organisers are all popular favourites, but wire baskets, deeper boxes and even a vacuum hose holders are other ideas you might not have considered.
Find loads of ideas to organise your kitchen here.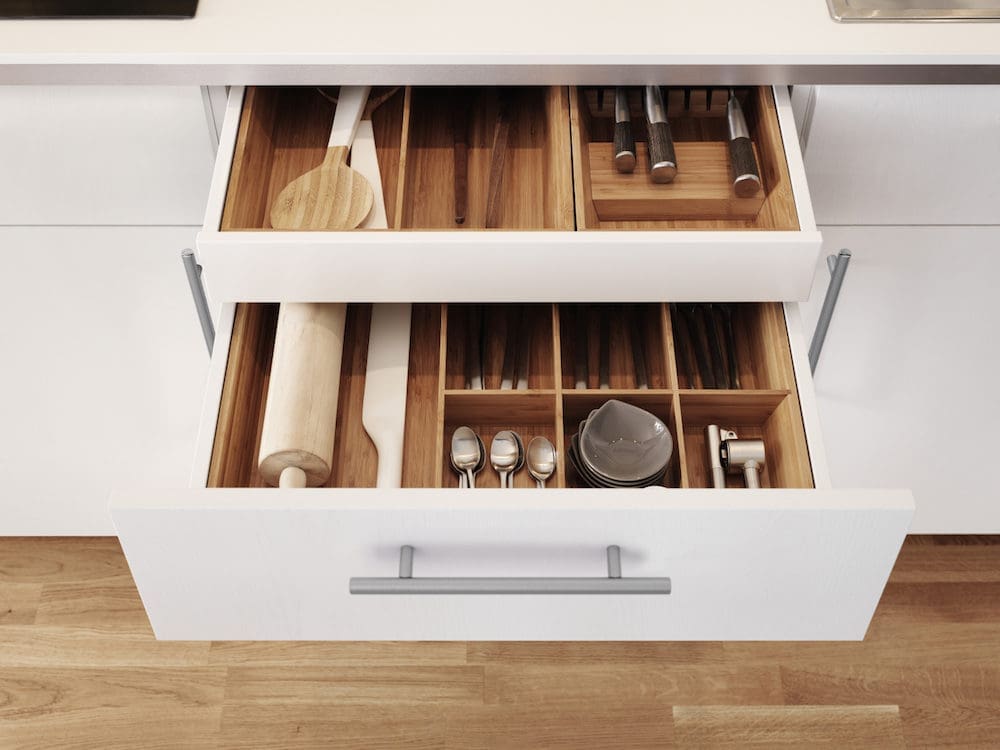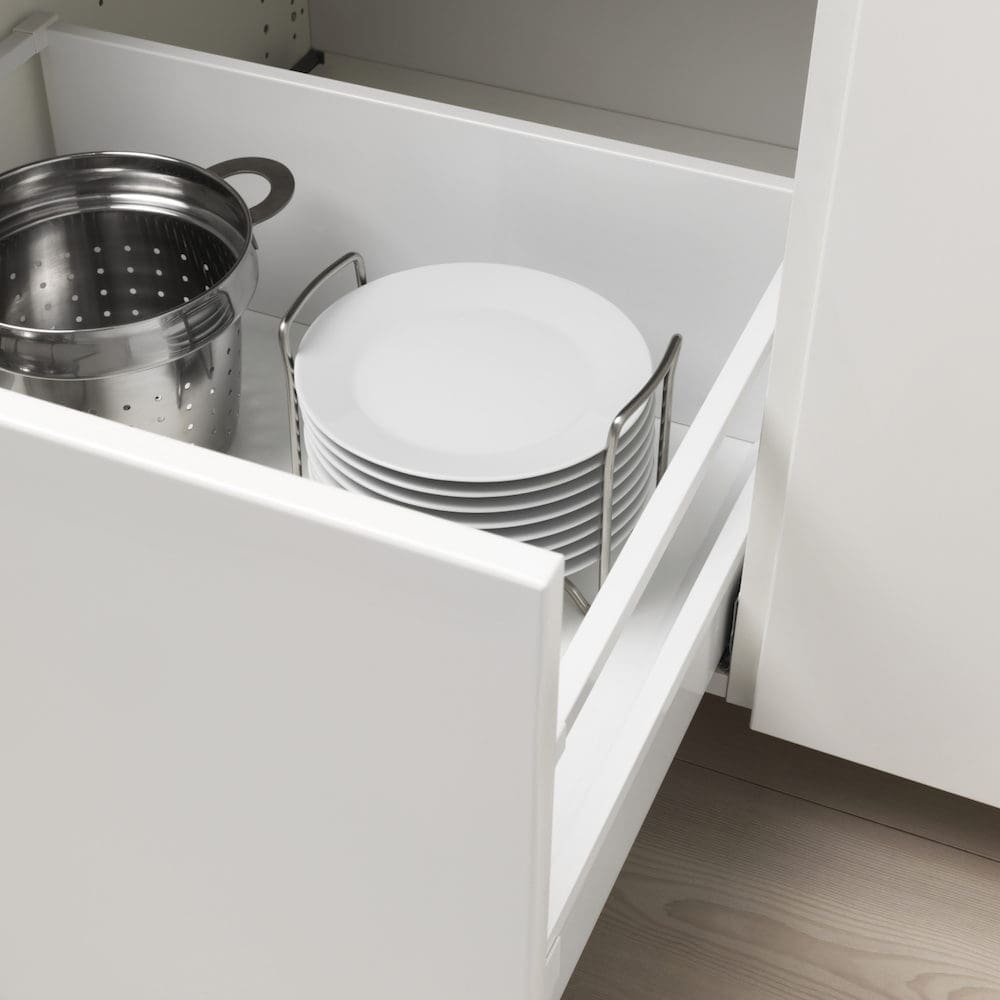 9. Wall storage
While we've spoken a lot about creating a sleek kitchen with full integration, it's important not to go overboard and risk creating the look and feel of a filing room.
A dream kitchen should feel welcoming and homely, and an easy way to create this is by incorporating some open shelving or using wall storage. Consider adding some open shelves in your cabinetry or floating shelves where you can display books and décor. Another idea is to use a wall rail to hang pots or smaller items.
10. Sleek tap
The final feature to make our list is a sleek or statement tap. From matte black to white, classic chrome or a trending metallic like brass, the options on the market today are endless. Our tip though is to check the guarantee before you buy as some inferior products, such as inexpensive black taps, can lose paint. Ideally you want to find a tap that offers a 10 year guarantee like those at IKEA.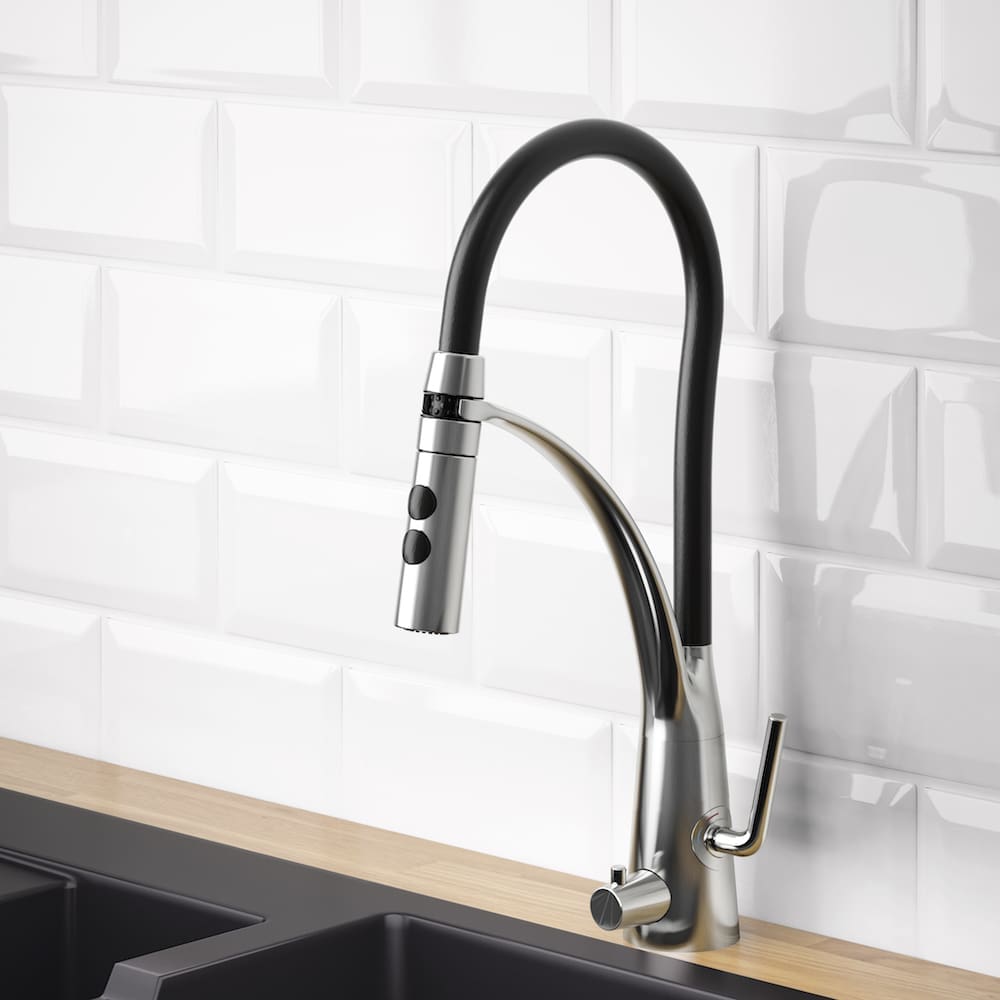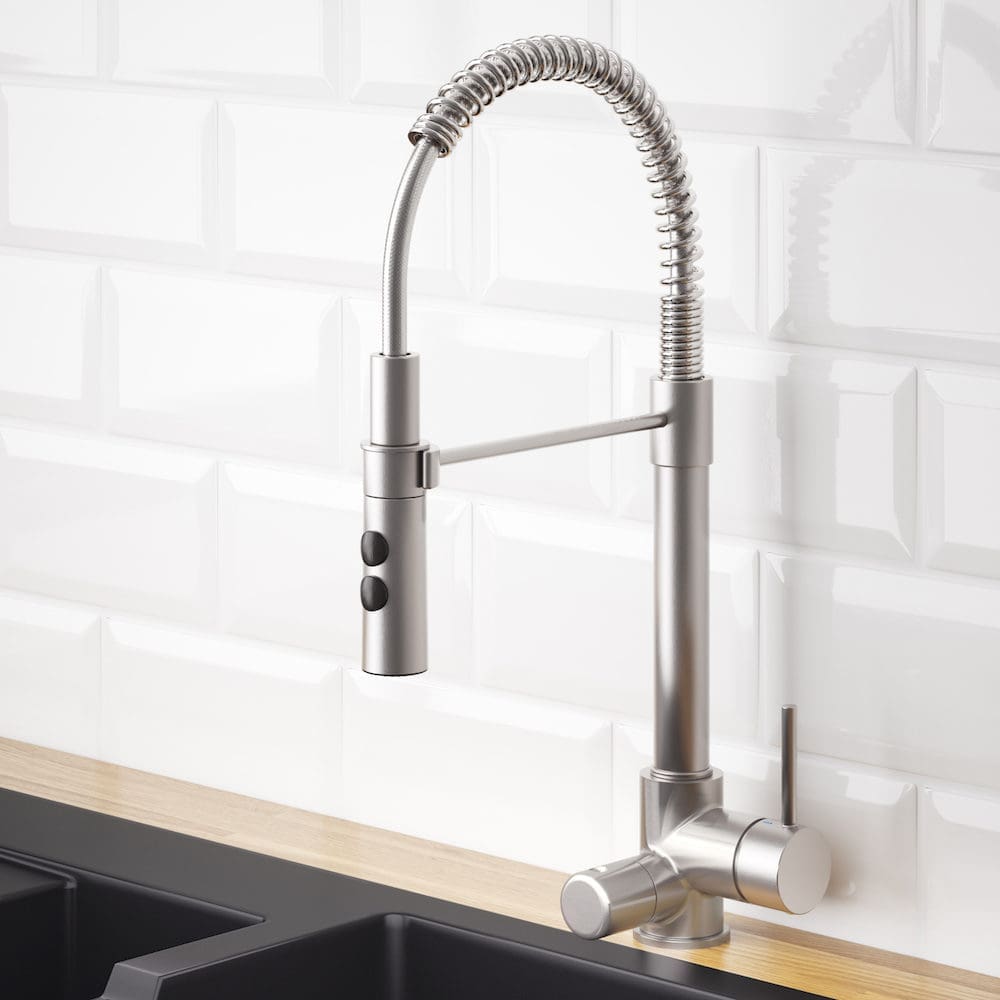 IKEA don't believe in perfect homes. They believe in homes that are a perfect reflection of the people who live inside. But we think that these 10 features might just be the right ingredients for your perfect kitchen recipe.
What other luxe features do you think should be on the list? Tell us in the comments below!