Supported by Thomsons Outdoor Pine
Our gorgeous climate is made for outdoor living but if your outdoors aren't exactly inviting, you might like to try some of our ideas to spruce them up.
From little jobs like adding solar lights along a garden path to larger jobs like adding a patio, there are ideas for any budget.
Related article: 5 easy ways to achieve a Hamptons outdoor space
Related article: 10 common landscaping mistakes and how to avoid them
1. New deck or deck makeover
The great Aussie deck! Is there any better place to make most of outdoor living?
If you feel your home is missing a place where you can be outside, a deck might just be the solution. It's important to think carefully about how you want to use the space so you can design a deck that's large enough, allows for walkways and is oriented correctly.
While many homeowners like the idea of building their own deck, this can job can often get pushed because of time or 'not having the right tools' (we've heard that one before!). Luckily there are experts out there like Thomsons Outdoor Pine who can advise on the best solution for your home, and design and build a stunning deck like this one.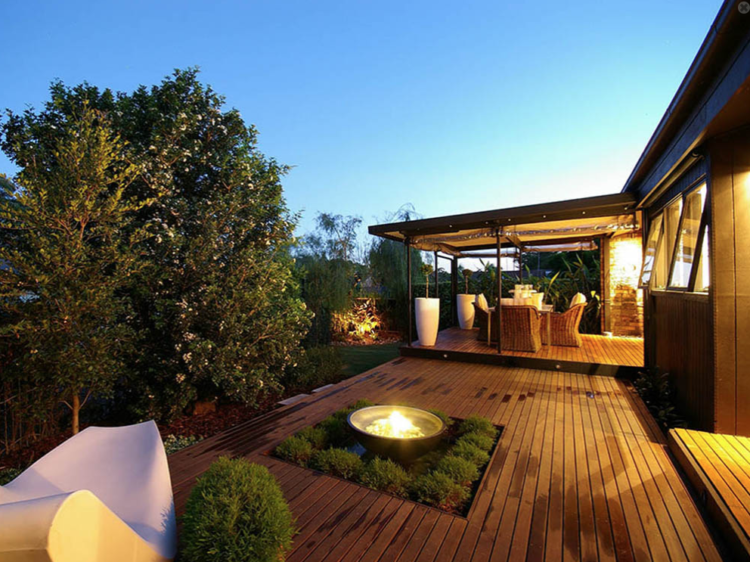 2. Lighting
An inexpensive way to instantly improve your outdoors! From alfresco lighting to illuminating garden paths, lighting garden beds or water features, there is a huge selection of outdoor lights on the market.
Some DIY options include stringing up festoon lights around your outdoor dining space or adding individual solar lights down a garden path, but please hire a licensed professional to take care of any lights that require hardwiring.
3. Courtyard
If your house isn't suited to a deck, perhaps a dedicated courtyard space could be added so you can create an outdoor dining room or living room.
You could clear a section of yard to lay a level and sturdy ground solution (such as paving), introduce seating (either formal or informal depending on how you want to use the space), create a BBQ area and landscape around the area so there's a beautiful green outlook to enjoy this inviting space.
4. Fire pit
There's nothing like the crackle and glow of a fire pit on a cool night. This little addition can encourage you to extend the use of your outdoor space during the colder months while also creating a beautiful feature in your yard.
From in-ground fire pits to portable, metal or stone, gas or wood, there's a huge range of options at all different price points — you could also DIY your own. If you're going to add a fire pit, don't forget to install lighting nearby so you make the most of it in evenings.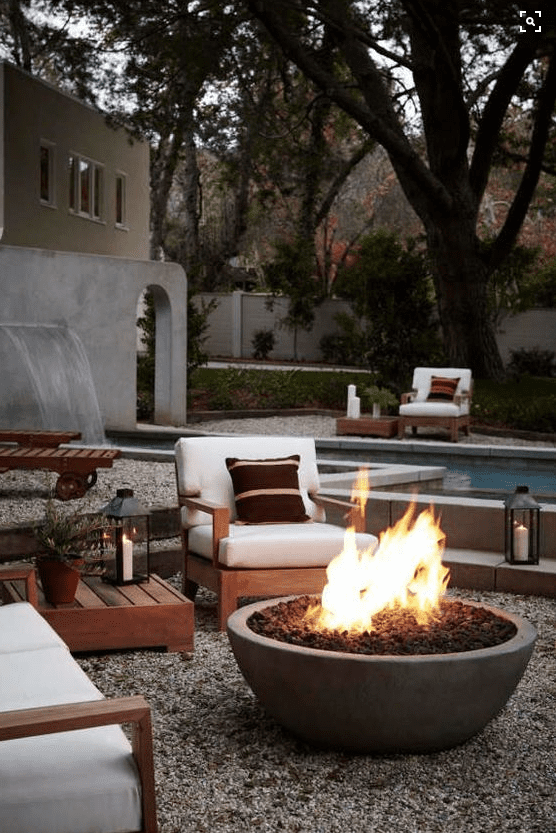 5. Rearrange or buy new outdoor furniture
Sometimes just rearranging what we already have and perhaps injecting a bit of freshness with cushions or new flowerpots is enough.
If your outdoor furniture has well and truly run its course though, treating yourself to a new outdoor setting is sure to breathe new life into your backyard.
6. Pergola
The one downside to our climate is that strong hot sun which can limit our use of outdoor spaces (a giant hole in the ozone can do that!).
If your outdoor space is fully exposed, you may want to invest in a pergola that can shield the sun (blocking out harmful UV rays) and of course the rain too. A pergola can also help to keep this space cooler, especially when a ceiling fan is incorporated into the design, so you won't be forced inside by the heat.
Now you may be cringing a little at the thought of a pergola BUT fear not, there are stylish options out there. Just check out this timber structure Thomsons Outdoor Pine created for this home in Sydney.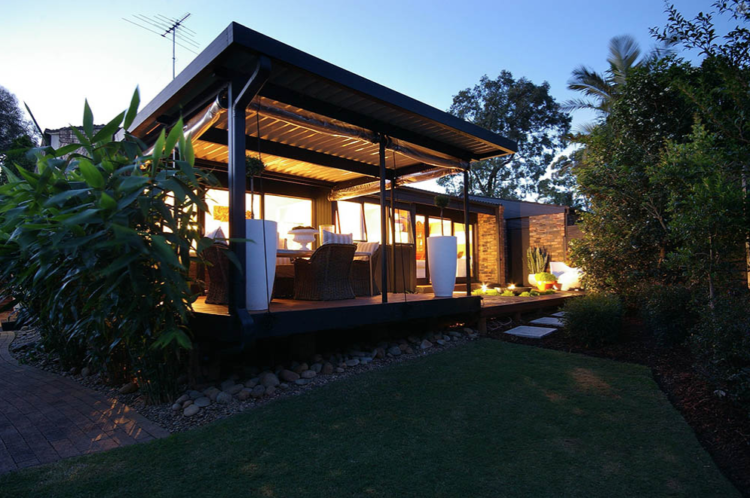 7. Veggie patch
Google 'Veggie patch design' and you'll see there is a stack of stylish design and planting solutions to inspire you.
If your backyard is so big you don't know what to do with it, creating smaller 'zones' and making one of these a veggie patch will bring more definition and interest to your home.
8. Garden paths
Another way to give more definition to your outdoor space is with paths. If you don't have a proper pathway in your yard, a new path using pavers, outdoor tiles or bricks can achieve stunning results while also making your outdoor space more usable.
9. Privacy screens
If you already have an outdoor space you love but nosy neighbours are stopping you from making the most of it, privacy screens could be the solution.
On-trend screens like the one below aren't just used for privacy and security — these screens are also ideal in gardens to soften harsh metal fencing or bring more depth to landscaping.
Available as timber slats (natural or painted), timber louvers or bamboo screening, there are a range of options to suit your style and colour direction.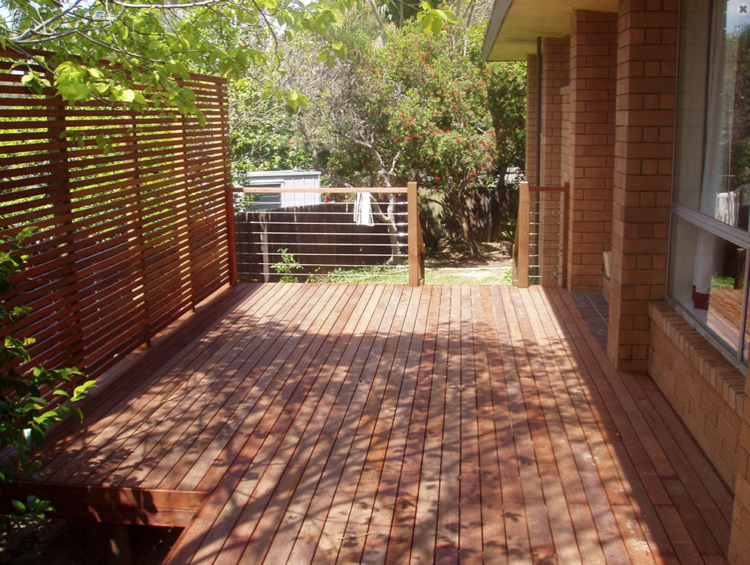 10. Lay grass or improve grass quality
A pop of greenery is an inexpensive way to instantly make your yard shine.
Current grass looking worse for wear? Start a care plan to get your grass green including aerating the soil at least twice a year, planting more grass seeds, watering regularly and mowing the day after you water. If your soil is in really bad shape, pick up a soil test kit. The results will tell you the nitrogen, phosphorous and pH levels so you can begin boosting your lawn depending on the results.
Don't have any grass? Why not create a small grass patch? Be sure to properly prepare the area by removing any old grass, large stones or weeds and levelling the ground. Depending on your soil quality, you may need to break up or aerate the soil. Or simply add a layer of a good quality soil on top before laying the turf.
11. Water feature
A water feature can create a beautiful focal point in a courtyard or landscaped garden. Just like fire pits, there's a huge selection of water features at a range of price points. If you feel like making your own, we suggest exploring Pinterest for DIY ideas to suit your style.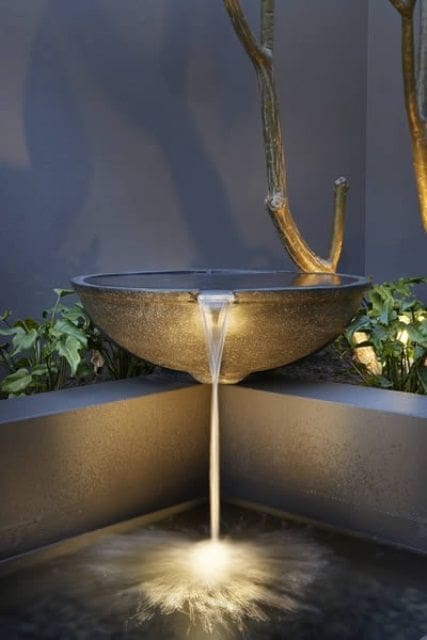 12. Hanging pots or flowerpots
A cheap and cheerful way to add interest to your outdoors is with hanging pots or flowerpots.
These start from under $10 so you can afford to buy a few and cluster these together. Fill them with bright pops of colours or plants that drip over the edge.
13. Carport
Not exactly an idea for outdoor living but a carport is a practical addition. If your car is parked outside, consider adding a stylish carport to boost your home's street appeal and value too.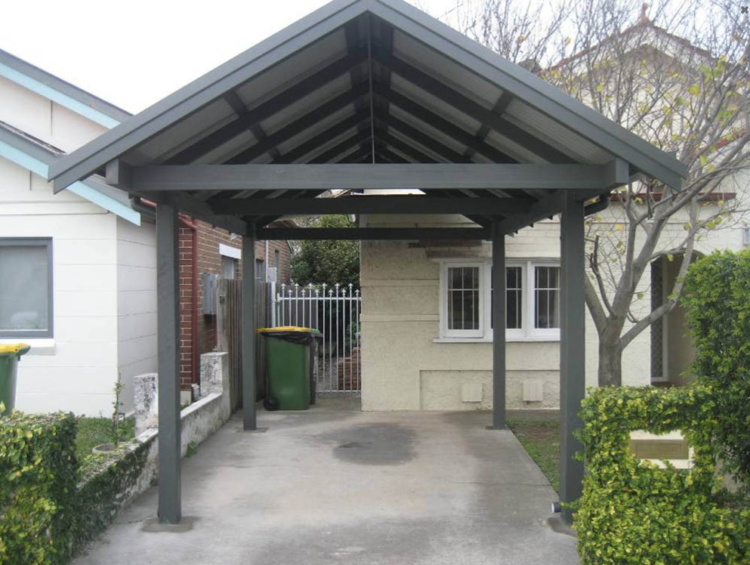 14. Outdoor kitchen
OK, so this is a major way to spruce up your backyard. But if you enjoy entertaining, why not go all out with an outdoor kitchen?
Outdoor kitchens can start from a simple inbuilt BBQ with added bench space through to a complete outdoor kitchen including fridge, sink and professional style grill with range hood.
Much like an indoor kitchen, you want to get the design of this space right. Consider how you'll use the kitchen and the flow in this space before locking in the design and placement of appliances. Find plenty of outdoor kitchen inspiration in our round up here.
15. Outdoor sound system
While you can't see this last one, it can totally change the ambience of your outdoor space. You'll thank yourself come next dinner party if you install weatherproof speakers to bring music outside.
Will you take away any of these ideas to spruce up your outdoors? We'd love to see photos of your space by tagging us @stylecuratorau when you share them online. And if you're in NSW and looking for help to create a deck, pergola or any outdoor timber structure, get in touch with the team at Thomsons Outdoor Pine who are experts in designing and building stylish solutions.