Today's featured artist is half artist, half storyteller. We were honoured to chat with Aboriginal artist, Goompi, about his works of art, the stories they tell and his creative process.
We were captivated by the stories behind his art, his use of colours from the earth and the intricate, natural wonders of his paintings. Get ready… this interview is pretty special.
Related article: Carrying on the creative talent: A chat with artist Jonathan Gemmell
Related article: Artist spotlight: Catriona Pollard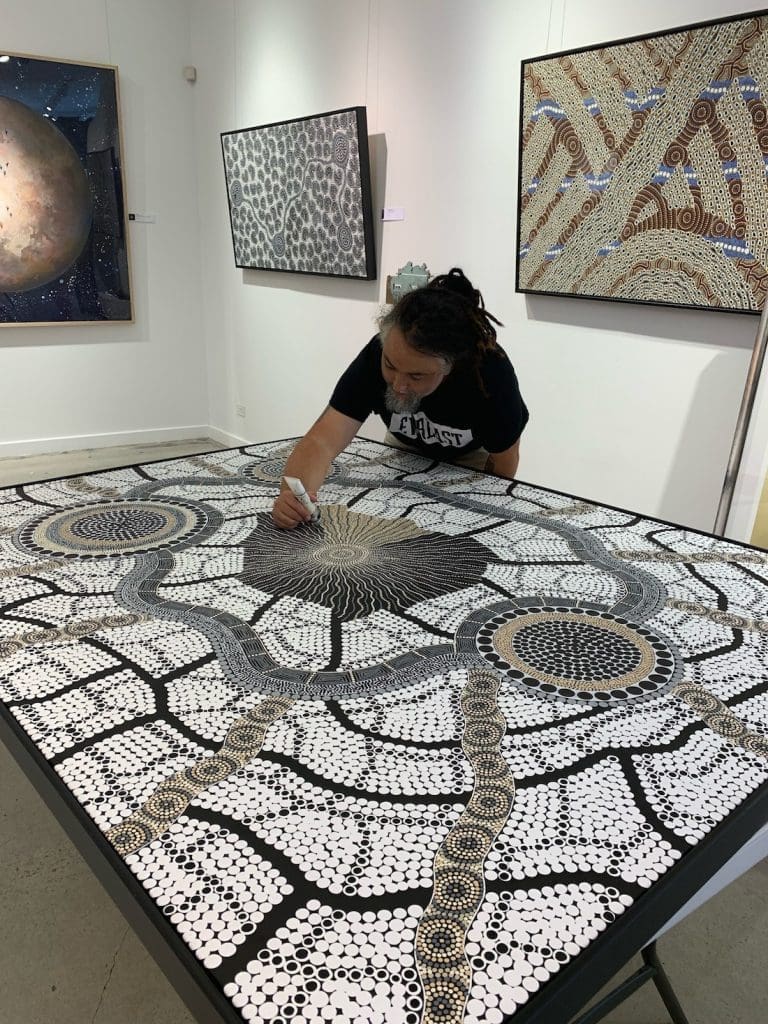 A proud tribal man, Goompi's art career started thanks to the artists in his family.
"I was raised in the Kombemerri tribal area (southern Gold Coast) and Minjungbal tribal area (Tweed Heads).
"As a young teenager I began learning and practicing culture through song and dance," Goompi explains.
"Around this time, I began noticing Aboriginal art and learning that it is part of my peoples' language system. In my early 20s, I knew a few family members had been painting so I decided to try it for myself."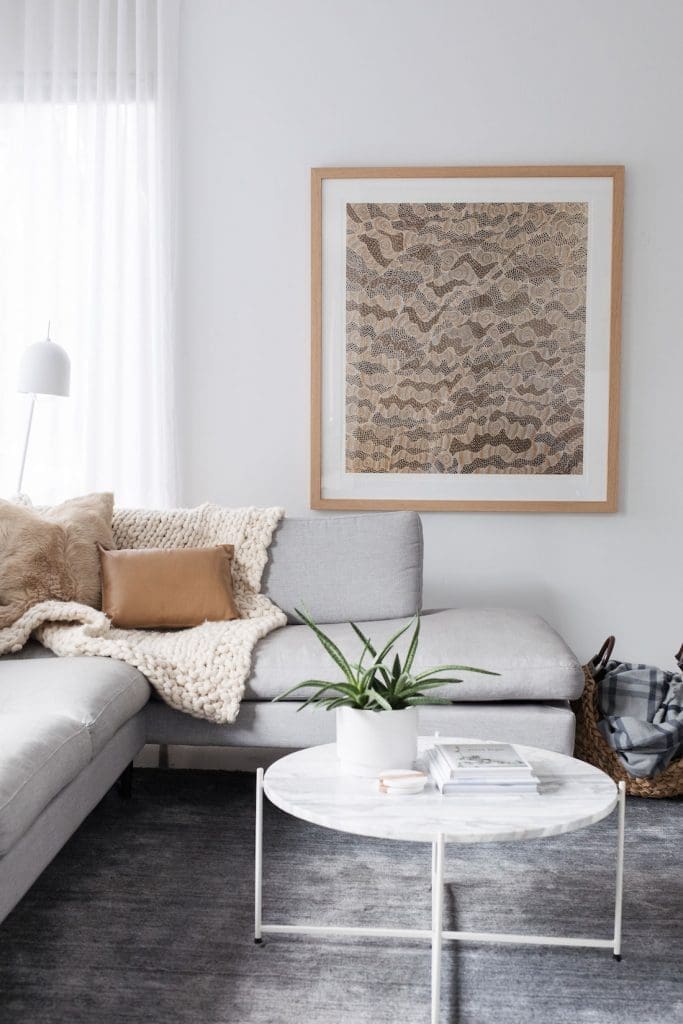 Not convinced of his own obvious talent, it was his cousin who encouraged him to showcase his work.
"I remember finishing my first ever artwork — The Rainbow Serpent — and really didn't like how it looked. My cousin who is also an artist, encouraged me to join him on a trip down to Byron Bay. We were going to visit a local shop where he sold his artworks.
"I still can't believe the shop wanted my painting! They offered me $150 for it, I think, and I said yes quickly with a smile," recalls Goompi.
"Less than a week later, I returned to the art shop to find they had already sold my artwork. Coincidentally, the buyer was there, and I got to meet and chat with her.
"She told me how she connected with my artwork the moment she saw it. She had plenty of kind words to say about it."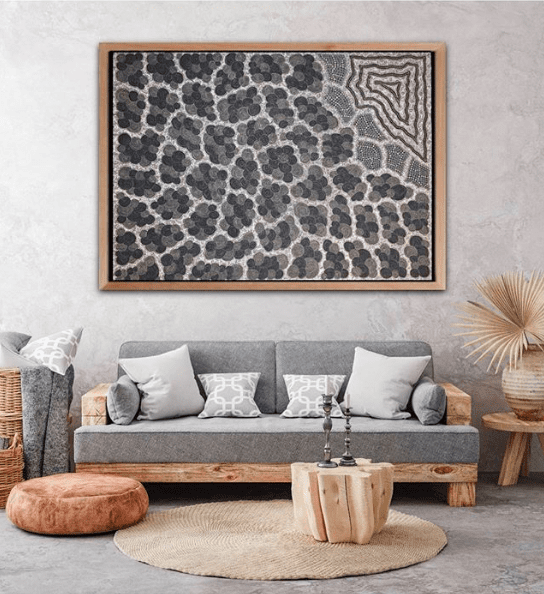 Goompi's choice of colours in his works are not just inspired by — but literally from — the earth.
"My natural surroundings play a part in my choice of colour palette. As I transitioned into a full-time abstract artist, I chose to use black, white and greys.
"These are the colours of the clay ochres I gather in my local river system.
"Over the years, I have started adding off-whites and light cream colours to represent the saltwater region and landscape where I grew up."
As an Aboriginal artist, Goompi finds inspiration in his culture, ancestors and stories for each of his creations.
"When it comes to creating a brand new piece of work, I paint the background then sit, wait and stare at the blank canvas.
"Thinking of passed down stories and knowledge, or things I do in my life that are connected to culture and what my ancestors did in the past," says Goompi.
"Once I choose something, it doesn't take long before I start to dot or paint. No sketches, no marking anything out. It's just an instant vision of a pattern that my mind describes or represents what I'm painting.
"I just paint and the artwork evolves — there's no end result in my head. That's what makes it exciting for me, as even I don't know how it will turn out until it's finished."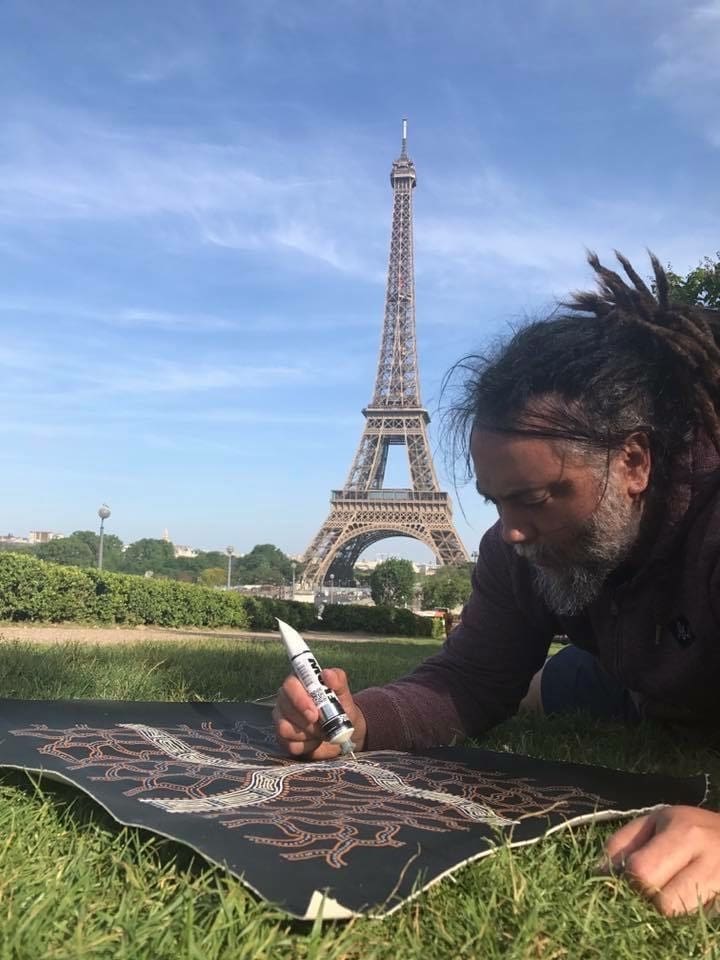 Goompi's art has taken him around the world, showcasing his work in international galleries, collaborating with wineries and even meeting royalty.
"I have been very honoured to showcase my work in France and Romania. In Romania, I showed my work alongside 30 other Aboriginal artists.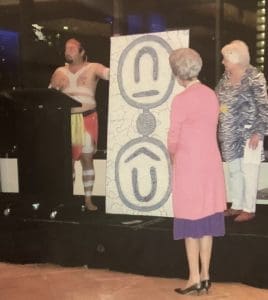 "I've also travelled throughout Spain, America and Italy. I love painting during my travels. It's so inspiring being able to paint with such amazing backdrops.
"I get a real thrill knowing my works are collected by art lovers and investors all around the world. Including HRH Princess Benedikte of Denmark who owns one of my works.
"Another career highlight was collaborating with a French winery — my artwork is featured on the label.
"The art represents the story of a special meeting of two cultures in France connecting with the special grapes that made the wine."
Each painting tells a story and leaves a lasting impact, something Goompi would like to encourage other young artists to try.
"My advice to any young artists wanting to make a name for themselves in the art world is focus on being yourself and being unique.
"Having work that is different to anything else shines a bigger light on your creations. In this industry, having persistence is also key, entering art prizes and promoting yourself and your art as much as possible.
"I am really proud of my hard work. It's something I pride myself on as it helps create a living for me and allows me to provide for my family."
We're so grateful to Goompi for sharing his art, stories and inspiration with us. To see Goompi's latest creations, visit his Instagram page or check out his artworks for sale at Fine Print, Gallery One and Kate Owen Gallery.