With Australiana aesthetic interiors trending in Australia and abroad, this was a nursery tour we weren't going to pass up! We're sure this super sweet Australiana gender neutral nursery will capture your heart and give plenty of styling inspiration.
We chat to artist and designer Fleur Harris, who shares not only how to create a beautiful nursery space, but also a clever, functioning one. Let's take a peek inside…
Related article: 8 ways to add the Australiana aesthetic to your home
Related article: A peek inside Hazel's gender neutral nursery: The perfect mix of affordable baby buys and handmade treasures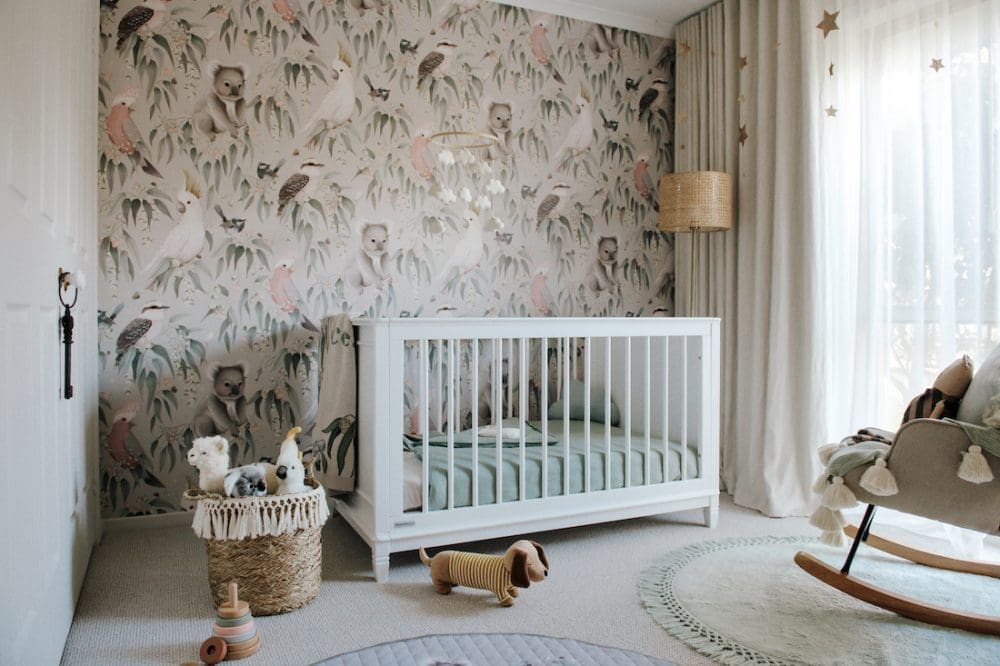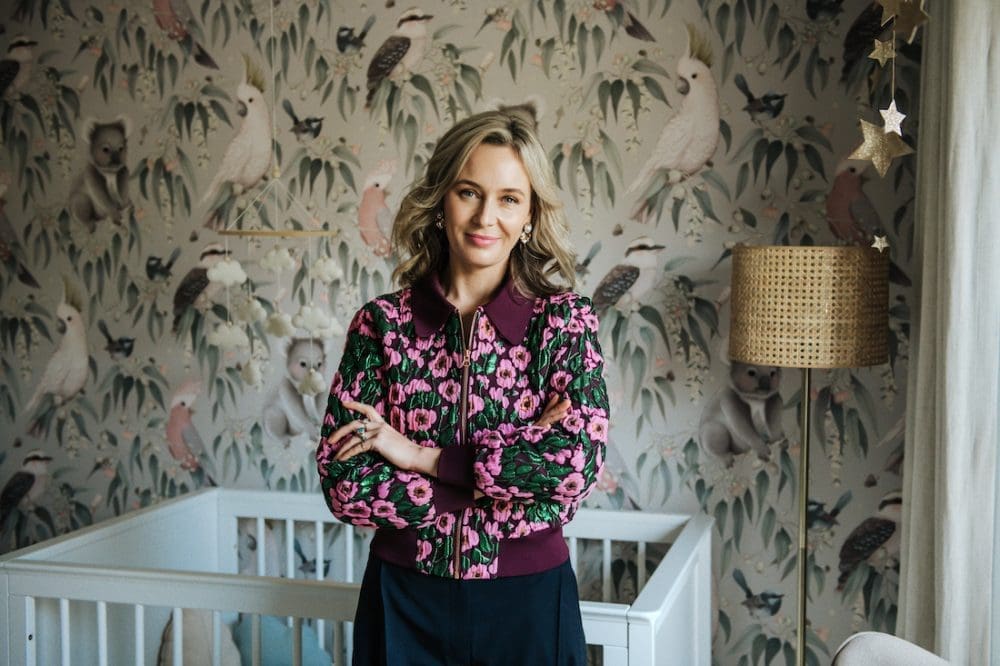 Tasked with creating a gender neutral nursery that could later grow into a guest bedroom, Fleur knew just the ticket.
"The clients plan for this room was to transform it into a baby's nursery, which would later be the child's room," Fleur explains.
"Following this, it would become a guest bedroom, so we chose the Bush Babies wallpaper design in the colourway Saltbush. It offers timeless styling, a neutral colour palette and broad appeal. The perfect choice, really!
"The wallpaper design features flora and fauna that appeal to little ones, but the sophisticated styling of the illustrations means the design isn't too young. It works just as well in a room for older children… and even adults."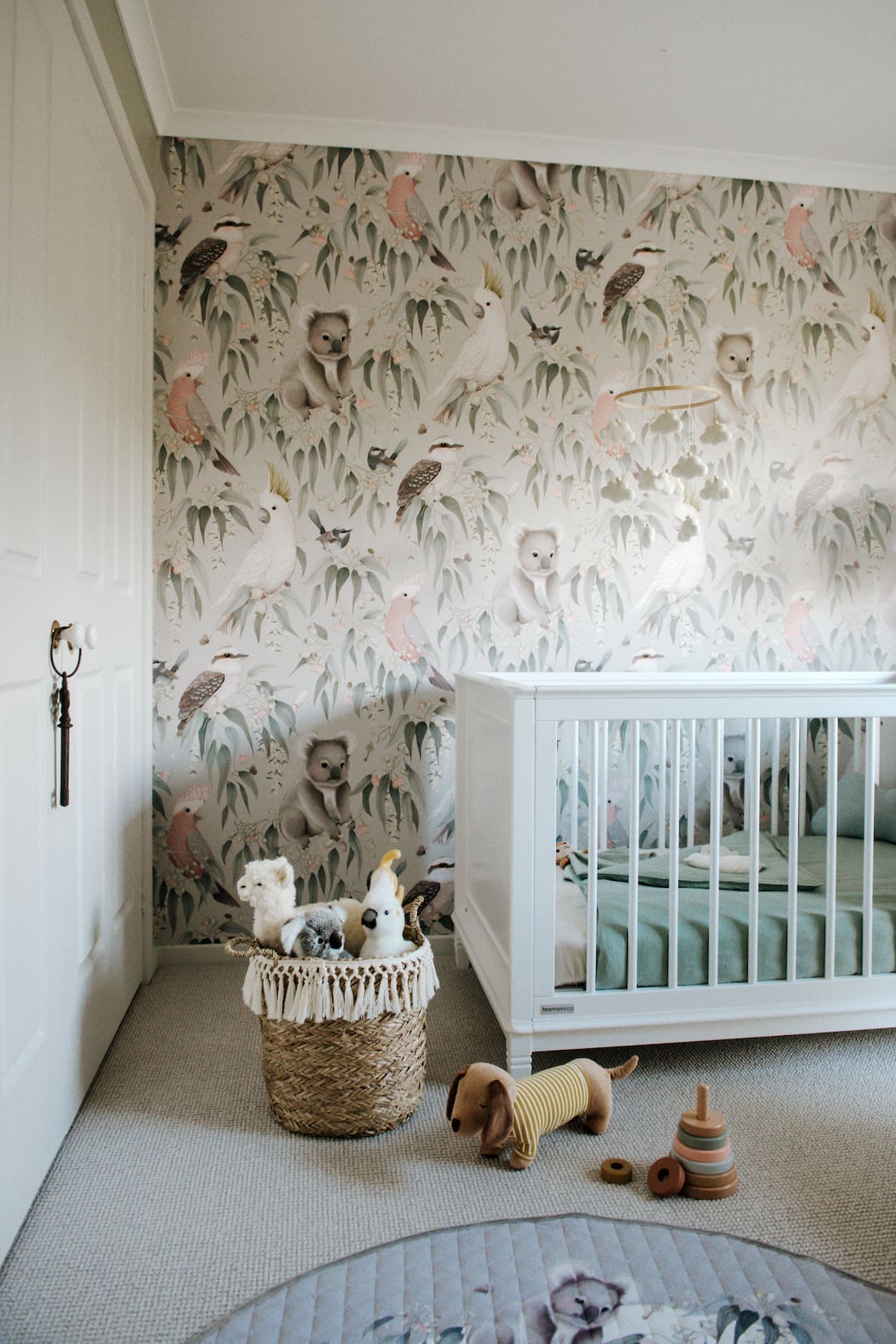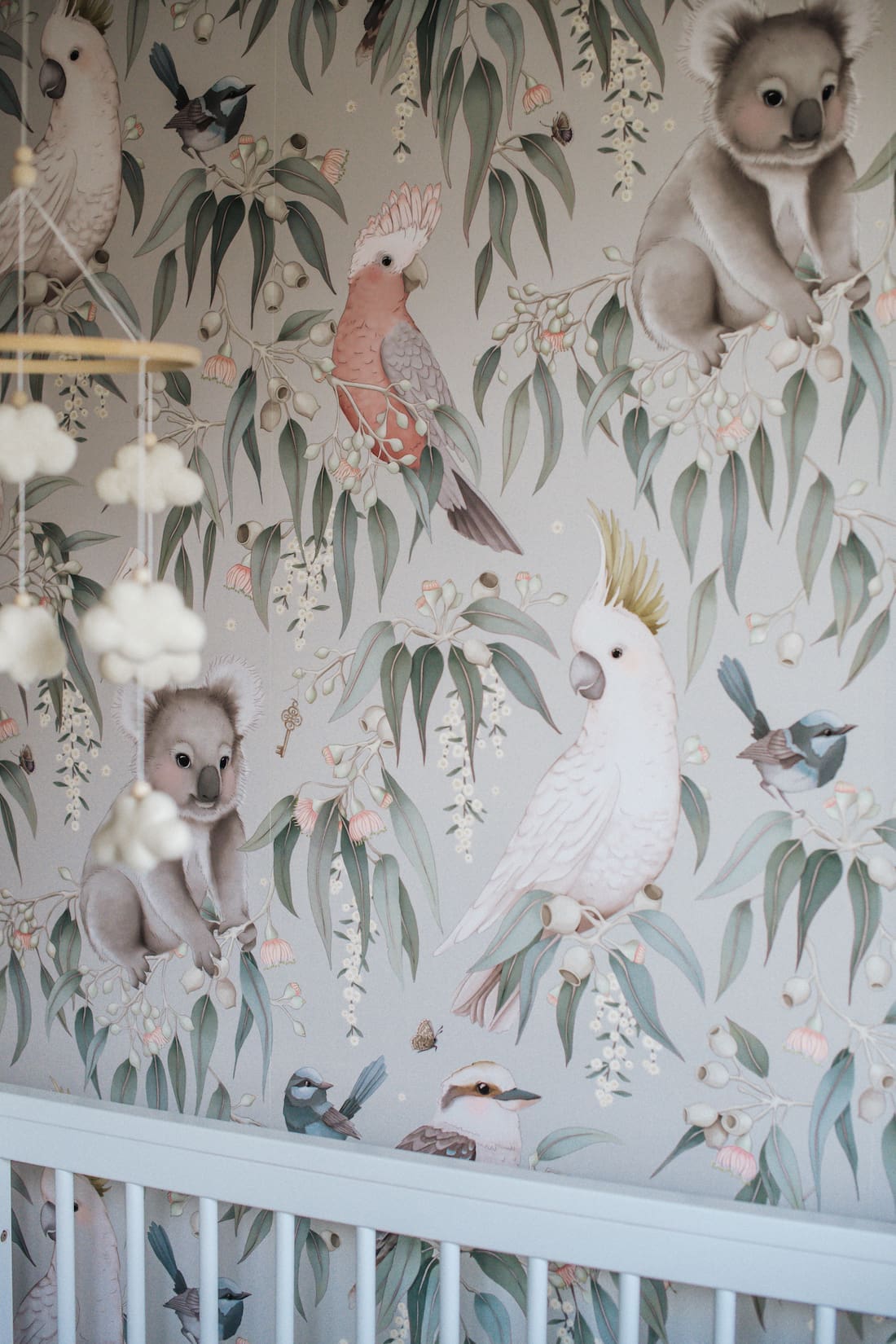 Fleur shares her tips on how she designed this nursery space to be beautiful and functional.
"Position your change table near where you're planning to store your baby's clothes. It makes change times so much easier! For this nursery, I put the change table directly next to the chest of drawers.
"The chest of drawers is filled with baby essentials like clothing, swaddles and nappies. This ensures everything you need at change time is in arms reach.
"Safety is incredibly important in a baby and toddler bedroom. Keep cables out of reach, and power points covered. It's also a good idea to limit tall structures that can be pulled down. Things like free standing coat racks for example. Cause don't forget, once babies are on the move, they touch and pull at everything!" laughs Fleur.
"These days, there are so many beautiful cots on the market. They can serve as a design statement alone. The cot I chose for this Australiana gender neutral nursery is from Tasman Eco."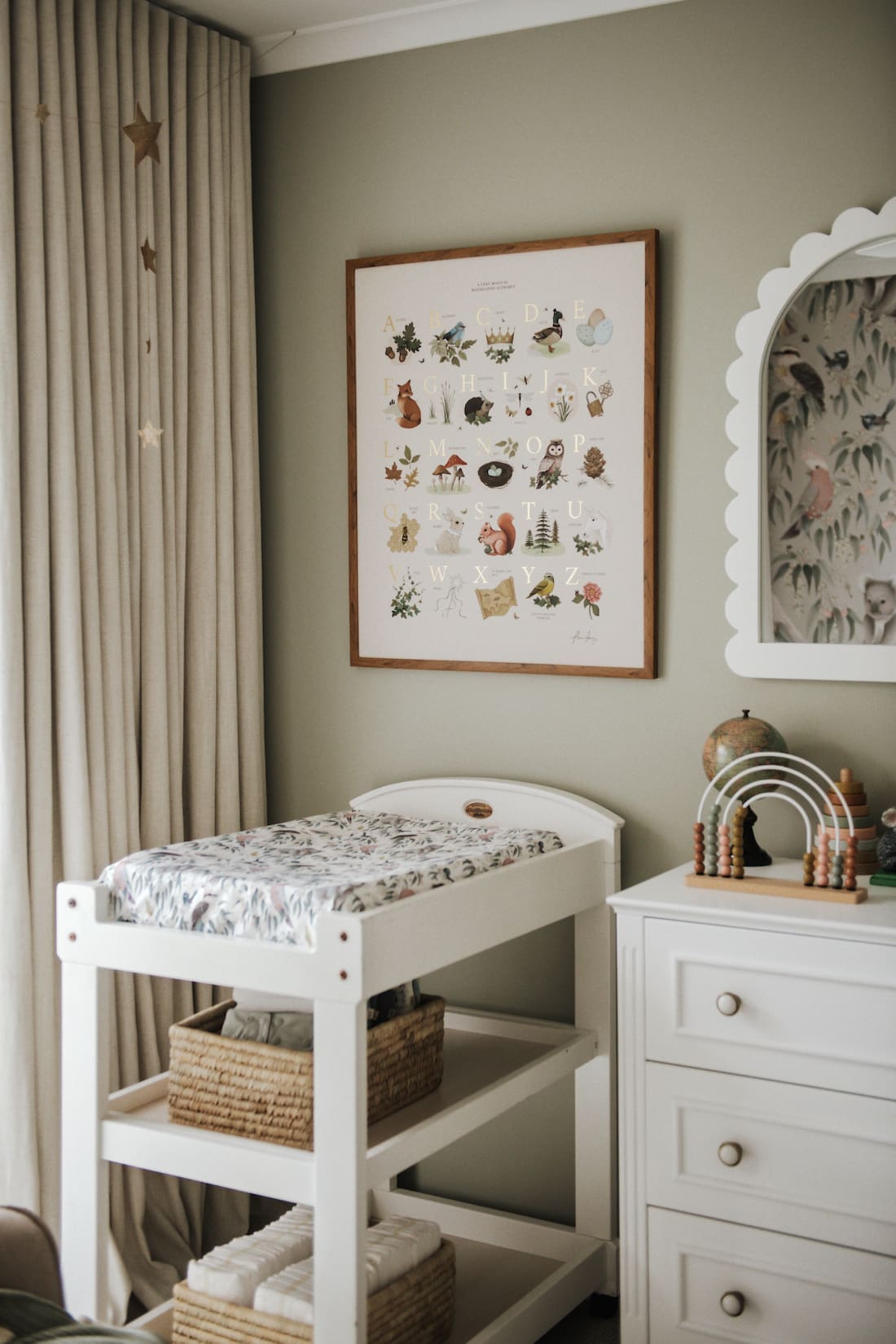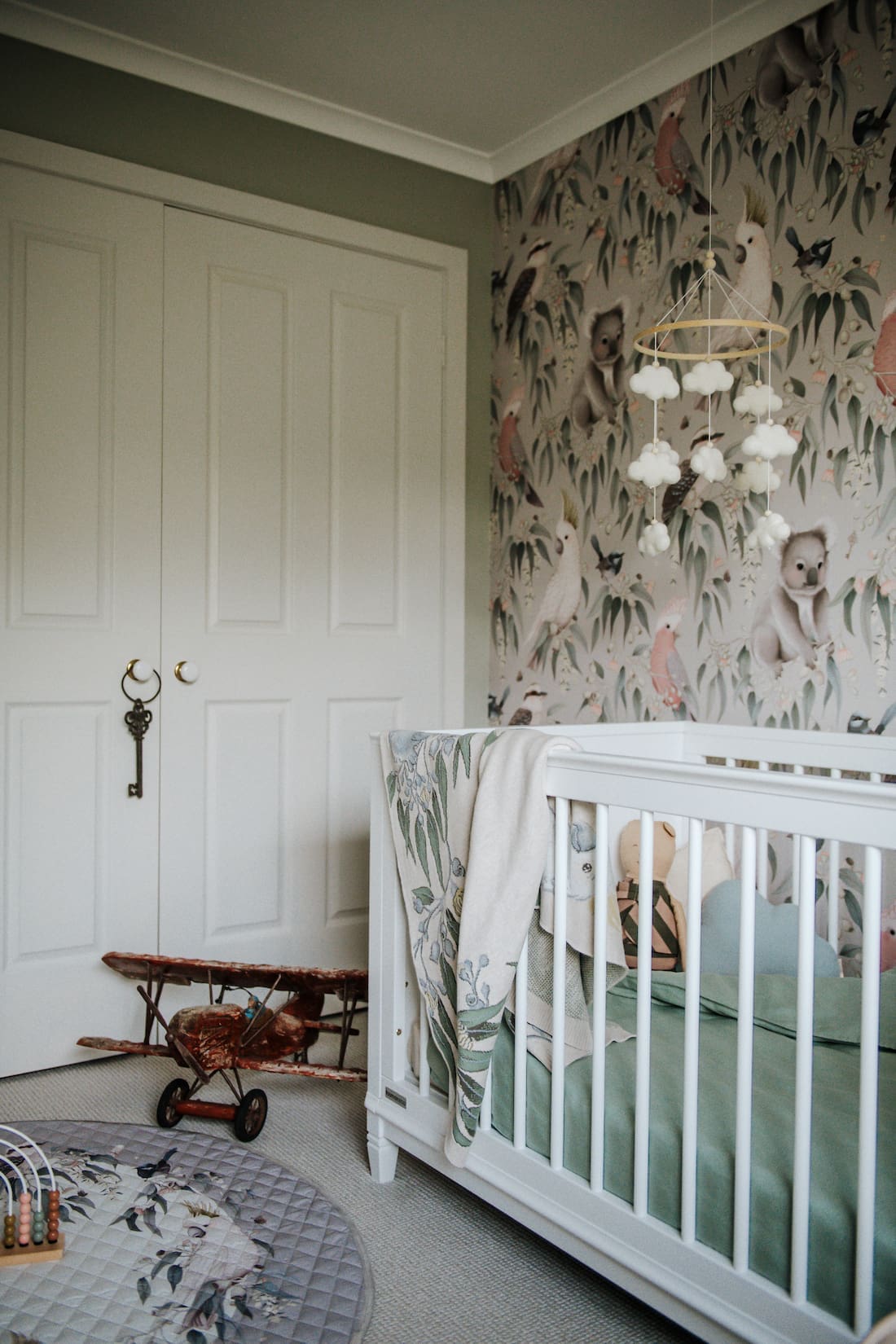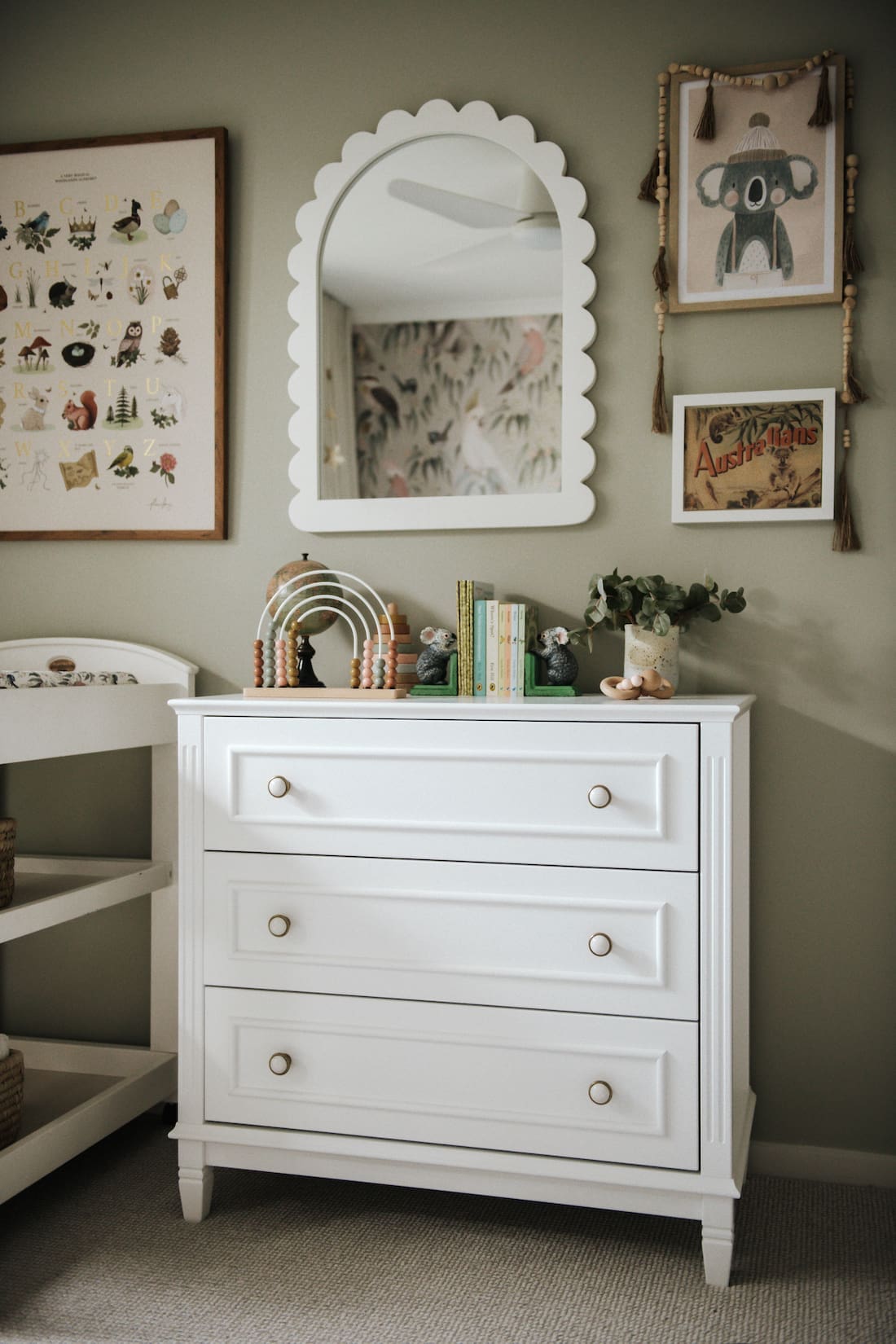 We love that Fleur isn't afraid of using colour, even when creating a gender neutral space.
"I adore the colour selection process! Every hue offers a different mood and atmosphere. I think the key with colour is not to be afraid. And to follow your heart," smiles Fleur.
"Be guided by what appeals to you and makes you feel good. If you love darker colours, offset them with lighter flooring, ceiling colour, curtains and furniture so the overall room doesn't feel dark and heavy.
Colour is such a wild and magical beast!
"Lighting is key too. Natural light and thoughtfully positioned lamps or sconces can really bring a dark room to life. If you still want to play with colour but aren't feeling too adventurous, choose neutrals with a tint of colour. This is a great way to bring a touch of colour while keeping the atmosphere light and airy."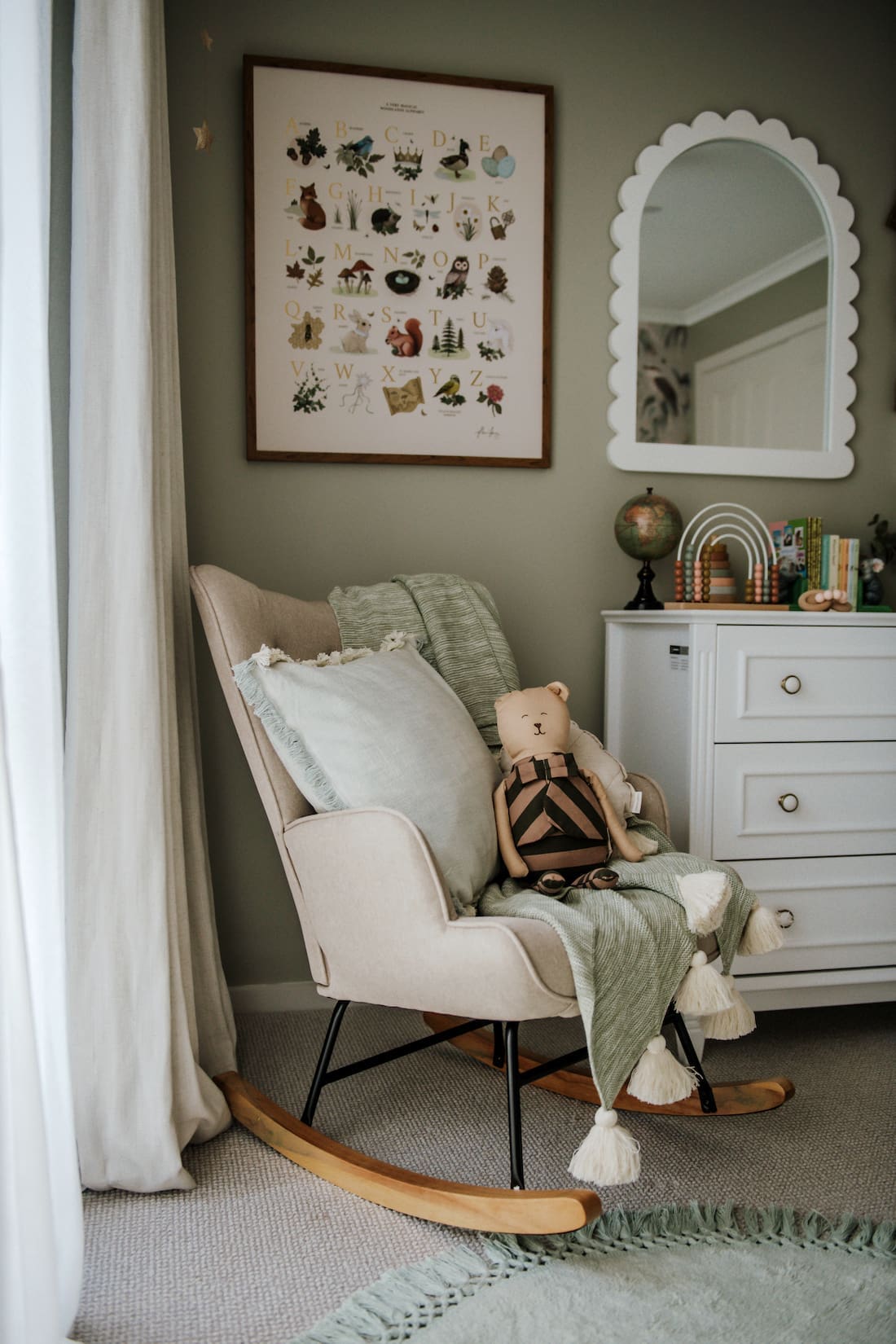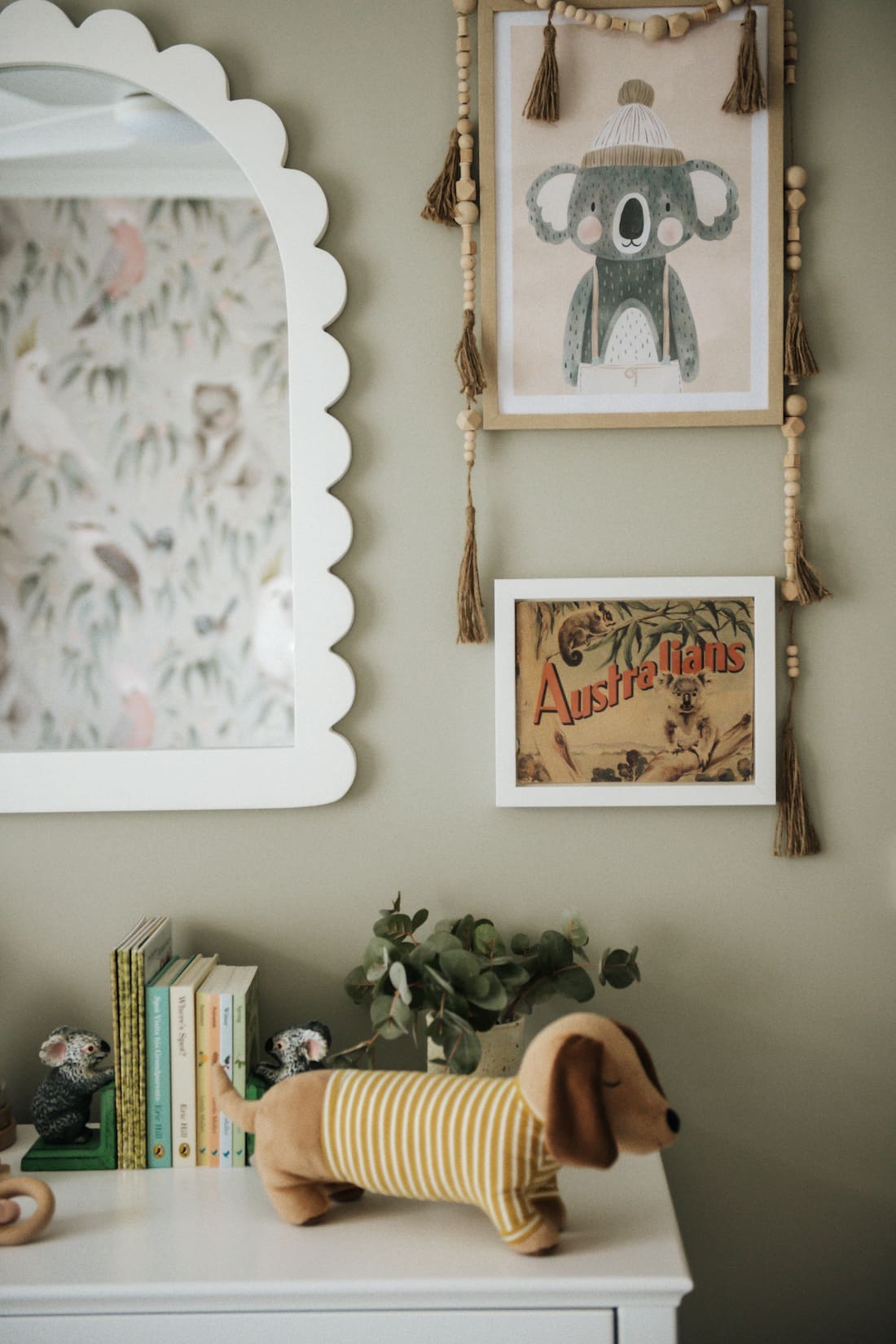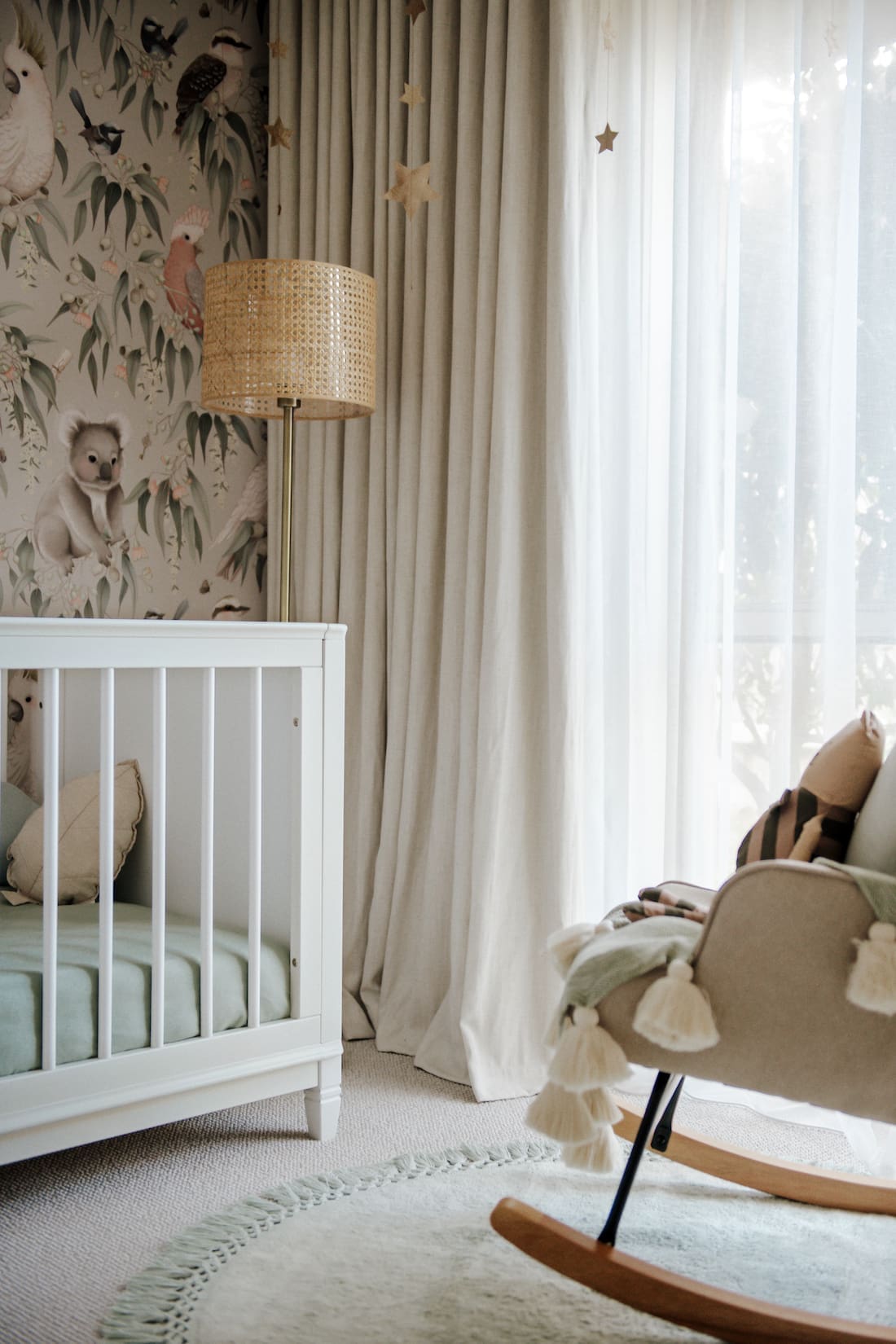 We asked Fleur for her top tips on creating a nursery that will grow with your child.
"I believe everyone should enjoy all the colours. Using certain ones shouldn't be dictated by gender," says Fleur wisely.
"However, neutral colours that work particularly well include grey, green, aqua or teal, yellow, white, and rusty earth tones. All of these are very versatile and can be accented and updated with different decor in complementary colours to change the look of the room.
"For example, a rust red wall would look fabulous with dusty pink accents. It would look equally as gorgeous with soft sages or creams.
"Getting your base palette right is a must. I suggest choosing one that is grounded in neutrals. It will be far less likely to date compared to supercharged bright colours.
"Going neutral doesn't have to mean just greys, though. They can be dreamy creams, or whites with a pinkish or green undertones. There's a world of gorgeous neutrals to explore that will stand the test of time."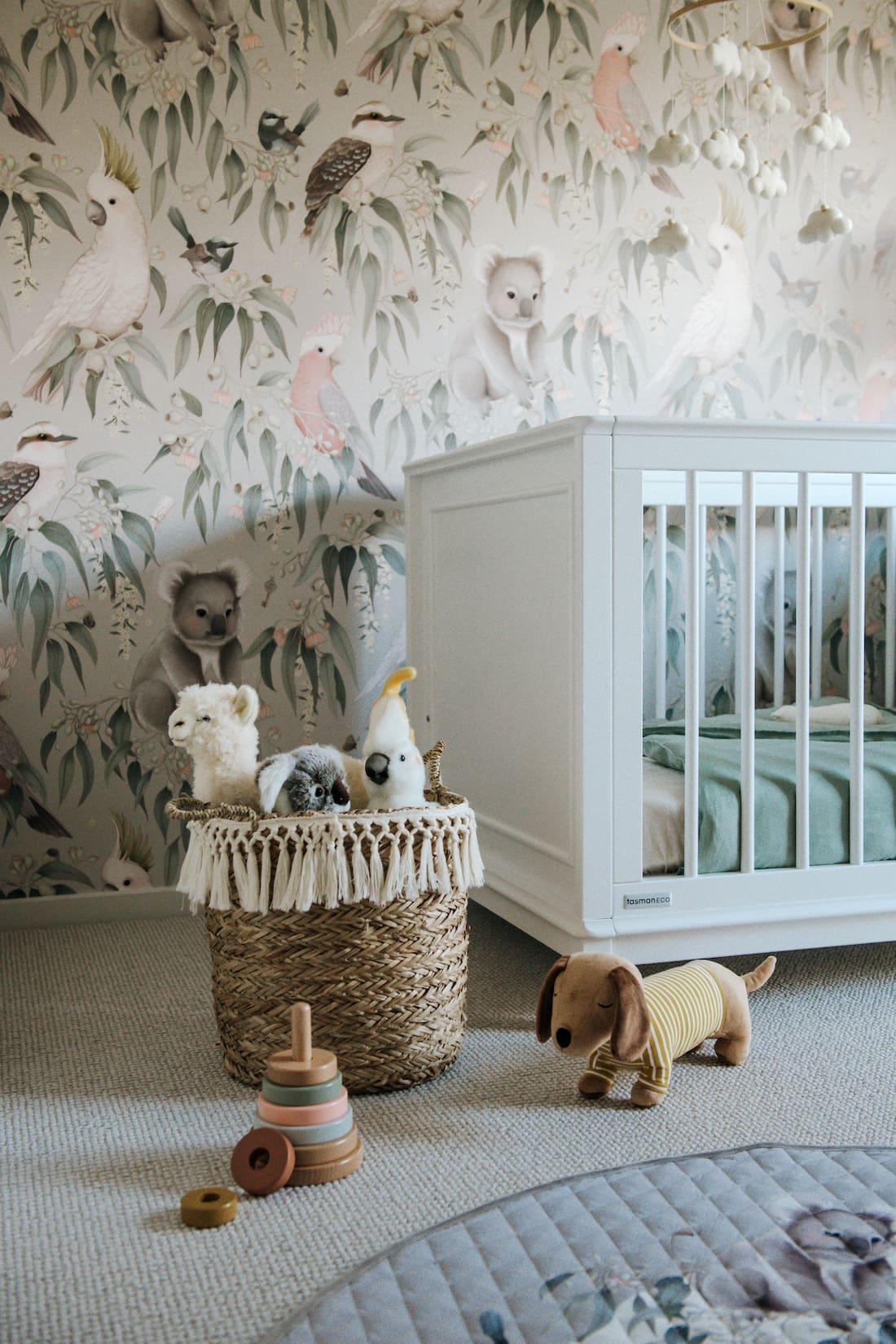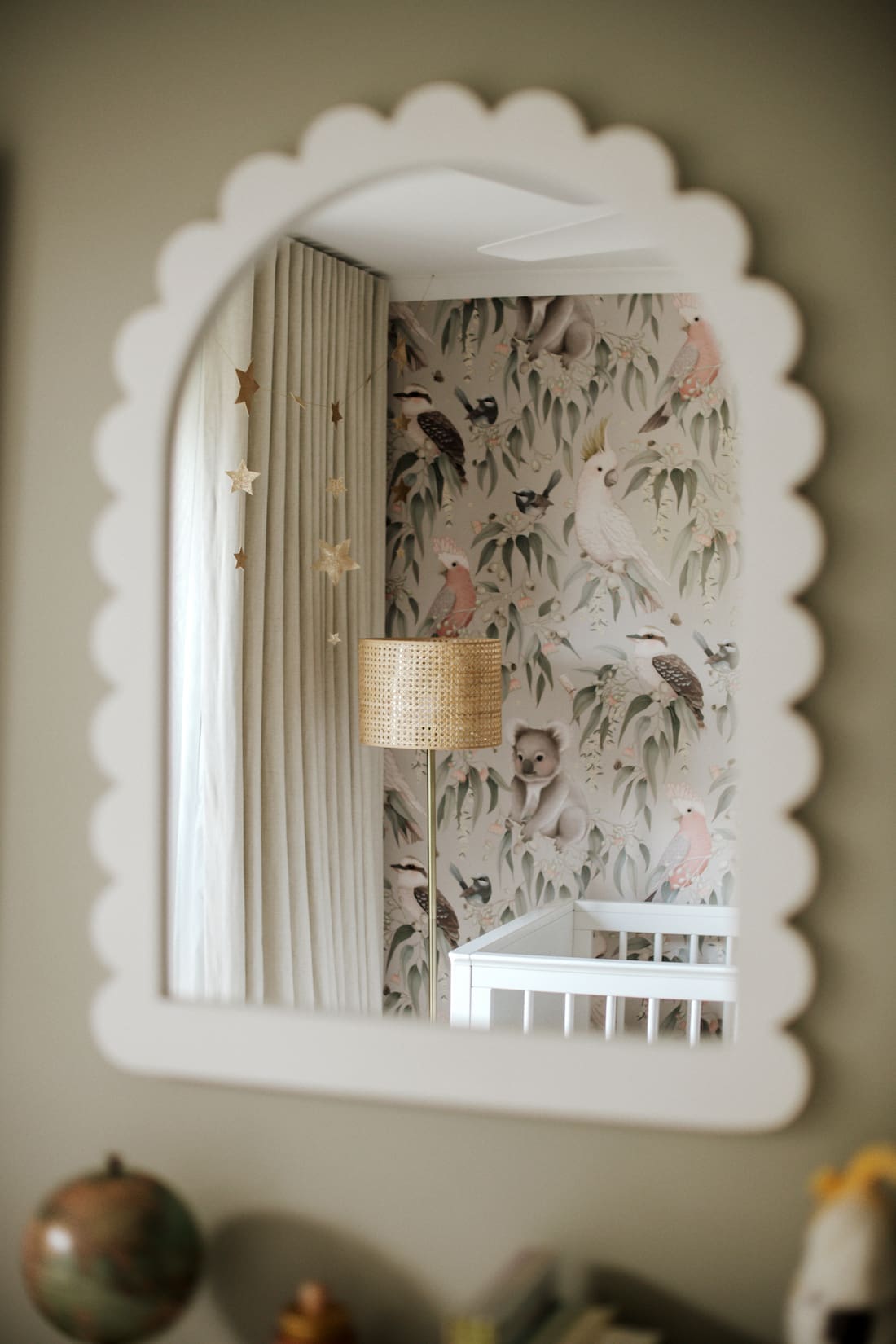 Creating a gender neutral nursery doesn't mean plain or boring.
"For gender neutral nursery decor, choose artwork in the form of either wallpaper, decals or framed pictures that have an air of sophistication about them. It will help create a look that's timeless but still engaging," she says.
"It also means the nursery can easily transition into a much loved child's room. And then the decorative accents, like bedding, can be updated over the years to reflect the child's interest and will allow the room to evolve as they do."
Thank you to Fleur for sharing this delightful Australiana gender neutral nursery with us. You can explore Fleur's full range (including that stunning wallpaper!) on her website or take a peek at her Instagram page.