Pools are the ultimate backyard accessory. And with summer on its way, we wanted to share our round up of the best pool designs to spark your inspiration.
From designs for small backyard to awkward blocks, ideas for a total kids paradise to resort-style relaxation, our round up has something for everyone.
Related article: How to create an outdoor cinema
Related article: 5 ideas to maximise your outdoors
1. Blush beauty
When our Insta crush Krystal designs her own outdoor pool area, you can be sure it's going to be AH-MAZING!!! Boy did she deliver the goods with this curved edge above ground pool that's tiled in the most gorgeous mixed blush glass tiles! This is modern mediterranean outdoor living at its best.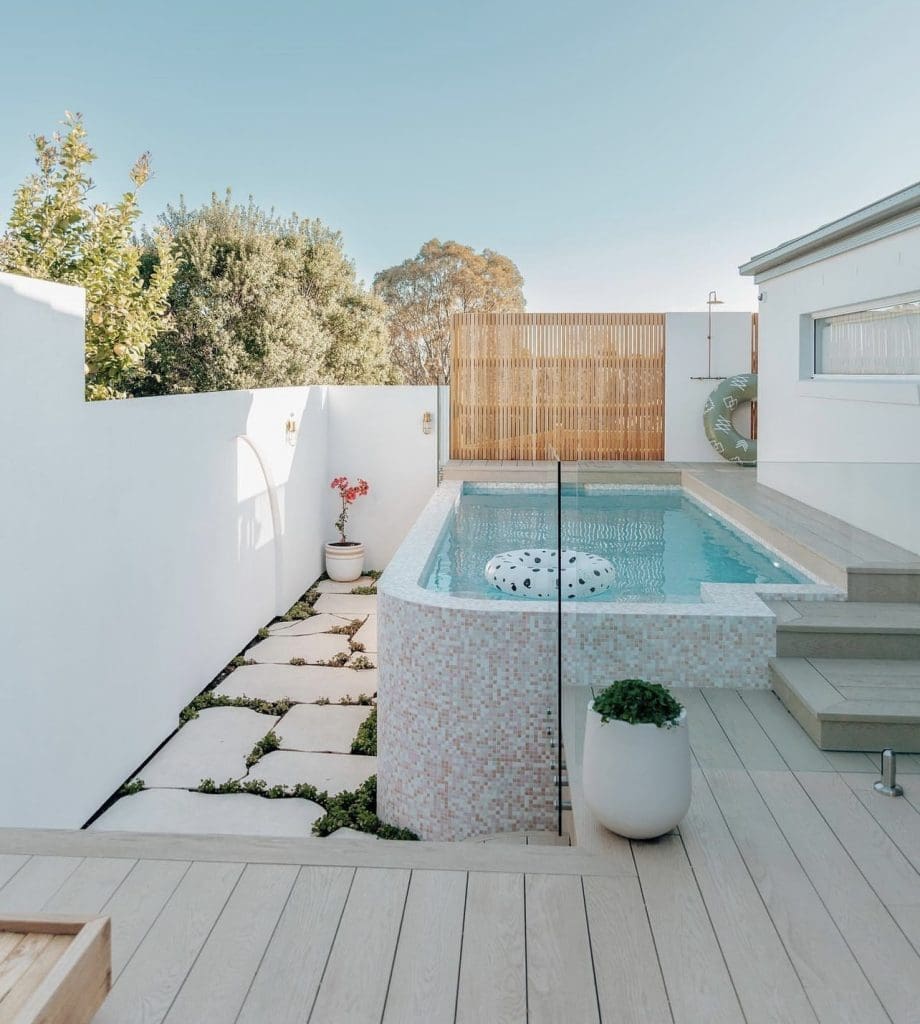 2. Perfect design for a small space
If you're short on space, don't think a pool is out of question. This gorgeous pool from George and Sarah's home on The Block, is the perfect example of what can be done in a tight space.
We love the pretty petal tiles they used, and the wooden seating space at the end. Just hand us a cocktail and we'll be set for summer!
3. Pool with a view
Pools don't always have to be on the ground, as seen here in this stunner from the Kew penthouse. There's nothing OTT here, just a simple design, done well and taking full advantage of that incredible view.
4. The ultimate kids paradise
Here's one for the kids. And boy, is it a good one! The ultimate kids paradise, this home ticks every box. A cool cubby house (make that 2!). A rope bridge, firefighters pole, swing, and a slide into the pool.
This one just had to make our best pool designs list, even if it might be a bit of a stretch for the average Aussie backyard! You've gotta admit, you'd love to take a ride down that slide into the pool, wouldn't you 😉 ?!
5. Add style and texture through tiles
Take your average backyard pool to the next level with stunning tiles. These beauties at Bilinga Beach Abode are some of our faves, with the owners choosing encaustic patterned tiles to give their pool the ultimate wow factor.
6. Tropical paradise
In another stellar home renovation from Kyal and Kara, their own family home includes this incredible backyard pool. The glass pool fence is the perfect addition. It feels almost invisible giving the space a seamless flow to the rest of backyard.
7. Make it your centre feature
At the Suncatcher House, the challenging block meant this courtyard was 'left over' in the centre of the home. They added in this beautiful pool and it turned out to be the best part of the home.
Almost every room of the house looks out onto this stunning courtyard — a real statement feature of the home.
8. Take the plunge
Check out this little beauty from The Designory. This luxe, boho boutique holiday rental in Byron Bay is small but sweet. A plunge pool is a fab addition to your backyard if you only have a small space but still want to make a splash.
9. Resort-style living
This pool just had to make our list of best ever pool designs. Bonnie from Three Birds Renovations designed her entire house to make this stunning pool the centrepiece, and we can totally see why. It's just… perfection!
This is the epitome of resort-style living at home.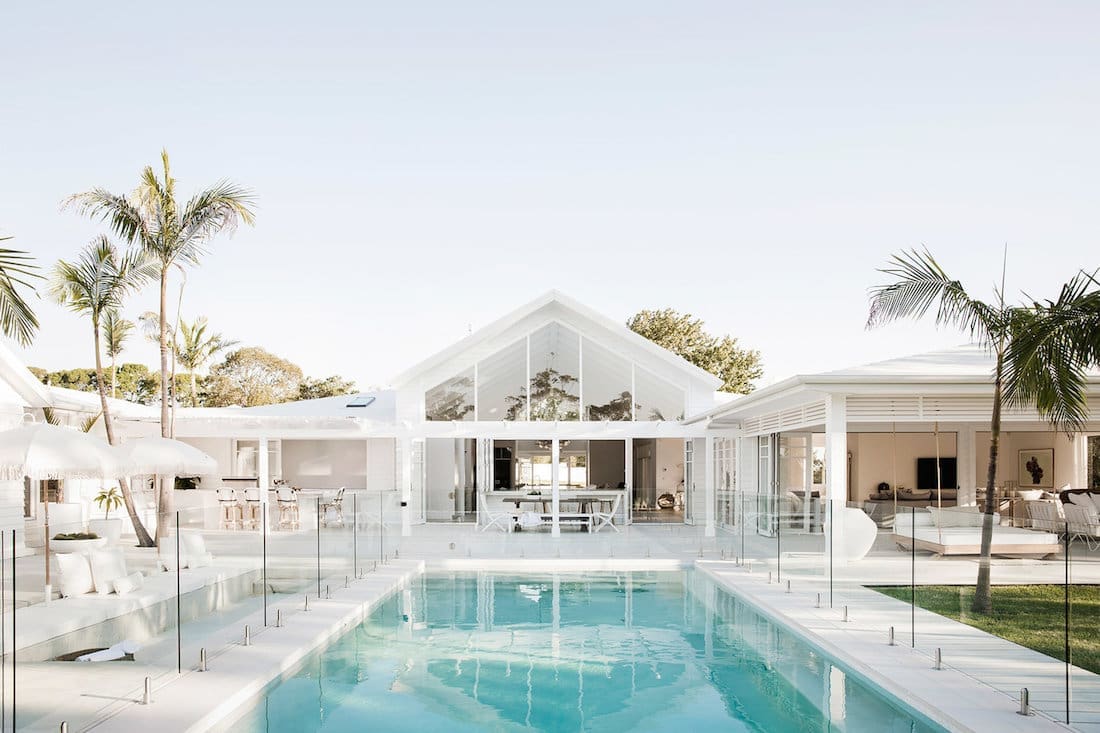 10. Lap up the view
Mountains on one side, spectacular ocean view on the other. It's a simple design, but we think this stunning pool has got everything going for it. Also check out that long top step — the perfect spot to chill (literally!) and ideal for kids.
11. Bushland oasis
Anyone else think this one would feel like swimming in a secluded, outback oasis? We love the organic feel to this pool and the addition of the waterfall, rocks and landscaping, which make it blend into its natural surrounds.
12. Pop in a pool window
A bit of a quirky feature and oh so much fun, is a pool window! When it comes to the best pool designs, this one is high on our list. You'd certainly be the talk of the street with this epic pool!
13. Family-friendly fun
Another fabulous pool from the talented Three Birds trio. In House 11, they gave the old pool a zhuzh-up and created this Hamptons style beauty. The addition of the viewing cabana is our fave feature. We can just imagine relaxing here while the kids go crazy in this fabulous family-friendly pool design.
14. The ultimate pool for an awkward block
How's this for an epic idea?! A shipping container pool! A no-brainer to make our list of best pool designs, shipping container pools are perfect for awkward or sloping blocks. They can go up on stilts or metal frameworks to level them in to even the trickiest of blocks (like this one below).
They're a fabulous low-cost option and you're ticking the environmental box too, by upcycling an old and otherwise unloved shipping container. Win, win, WIN!
15. Make it organic (shaped)
Who said pools have to be rectangular? Or round? Break from tradition and create a pool shape that works with the space available like this pool. Its unique curve means there's still room in this relatively small backyard for a fun built-in trampoline.
It's an ingenious and clever design, made to work around the family's needs, not the other way around.
16. A pool for everyone
If space allows, a pool with sections makes for a gorgeous backyard statement. We love the stepping stone feature, giving this pool a luxe, resort feel. Kids in one section, adults only in the other — what's not to love?!
17. Woodland view
Would you just check out that view. Swoon! This is a great example of an indoor pool that doesn't feel… indoors! The huge floor to ceiling sliding doors bring the stunning woodland view right inside so you can swim in your pool year round.
18. Plunge right in
Snuggled right up against that wonderful sunny deck, this pool is a total winner. Plunge pools are perfect for a relaxing dip which is sometimes all you need to cool off in the summer heat. You also don't need a whole lot of room to fit one in so they're a great space saving option.
19. Add a ledge for lounging
This pool flows seamlessly into the rest of the outdoor entertaining space with its cleverly designed edging and shape. We love the idea of a baja shelf — basically an extra long shallow end, perfect for small children, but also for lounging in the water without having to fully commit to a dip.
If you need us, you'll find us on one of those semi-submerged sun loungers!
20. Let colour do the talking
In what could otherwise be described as a sparse outdoor space, this pool totally pops thanks to its vibrant blue mosaic tile. We love the simplicity of its shape because when your tiles are that pretty, you really don't need much else!
21. Instagrammable infinity edge
This pool was just made for epic Instagram pics, right?! And while not everyone has a hinterland rainforest treetop view to look out over, an infinity edge pool is still a stunning design feature if your block allows for it.
Which was your fave in our round up of the best pool designs? Has it given you any inspo for your place? Tell us in the comment section below!
This article was first published in October 2021 and continues to be updated.