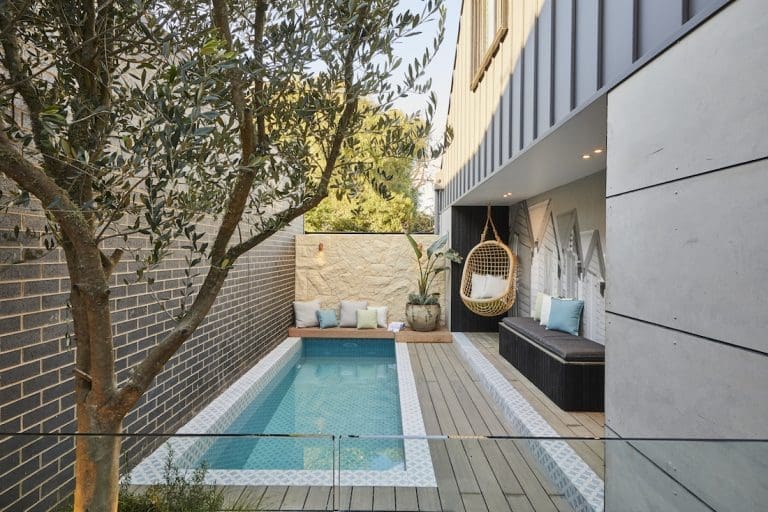 Final room reveal! We're going to miss all the tears, tantrums and dramas! It's been a wild ride on The Block 2020 and we can't wait to see who takes home top prize on auction day! This week we head back outside for the pool and backyard reveal.
We can't quite believe it's the last week, but have loved bringing you The Block room reveals and hope you've picked up plenty of design inspo from these amazing home renos.
Which has been your favourite room, week or house so far? Tell us in the comment section below!
Related article: The Block 2020: Week 11 — Studio and garage reveal
Related article: The Block 2020: Week 10 — Front garden and facade reveal
Harry and Tash
Unlike previous weeks, being the very last one, teams were not allowed to go over budget this week. They had just $40,000 to spend and a lot of stuff to do.
Tash was ruthless with their pool and backyard budget, only allowing $25,000 to complete their plans to hopefully prevent another budget blow out. They stripped their plans right back and in true Harry and Tash style, by mid-week were still in the planning phase.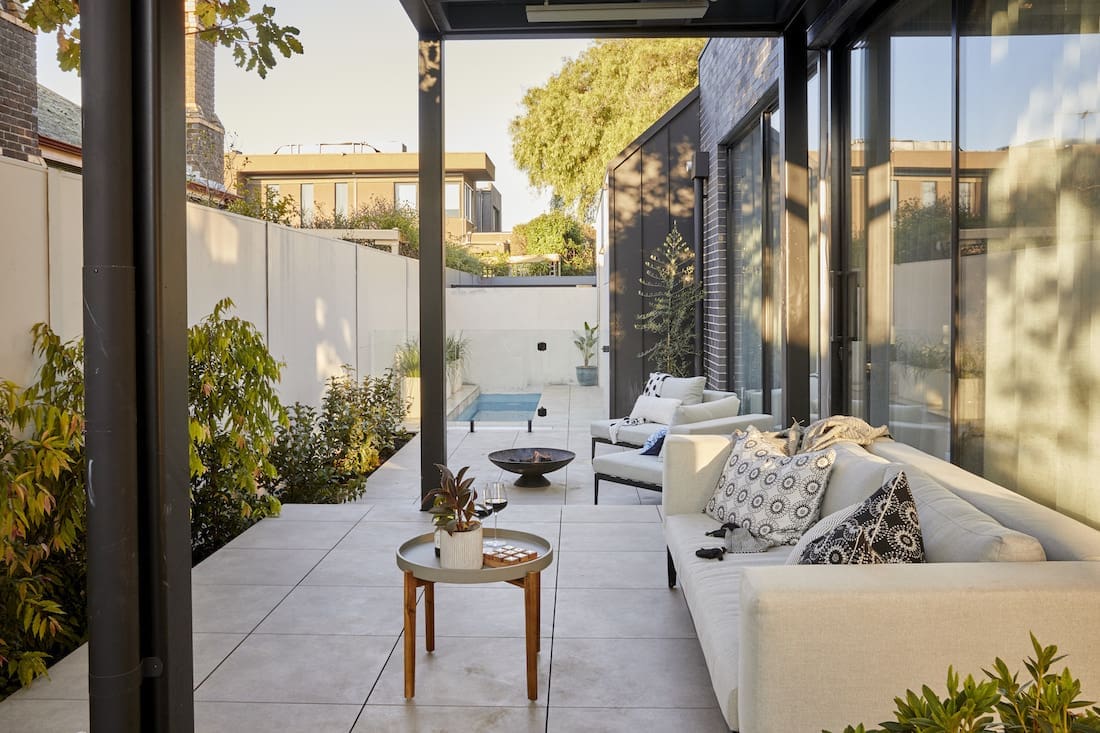 But they did it and we thought they deserved more points from the judges! Their pared back outdoor spaces were elegant, functional and inviting. And how gorgeous was that oak tree?!
The judges said it was obvious Harry and Tash ran out of money because of their lack of styling, especially around the pool. While this area could have benefited from more outdoor furniture, all other zones were beautifully styled and welcoming for potential buyers.
They also didn't agree with Harry and Tash's decision to add a wall between and front and back gardens. Tash was adamant that privacy from the front of New Street was vital.
Score: 22.5 / 30 (5th place)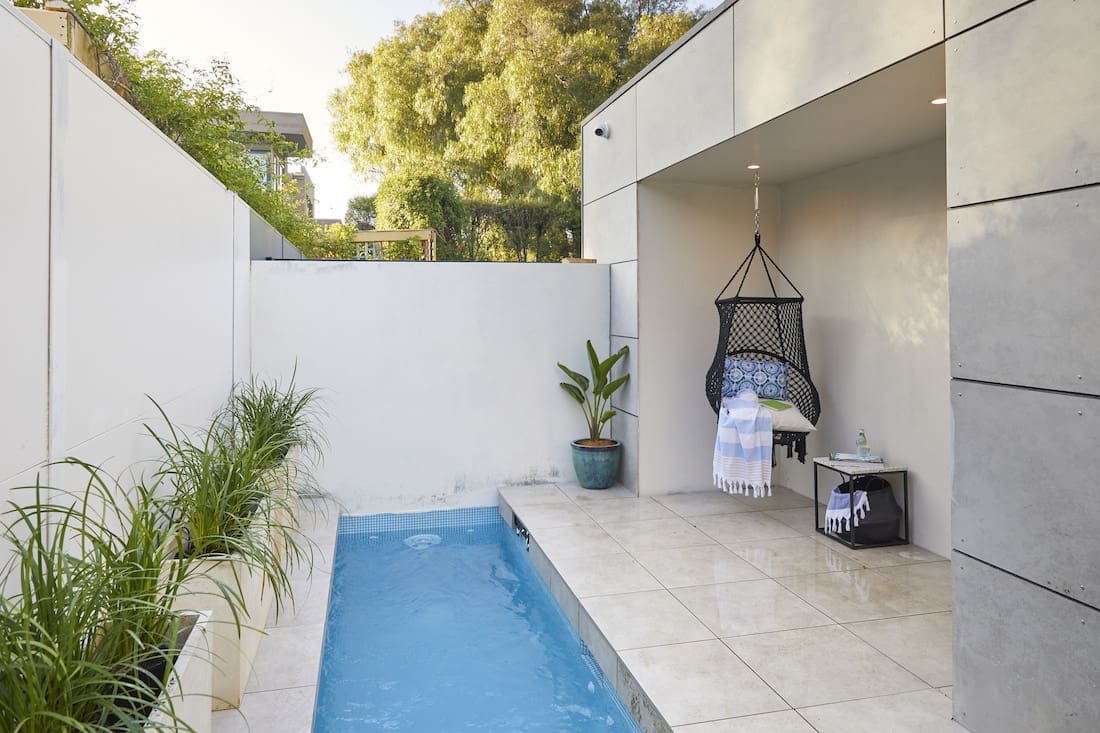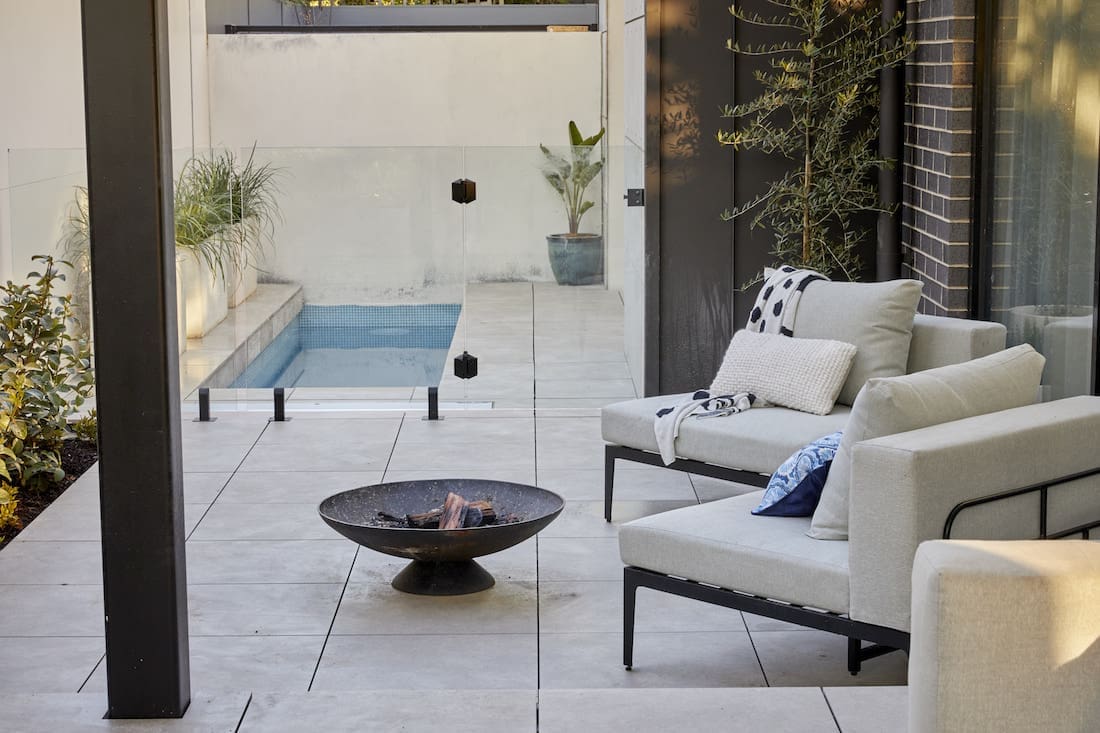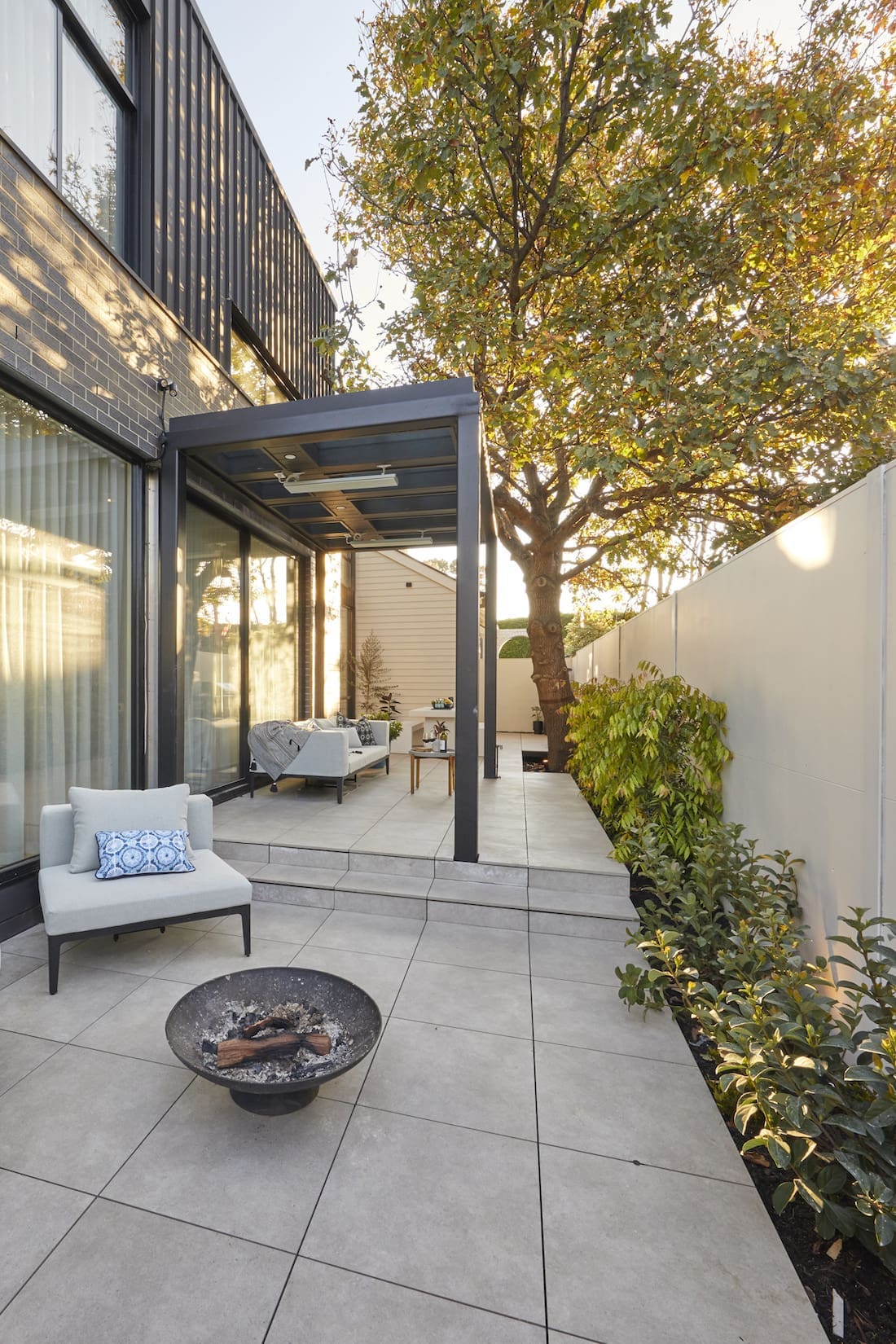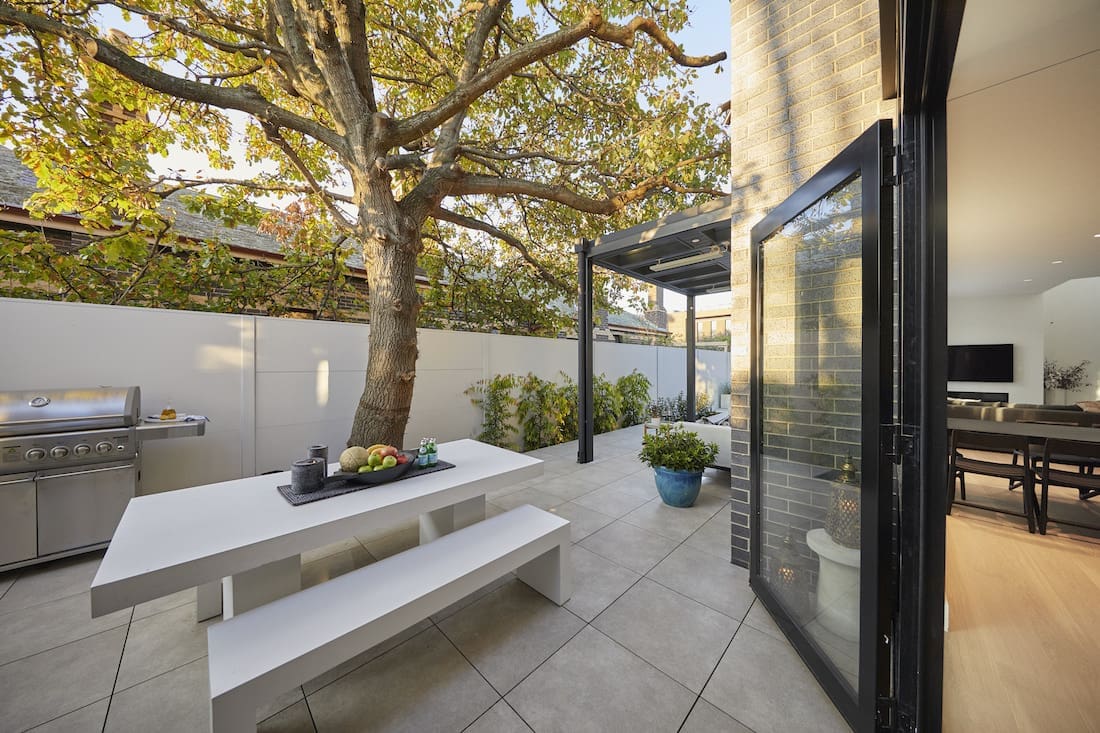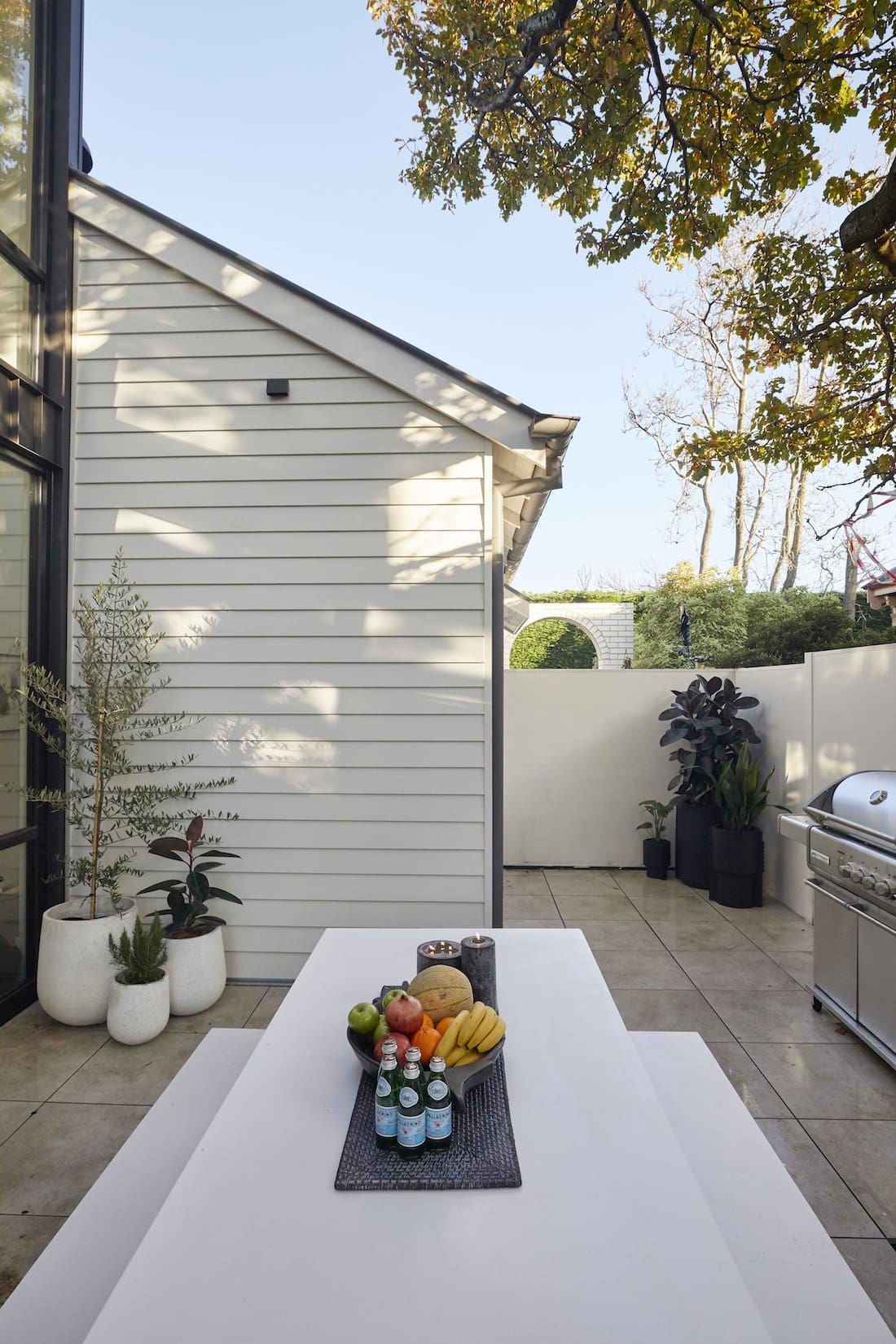 George and Sarah
Thanks to last week's win, George and Sarah were aiming for the hat trick, wanting to take home a win for the third week in a row. They were also feeling a little less anxious about budget, being able to drop $3000 on one olive tree. Sure, it's 80 years old and absolutely stunning but… wow…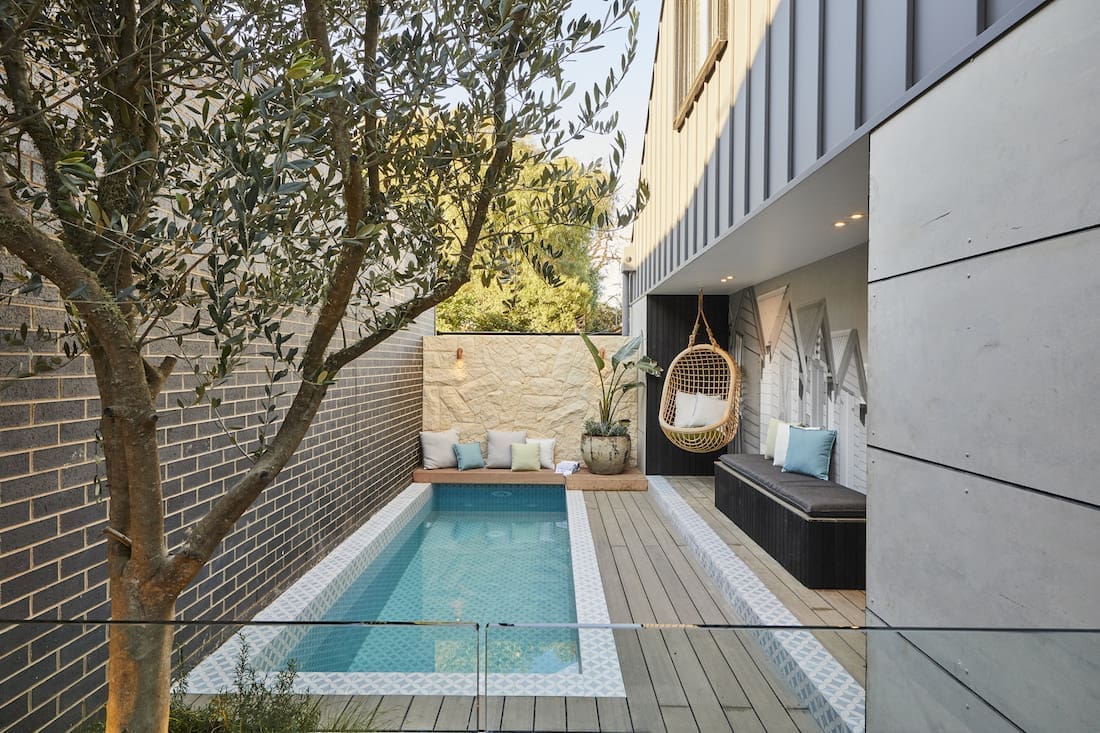 They did it! They got the hat trick, their third win in a row. And they did it with a perfect score!
We loved the patterned pool tiles they chose but weren't fans of their Brighton beach hut wallpaper — the space didn't need it and made it feel a bit kitsch. Their pricey olive tree looked perfect in the pool space though.
The stone planter with the Japanese maple tree was divine. And they added fairylights around the tree which will make it look magical at night — we love! The bench seat with greenery poking out from underneath was also lush and a fave feature of ours.
As for the back deck, what a great entertaining space! The pizza oven was fab and the space was open without too much clutter. While we get the idea behind the built-in table, we're not sure we love it. Not being able to move the table seems problematic to us.
Clearly the judges loved everything about House 2's backyard, awarding it a perfect score. As part of their prize this week, George and Sarah also took home a brand new car. The Ford Puma as seen in Daniel and Jade's garage from last week.
Score: 30 / 30 (1st place)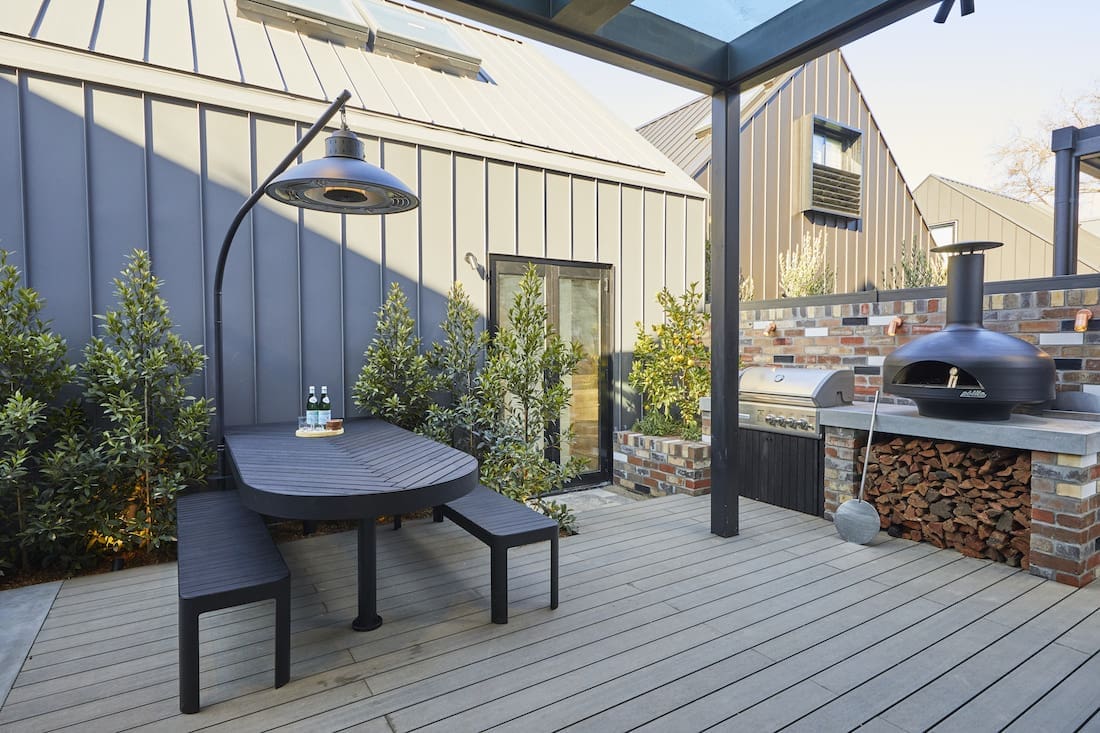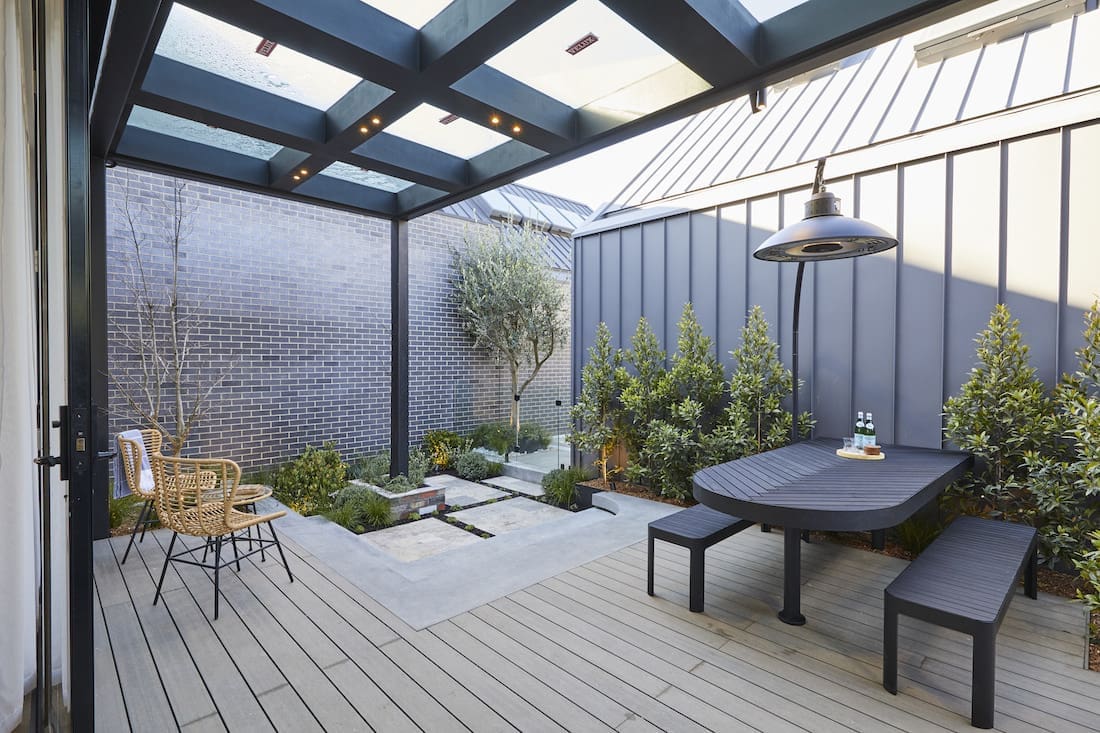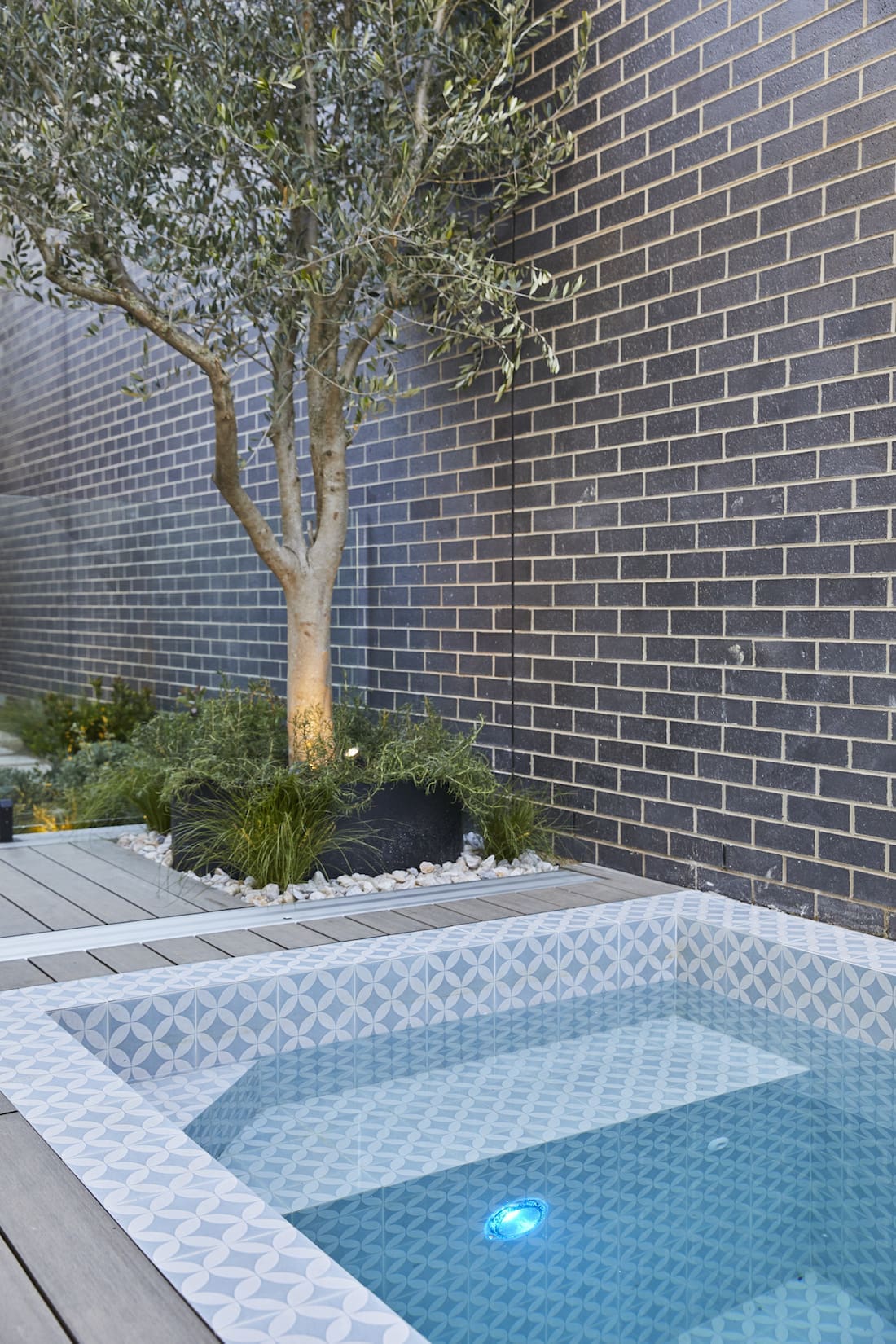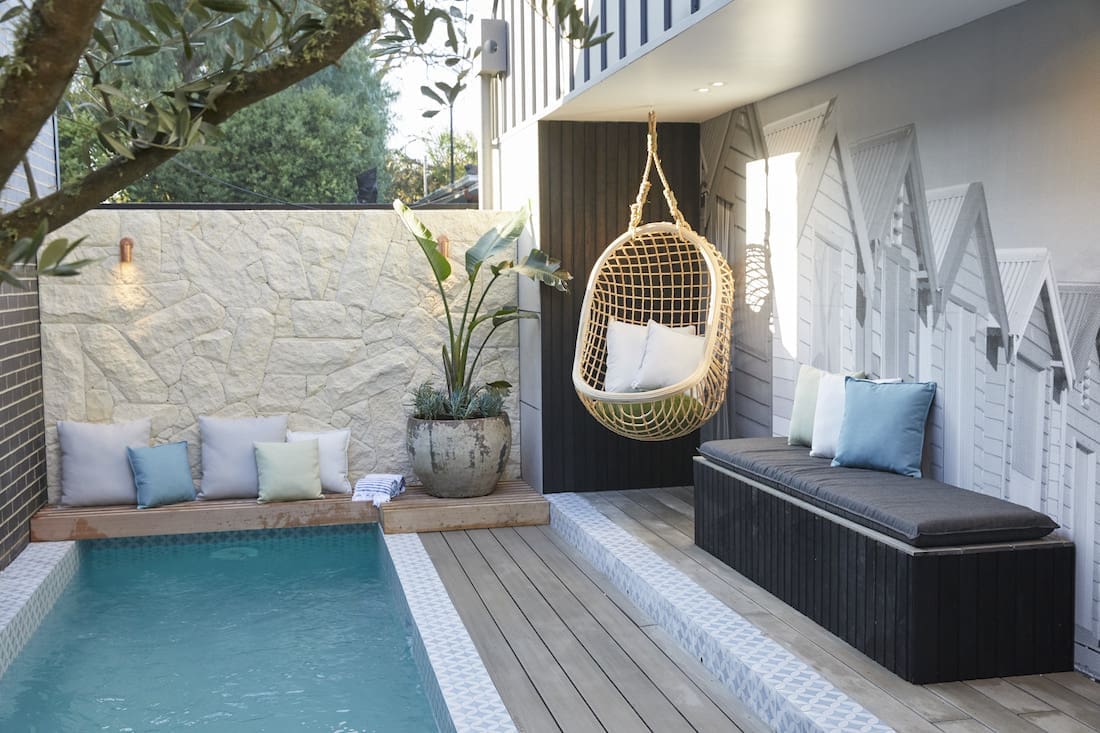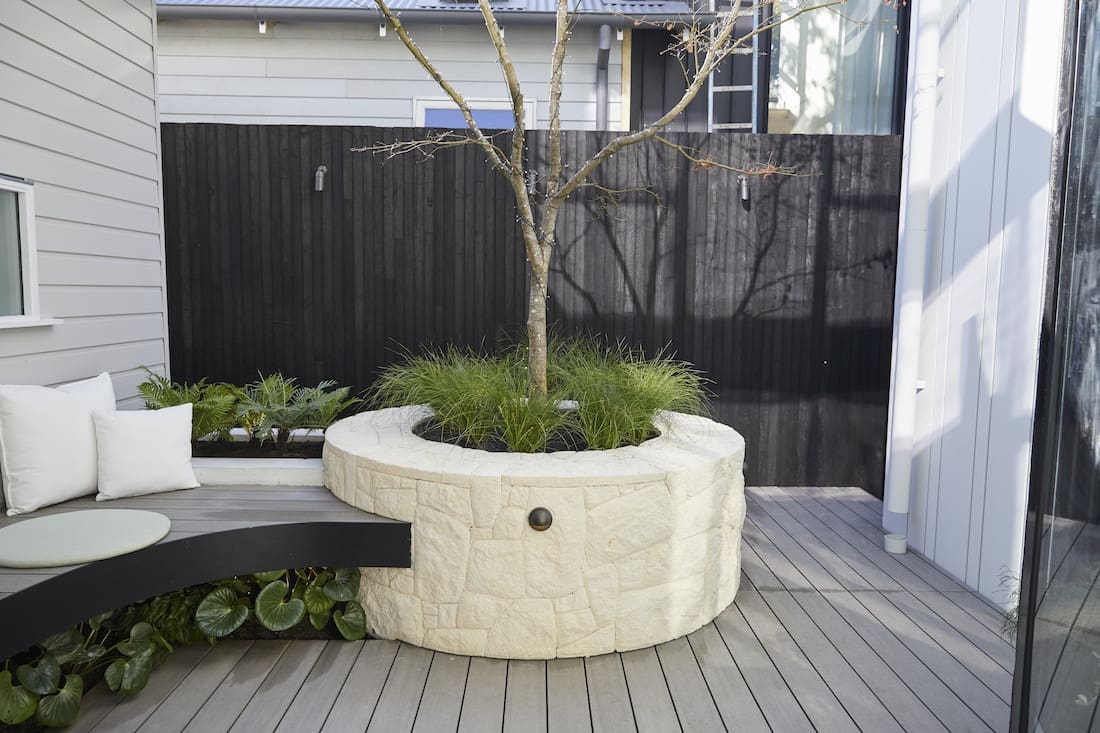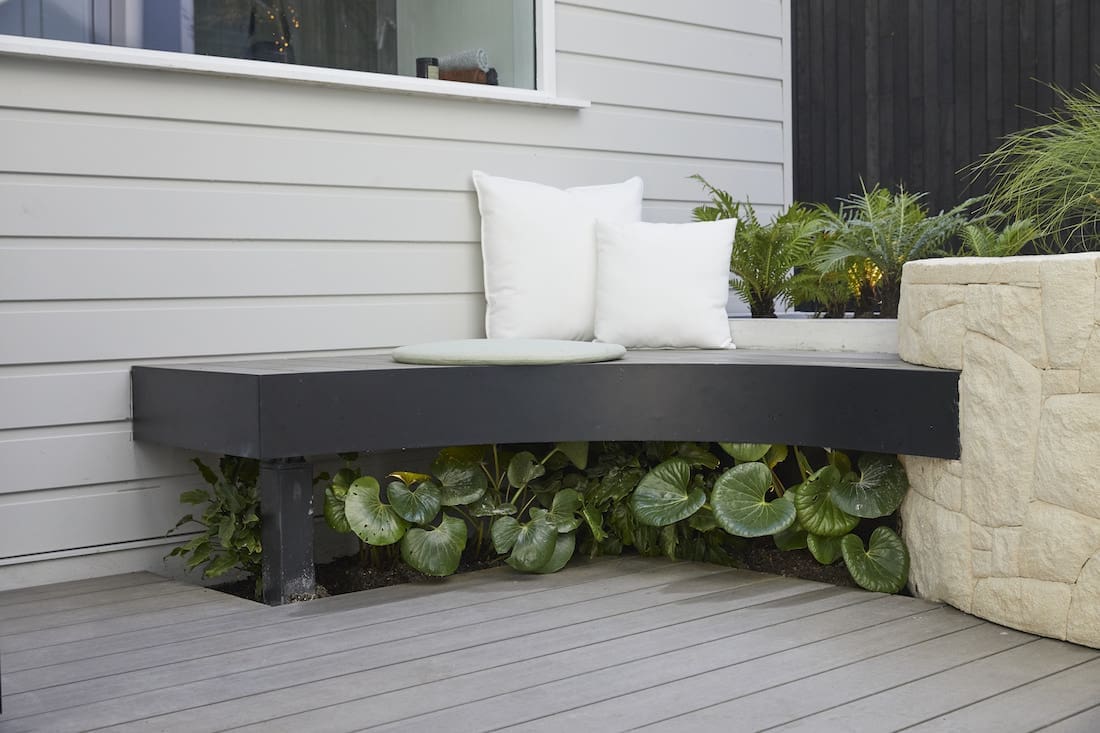 Daniel and Jade
We feel like these guys have kind of lost their sparkle the last few weeks. It's been a while since their last win, so perhaps that's been weighing on their minds? Or maybe it's because they were robbed of the win in front garden and facade week? Either way, it wasn't their greatest score for the final week on The Block for Daniel and Jade.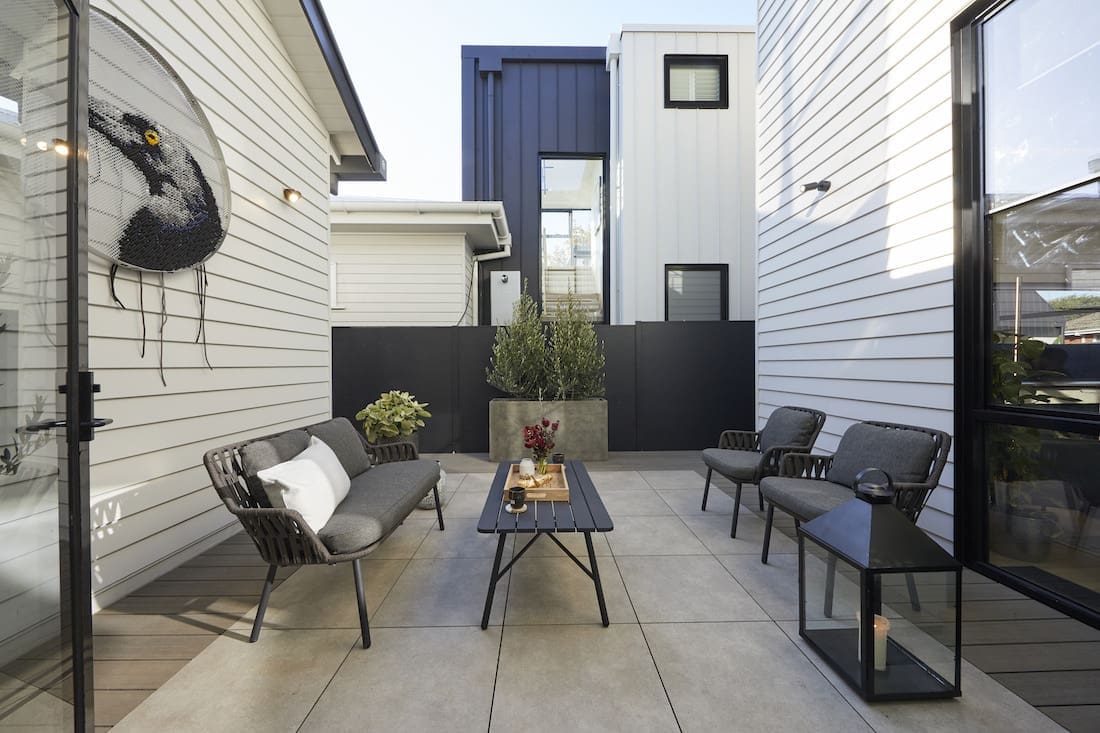 There were elements of their pool and backyard we really loved and others we'd happily give a miss. The outdoor kitchen area and gardens with organic shapes and oversized pots looked fab but that's about where the magic ended for us. Many of the other zones felt too hard or cold and would have benefited from softer furnishings, a great mix of materials and more greenery.
The judges loved the sculpture and the effect of the skylights in the pergola structure. They were impressed Daniel and Jade added an outdoor shower but as it was positioned directly above dirt, it was less than ideal. It was also said the overall space could have been more comfortable and laid out better.
These guys came out in 4th place but we felt Harry and Tash delivered a more elegant, functional and finished space. What did you think?
Score: 24 / 30 (4th place)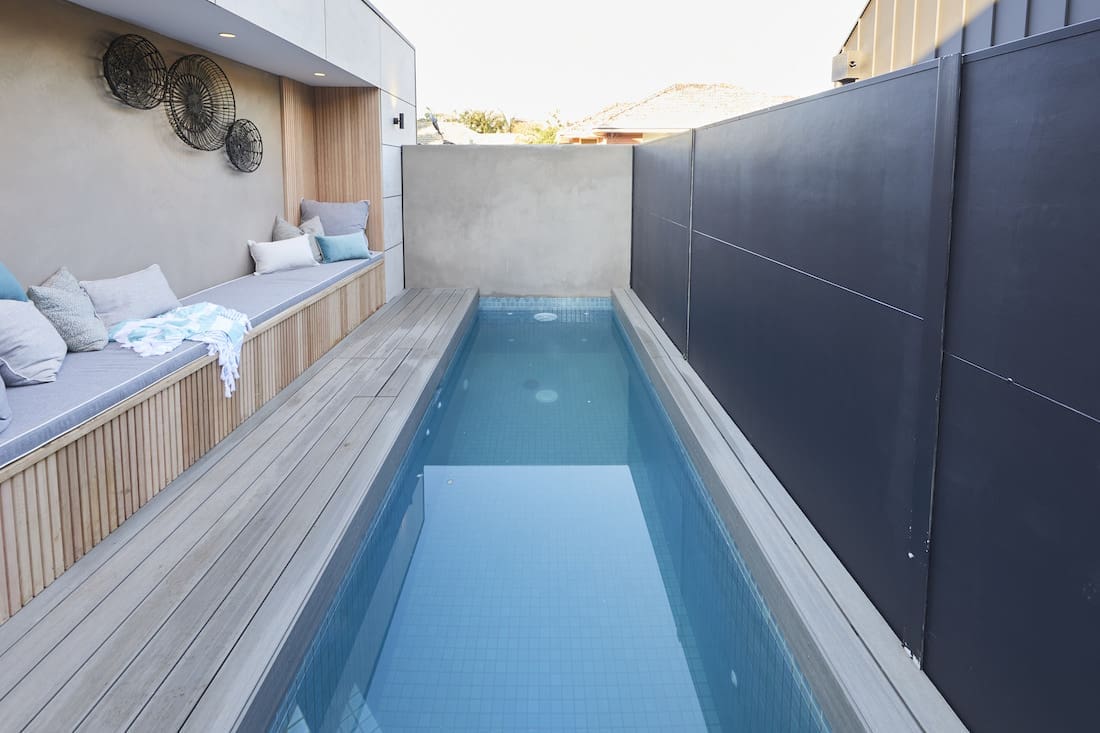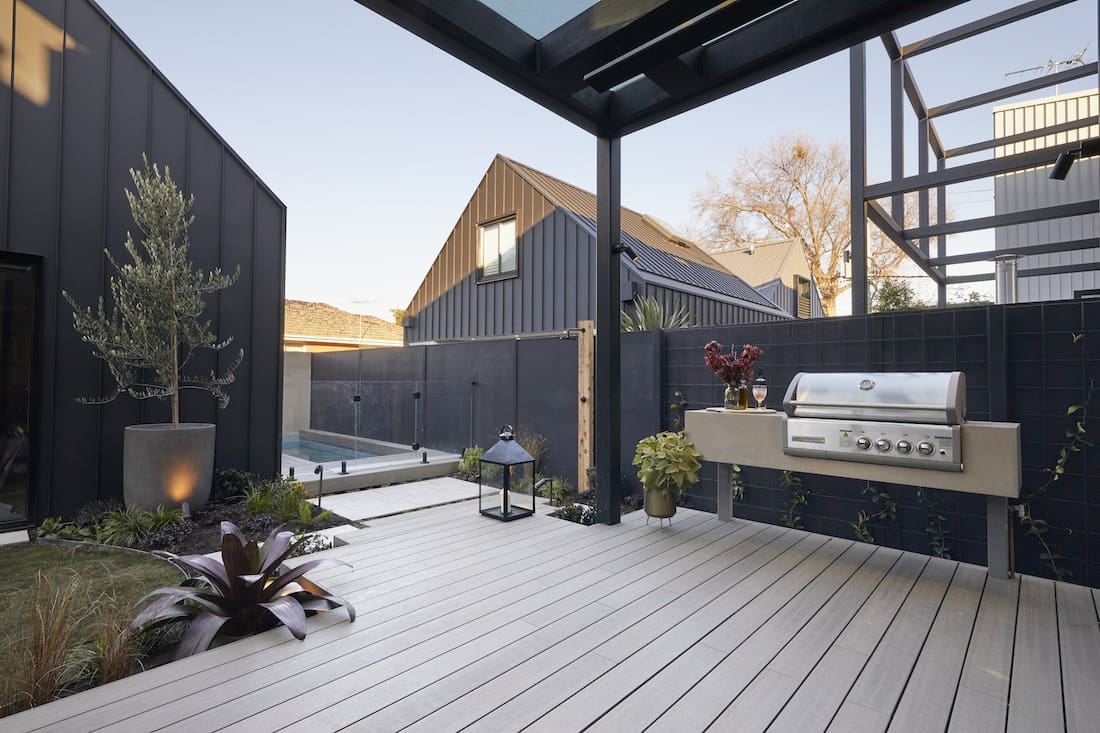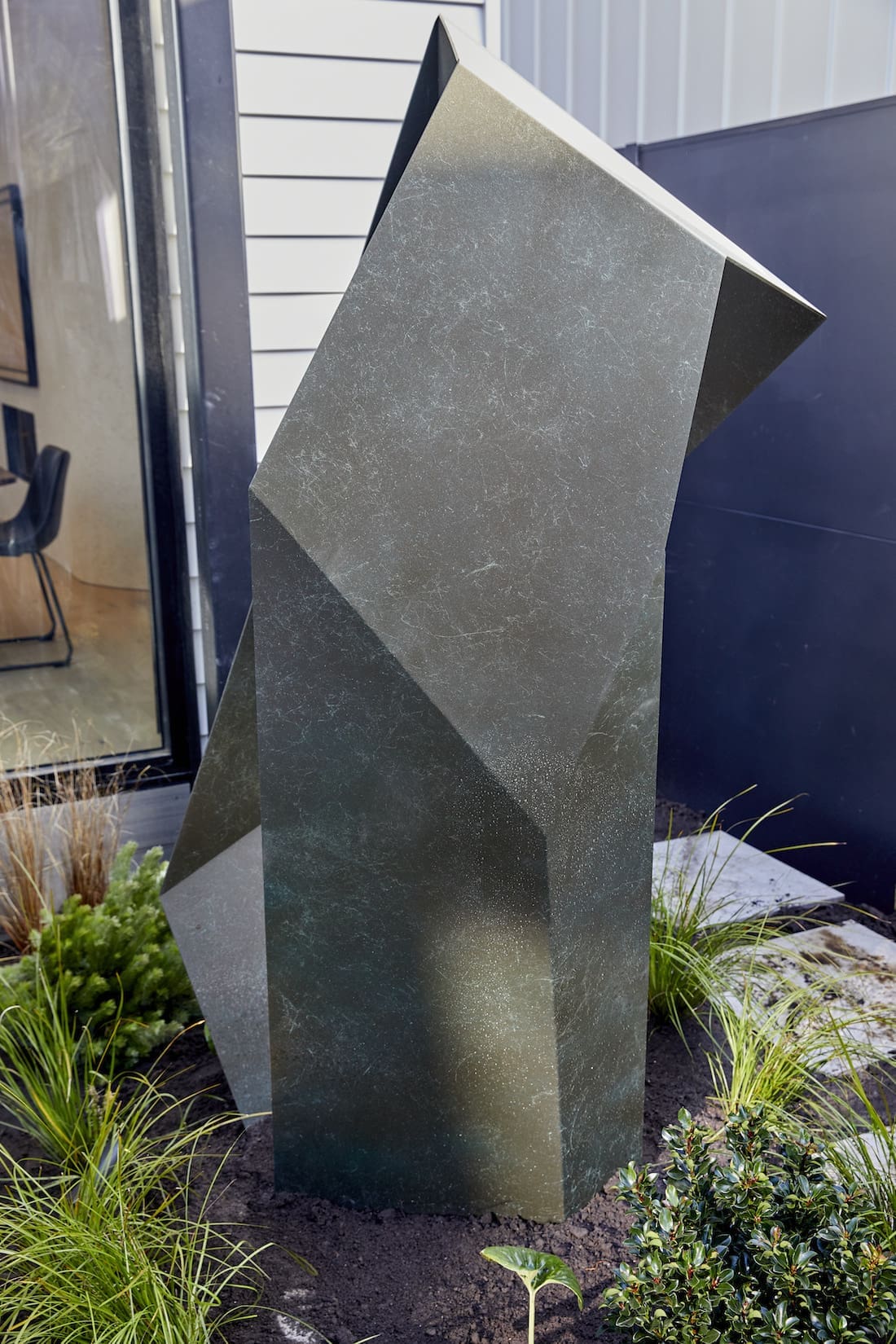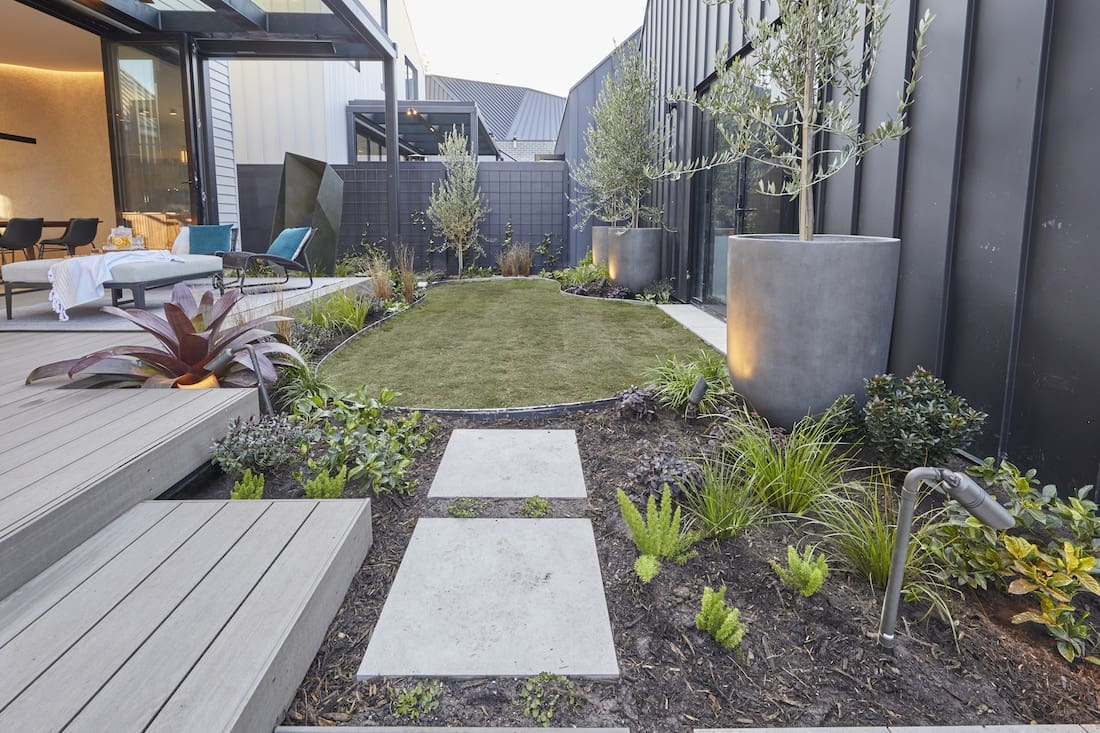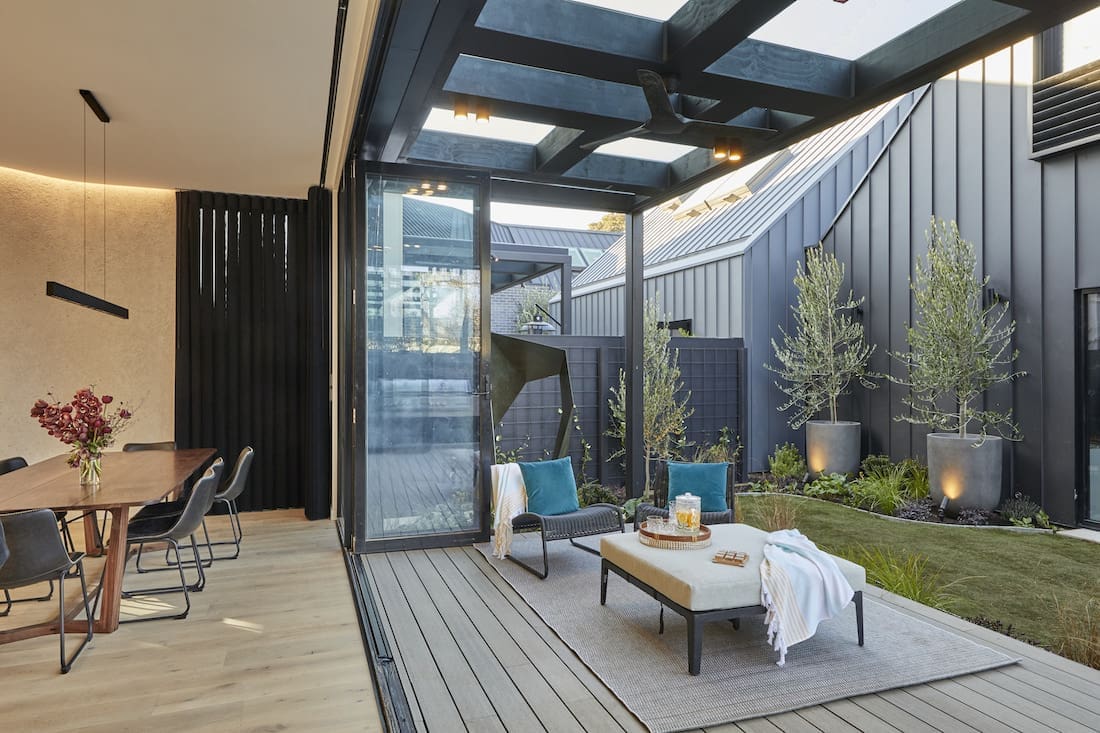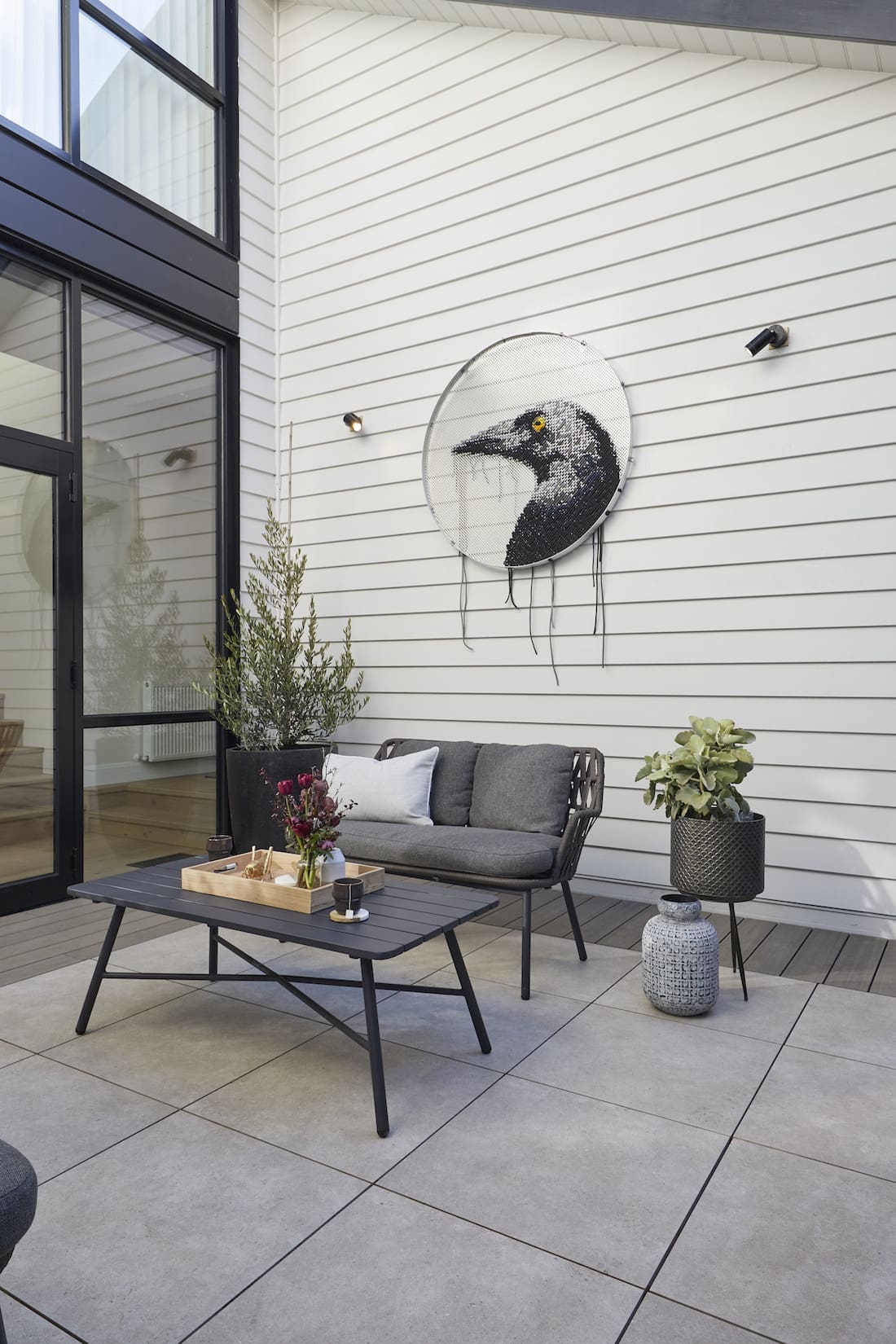 Luke and Jasmin
With a huge plastering bill from last week, Luke and Jasmin were in the red with their pool and backyard budget. They had to find another place to drop $2000 from their budget and their landscaper wasn't having a bar of it. He wanted more budget for more plants. It's a shame money doesn't grow on trees…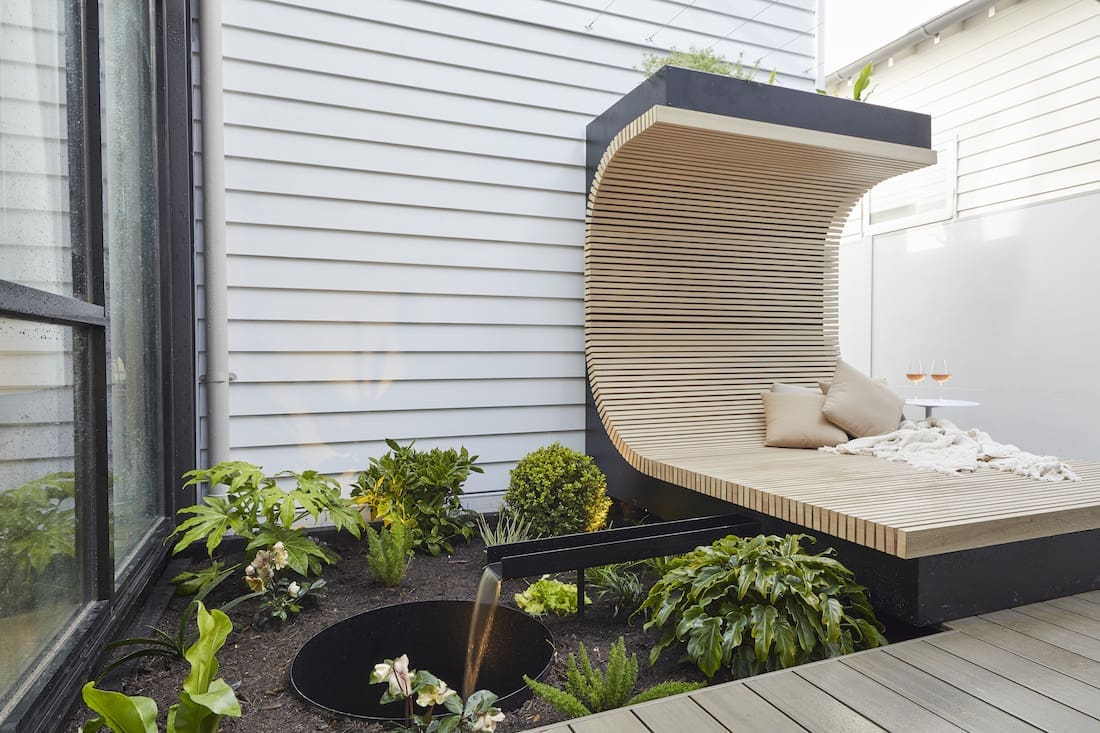 If you need us, you'll find us in that incredible curved (another curve, hooray!) daybed in Luke and Jasmin's pool and garden space. Ah-mazing.
The furniture and styling around the pool was everything. Talk about resort luxe, we want to move in immediately! They used more panelling in this space and featured their ever-present curves with some amazing subtle mosaic tile arches. The sneaky little bar was a gorgeous touch, although it's clear budget was an issue considering their terrible choice of beer for the drinks fridge 😉
Their seating area and deck again introduced those curved forms and the steel structure add such an architectural edge to the space. There was certainly a lot going on out here though but somehow they made it work!
The judges thought Luke and Jasmin's pool and backyard execution across the entire space was gold standard. They particularly loved the curved daybed and pizza party pit. It was a harsh loss to take, getting a near-perfect score and being beaten by just half a point.
Score: 29.5 / 30 (2nd place)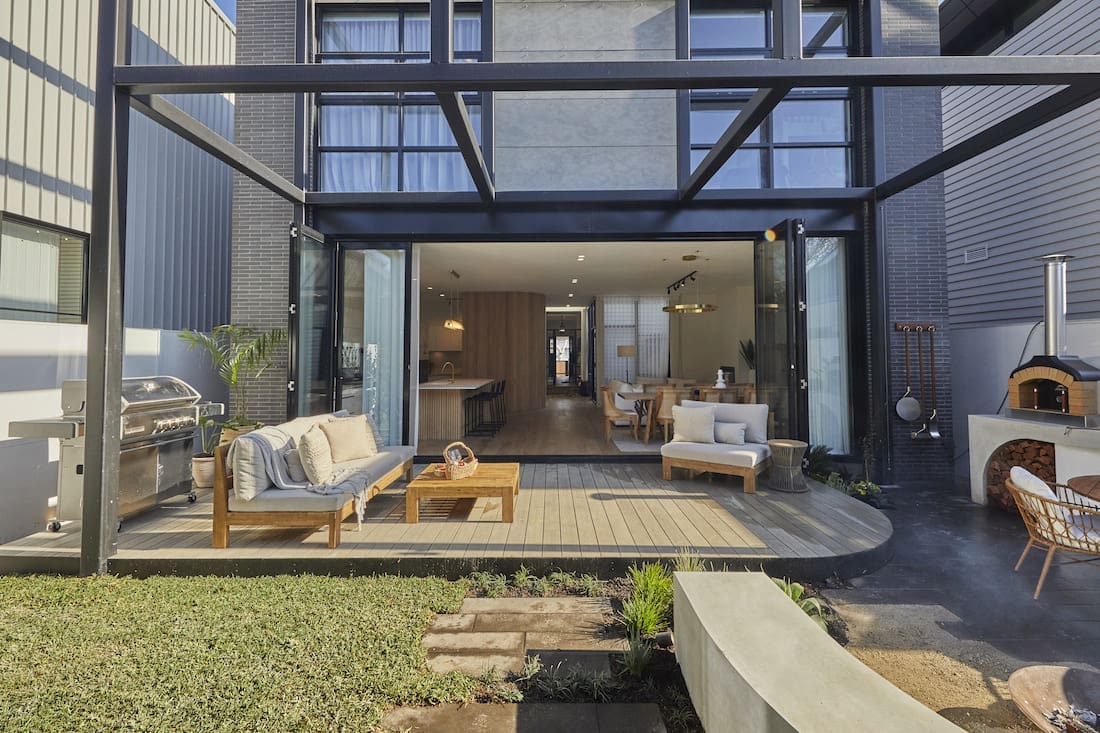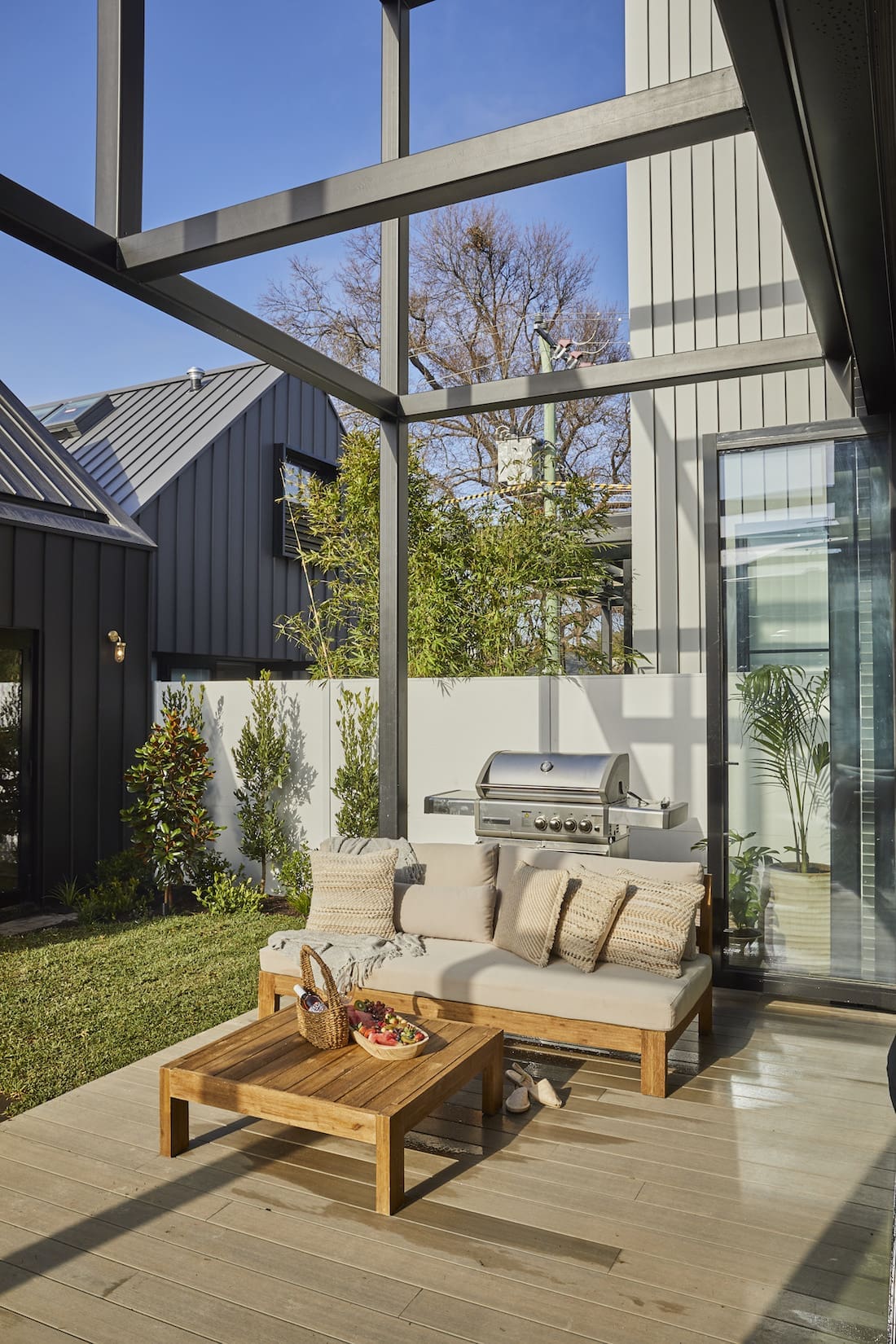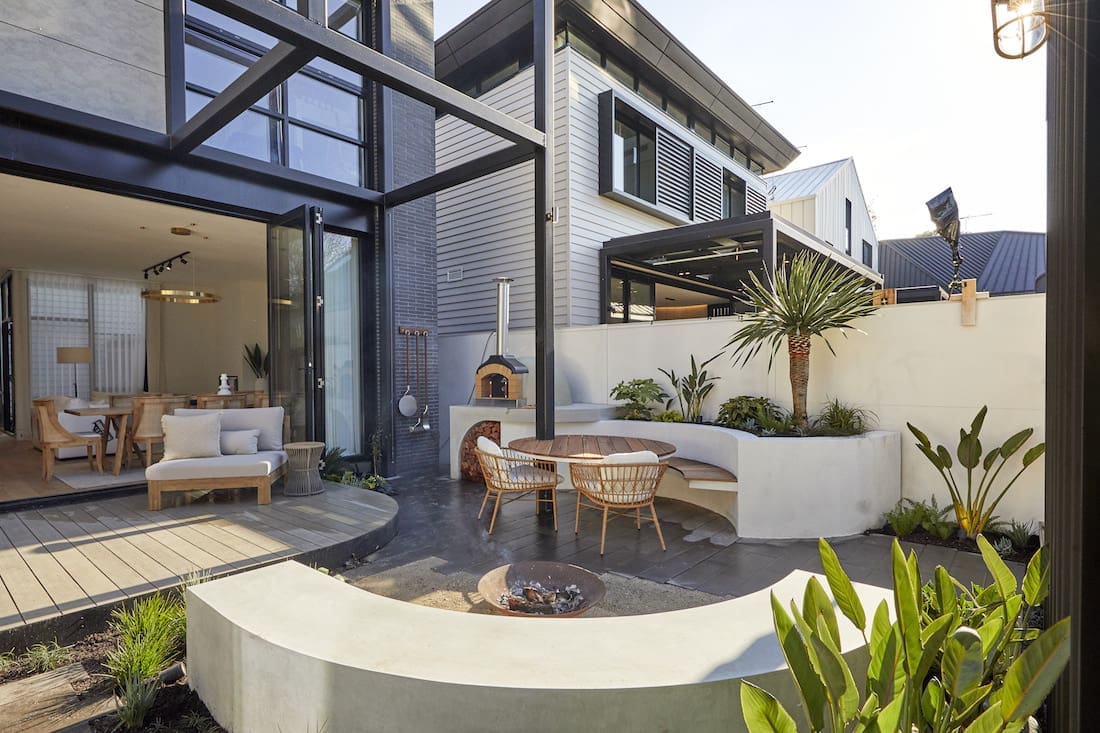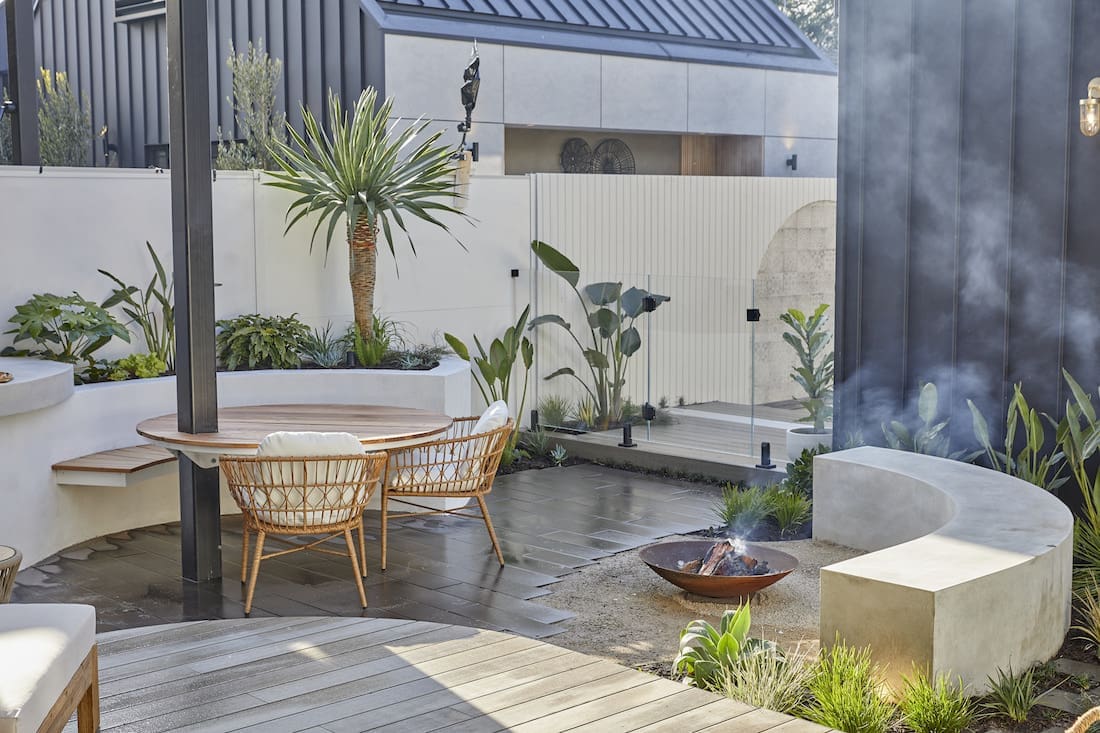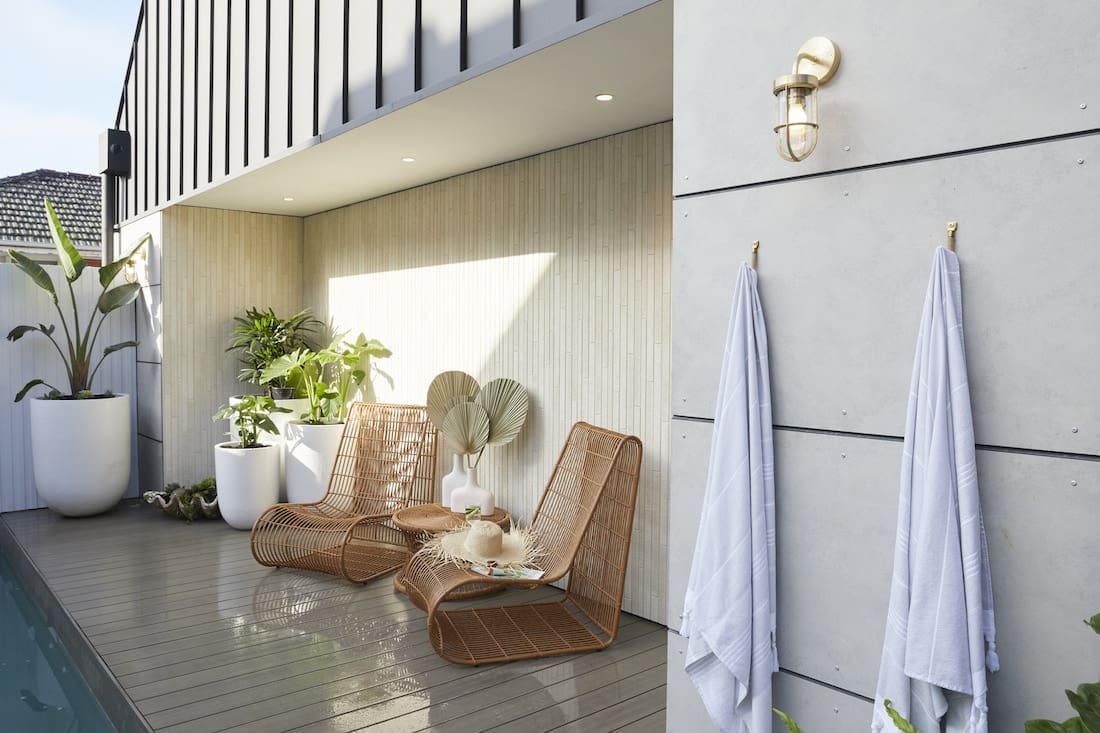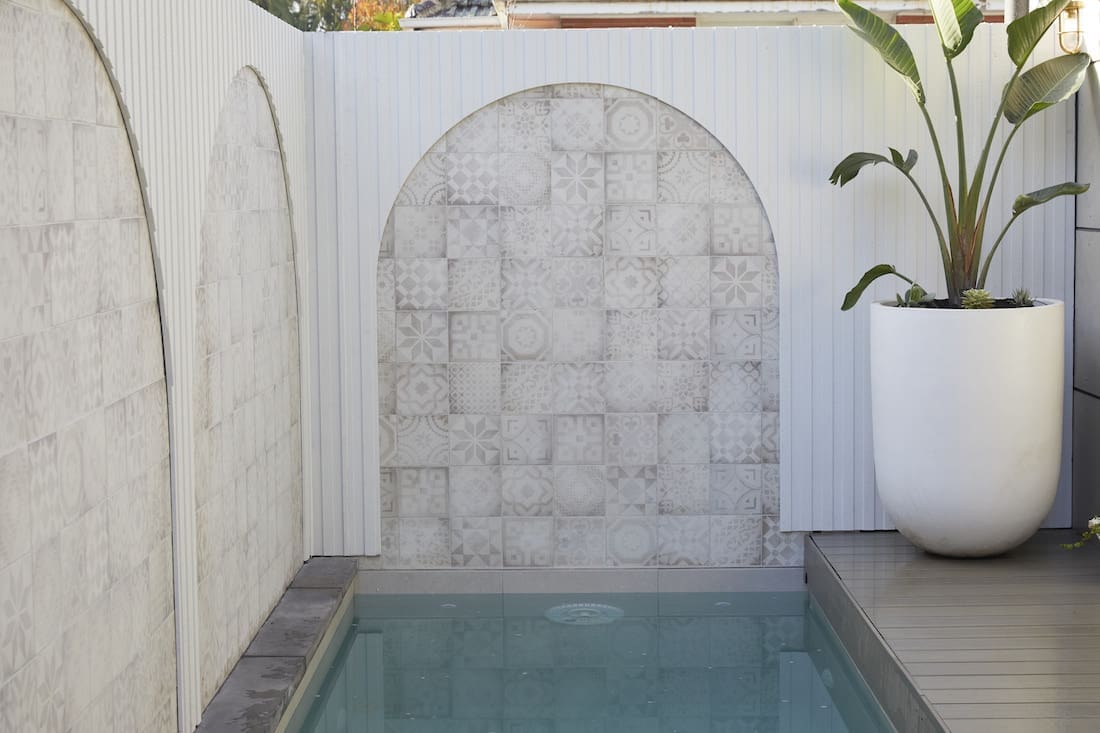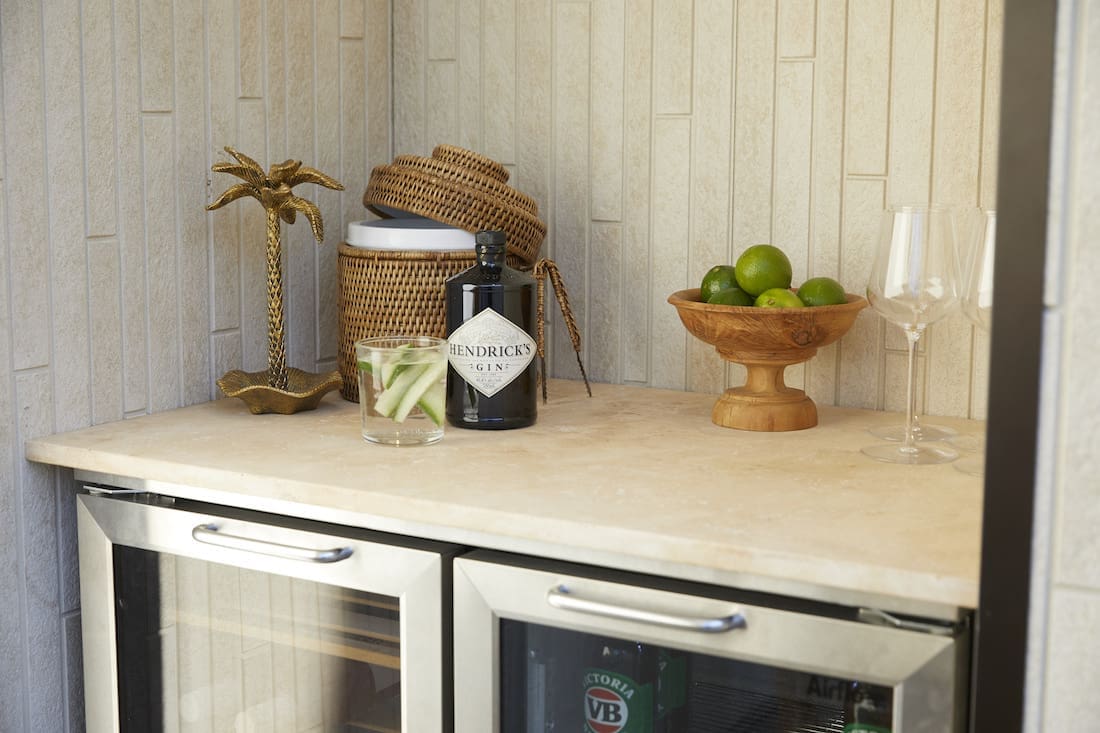 Jimmy and Tam
Jimmy and Tam, the richest house on The Block, had grand plans just like everyone else. But they too were concerned they might not have enough to finish their pool and garden spaces. Maybe they regret spending $5000 on wine for their built-in kitchen wine fridge 😉
Mid-week, Jimmy was stoked to finally get their fence up, meaning the other 4 houses had to stop using House 5's backyard as a thoroughfare to the street. The other teams weren't quite so pleased!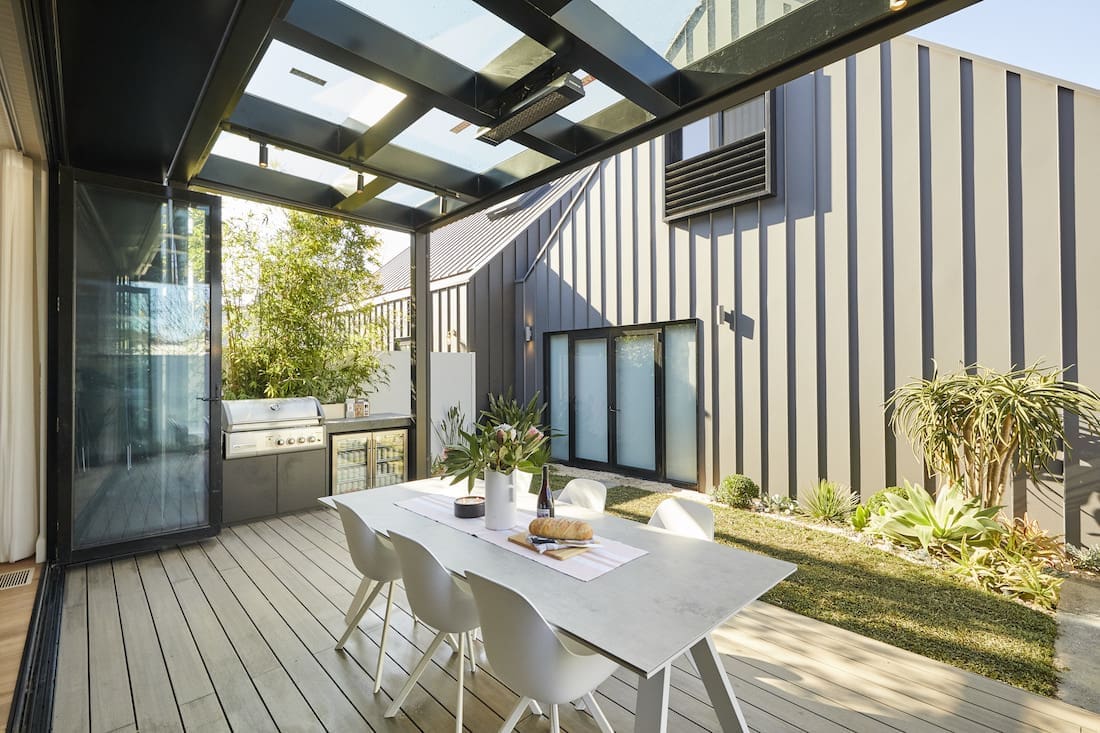 Their courtyard picked up on the palm springs influences in the front yard (breeze blocks, cacti and similar colour palette) but they obviously took on board feedback from the judges and softened the space with loads more planting — and grass!
The judges were clearly happy to see their feedback was heard and thought their backyard and pool was brilliant, especially loving the coral painted breeze blocks.
Shaynna loved the simplicity of the entire backyard but all of them questioned the space next to the pool, feeling it wasn't quite right. We understand what Jimmy and Tam were going for and think the potential owners will find it incredibly useful. Their mosaic tile wall was also pretty cool, suiting their home's overall style.
Their deck space was great, well thought out and will be a fab place to entertain. Good to see they finally added a dining table to their house 😉 !
Score: 27.5 / 30 (3rd place)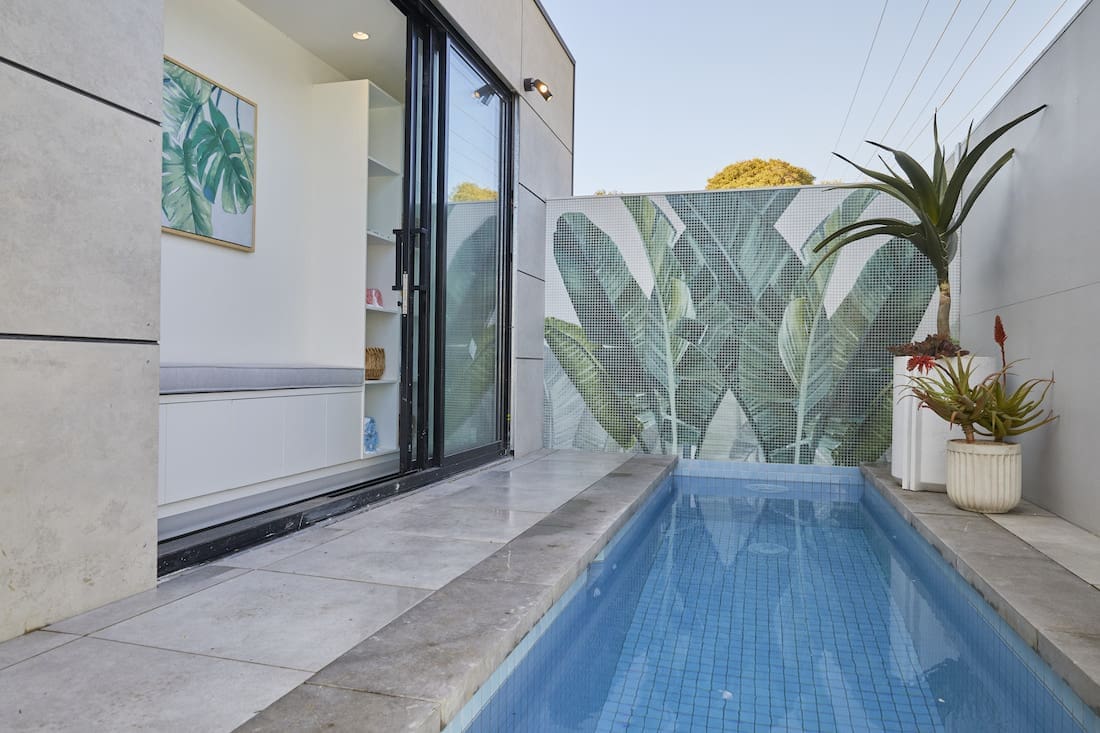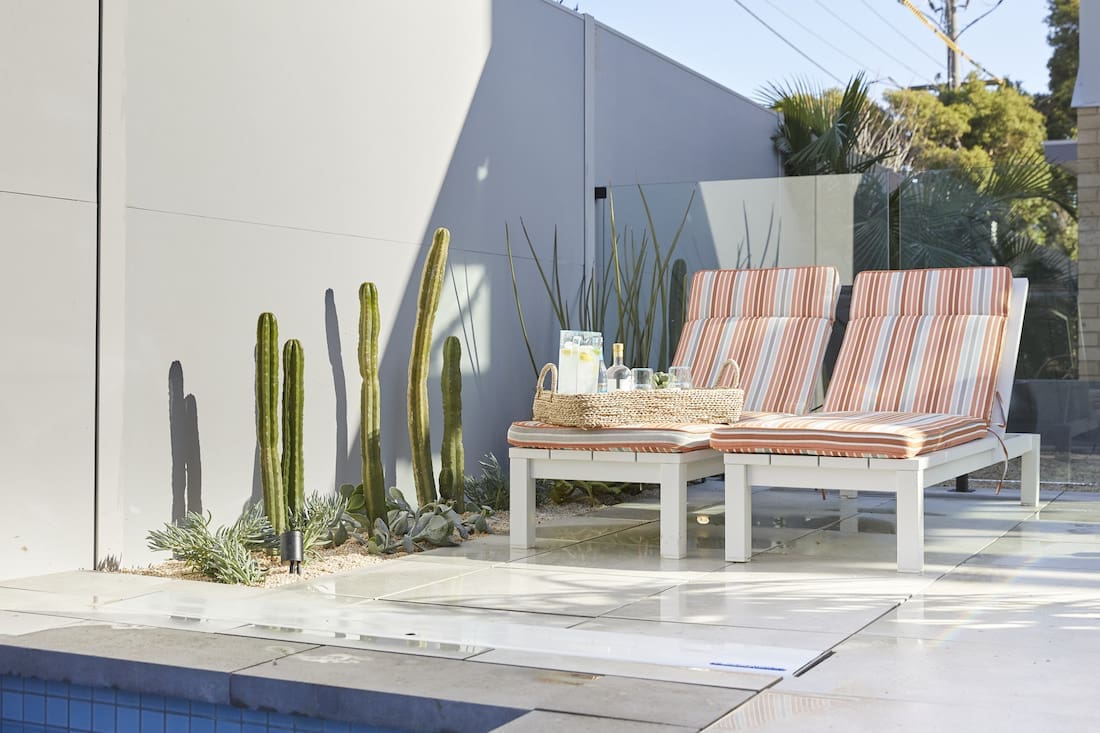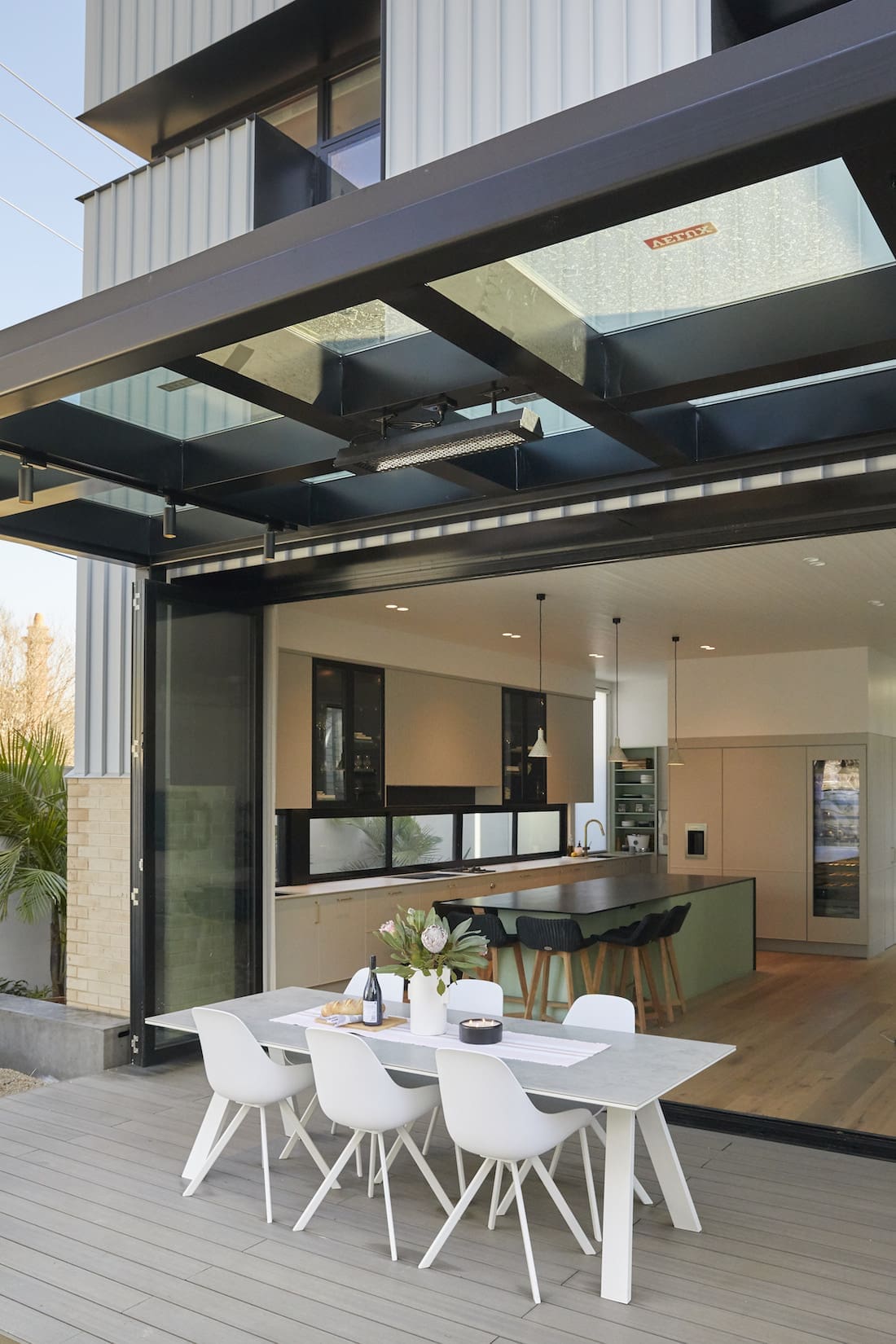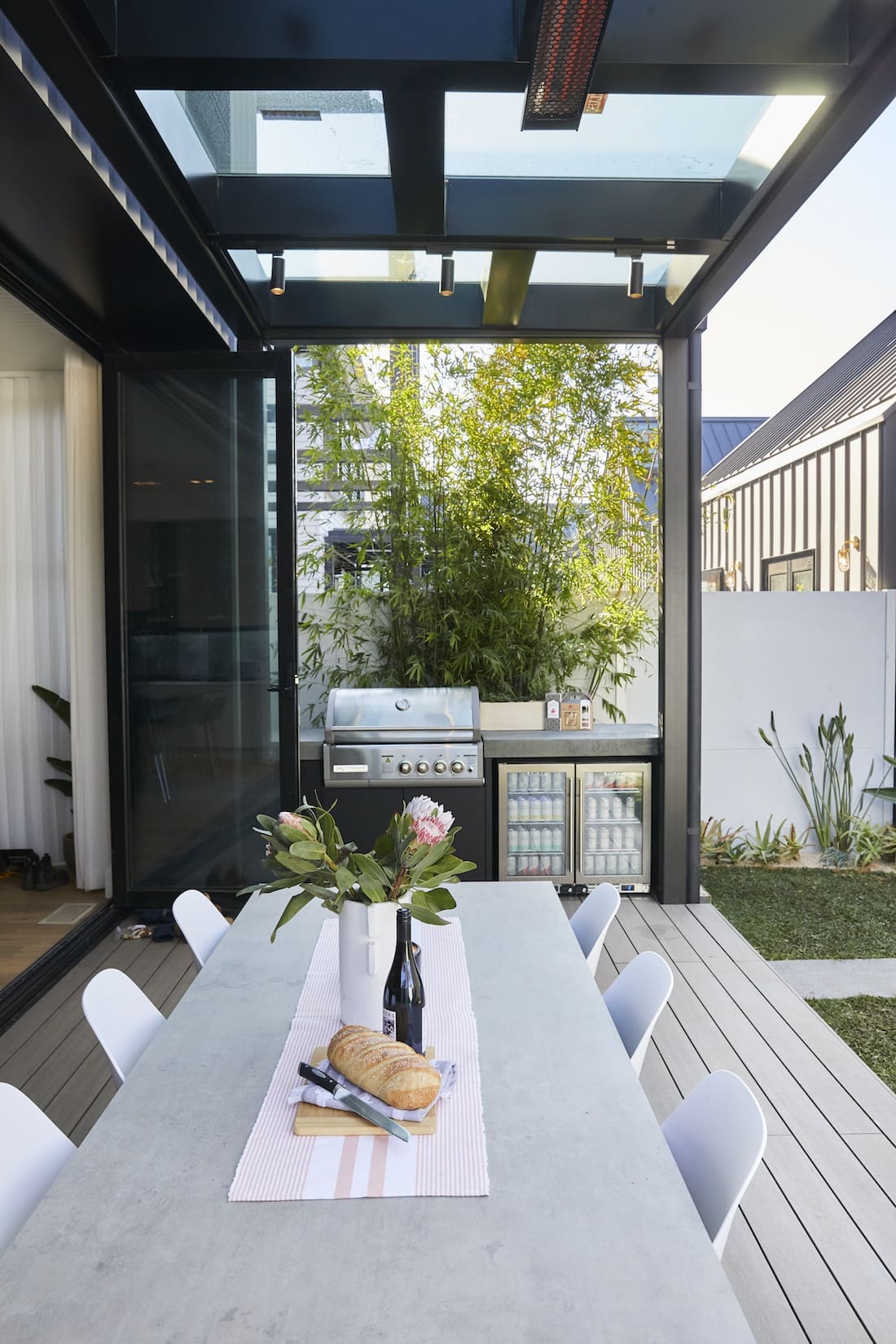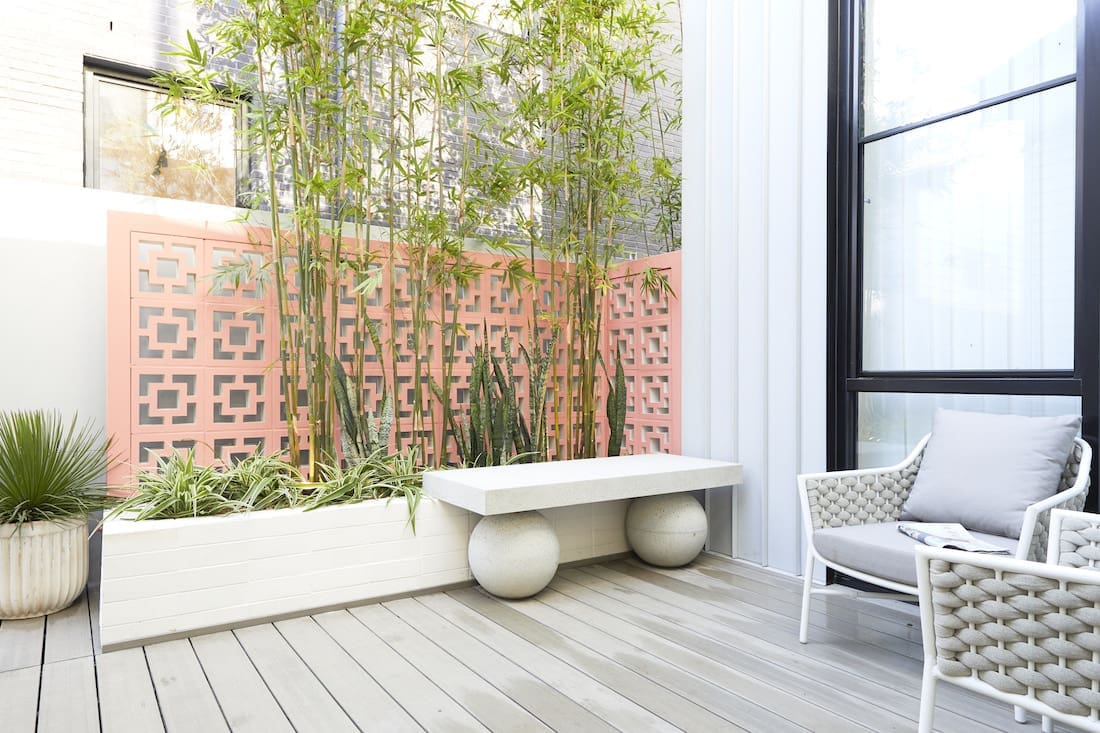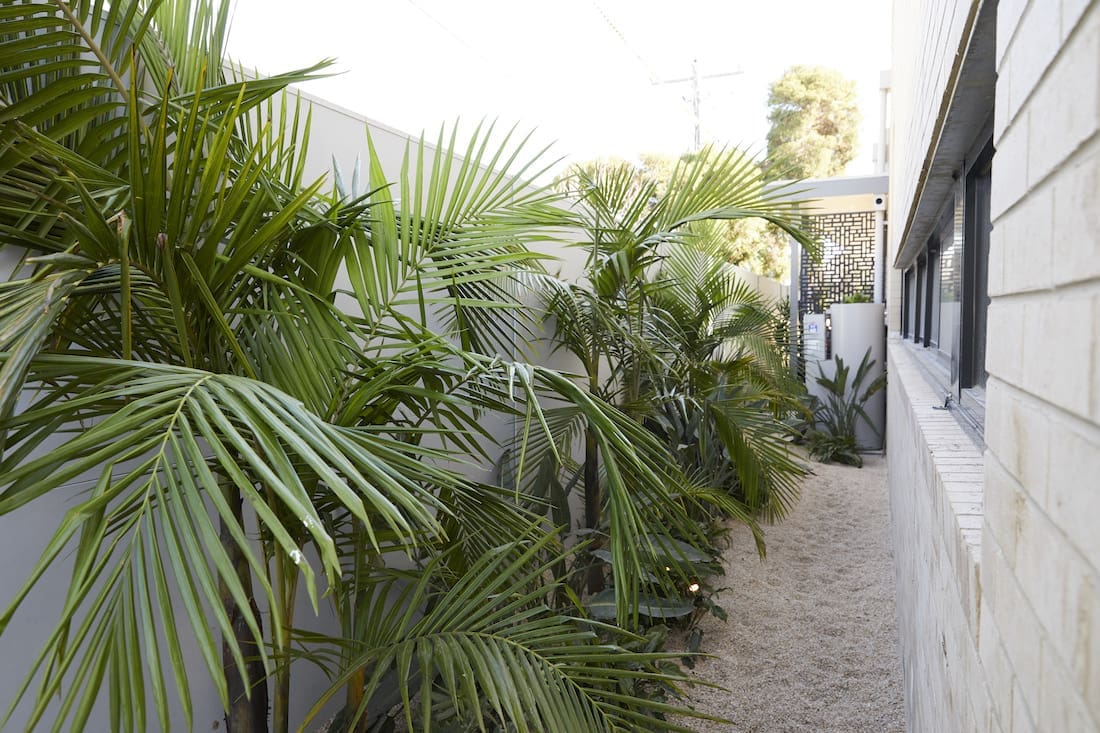 What did you think of this week's pool and backyard reveal for The Block 2020? Did you agree with the judges (or us?!). Tell us in the comment section below!
Be sure to check out The Block Shop if you've spied something you love in this week's reveals. And you can catch all The Block 2020 goss on the official website.
All imagery by David Cook Photography