There's nothing like room reveals on The Block except maybe two lots of reveals in one week, YAY!
Tonight we got to see the second week of rooms from the Apartment 6, officially wrapping up all rooms on The Block Glasshouse series.
"I can't believe it's over. That's it," said Michael, and neither can we! Here are our highlights.
Michael and Carlene's laundry
"It's fairly paired back as far as colour goes but it's hardly boring," said Carlene of their laundry.
Michael and Carlene's laundry was the first room the judges walked through and they were blown away.
Shaynna said it feels like she had walked into a hotel and was captivated by the whole area. She especially loved the beautiful matt stone bench top and how it works with gloss sink. "Stunning attention to detail," she said.
Their choice of light got Neale's tick of approval. "It feels like the ultimate laundry powder room with the ultimate laundry light — ultimate light all together!" said Neale. He also complimented the very contemporary but classic styling.
Real estate expert, John McGrath, joined the judging panel this week (in place of Darren Palmer) and he said this laundry "goes to a whole new level" and that it could be a significant room in helping to sell the apartment.
Michael and Carlene took out first prize and will have a pretty $20,000 taken off their apartment's reserve price at auction.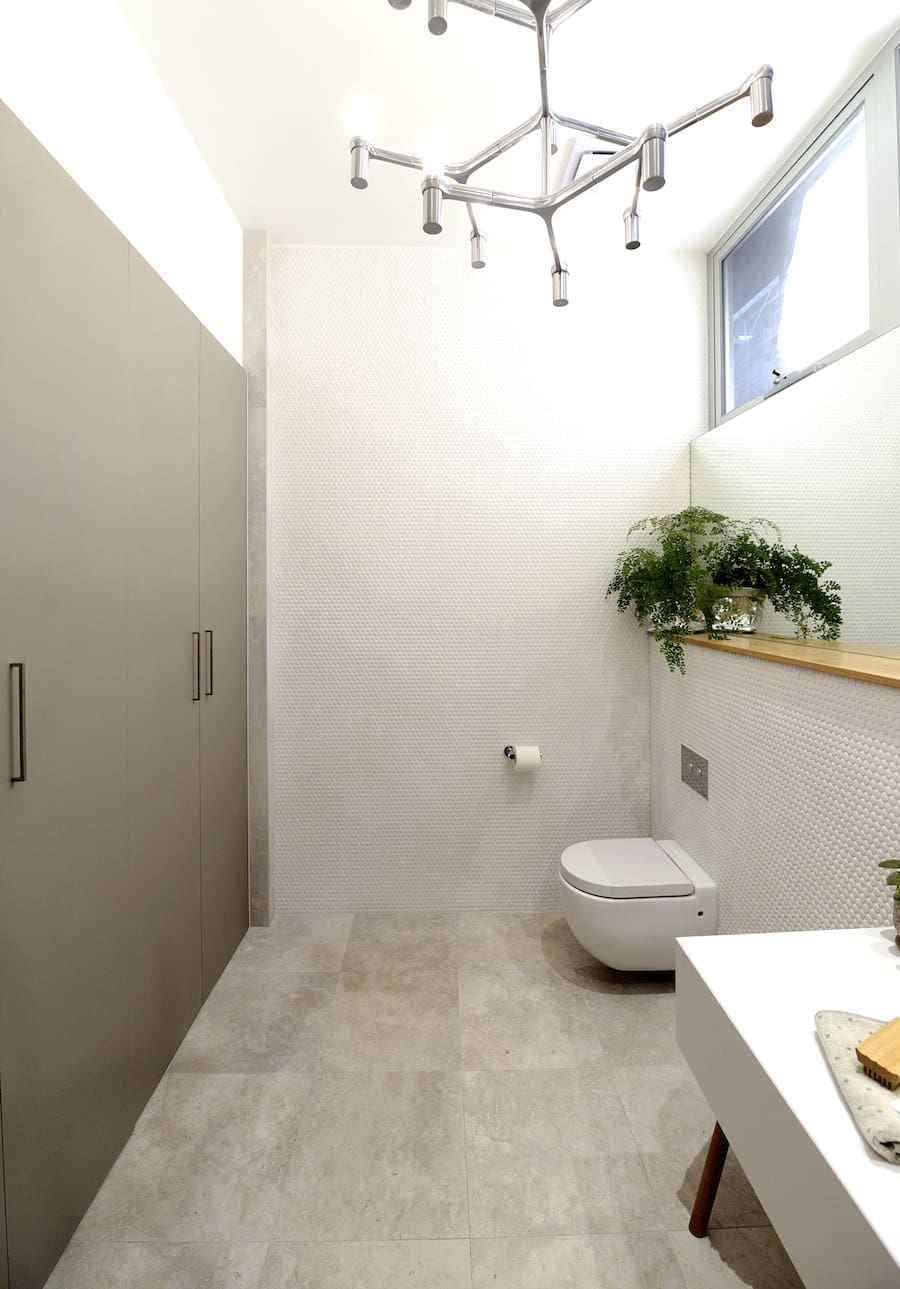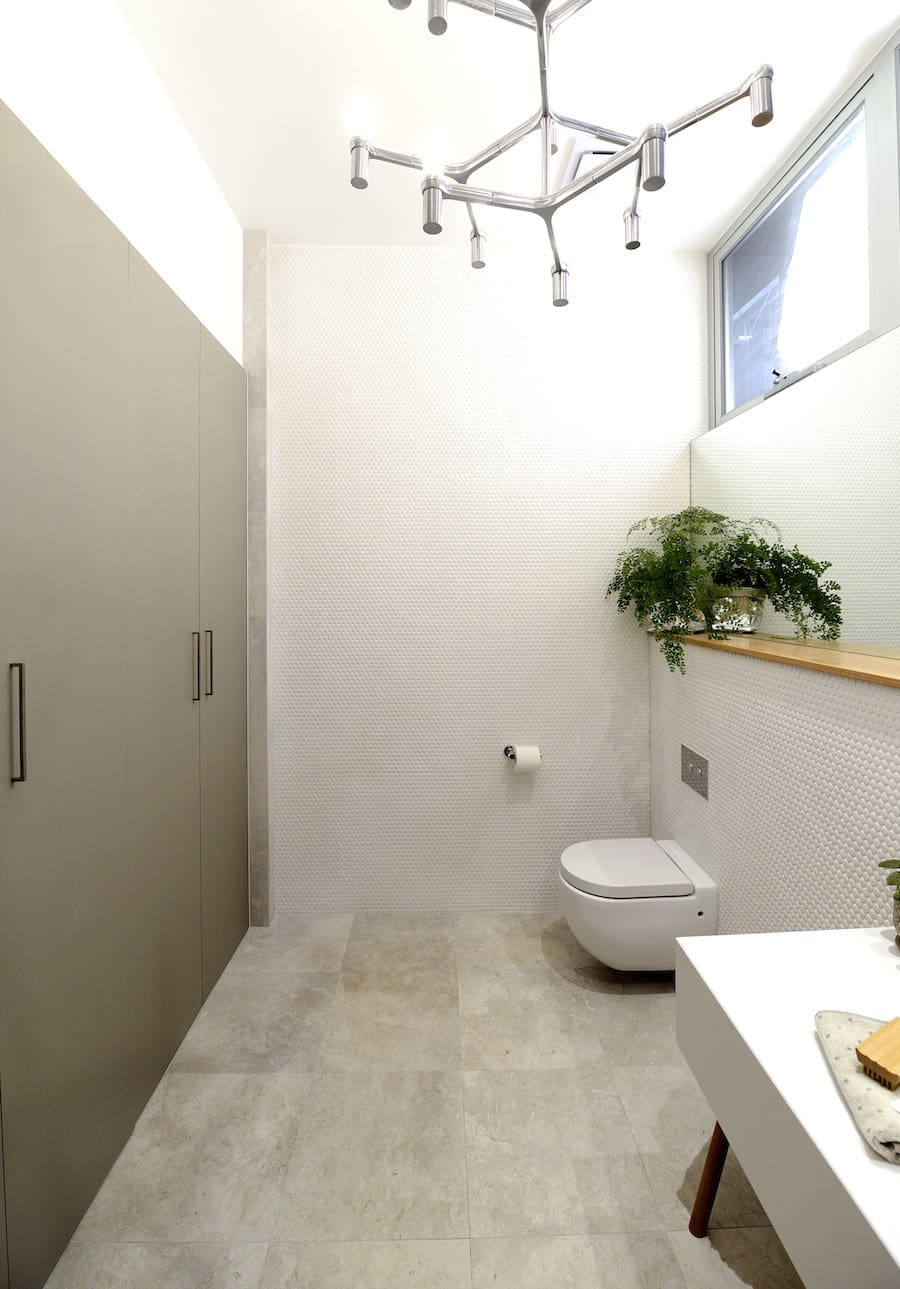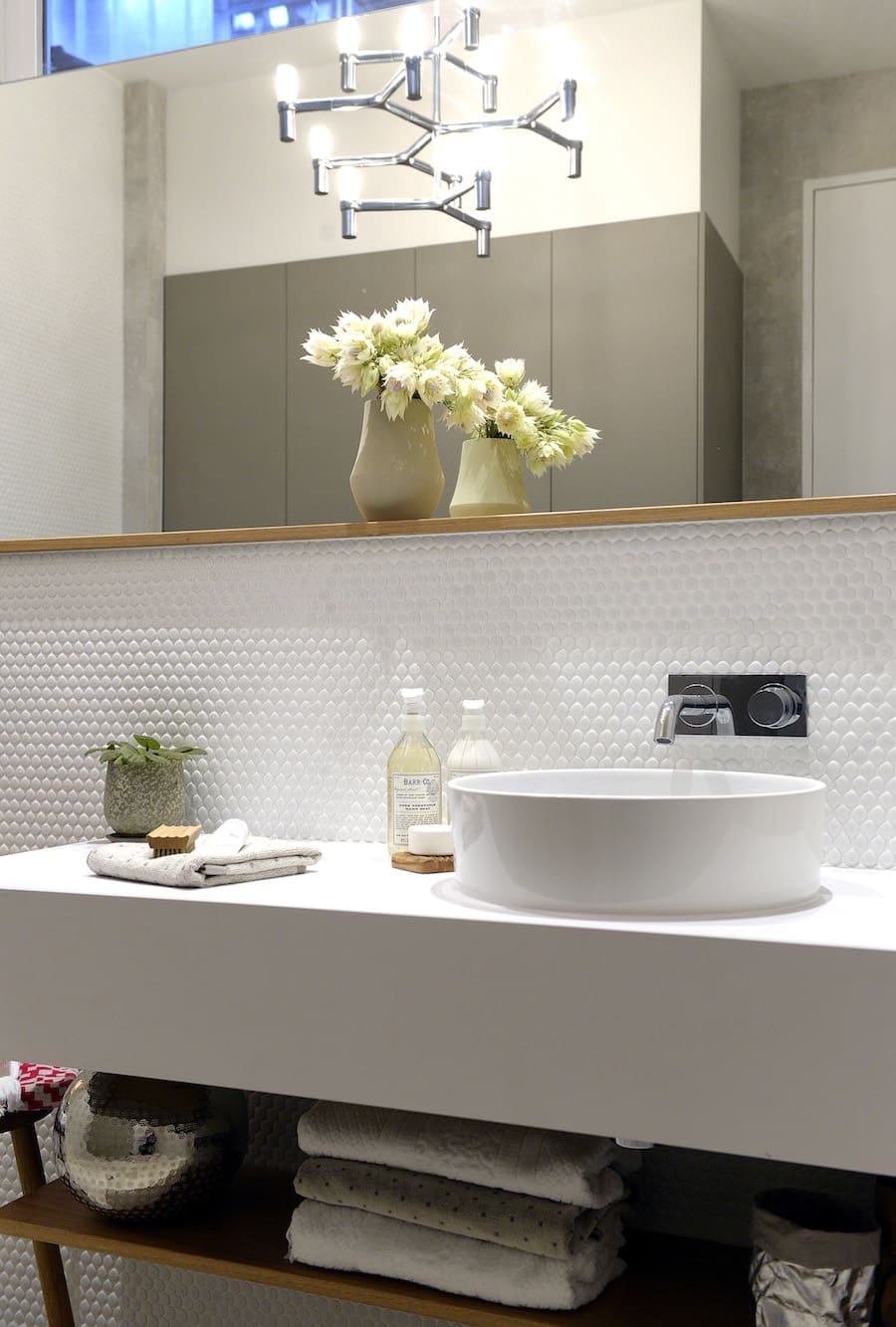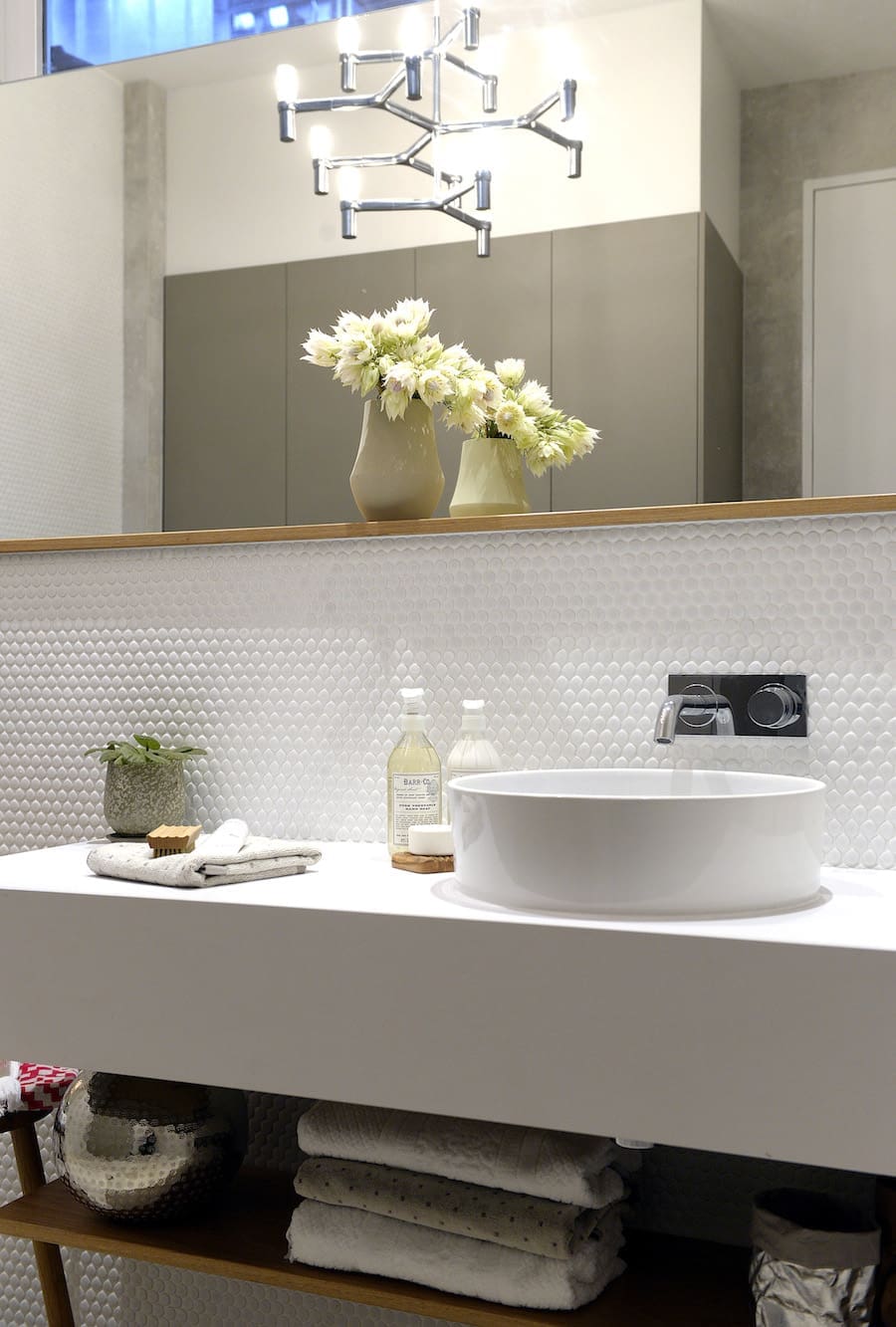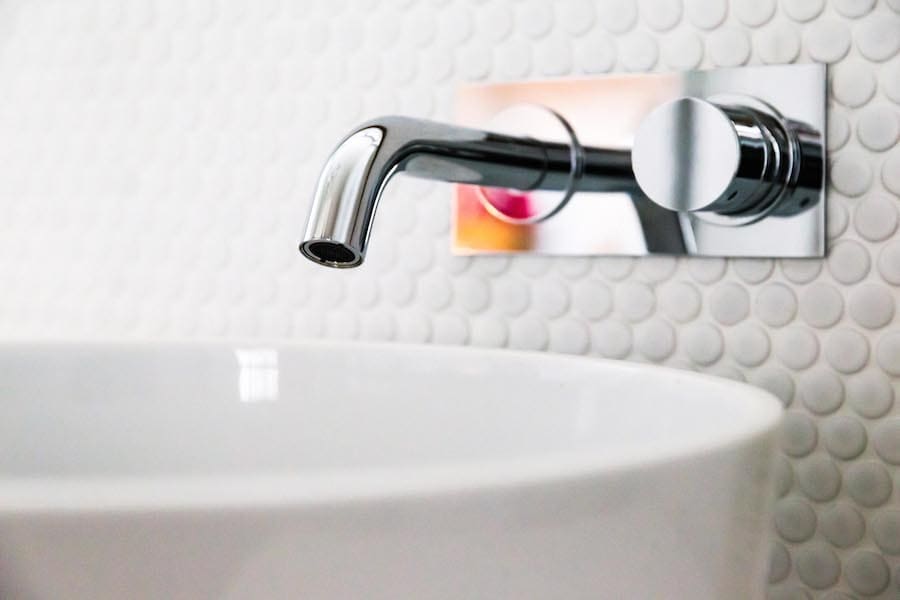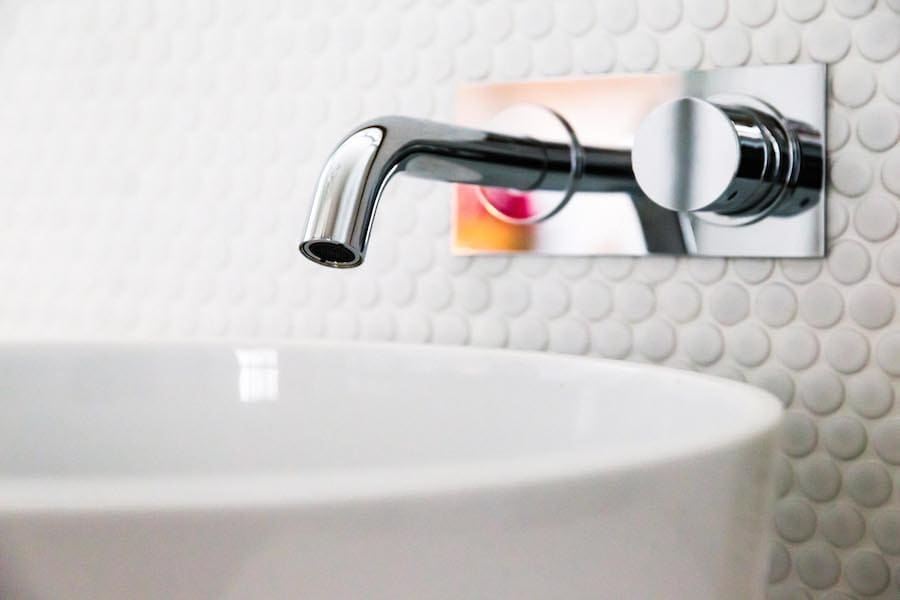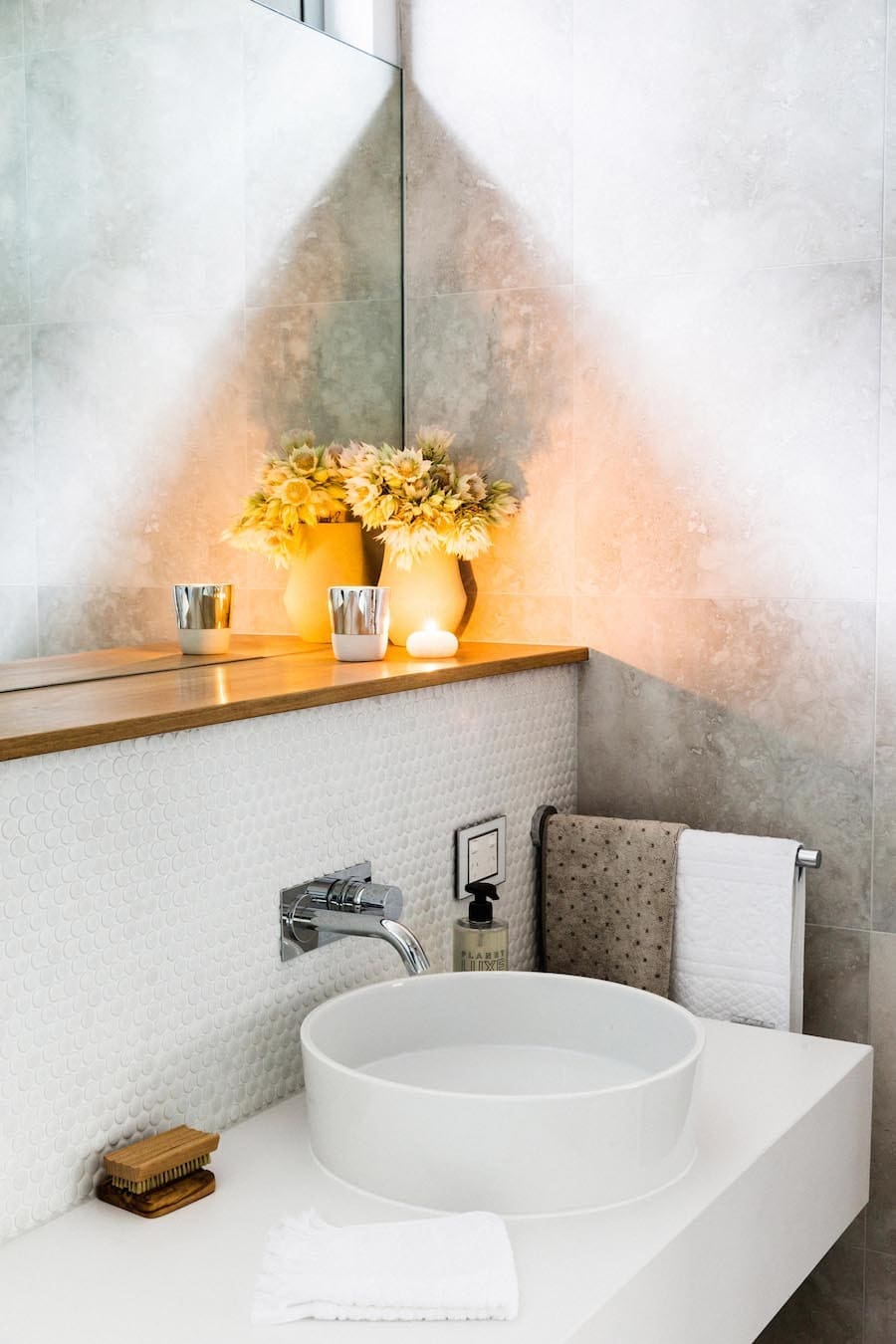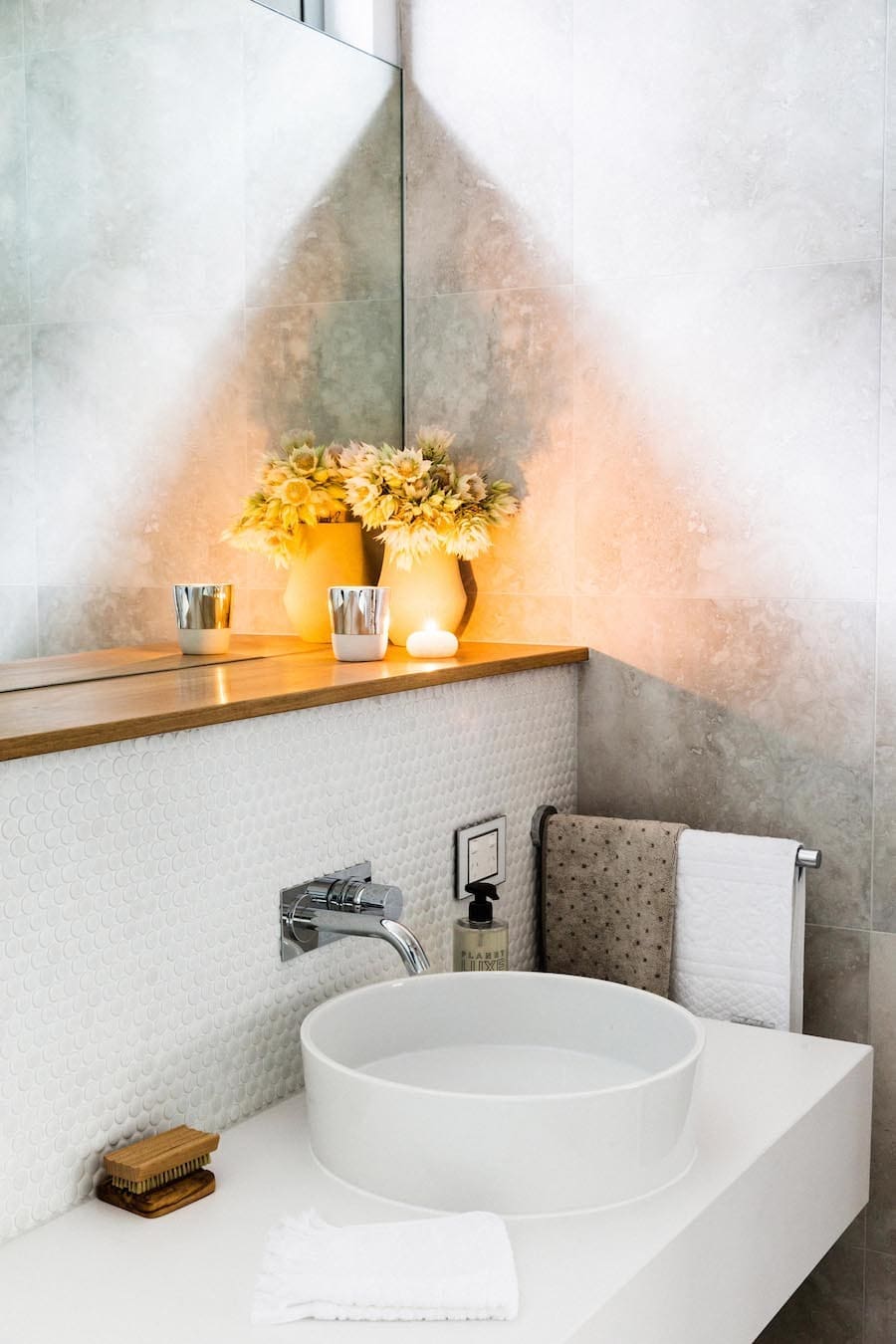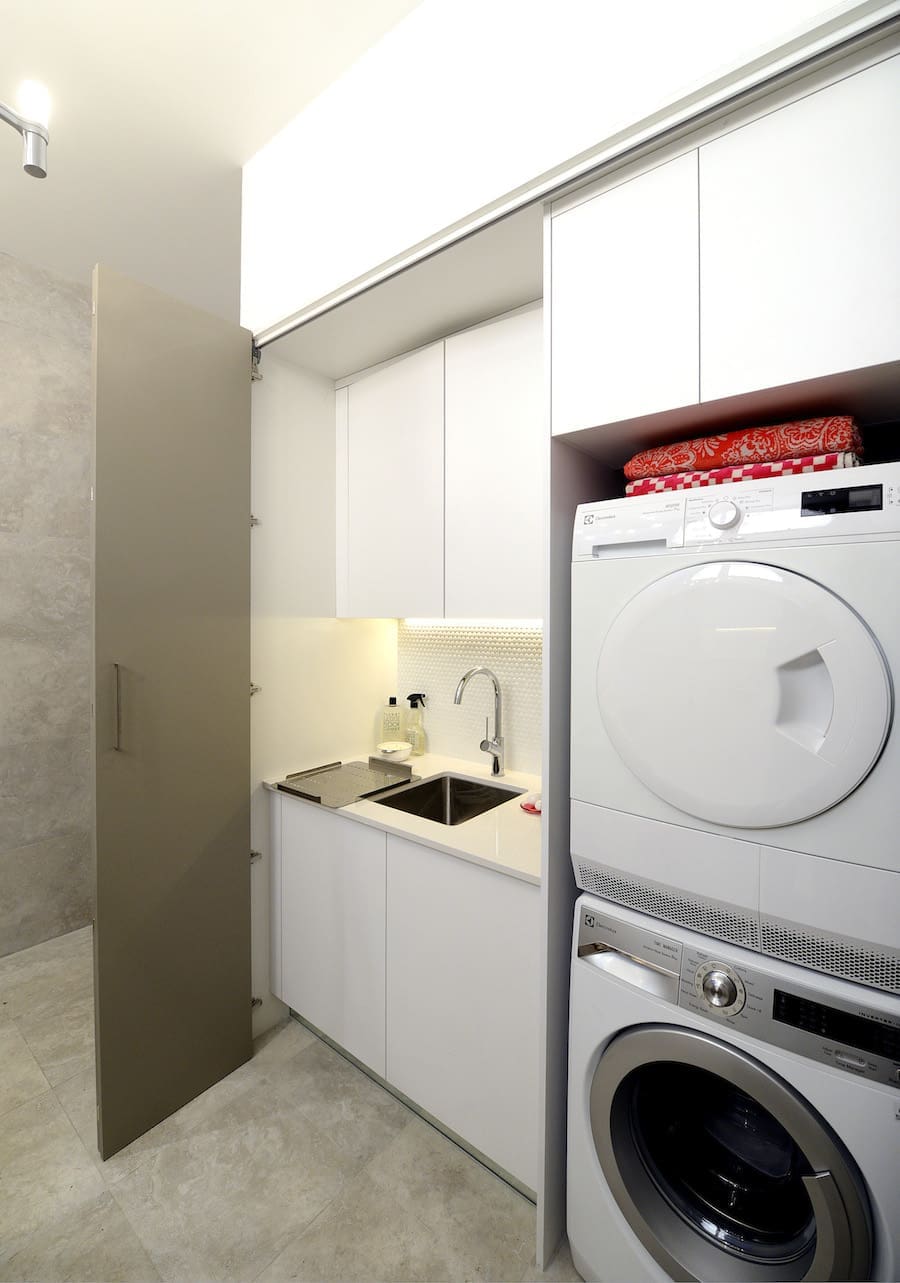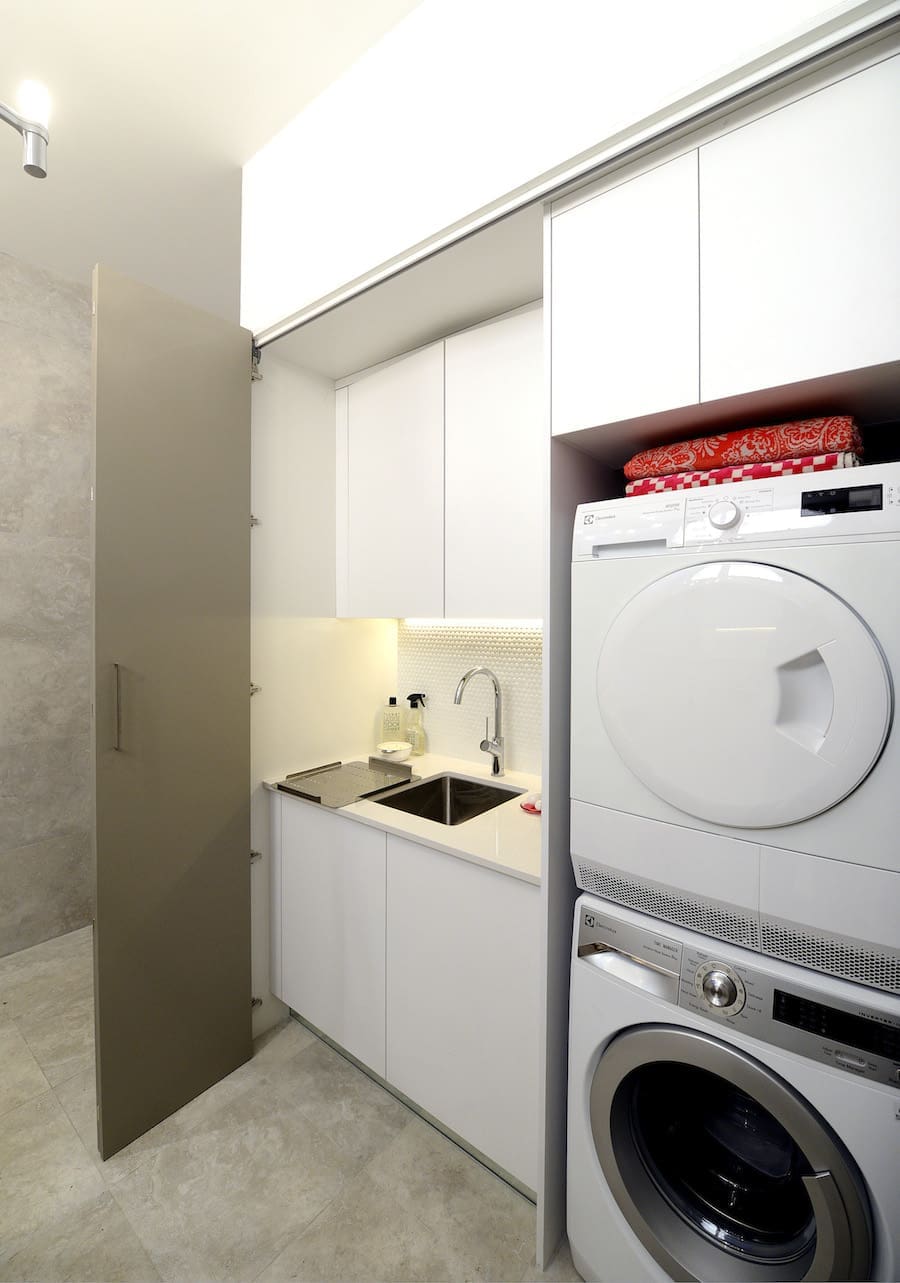 Max and Karstan's terrace
All there judges were wowed as they stepped onto Max and Karstan's terrace.
"Magnificient!" said Shaynna, and Neale was quick to say he couldn't agree more with that comment.
John said "This is the impression you want — almost breath taking." He also pointed out that as Apartment 6 has no windows, it was crucial to have the terrace done right.
Neale thought the whole design was cleverly done. "The elevated vertical garden is genius," he said.
The fake grass, floor-to-ceiling timber panelling, and restrained styling had Shaynna convinced that Carlene styled the space. Nope, Max and Karstan just took the best elements from all the outdoor spaces to create the ultimate terrace. Copycats or clever — you tell us!
Coming second place again, Max and Karstan scored an additional $15,000 off their reserve price at auction, making that a total $30,000 off their reserve price.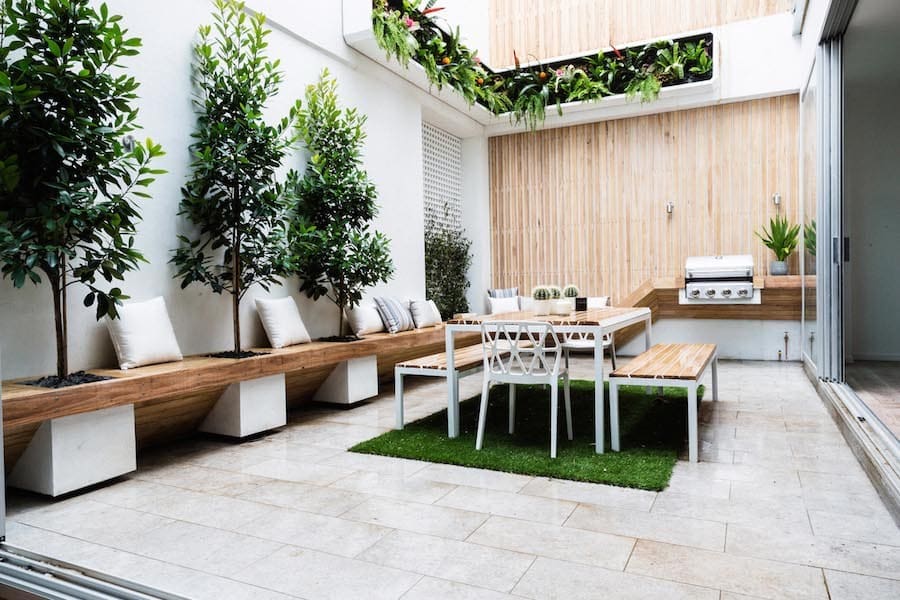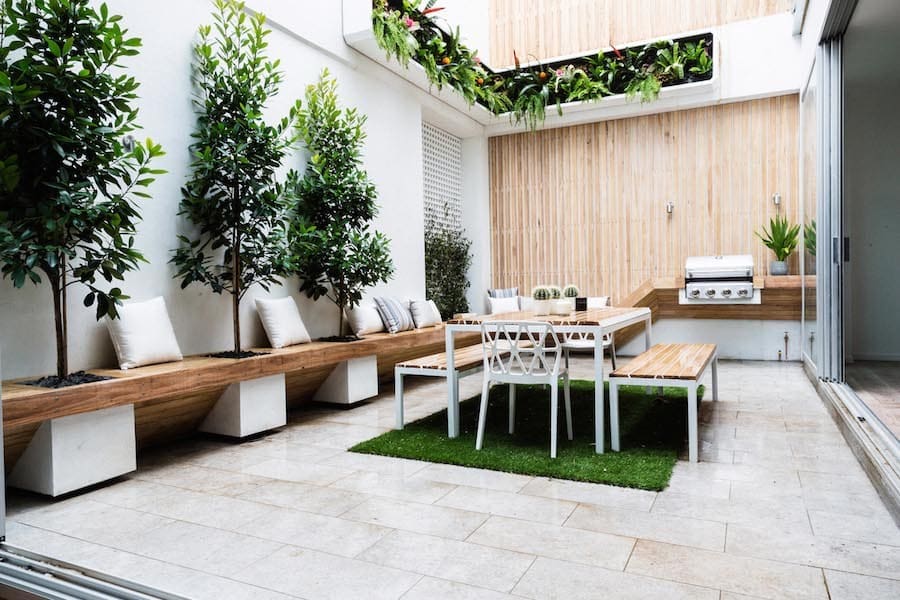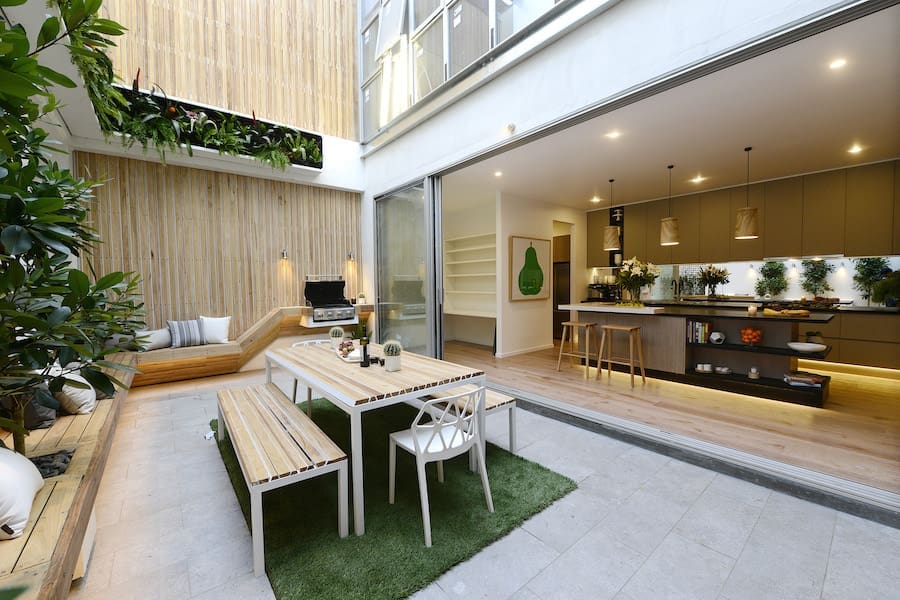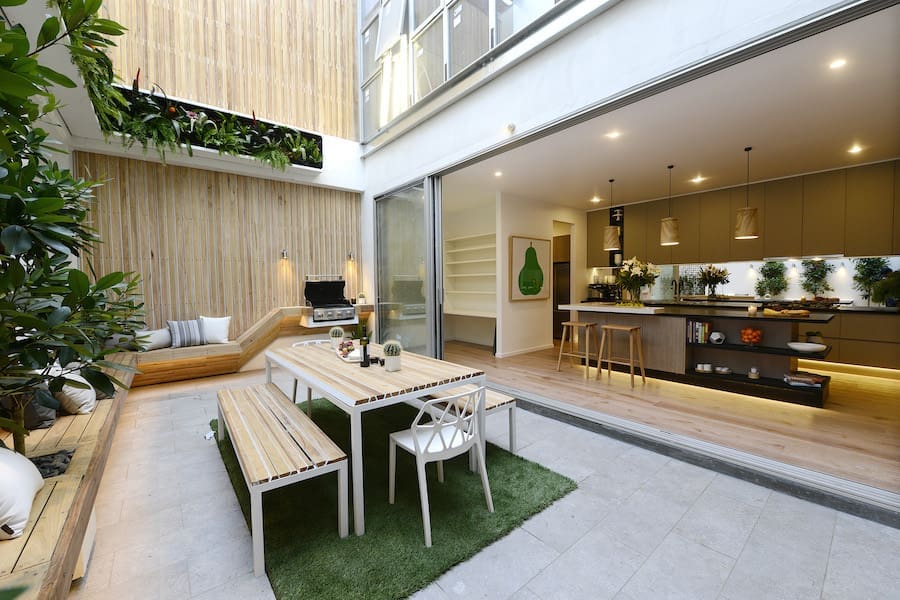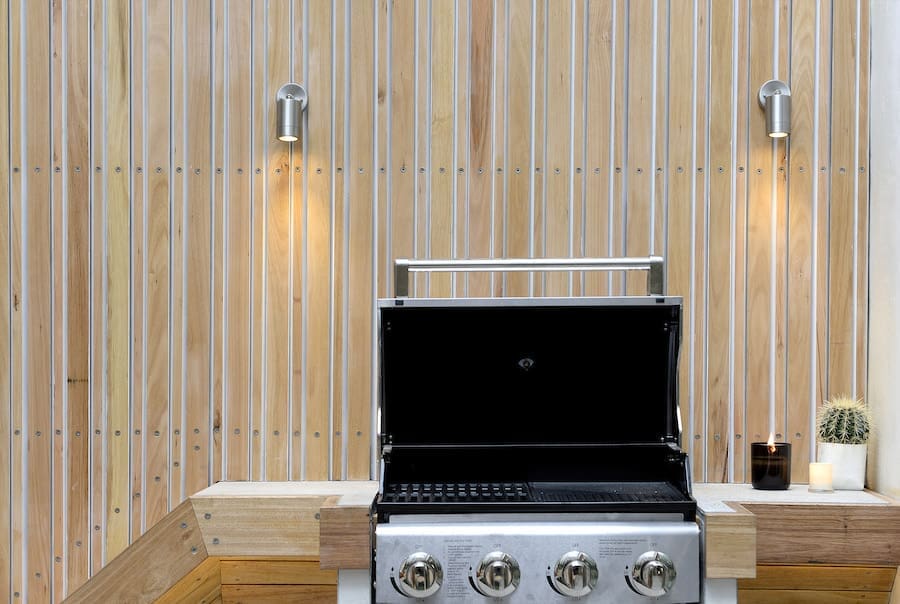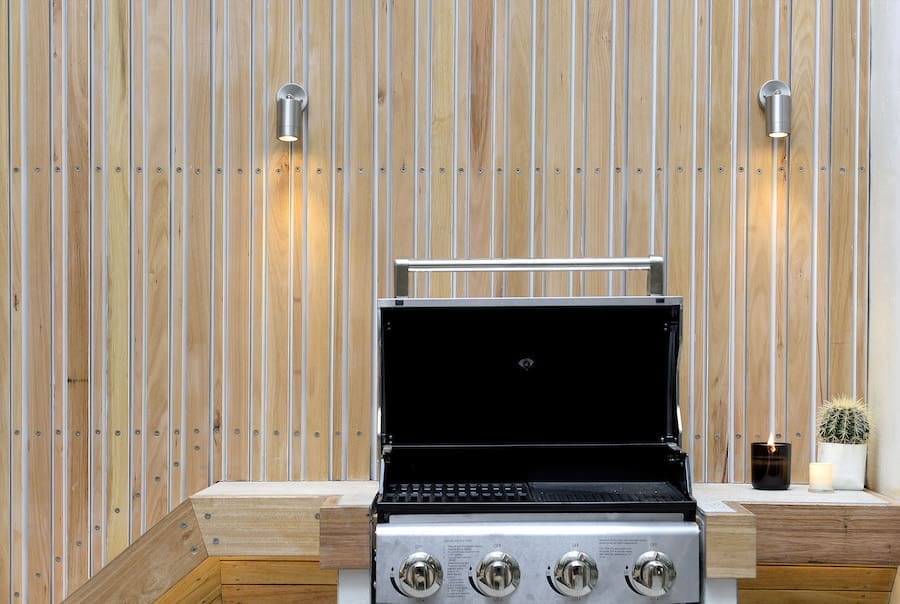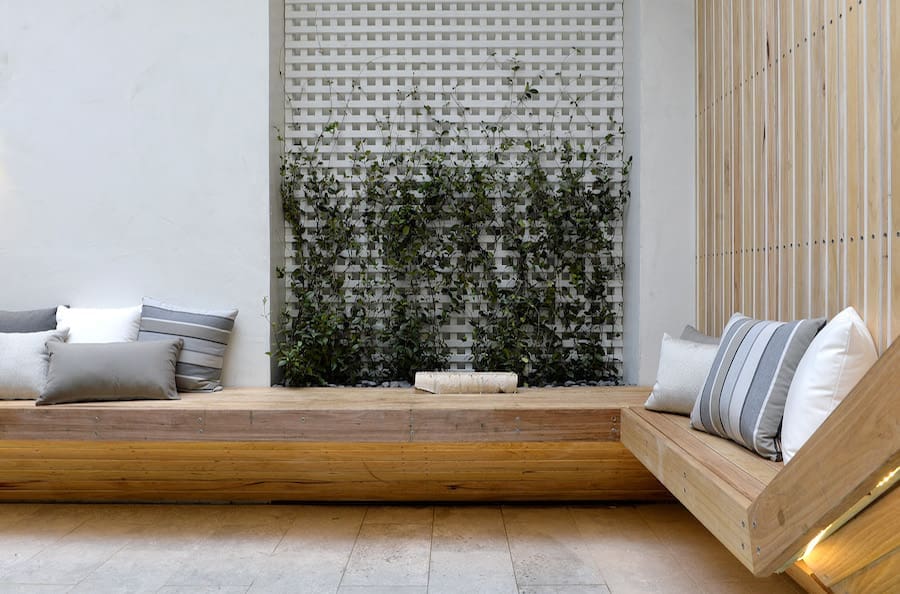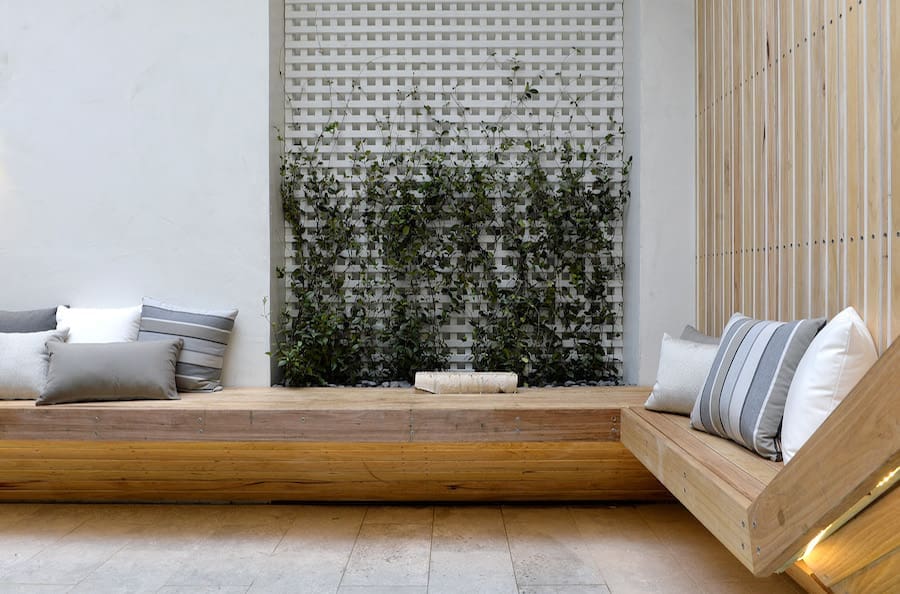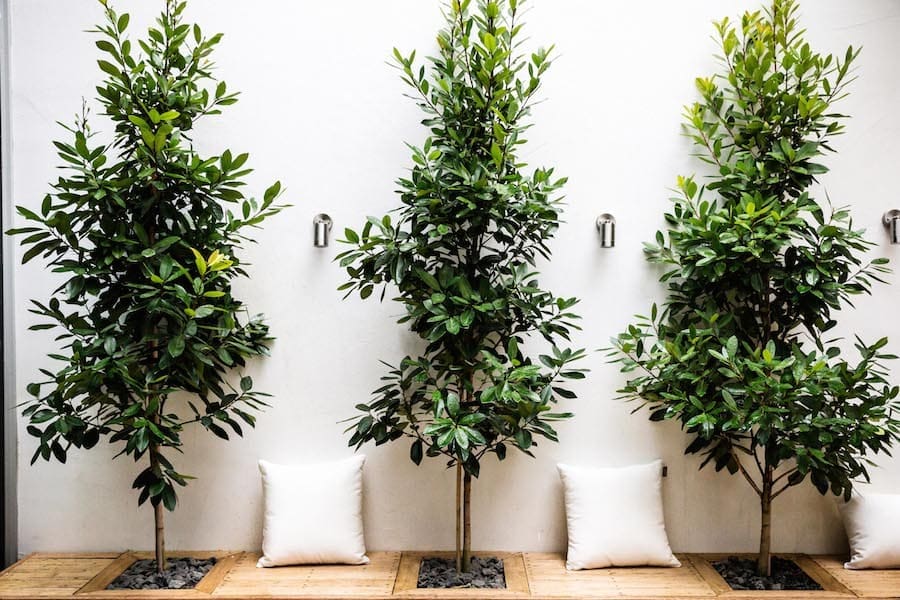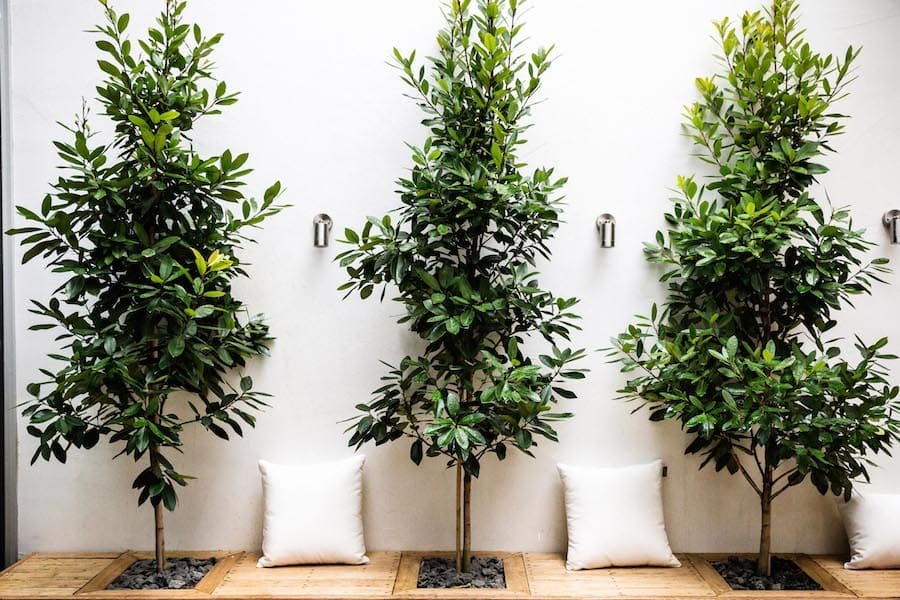 Darren and Dee's kitchen
We'll give it to Dee, that woman's got style!
The judges were immediately drawn to their matt black island bench. "Matt stuff is amazing, what a gorgeous tactile feeling," said Shaynna. Neale pointed out it was a new technology called Fenix and you can read more about how clever this stuff is on the retreat design website here.
"This colour is the new white," said Neale of their olive taupe cabinetry. He also thought there was high sophistication in their styling, pointing out the wooden pendants and artwork were really well resolved.
As if the kitchen itself was ah-mazing enough, they stepped into the butler's pantry and Shaynna was almost knocked off her feet, "Is this pantry like appliance heaven?!"
They scored big points for being cohesive and for clever choices with colour, surface and textures that are very high end. "Whoever created this space has a nose for luxury surfaces," said Neale.
Darren and Dee finished in third place this week, taking a further $10,000 off their reserve price at auction, also giving them a total $30,000 off their auction reserve price.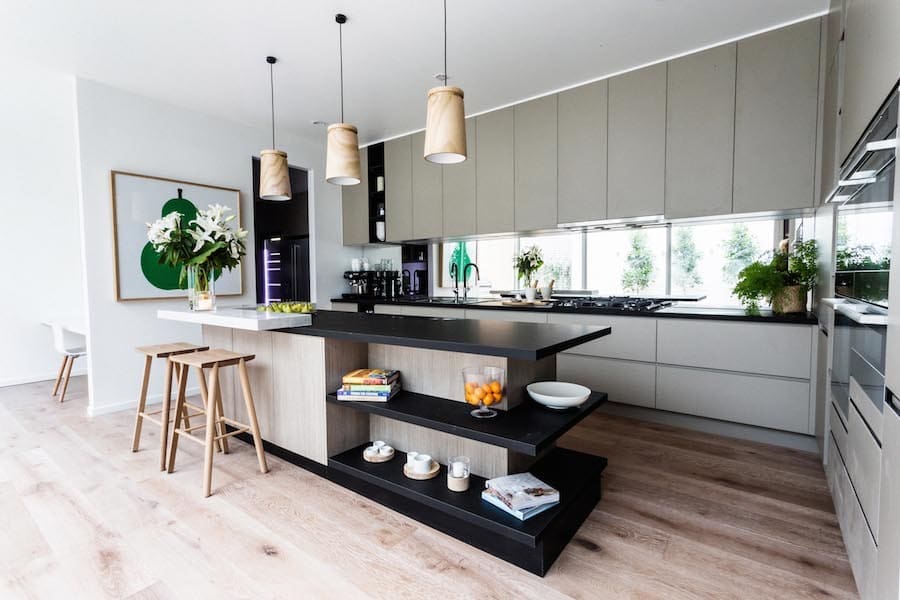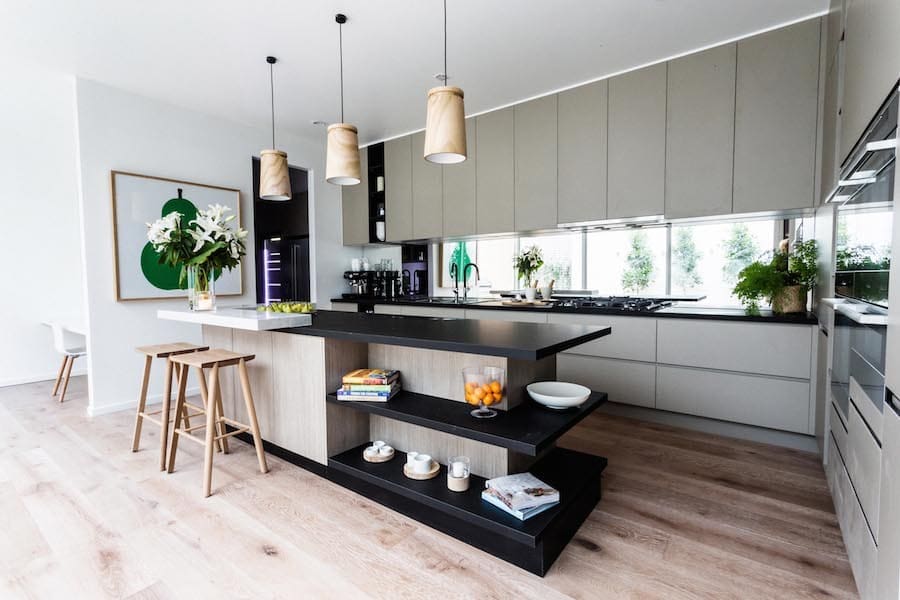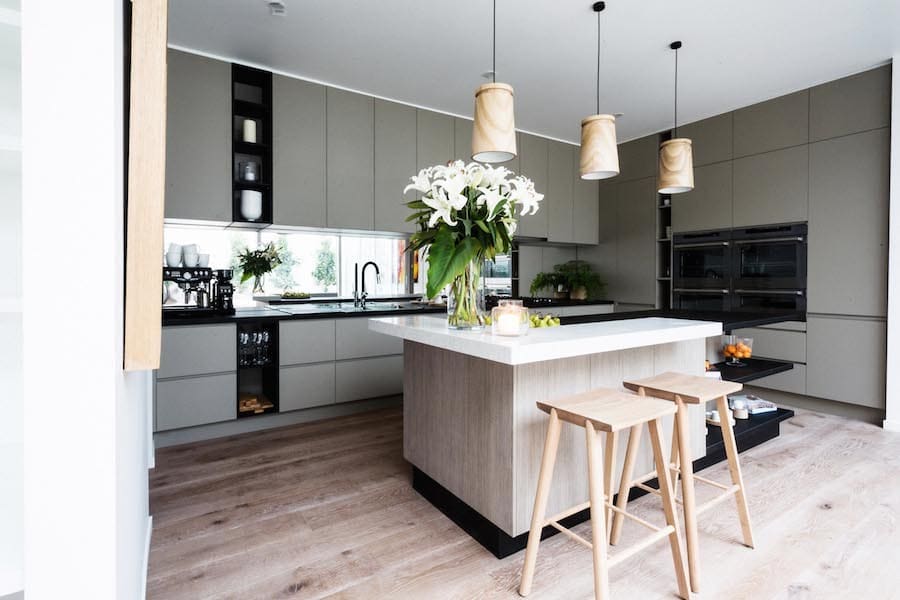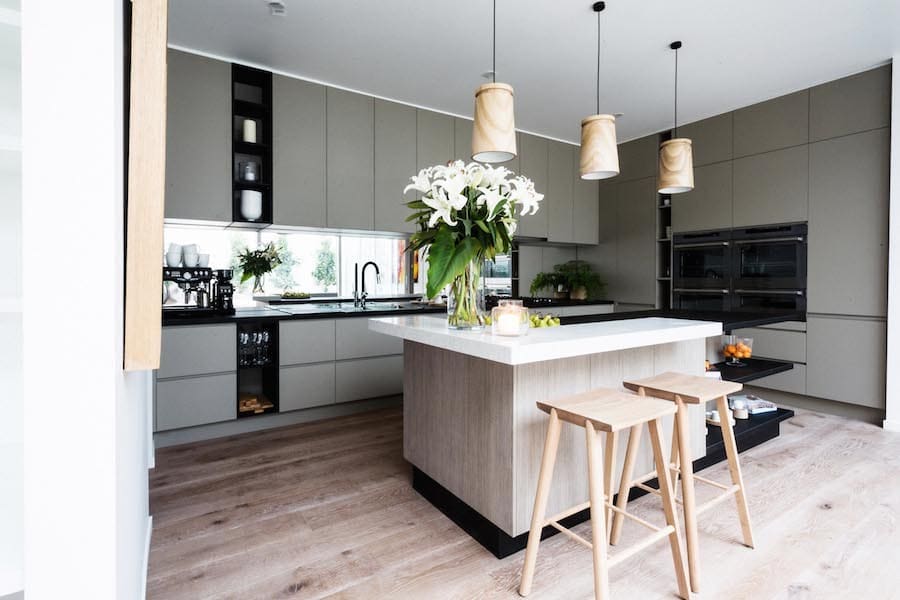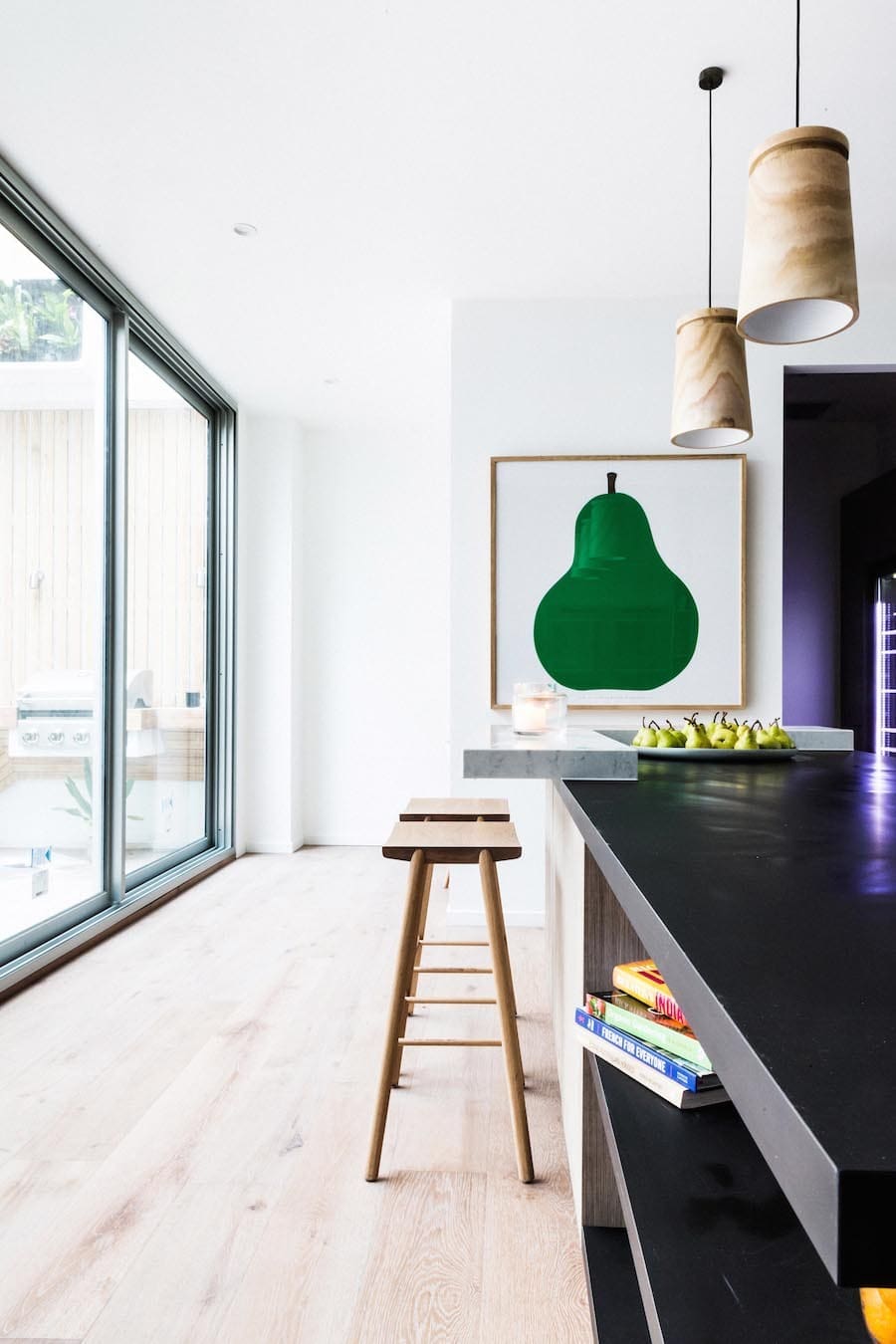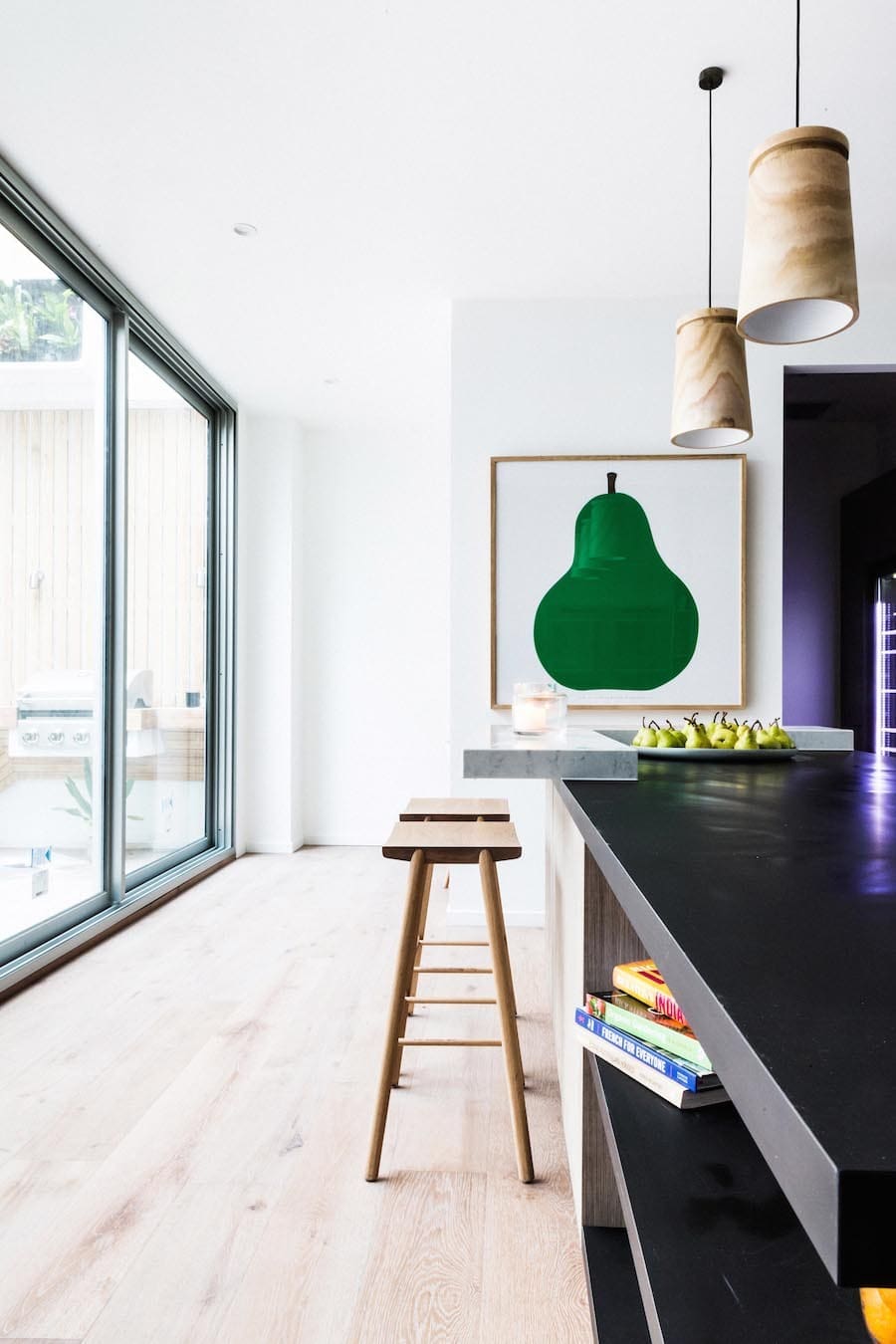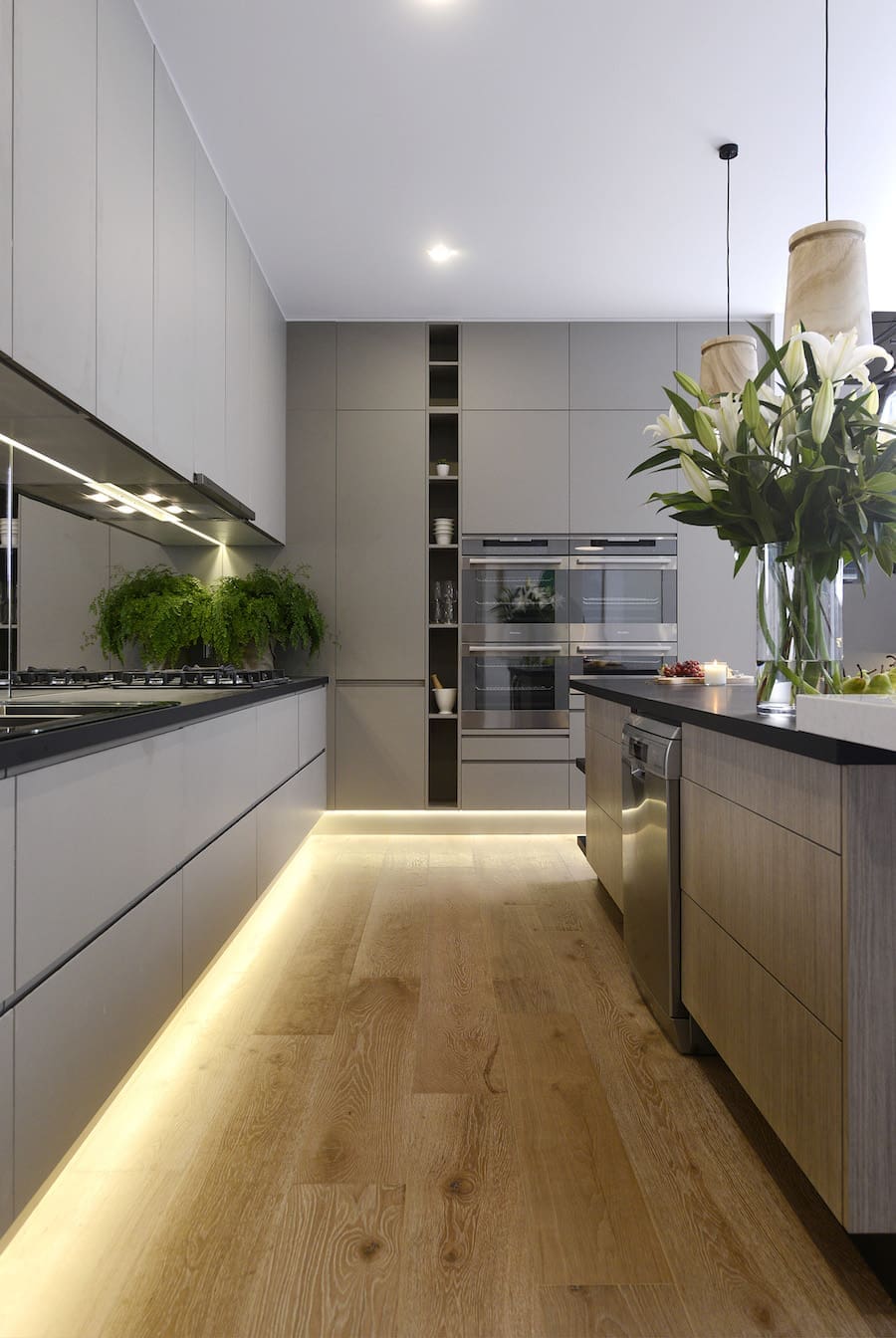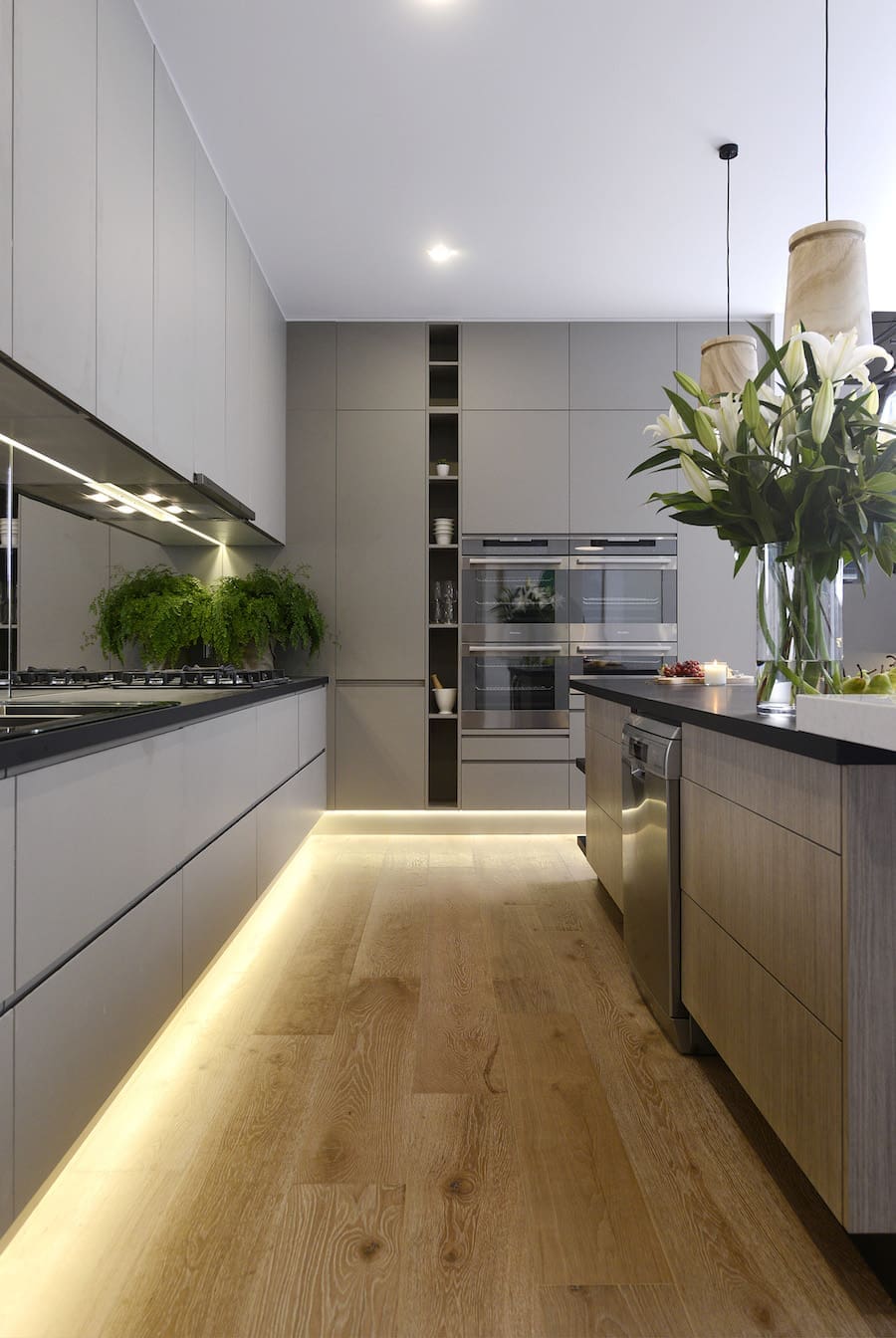 Simon and Shannon's rooftop
These boys had one shocker of a week to try and get an outdoor space finished. "It was one of the wettest, windiest and coldest weeks in Melbourne," said Shaynna.
They managed to pull through and deliver.
Neale was willing to give them 10 out of 10 just for that fire pit, "That is one beautiful fire pit."
Despite the fire pit being a hit with all the judges — "a real master piece" — they did get marked down for their furniture choice. Neale said it didn't feel right and he expected something much more contemporary.
Shaynna loves practicality so the heat strips and louvers got her attention. "It's a great outdoor area you can use all year round."
While they also scored points for the gorgeous nook in the corner and pots on the wall, it wasn't enough to place them in the top 3. They didn't walk away with any additional money this week but will have $10,000 taken off their reserve price from their win last week.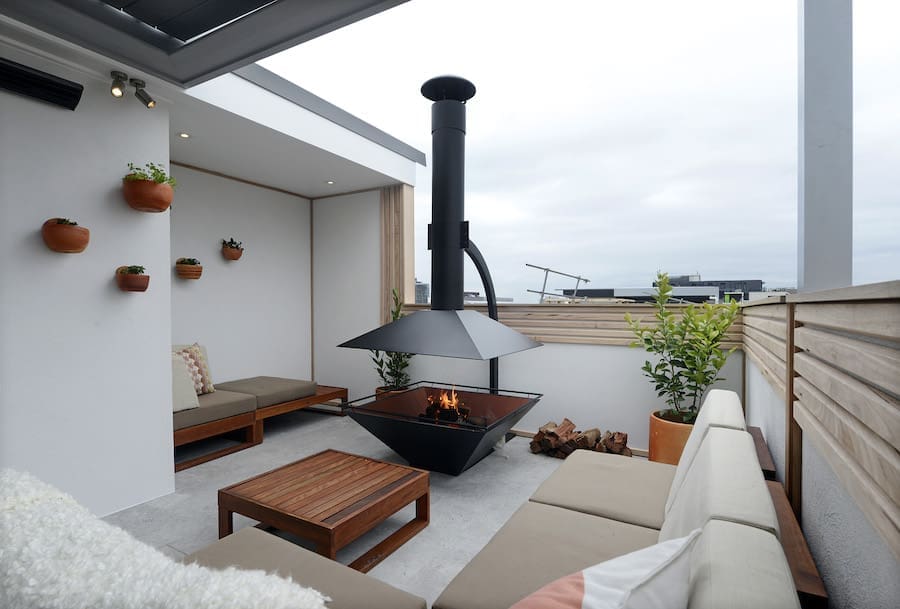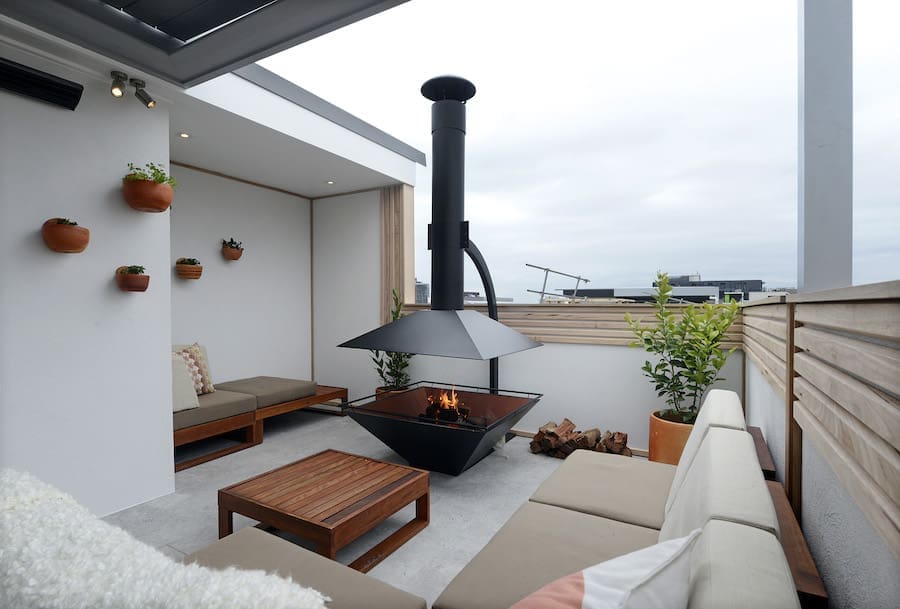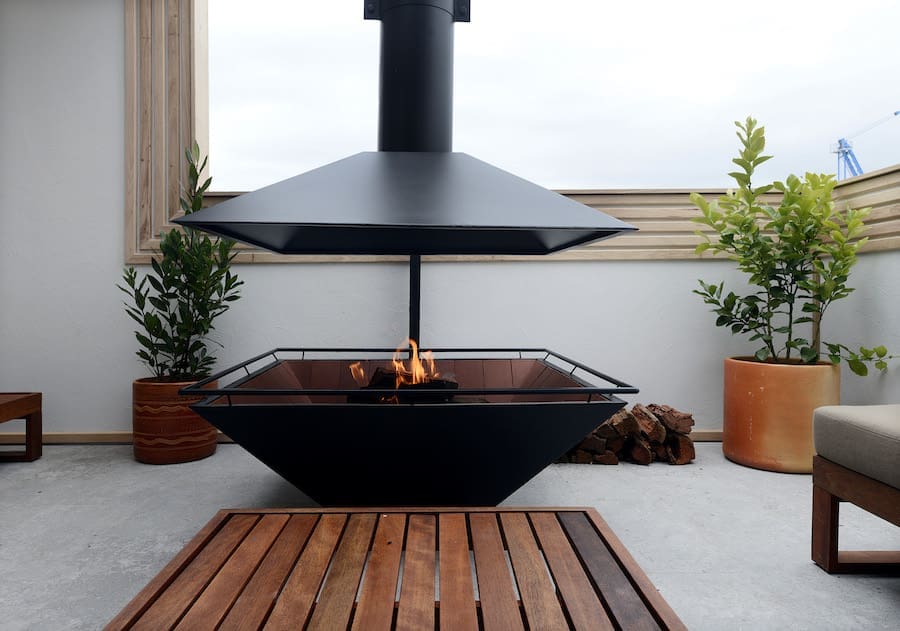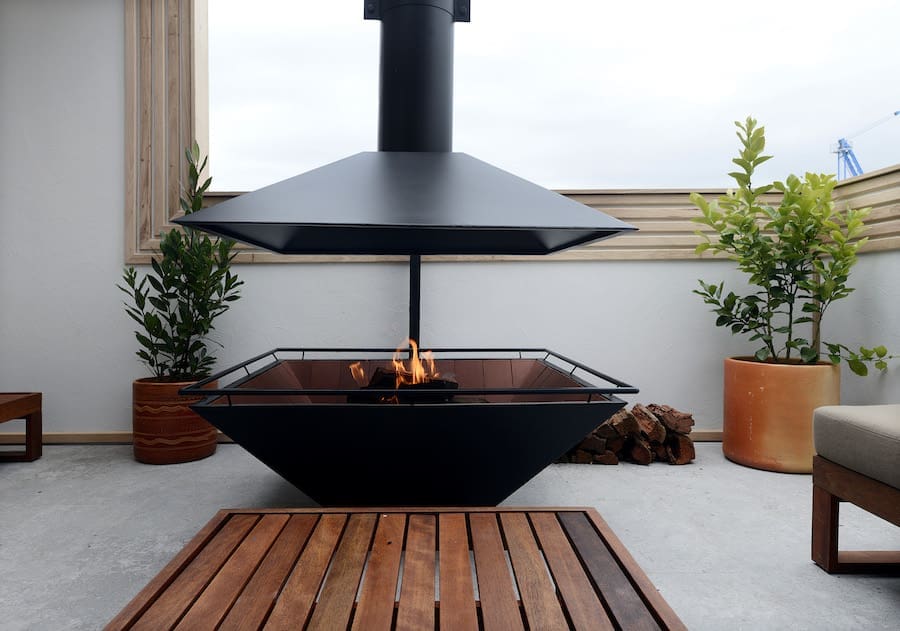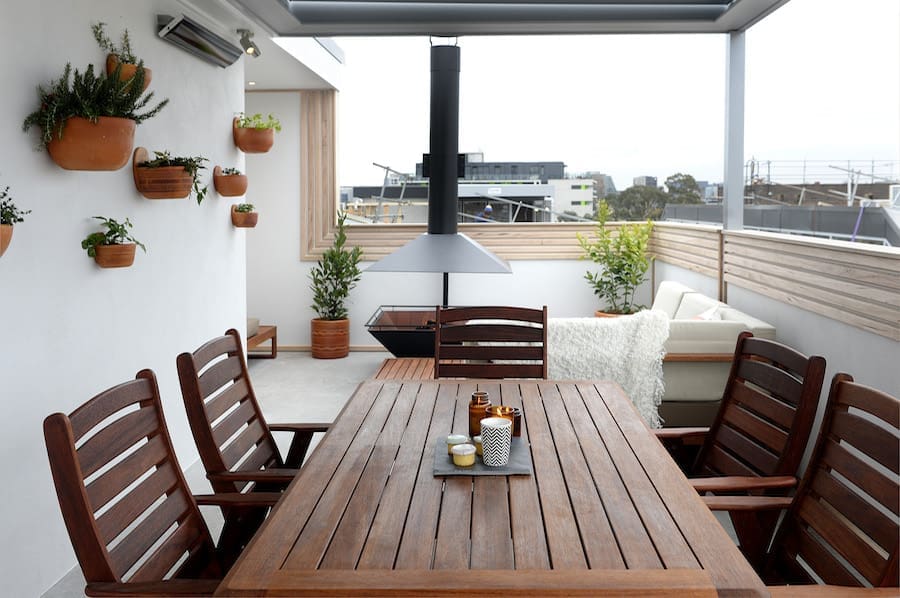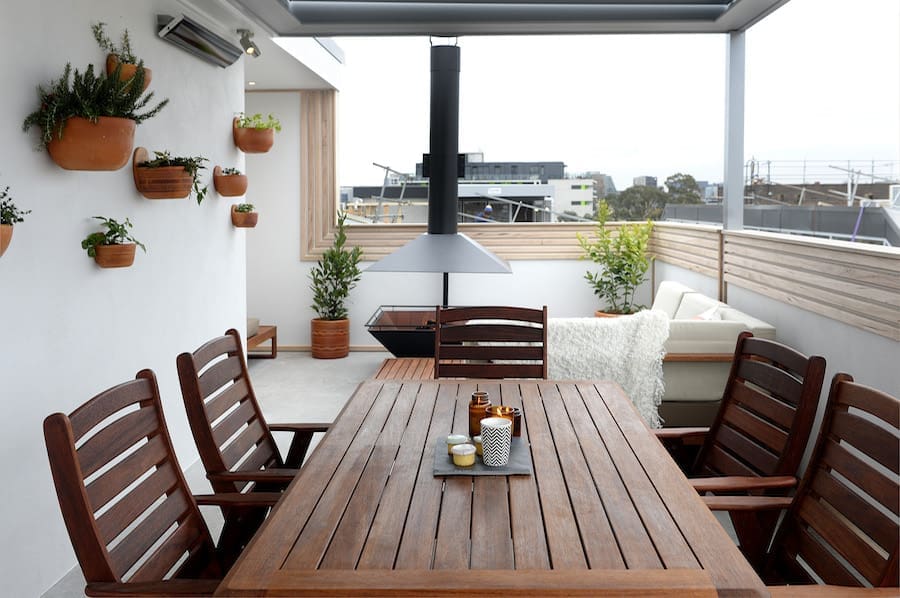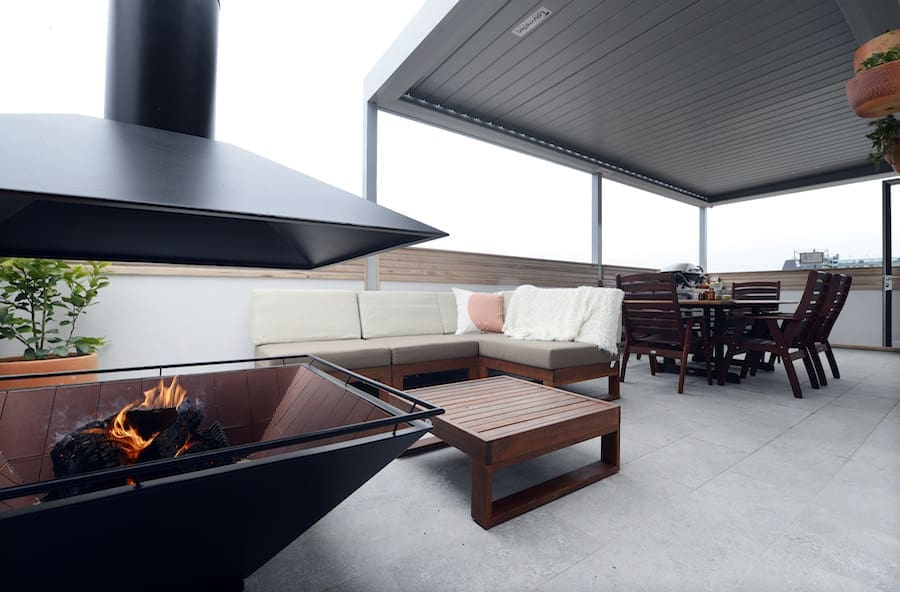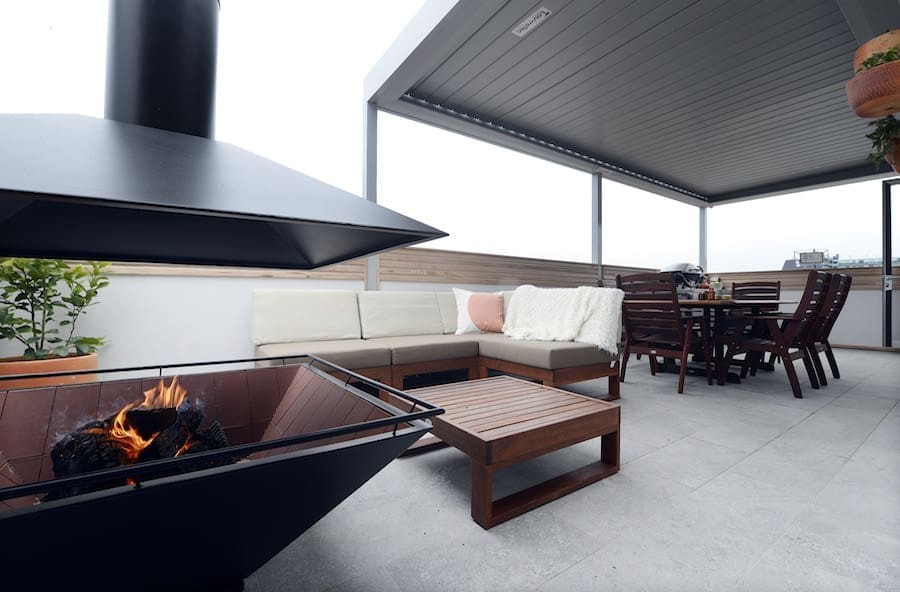 Chris and Jenna's living and dining rooms
"We think we've ticked the boxes" said Jenna before the judges' comments were read out.
First impressions from the judges seemed to be good. Shaynna "loved the flooring" and Neale felt the sofa, styling and table were well resolved — not something we often hear in Chris and Jenna's rooms.
But then their attention turned towards the white wall that the TV was mounted on. Neale said there's just no point of interest except the TV. As Shaynna sat on the sofa, all she could see was herself in the black gloss laminate and couldn't help but laugh.
John tried to look for something positive to say and quickly made his way to the dining space which he loved, especially the vibe of the painting. Shaynna thought the Scandinavian sideboard was something the boys would use but Neale thought the colours in the artwork and black gloss in the living room were very Max and Karstan.
Overall, despite the judges saying the execution of the rooms was excellent, the competition was too tight this week and Chris and Jenna finished as the underdogs for a second week in a row. That means there will be no money taken off their apartment's reserve price at auction.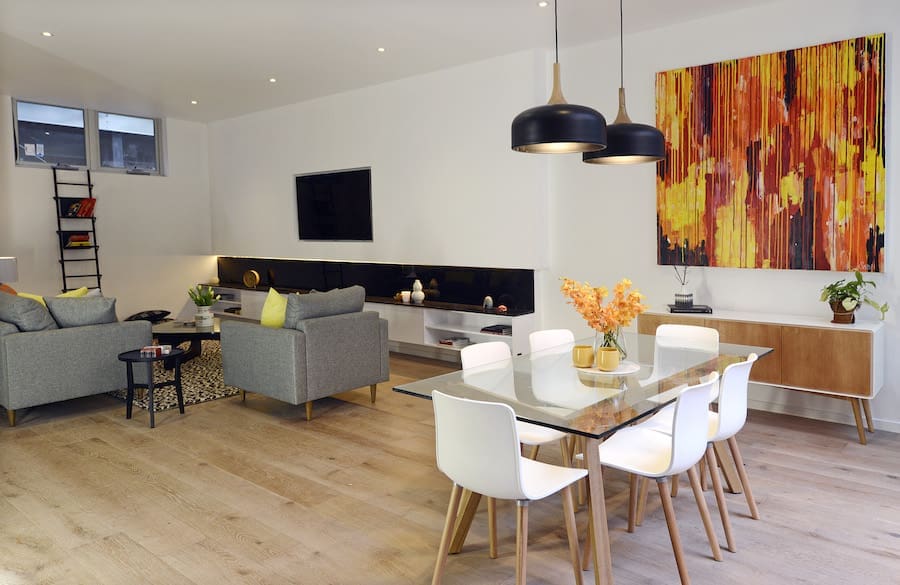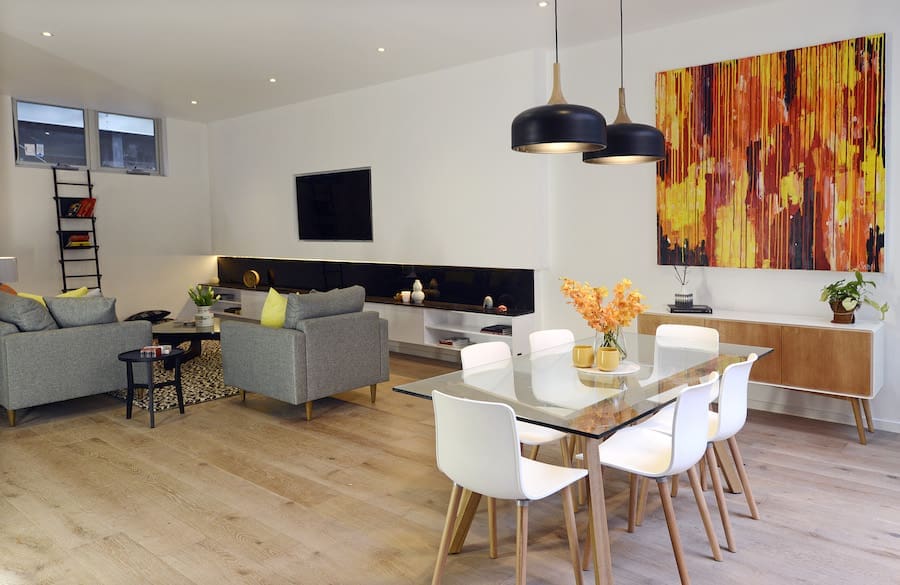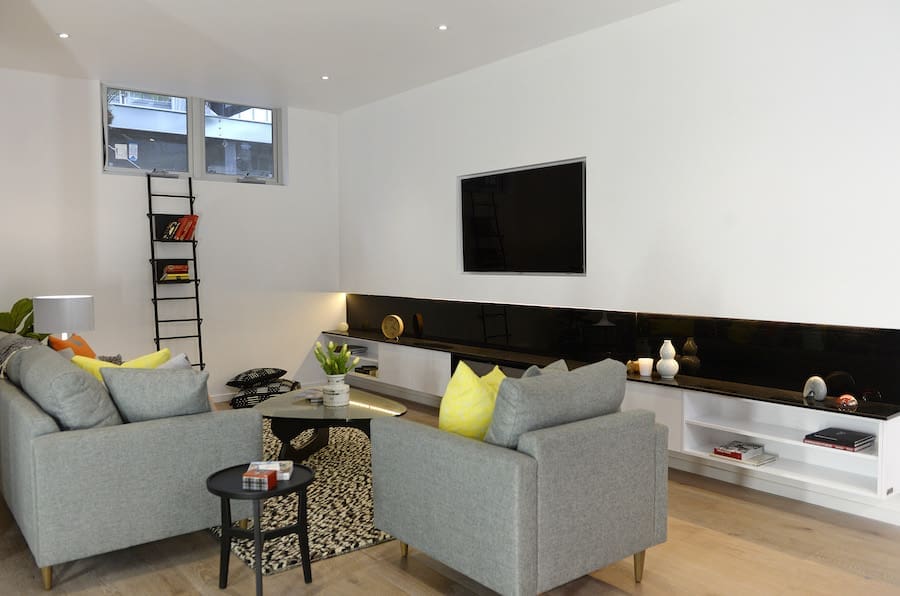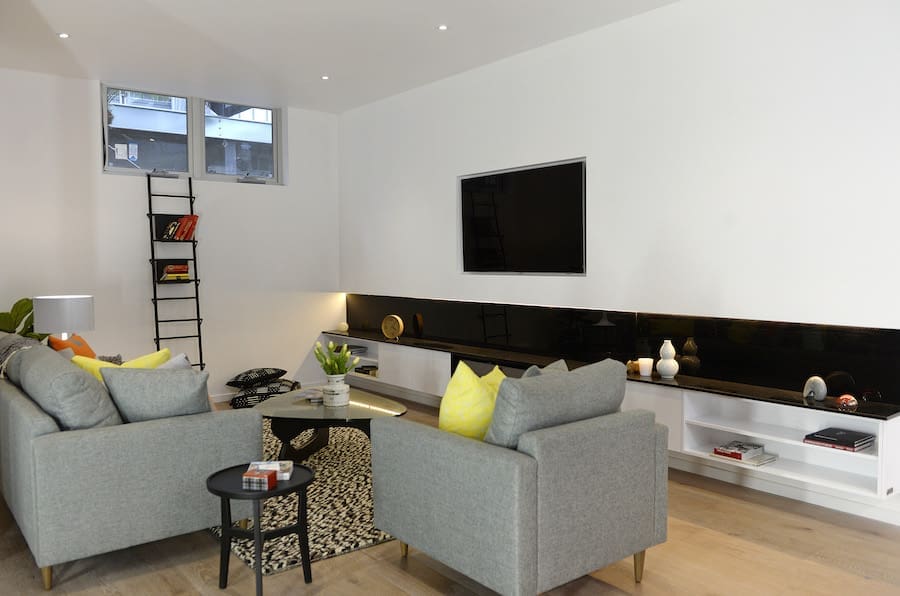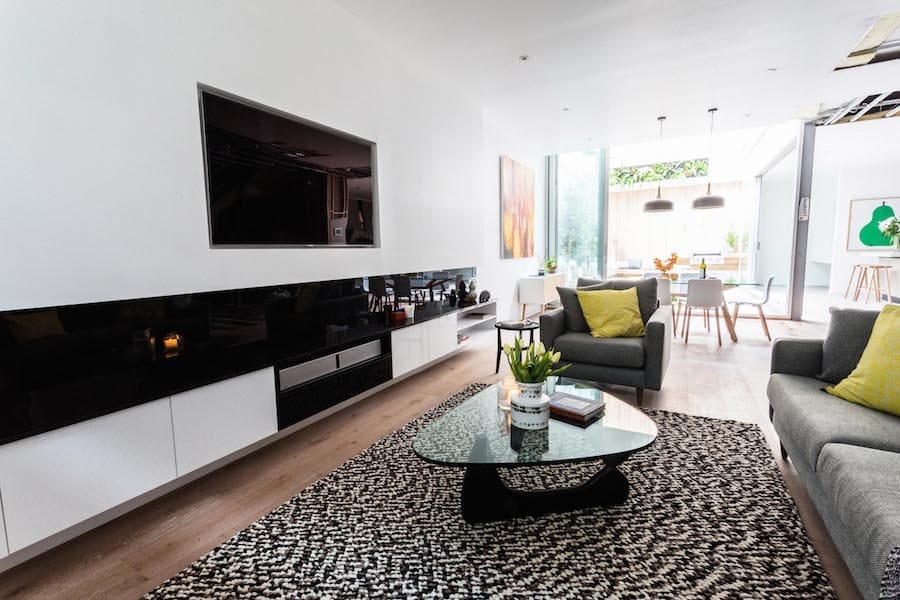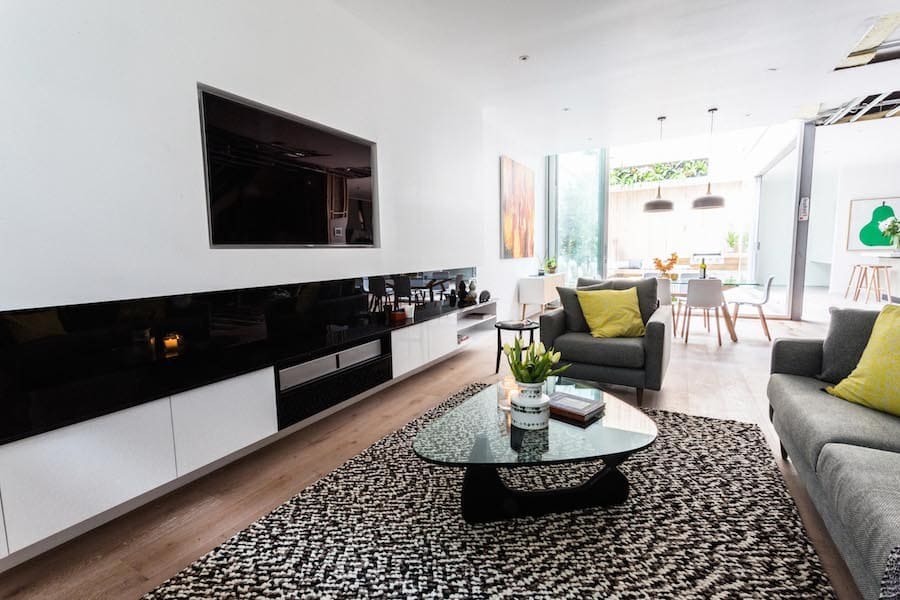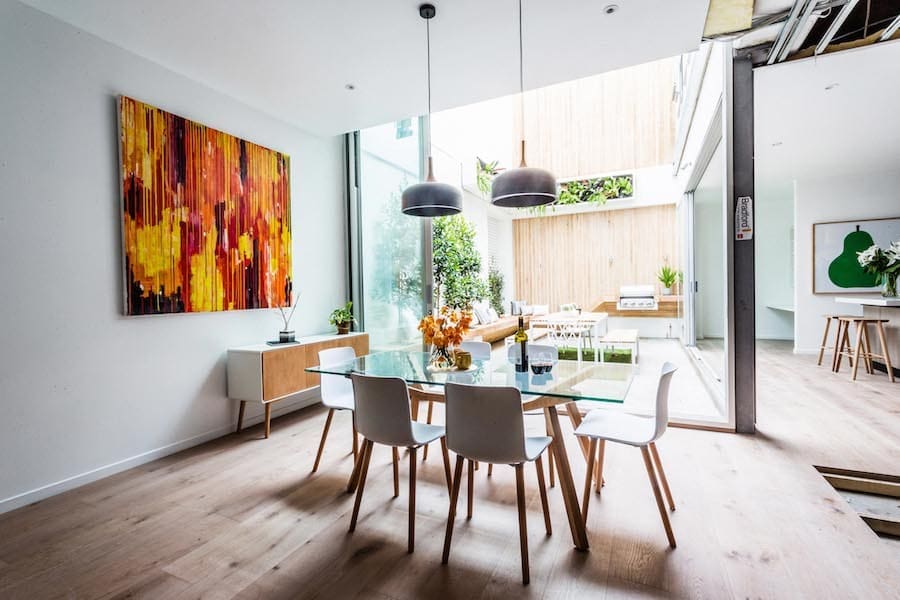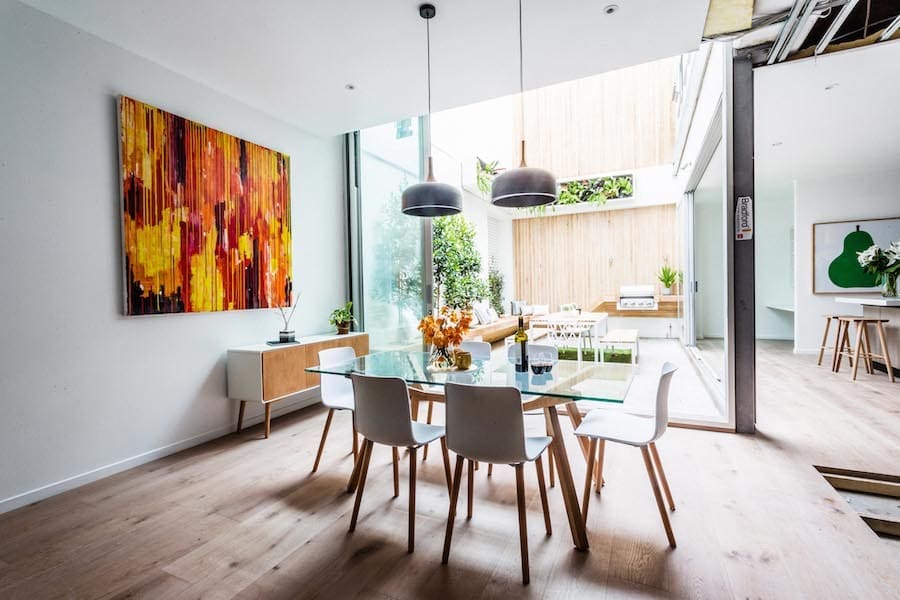 Don't make plans for this Sunday people — it's the Block Glasshouse finale and auction night!
What are your thoughts on the rooms this week? Who had the best design and style? Should Max and Karstan have come second for a room they barely worked on??