Thinking of a blue kitchen splashback but unsure what tile shape, size or pattern to use? You've come to the right place because I've compiled a list of all the different types of blue splashback tiles. Big or small, plain coloured or patterned, find all the blue kitchen backsplash inspo you need right here!
Related article: 5 step guide to picking the right kitchen splashback tile
Related article: Real terrazzo vs terrazzo-look tiles, what you need to know
1. Kitkat tile
One of the hottest tile shapes right now are kitkat mosaics (also called stix, staxs or finger tiles). These small rectangular tiles create pattern through shape and look amazing as a splashback tile. And because we get this question all the time, no, it isn't difficult to keep the grout between these smaller tiles clean. Just be sure to use a high quality or epoxy grout. You can also use a grout sealer for added protection.
Because of their popularity, there are so many new versions of kitkat tiles being released. You can find large or small sizes, in plain or more varied colours, matte or glazed finishes, and flat or grooved profiles.
Tip: this tile especially suits contemporary builds, mid-century modern homes or those with a Japanese aesthetic. You can lay the tile vertically (as pictured below) or horizontally. Horizontal lends itself to the retro and Japanese styles, while vertical is very now.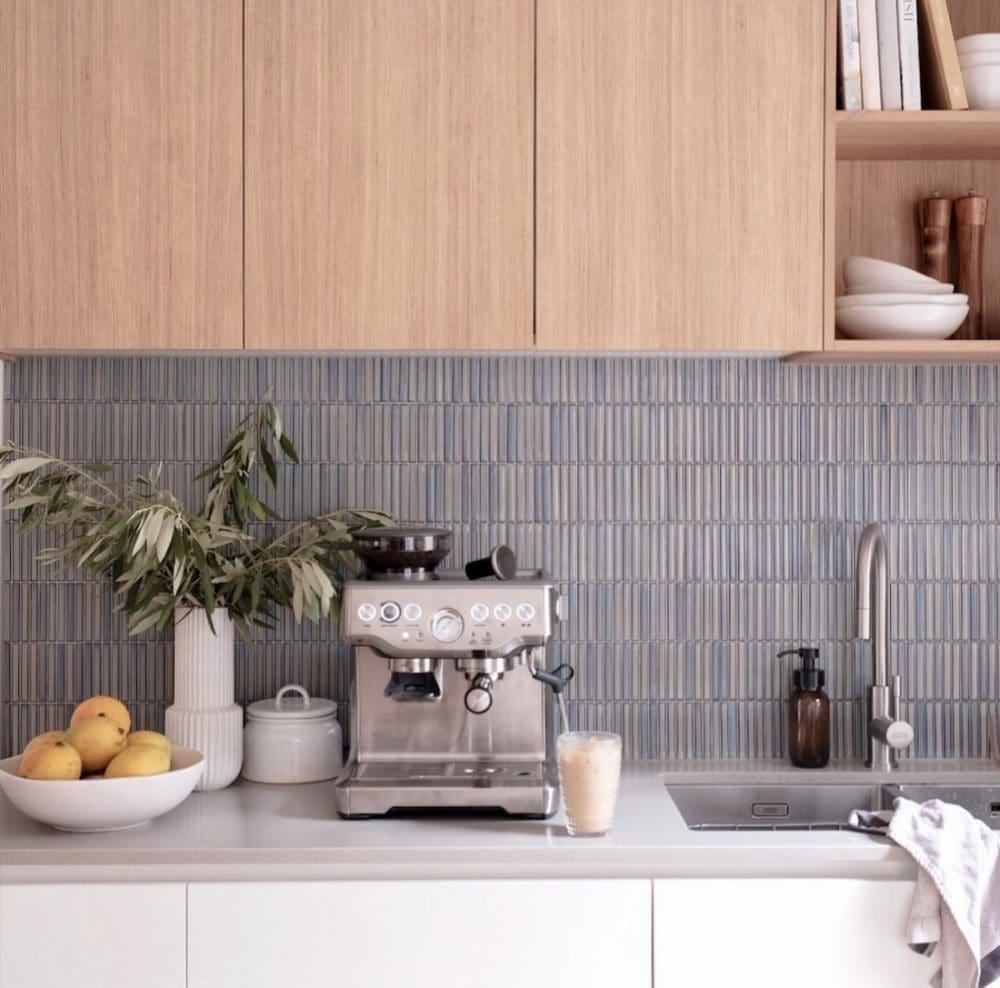 2. Subway tile
Available in a range of sizes, finishes and textures, the subway tile is one of the most versatile — and cost effective! Plus there are over a dozen ways you can lay subway tiles for added interest, check out the 5 most popular here.
Subway tiles with a handmade or irregular finish are gaining popularity, just like the blue tile pictured below. I love how the undulated surface catches light and adds texture to a space, plus the subtle tonal variation between pieces.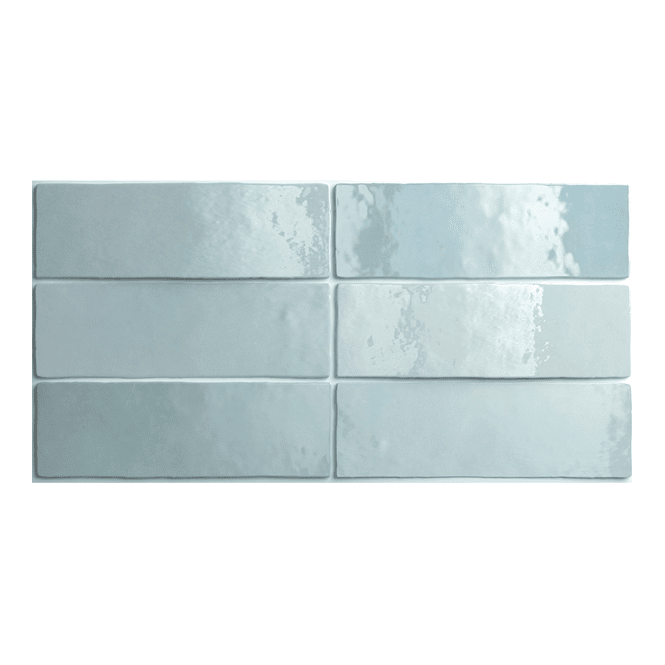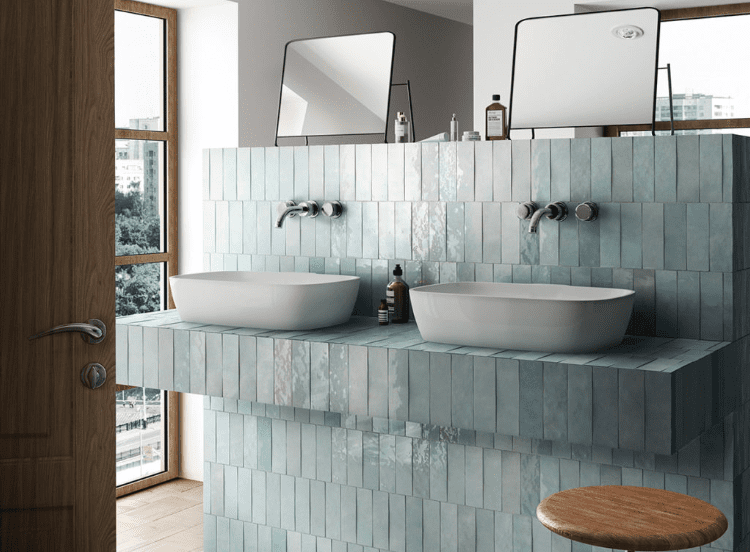 From pale icy blue to deep ocean tones, there are hundreds of blue subway tiles available to achieve your design vision. You can find these in solid colours or more irregular hand painted finishes… in satin, gloss or crackle glazed… with a flat, handmade, ripple, embossed, bevelled or 3D profile.
Phew, did I mention there's a lot of choice?! Here are just a few stunning examples of kitchens with blue subway splashback tiles.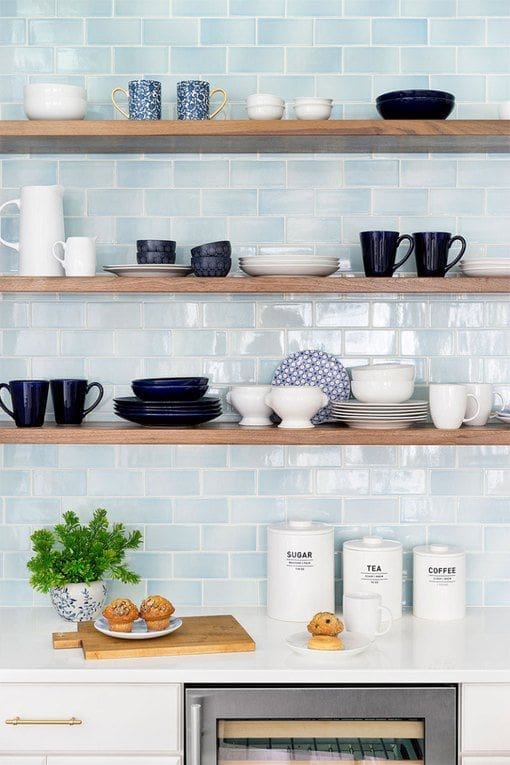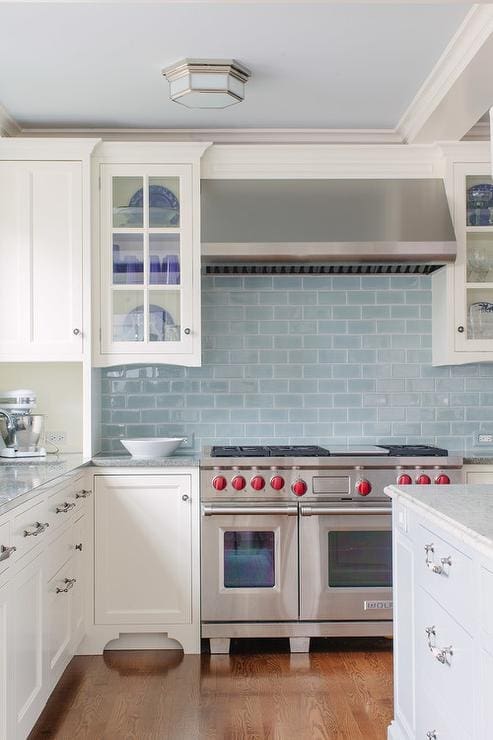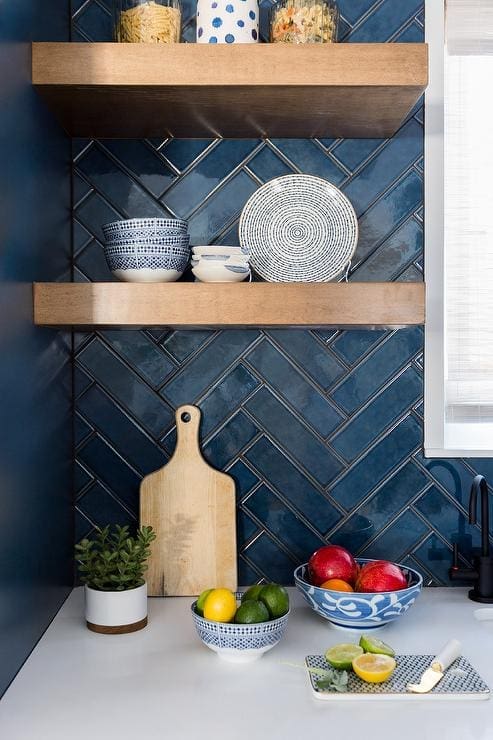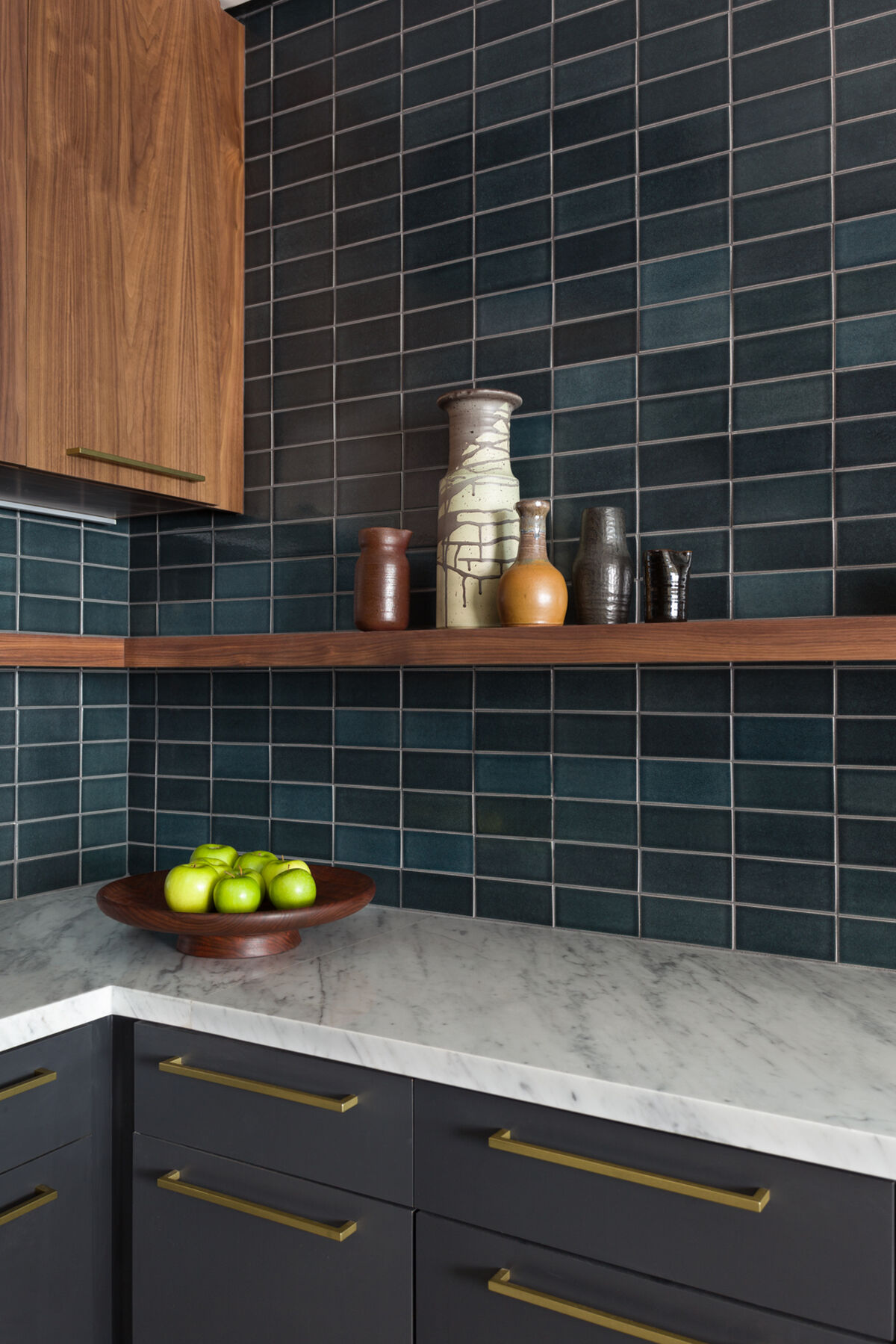 3. Herringbone tile
As well as laying subway tiles in a herringbone pattern, you can also find blue herringbone mosaics. These tiles are smaller and glued onto sheets in a herringbone pattern.
In mini or large sizes, natural marble, glass or porcelain, this is another tile with plenty of options.
Tip: whenever using a smaller mosaic tile, it's especially important to use an experienced tiler who has an eye for detail. Each tile sheet should perfectly line up to avoid irregular grout joints that would distract from the beauty of these tiles.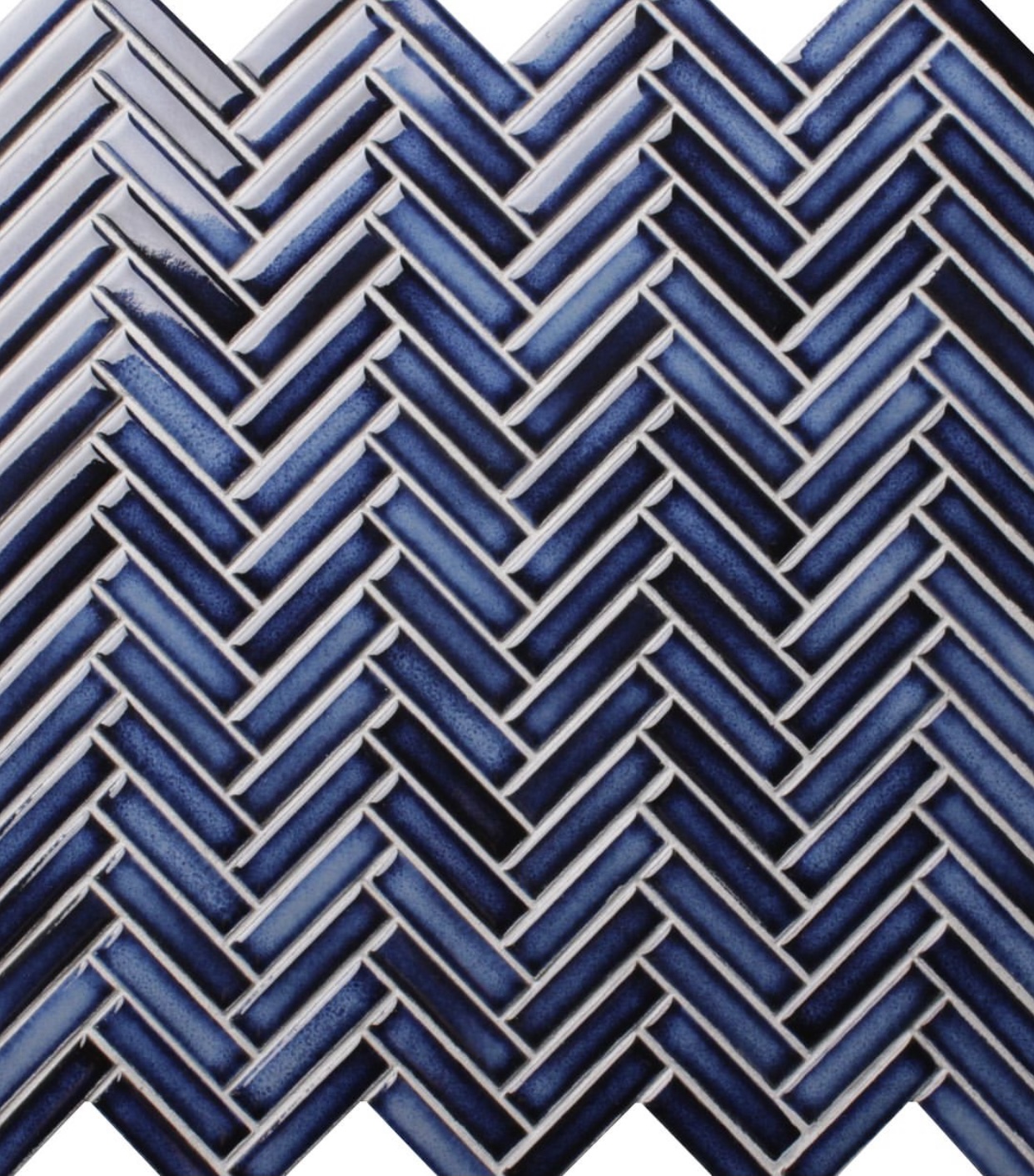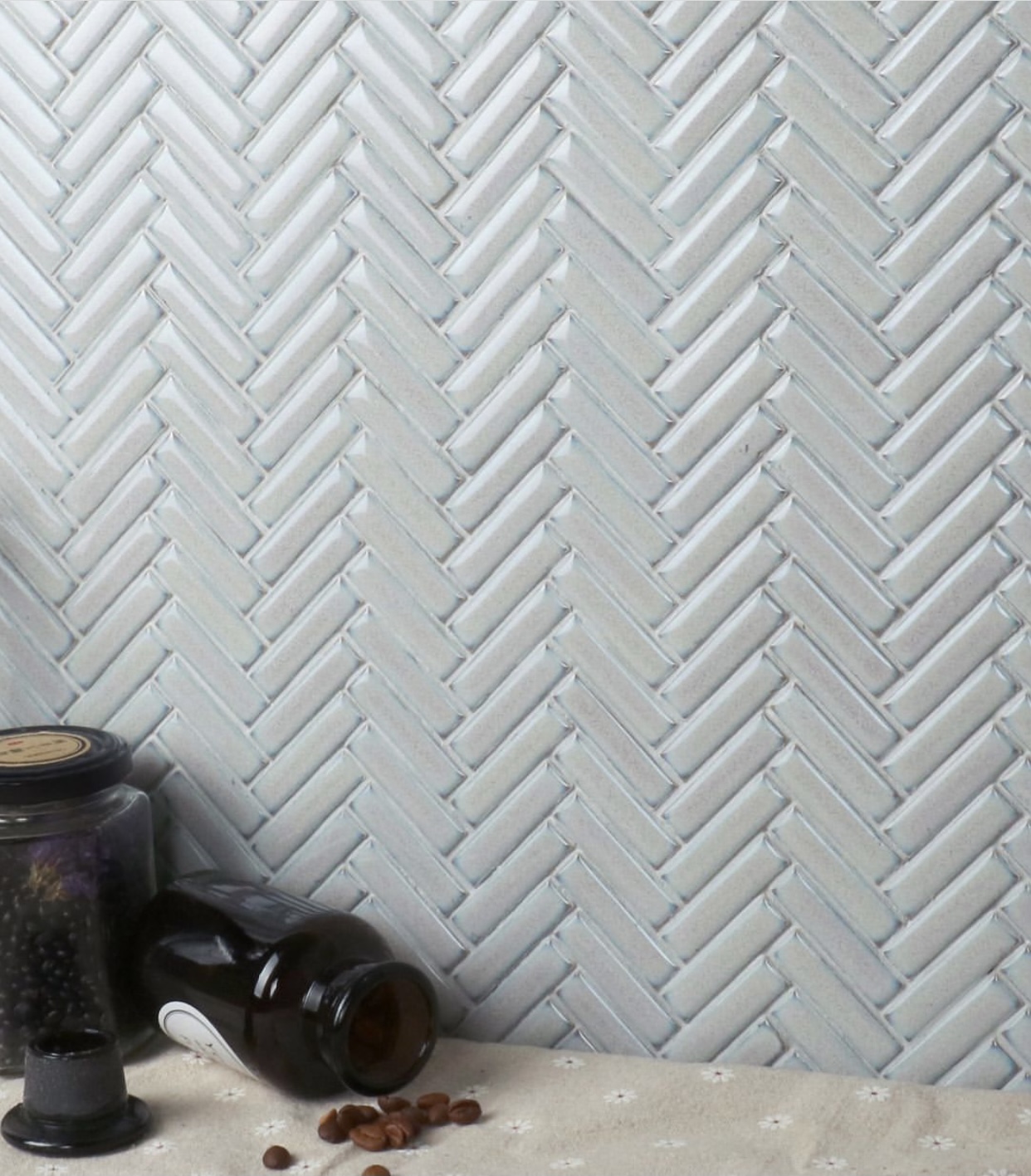 4. Fish scale tile
What fits the coastal style even more than blue tiles? Blue fish scale tiles of course! Also called fan tiles, these beautiful tiles also suit contemporary, farmhouse, traditional and Hamptons style homes.
In deep ocean tones with a crackle glaze to multi-tonal varieties, take a look at the impact fish scale tiles can have!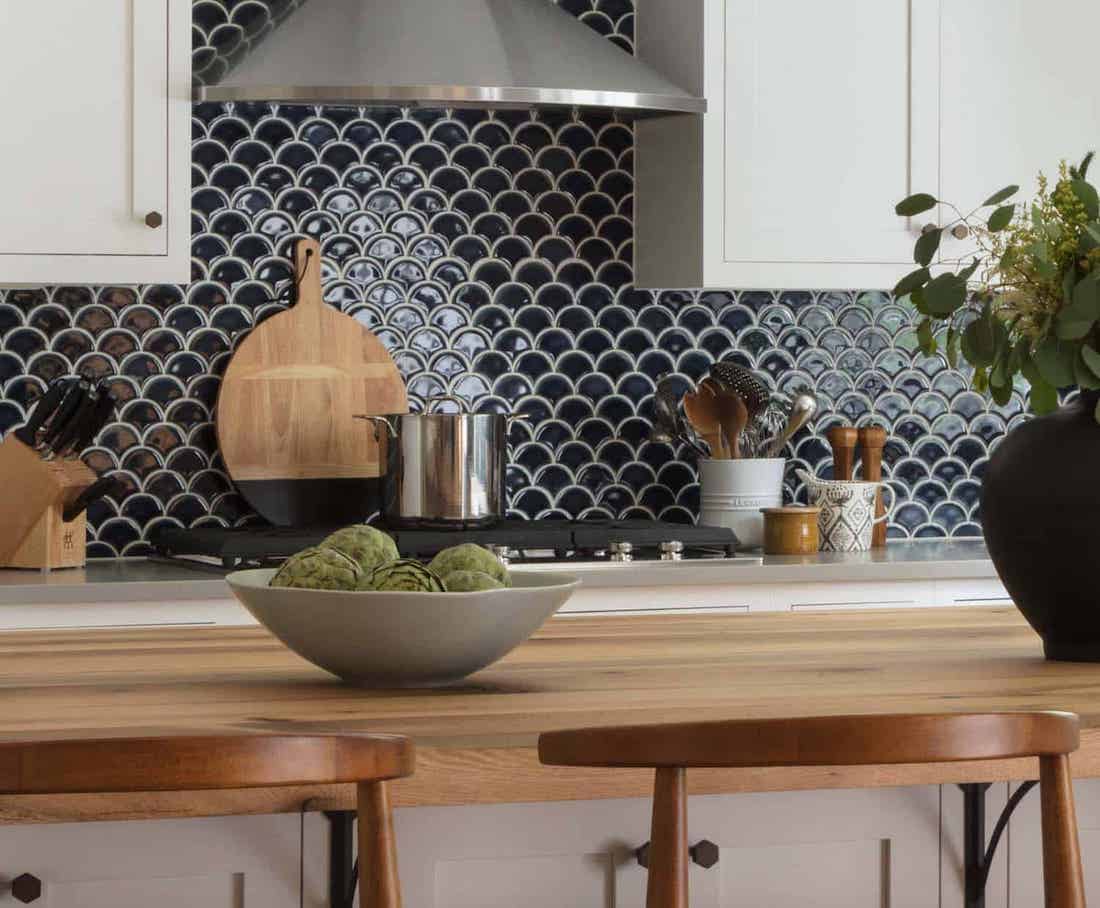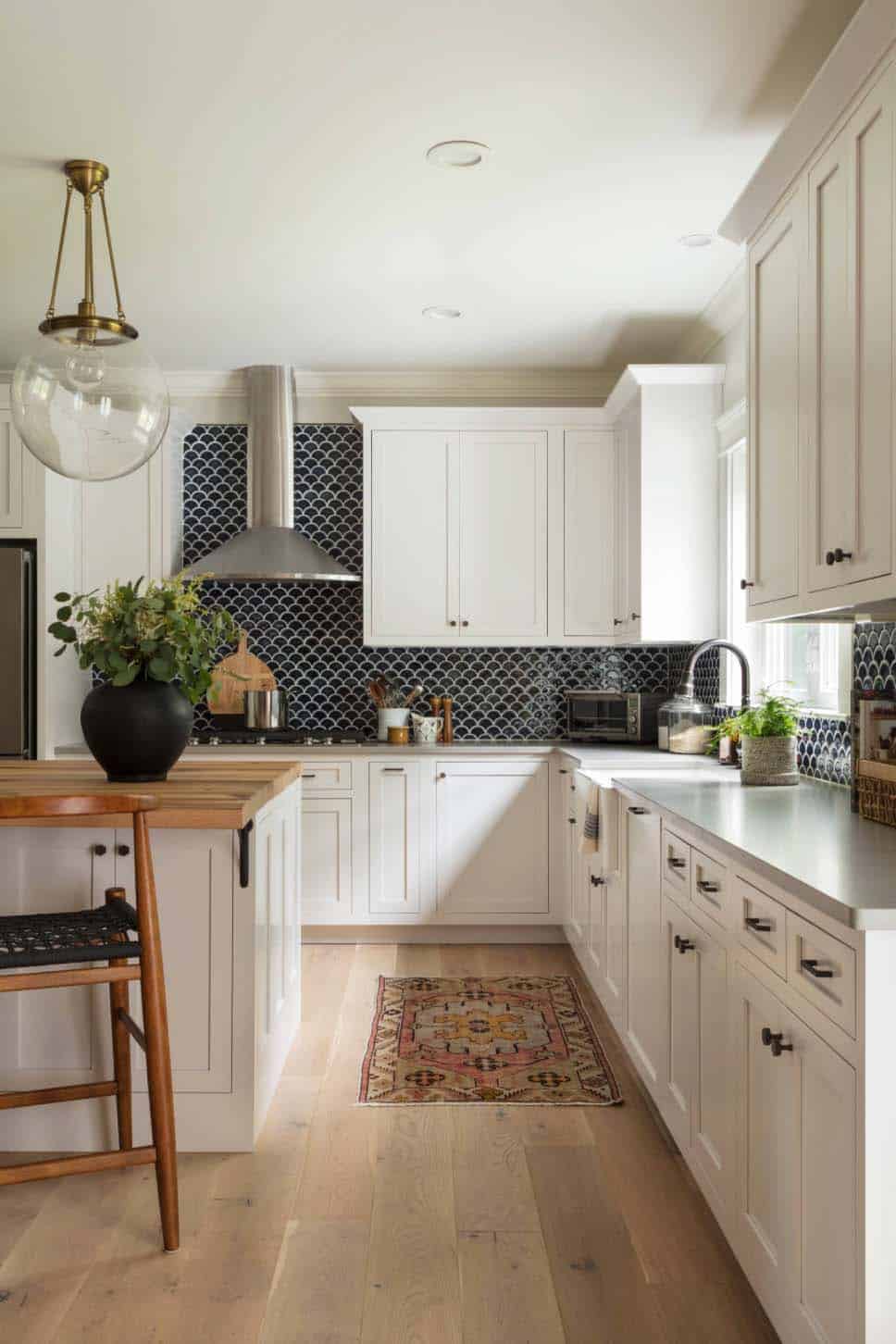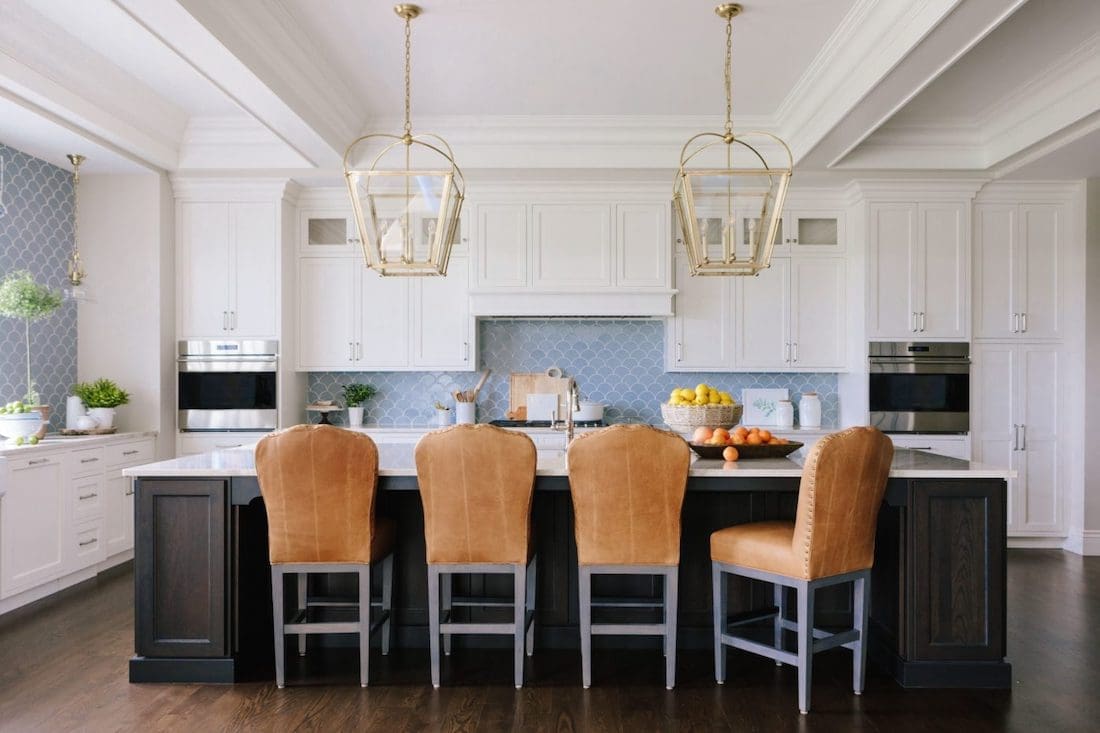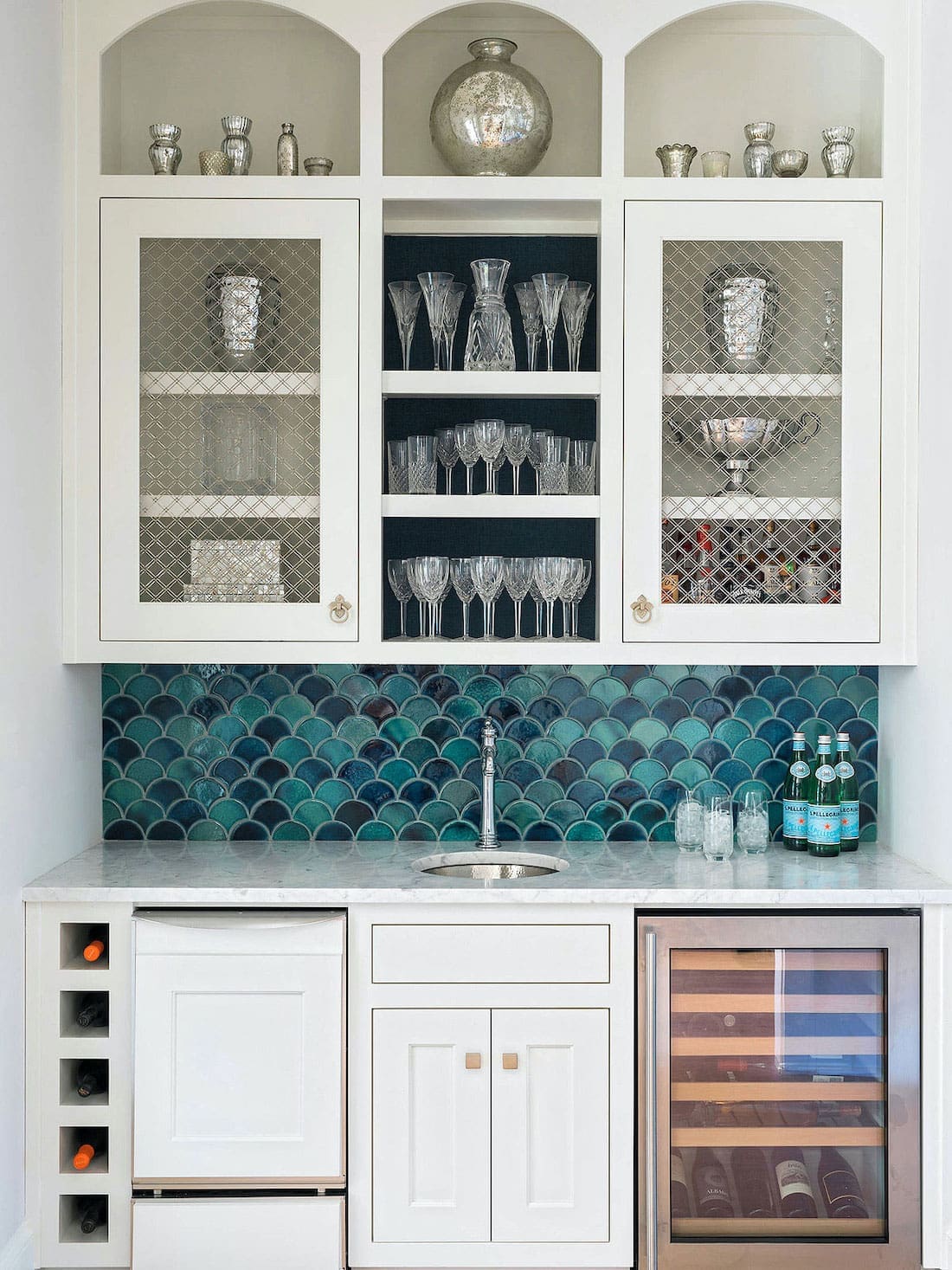 5. Pill tile
The pill shape tile goes by a long list of names including bounty, capsule, tic-tax… and probably many more. In any case, it's an innovative new tile shape that merges penny round with rectangular in spectacular fashion.
Already available in a range of sizes, finishes and materials, you can expect to see more of this tile shape coming through.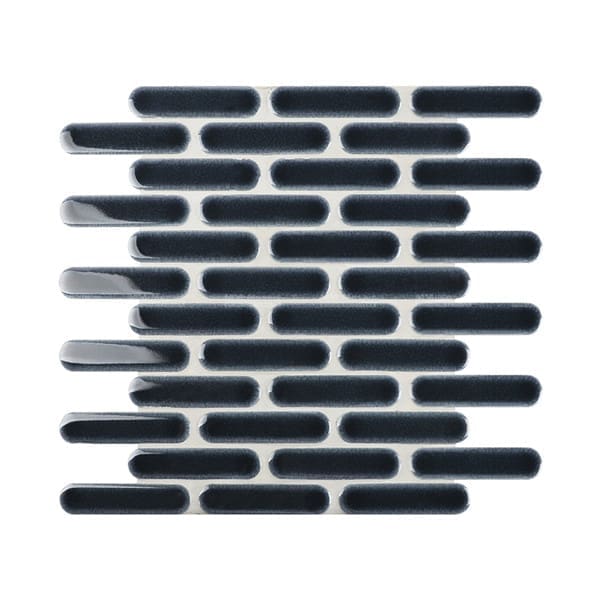 6. Arabesque tile
One of the most decorative tile shapes is arabesque (also called lantern). Channelling Morocco, it's a great choice if you want to create a global fusion style.
From light to dark, with bevelled edges or flat profiles, there a quite a few blue lantern tiles out there too. Shapes also vary slightly, with some being more elongated.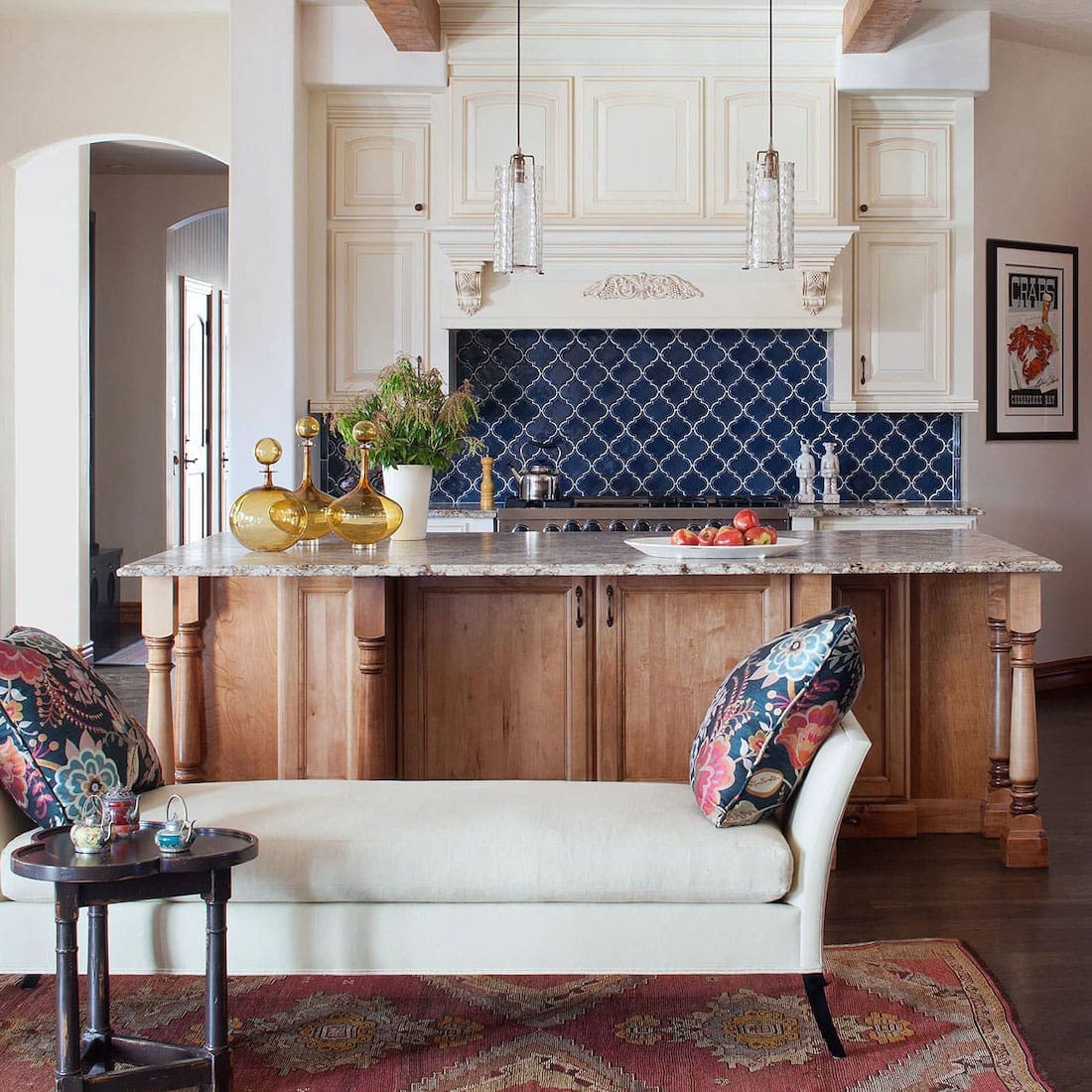 7. Square tile
Coming through as one of the most popular tile shapes of the year, square tiles are making a comeback in a BIG way!
Much like the subway tile, this one has major versatility. From hand-chiselled Moroccan tiles (Zellige pictured below) to uniform smaller tiles that achieve a grid-look, you can find a square tile for every interior style.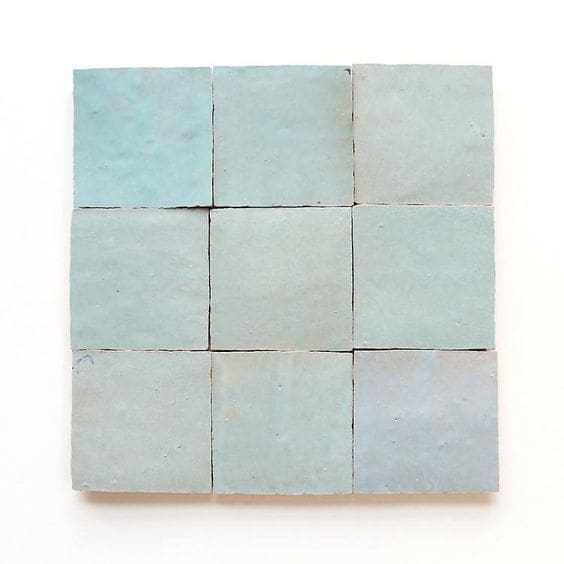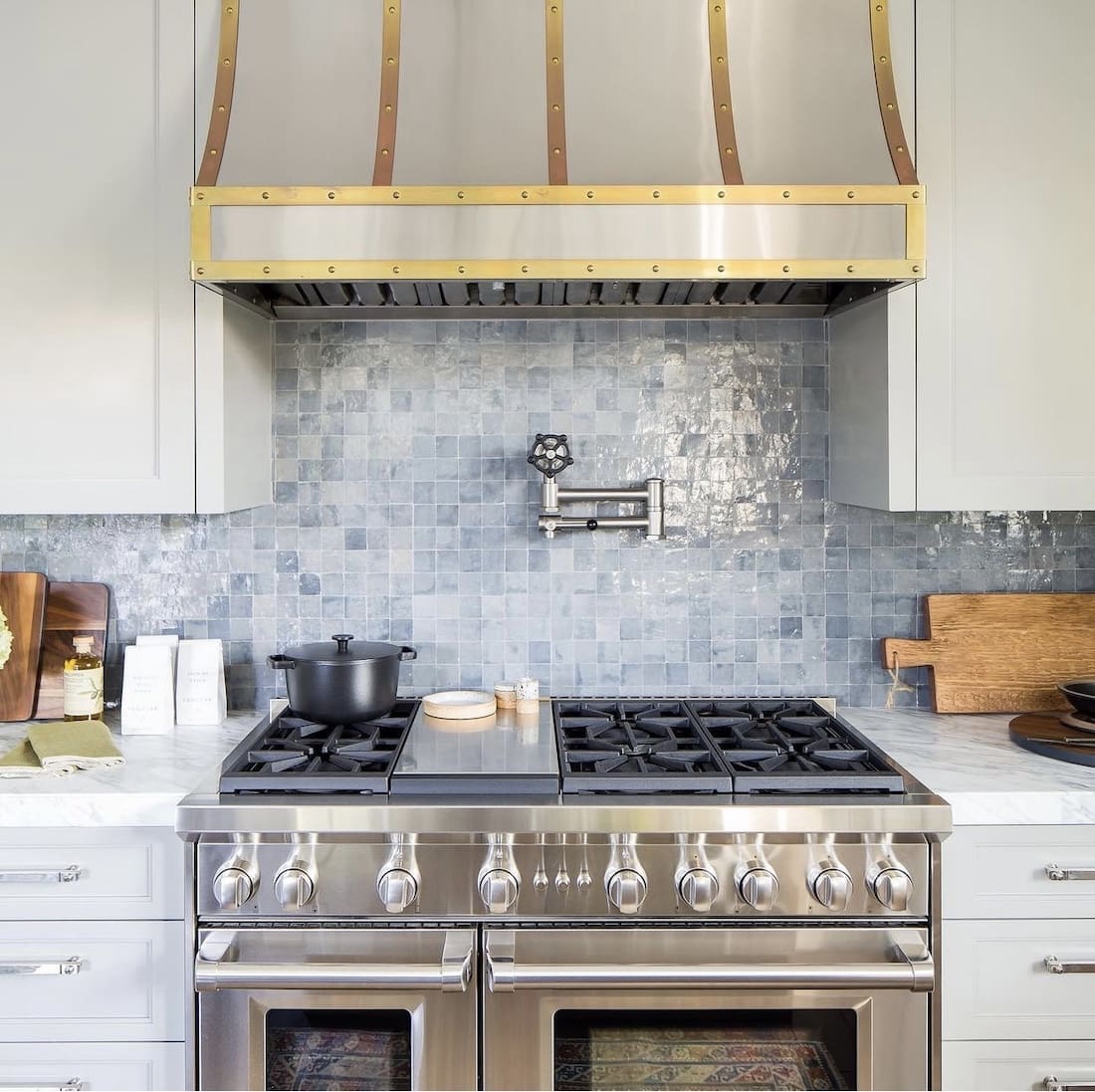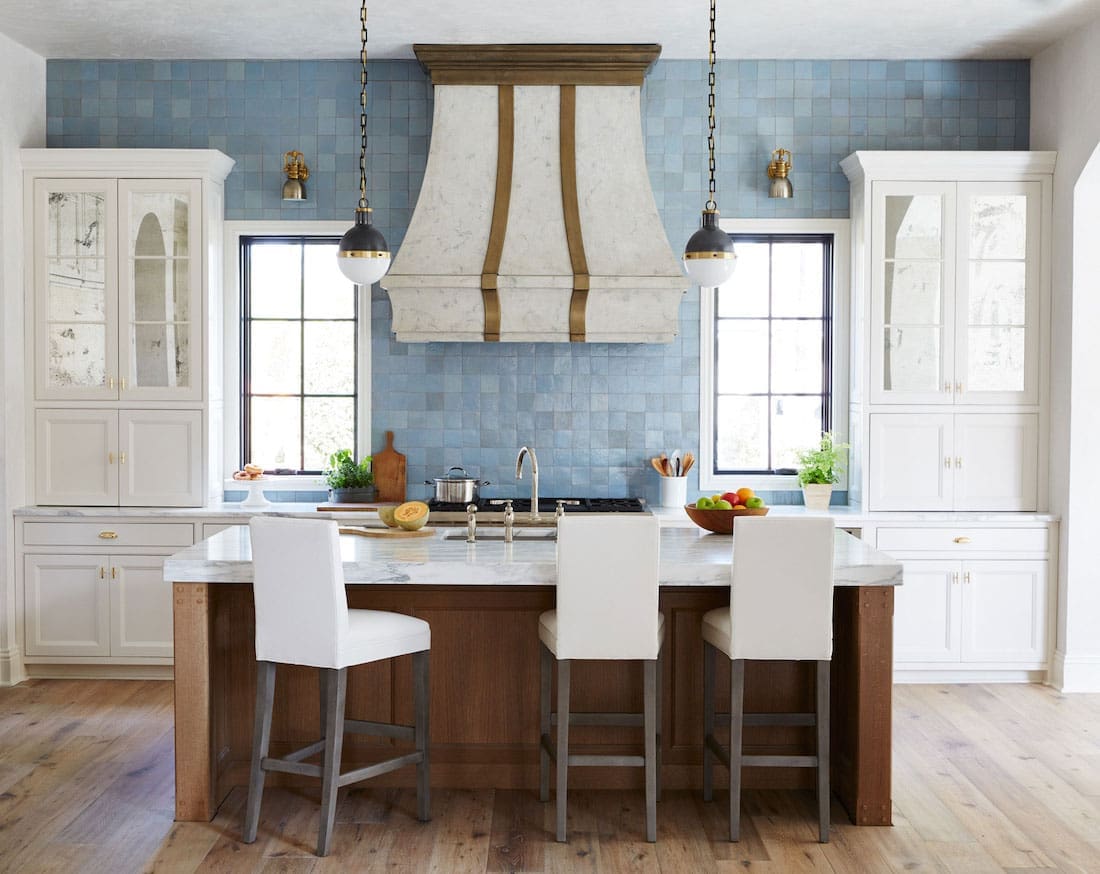 8. Penny round tile
The penny round is a classic shape that can soften all the hard angles of a kitchen. With a retro feel, this one is a firm favourite for many. Available in uniform colours, from light to dark blue or more tonal varieties, like the ones pictured below. Jumbo penny rounds are starting to come through too… although I'm yet to see a blue version.
Tip: penny round tiles are one of the most affordable mosaic tiles. So if you're looking for a decorative tile but have limited budget, check out the range available in your area or online.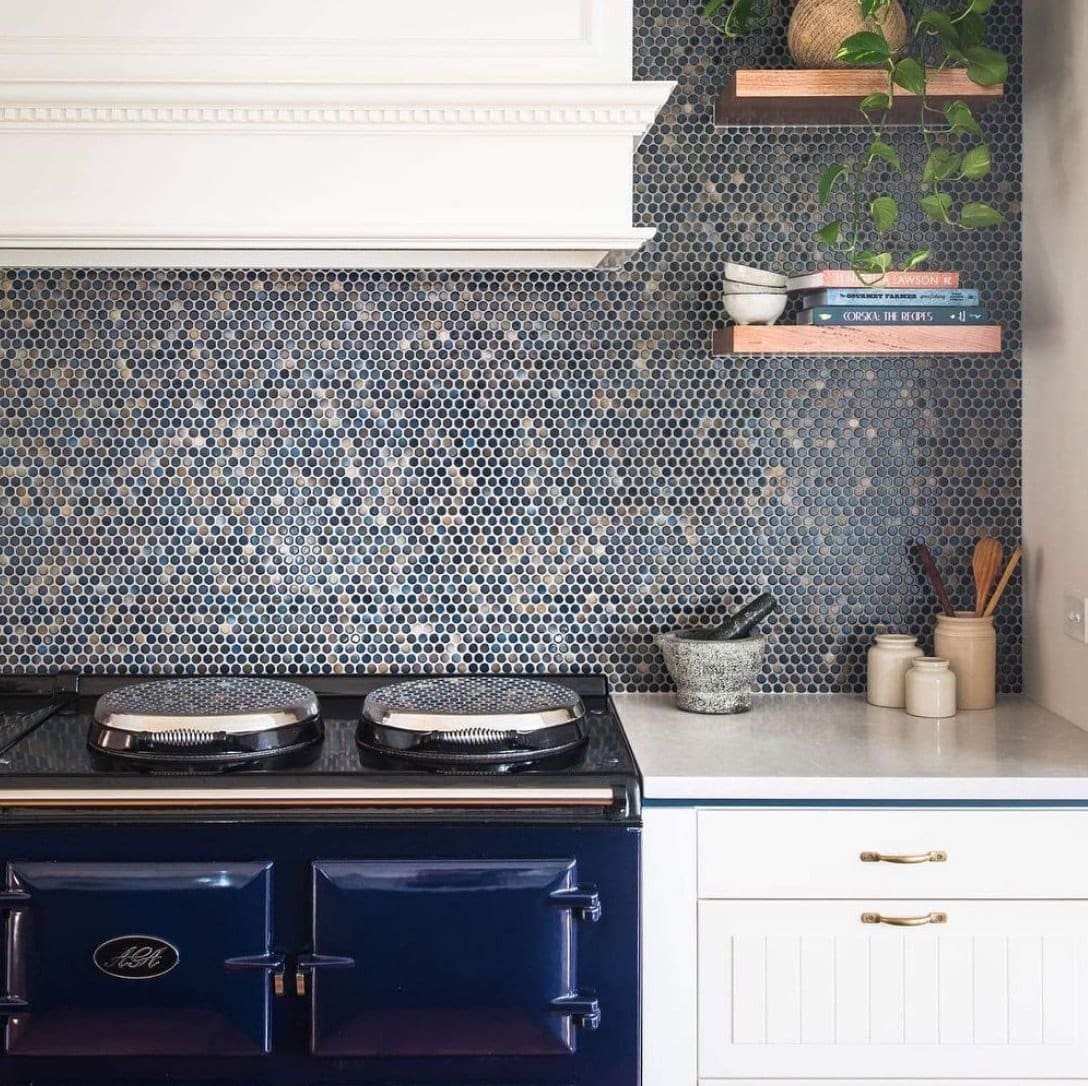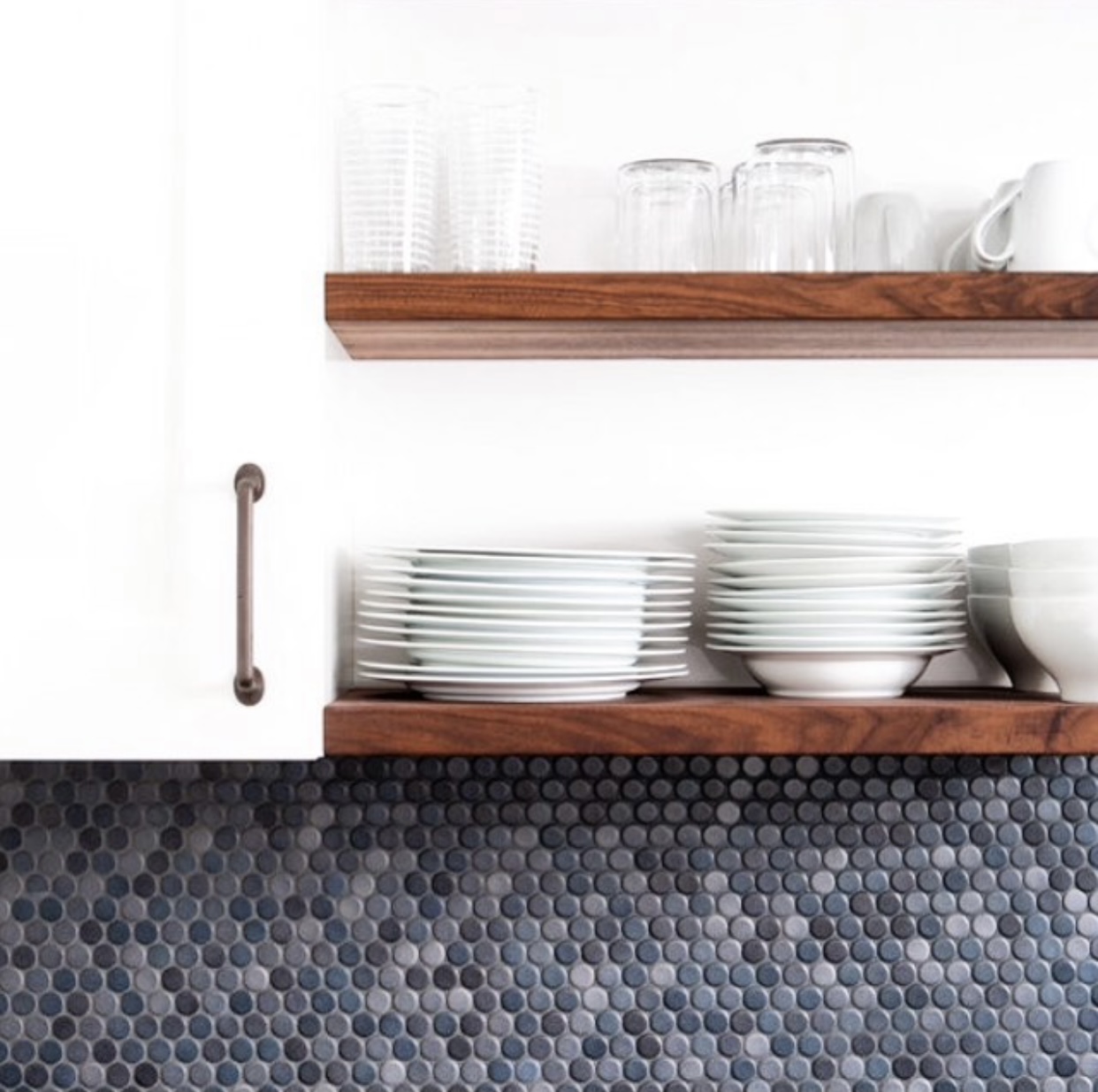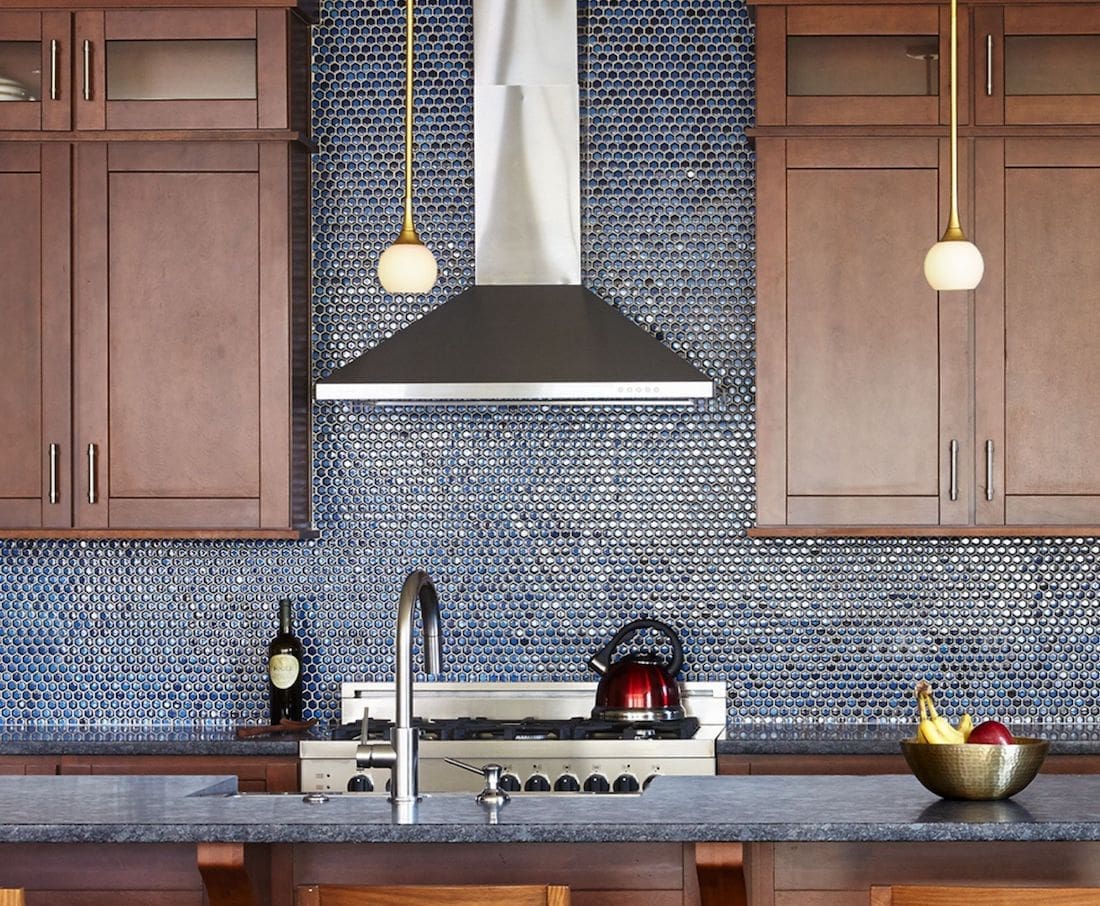 9. Hexagon tile
Another classic shape that just oozes cool is hexagon. Coming onto the scene in the industrial era, blue hexagon tile splashbacks are a great fit for edgier spaces where you're happy to make a statement. Just take a look at the impact of the hexagon tile in the kitchen below!
You can also find elongated hexagon tiles available for something a bit different. And again, this tile (like so many in our round up of blue kitchen splashback tiles) is available in plenty of sizes, finishes and tones.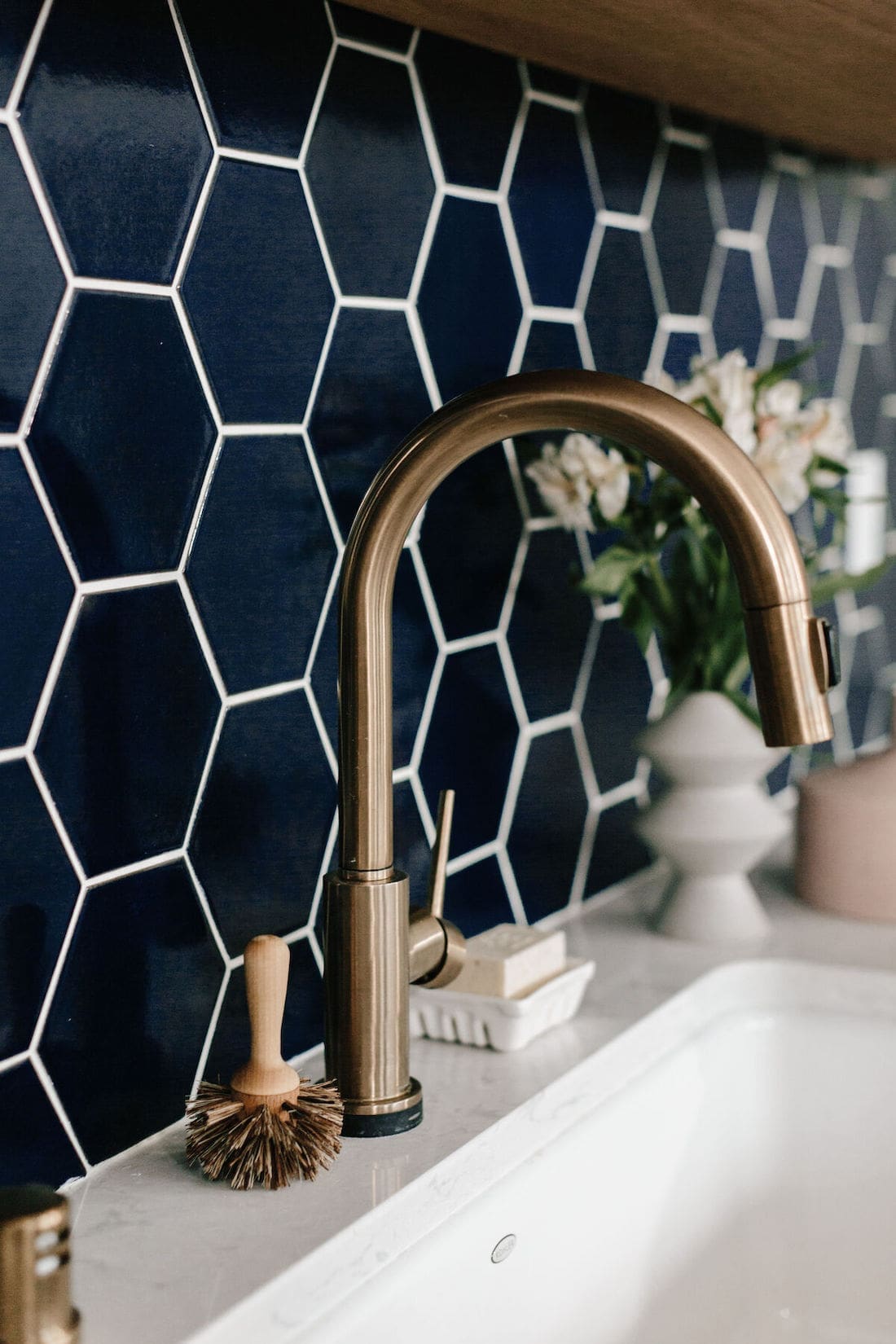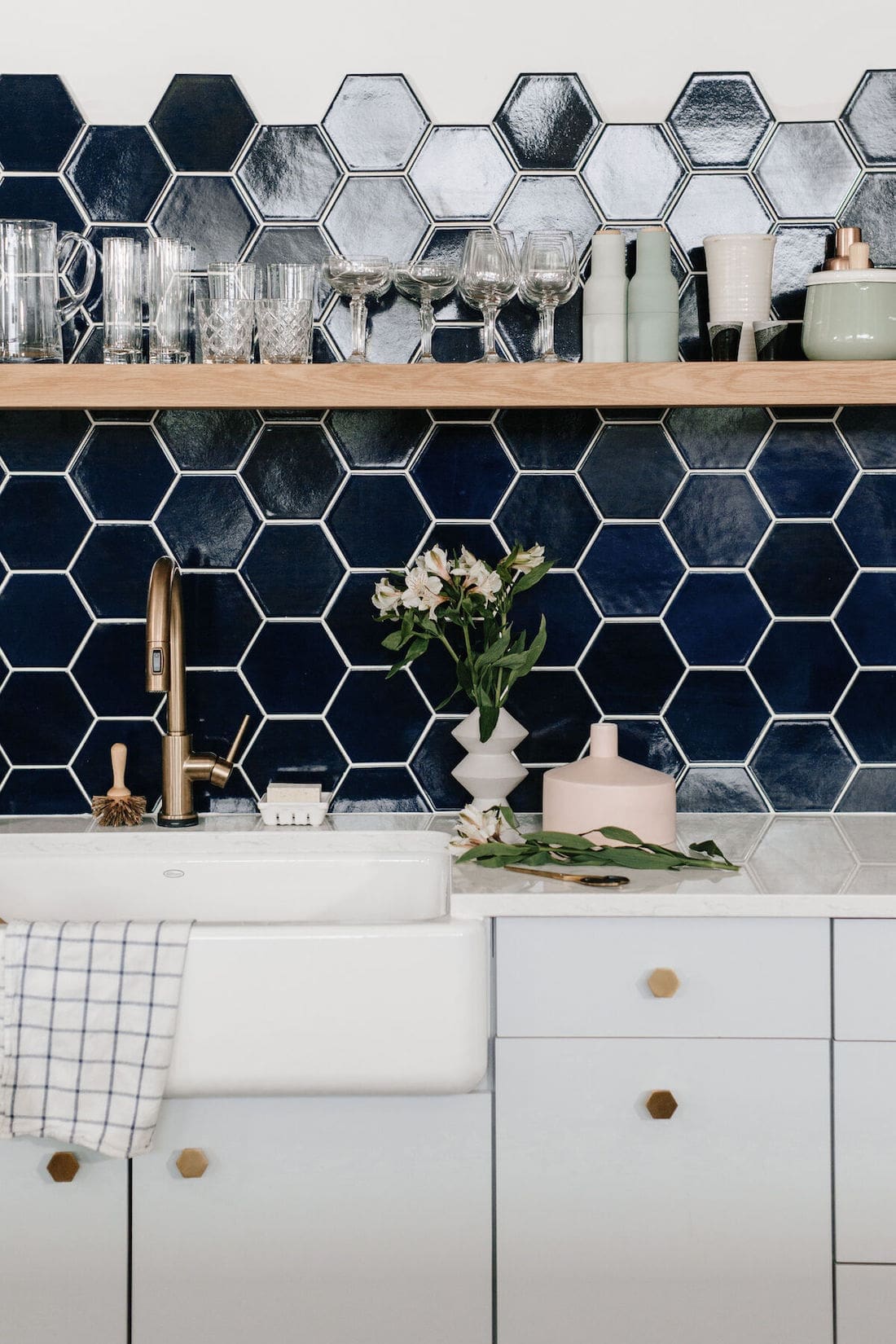 10. Patterned tile
From Moroccan prints to pretty Hamptons florals, there's a huge range of blue patterned tiles to choose from. Up to this point, this round up of blue kitchen splashback tiles has looked at different tile shapes. But there's plenty of options to explore within patterned tiles.
Tip: generally found in a 200 x 200 tile size, these tiles are easy to lay and can be one of the better tile choices if you plan on DIY tiling your kitchen splashback. Just be sure to keep your grout joints small, preferably 1mm.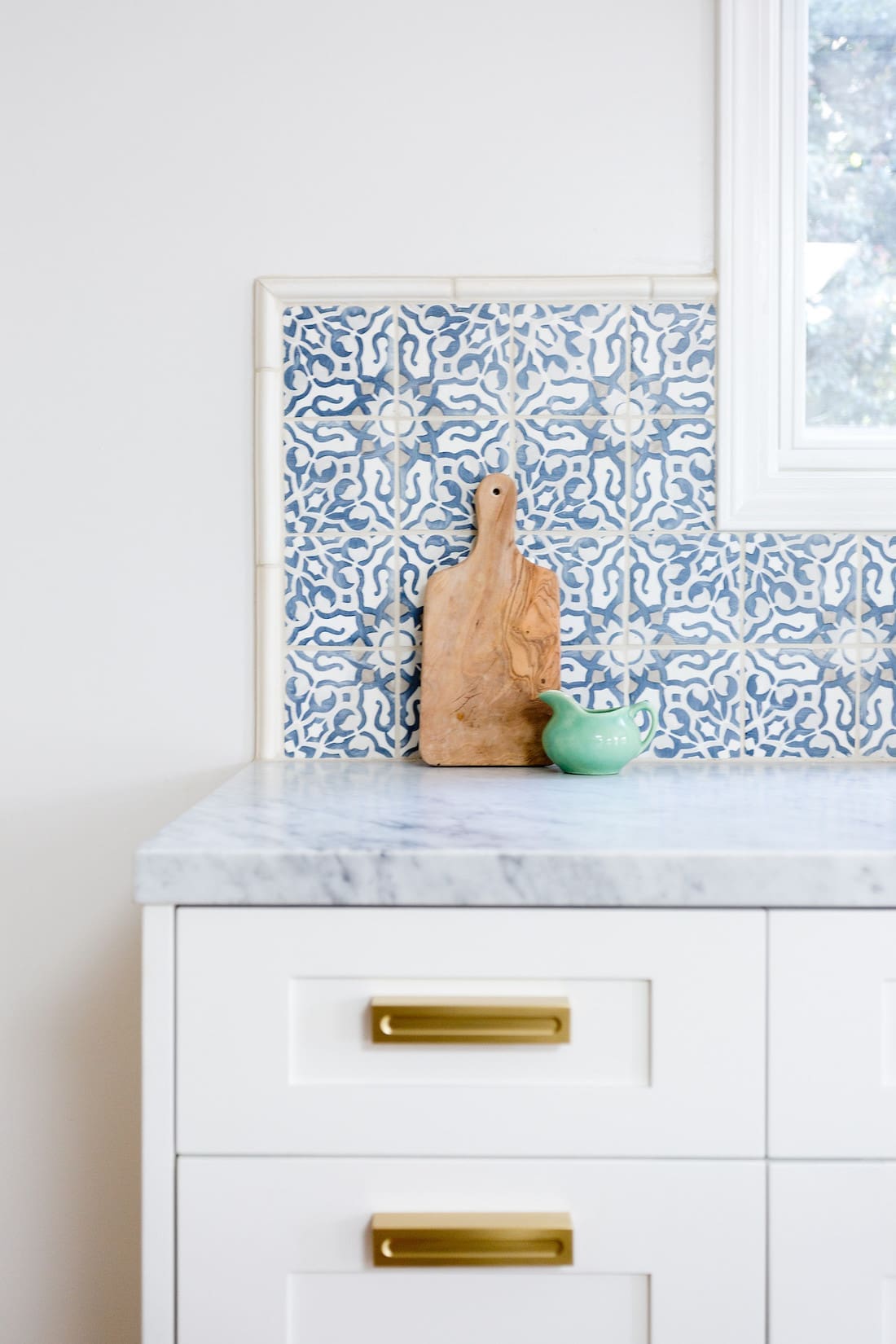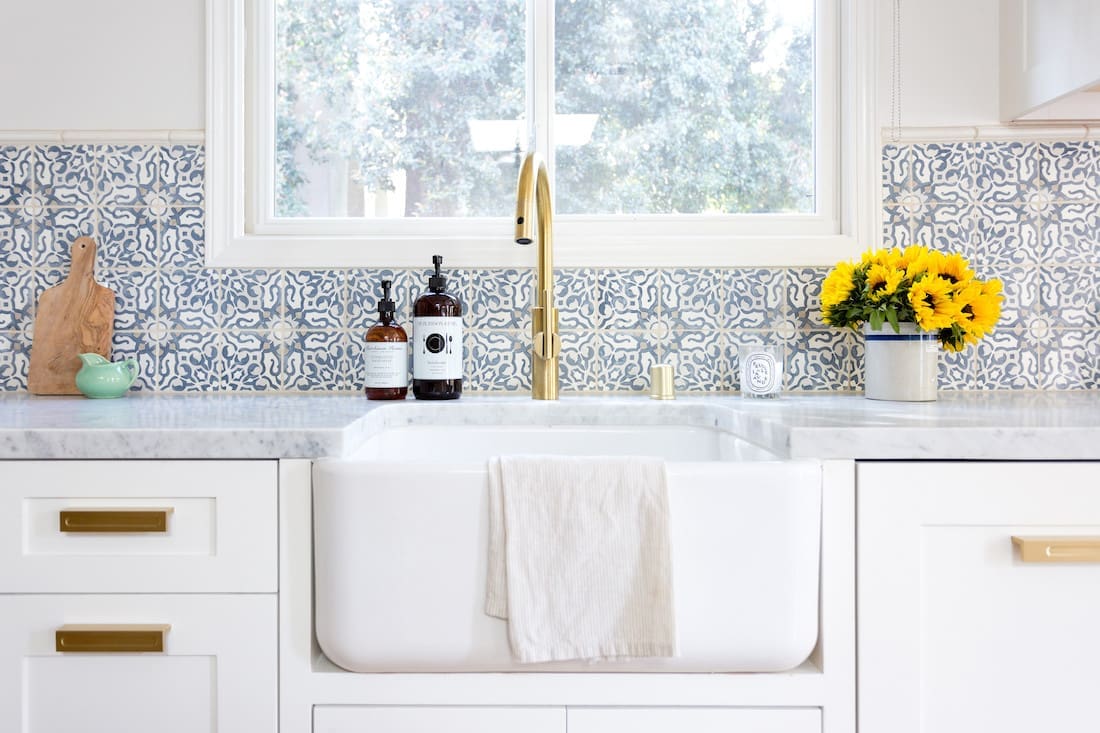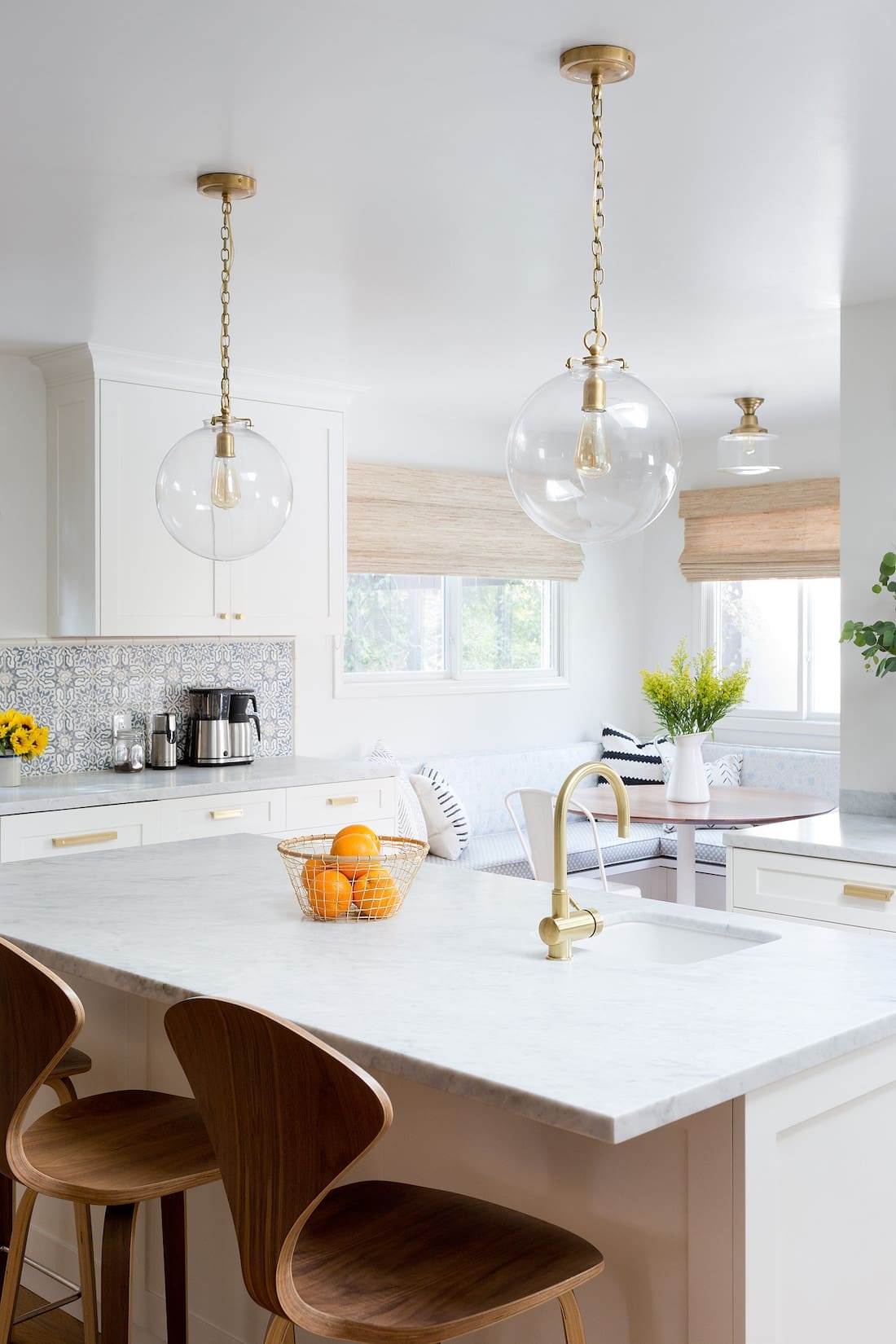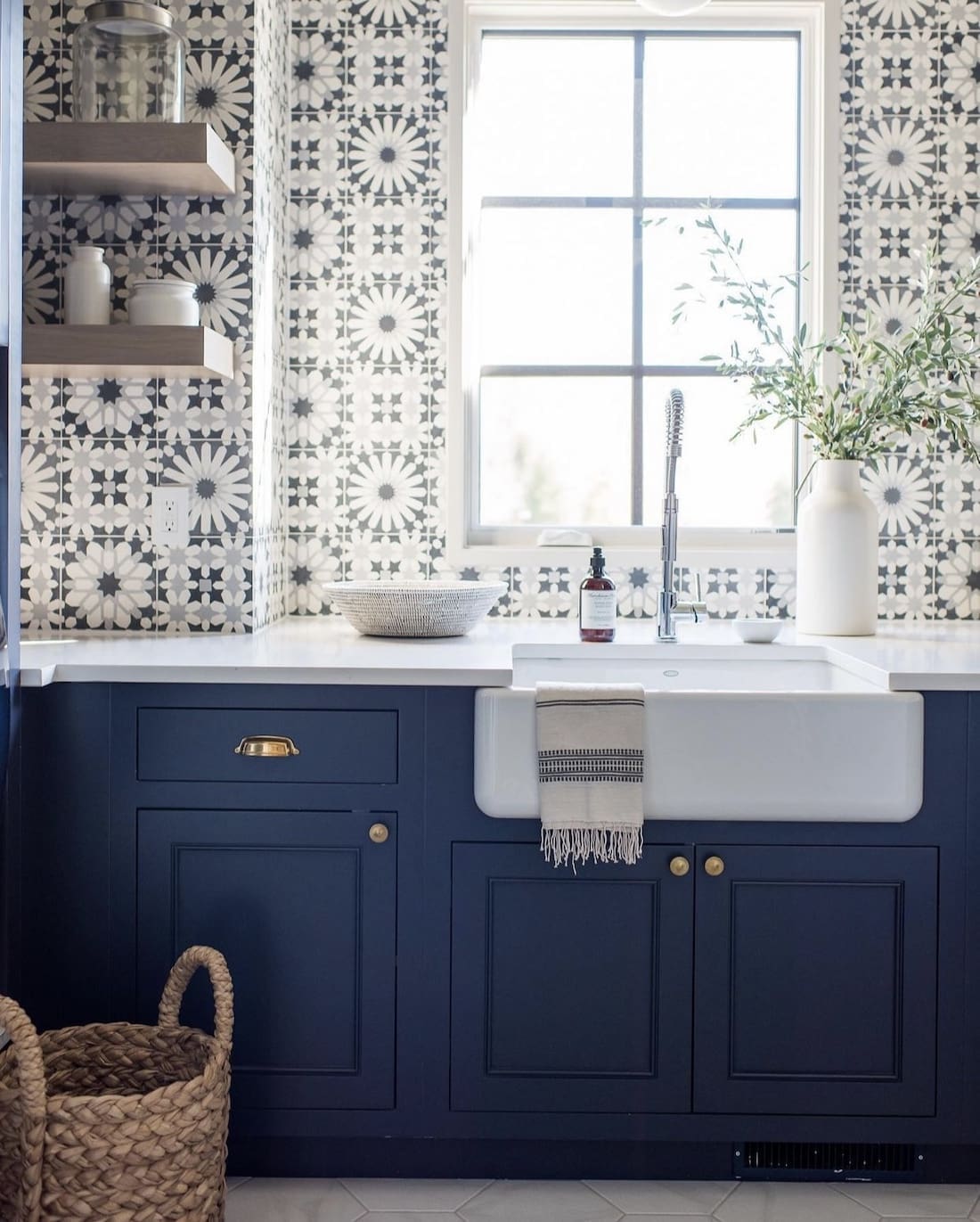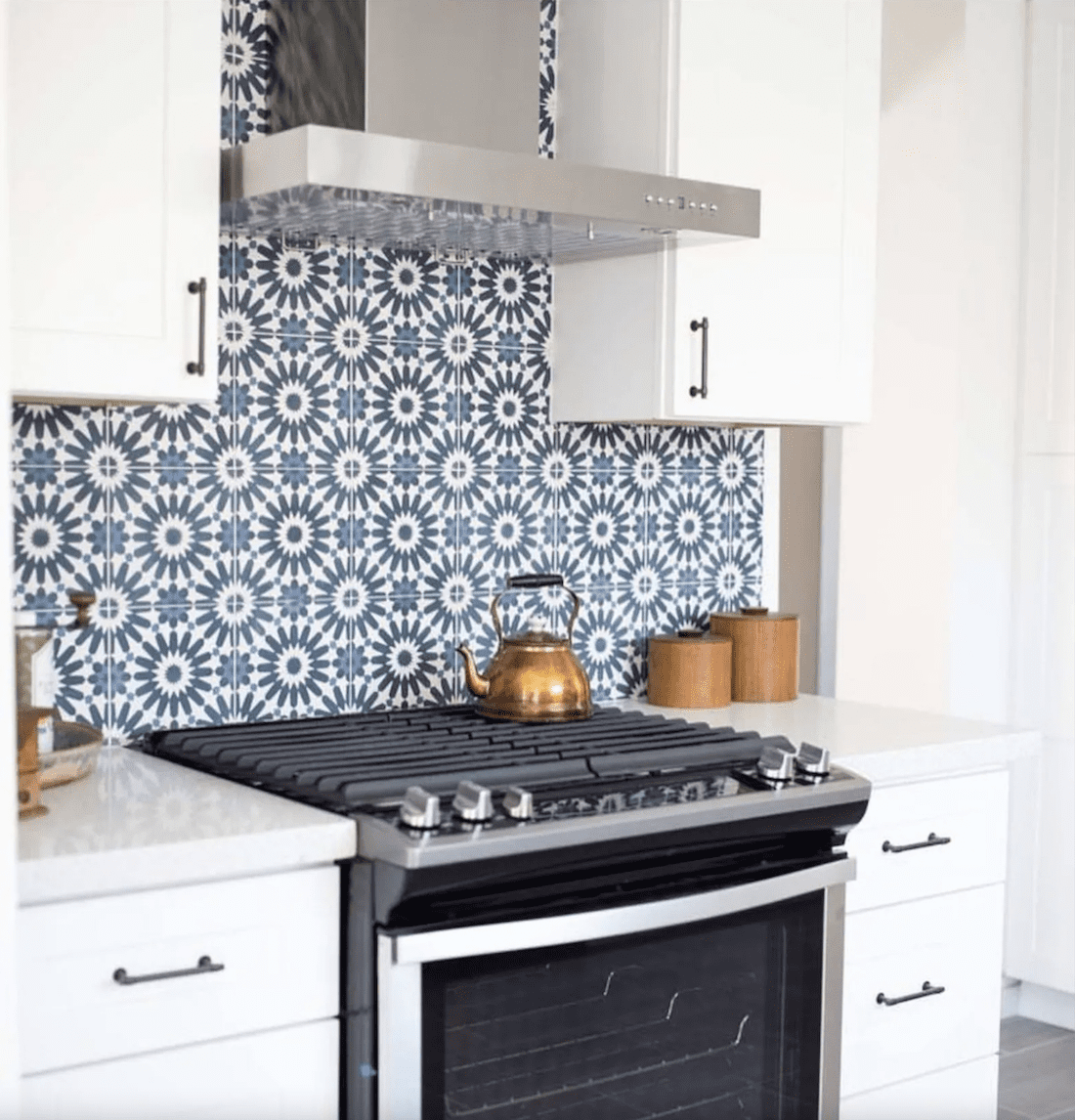 11. Triangle tile
Mmmk, fair warning, this tile I'm about to show you costs a small fortune! But if you've only got a few square metres and are looking to make a statement… it might just be the answer you've been looking for.
Introducing the Mek triangle tile. It's a geometric tile that literally has a metallic finish. That my friends, is gold on the surface of the tile. It gives it a mesmerising iridescent effect that's hard to beat.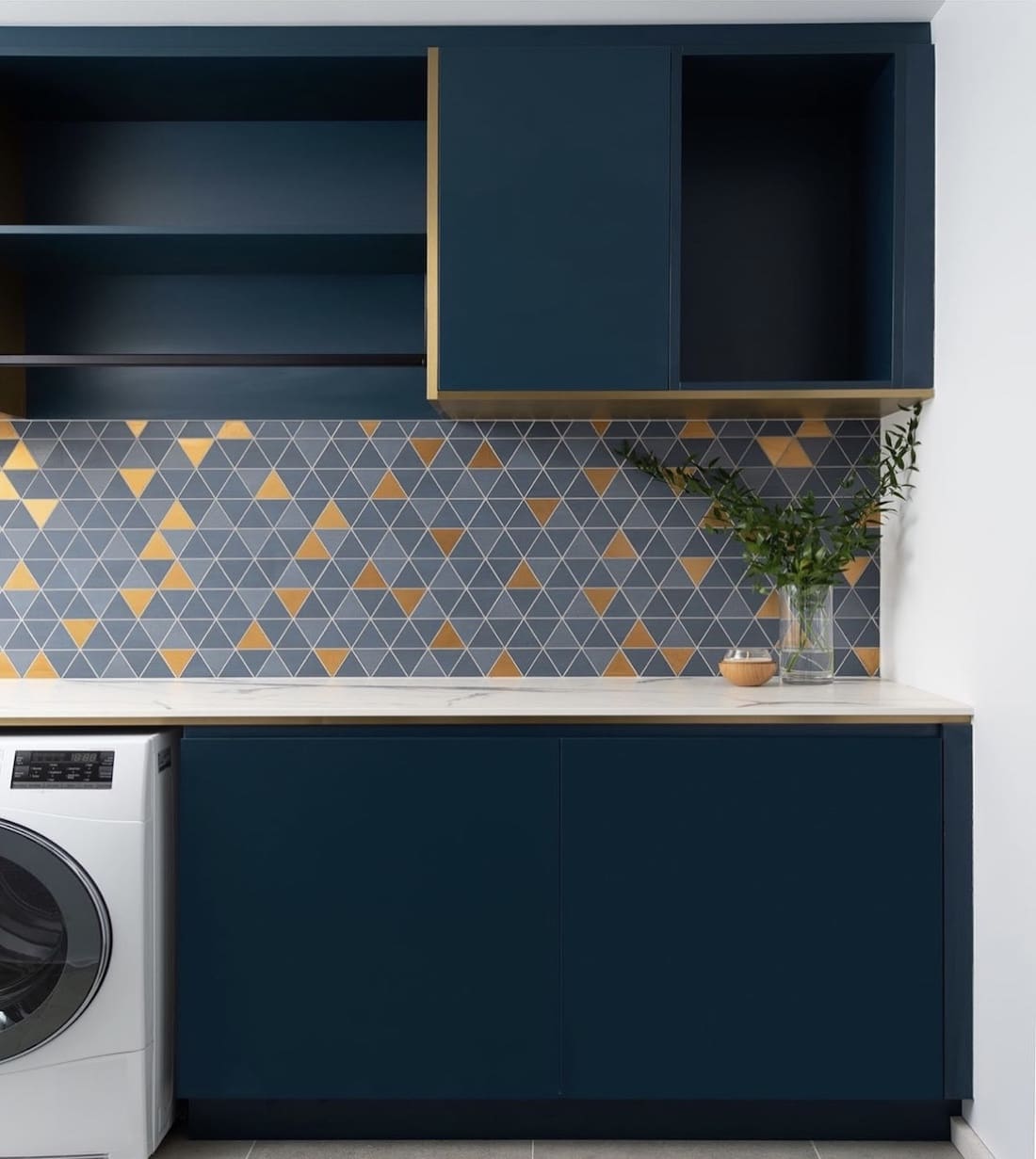 12. Swiss cross tile
Not one that's readily available in Australia but still worth mentioning is the Swiss cross tile. This one is by American boutique tile designer Ann Sacks. She has a fabulous range of decorative tiles to her name. And fingers crossed, we'll see more of the Swiss cross tile in Australia soon.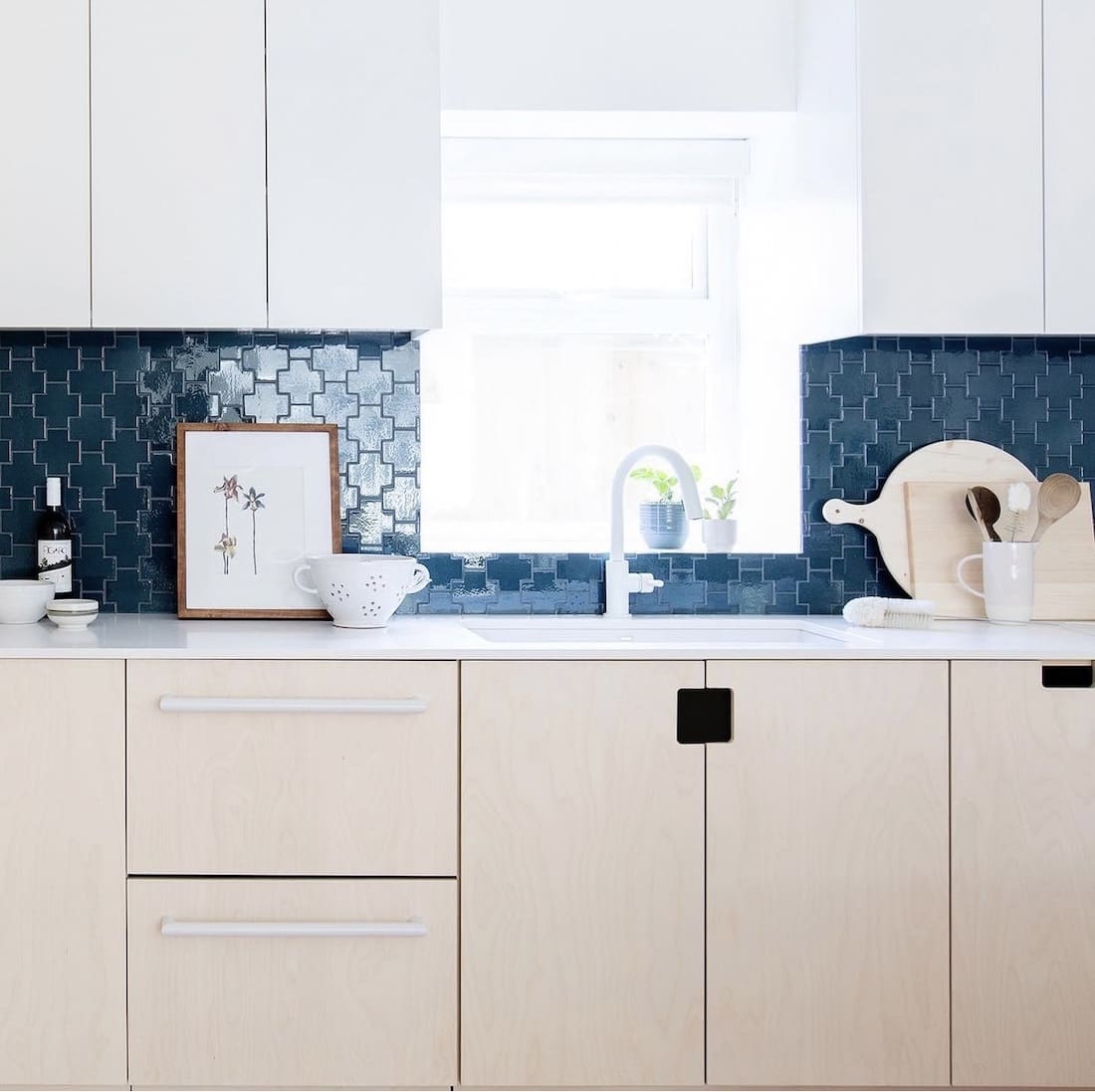 13. Picket tile
A shape I'm starting to see more of in design lately is the picket. It's a more angular take on the subway tile.
In the right space, this tile is AMAZING! Just take a look at how Dipped interiors created a blue feature wall in the kitchen below… I love how the picket accentuates the interesting ceiling details and creates definition between the living and kitchen.
Kate Walker has also shown how dreamy it can look in a light blue, tonal version laid horizontally.
If this tile speaks to you, you'll be happy to know there are lots of options on the market. Ripple finish, flat or bevelled, there are a range of colours available and smaller varieties too.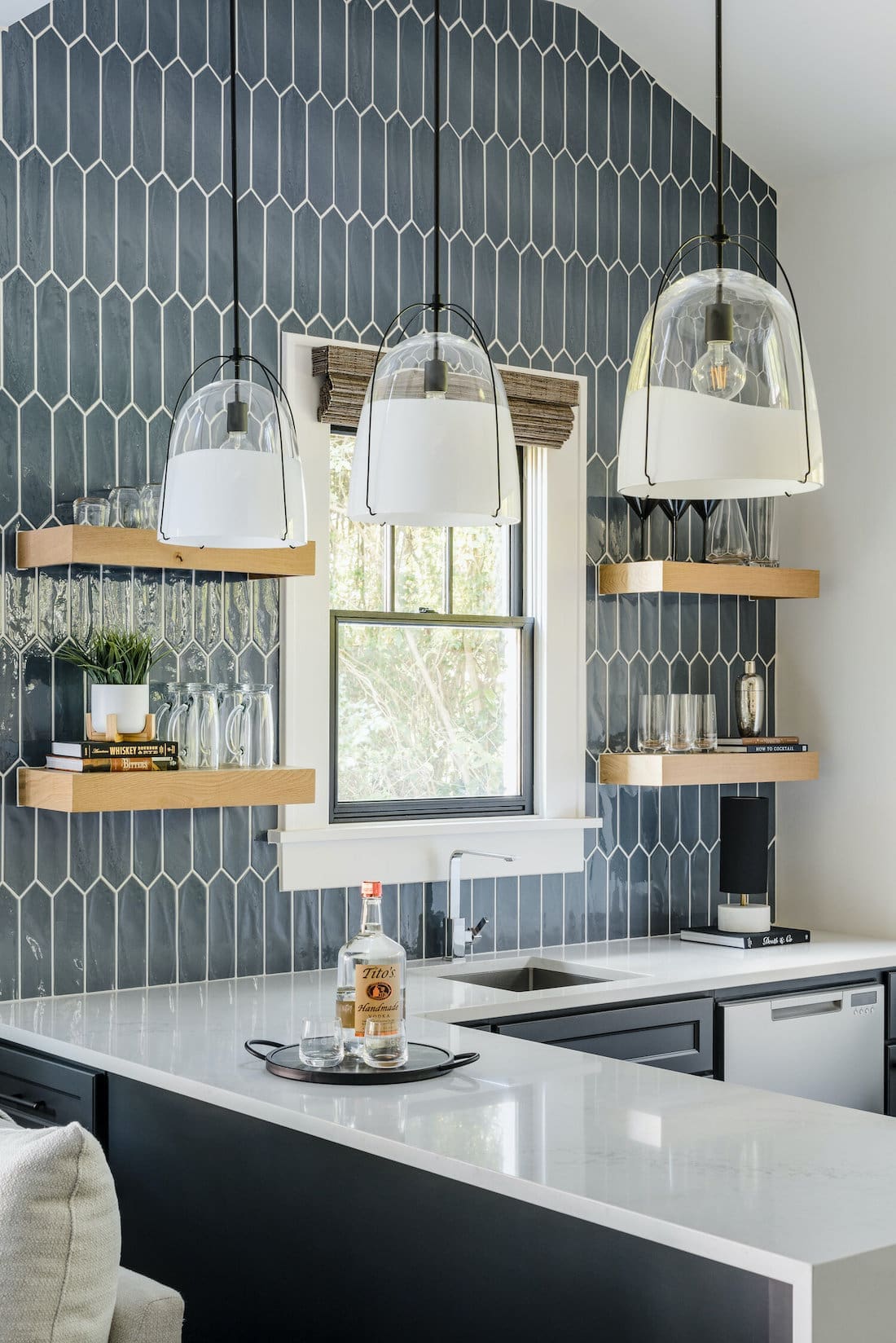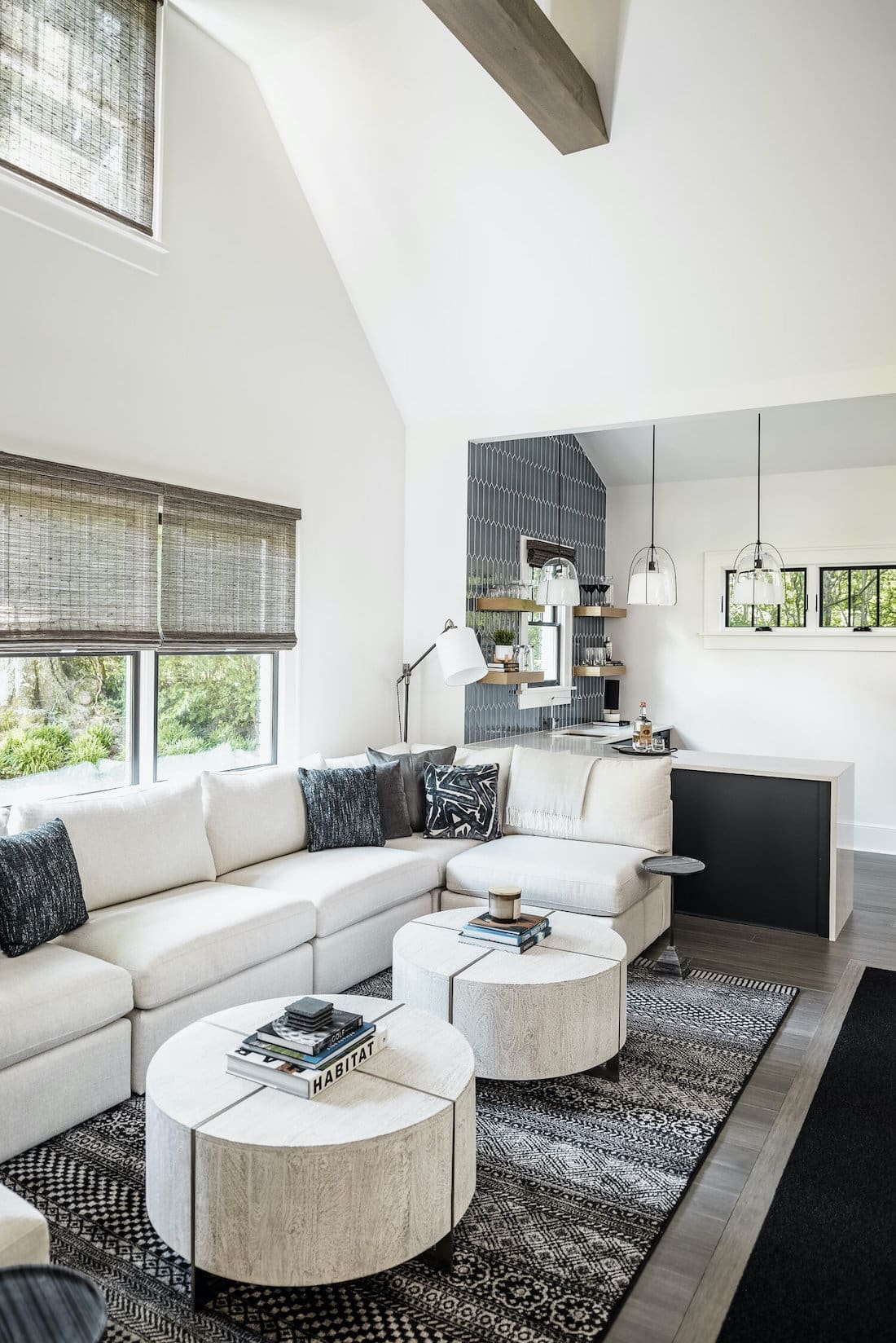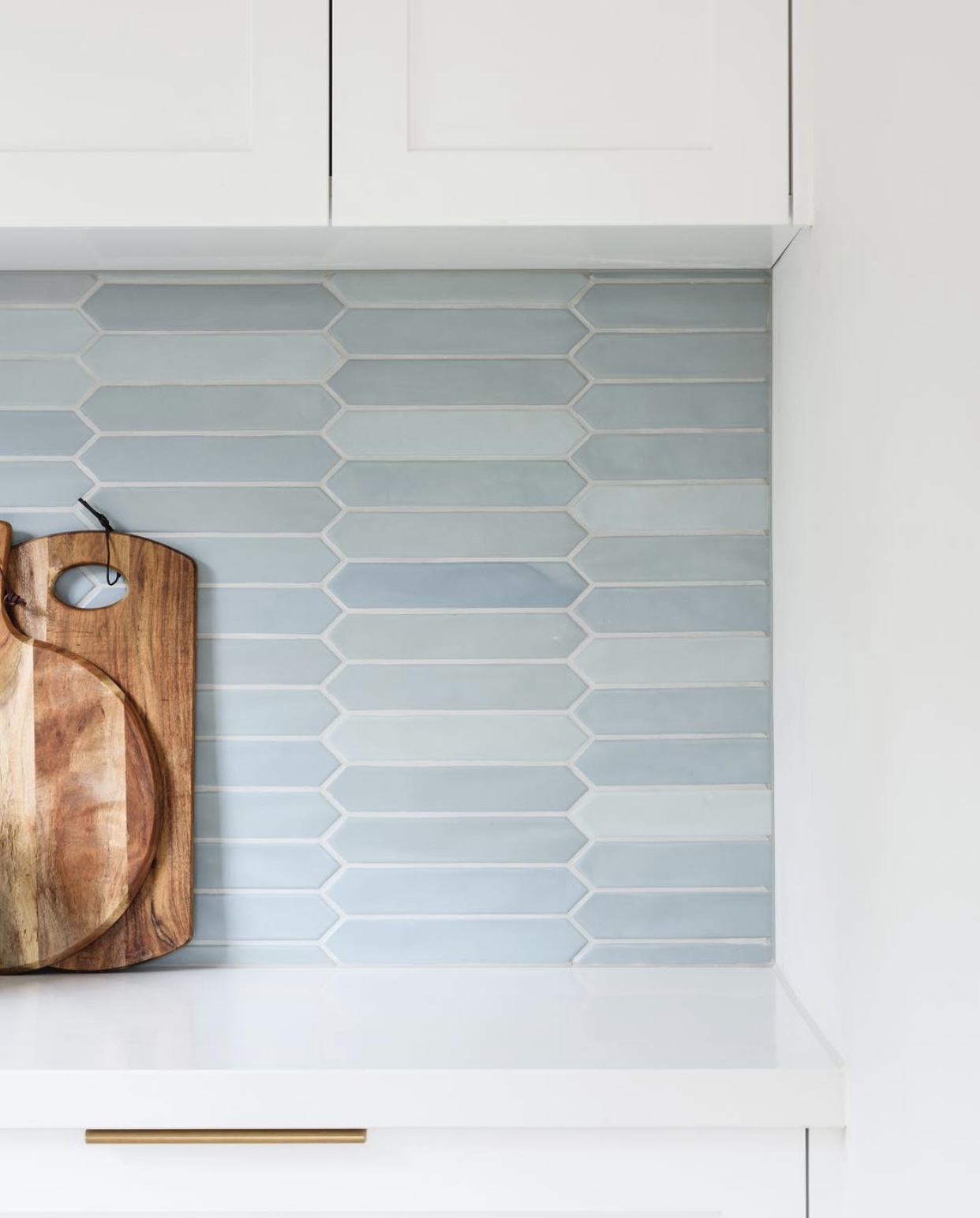 14. Feather tile
The final tile to make my round up of the best blue kitchen splashback tiles is the feather tile, also known as blade tile.
You'll find some versions that look just like a feather with a detailed glaze that mimics the unique pattern of a feather. And other times, it's a more abstract version, looking a lot like an elongated fish scale tile.
In any case, it's a beautiful tile that offers a highly decorative look yet with minimal grout — making it an ideal kitchen splashback tile.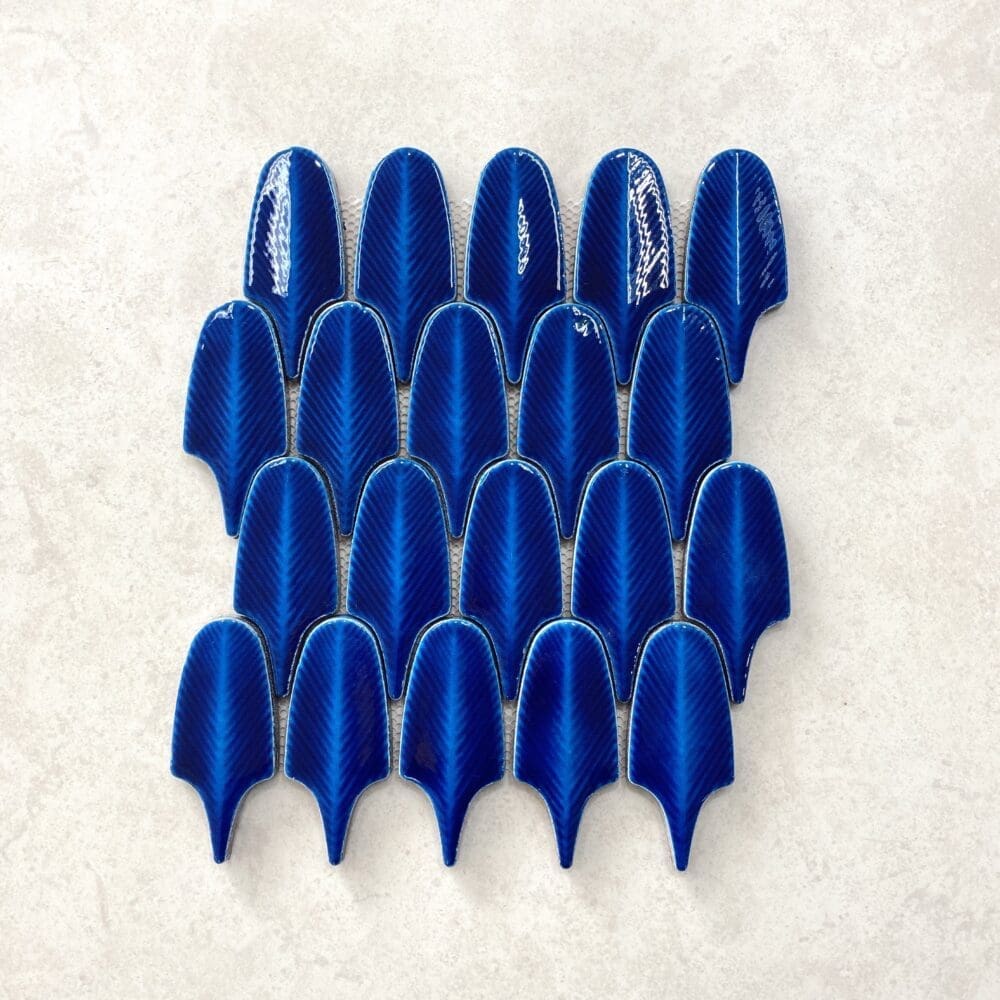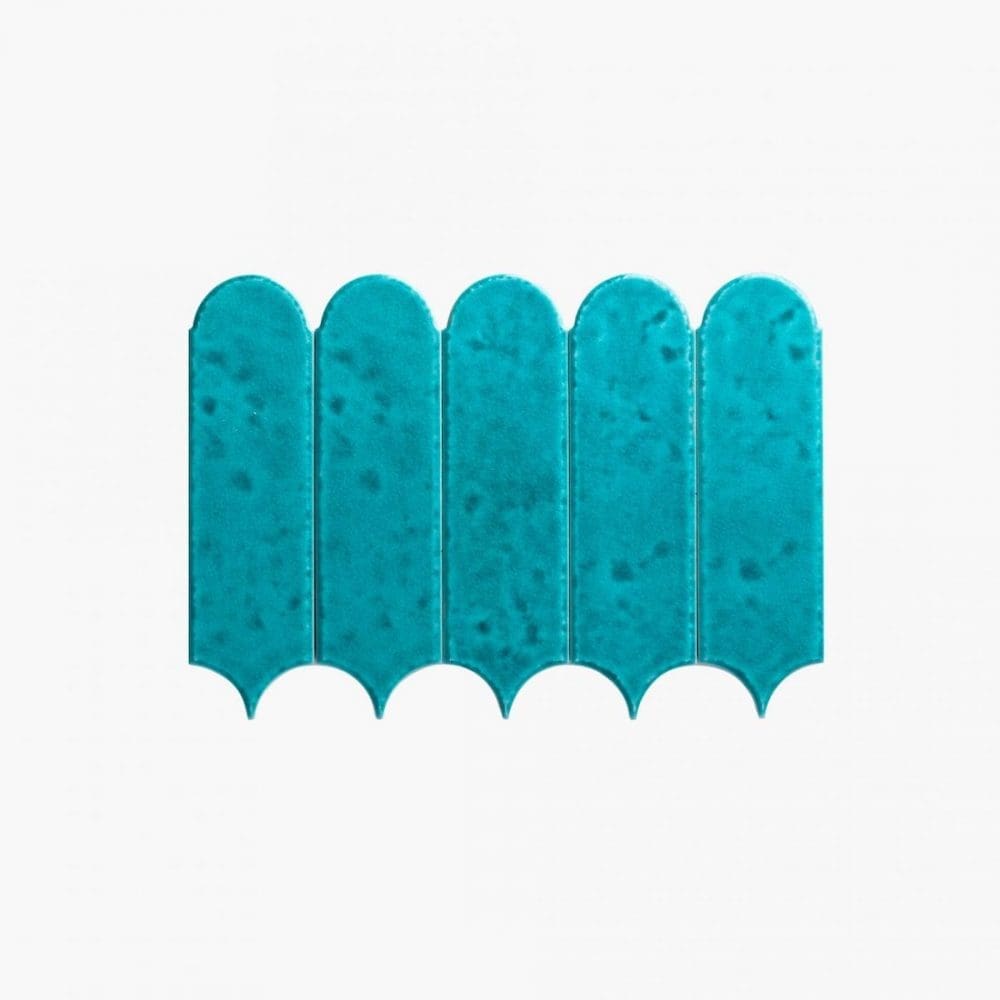 Has this round up of the best blue kitchen splashback tiles inspired you? Or have you discovered a different type of blue back splash tile that should make the list? I'd love you to share it in the comments below!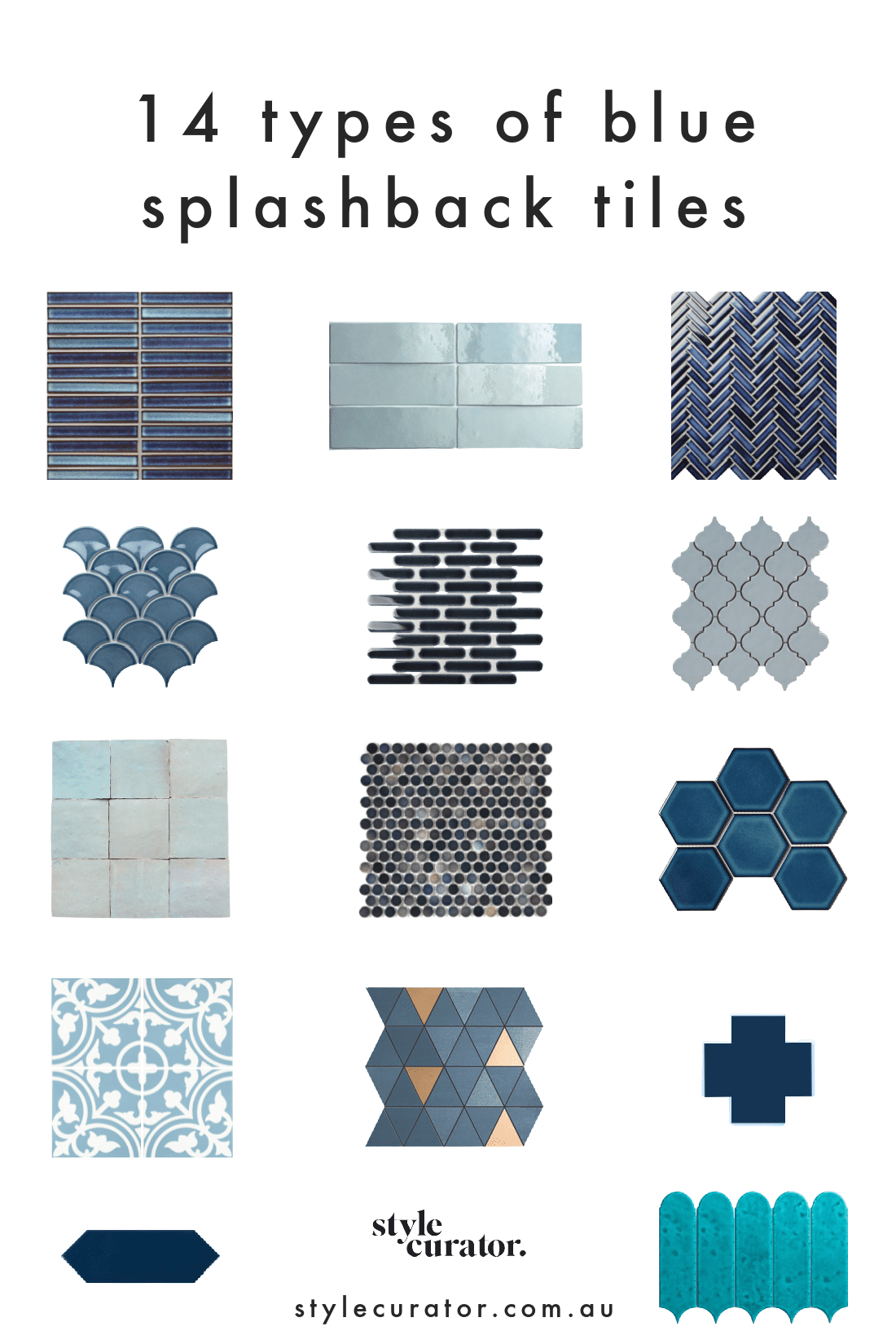 This article was first published in August 2021 and continues to be updated with latest information and images.