Supported by BoConcept
BoConcept has long been one of our favourite furniture brands for their timeless design and incredible quality. While we're all for mixing high and low items to create interiors that are achievable, when it comes to large ticket items such as sofas or dining tables, we always suggest saving for pieces that will last the distance. And the latest 2019 Scandinavian furniture collection from BoConcept is filled with beautiful furniture that will do just that!
Here are some of our favourites from the collection.
Related article: Designer bookcases to add style and function: See our faves from BoConcept Sydney
Related article: New multifunctional design furniture from BoConcept
Miami sofa
Perfect for small space living, the Miami sofa offers statement looks delivered in a marriage of comfort and simplicity. Those qualities are spoken through thick, pillow-like forms and pared-down details. Gentle curves and the absence of hard edges are calming. While high, broad armrests heighten visual comfort, adding a sense of seclusion. The look is finished with long, clean-styled legs with exposed under-frame; raising the form and giving the silhouette a light stance.
The design is built around three module types: a one-seater (two size options), a corner unit (with left or right armrest) and a pouf in two sizes. Pouf can be attached or standalone. Each Miami sofa module can be ordered in your choice of leather or fabric from the brand's range of over a hundred luxury options. More contrasts can be introduced through Miami's specially designed loose cushions.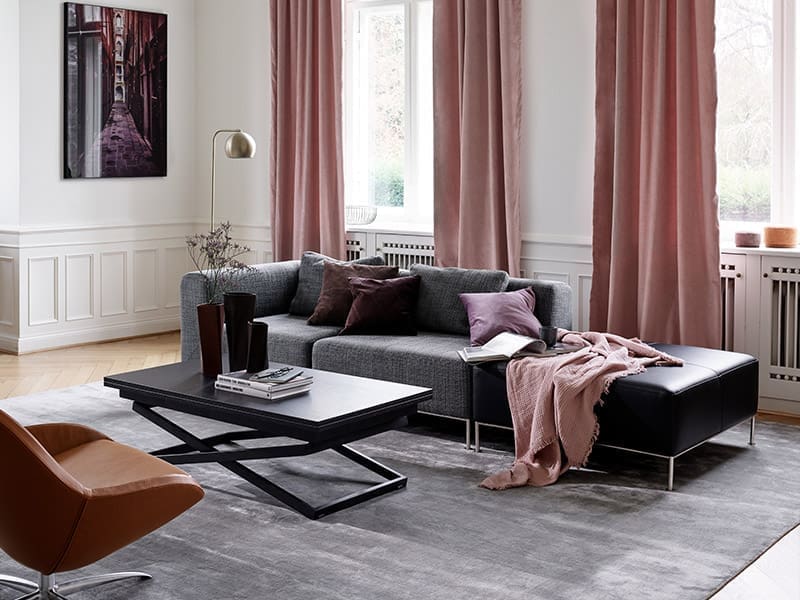 Parma sofa
The new Parma powered motion sofa is designed by celebrated Dutch designer, Frans Schrofer. This sofa doesn't look anything like traditional powered recliners which are known for their aesthetic limitations — in fact, the light design means guests won't know it's a motion sofa at all, until it springs into virtually silent life at the touch of a button.
The Parma's look is characterised by muscular lines, folded stitch details and sleek, sculptural legs. There are endless possibilities with the Parma's back/neck rests and footrests as they can all be adjusted independently via concealed soft-touch switches located between the seat and armrest. This gives each seat two arcs of movement and endless seating positions. Close attention was also paid to the movement of the neck rests, ensuring that Parma sofa can be positioned against a wall without constraint.
The ideal configuration can be built through Parma's three modules: a one-seater, without armrests, a one-seater with single armrest (left or right) and a conventional two-and-a-half seater with armrests. Both one seaters are not freestanding. All modules come with powered motion. The Parma sofa can be ordered in BoConcept's full range of over a hundred luxury leathers and fabrics.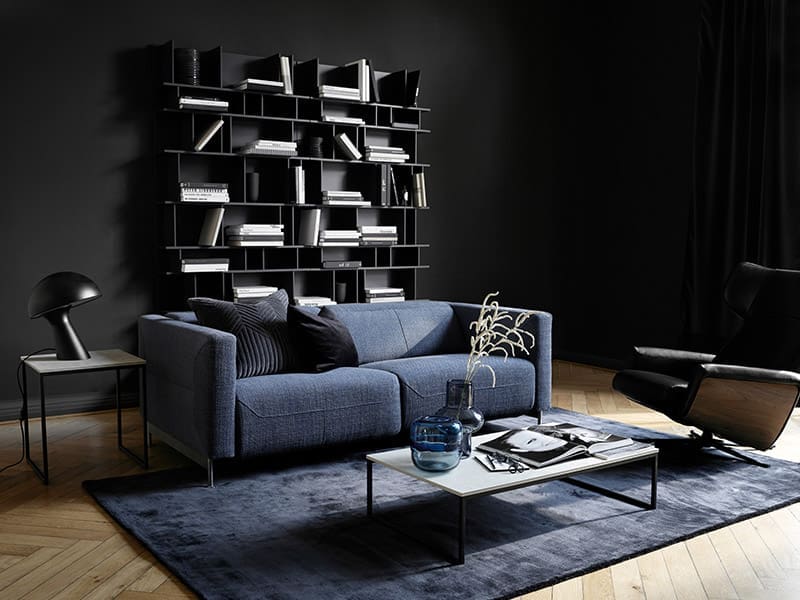 Amsterdam sofa
The Amsterdam sofa is a rich blend of opposites. Henrik Pedersen juxtaposes the sofa's voluminous cushion forms with slimline angular legs. Sharp, precise lines meet sweeping curves. And contemporary design gets mid-century detailing, with bolster cushions and piped seams. The style is luxurious and architectural – with broad arm and backrests jutting over its exposed metal framework. The look is finished with loose cushions and minimal seat tufts – producing a sofa that is welcoming and elegant.
BoConcept wanted to offer a high-comfort, modular sofa that can be adapted to suit the customer's changing needs. As such, all of its sides come fully upholstered, meaning modules can sit in isolation in any room position. Amsterdam currently comprises a chaise longue pouf and four modules: a 2.5-seater with one armrest (left or right mountable), an open-end available in two sizes, and a corner unit. All modules can be linked together with durable under-frame clips. Amsterdam will be available to order in the brand's full range of over a hundred fabrics and leathers.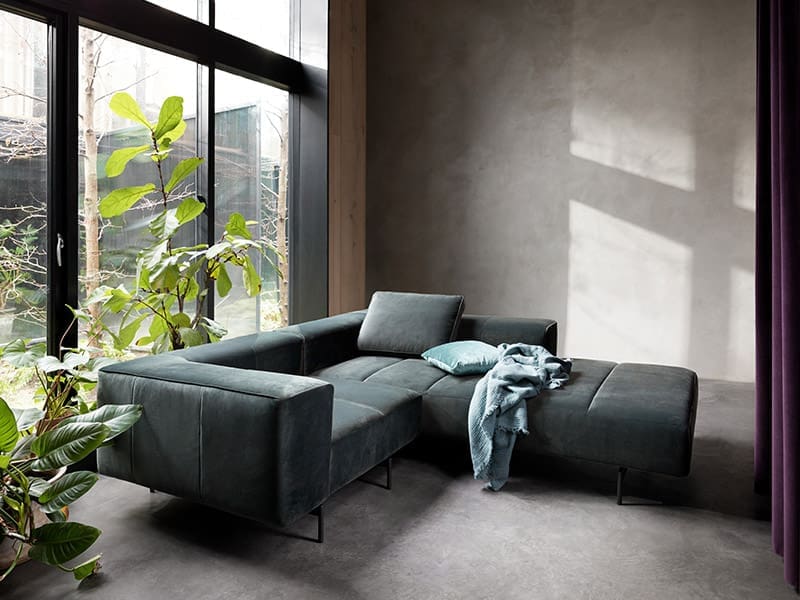 Bordeaux wall system
BoConcept's new metal Bordeaux racks embody the characteristics for which BoConcept and Morten Georgsen are famed: minimalism, functionality and elegant simplicity. The Bordeaux leaning rack is effortlessly versatile, particularly as the design requires no wall fixing and can be moved around the home with ease. The wall hanging rack can be ordered in either horizontal or vertical orientations. Its considered dimensions and minimal styling allow it to be used in a myriad of rooms: from entrance hall to living room to bathroom. Both hanging and leaning racks come in either white or black.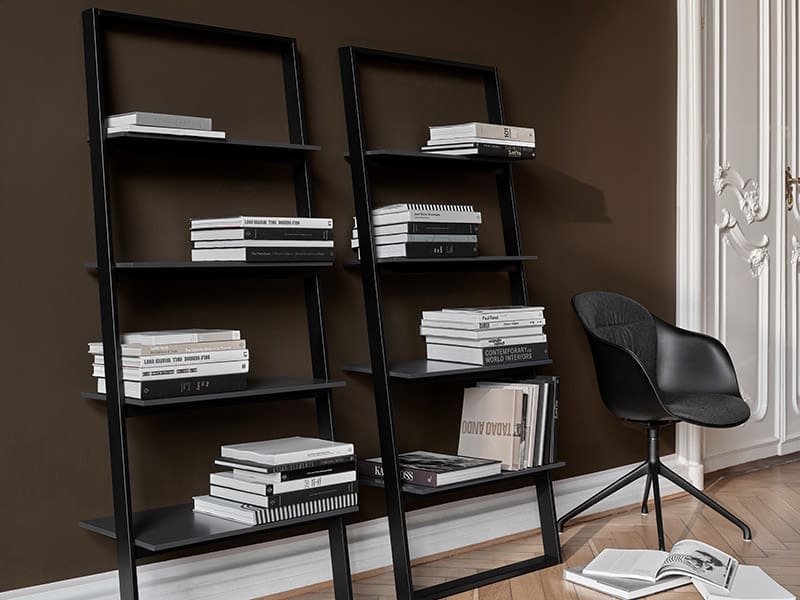 Madrid table
With it's unique structure, the Madrid table defines elegance in your home. The cone-based Madrid is also available as a coffee table, with two adjustable height options. For an alternative look, the coffee table can be ordered with a minimal tube base frame that incorporates a shelf, also cast in concrete. The coffee table tops come in two diameters, so adjusting heights with a cone base, makes for perfect nesting configurations. Madrid's table tops come in a range of materials, including ceramic, white, smoked and clear glass. Materials are not universally available across the range and are specific to each design. The coffee table can also be ordered with a squared top.
Did you spot a piece you just love from BoConcept's latest Scandinavian furniture collection? That Amsterdam sofa totally has us swooning!