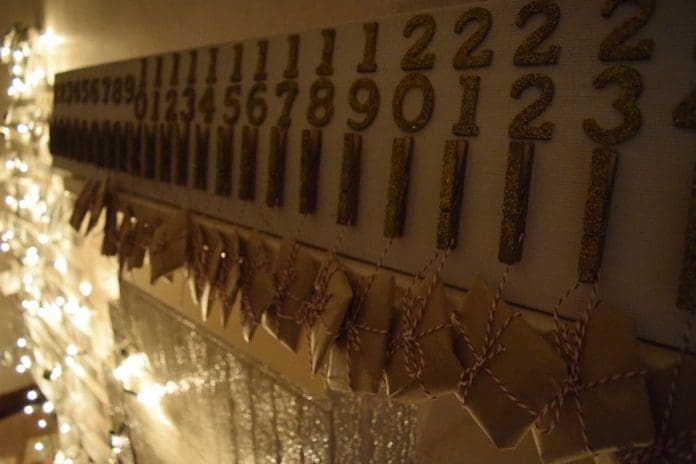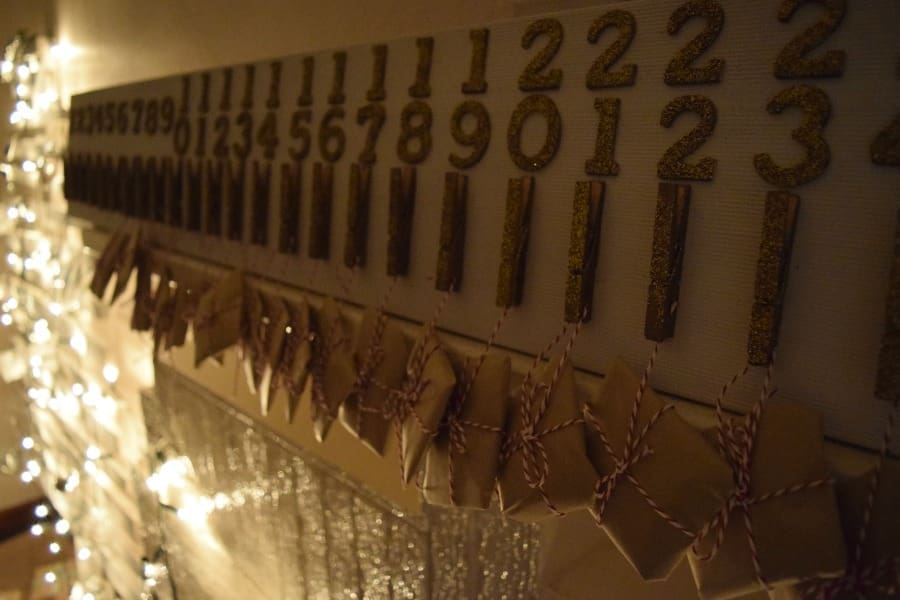 The countdown to Christmas is on and we'll be celebrating each day closer to Christmas by unwrapping one of our treats on this gold and glittery advent calendar.
If you would like to recreate this calendar at home, it's quick and easy to do.
You can even customise the calendar to suit your own Christmas decor. We can imagine it working well in a black and white theme!
[ingredients title="Items you will need"]
Wood board (ours is 80cm by 25cm)
25 wood pegs
Wood numbers
Gold paint (we used Haymes Gold Dabs)
White paint (we used Haymes Minimalist 1)
Paint brush
Super glue
Ruler
Pen
Glitter
[/ingredients]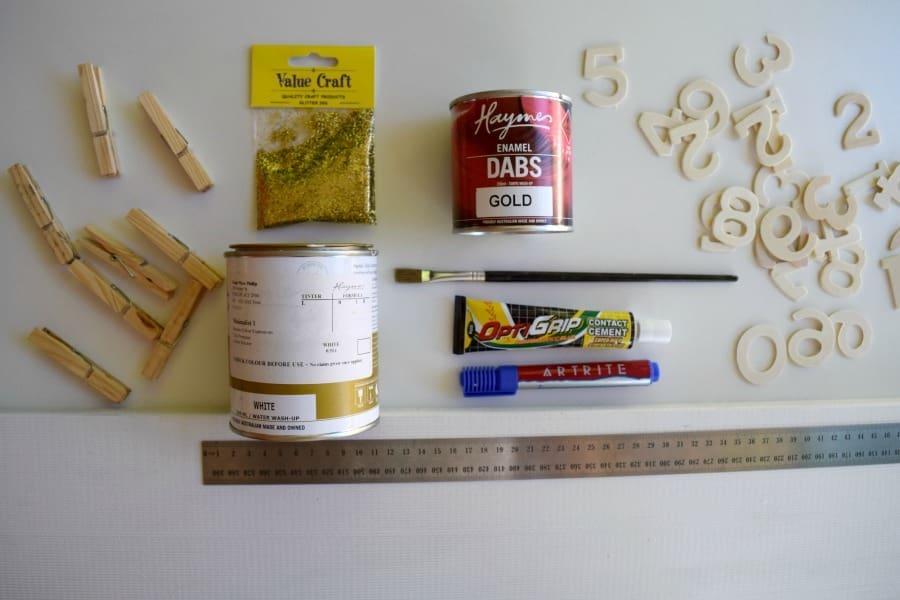 [directions title="Steps:"]
Paint the wood board with two coats white paint.
Lay out your pegs and wood numbers and paint them gold. While the paint is wet, sprinkle gold glitter over the top.

Once the pegs and numbers are dry, it's time to glue them onto the board. Position the numbers and pegs in place before you start gluing to make sure you have enough space. You can use a ruler to precisely measure or use your eye for 'pretty much' perfect results 🙂

Once the glue has set, hang your Christmas treats. We like the simplicity of brown paper and red and white baker's twine.

Pin this ↓ image ↓ to your Pinterest account so you can easily find and make it later!
[/directions]
Tips:
– Apply the glitter as soon as you paint the pegs and numbers so that it sticks well without needing to use glue. You may like to work in stages, painting 5 at a time
– Only use a few drops of glue to apply the pegs and numbers — too much and it will seep out onto the board
– Set up your craft station outside to avoid the glitter going everywhere in your home… it's a tricky one to get out of carpet!
That's how easy it is to make our DIY Christmas advent calendar. Do you have an advent calendar at home? We'd love to see a photo by tagging @stylecuratorau when you share it online 🙂