A while ago we extended our love of marble to our Mac laptops. So many people have commented on them and asked where they can buy the cover that we decided to share a tutorial about how to make your own marble laptop cover.
You can buy marble decals for your laptop online but most of the reviews aren't great, with people saying it's just a sheet of contact that doesn't even have the Apple symbol cut out.
Today we're going to show you how easy it is to do it yourself — we even created a step-by-step video — and for a fraction of the cost!
Related article: DIY mini moss ball planters
Related article: Big W hacks to organise or add affordable style to your home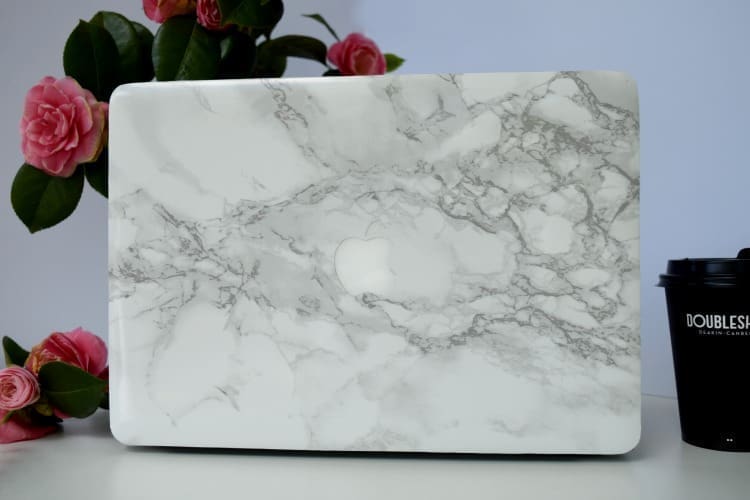 Items you will need:
Marble contact (we bought ours from Amazon here)
X-acto knife
Scissors
Plastic card to help apply contact
Hair dryer (optional)
Steps:
Check out this short video for easy step-by-step instructions!
1. Cut a piece of contact large enough to cover the face of your Mac with a 2cm allowance around all 4 edges.
2. Carefully apply the contact, starting at one edge and using your plastic card as you go to push out any air bubbles.
3. Use your scissors to cut the contact down to size. For smoothest results, rest the scissors against the edge of your laptop and do a gliding cut.
4. To cut out the Apple symbol, use your X-acto knife to delicately cut around the shape. It easiest if the laptop is on and open so you can see the light shine through.
Tips:
– Be sure to clean the surface of your Mac well before applying the contact, a microfibre cloth is great for this.
– Use a hair dryer on heat to firmly press down the contact around the edges for best results.
We love the look of our personalised Macs and even after months of use, it still looks as great today as the day we did it.
Got any questions about this DIY marble laptop cover or just want to leave us a comment? We'd love to hear from you in the comments below!