I've always said a well-dressed table makes gatherings more special — and especially so on Christmas! In previous years, I've done some pretty OTT festive tablescapes but this year, I decided to strip things back to create an effortless and elegant Christmas table styling look with candles and flower stems in a mix of glass vases.
I was inspired by the beauty and simplicity of the cone candles from Candle Kiosk. These candles are tall, sophisticated and bring plenty of drama to the table so I didn't feel much more was needed. Wherever possible I do like to add a pop of life to styling so I picked up a mix of peonies and dahlias that I placed in a mix of glass vessels I had at home.
Related article: Beautiful Christmas table styling ideas on a budget
Related article: 50 of the most beautiful Christmas gift wrapping ideas (with stacks of free printables!)
Easy ways to make your Christmas table more luxe
Crisp white table cloth
A white table cloth is the perfect base to begin creating your Christmas table setting. A table cloth brings texture and warmth to your setting so if possible, look for one with a cotton or linen blend (rather than just polyester). You can generally pick these up for $10-$20 from stores like Big W, Kmart and Target.
Of course, there are also many beautiful Christmas themed table cloths available but the benefit of white is you can use it year round, they're generally less expensive and they instantly bring that 5 star restaurant vibe.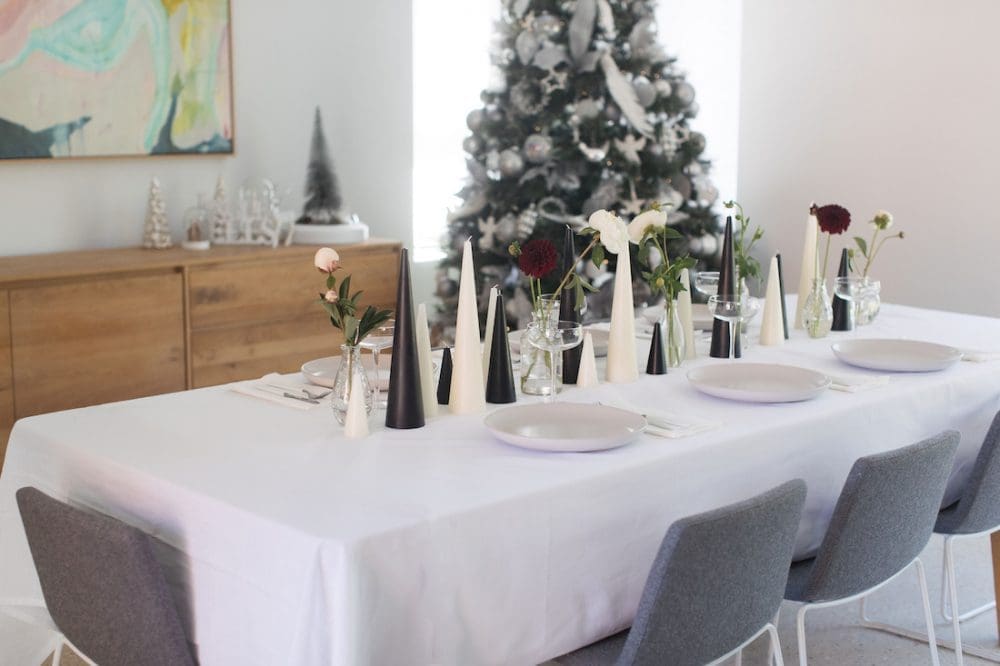 Repetition, repetition, repetition
You've heard me share this tip before and I'll say it again, repetition of any object tricks the eye into perceiving it as more luxe. And this applies to just about any styling around the home. For example, if you have a large blank wall and don't have the budget yet to invest in an oversized piece of artwork, picking up 12-15 identical frames that you can arrange in a grid and fill with black and white photos or artwork will create a big statement on that wall for a fraction of the price.
Coming back to this Christmas table setting, you can see I've used the trick of repeating the cone candles and floral stems down the centre of the table. Super simple to do and I love it!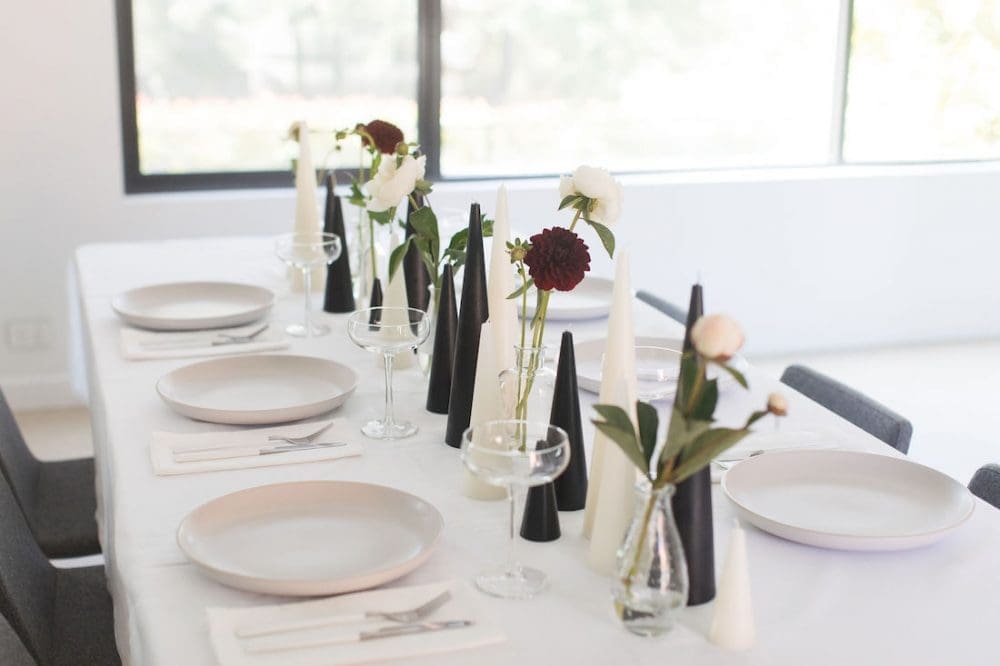 Pop of life
Wherever possible, adding a living element or something from nature to your table styling is a winning idea. Because I wanted to keep this table understated, I simply picked up a few stems of peonies and dahlias from my florist and placed them in a mix of glass vessels I had.
Other ideas of things you could use:
pine cones or pine branches for a more traditional look
a large floral arrangement in a vase
berry branches or sprigs used as part of the place setting
mini pot plants of herbs or succulents (this also makes a fab gift for guests to take home).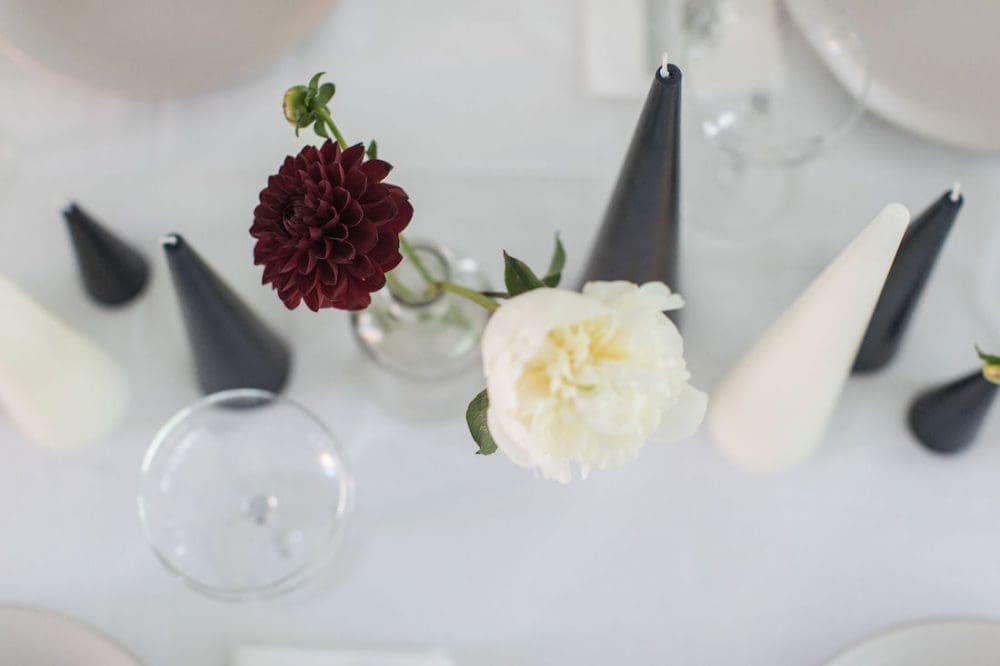 Beautiful glassware
Another way to easily glam-up your table styling is with your glassware. It seems like the range of affordable and oh-so-stylish options are greater than ever before. I found these new champagne coupes from IKEA for just $3 each — I love how they feel extra festive!
I hope you found some inspo for your Christmas table from this Christmas setting I created.
You may be concerned about how I placed the candles directly onto the table cloth but Candle Kiosk creates their candles from the bottom up so they stand straight, won't smoke and don't drip. The wax is also fully refined and finished with a 100% natural, lead-free wick for a clean burn.