We adore discovering new artists here at Style Curator. But we equally love checking back with artists and makers we've previously featured to see how they've progressed creatively. We recently caught up with Shana Danon of Emilio Frank Design again, to see what's been happening in her world.
Shana is an artist and surface designer who's made a big splash in the industry with her vibrant, modernest style. Her boldly unique, colourful abstract works have been showcased on various home renovation shows and even on the New York fashion runway.
Related article: Discover the colourful, vibrant and joyous paintings of Chris Mercer
Related article: Custom upholstery artist, Kerri Hollingworth, breathes new life into old furniture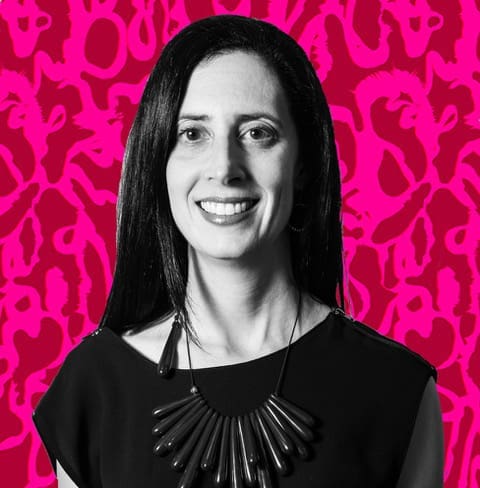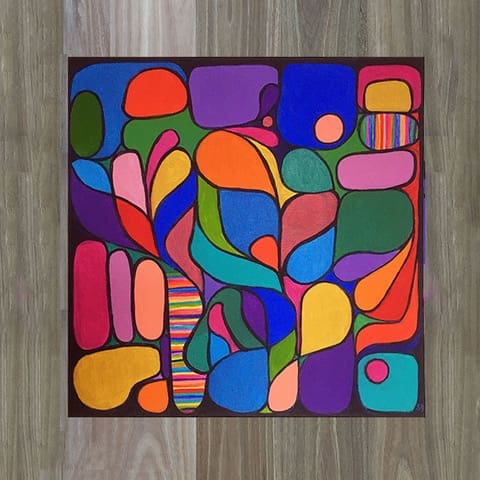 Tell us a bit about yourself and how you became a designer?
"I grew up in a family of artists who nurtured my passion to become a maker and work with colour across a variety of media. I was surrounded by handmade fibre art, ceramics, painting and craft from an early age," says Shana.
"My previous company 'Organised Clutter' was one of Sydney's first professional organising businesses — decluttering, organising and restyling homes to maximise space, inspire creativity and educate about mindful purchasing and the environment.
"I decided to combine working in interiors with my love of visual arts and studied Colour + Design, followed by Surface Design, so I could apply my emotive artworks, patterns and illustrations onto products for the home.
"When I placed as runner up in the Designer Rugs / ISCD awards for 'Hourglass' and had my rug design produced by Designer Rugs, it inspired me to continue pursuing my passion and form 'Emilio Frank Design'."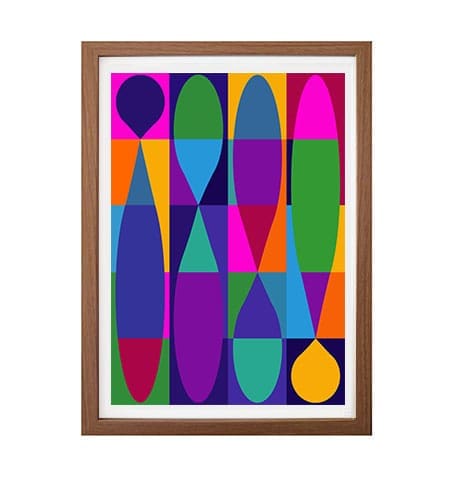 How and when did you launch your company?
"Emilio Frank Design launched in June 2015 and was named in honour of my creative grandfathers, Emil + Frank. In my first year of business, I focused on learning as much as I could about the industry. From finding like-minded suppliers, to expanding my skillset, building a community on social media and developing my brand.
"I produced my first series of limited edition art prints, a collection of textile designs for quilt making and another for fashion. I also designed a small range of homewares.
"In my second year of business I continued to explore new avenues. Exhibiting artworks in galleries, showcasing products and prints at artisan markets. I completed artwork commissions for residential and corporate properties, and collaborated with local makers. I enjoyed the learning process, while still growing my brand."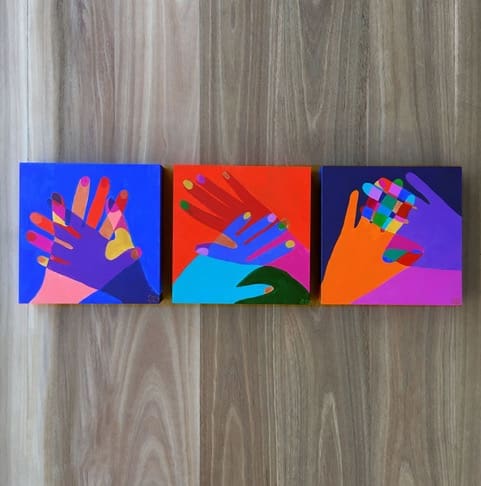 You've been busy since we last caught up! Tell us about a few highlights.
"Over the past few years I've had the privilege of pursuing my passion for art in an industry I love. I've done some amazing collaborations, met with inspiring makers, galleries, stockists and fellow creatives," says Shana excitedly.
"There's also been a whole lot of firsts. My first collaboration, my first public art, first artwork sold, first successful design market, just to name a few! I've learnt a lot of lessons from rejections and mistakes! These have contributed to the progress and successes, even if they didn't feel like it at the time!
"My first public artwork 'Lunar Garden' was for a traffic light signal box in Five Dock and later became a best selling limited edition triptych [artwork divided into 3 pieces].
"This autumn, I was honoured to exhibit at the Sydney Children's Hospital. To make a difference through fundraising and brighten the corridors for the kids and staff was incredibly special.
"My piece, Hand in Hand Triptych (Love Connect Embrace) was painted well before Covid. However, it's since become even more meaningful when we couldn't do the everyday things we previously took for granted.
"The hospital told me families would pose under the hands, taking photos. The painting helped promote a donor fundraiser and it was so heartwarming to hear how generous people were.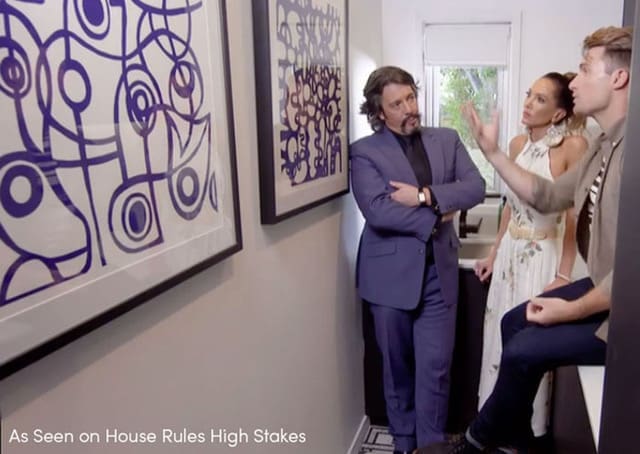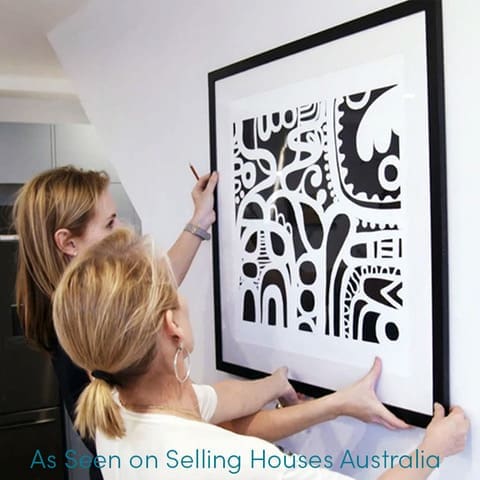 Your art recently featured on Selling Homes Australia and House Rules High Stakes. Tell us how that came about.
"I am very fortunate to be represented by Art Lovers Australia who supply artwork to television shows. The team presented a selection of artworks, including a few of mine, to the House Rules contestants and Shaynna Blaze from Selling Houses Australia.
"When I received the call that mine had been chosen, I was in public and had to contain myself," Shana laughs.
"I did lots of happy dancing once I got back into the privacy of my studio!"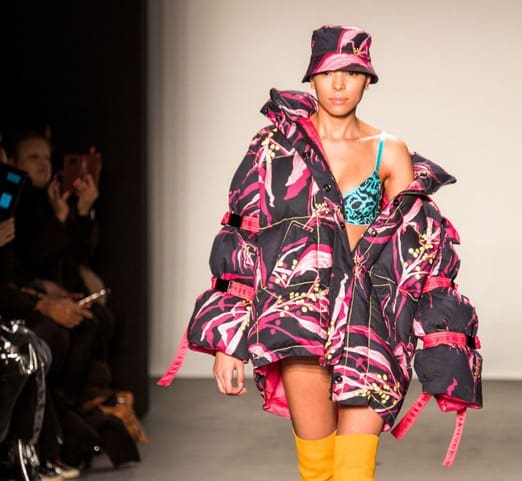 Your artwork also featured on the New York fashion runway — can you tell us more about this exciting venture?
"Oh my goodness, so incredible! You may recall when we last chatted, I said I really wanted to do a collaboration with a fashion label.
"The textiles were created in collaboration with designers of fashion label, The Arlo Studio. They were looking for an artist to create prints for their 'Gone Bush' capsule. It was to debut at New York Fashion Week for Autumn/Winter in February 2020.
"Charlotte, one of the designers, noticed my Emilio Frank Design 'Bau-Wow-Haus' dachshund tote while I was running errands one day. This simple encounter sparked a conversation about surface design, patterns and possibilities," Shana recalls.
"The collaboration just grew from there and was extremely well received. It's since been seen in international print and online publications, including Grazia, Harpers Bazaar and Elle.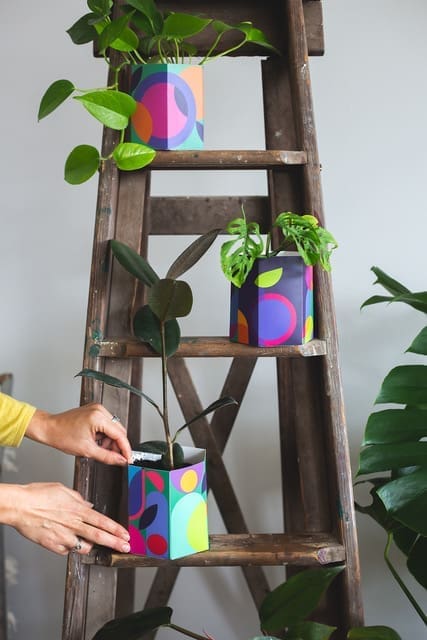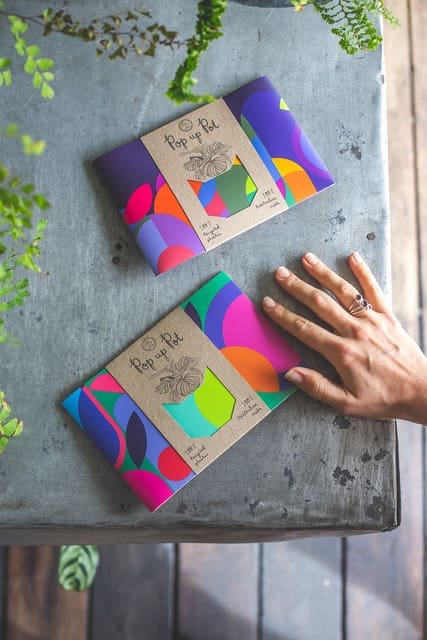 You've got a collection of homewares, but more recently we've seen some wonderful pop up pots. Can you tell us more about those?
"My most recent collaboration is with Sow 'n Sow. Michelle Brady approached me and asked me to create 2 artworks for her locally made, sustainable pop up plants pots.
"The new designs have just launched and are on my website — they're so vibrant and cheery!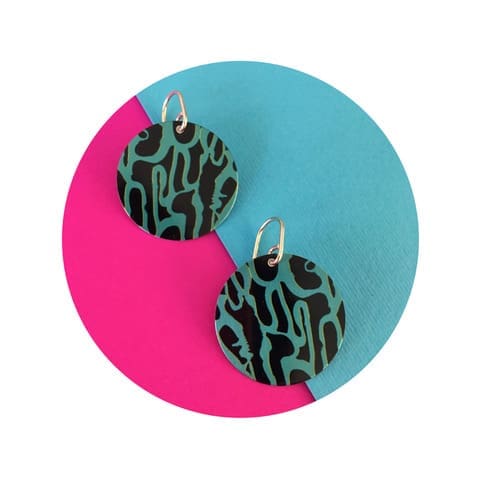 What's next for Emilio Frank Design?
"My goals are to spend more time painting in the studio. I'd also like to work towards a solo exhibition while continuing with commissions. I've enjoyed creating bespoke designs for collaborations and am excited to keep growing the licensing side of my business," says Shana.
"Last year I branched out into jewellery design. I began working with local jewellers and laser cutters to feature prints and patters on various surfaces.
"I'm also going to try to be more mindful of maintaining a work life balance. When you love what you do, it can be difficult to stop! But recharging is necessary for creativity and self care," smiles Shana.
Looks like there's no slowing down for Shana in the near future! If you love the look of her original designs, visit her website or check out her Instagram.
Shana has also been incredibly generous to offer the Style Curator community a 10% discount on all orders over $100. Simply use the code STYLECURATOR at the checkout and also enjoy free shipping on all orders Australia wide. This offer is valid until 31 August 2020.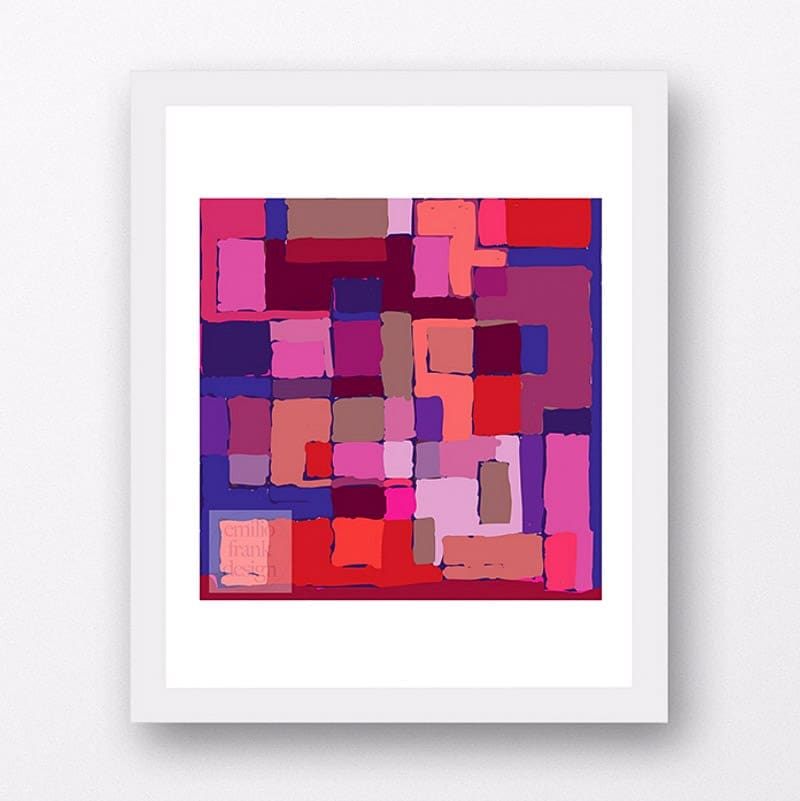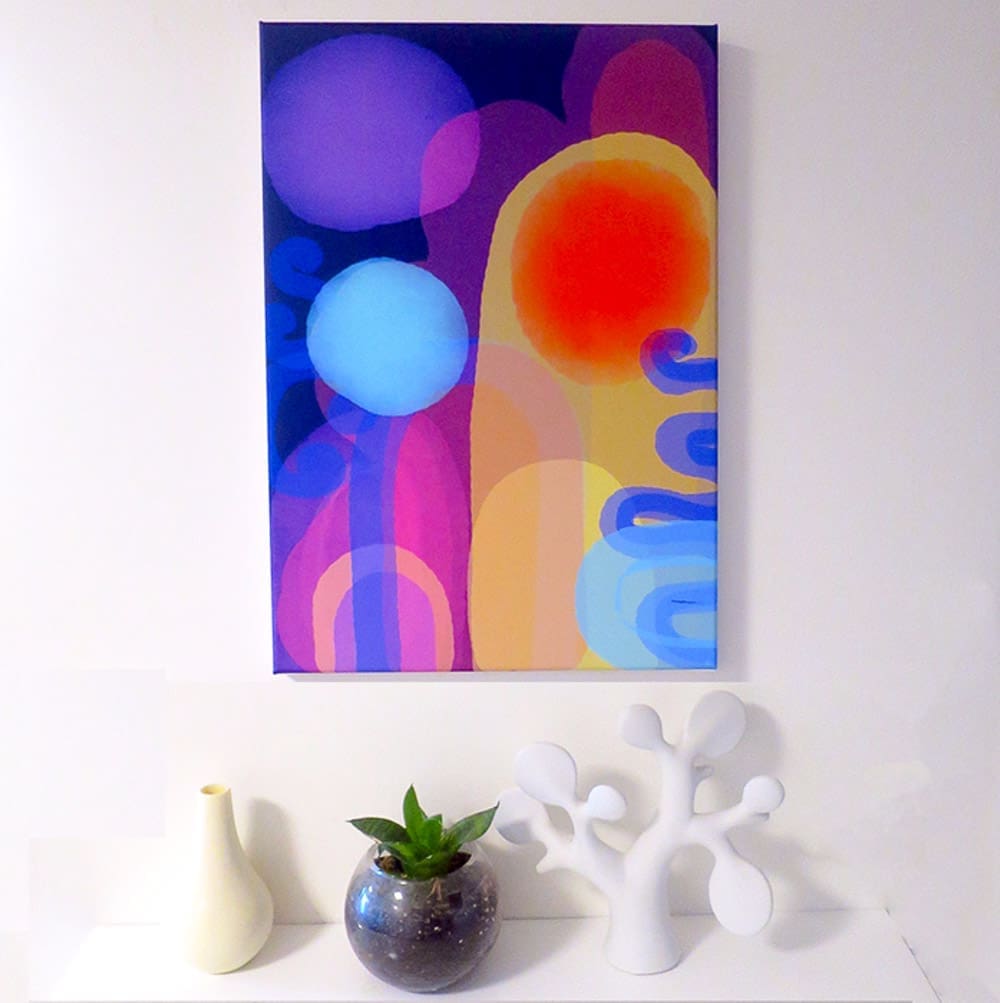 This article was first published in June 2017. It's since been updated with new content and imagery.