Essential oils have so many uses around the home. And while we love using ours for their natural, low-tox cleaning properties, they're also perfect for rest and relaxation. From soaking in the bath to diffusing your favourite blends, we share with you the best essential oils for stress relief and relaxation. Plus, we have a dozen ideas and simple DIYs on how to use our favourite R&R essential oils.
So get ready to tap into the benefits of aromatherapy and enjoy these natural remedies for stress relief!
Related article: The top 10 essential oils you need in your home
Related article: DIY bath bombs: Make luxe bath bombs with this simple tutorial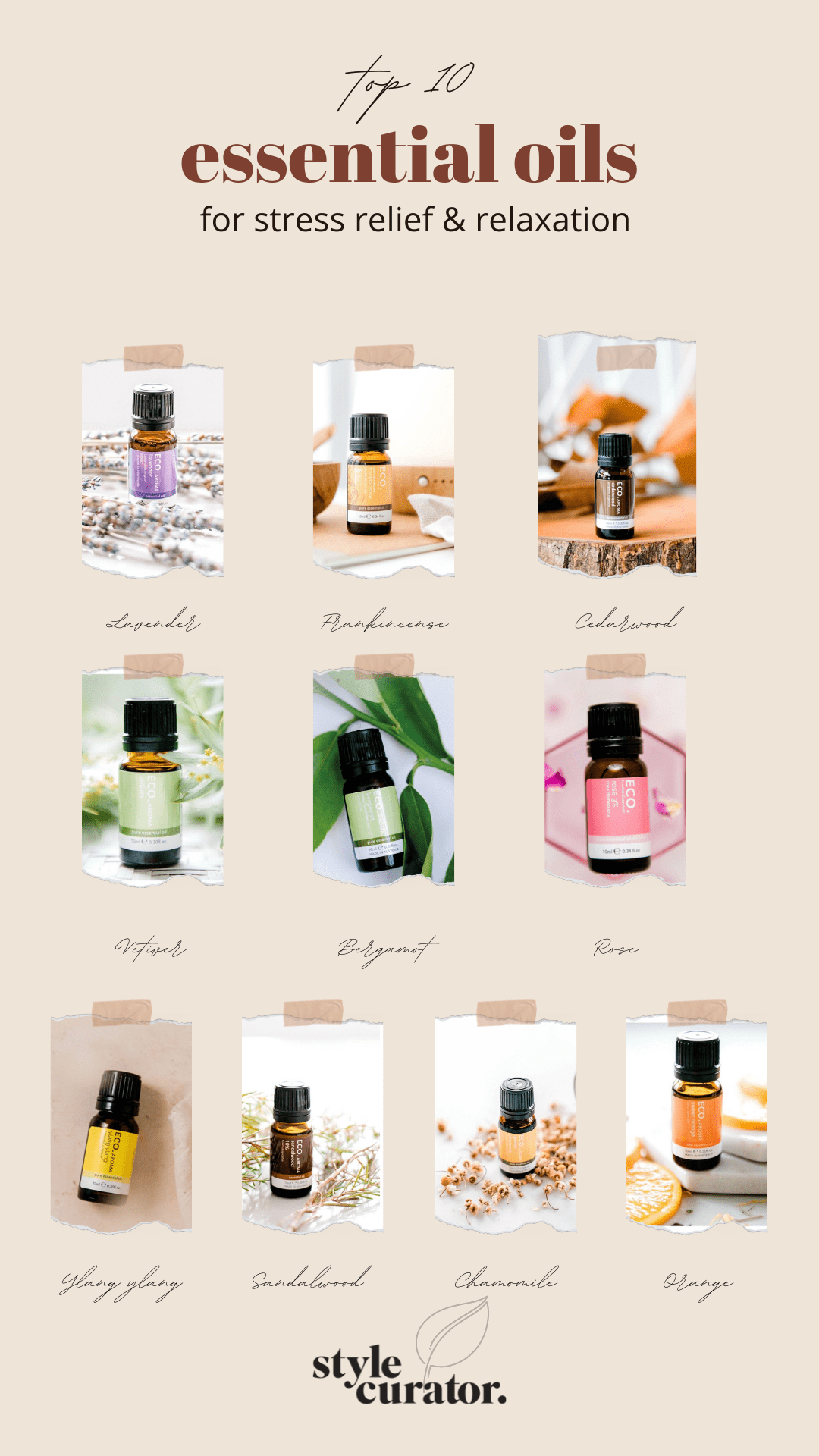 Why use essential oils for stress relief and relaxation?
Scent is incredibly powerful in affecting how we feel — both positively and negatively. To get scientific, "Odours take a direct route to the limbic system, including the amygdala and the hippocampus, the regions [of the brain] related to emotion and memory" (The Harvard Gazette). By consciously incorporating scents that have beneficial properties, we can create a more positive and uplifting home environment, or use these to enhance our self care.
Essential oils are naturally derived, pure scents so there are no toxins or artificial fragrances.
Add to that the healing and remedial qualities of essential oils and it's easy to understand why these are so popular for stress relief and relaxation. For example, lavender is well-known at helping to improve sleep while peppermint can help with mental clarity and positivity.
Smells can trigger memories and emotions. Using essential oils can help in difficult times, even helping to reduce stress and anxiety levels.
Studies have shown that the effectiveness of an essential oil increases if you like the aroma. So while we've created this list of the 10 best essential oils for stress relief and relaxation, the very best ones to choose are the ones you love.
As for which brand to pick… our go-to store is ECO. Modern Essentials. They're 100% pure, affordable, available online for convenience (without membership fees), plus their products are all vegan and cruelty free!
The 10 best essential oils for stress relief and relaxation
It was inevitable that lavender would take top spot in our list of the best essential oils for stress relief and relaxation. And for good reason! She's an absolute powerhouse! The use of this oil dates back to Egyptian and Roman times, when they would use it for bathing and relaxing.
Said to help soothe and relax the mind and body, lavender is also ideal to help ease feelings of angst and encourage restful sleep.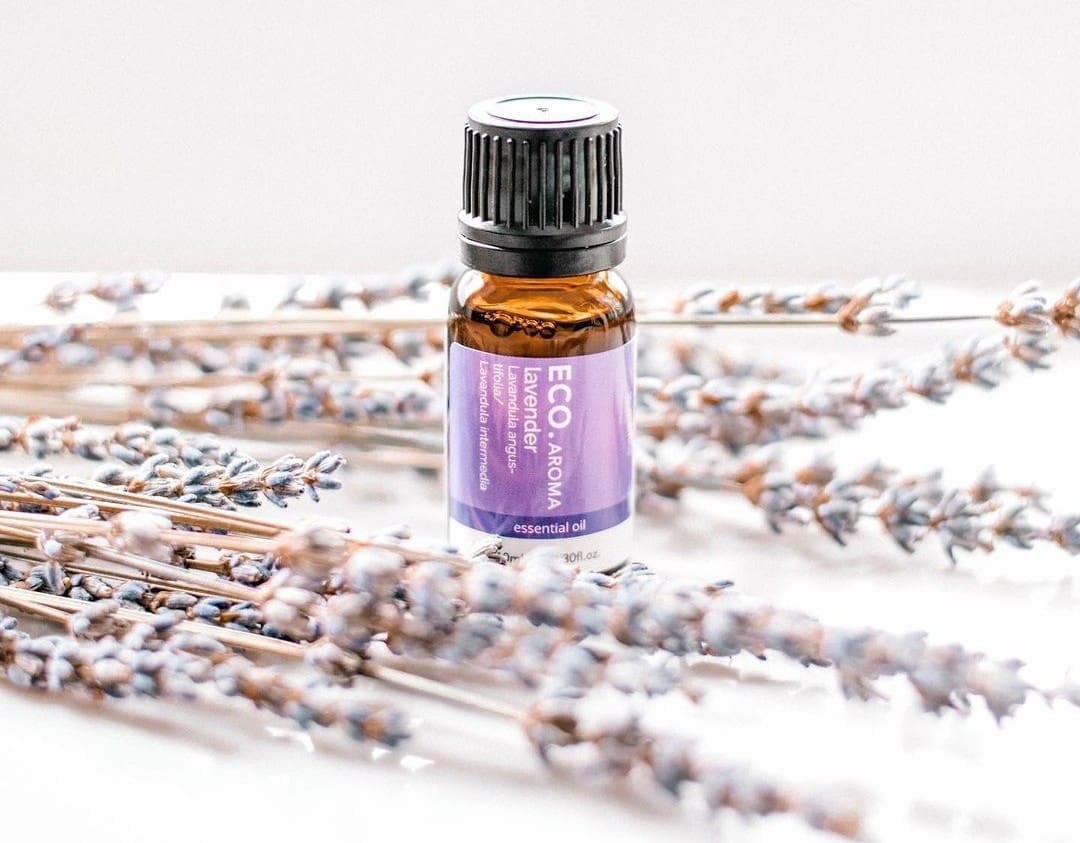 The king of oils, frankincense is said to promote feelings of peace and relaxation. An oil with a warm, spicy and woody aroma, frankincense can assist with nervous fatigue and help quieten a busy mind.
Tip: it's a wonderful oil to use during meditation to help deepen the breath and still the mind.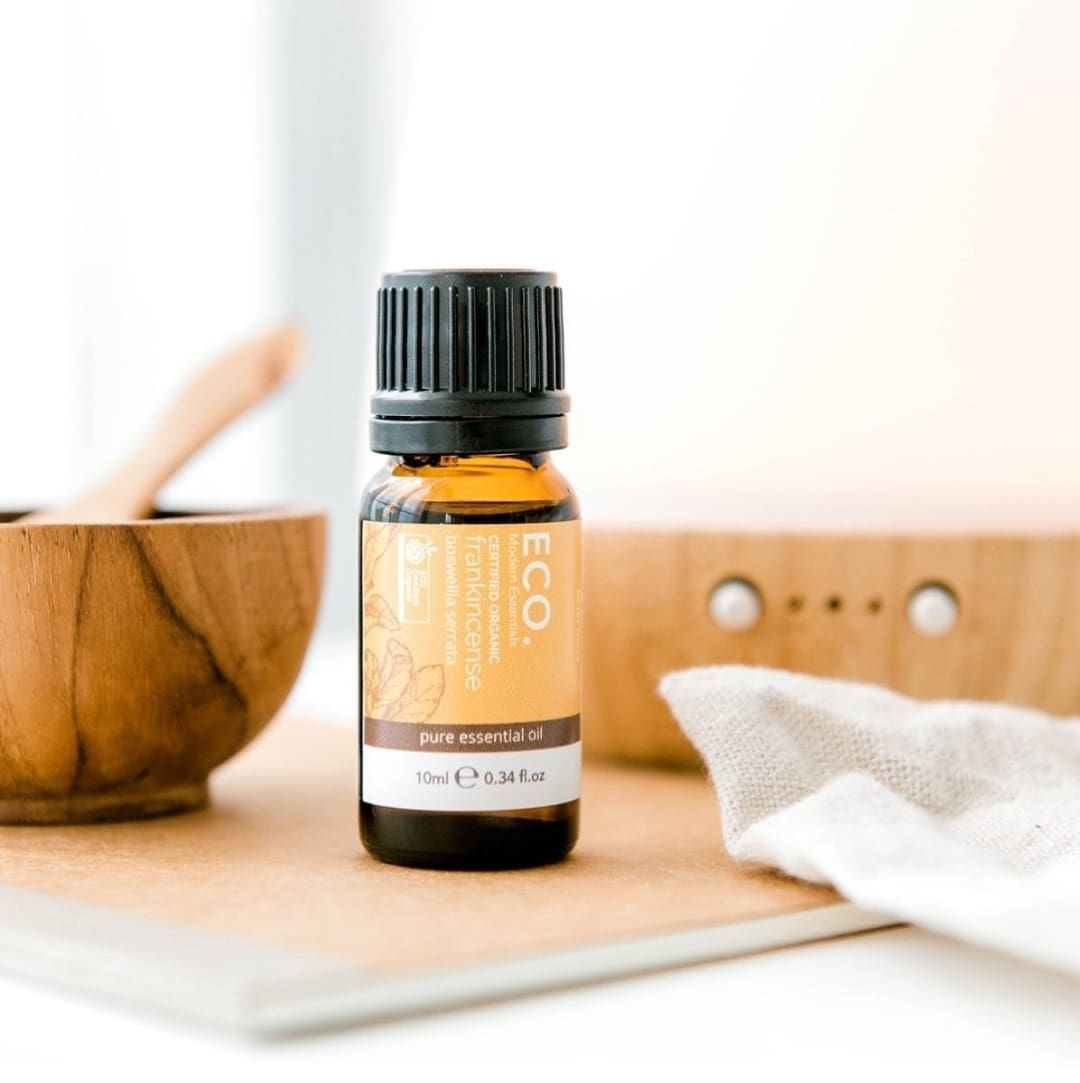 Cedarwood is a calming, grounding oil said to help promote a sound sleep. It's an uplifting oil that can help when feelings of aggression or anger creep up. Cedarwood is often described as a more masculine scent with delicious woody undertones.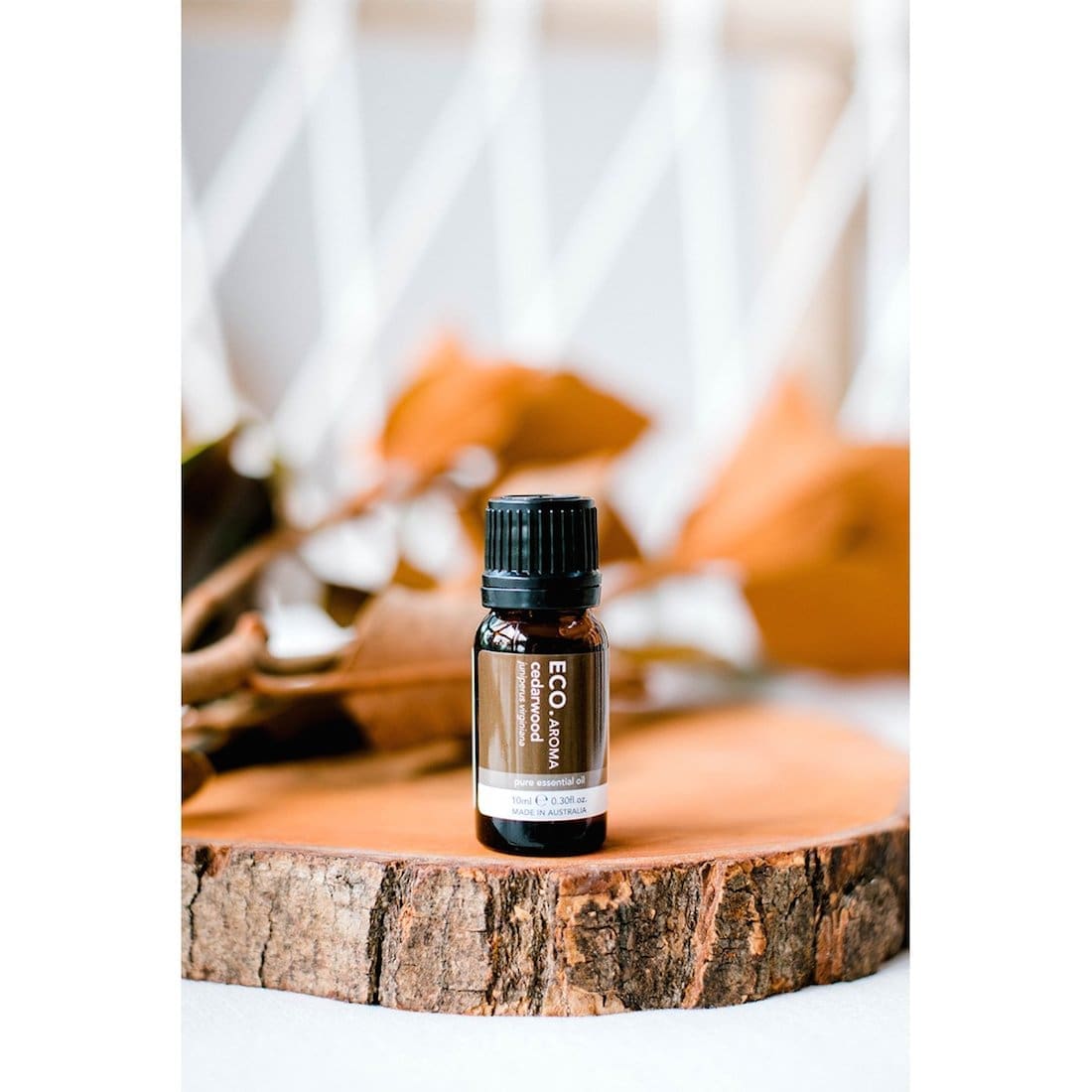 Vetiver is an incredibly grounding oil. You only need a few drops as it's incredibly strong and we usually blend it with lavender, clary sage, lavender and/or lemon to soften the scent. Vetiver has a smoky, earth-like aroma and is a mild, natural sedative that helps the mind and spirit relax and unwind.
It promotes relaxation and sleep, relieves stress and is helpful for those who tend to feel anxious.
Try this simple DIY: together with a small amount of carrier oil like sweet almond, fractionated coconut or jojoba oil, add 1 drop of vetiver and massage into your feet before bed.
Sweet dreams!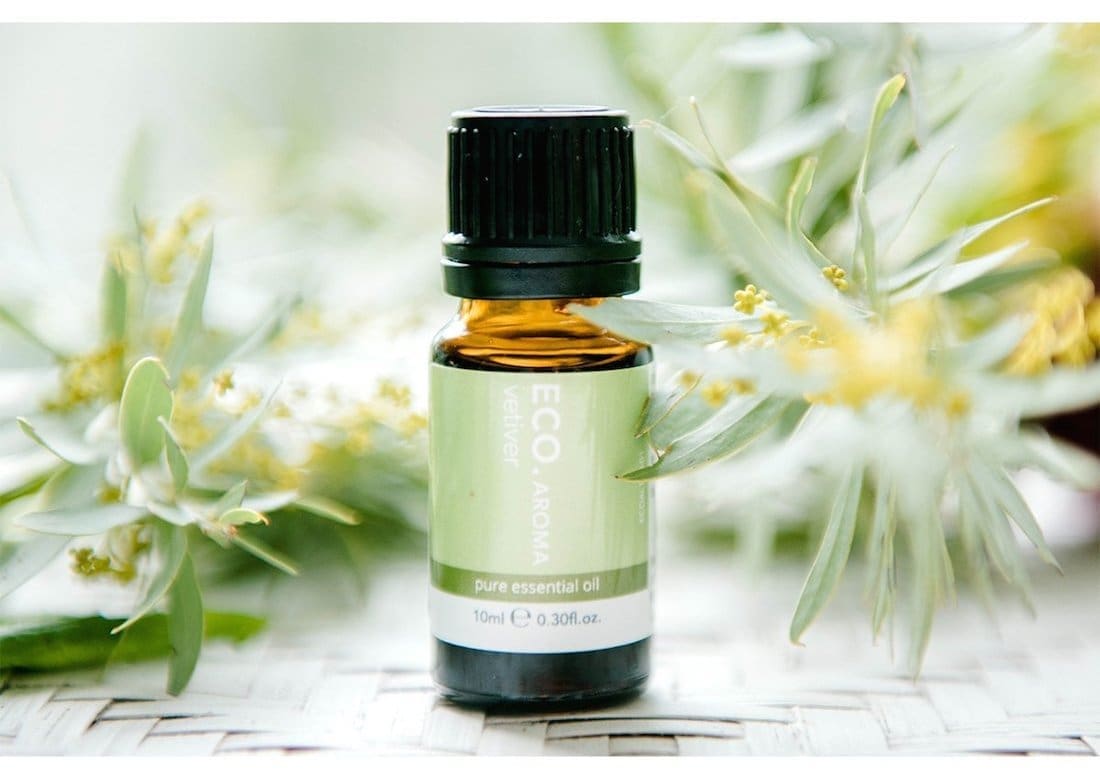 Bergamot is a citrusy, sweet oil that is said to help promote positivity as well as being a calming scent. It is helpful for times when you are in an agitated state, or perhaps angry, stressed or have feelings of grief.
All citrus oils are uplifting and have beautiful scents but bergamot is definitely a fave of ours.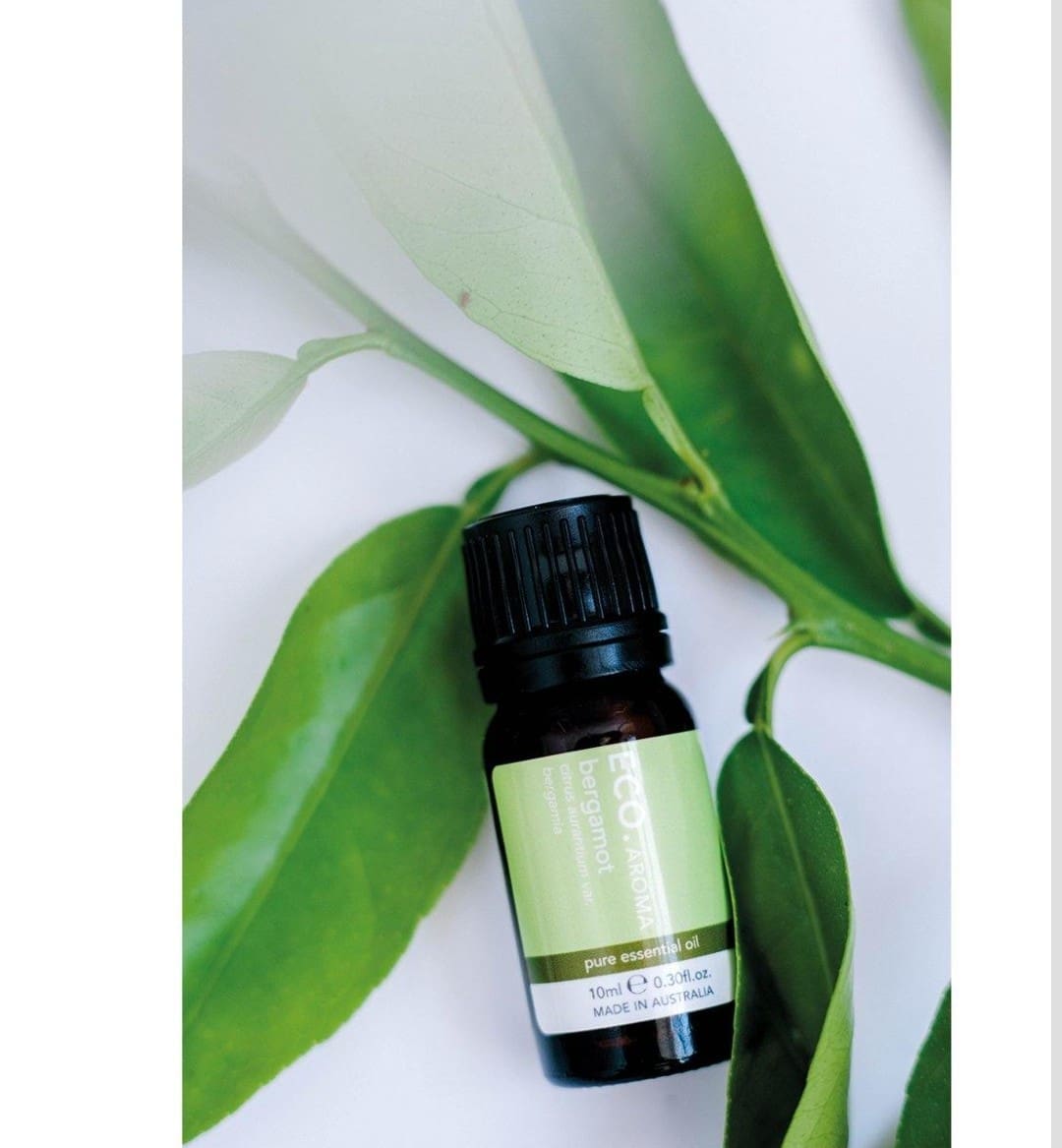 Stress and anxiety can be very common among many of us. Which is why we love the idea of using natural ways to calm and relax the mind and body.
Rose essential oil is extracted from rose petals. It has a very floral scent, as you can imagine, and is said to help soothe emotions, mood swings and hormones. We love a few drops in a warm bath… bliss!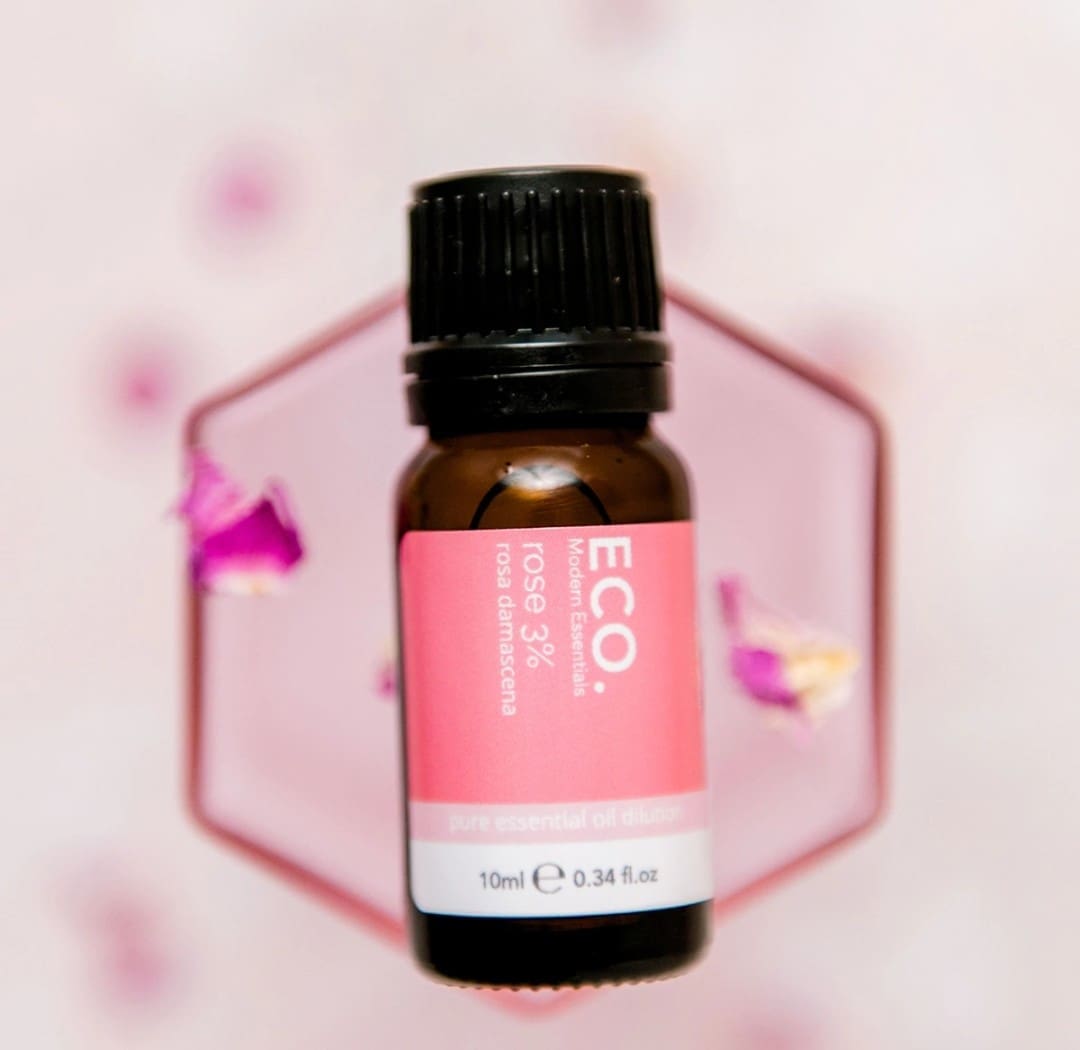 Ylang ylang essential oil is said to assist with releasing negative emotions, reducing stress and acting as a natural anxiety and depression remedy. Perhaps a good one to include in your morning routine if you experience panic or dread before a busy day.
Fun tip: we're not sure this counts as stress relief or relaxation (or maybe both!), but ylang ylang is said to have aphrodisiac properties 😉 We'll let you discover this one on your own!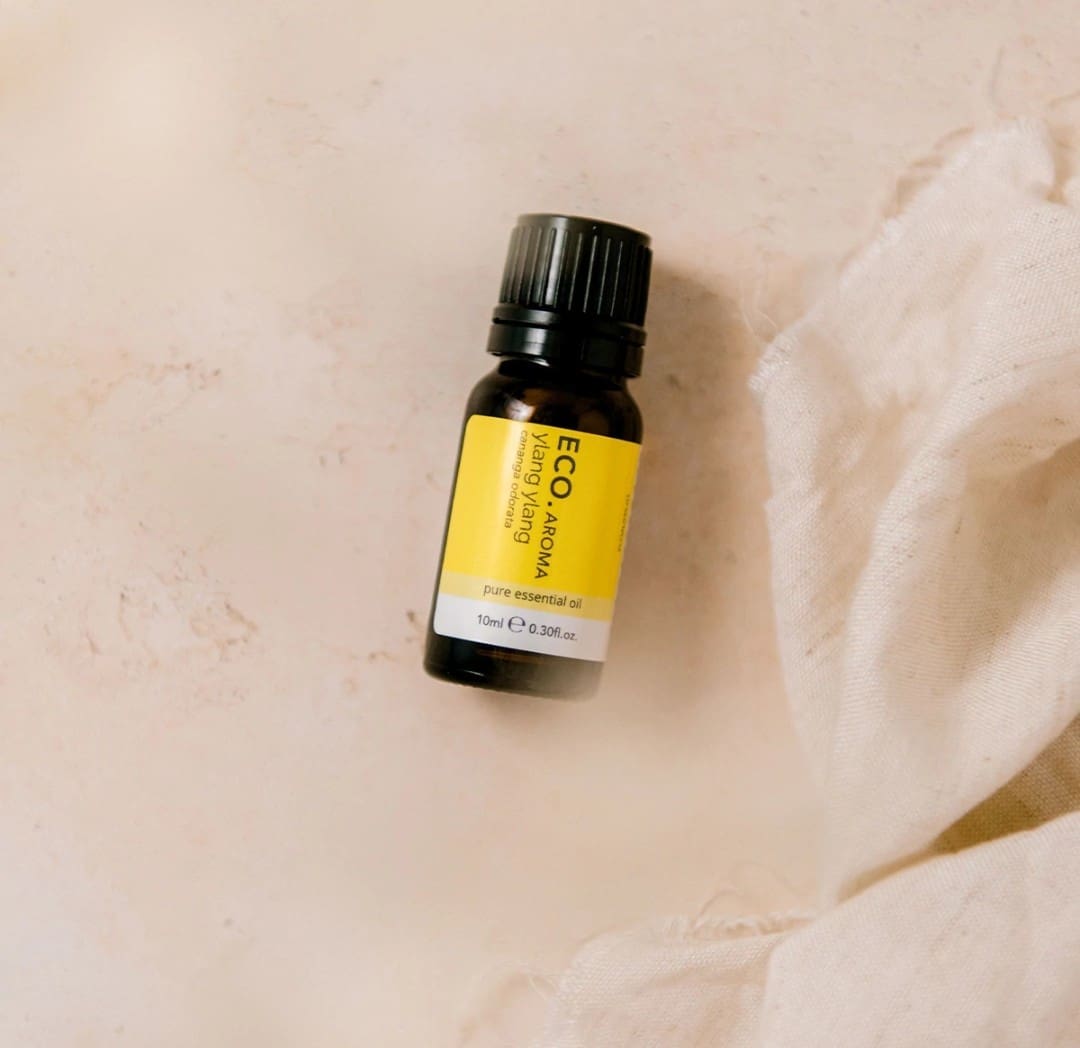 Sandalwood, with its warm, woody scent, can be useful for those of us who live a fast-paced go, go, go life. Another of the 'grounding' oils, sandalwood can help relax the body and mind, and get you into a more mindful place.
It instils a deep, nurturing sense of peace and calm. Sign us up!
You've probably heard of chamomile being wonderful for relaxation in the form of tea. We also love it as an essential oil with its calming properties and ability to encourage a restful sleep.
Tip: it's also said to assist with temper tantrums — in children as well as adults! No judgement, we've all been there! And to soothe anger and irritability.
There's not a lot that orange can't improve! As you'd expect, it has a zesty, uplifting scent and instills a sense of joy and positivity. It works as a perfect room refresher, acts as a mood booster and is another great oil for encouraging relaxation.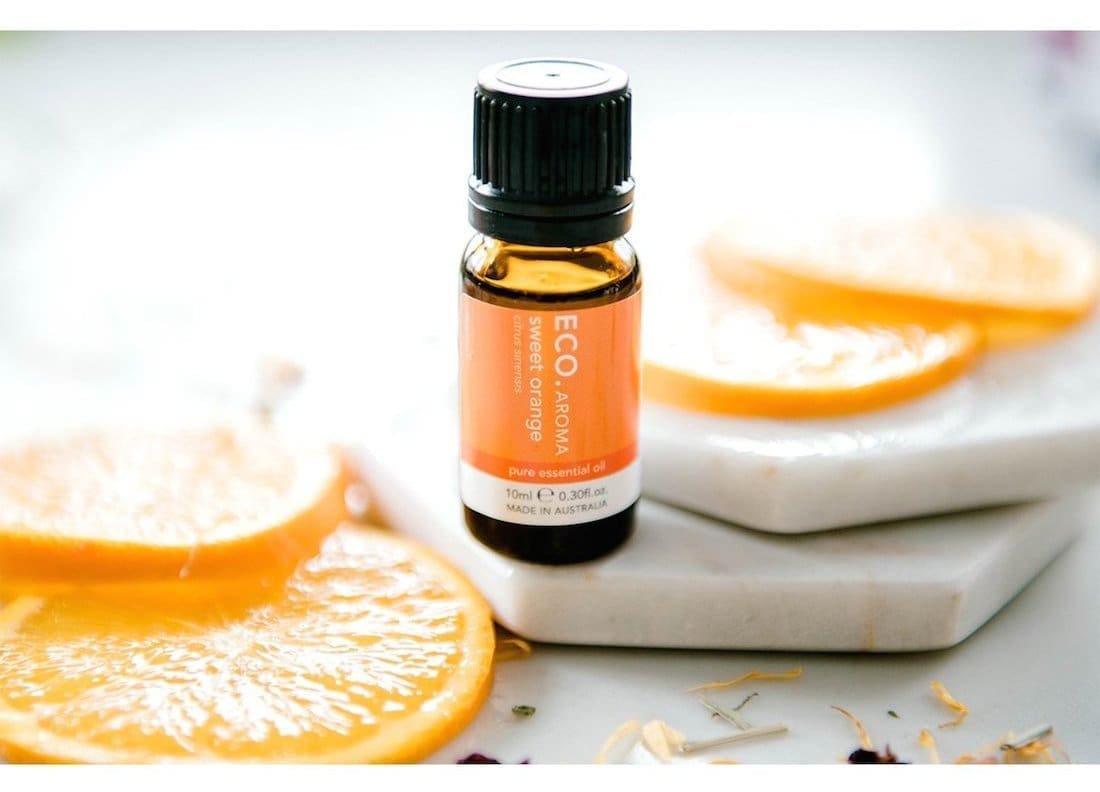 Simple DIYs using essential oils for stress relief and relaxation
So… now you've got an idea of which are the best essential oils for stress relief and relaxation, how do you actually use them!? Here are some of our favourite ways to use oils to aid relaxation and de-stress the body and mind.
1. Make a sleepy spray
Add 20 drops of your favourite oils into a small spray bottle. We love the combination of lavender, bergamot, sweet orange and cedarwood but honestly, pick your faves!
Top with 1/2 cup witch hazel and 1/2 cup distilled water (see our handy tip below). Shake well before use and spritz onto your pillow before bed.
You can find the full DIY room spray tutorial here.
Tip: some DIYs call for distilled water. This is available at the supermarket, but a cheaper alternative is to use cooled, boiled water. Simply fill up your kettle, boil, and allow to cool completely before using.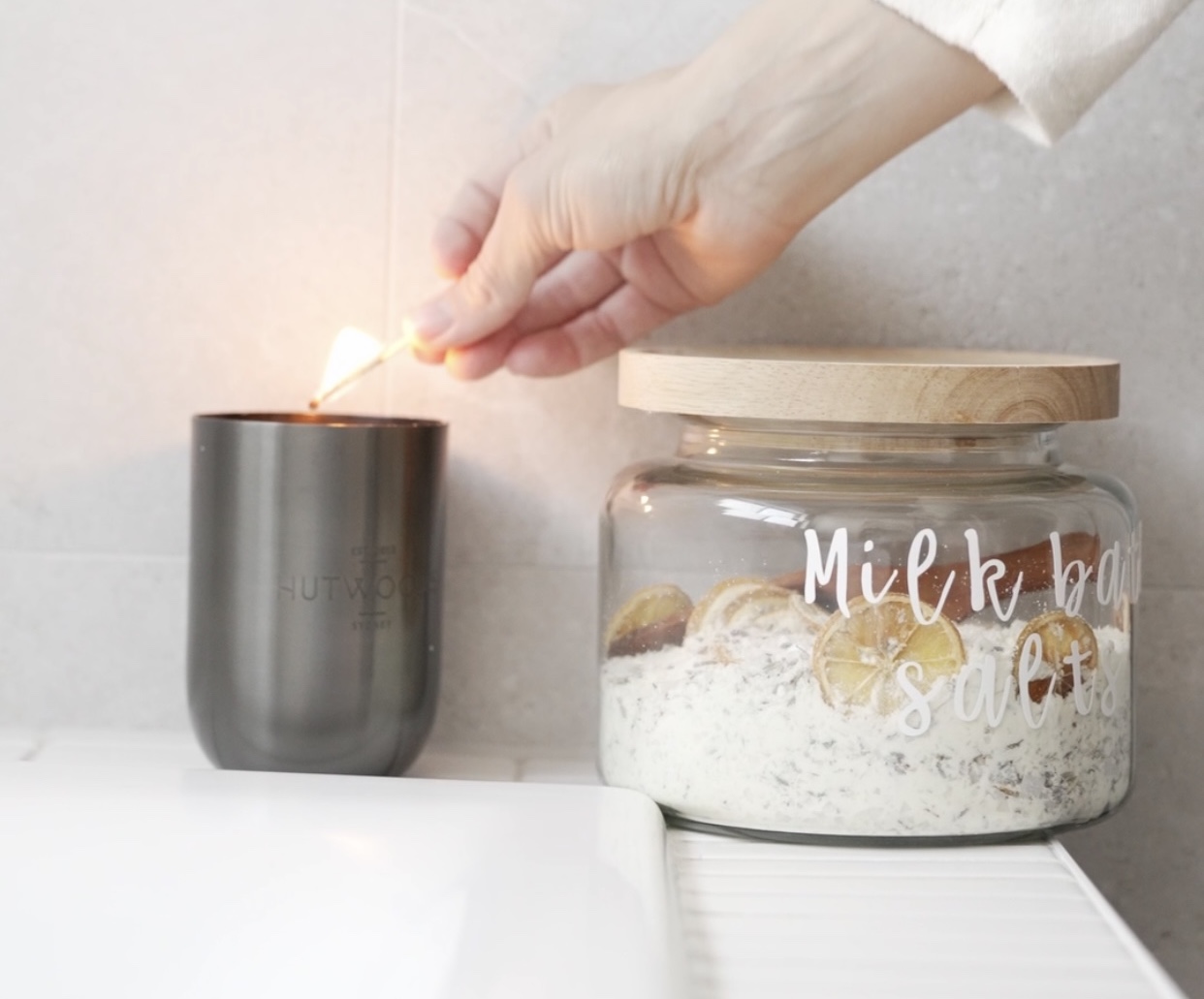 2. Pop it in a bath bomb or bath salts
When making a bath bomb or bath salts, adding a few drops of essential oils is the perfect way to incorporate some relaxation into your life.
They also make a beautiful gift for a loved one… and that totally includes yourself! You'll find plenty of inspiration with our collection of bath bomb tutorials here, and various bath salts recipes too.
3. Make a pure-fume
A beautiful way to experience your essential oils, and continue to remind yourself to relax, de-stress and unwind throughout the day, is through a pure-fume. It's like a DIY perfume that's all natural and you can create a personalised blend of the smells and scents you love.
It's important to dilute correctly, so use a carrier oil such as sweet almond, jojoba or fractionated coconut oil to make up your blend. Simply add 10 drops of your chosen essential oils into a roller bottle and top with a carrier oil. Then apply the pure-fume to the insides of your wrists for aromatic support during the day.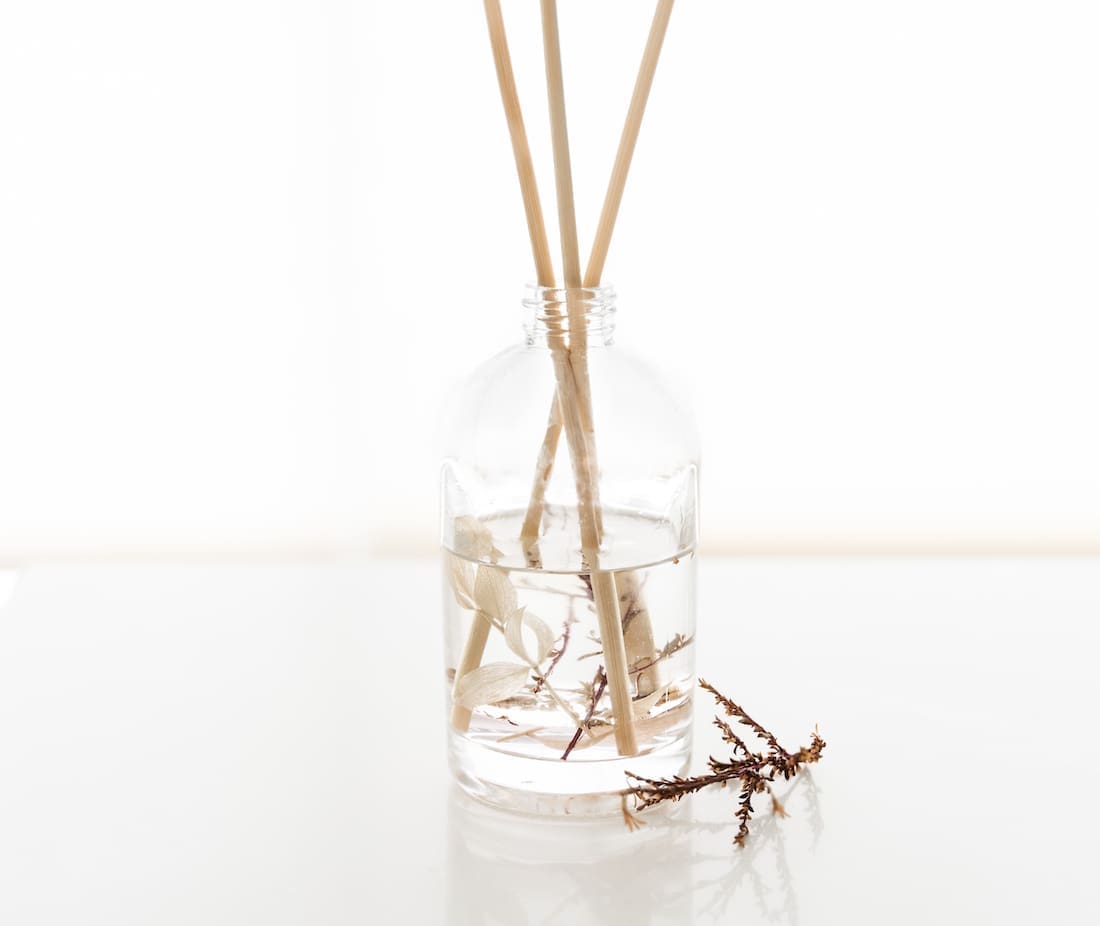 4. Make your own reed diffuser
Did you know it's actually super easy to make your own reed diffuser? Yep, just like those fancy store-bought ones, only made by you! These are perfect for adding your favourite oils to.
We love them in the bedroom, bathroom, or even in the linen closet to give your sheets and towels a beautiful scent. You'll find the how-to instructions here.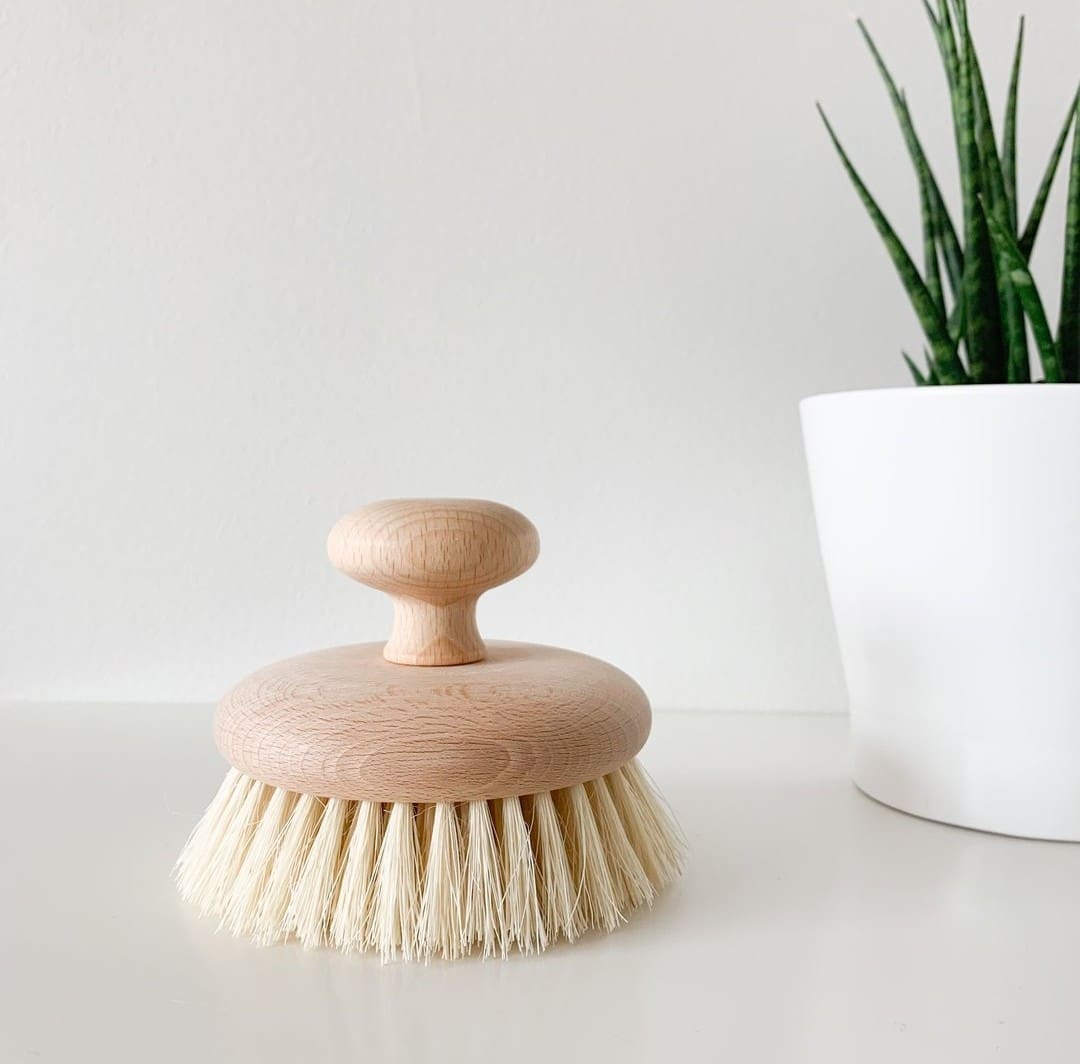 5. Body brush
Body brushing is said to assist with unclogging your skins pores as it exfoliates the skin. It also helps detoxify and increase blood circulation while promoting lymphatic flow and drainage. Unclogging the pores makes it easier for the body to sweat and eliminate toxins from your body.
Try adding a few of your favourite relaxing oils to your dry body brush to enjoy the aroma and further encourage that relaxation.
Important: always dilute your oils if applying directly onto the skin. Use a carrier oil such as sweet almond, fractionated coconut or jojoba oil.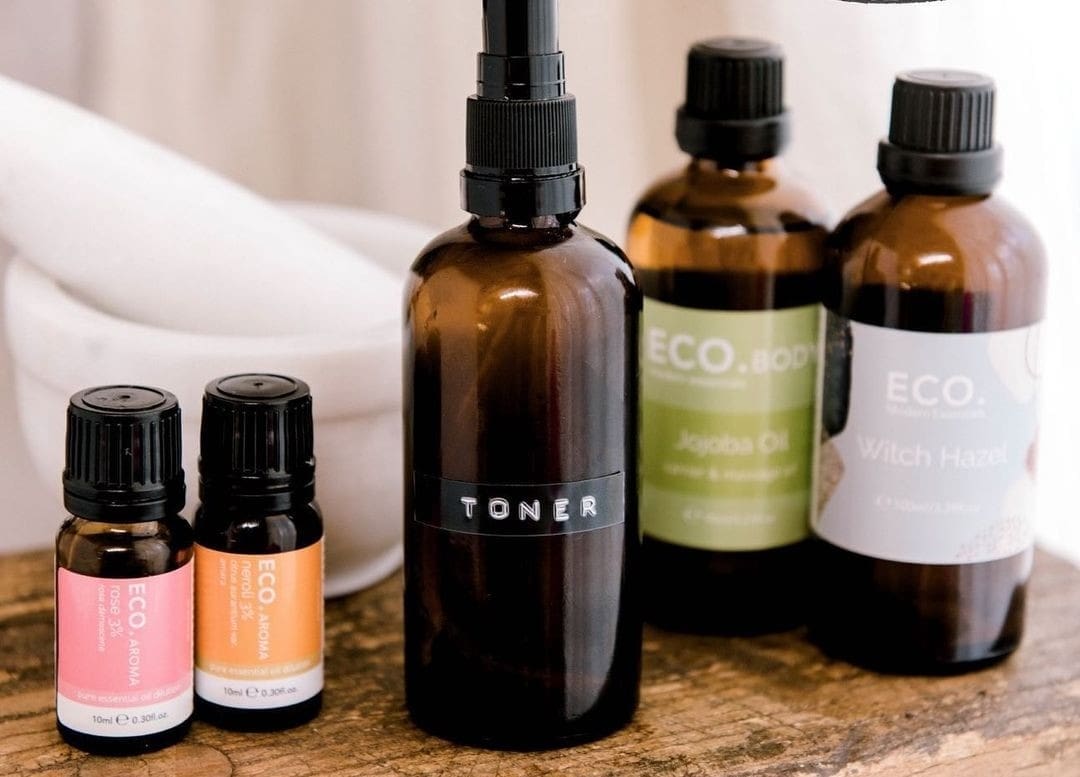 6. Face toner
Using a small spritz bottle — you can find these online or sometimes in the travel health and beauty section of the supermarket — add 15 drops of frankincense, 15 drops of lavender, 1 tsp apple cider vinegar and top with witch hazel.
Shake before use and spritz onto your face for a refreshing, relaxing mist. This one is best to use on clean, cleansed skin. Heavenly!
7. Breathe it in
A beautiful, simple way to experience your oils is simply by smelling them. You can either just take the lid off the bottle and inhale deeply, or add one or two drops into your palms, rub them together and breathe it in.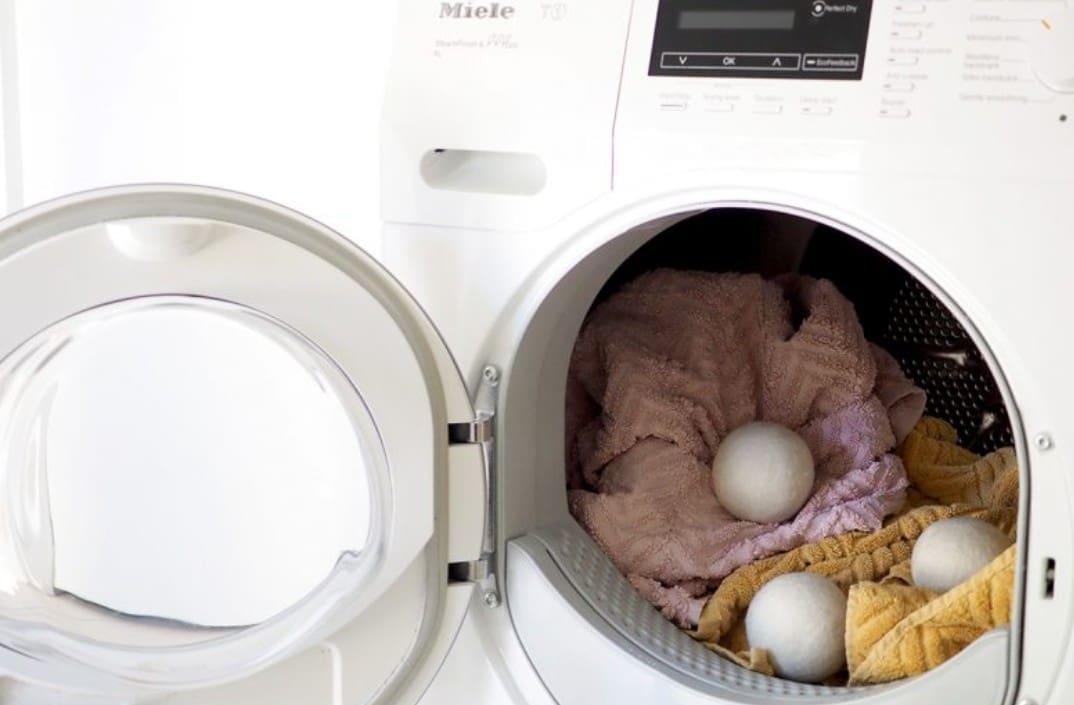 8. Sleepy sheets
Add a few drops of lavender oil onto your dryer balls when drying your sheets for beautifully soft scented sleepy sheets.
Did you know… Dryer balls help reduce drying time by absorbing excess moisture. They also help reduce static and wrinkles and are reusable. You can find some here.
9. DIY massage oil
Fill a bottle with your choice of carrier oil — we love sweet almond, jojoba or fractionated coconut oil — then add a selection of your choice of oils. Ylang ylang, lavender, frankincense, bergamot and cedarwood are our pick.
Shake well before use, and apply to sore muscles, massaging and breathing in the beautiful, natural scents.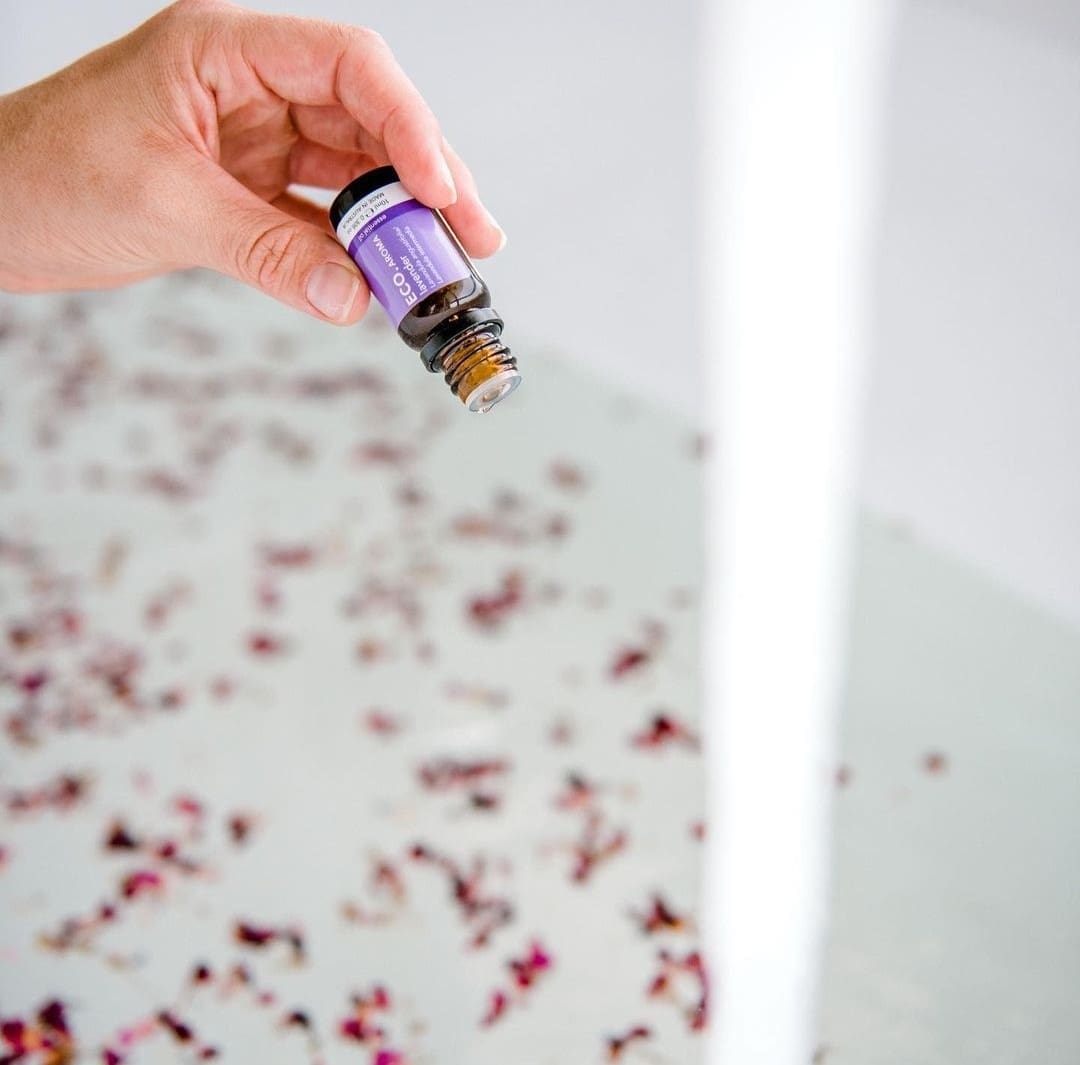 10. Give yourself a hand or foot bath
If you've ever had a manicure or pedicure, chances are you've enjoyed that time when the therapist soaks your hands or feet before a gentle massage. Bliss! Why not give yourself the same treatment at home?! Fill a container with warm water and add a few drops of your oil of choice to the water.
Allow your hands or feet to soak for as long as you like. Massage the extra oil into your hands, arms and feet to soak up every drop of goodness. Rose, sweet orange or sandalwood are favourites of ours for this one.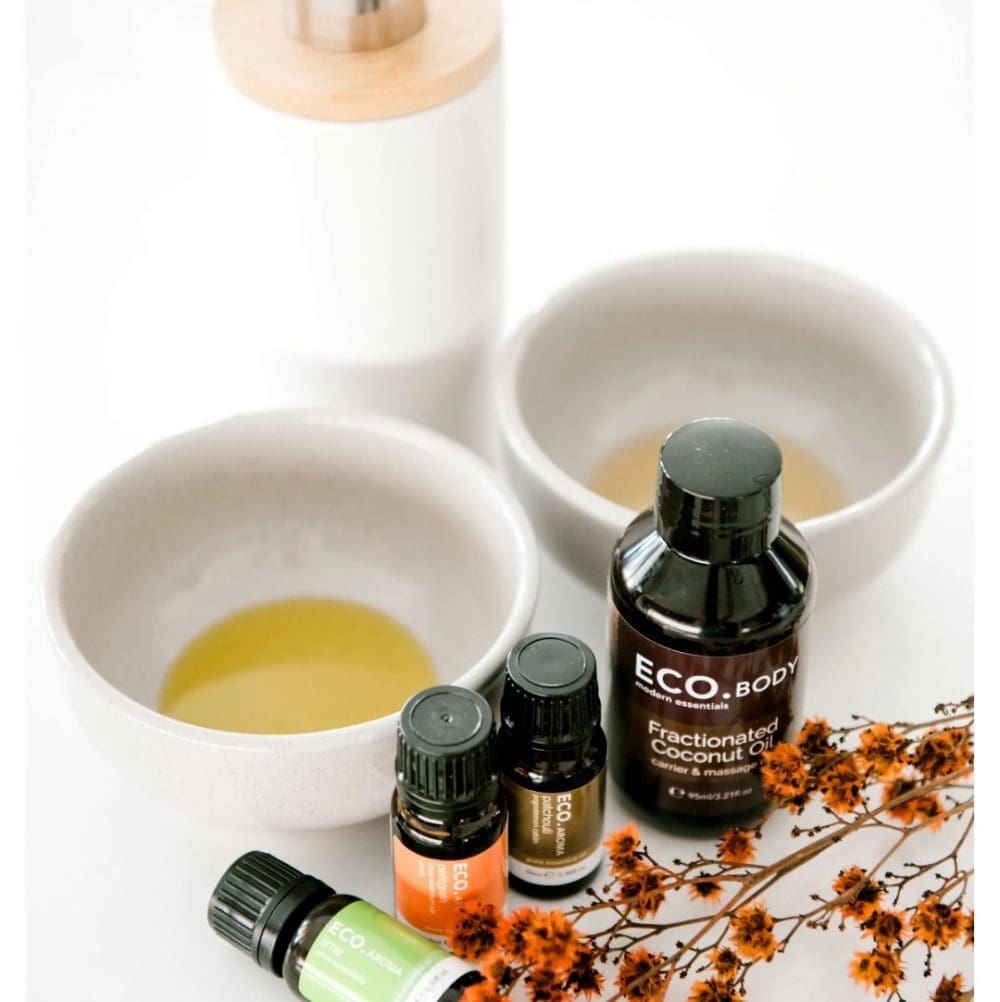 11. Make your own de-stress body wash
Unwind after a busy day with some homemade de-stress body wash.
Take a foaming pump bottle (you can find these online or re-use one from a foaming hand soap you already have). Mix 2 tbsp castille soap, 1 tbsp carrier oil and top with distilled water (you can also use cooled, boiled water) and add in 15 drops of your favourite chill-out oils.
We love cedarwood together with sweet orange and lavender. Or lavender and bergamot.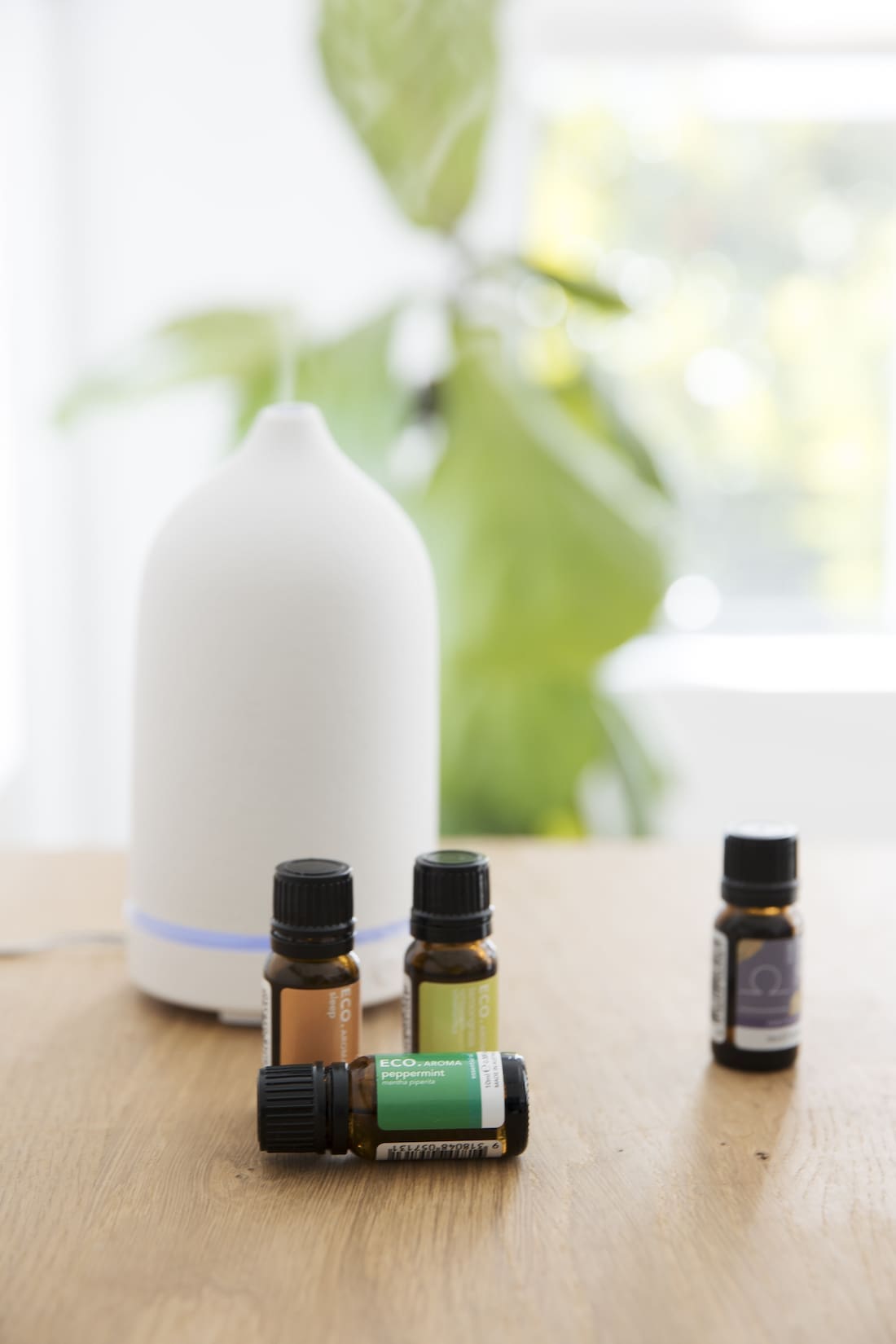 12. Diffuse it
This one is pretty obvious, but it would be neglectful if we didn't remind you that you can simply diffuse your favourite oils to help with stress relief or simply use for relaxation! Try these combos:
Lavender, frankincense, bergamot
Sweet orange, chamomile, rose
Lavender, chamomile, ylang ylang
Bergamot, ylang ylang, lavender
Sandalwood, cedarwood, bergamot
Lavender, cedarwood, chamomile
Lavender, sweet orange, bergamot
Bergamot, vetiver, chamomile
Ylang ylang, bergamot, sandalwood, cedarwood.
We hope you found some ideas on how to use essential oils for stress relief and relaxation. Do you use oils for stress relief? Or to help you relax? Which are your fave? Or perhaps you have some beautiful diffuser combos or other DIYs you'd love to tell us about. Share them with us in the comment section below!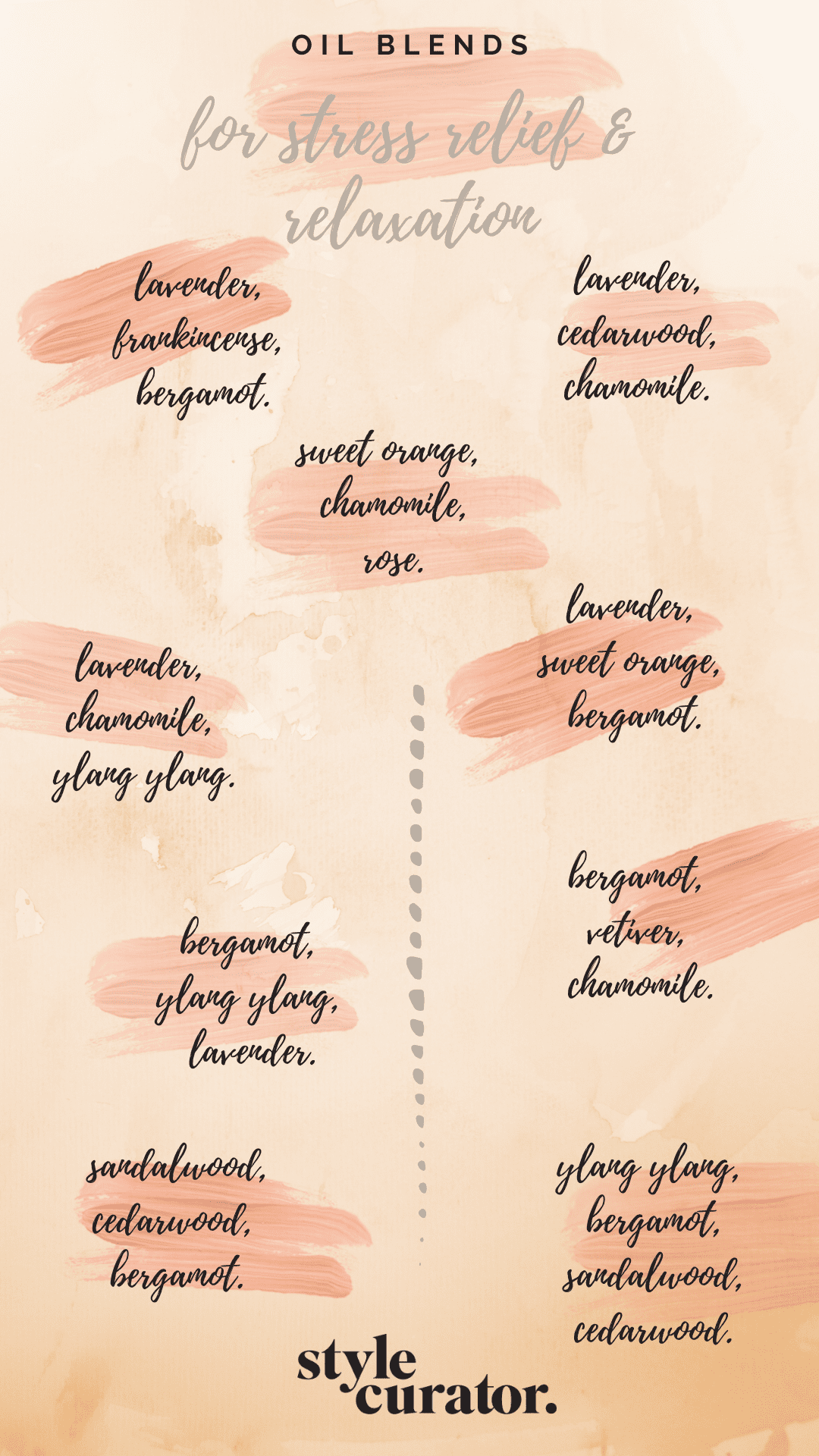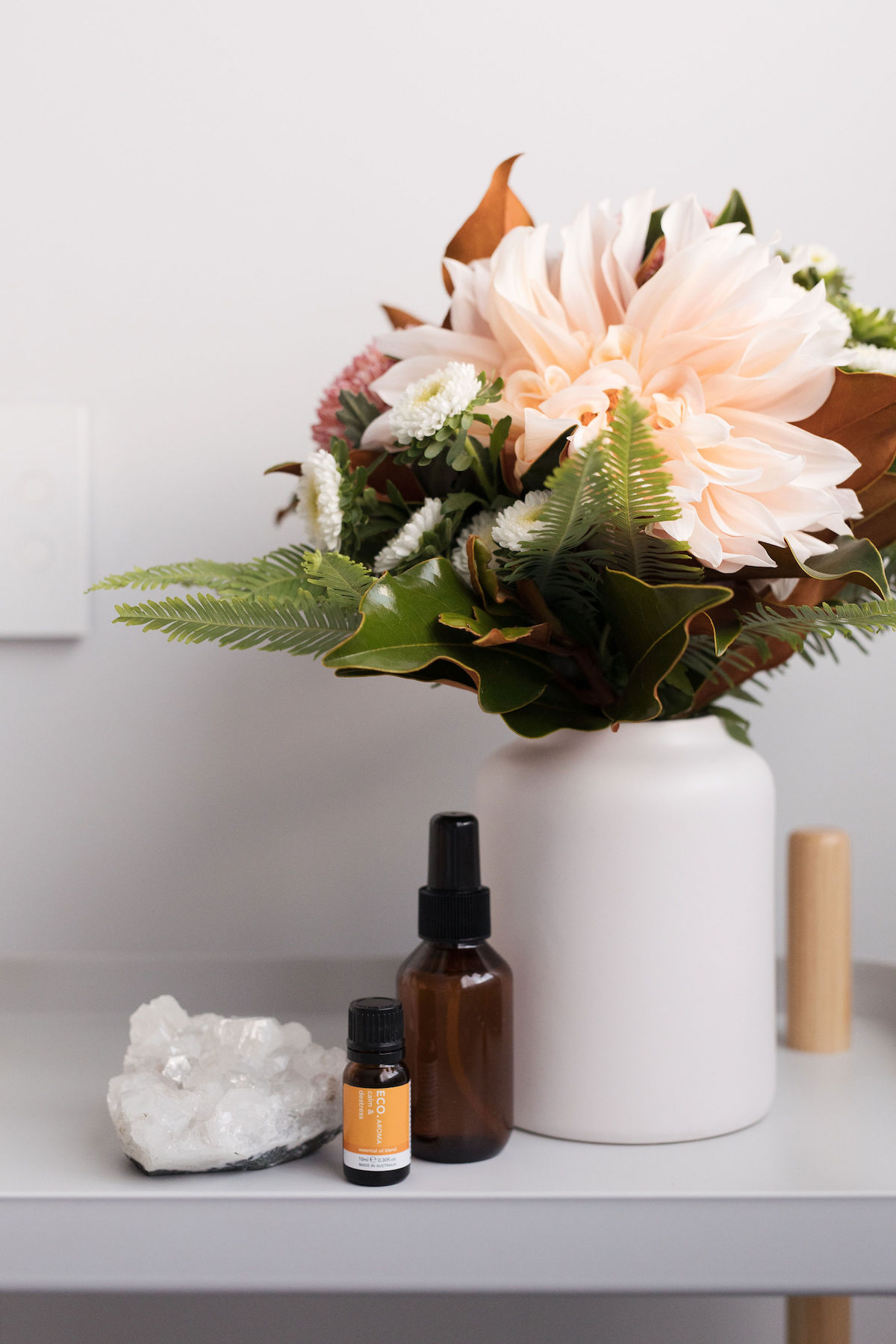 Images via ECO. Modern Essential, unless otherwise stated.
Disclaimer: This post was first published in September 2022 and continues to be updated with latest information and images. It contains affiliate links. This means, if you purchase an item using a link from our site, we may receive a commission at no extra cost to you.