Since having baby Patrick, I've been spending more time working from home in my office than ever before. Actually, it's more like a creative workspace than an office because this is where I also do my sewing and dream up DIYs for the blog.
Up until lately, this space was getting a bit out of control. As I was styling rooms in my house, bits that I didn't know what to do with just yet were piling up on the floor and I was becoming more and more unproductive in this space as a result.
On the weekend I decided the time is NOW to get my office in order! Perhaps I was inspired by those dreamy office spaces we shared the other day?!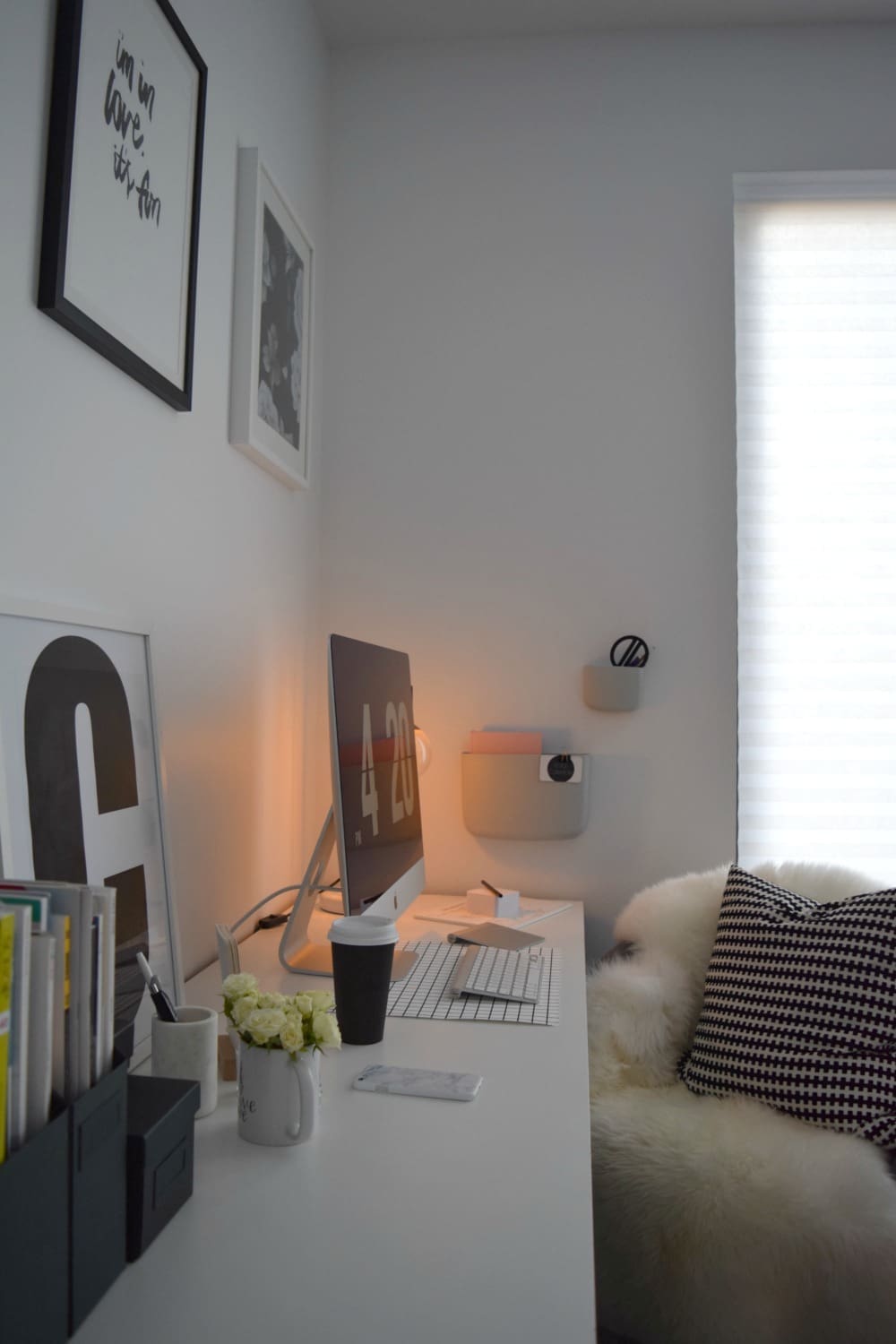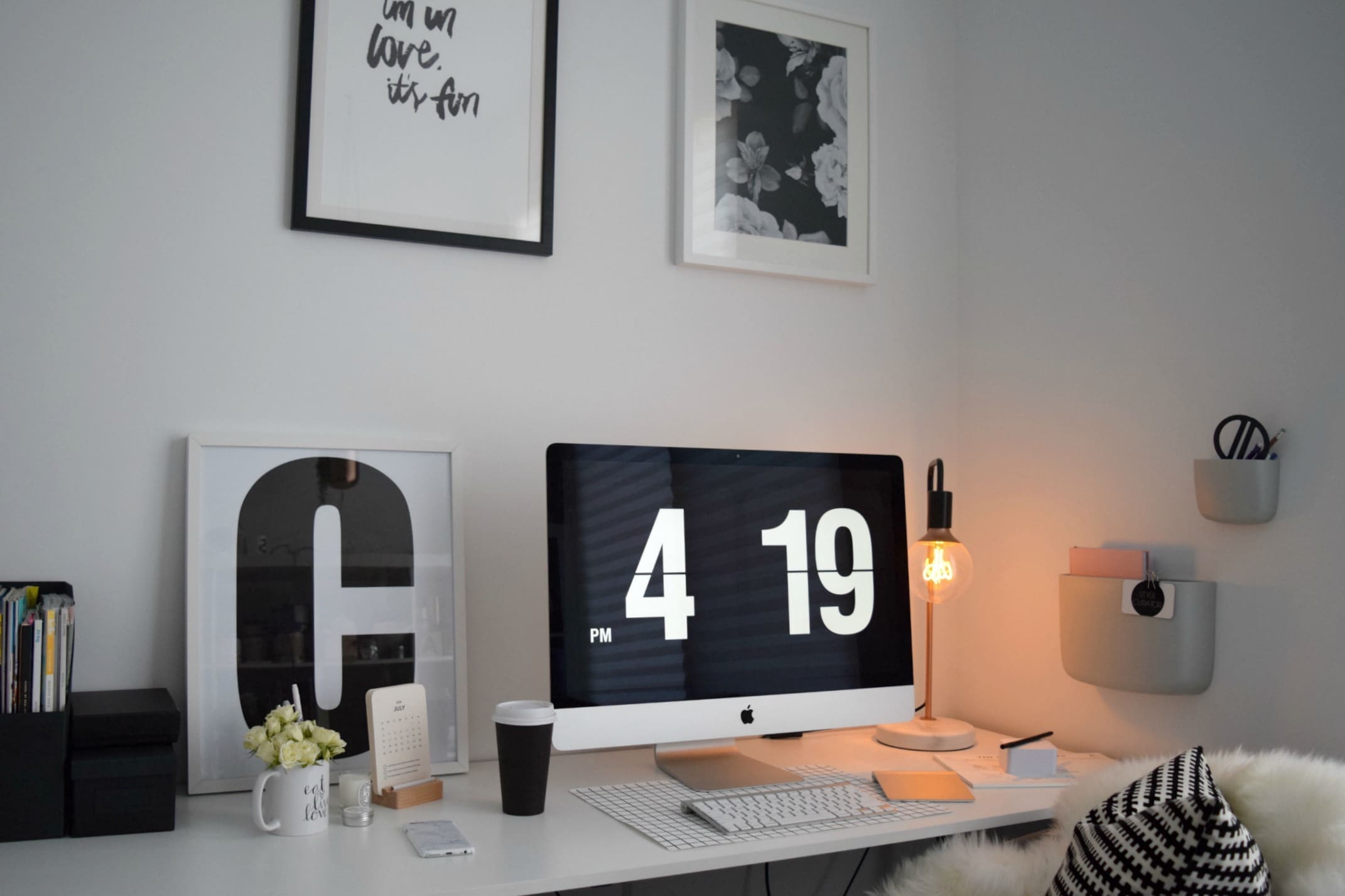 This is a multifunctional room so the most important feature for me was a large desk where I could sit my overlocker, sewing machine and computer. I couldn't find any desks large enough so I custom made a 3 metre long desk by upcycling an old corner desk. The corner desk had two sets of legs which I spray painted matte black (you can see one set of desk legs I upcycled here) and then I had a piece of MDF board cut to size to sit on top. It was a simple DIY using what I already had but worked out to be perfect for the space.
Along the parallel wall is a bookcase of organised chaos, mainly storing DIY materials and stationery. And above it hangs a large copper hanging planter with a string of pearls.
One of my favourite features in the room is a large grey inspiration board made out of a felt-like material that I picked up in the trade section of Bunnings. It's where I keep track of work priorities and set goals.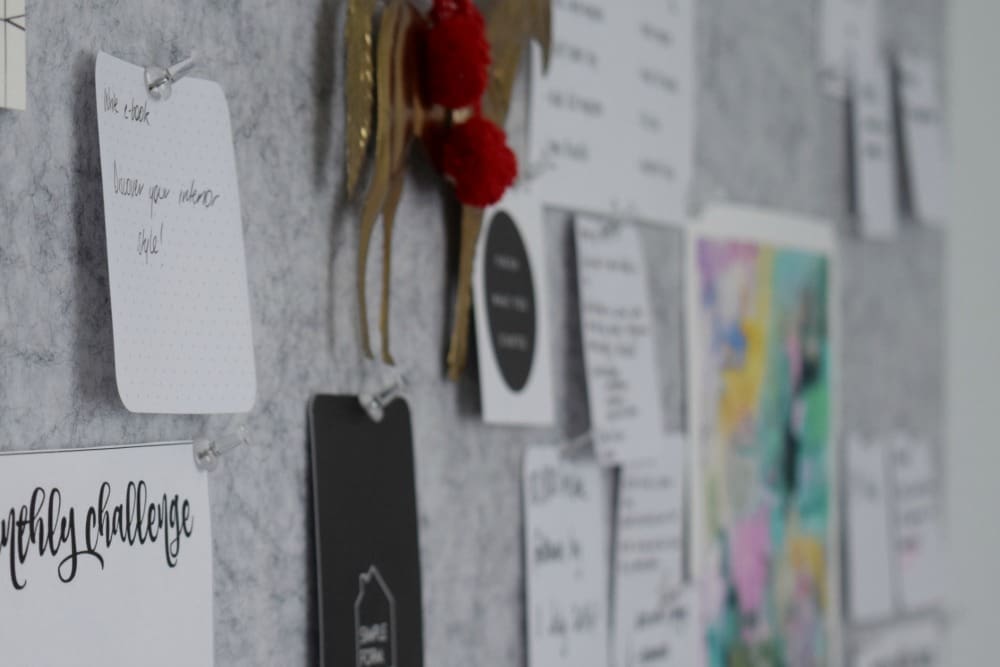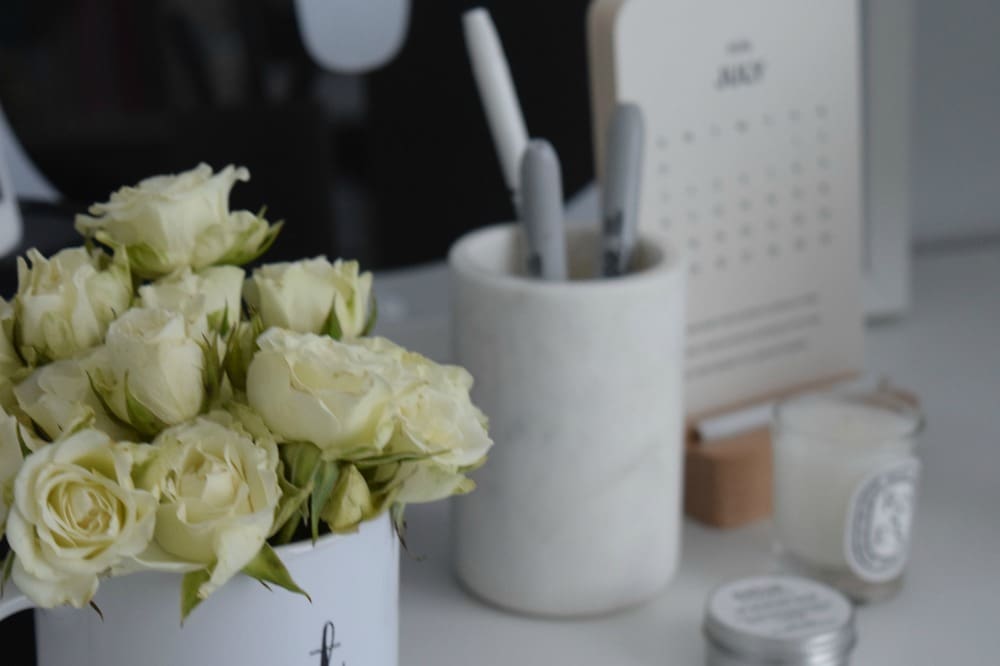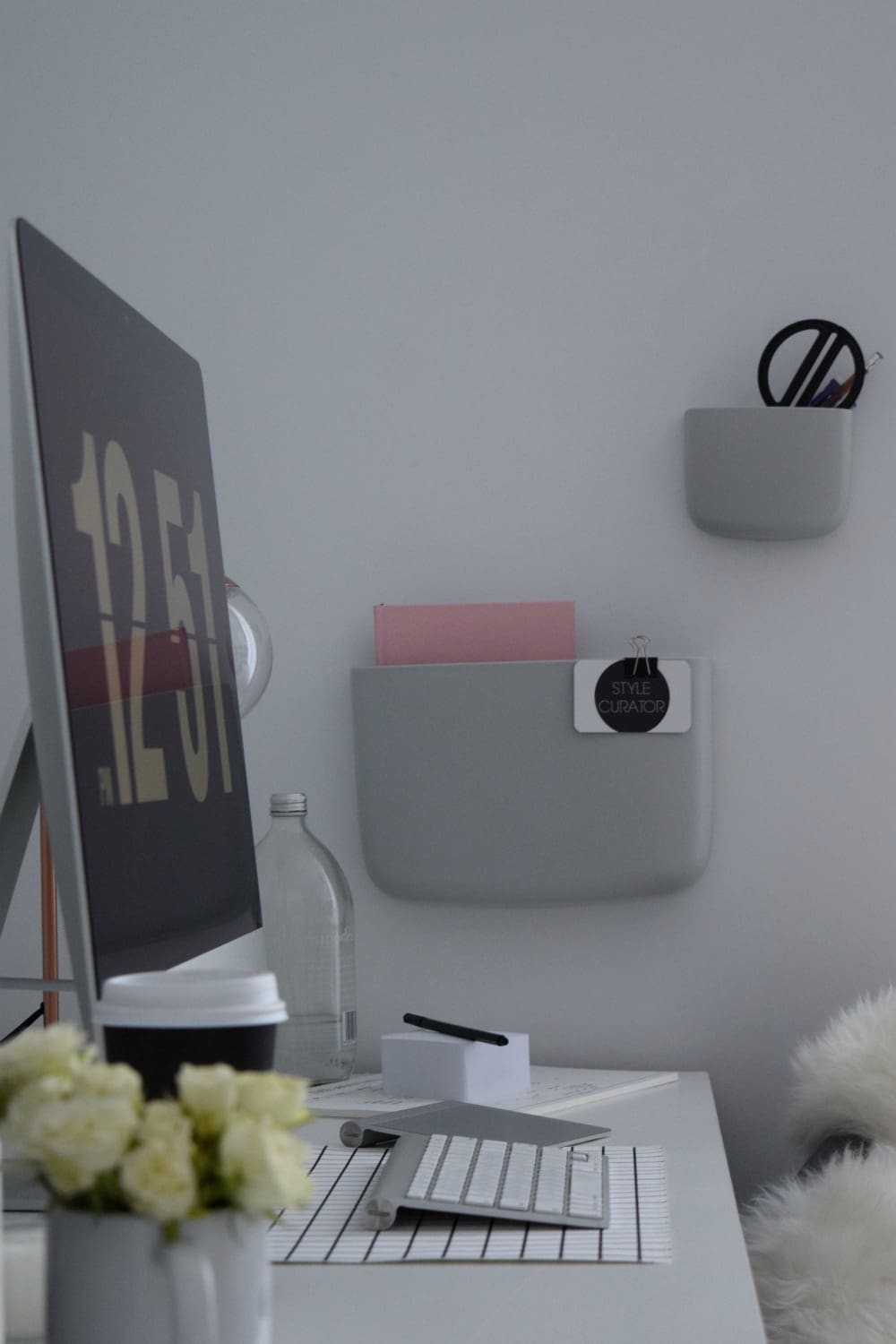 I love artwork in every room of the home — even the laundry — so of course my office is no exception. I have a typography print 'I'm in love, it's fun' by Rachel Kennedy Designs and two black and white prints from local Canberra creative Yorkelee Prints.
The grey wall pocket shelves by Normann Copenhagen help me keep clutter on the desk to a minimum. On the desk are mainly black and white accessories made by local creatives or bargain finds from mainstream stores. Details of all the products can be found in the supplier list below.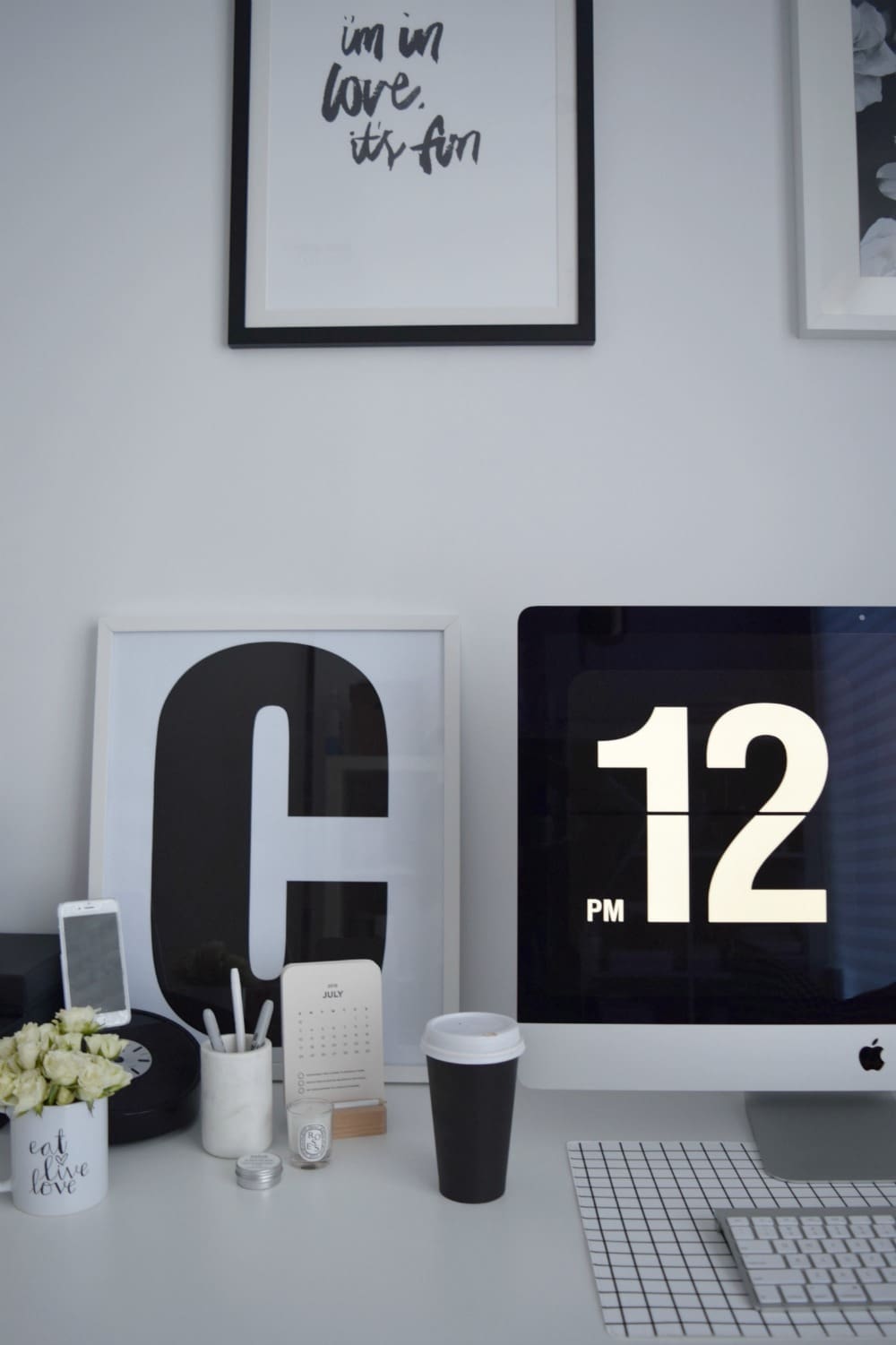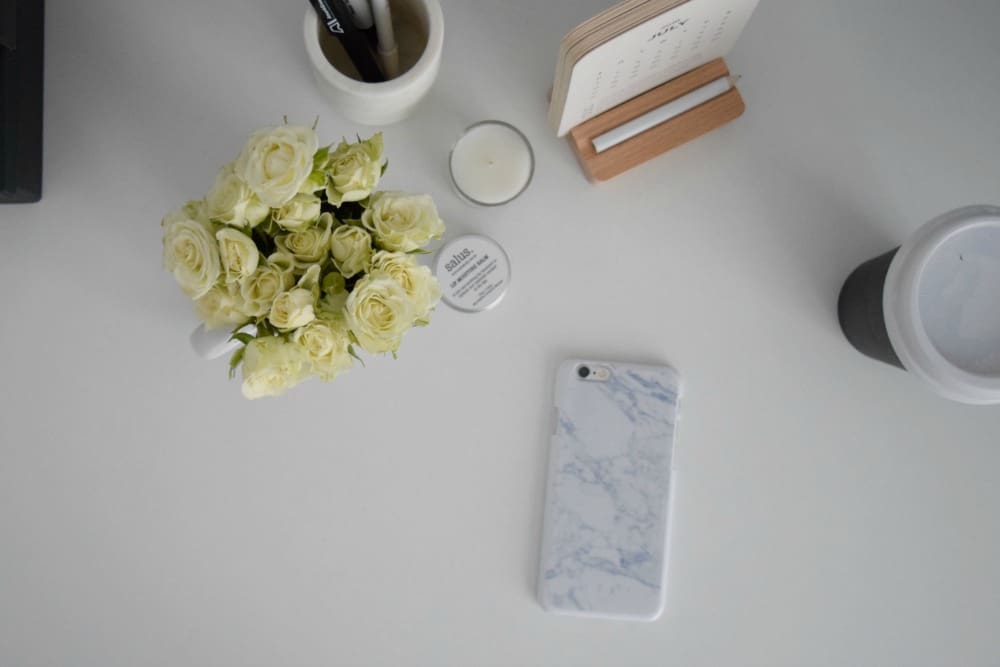 I generally always play music when I work and this sleek black dock from Yamaha fits right in with my monochromatic scheme (although lately baby nursery songs have been taking over my preferred play list while I try to juggle looking after Patrick and working at the same time!).
Supplier list:
Desk: Upcycle project
Inspiration board: Bunnings
Wall pocket shelves: Normann Copenhagen from Top3 by Design
Artworks: 'I'm in love, it's fun' by Rachel Kennedy Designs, and Rose and C prints by Yorkelee
Hanging planter: Bloomingville copper planter from Elva Hem
Music dock: Yamaha from Todds Hi-fi
Desk lamp: Kmart
Mug full of roses: Little Papeterie
Desk calendar: Made From Good Deeds
Marble canister: Freedom
Grid mat: Adairs