For those of you who follow me on Instagram, you'd know I went on a bit of a reno spree recently to refresh all the bedrooms in our home. Today I'm excited to share with you Patrick's bedroom makeover where I turned his toddler room into a young boy's bedroom that can grow with him. He set the brief of palm trees and his favourite colour green, and I of course obliged. Keep scrolling for all the details of his new look bedroom.
Related article: Inspo alert: Ideas on how to decorate a boy's bedroom
Related article: 6 tips to create a stylish and functional kids bedroom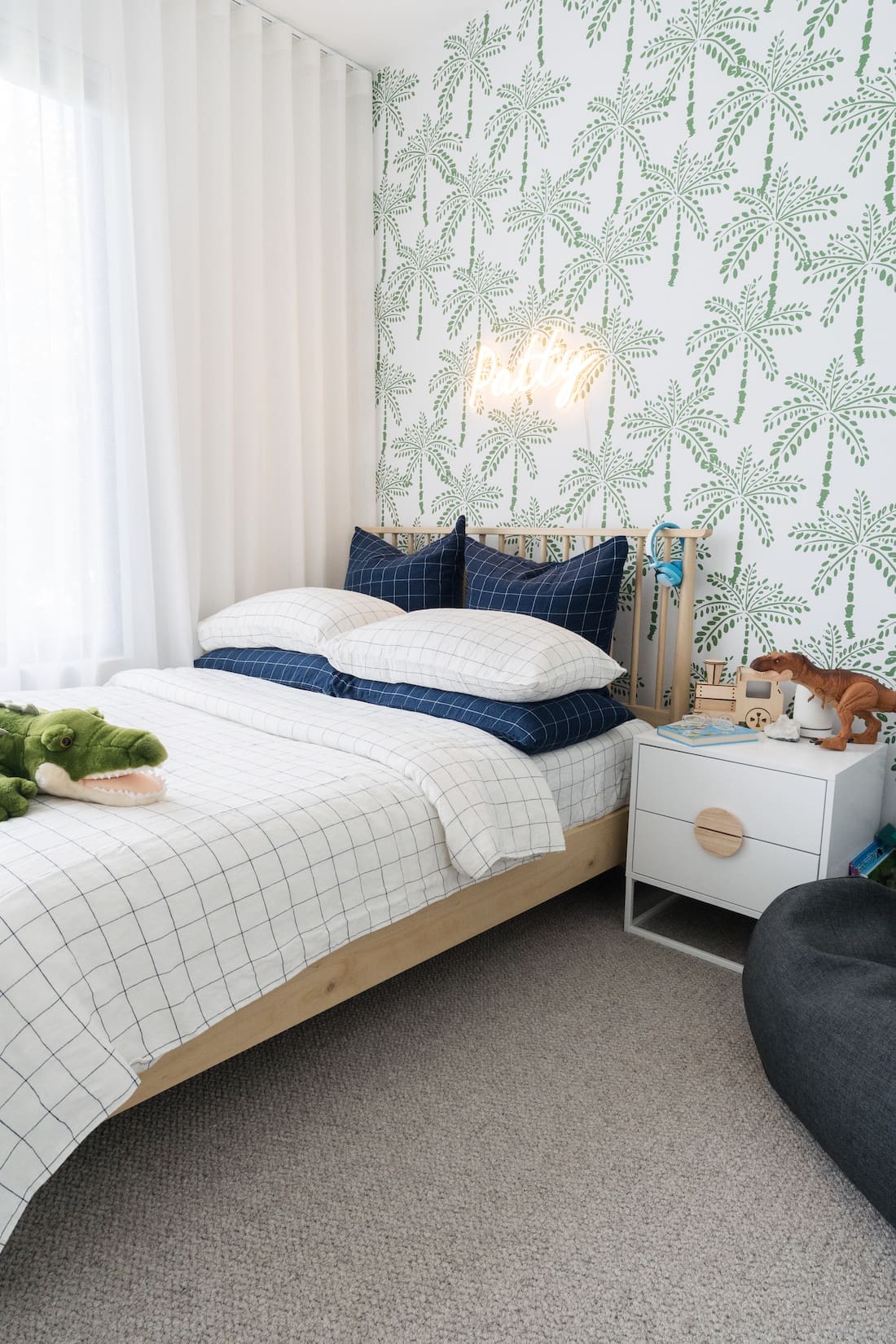 Palm tree wallpaper feature wall
Without a doubt the biggest change in Patrick's bedroom was the addition of this abstract green palm tree wallpaper. It's actually removable wallpaper by Boho Art + Styling, making it super easy to install (I did it solo!). Available in a wide range of colours, I love how it sets a playful yet sophisticated vibe.
If you're looking to add a big splash of colour or visual texture to your space, check out the full range of removable wallpapers here.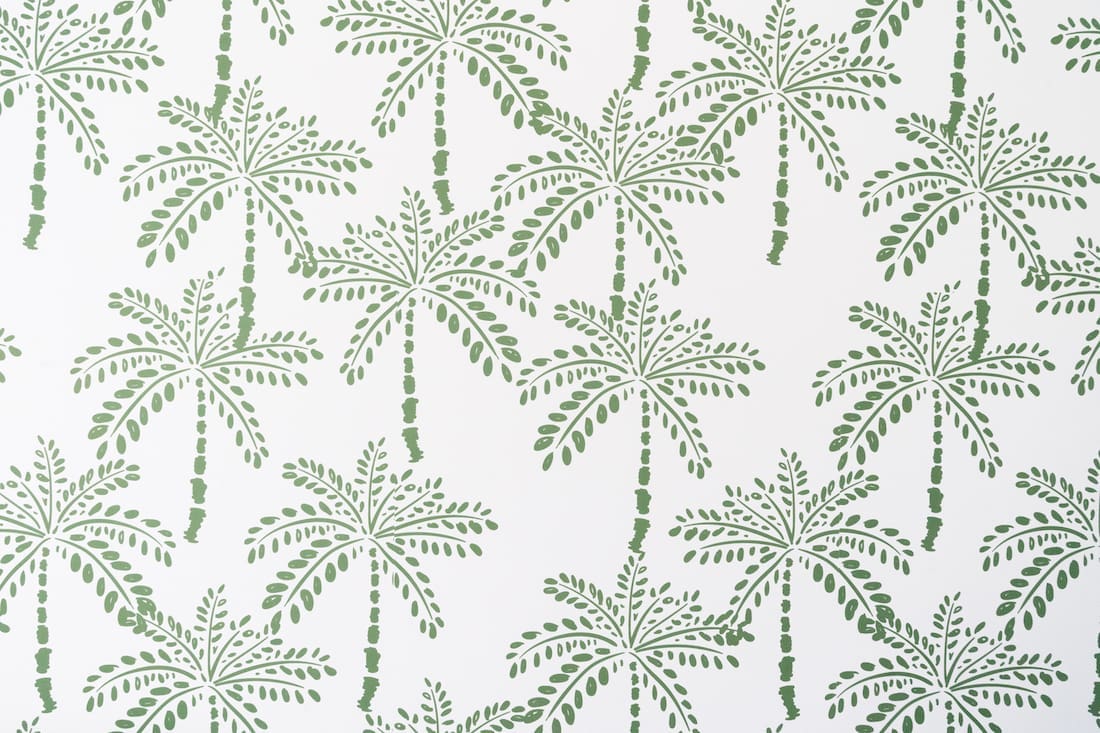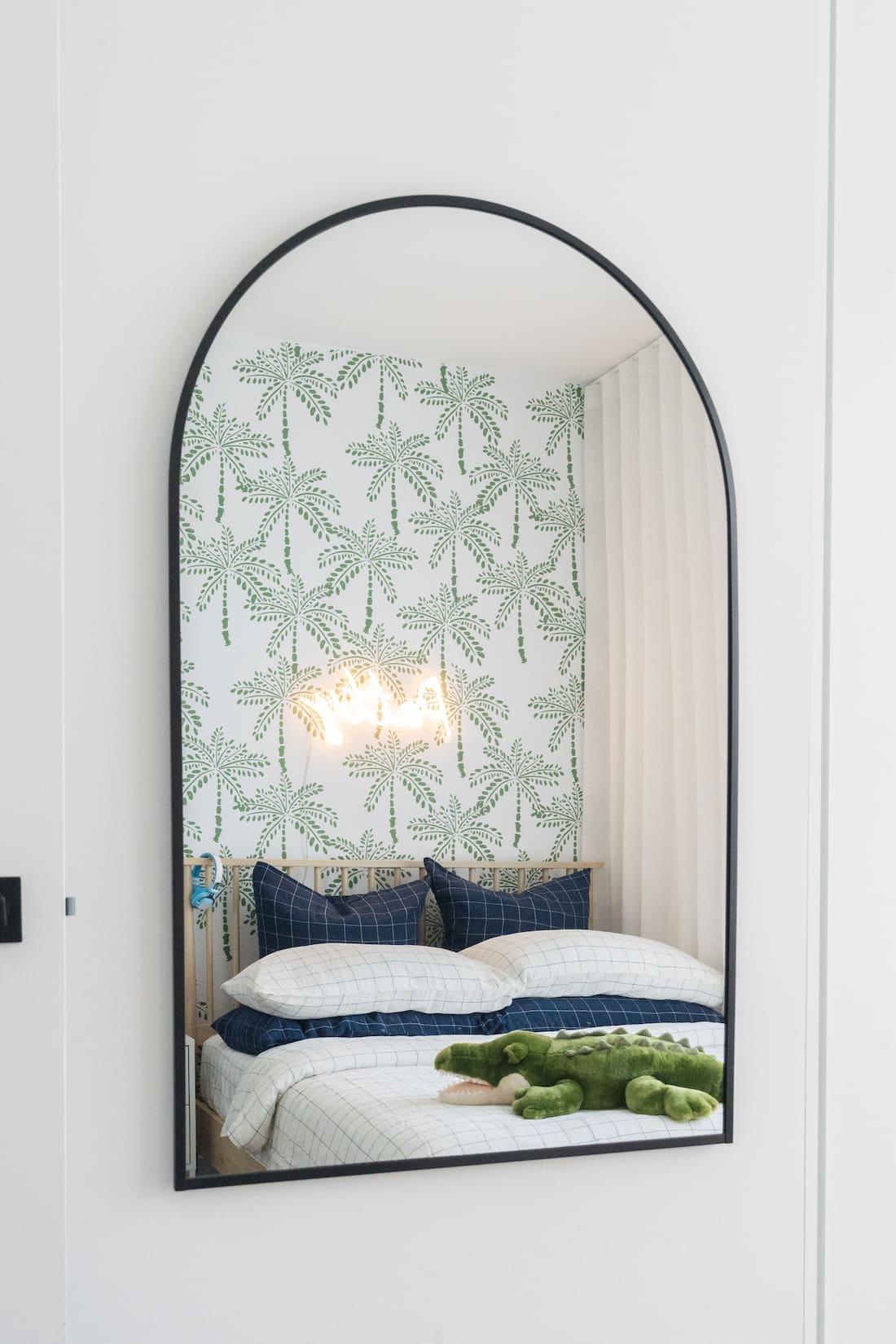 New bed and bedside table
Another big change was the furniture. I switched his single bed to this double timber bed from Temple & Webster. The main reason was so Patrick and Alexander can sleep together if they want… rather than crawl into my bed!
I can't say it's resolved the issues of co-sleeping entirely but it's certainly helped. And there are many other reasons I'm glad we gave Patrick a bigger bed, such as being able to watch movies together at night using a projector onto his ceiling.
Wanting to add more storage in Patrick's room, I also switched out the shelf bedside table to this double drawer bedside from Mocka. Called the Eclipse, it's affordable yet still great quality. And I love the minimalist design that can adapt to different styles in case I change up Patrick's bedroom in the future, which let's face it is highly likely!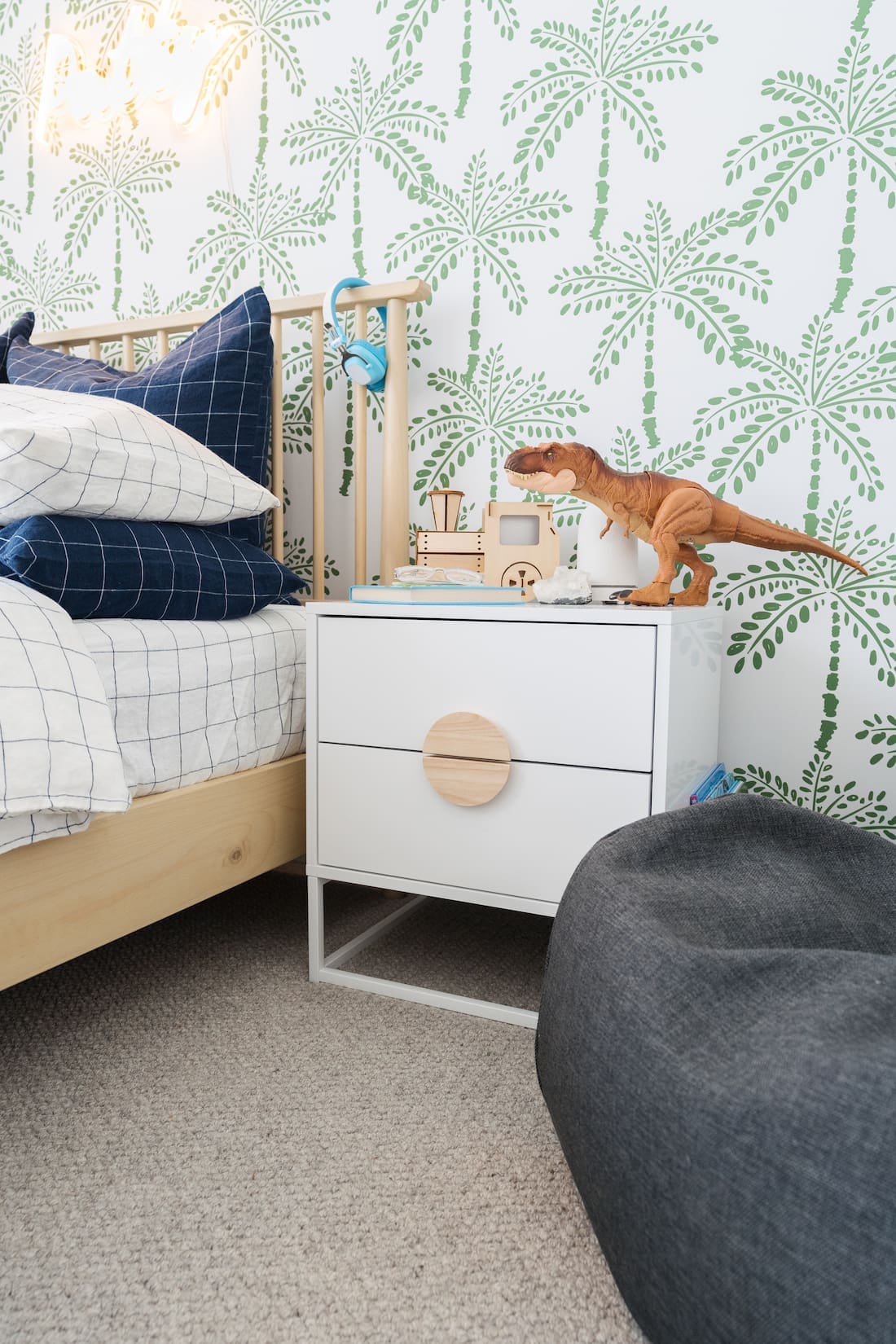 Chic grid bedding
How fab is this grid bedding by the way?! It's from luxe bedding brand LinenMe where I also got the stripe bedding in my bedroom that you guys loved so much.
I paired a few of their navy and white grid pillowcases with their white and navy grid sheet set and quilt cover. It's a little bit playful without being childish. I can also see plenty of ways to change up the look by switching in a few solid coloured pillowcases in bolder pops of colour, accent cushions and throw.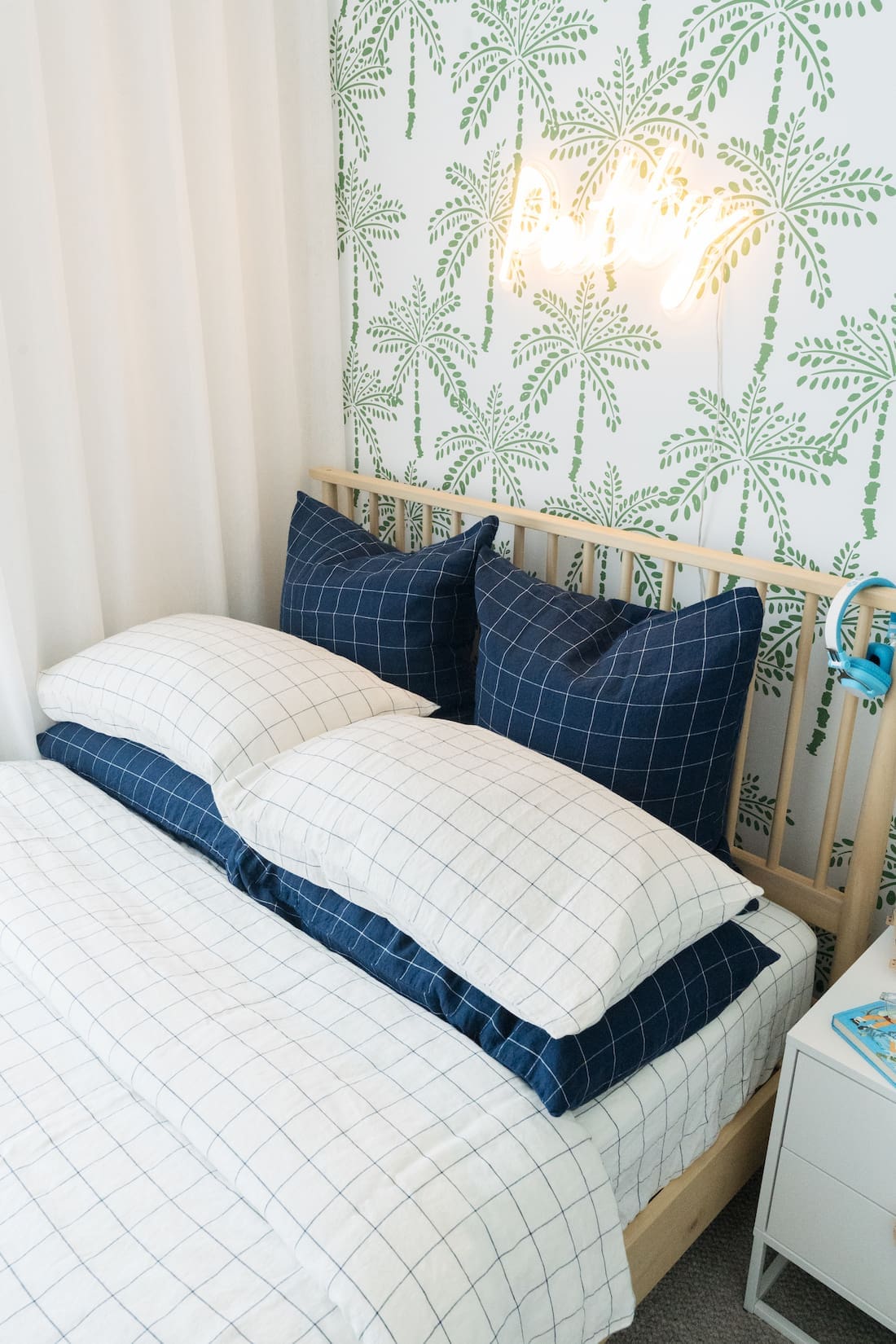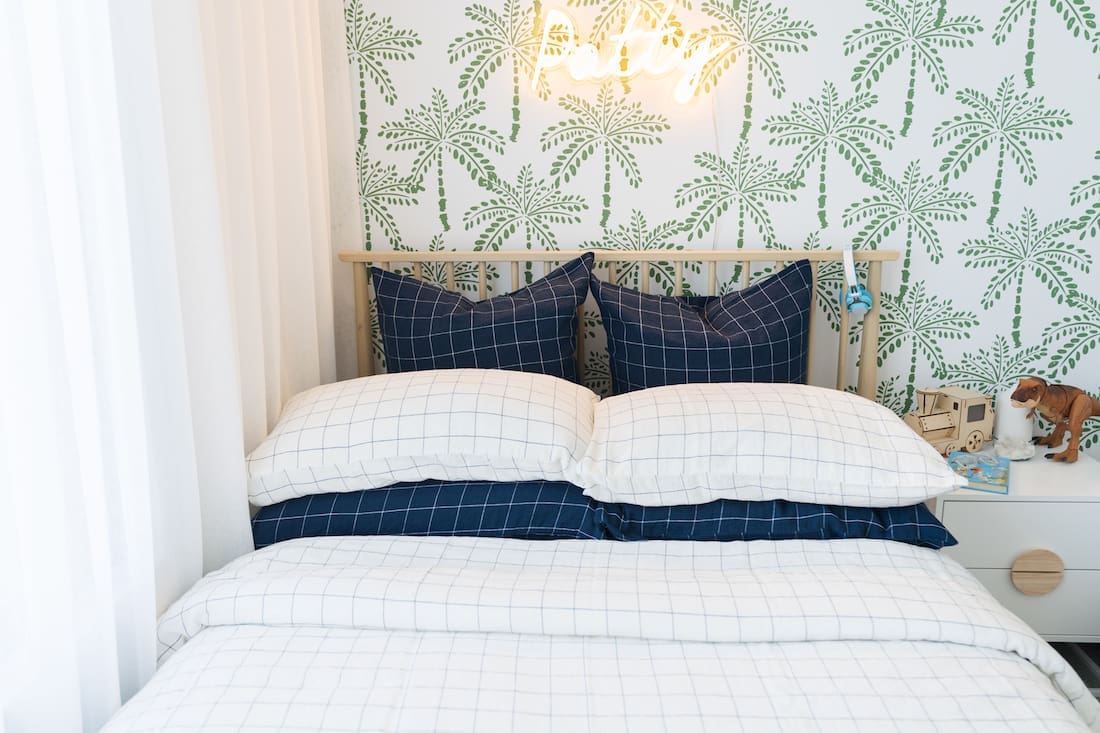 Arch wall shelves
To add some interest to the other wall, I installed a couple of arch wall shelves. Originally painted in high gloss varnish, I used that oven cleaner hack to strip them back to a raw timber look — so much better!
Patrick mainly uses these to display his awards from school or notes from friends… or just things he doesn't want Alexander to reach!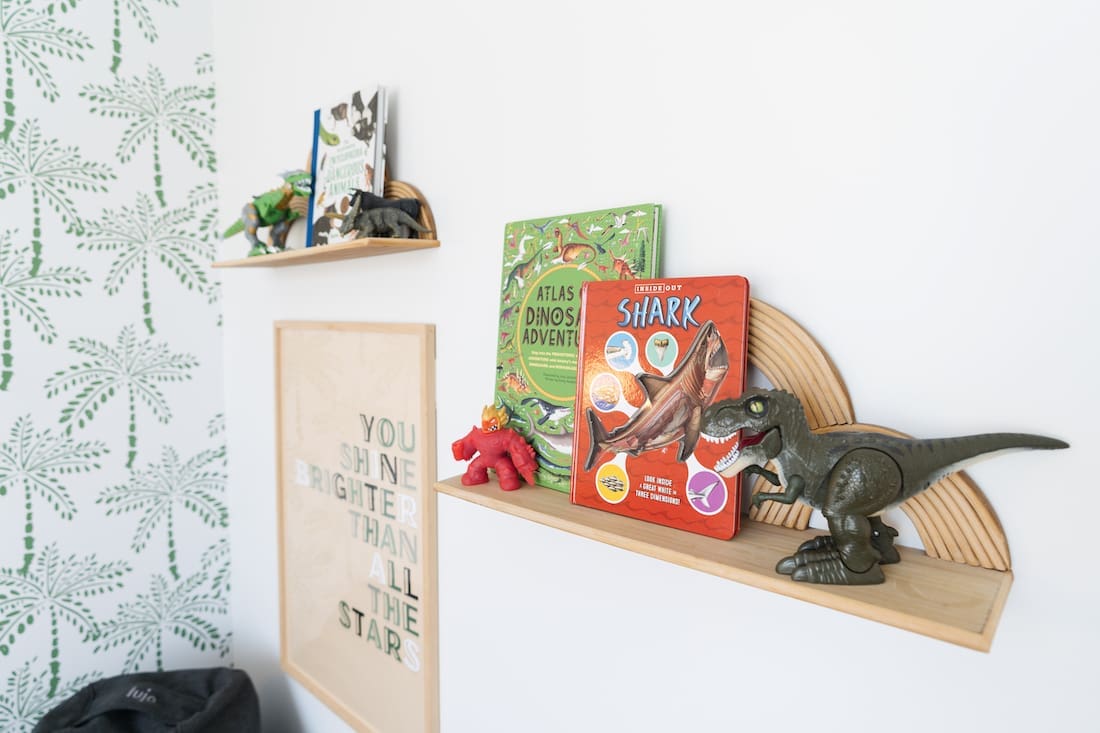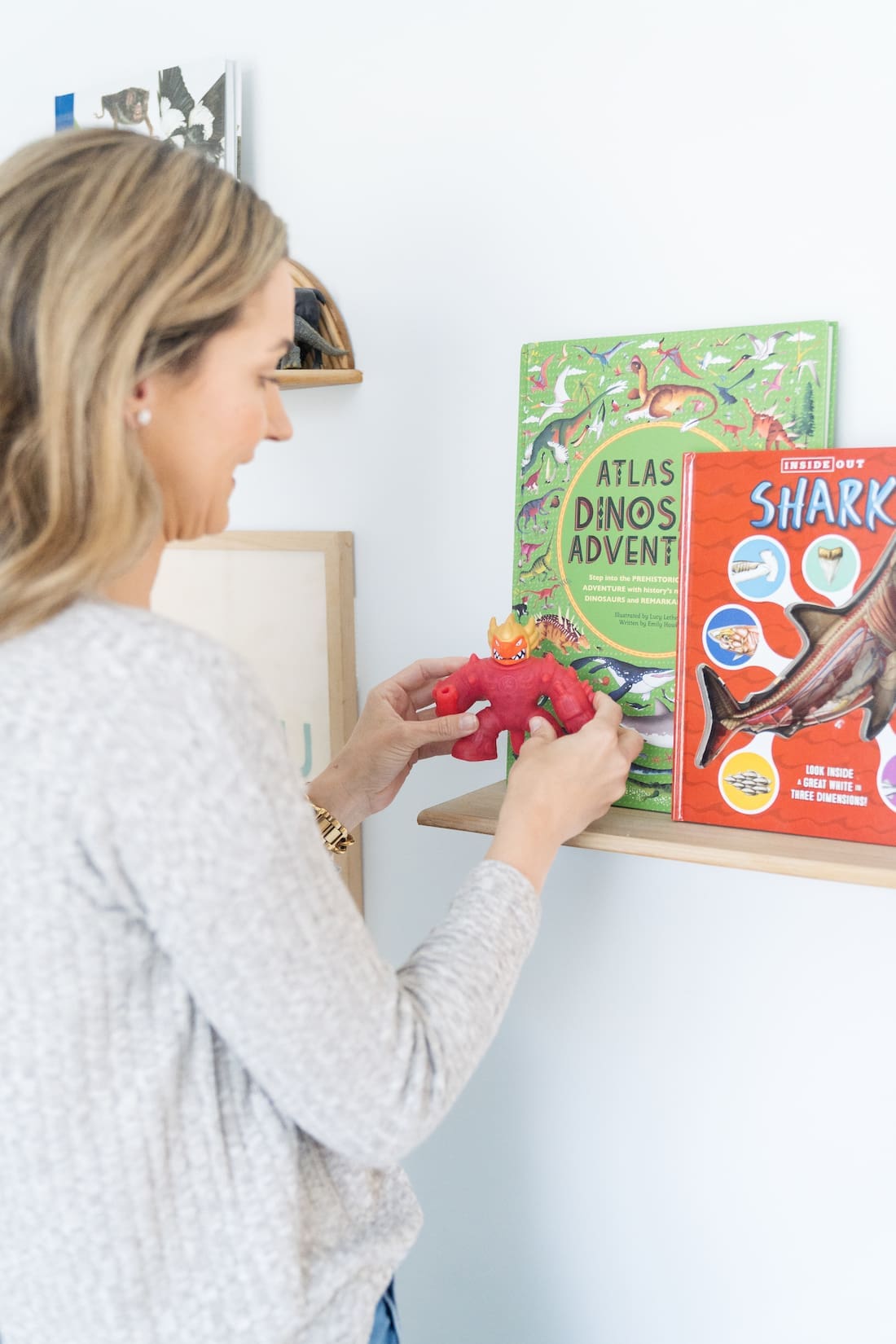 DIY wall art poster
On this wall I also designed and printed a large poster for Patrick. 'You shine brighter than all the stars' is a little reminder to him of how special he is to me. I selected colours that I could repeat across the space to give his bedroom cohesion.
Creating your own wall art is one of my favourite budget home decorating hacks. All you need is a large poster frame (Kmart and IKEA have a fab range) and then using a program like Canva, you can easily design a poster to suit your theme. Print it out at Officeworks or a local printer, pop it in your frame and presto — affordable and unique wall art!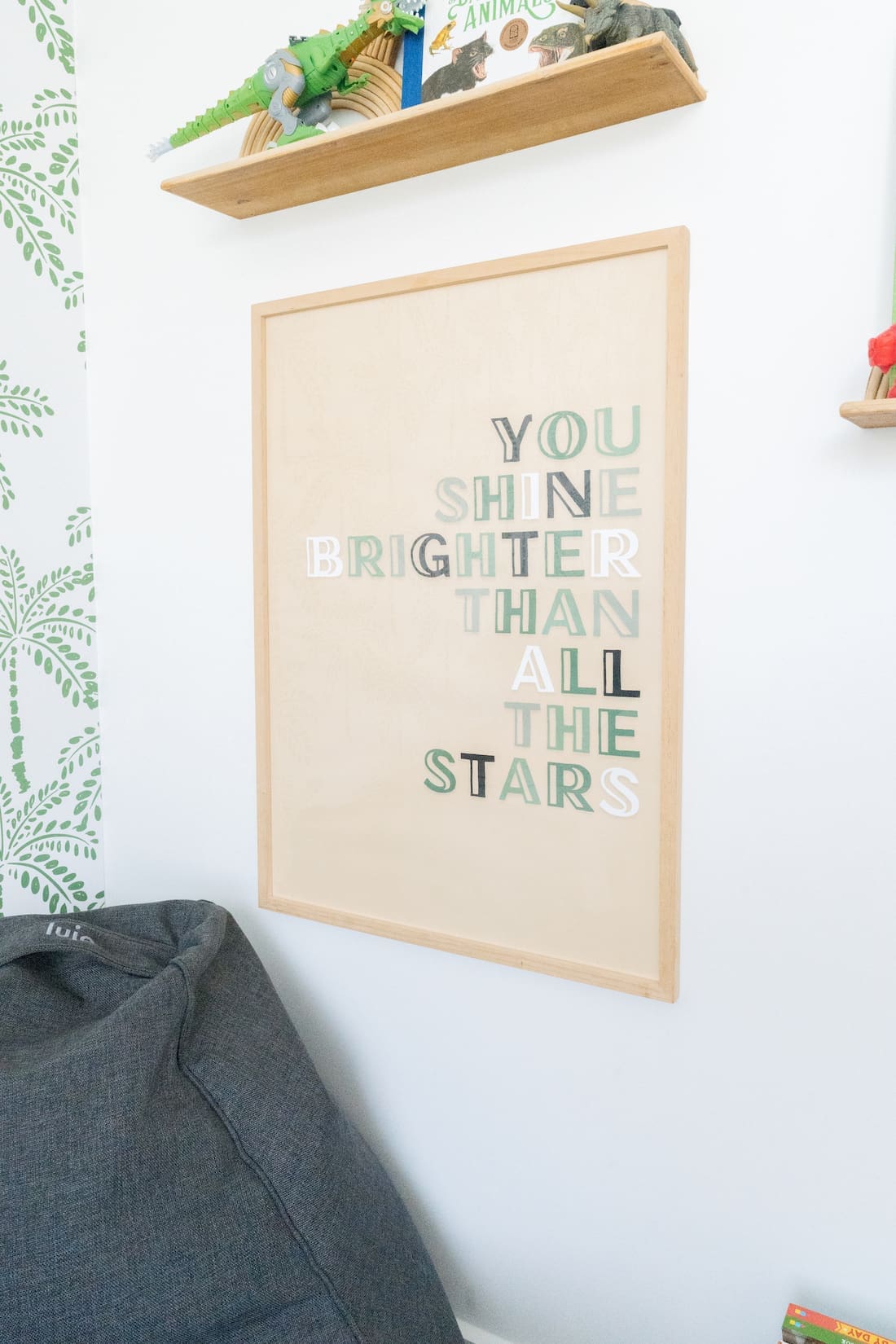 Better toy storage solutions
Keeping kids toys organised is a challenge every parent faces! And taking inspo from our round up of the best toy storage solutions, I bought this drawer unit from IKEA. It's cheap and cheerful and makes it so easy for the boys to tidy up after play time.
If you have more space, it looks great to place several of these side by side. You can also mix and match the drawer units and finish them off with labels for #organisationgoals!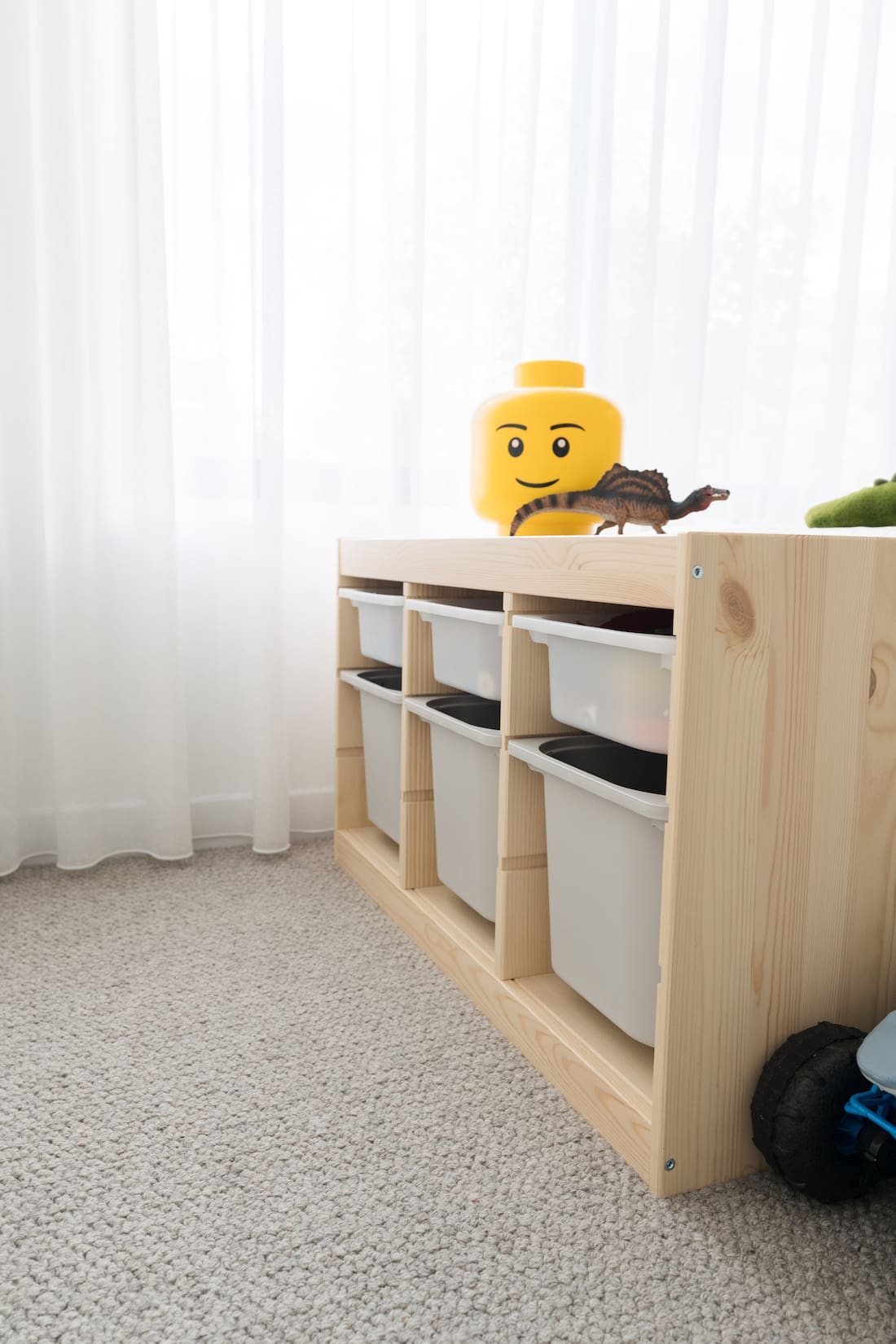 Bean bag corner
I removed the desk in Patrick's room as it took up a lot of space and he mostly uses our dining table for craft and school work. In its place, I picked up a giant bean bag from Lujo and it's become Patrick's favourite place to chill out after school.
A few years ago, I got one of their smaller sage-coloured bean bags for Alexander's room. This one is an adult-sized bean bag so it's big enough for both boys to sit on… or at a squeeze, me too!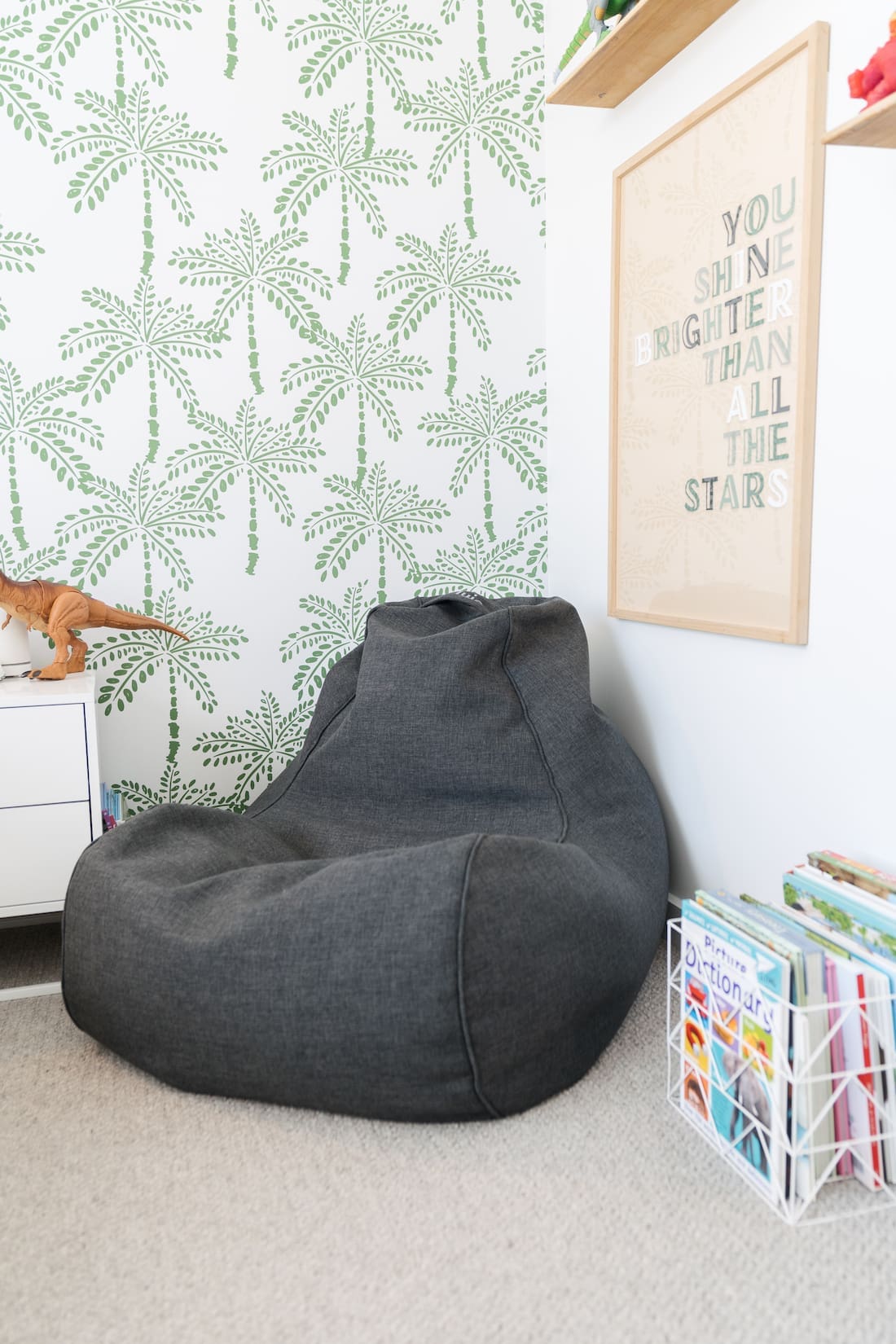 New wool carpet
A change I made throughout our house was to replace all the carpet with this luxe knotted wool carpet from Flooring Xtra. Called 'Applewood 150' from their Native Elegance range, it's made such a difference to brighten the room and create the illusion of space. I'm also thankful to get rid of the large area rug that was hiding the ugly stained carpet because it was quite the trip hazard!
Linen blend sheer curtains
Finally, the wall-to-wall sheer curtain in a float length from dollar curtains + blinds gives the room a luxe feel and diffuses light so beautifully. If you're looking for a similar warm white linen blend curtain fabric, this one is called 'Banksia' in colour 'Natural'.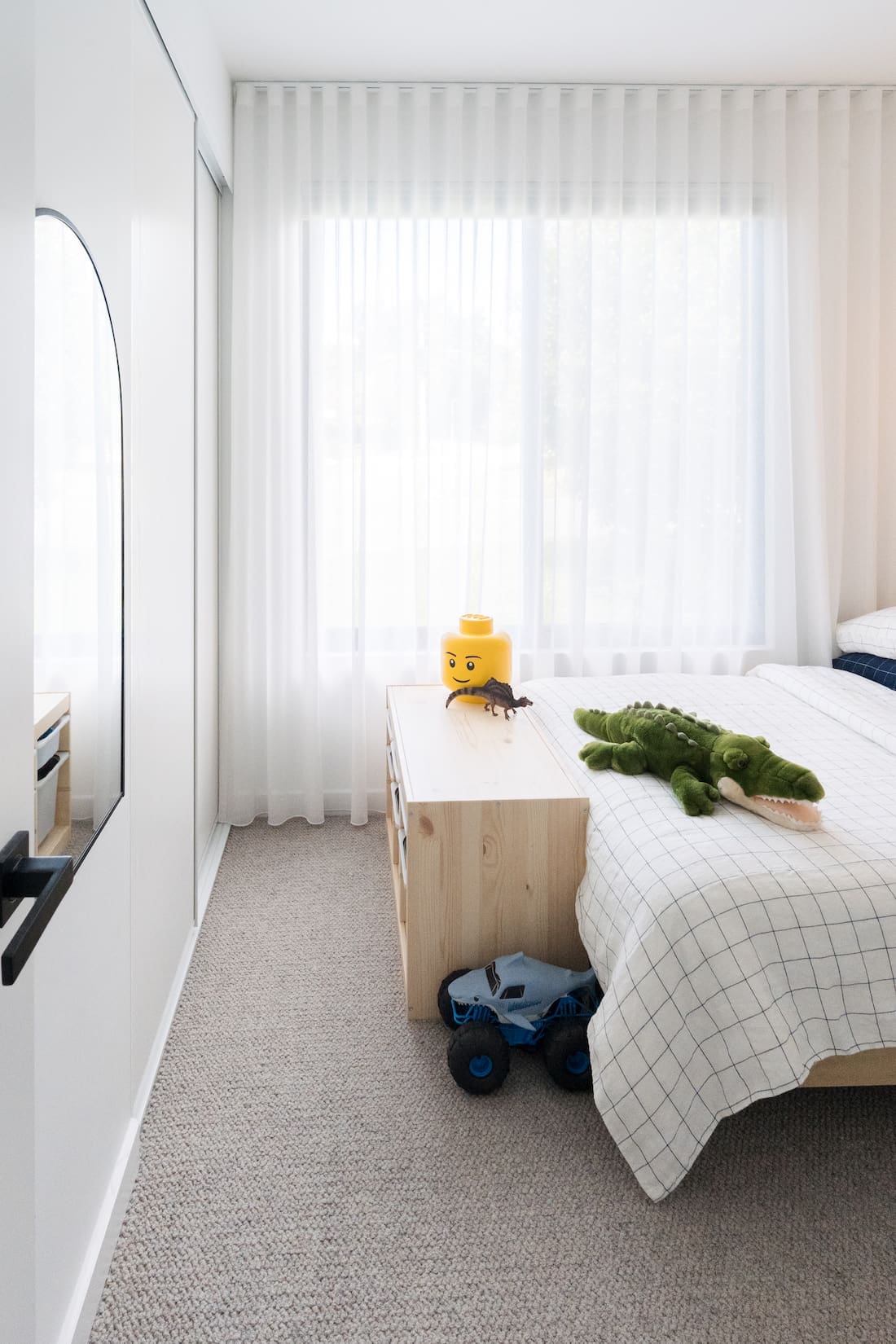 I'd love to know what you think of Patrick's bedroom glow up! Pop a comment below. Also happy to answer any questions about products, design decisions or anything else! Find plenty more boy's bedroom design ideas in this article.
Disclaimer: This post contains some affiliate links and gifted items. This means that when you click on a link and purchase something from that site, we may make a small commission at no extra cost to you. All opinions are my own.