We know how hard it is to feel inspired or work productively in a dull office! You don't have to spend a fortune to make small changes that can lift your space from drab to fab with these easy ideas to create a stylish home office.
To prove it, we've got a stack of inexpensive and quick ideas that will transform your home office into one you will love.
Related article: Gina's creative space reveal
Related article: How to streamline and style your home office to boost productivity
1. Declutter
Clear your workspace from piles of random papers and folders, books you are not using and other clutter that has made its way into your office. If you have not or will not use the item in 3 months, put it away.
Decluttering will provide a clean base to begin styling and will instantly create a sense of calm and order.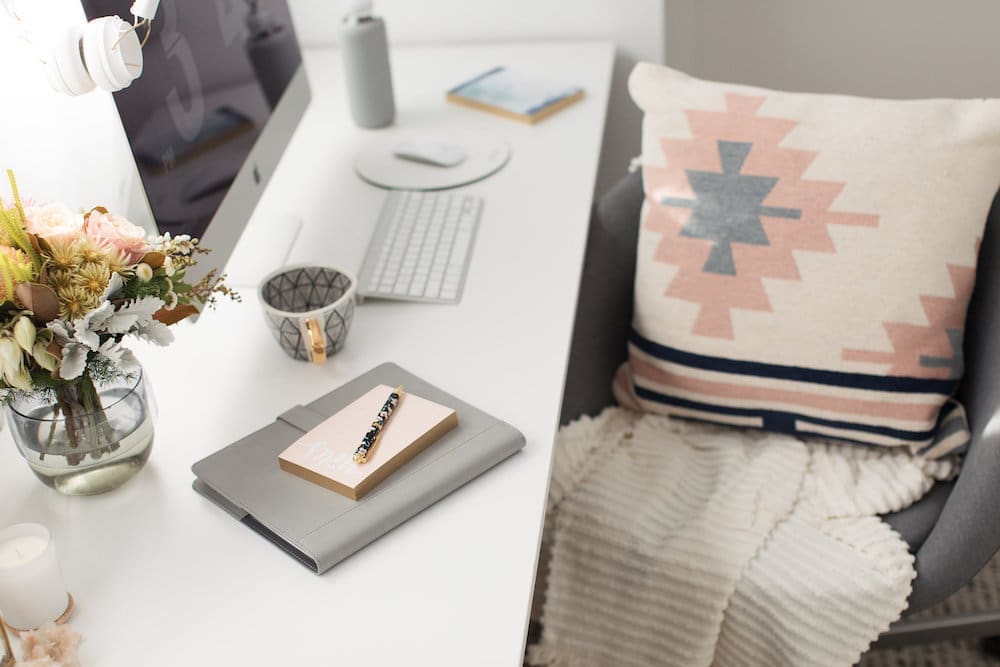 2. Get organised
There's no point taking the time to style your office if you don't set up practical ways to keep organised — otherwise it won't take long before it looks like a crazy mess again.
Storage solutions like magazine boxes, baskets, and folders to keep paperwork organised are a must. You may also like to consider adding a wall shelf to maximise storage and add a serious dose of style too.
3. New stationery
An essential in our minds for easy ideas to create a stylish home office is with new stationery. It not only adds colour and refreshes your workspace, it's fun, too! Typo, kikki.K and Temple & Webster are a few of our favourite places to shop for beautiful yet affordable notebooks, pens and other stationery.
Consider setting a colour theme in your office and look for stationery that complements.
Shop our office styling faves here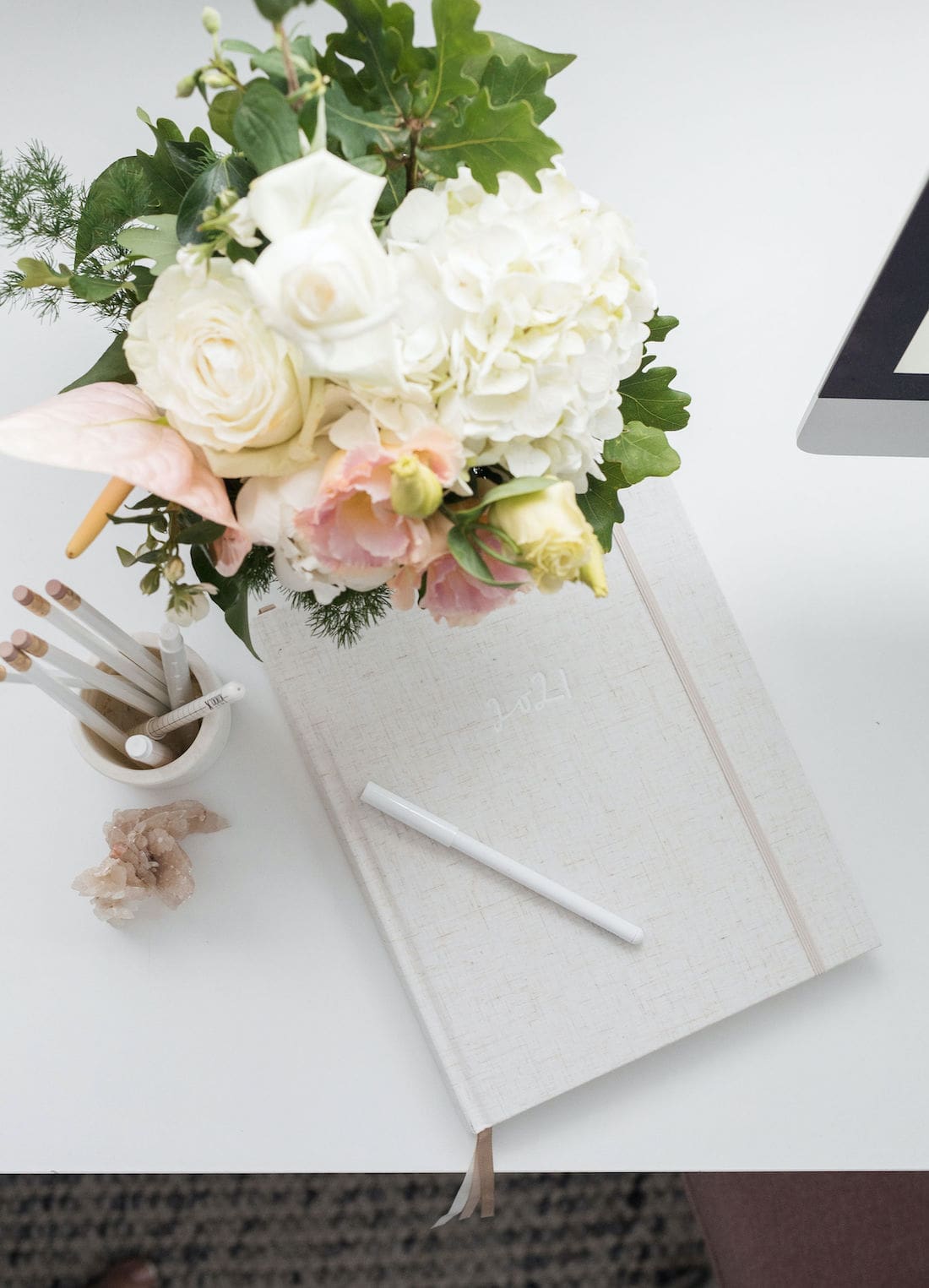 4. Inspiration or memo board
Nothing helps you achieve your goals like being able to see them each day. A large inspiration or memo board will add interest to your walls, help you stay on top of your priorities and achieve your goals.
We love pinning magazine cutouts, photos and other imagest that inspire you, as well as keeping track of work priorities.
5. Indoor plants
Indoor plants are one of our all-time favourite styling props because they not only look beautiful but also offer a stack of health benefits — from helping to purify air to reducing stress and blood pressure.
Consider opting for low maintenance plants in your office, such as ferns, succulents or cacti. We've got a top 20 easy care plant list here.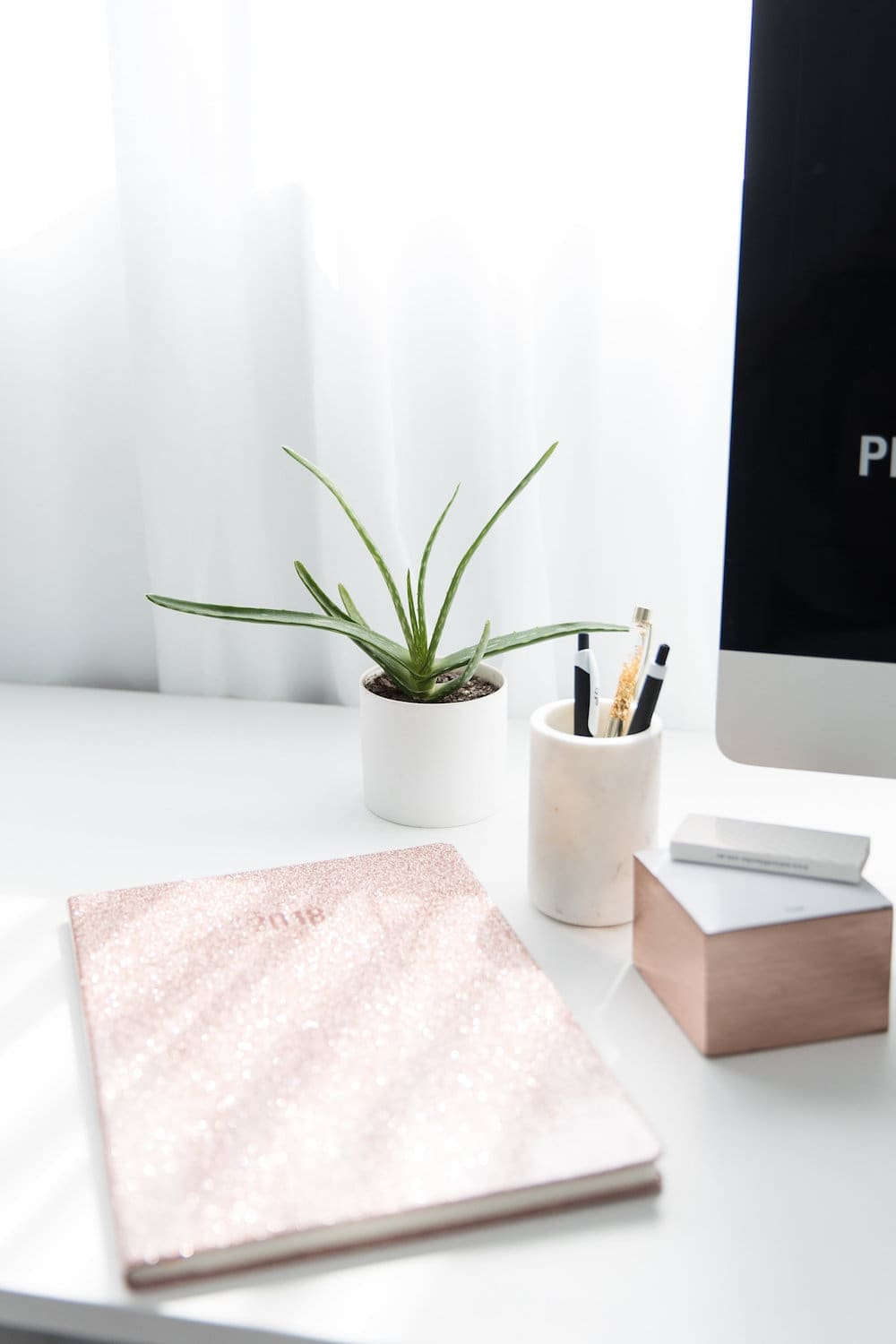 6. Pots
And if you're adding indoor plants, why not have fun with how you display them?!
There's no need to put your plants in drab pots when there's such a fab range of pots, hanging planters and stands available. Here are some of our favourite ways to display indoor plants.
7. Lighting
This point isn't just about adding style — good lighting is essential in every workspace.
The easiest way to add task lighting to your desk is with a table lamp and with the great range of lamps out there, you'll be sure to find one that can become a feature.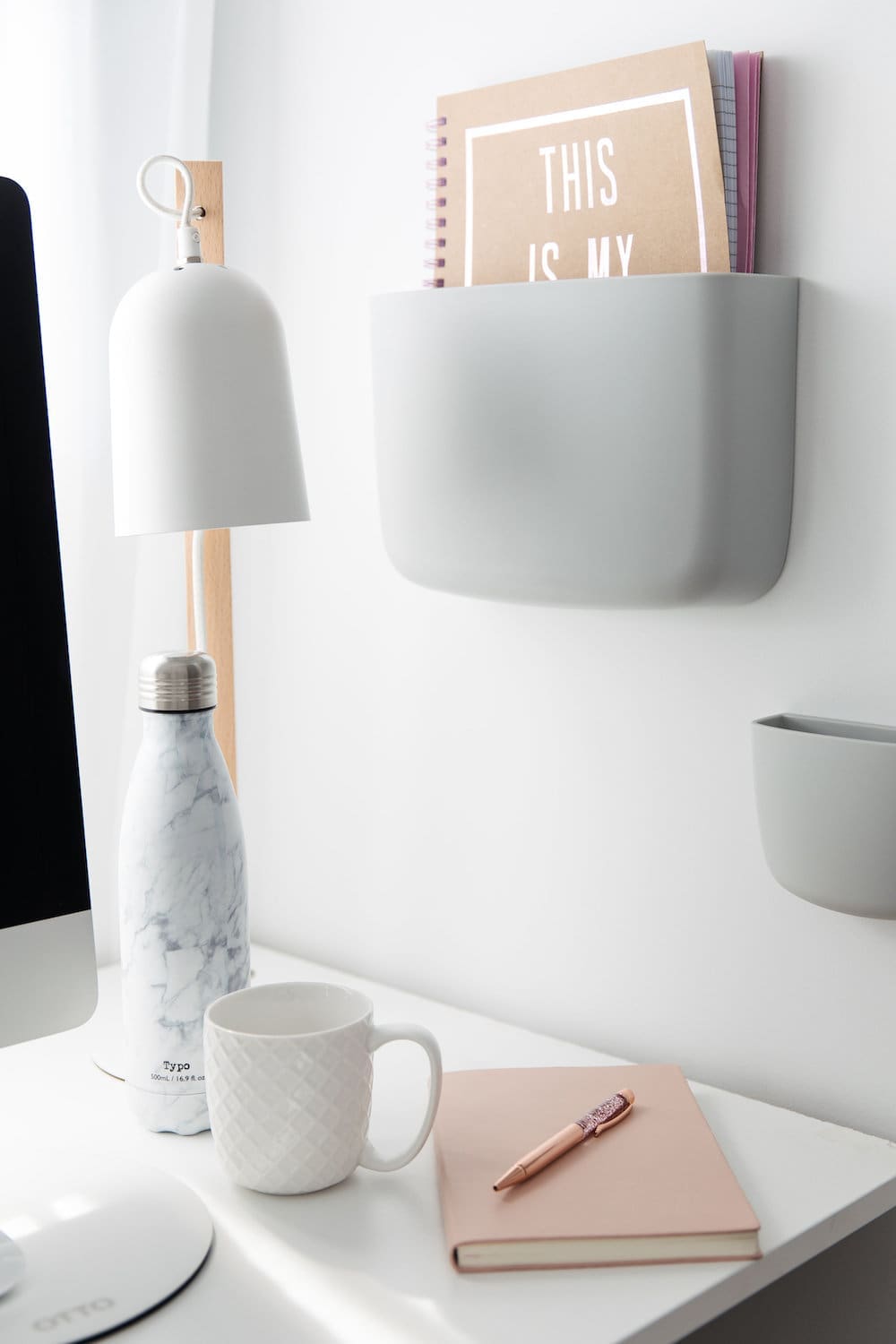 8. Wall art
Another way to liven up your walls is with artwork or a framed print. To keep costs down, you could even make your own wall art by using a tool like Picmonkey to design an empowering or humorous quote. It might be just the thing you need in your office to help you from procrastinating or overcoming writer's block.
9. Floor rug
It's surprising how many home offices we come across that don't have a rug. This one item can transform your office — anchoring the room and adding softness. Find out the dos and don'ts of selecting a rug here.
10. Candles
Not only are candles a great decor piece in their own right, they also fragrance your office and the gentle flickering of a candle flame can have a calming effect.
Don't stop at one, we suggest adding at least two candles in your office.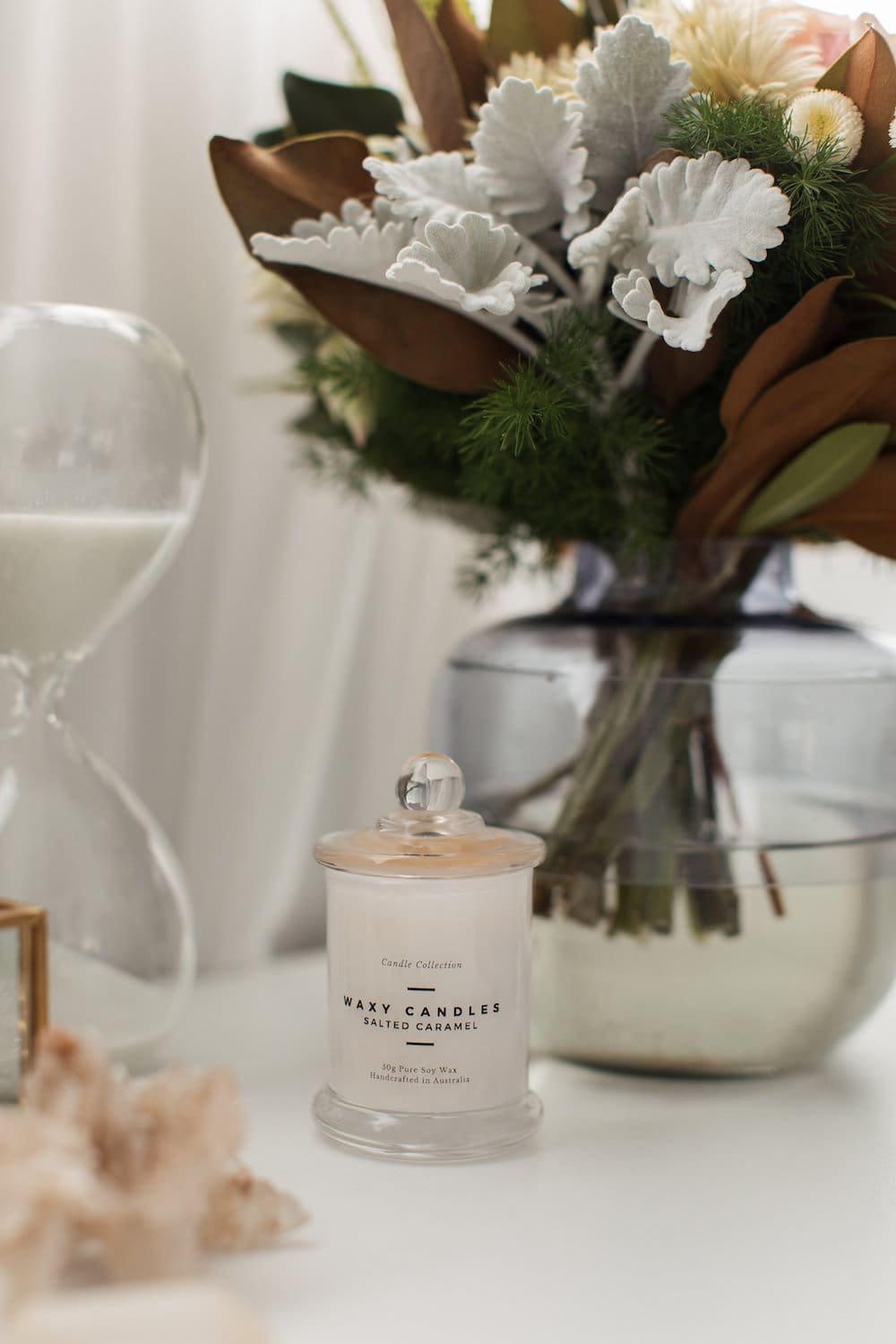 11. Bookshelf
Do you have a bookshelf in your office or could you fit one in the space?
A bookshelf has so much styling potential. Work it right. While there are no hard and fast styling rules, some great tips are to stack books horizontally and vertically, add a collection of objects, layer objects (think a small object placed on top of two stacked books), try some colour grouping (blue tones are the colour of the season) and incorporate some artwork. Find all our bookshelf styling tips here.
12. Office chair
Take a look at your office chair — do you deserve better? If your chair is drab or (worse!) falling apart, treat yourself to a new chair or upcycle an old chair. Refurbished armchairs look great and are an affordable alternative.
13. Framed photos
Another popular accessory is framed photos — they can lift your mood on a difficult day and remind you what you're working for.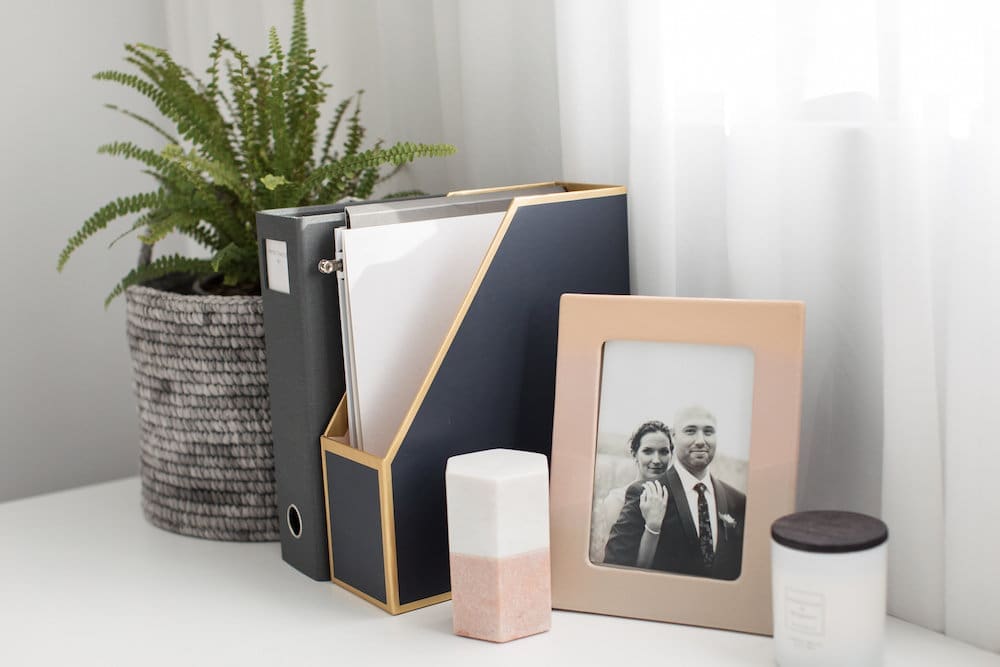 14. Window coverings
If it's been more than 10 years since you changed your window furnishings, it's probably time to do away with your old blinds or curtains. Changing the furnishings on the one or two windows in your office won't cost you the world and is guaranteed to change the space dramatically.
We've got tips on how to select the right window coverings here.
15. Fresh flowers
Another of our easy ideas to create a stylish home office, is with a beautiful bunch of flowers.
Weekly trips to your florist can get expensive so consider making your own floral arrangements. Recently expert floral artist Chellie shared a step by step guide on how to make your own floral arrangement.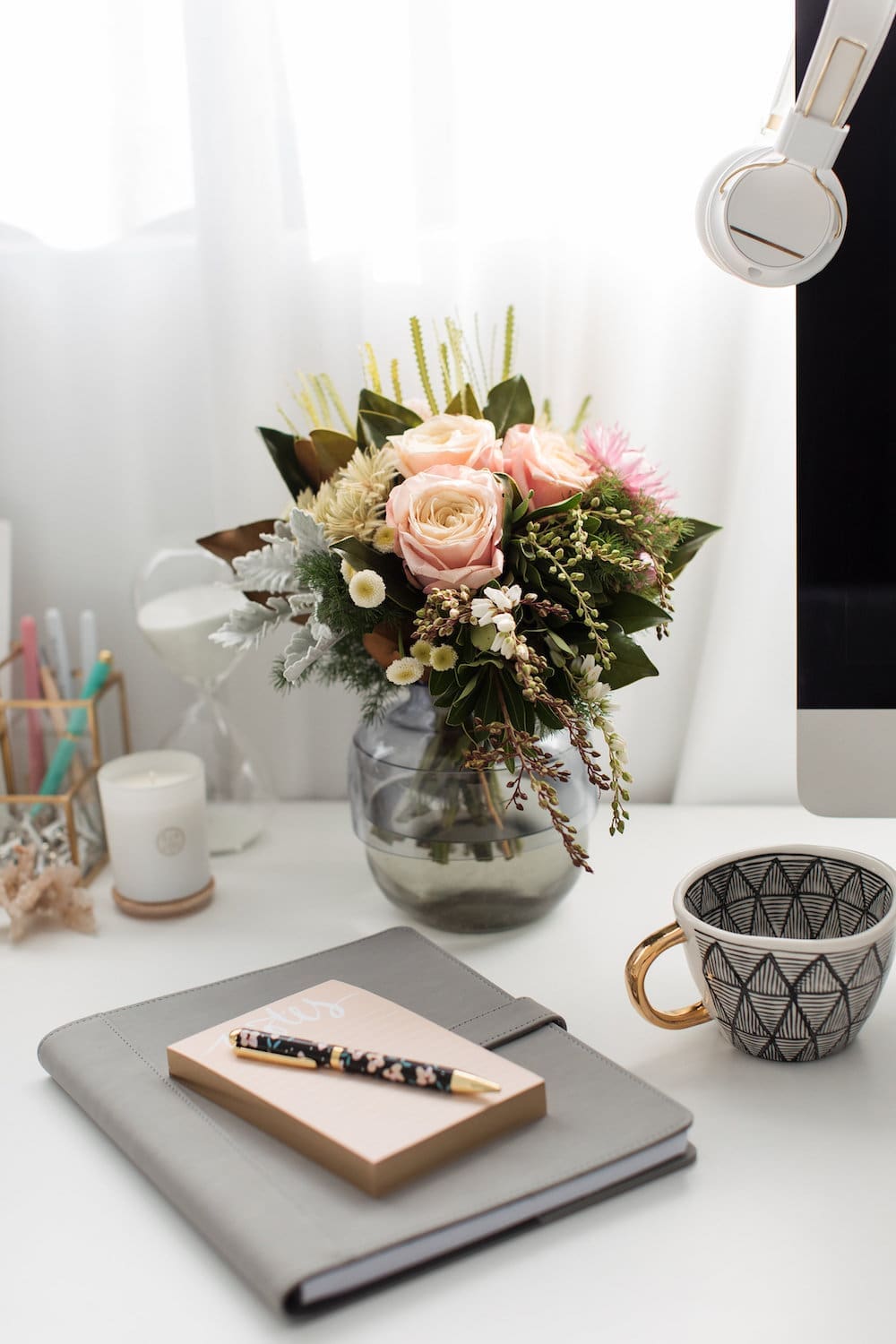 16. Feature wall
If you're happy to make a permanent update in your office, consider painting or adding wallpaper to a feature wall or all four walls.
Have you always wanted to use wallpaper in your home but are unsure about it? Here are all the top things you should know!
17. Crystals
Whether you believe in the unique properties of crystals or not, there's no denying they're beautiful!
We share the best types of crystals to use in your home office here.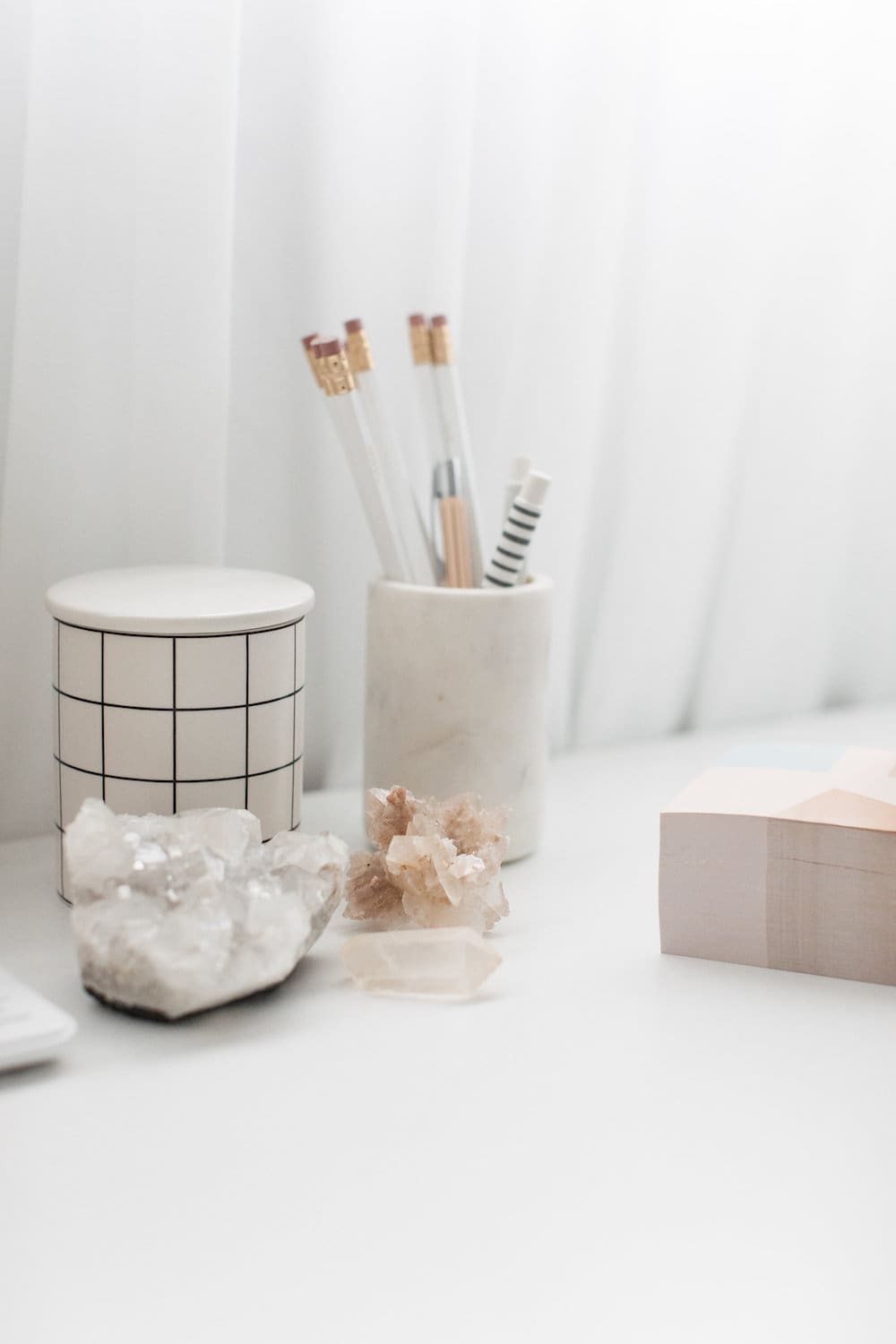 18. Mug
Because coffee is life… or tea for those of you who prefer that kind of thing, ha ha.
A statement mug, like the one above from TK Maxx for under $8, can add wow factor for less.
19. Extra seating
If you have space, why not add an occasional chair and create a reading nook?! Perfect for off-screen work, you can position the chair to maximise natural light. Style it with a small side table and cushion that ties in with your colour palette.
20. Accessorise
Your home office, like any other room in the home, should showcase your personality.
Consider displaying treasured items, pieces from your travels or other decor that shows off a bit of YOU.
Did you pick up any easy ideas to create a styling home office? Or perhaps you have other suggestions to add? Tell us in the comments below!
Shop our office styling faves here
Disclaimer: This article contains some affiliate links. This means, if you purchase an item we may receive a commission on that sale of the product at no extra cost to you. We promise we only work with brands we know, love and trust. This article was originally published in October 2018.
Photography by Thorson Photography