My dining space has been the slowest room in our house to get into shape… mainly because I needed to invest in all new furniture and there wasn't much left in the bank when we finished our build!
I decided it was better to wait and save for investment pieces I'll love and treasure than quickly fill the space with new furniture just for the sake of it.
If you follow me on Instagram, you'd know I'm a massive fan of Clickon Furniture where I bought all the furniture in my dining area — table, chairs and sideboard.
The first piece I bought for this space though was the large Annie Everingham artwork that I had commissioned for my birthday last year. It's a symbolic piece for me as Annie was the first artist I ever interviewed for the blog so it's a celebration of the blog, completing our house and my birthday all in one 🙂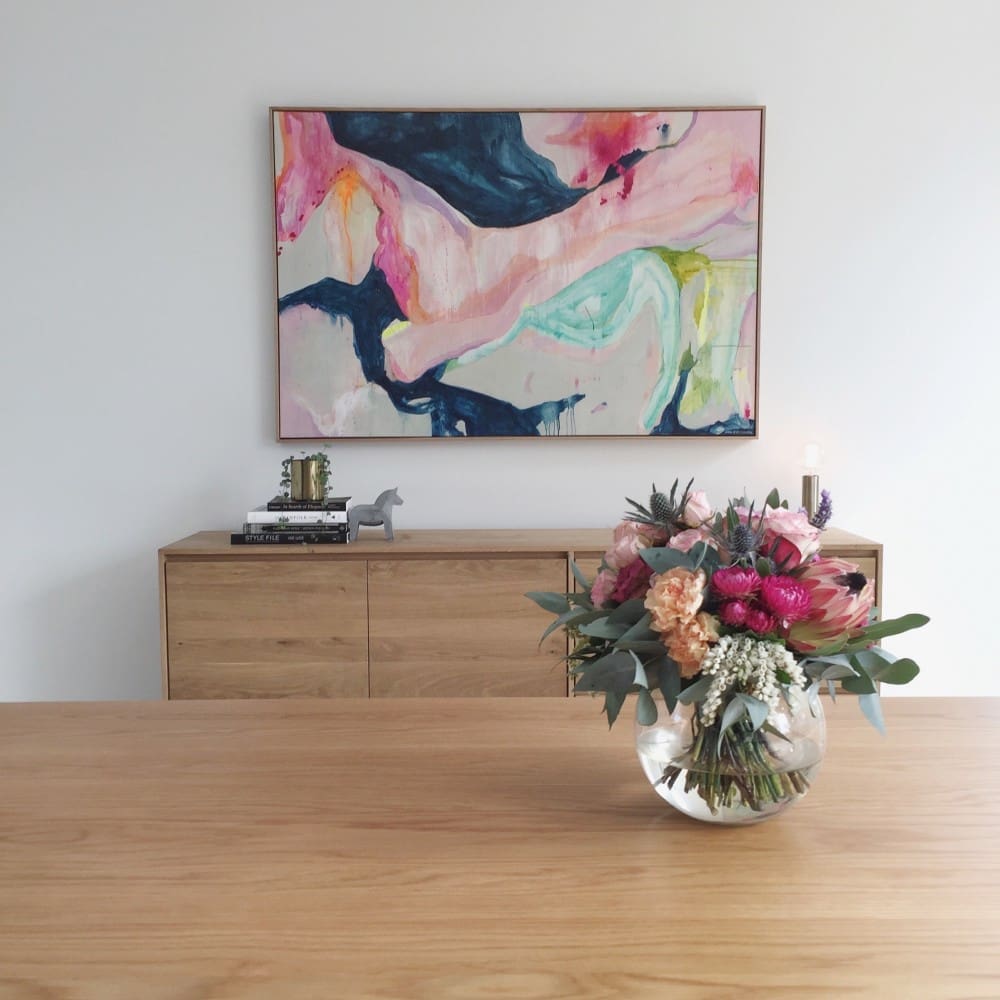 Originally our dining area was going to be much smaller and a laundry was going to be in the area where the sideboard is (i.e. the wall that the artwork is hanging on would have been brought forward by a metre or two).
Once our house was framed up though, I realised our dining area was so compact it would have only fit a dining table and nothing more. I always loved the idea of a sideboard and knew I wanted a large art piece so we moved our laundry into the garage (I'll share that space with you another time) and kept the space open.
By moving our laundry into the garage we were also able to make our kitchen a tad larger than the original design, extending the width of the island bench by about 300mm. The proportions in the kitchen/dining space feel in balance and I love the quirky smaller windows in the dining area that are a result of the original design with laundry.
The flooring in our dining area is polished concrete with titanium oxide to make it much brighter and whiter than regular concrete. This lower level of our house is where Arnie our dog (a giant but loveable Rottweiler) is allowed so I appreciate how easy it is to clean. Perhaps down the track I'll consider adding a large floor rug under the dining table but given it will most likely need to be a custom order, I'll need to do a lot more saving and there are other areas of the house I'd like to focus on for now (like finishing our landscaping and outdoor areas!).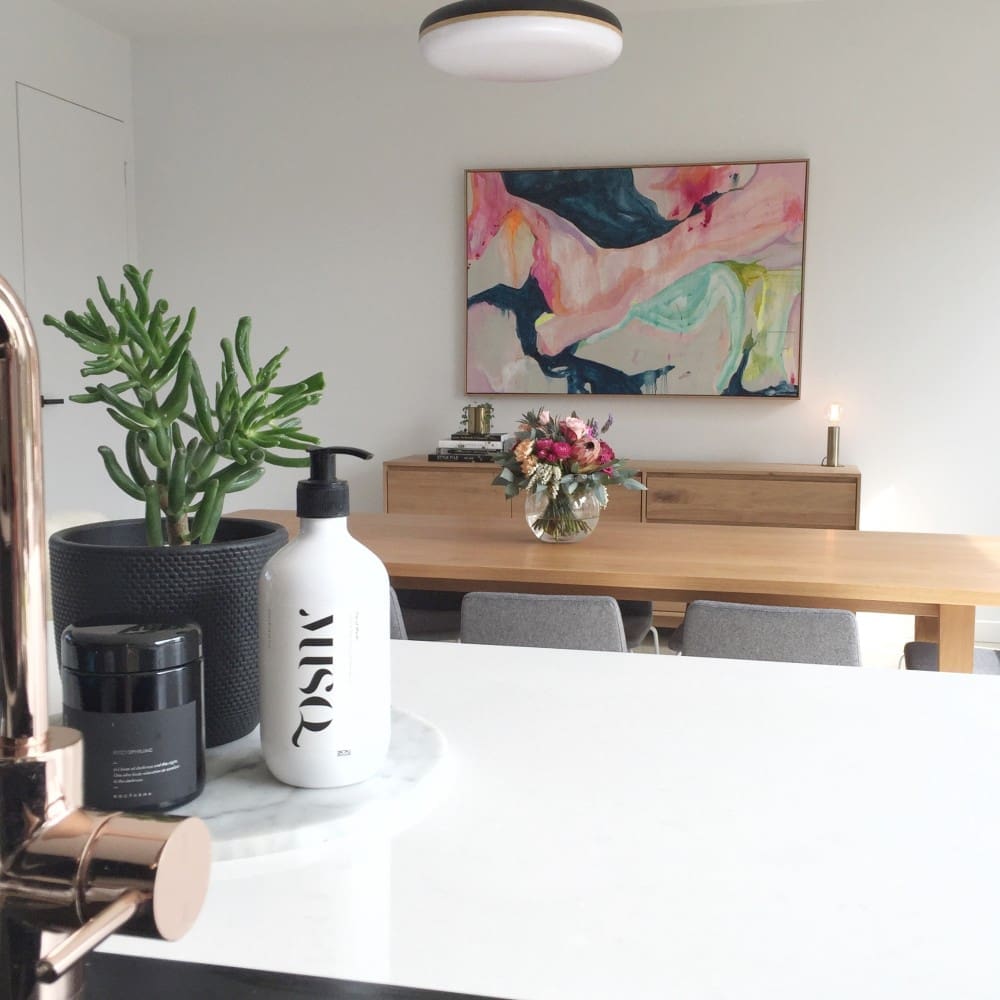 I try to keep the dining space free from clutter — although given all this rain lately, it looks more like a laundromat than a dining room (#ineedadryer).
On one end of the sideboard I have a gorgeous brass lamp from My House Needs and on the other I generally keep a stack of books or a vase with fresh cut flowers. Since photographing my dining space, I changed the globe in the lamp to a larger, golden tint globe from Bella & Hunt which gets lots of comments (pictured below).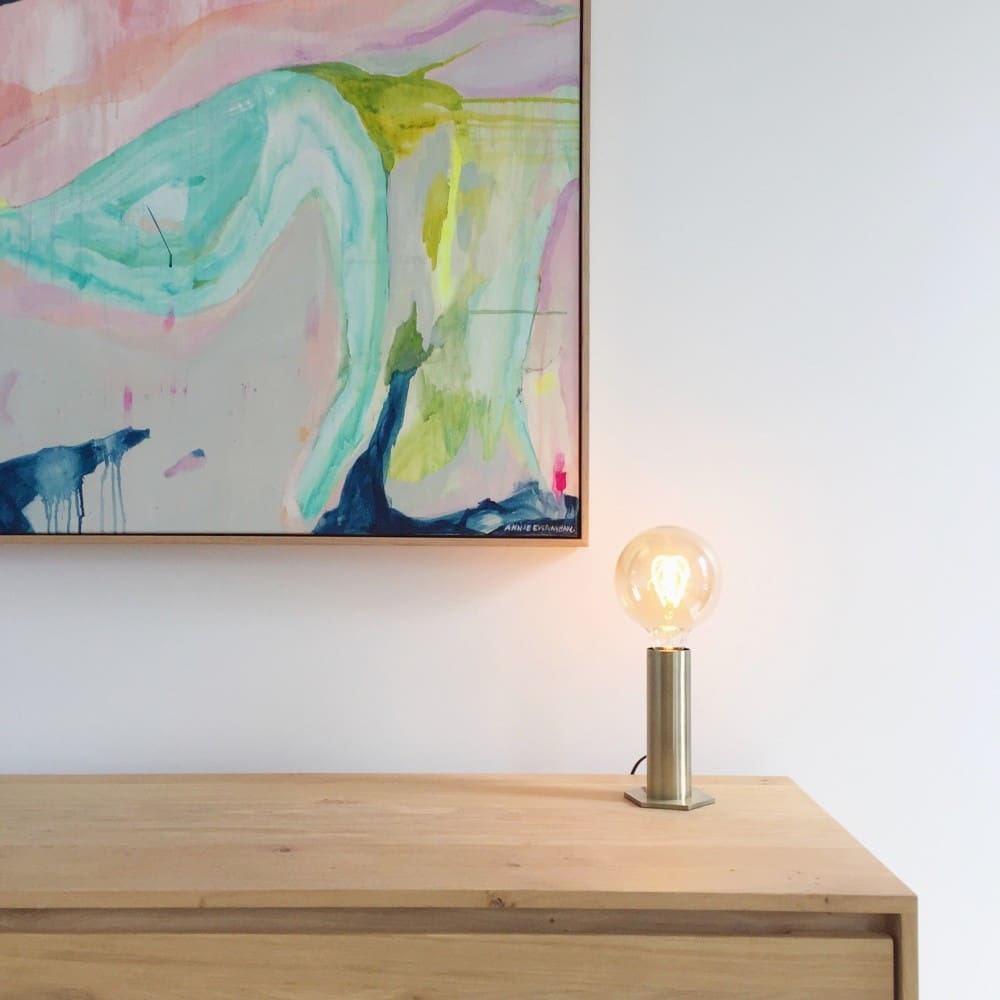 Supplier list:
Artwork: Annie Everingham commision
Dining table: Multo from Clickon Furniture
Dining chairs: Fila from Clickon Furniture
Sideboard: Ethnicraft from Clickon Furniture
Lamp: Brass Edmond table lamp from My House Needs
Lamp globe: Bella & Hunt
Pendant light: Coper ID
Flowers: Barton Flower Bar
If you have any questions about my dining space, ask them in the comments below and I'll respond 🙂