My dining space has been the slowest room in our house to get into shape… mainly because I needed to invest in all new furniture and there wasn't much left in the bank when we finished our build!
I decided it was better to wait and save for investment pieces I'll love and treasure than quickly fill the space with new furniture just for the sake of it.
If you follow me on Instagram, you'd know I'm a massive fan of Trit (formerly called Clickon Furniture) where I bought all the furniture in my dining area — table, chairs and sideboard.
The first piece I bought for this space though was the large Annie Everingham artwork that I had commissioned for my 30th birthday. It's a symbolic piece for me — it's the first artwork I've had commissioned, celebrates my milestone birthday and completing our home build, and Annie was the first artist I ever interviewed for the blog so it feels extra special.
Related article: Dining room inspiration: 10 totally different (but gorgeous) dining room styles
Related article: How to style your dining table (when it's not being eaten at!)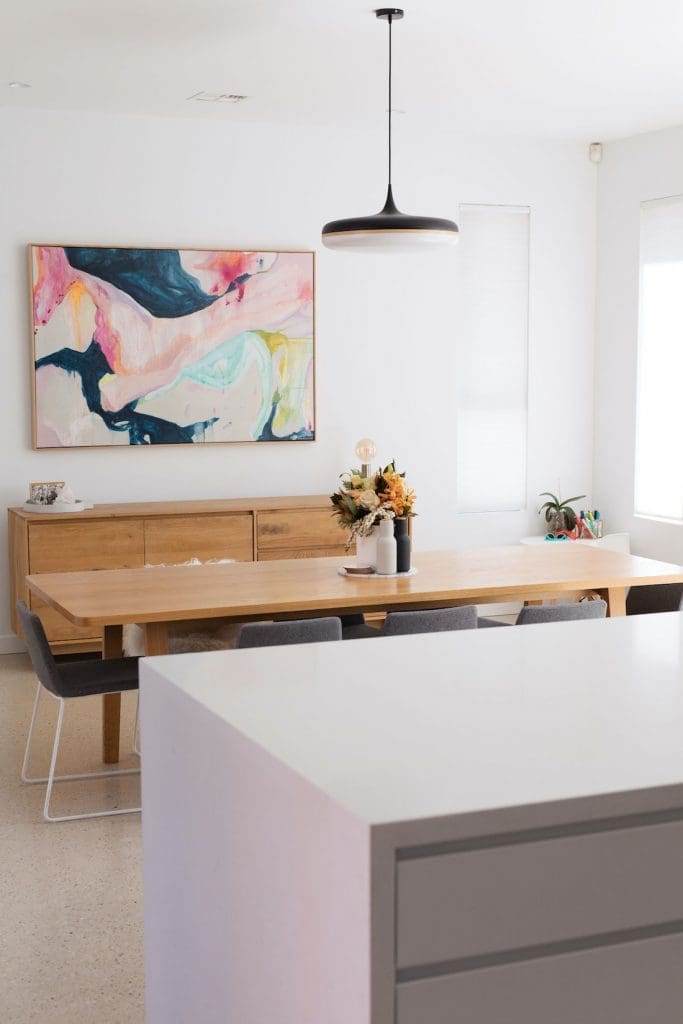 Originally our dining area was going to be much narrower and a laundry was going to be in the area where the sideboard is (i.e. the wall that the artwork is hanging on would have been brought forward by a metre or two).
Once our house was framed up though, I realised our dining area was so compact it would have only fit a dining table and nothing more. I always loved the idea of a sideboard and knew I wanted a large art piece so we moved our laundry into the garage (you can check out my laundry here) and kept the space open.
By moving our laundry into the garage we were also able to make our kitchen a tad larger than the original design, extending the width of the island bench by about 300mm. The proportions in the kitchen/dining space feel in balance and I love the quirky smaller windows in the dining area that are a result of the original design with laundry.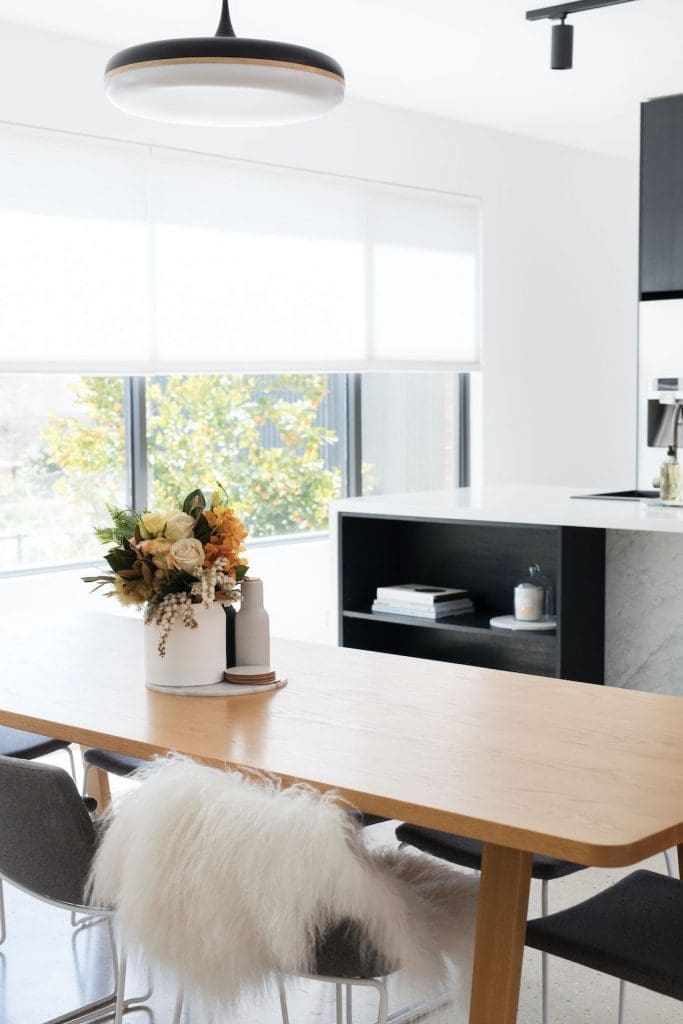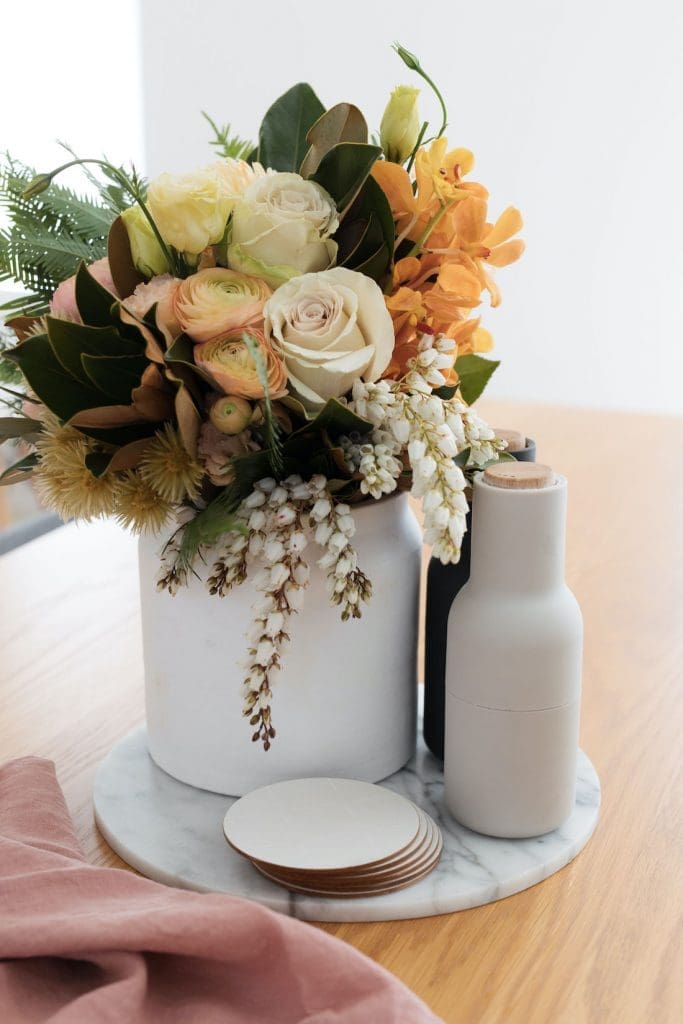 The flooring in our dining area is polished concrete with titanium oxide to make it much brighter and whiter than regular concrete. This lower level of our house is where Arnie our dog (a giant but loveable Rottweiler) is allowed so I appreciate how easy it is to clean. Perhaps down the track I'll consider adding a large floor rug under the dining table but with two small children and a dog, it isn't practical to have one now.
I try to keep the dining space free from clutter although the kids have a small table and play area in the corner that sometimes gets out of control with toys… and in winter this space can resemble a laundromat, ha ha.
On one end of the sideboard I have a brass lamp similar to this one from Temple & Webster and on the other I generally have a small arrangement. You can find some of my sideboard decorating ideas here.
I love the small bookshelf we integrated into the kitchen island (pictured above) although Alexander has just hit the age where he's into everything so this will most likely be bare for a few months until he grows out of that stage.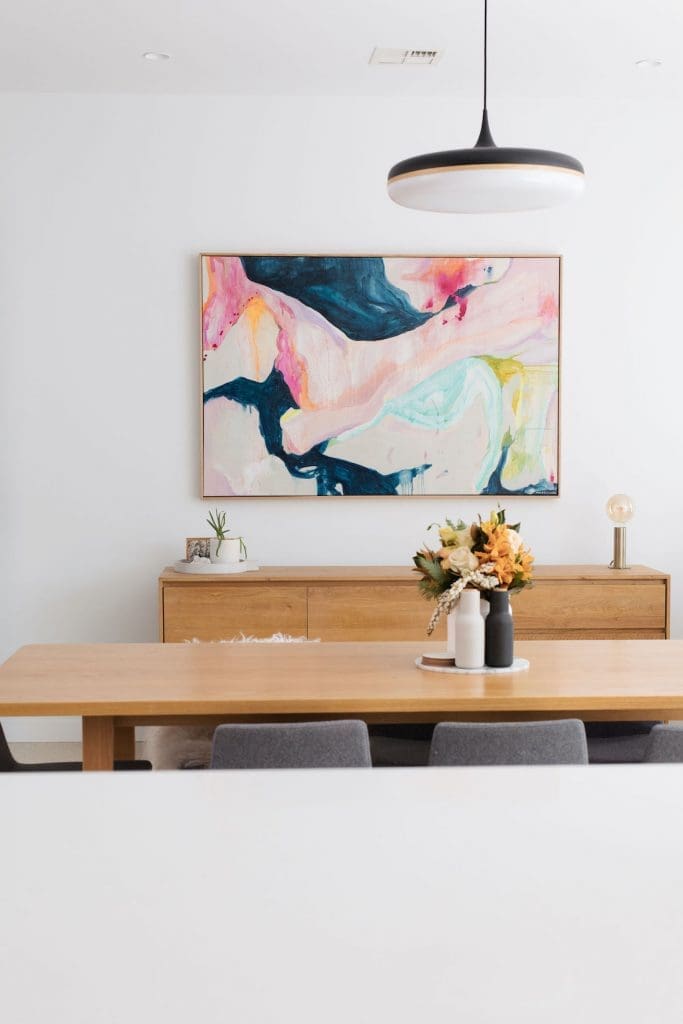 Supplier list:
Artwork: Annie Everingham commision
Dining table: Multo from Trit
Dining chairs: Fila from Trit
Sideboard: Ethnicraft from Trit
Lamp: Brass Edmond table lamp similar to this one from Temple & Webster
Lamp globe: Bella & Hunt
Pendant light: Coper ID
Flowers: Barton Flower Bar
If you have any questions about my dining room, ask them in the comments below and I'll respond 🙂
This post was originally published in October 2016 but was updated with new photography and information.