You may have read my admission in our 'How to select white paint' tips article that I once painted a room baby poo colour. No joke, it was so bad I immediately redid it.
A little scared I could repeat history, I brought in the professionals to help select the colours for our new home and I'm pleased to report, the results are fabulous 🙂
Related article: Colour and emotion: How to select colour for the mood you want to achieve
Related article: How to select white paint: Tips on getting the right white paint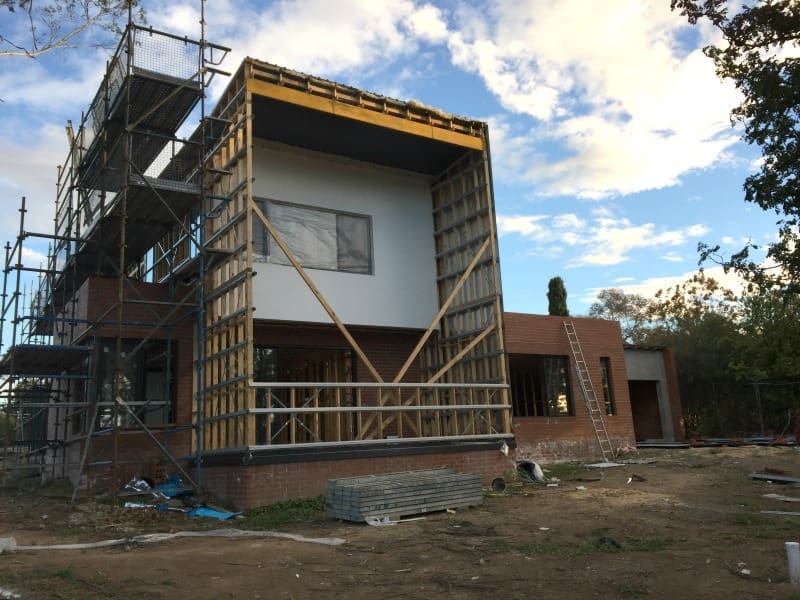 Colour consultation
I'd never had a colour consultation before and was a little unsure what to expect but the lovely Erin at Haymes had me reassured I was in the best hands.
To start the process, I shared photos of my mood board and of our house in progress. I also answered a range of questions from Erin about how I wanted to feel in my home and the style I'm working towards.
We chatted on the phone (as I'm based in Canberra) and once she had a good idea of style I wanted to achieve — crisp, modern and airy in the living areas, and more moody and luxe in the master bedroom — she posted me a selection of large A5 colour swatches.
Erin admitted she got a bit excited picking the colours for my home so I had a 'shortlist' of around 15 colours, he he. It really highlighted just how different white and grey paints can look depending on how they are tinted.
Luckily I could immediately rule out some of the colours as I knew I didn't want any brownish hues, and others I took to site and to see how they looked.
Erin called me again to help make the final selections. This time she asked me about the specifics. What other materials are being used in each room? What tiles have I selected? Kitchen benchtop? Placement of windows and orientation of rooms? She explained how colours, textures and amount of natural light could affect the paint colours we were considering.
With her expert advice we locked in the following colours:
Greyology 2 (used inside both houses)
Silhouette (used in the master bedroom and guest bedroom)
Marble Mist (used outside on rendered sections).
Funnily enough, Marble Mist is the colour we originally painted the interiors of our old house that we demolished to make way for this one!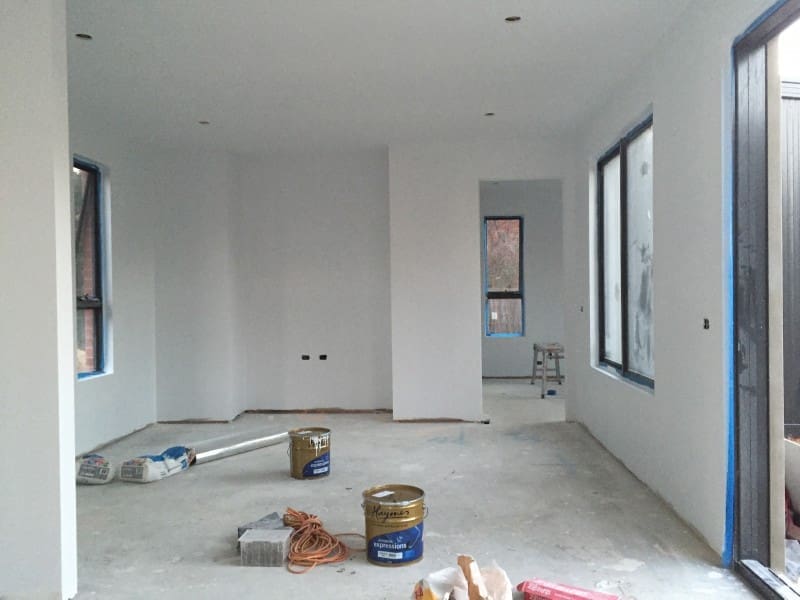 Painting
So with the colours locked in we blitzed ahead!
At this stage only the small house has been sheeted but we (mainly our friend but I did pick up a paint brush too!) fully painted the interiors with the exception of doors and skirting that haven't been installed yet 🙂
What do you think of our choice of Greyology 2 in the photo above? Don't laugh, white paint is totally a colour, ha ha! Personally I love it because it feels cool and contemporary and I can't wait to see how it will look in our house against our polished concrete floors.
Our house is a little bit behind this one… As it's a double storey building, we had scaffolding up to access the upper level but this got in the way of some sections of roof being installed. With the scaffold now gone, our roofer has been doing an amazing job finishing off the outside cladding. Now that it's watertight (HOORAY) our carpenter can go back to pre-sheet, getting it ready for our plasterer to sheet all the internal walls.
Fingers crossed in a months or so our house will be ready to paint inside too!
We've also painted some sections outside using Marble Mist. Unlike inside where we opted for cool whites, Marble Mist is a warm white. Erin advised that outdoors it's best to go for a slightly warm white to avoid the colour appearing blueish in direct sunlight. And of course, she was right, just check out the photo above of how it's coming along.