I know I seem say this about every room reveal but the guest bedroom is one of my favourite rooms in our home!
With my family living interstate, I knew this space would get used A LOT and especially so since having baby P. My goal was to create a cosy and inviting guest bedroom and I feel like I was able to achieve this.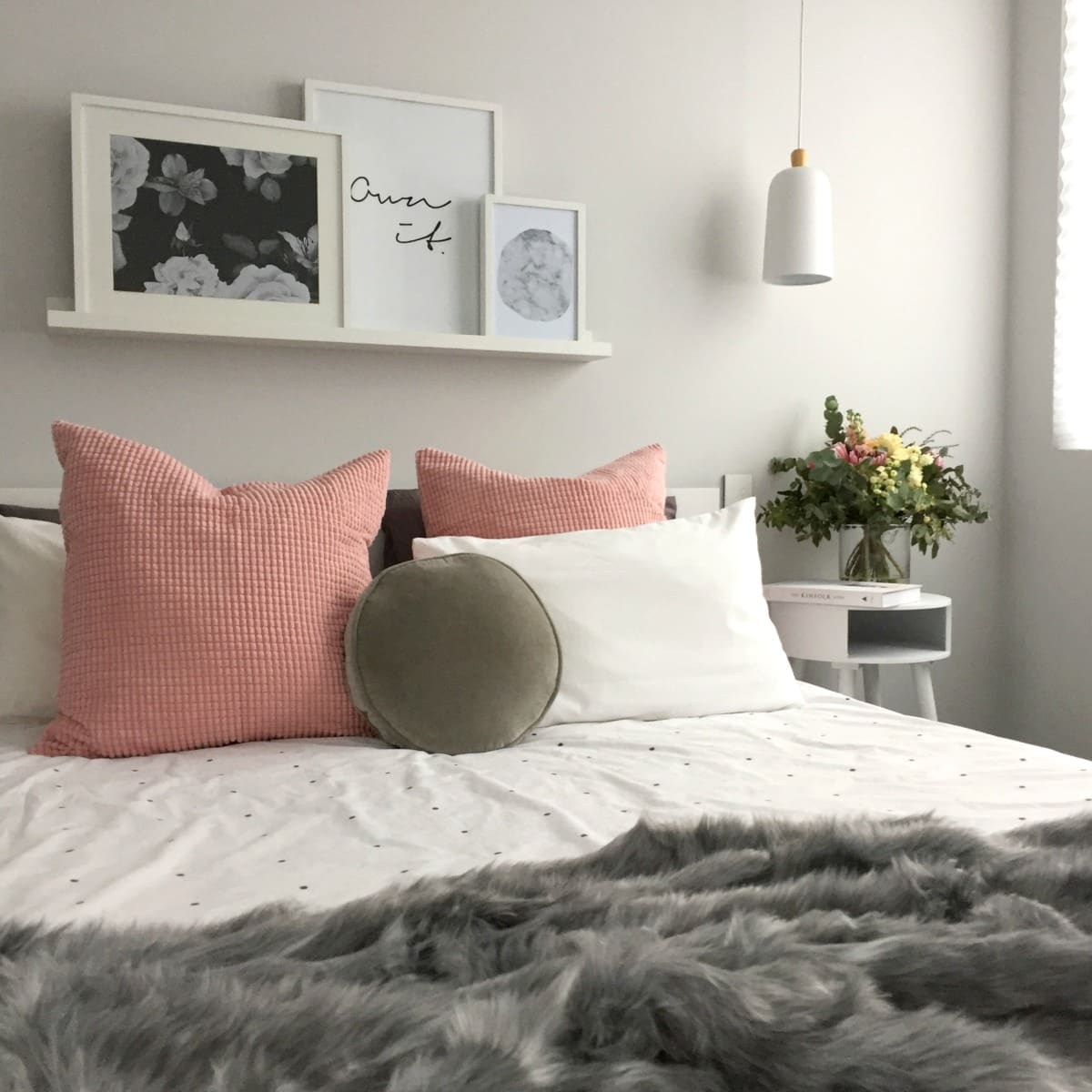 Designing the space
During my colour consultation with Erin from Haymes, she suggested a soft grey wall colour called 'Soothe'. That was the first decision I made when planning the guest bedroom and I love the mood it creates.
The next big decision was the joinery and I selected a grey timber grain finish called 'Marosa Milan' from the Ravine Polytec Evolution range. I designed the wardrobe to go across the full width of the wall with a lower drawer unit below the window to create a little reading nook. Perhaps I went a little overboard with storage in this room but often my guests will stay for a week or longer so it's nice to give them space to unpack all their things and get settled.
The room layout is simple — a bed centred against the back wall with two pendant lights hanging either side, and a side table on the right of the bed. There isn't space to have a bedside table on the left side so I bought some light grey Normann Copenhagen wall pockets that can hold magazines, reading glasses etc but in the end I didn't feel these were needed and used the wall pockets in my study instead.
I (my husband) installed a wall shelf above the bed to rest artwork, candles or other pretty things. At the moment I've got a collection of prints from Yorkelee Prints on display but I also bought some larger frames so I might play around a bit more with the styling on the shelf.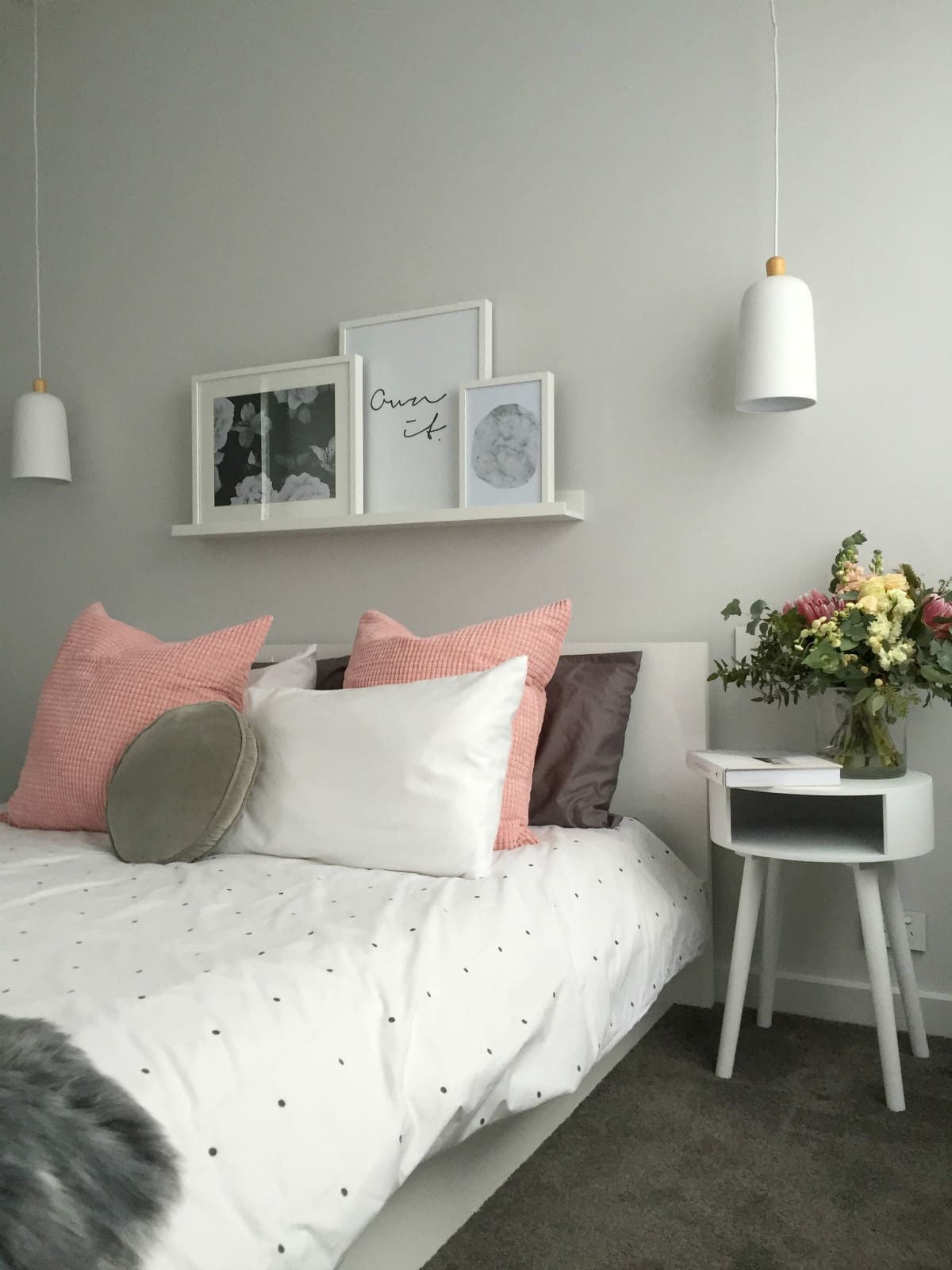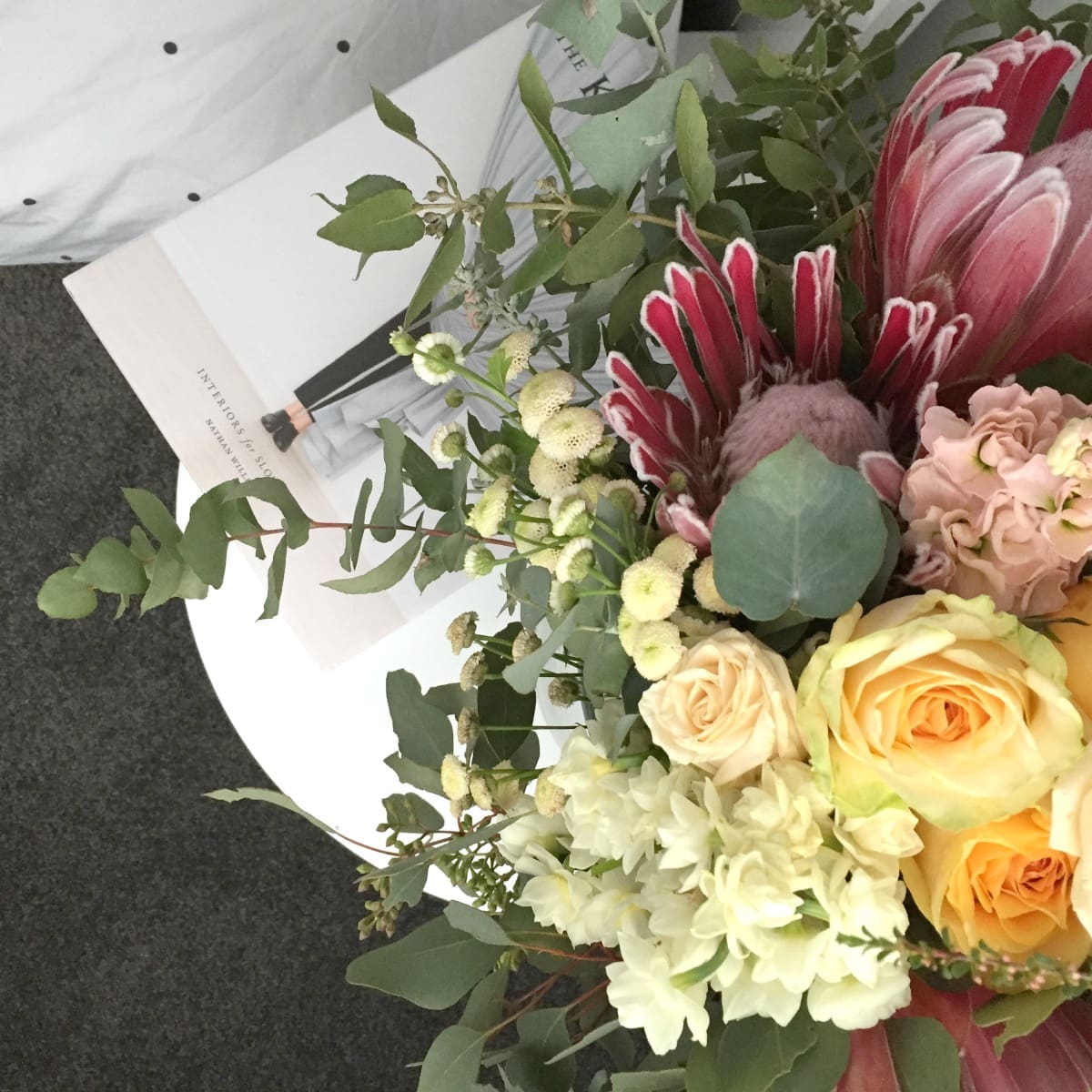 Styling
On to my favourite part! With the design and layout decisions made, I could furnish the space.
I've selected a colour palette of white, grey and blush pink. The plus side of having a neutral base and just one accent colour is that I can easily update the space depending on my mood. (For example, I recently bought a gorgeous peach wall print and have seen some equally gorgeous peach velvet cushions from Kip and Co, by simply swapping out the pink and incorporating these two items I could give the room a totally different feel.)
To create that cosy feel, I dressed up the room with lots of layers. Those blush pink Euro cushions are new at IKEA and are so velvety soft ♥ The bedding is by Rachel Castle and the large faux fur throw from Adairs.
My mum, who was the inspiration behind this room, loves to read so I created a little reading nook by the window. The bench seat is a little DIY number using fabric from Yulki's Home Decor and I scattered a few cushions in different geometric prints.
Finally, fresh flowers and a good book finish the space.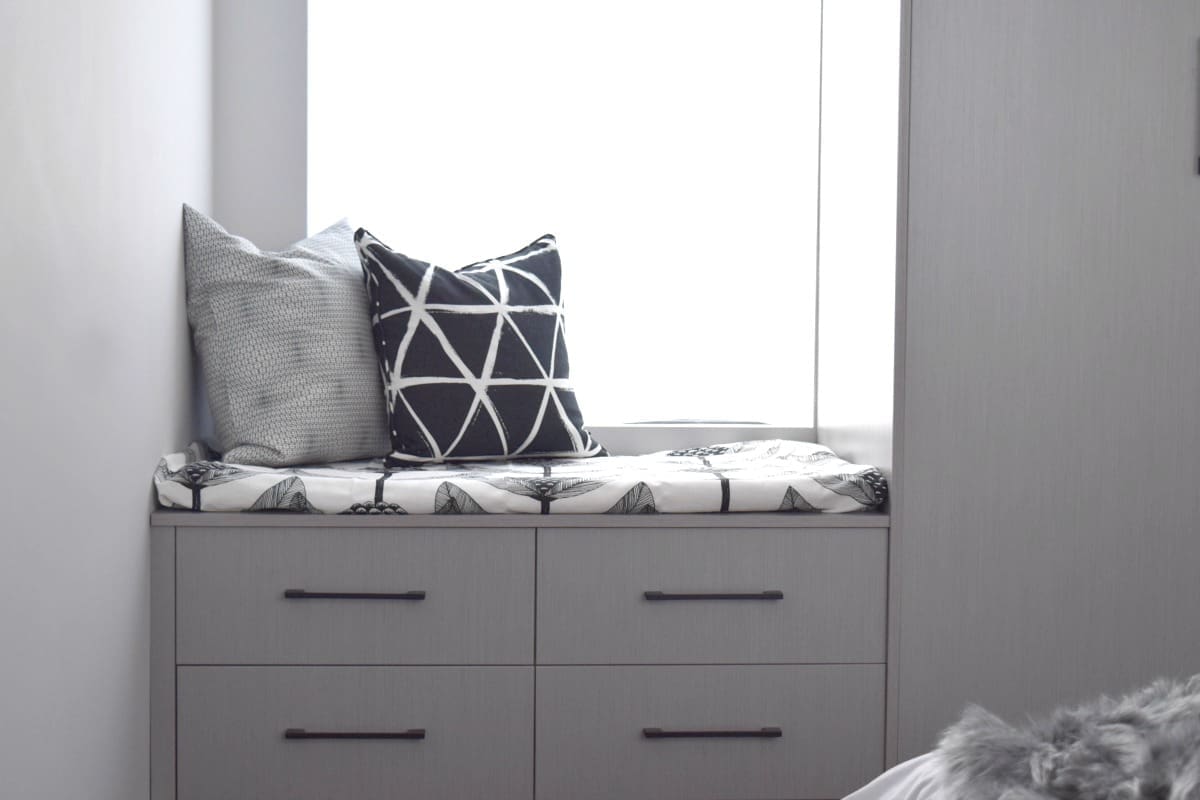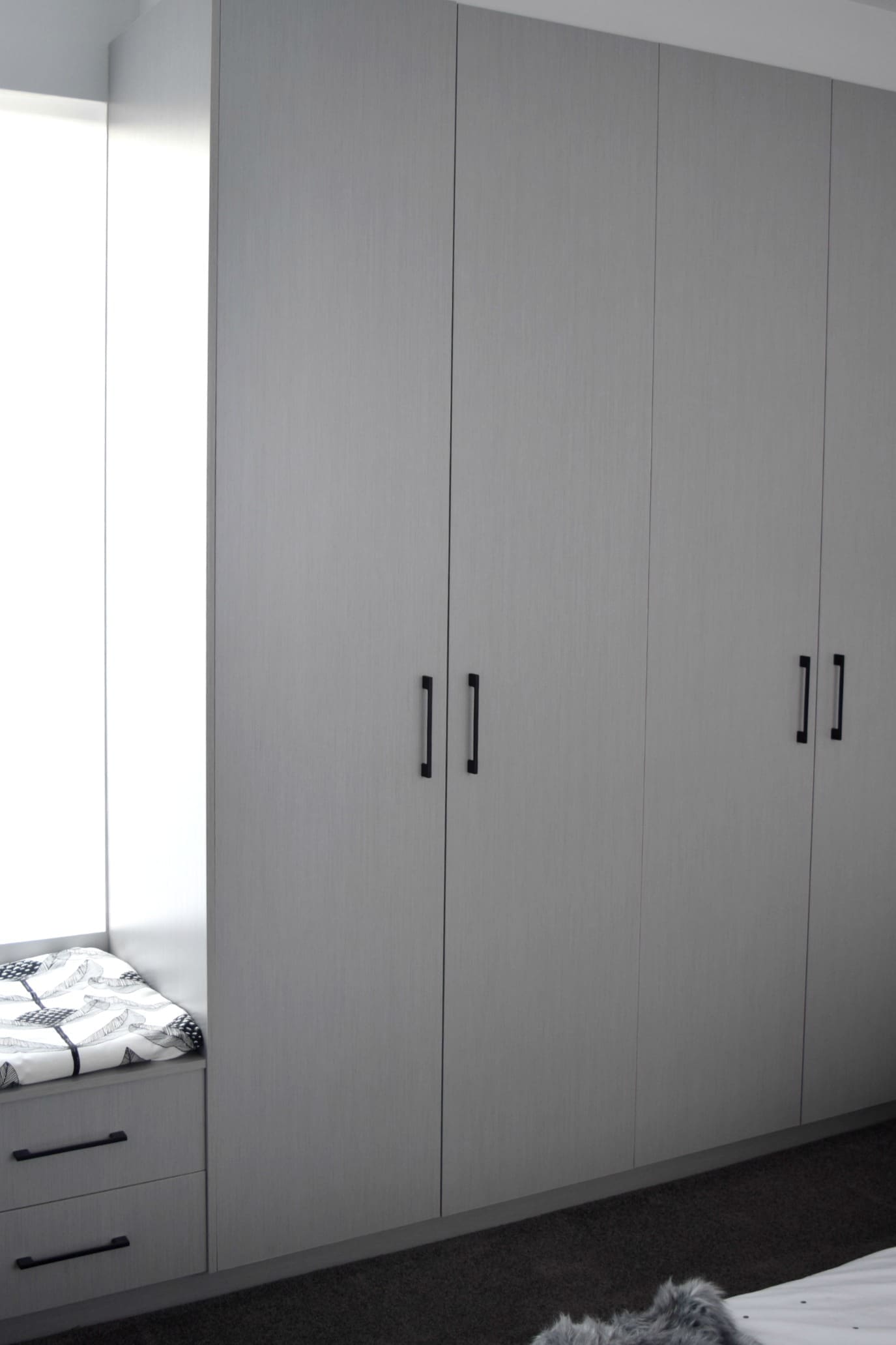 Supplier list:
Wall paint: 'Soothe' from Haymes
Bed: Freedom
Bedside table: Kmart
Pendant lights: Lights2You
Wall prints: Yorkelee Prints
Quilt cover and grey penny cushion: Castle and Things
Pink Euro cushions: IKEA
Grey faux fur throw: Adairs
Fabric on DIY bench seat: Yulki's Home Decor
Black cushion on bench seat: Art Club from Elva Hem
Grey cushion on bench seat: IKEA
Flowers: Barton Flower Bar