It was just under 3 years ago that I first shared our guest bedroom on the blog. This space remains one of my favourite rooms in our house – especially since I added sheer curtains which creates the most beautiful light in here.
I recently styled the space with new bedding from MagicLinen and a limited edition art print from Sara Sidari so I thought I'd take the opportunity to share a blog post and talk about this space.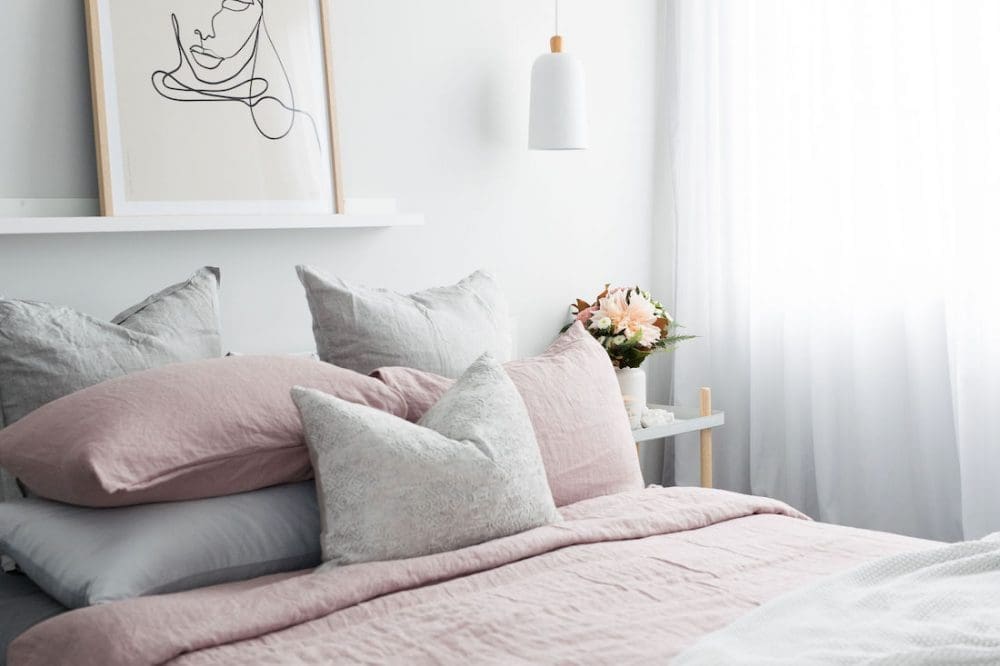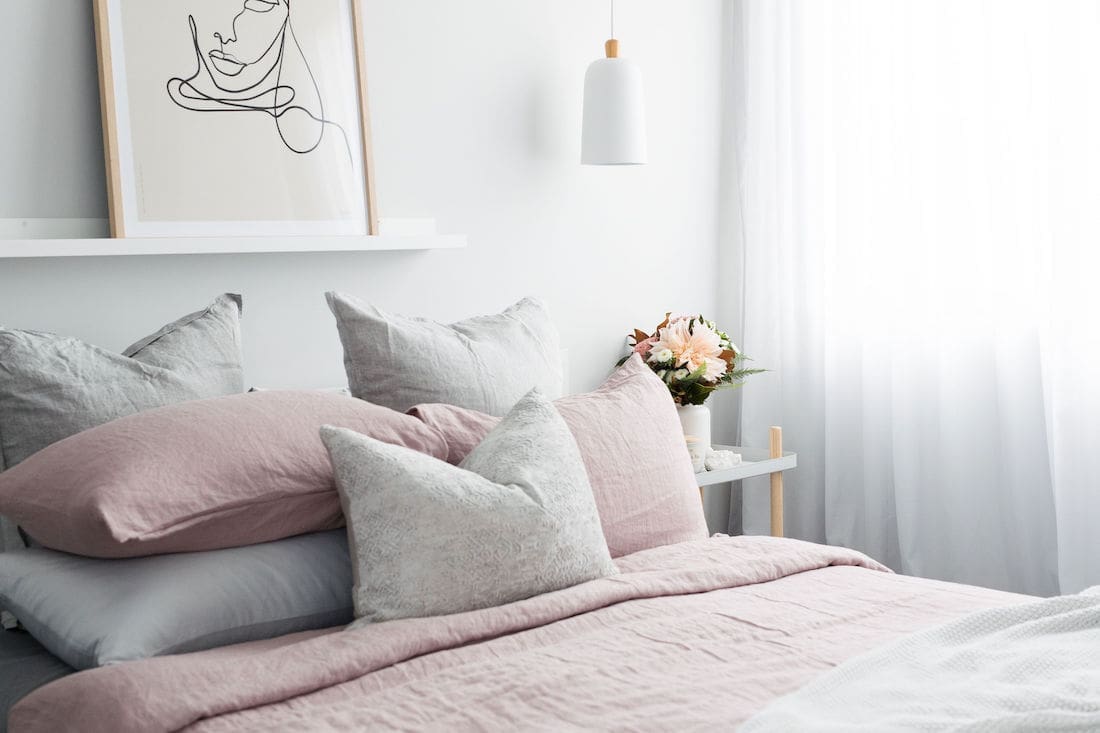 What's changed
The biggest change since I revealed this room is adding proper window treatments. I made no secret about the fact that our build totally drained our bank account (and then some!) so we had to wait until we could afford these. If you look closely at the photos last time, you'll see I just had temporary $5 stick on blinds from IKEA, ha ha. They did the trick to offer privacy and looked a lot better than hanging bed sheets, which would have been my alternative. It isn't until you get a quote for window treatments that you realise just how much quality blinds, curtains or shutters cost. One of my best tips is to check out DIY Blinds because they do custom made, designer window treatments at a fraction of the cost 😉 We chose blockout honeycomb blinds recess fit into the frame and then added soft grey sheer curtains mounted from the ceiling over the top.
Almost everything else in here has remained the same, with the exception of bedding and art on the shelf which I change almost weekly!
In these images, I've used a beautiful 'Woodrose' linen quilt set from MagicLinen. They're amazing quality, made from 100% European flax and feature coconut buttons at the close. I teamed this dusty rose bedding with soft grey cushions and sheets I already owned, and placed an Adairs feature cushion at the front.
The art on shelf is a limited edition illustration called 'Mia' in A1 size by Australian artist Sara Sidari. I framed the piece in an oak frame from Adairs and love the soft, romantic feel it brings to the space.
Shop my guest bedroom look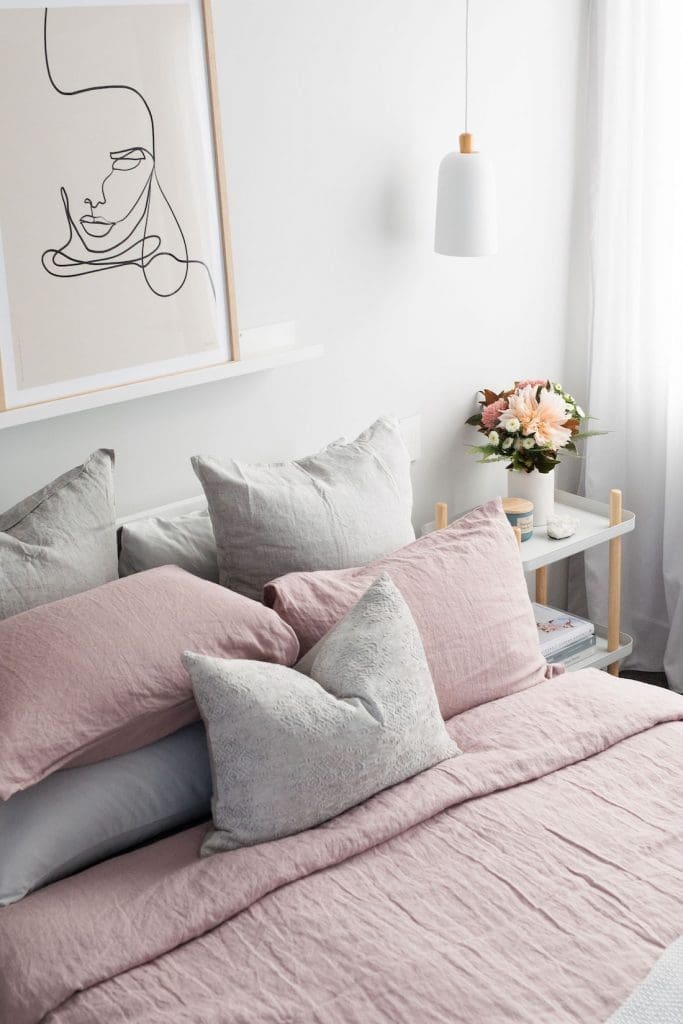 Favourite features
Of all the rooms in our home, I feel like we got the guest bedroom the most 'right' – the proportions of the space, joinery, window placement, paint colour – it all works so well together. If we ever build again (and part of me really wants to do this in the next year or two), I'll be taking notes about this space so we can replicate it for our next guest bedroom.
I was a bit nervous about placing the shelf above the bed at the time but this has been perfect for displaying art, mirrors and even small indoor plants. I love the flexibility of being able to effortlessly change things about without having to nail in picture hooks or patch walls (as I seem to do at least monthly in other rooms of the house).
My favourite features would be the soft grey 'Soothe' paint colour from Haymes that we used on the walls, trims and ceiling – it's so inviting and has become one of my favourite paint colours – and the floating sheer curtains.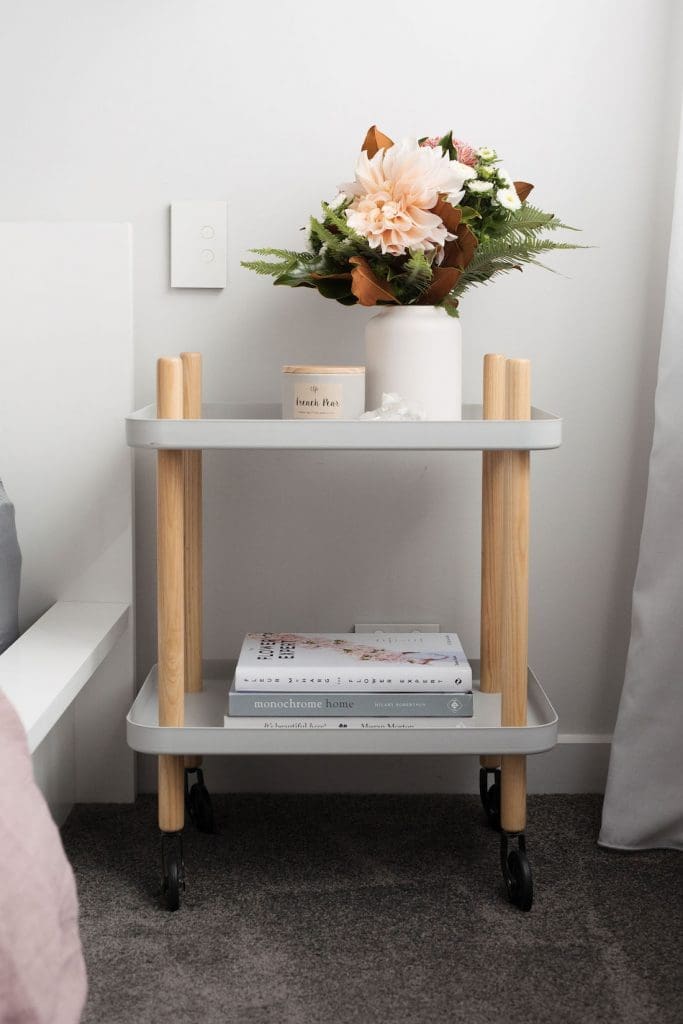 Anything I'd do differently
There's very little if anything I'd change about our guest room. Perhaps the only things I'd do differently would be to install wall lights or use bedside lamps rather than pendant lights as two hanging pendant lights either side of the bed has been done to death in recent years… there's nothing wrong with it and I do think it looks beautiful and it's practical but I'd probably mix things up with lighting next time.
Supplier list
Paint colour: 'Soothe' from Haymes
Window treatments: white block out honeycomb blinds recessed into frame and soft grey sheer curtains mounted from the ceiling (most similar to 'Como glitter' from DIY Blinds)
Pendant lights: White metal pendant from Lights2You
Bed: No longer available but from Freedom
Bedding: Dusty pink linen bedding from MagicLinen / Linen Euro cushions from Adairs / Feature grey cushion from Adairs
Side table: Block side table from Curious Grace
Decor on side table: Vase from Target / Crystal from Higher+Self / Candle from The Little Flame Co / Selection of interiors books from The Book Depository
Shelf: Mosslanda shelf from IKEA
Artwork: Mia print in A1 size from Sara Sidari
If you have any questions about this room, please pop them in the comments below.
Shop my guest bedroom look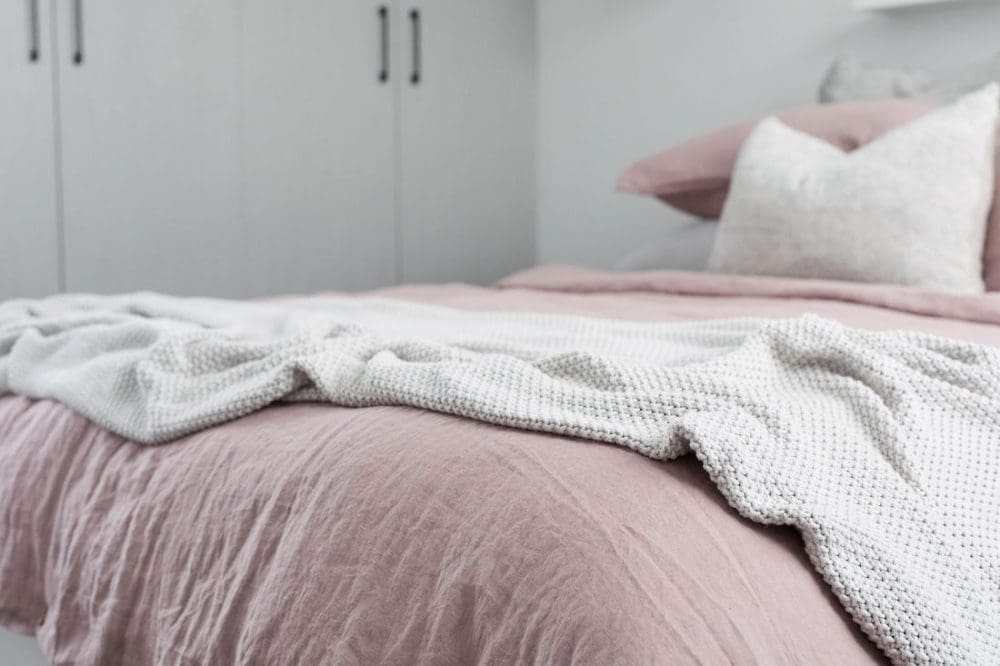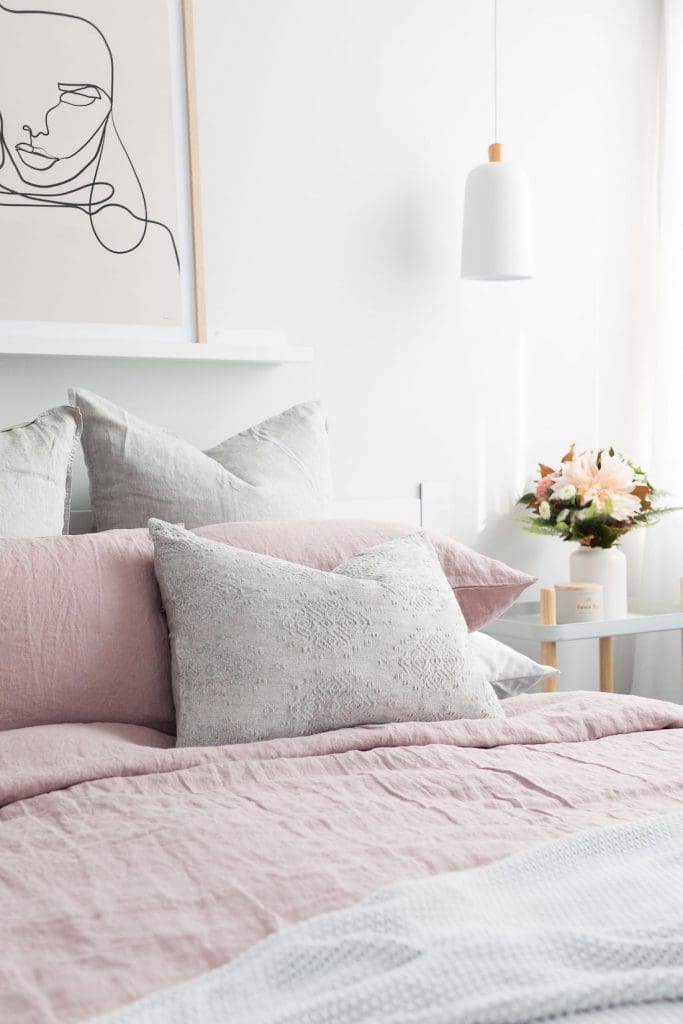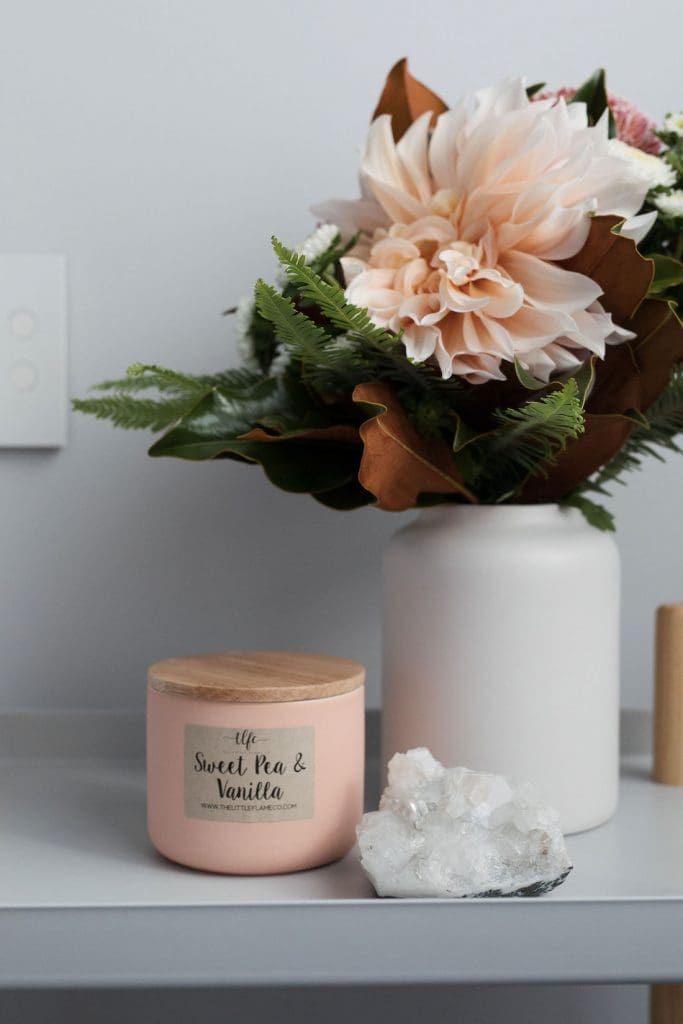 Disclaimer: This post contains some affiliate links. This means that when you click on a link and purchase something from that site, we may make a small commission at no extra cost to you. We promise we only work with brands we know, love and trust.