For the past few weeks I've been reworking my living room — taking it from a space that never felt quite 'right' to one that's more cohesive and luxe. The other week I shared the progress I'd already made and a mood board of my inspiration, and today Patrick and I are pretty excited to share the completed living room makeover!
Keep reading for details of how I changed the space and products I used.
Related article: Gina's home: Dining room reveal
Related article: Gina's home: Guest bedroom refresh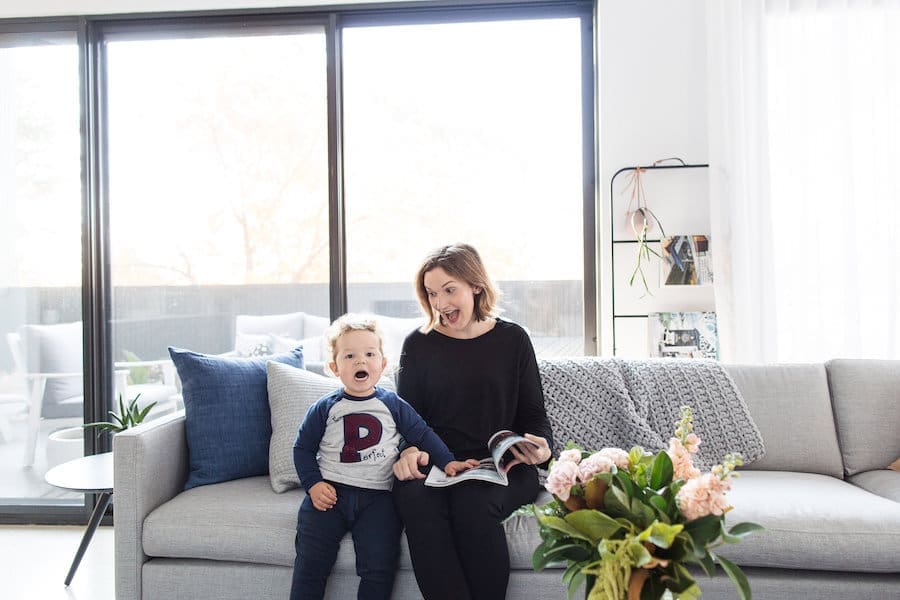 BoConcept sofa
The first decision I made for this space was the sofa. It's the largest furniture piece and will make the greatest impact so I knew it was one I needed to get right!
At first I thought I wanted quite a boxy design like this Carmo sofa — it had been on my wish list FOREVER — but when I considered the space more and the overall feel I wanted to achieve, I decided a sleeker and more slimline design would be a better fit.
I fell in love with the Osaka sofa from BoConcept and all the options to customise — tufted or non-tufted, choice of upholstery, leg style, left or right chase and overall size.
I went with non-tufted seats in grey 'Sazza' fabric as it's a very resistant fabric that's practical for a young family while the veining and light gloss adds an elegant look. And for the legs I chose espresso oak timber legs to fit the contemporary style I wanted to achieve.
The sofa is even more perfect than I could have hoped — totally fits the style, is larger than my previous sofa while feeling lighter in the space, and gets the balance between practical and luxe just right.
Shop my living room style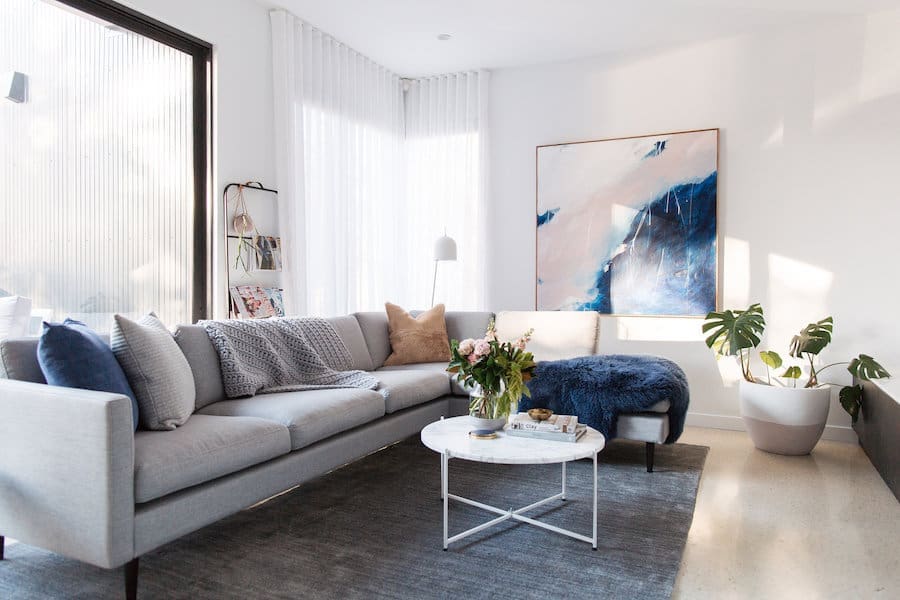 New rug
To anchor the room, I also picked out a new rug. As much as I loved the Freedom rug I had, I should have known a cream rug and a black dog was never going to mix well. The style of that rug was also quite boho and didn't fit the 'contemporary luxe' style I was going for.
So I started a long search for a dark grey/black rug that would work in the space and finally found this designer Manhattan rug from Rugs of Beauty.
The subtle grey and black veining ties in well with the sofa and also disguises mess better than a flat colour. The multi-textured pile is super soft underfoot and piling has been minimal compared to my previous rug.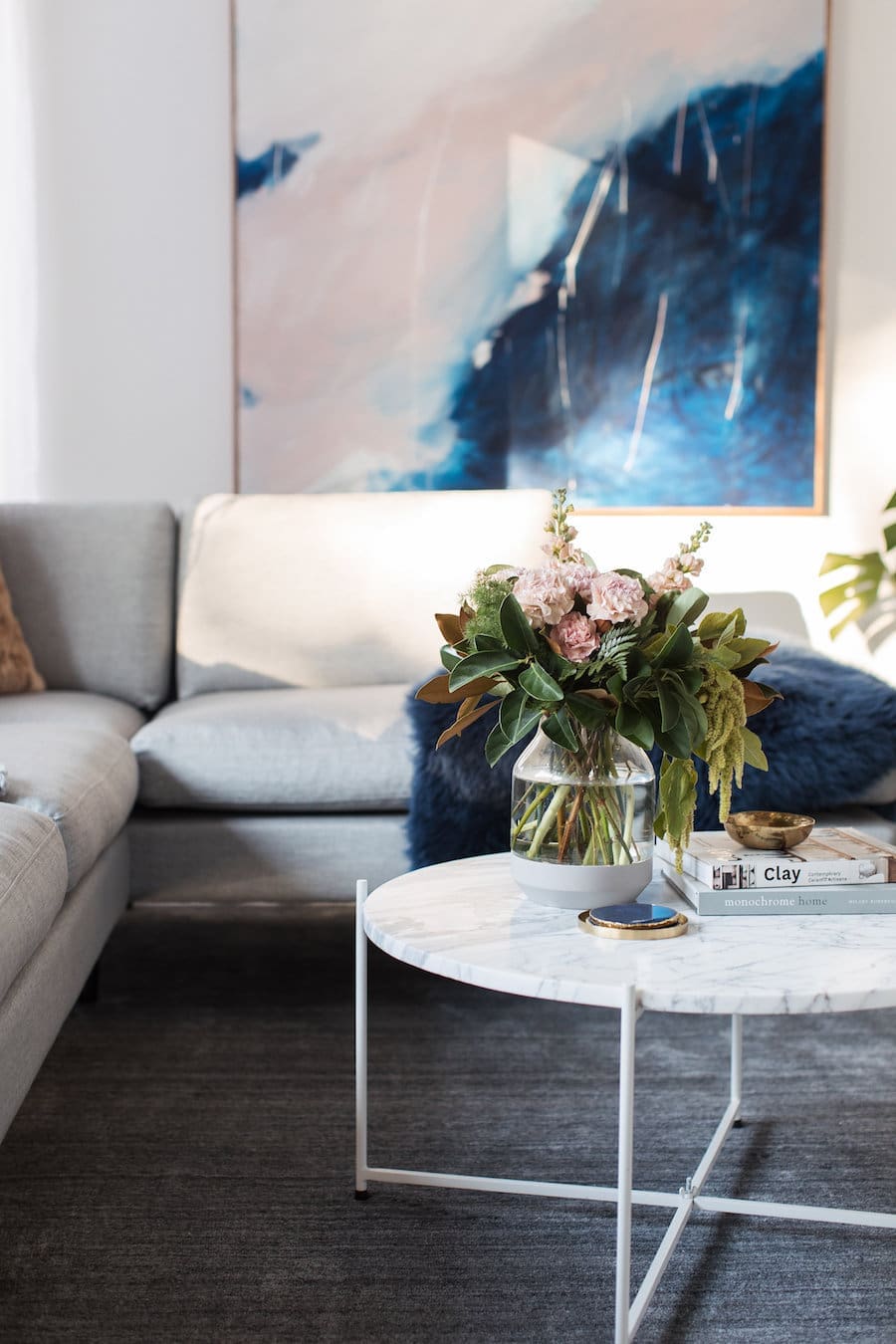 Changed artwork
The other major change in my living room makeover was the artwork.
I've never managed to get the colour palette in our living room right — despite trying so many different combinations — so I decided to move the Marnie McKnight artwork I got from Bluethumb from our bedroom to the living room and used this as inspiration for the new colour palette of navy and soft pink.
The painting is also larger than the previous piece and I think the scale works better in here. I had it framed in an oak oil box frame which picks up on the pops of natural timber and tan accents in the room.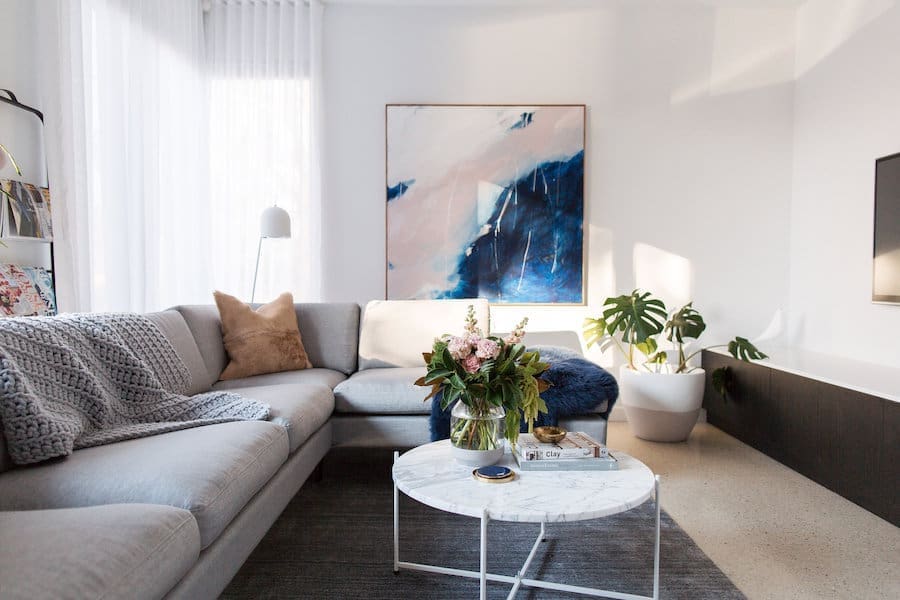 Coffee table upcycle and new side table
The final furniture changes I made in our living room were changing the coffee table top and adding a black timber side table.
The size and overall shape of the coffee table I had was perfect but the timber top clashed with the other timber accents in the space, so I had a piece of natural marble cut to size and used this as a new coffee table top. It was an inexpensive way of getting a designer-look coffee table and the marble top adds a nice contrast to the grey tones in here.
Next to the sofa I also added a black timber side table from Zanui. I like how it picks up on the black timber legs of the sofa and provides another surface area to keep remotes off the coffee table.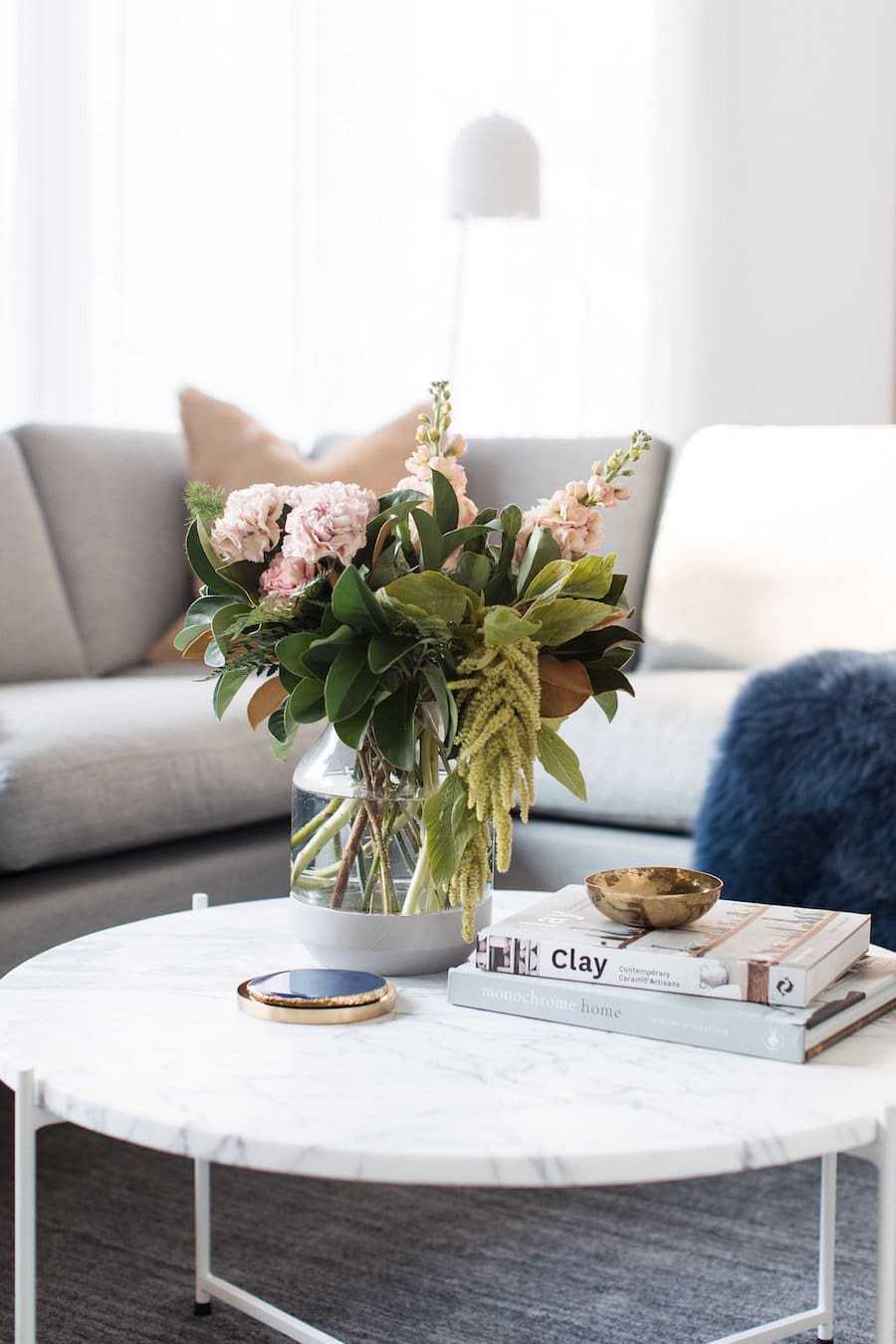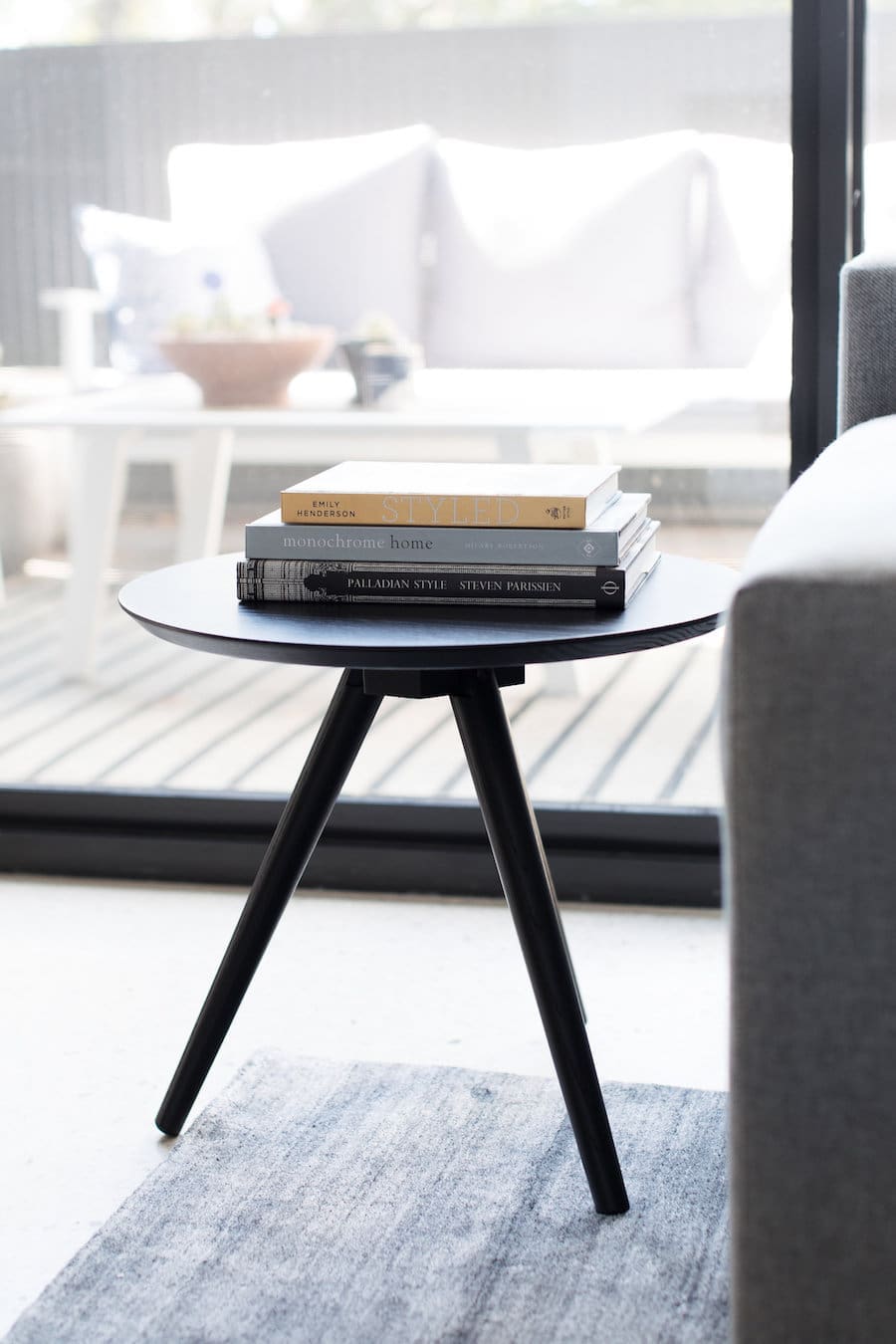 Floor lamp
To soften the lighting in our living room, I also picked out a floor lamp and got this white metal and concrete lamp from Interior Secrets.
I love the modern, simple dome shape and the more ambient lighting it provides.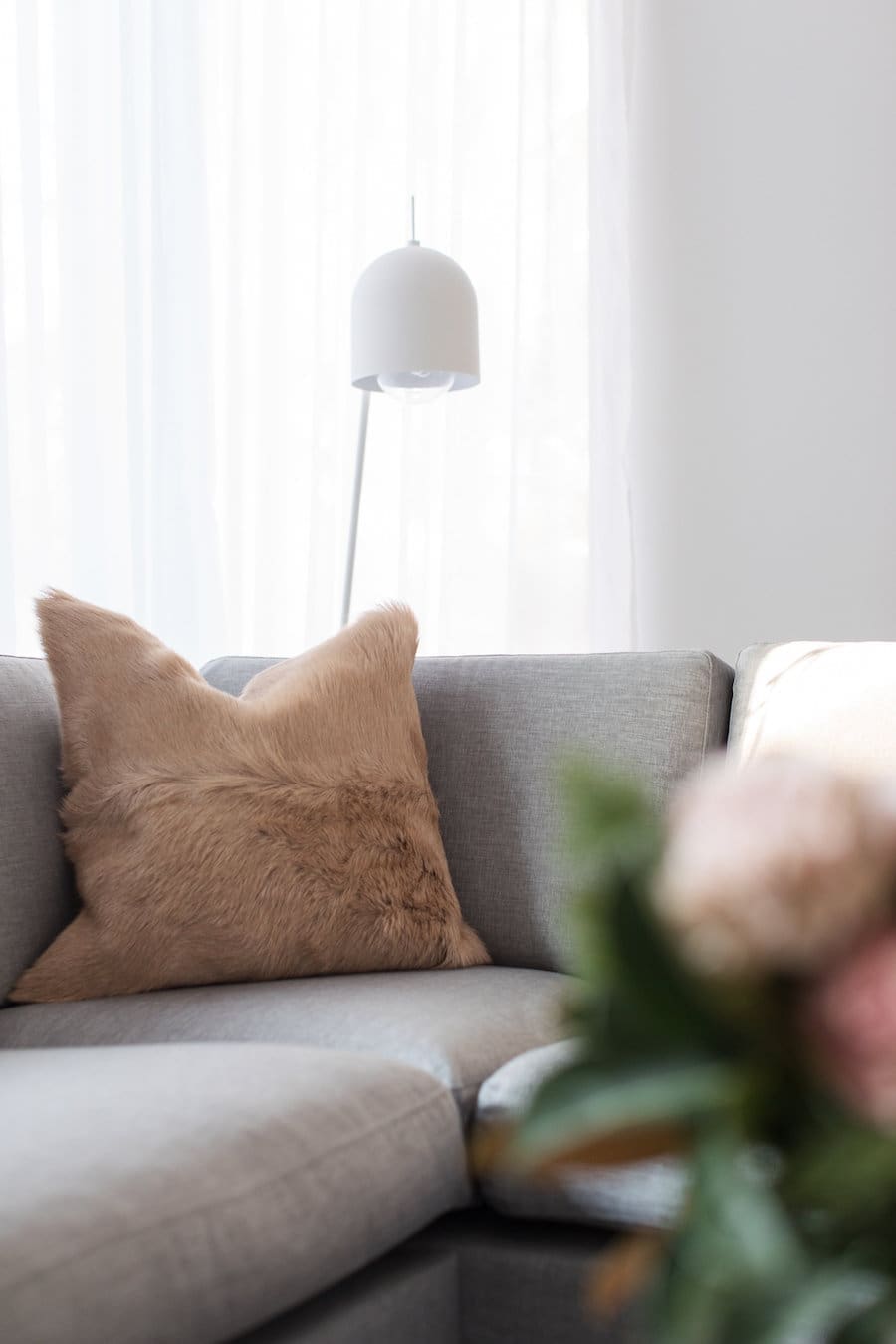 New cushions and decor
To furnish the space, I added new cushions and smaller decor to pick up on the colour palette and add a few pops of luxe.
I found lots of beautiful pieces from Matt Blatt, including the two fur cushions, silver gold fish, trinket box and white bird statue.
I also picked up a few affordable pieces, such as the black garment rack from Big W and the hanging planter from Ethos Living, and added some bling with the agate coasters on the coffee table and brass pieces.
Shop my living room style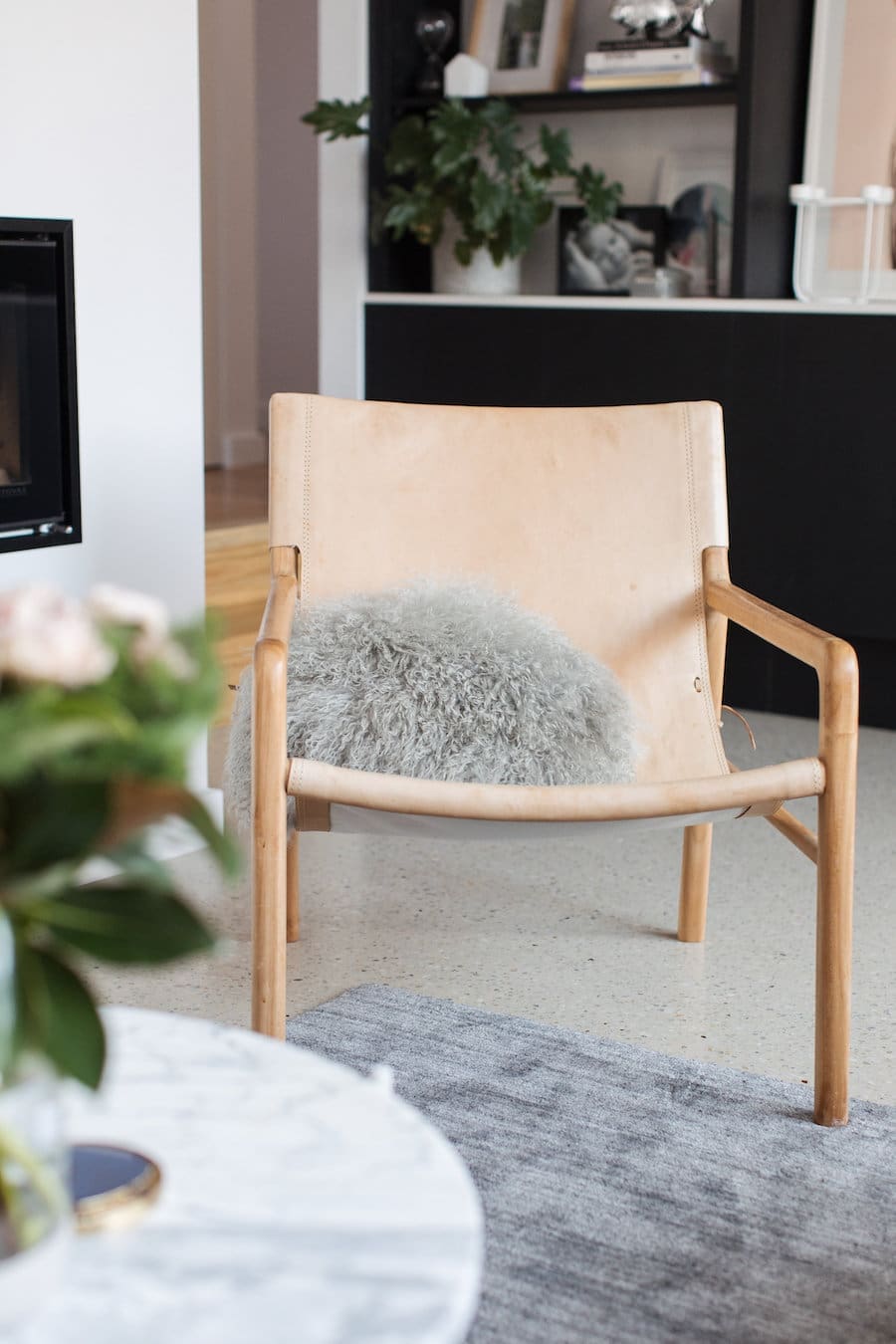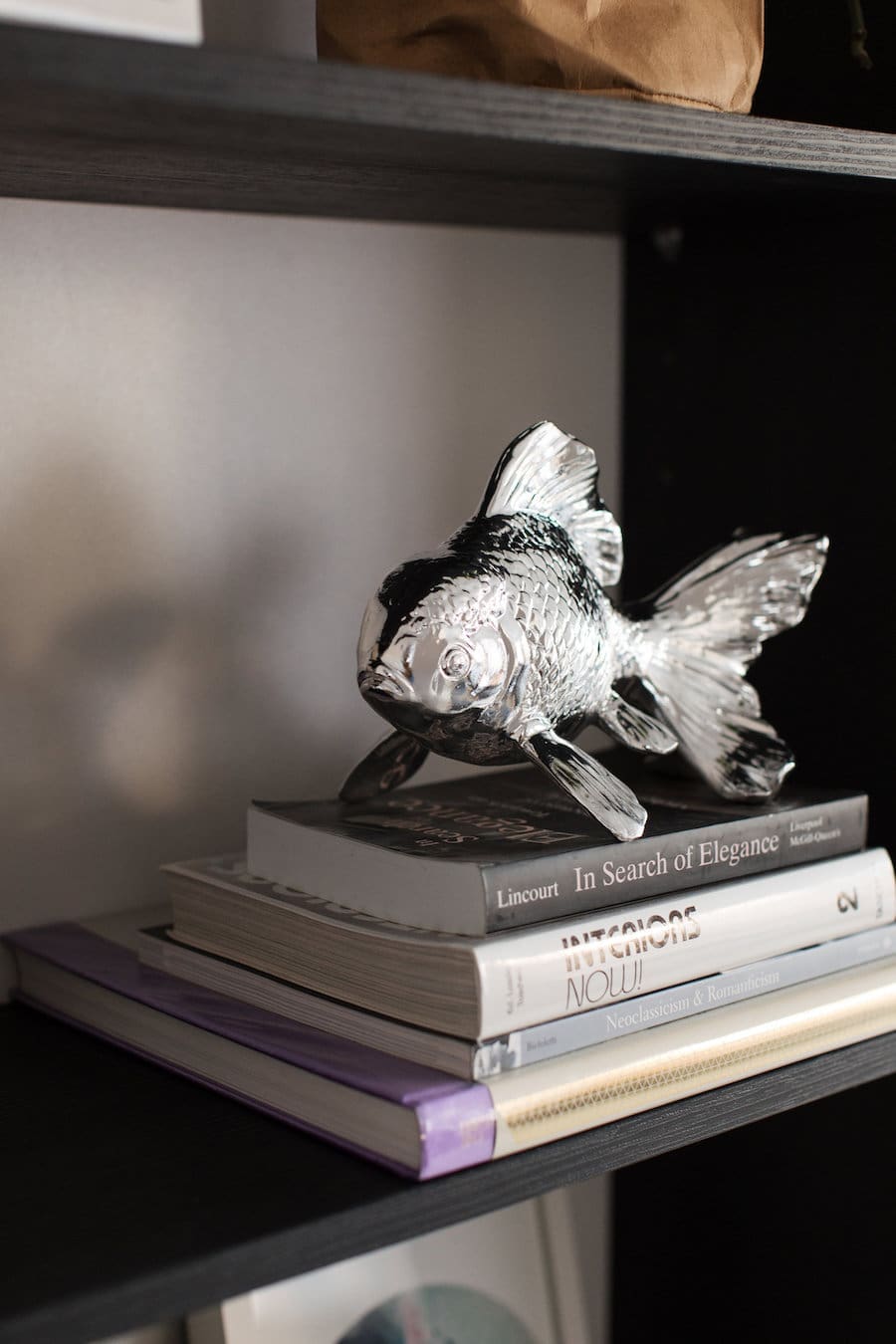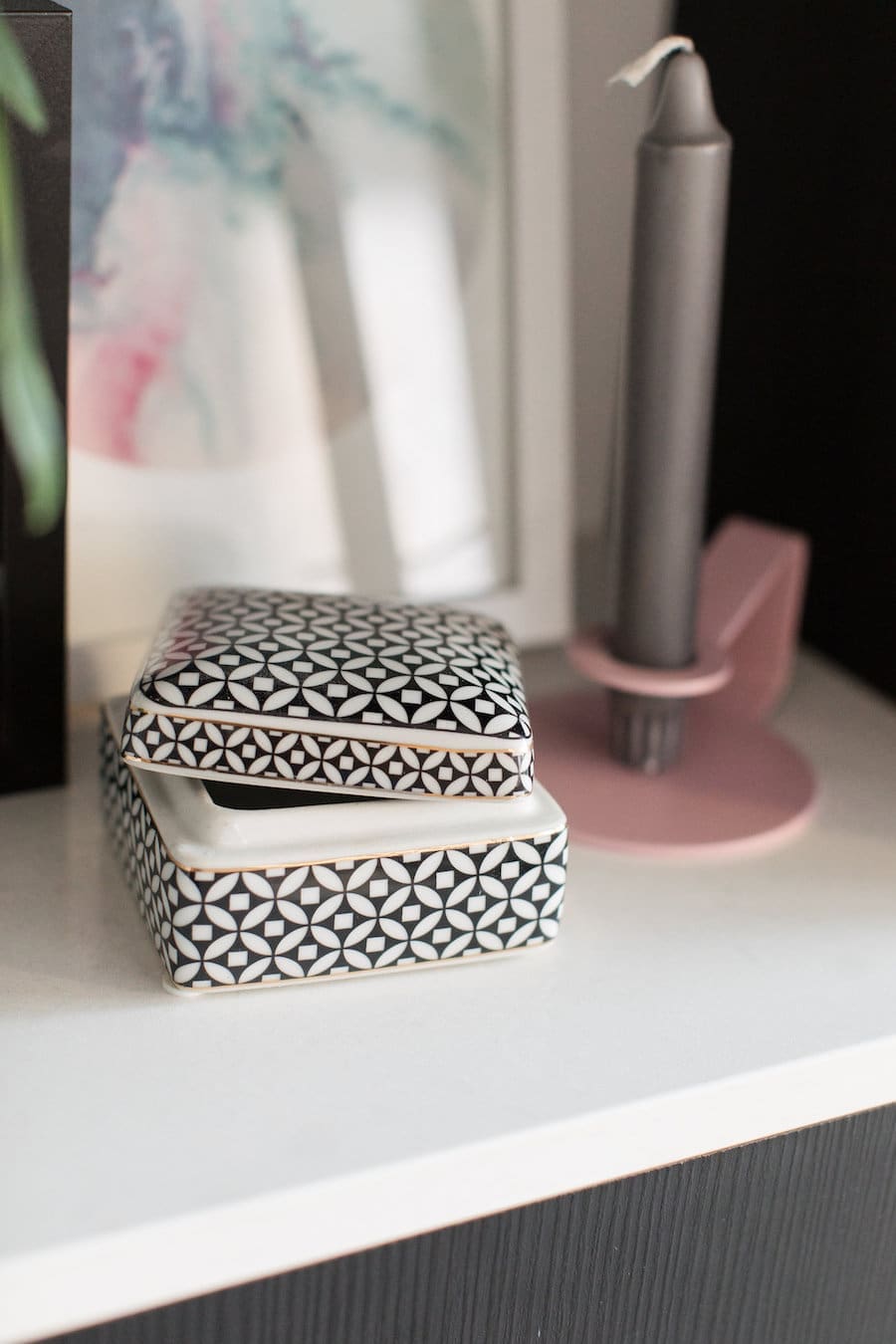 Personal touches
The final changes in my living room makeover were adding some personalised pieces by getting more photos framed, included several professionally framed by Format Framing. This Melbourne-based company will take your photos (even from your phone) and uses gallery quality archival giclee printing to perfectly print them at your preferred size, and frame them in natural oak, black or white frames. It's a complete end-to-end service that makes for beautiful, ready-to-hang artworks.
A friend of mine also launched her own crystal company called Higher + Self and I added a few beautiful large clusters around the room to promote more positive energy and because they just looks so darn gorgeous!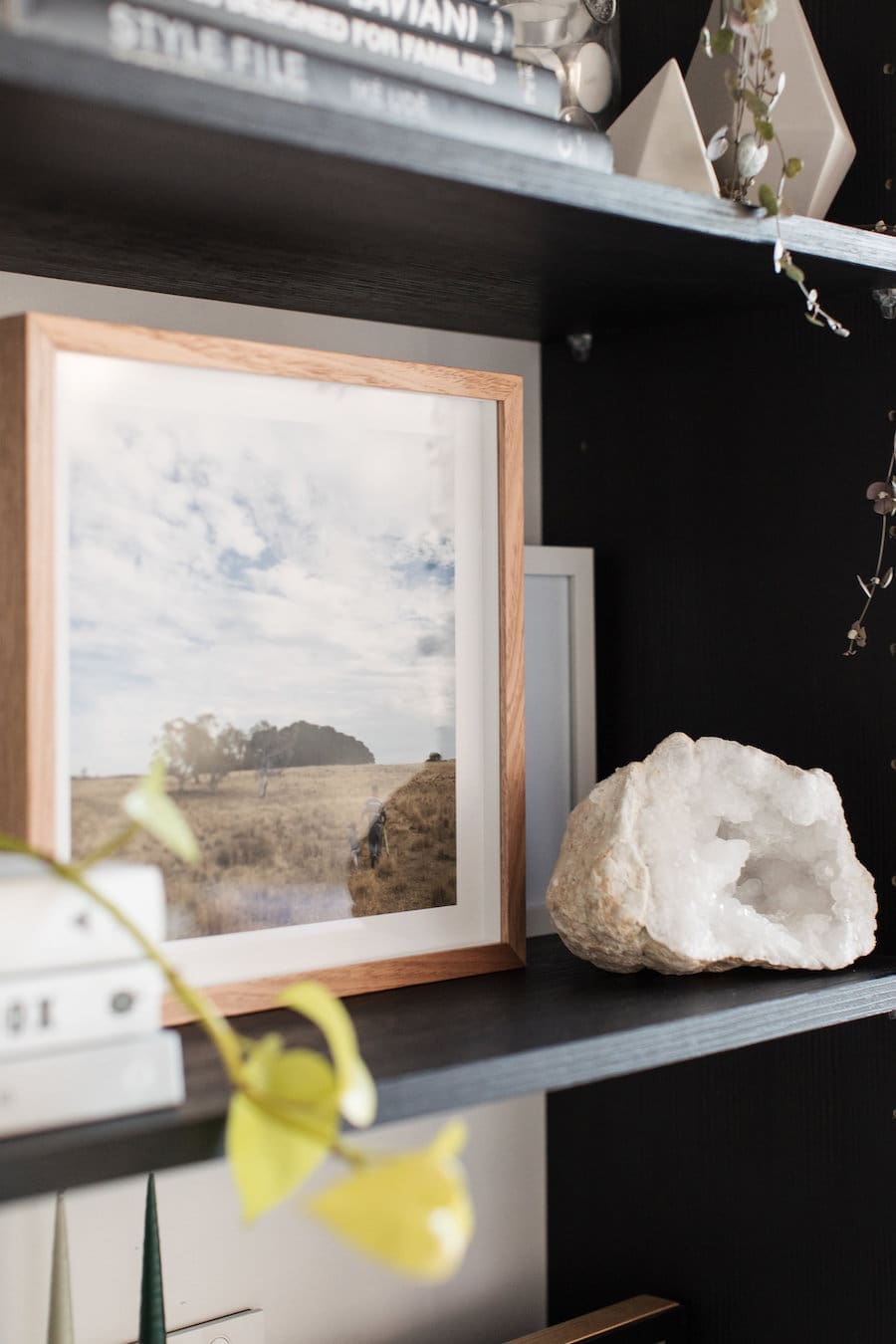 Living room makeover supplier list
Grey sofa: Osaka sofa from BoConcept Sydney
Grey wool rug: Manhattan rug from Rugs of Beauty
Artwork: Marnie McKnight original painting from Bluethumb
Black side table: Scarborough side table from Zanui
Floor lamp: white metal and concrete lamp from Interior Secrets
Framed photos: family photos framed by Format Framing
Fur cushions: tan square hide cushion and round fur cushion from Matt Blatt
Grey knit throw: Bliss blanket by Homelea Lass
Dark blue sheepskin: Adairs
Decor: including silver gold fish, white bird and trinket box from Matt Blatt
Candle: Candlelit & Co
Coasters: agate coasters
Garment rack: Big W
If you have any questions about my living room makeover or would like to know where a product is from that I may have missed, post a comment below!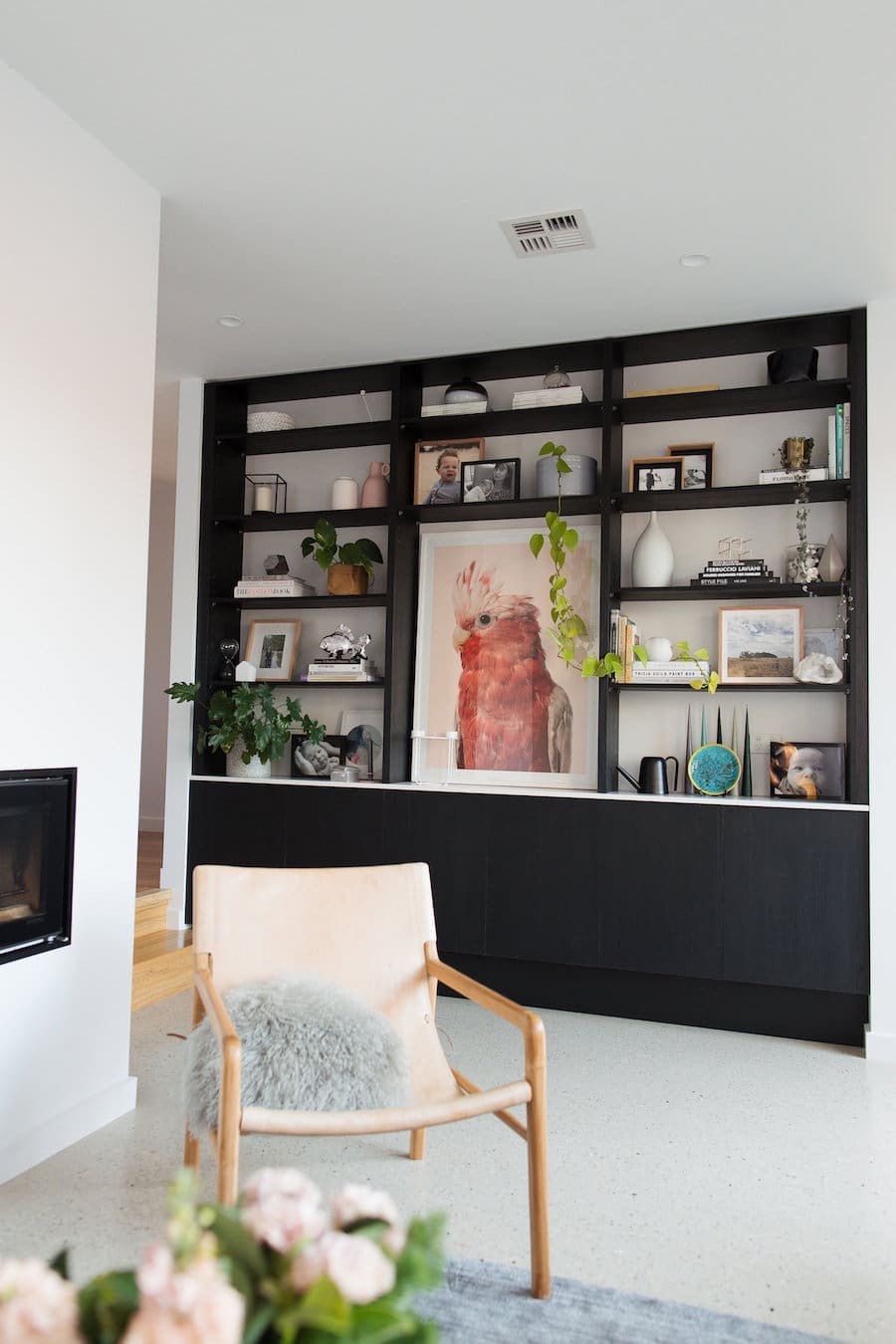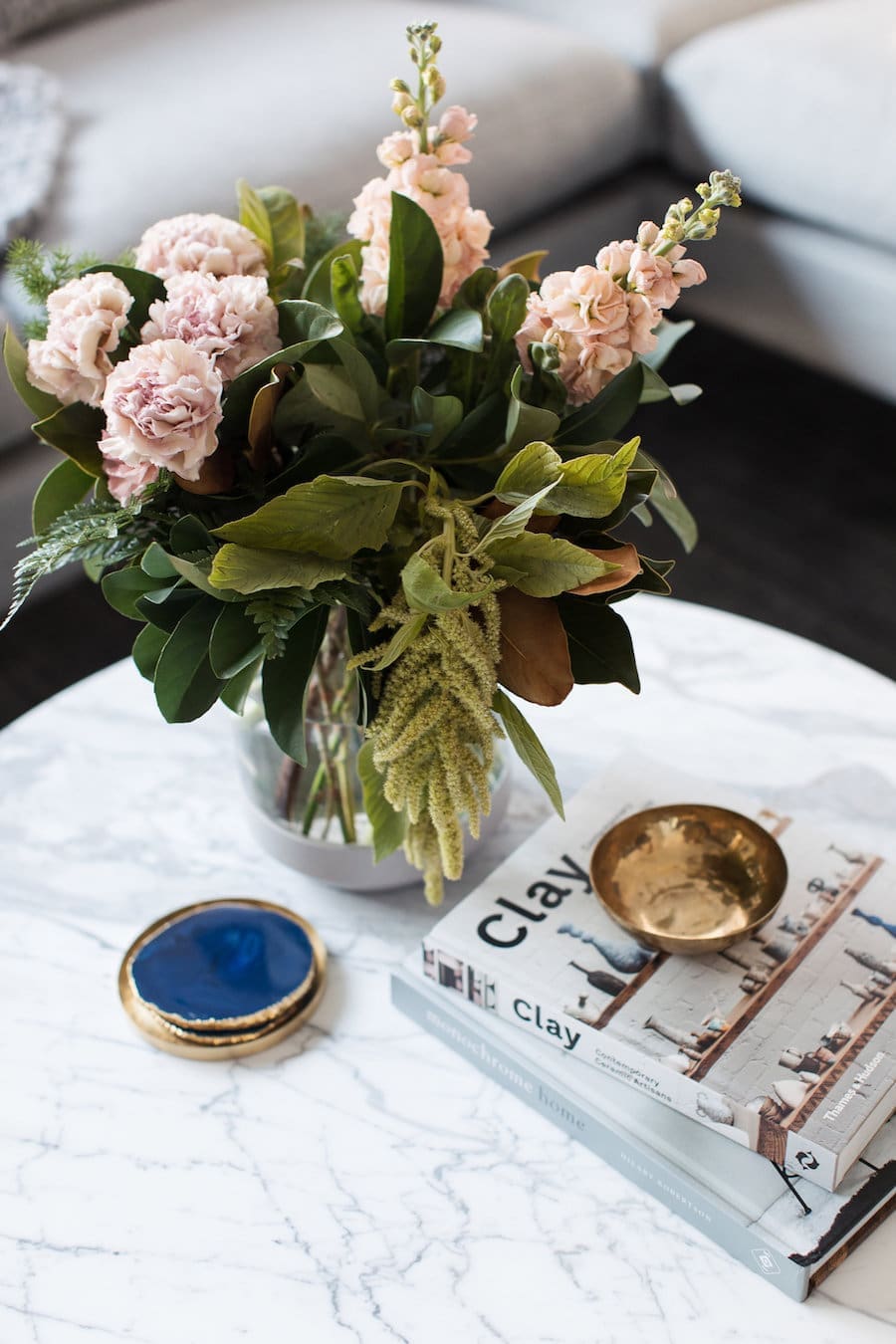 Disclaimer: some of the products featured were gifted. This post also contains some affiliate links. This means that when you click on a link and purchase something from that site, we may make a small commission at no extra cost to you.
Photography by Thorson Photography