Supported by Canberra Outlet
Whether you're building, renovating or simply want to redecorate a room, a mood board is a useful tool to use.
When redecorating or designing a space, it can be hard to visualise how your ideas will come together. What looks good on the pages of a magazine might not necessarily work when you bring 10 or more different ideas together or when you need to consider the constraints of your space.
From deciding on a style to selecting a colour palette, working out what materials you can mix together and even applying that final layer of style, a mood board lets you see how those different ideas work together before making any financial commitments. They also help you to focus your ideas and identify your source of inspiration.
So how do you create a mood board?! Check out this quick video to get my easy 3-step guide to create a mood board or continue reading below.
Related article: Do you know what your interior style is? Take the quiz!
Related article: A guide to the 10 most popular interior design styles
1. Gather inspiration
The world of interiors is constantly evolving. Do some research to discover latest products, trends or ways of pulling a space together.
Some of the top places to gather interiors inspiration:
Pinterest: a visual discovery engine that's brimming with home styling inspo, reno ideas and so much more!
Instagram: another social platform where people have whole accounts dedicated to home renovations and styling, and where you'll discover all your favourite brands like Freedom and Adairs
Interior blogs: as well as your fave Style Curator (right?! ha ha), I suggest checking out The Design Files, Interiors Addict and The Local Project for inspiring home tours, latest design trends and other stylish news
Homeware stores: there's nothing like visiting homeware stores and snapping photos of anything that inspires you. It's a way of discovering the latest furniture and home decor available — and seeing the colours and feeling the textures in real life. And I find it's one of the best places to learn new styling tricks, too!
House and garden magazines: even in this digital era, I love sitting down with a good interiors mag and cutting out images that catch my eye
Interior design and decorating books: not only are interior books a great source of interiors inspiration, they also make a fab styling prop for around the home!
Store catalogues: a free source of inspo are store catalogues, like the Freedom catalogue I'm using below, which has so many great styling moments and latest products
Paint chips: another free and super-useful addition to any mood board are paint colour chips. My tip is to push yourself beyond what you think you'll use as it's often the wildcard paint colour that can be the best fit
Other material samples: carpet swatches, curtain samples, and other materials and finishes are an essential part of any mood board.
You can also find inspo when you're out and about. So don't be shy to snap photos of design ideas from cafes or shop fit outs, too.
Tip: Don't forget to consider the constraints of your space, such as a paint colour you cannot change, existing furniture you need to work with or an awkward room layout. Make sure you're referencing these in your mood board while also introducing new ideas.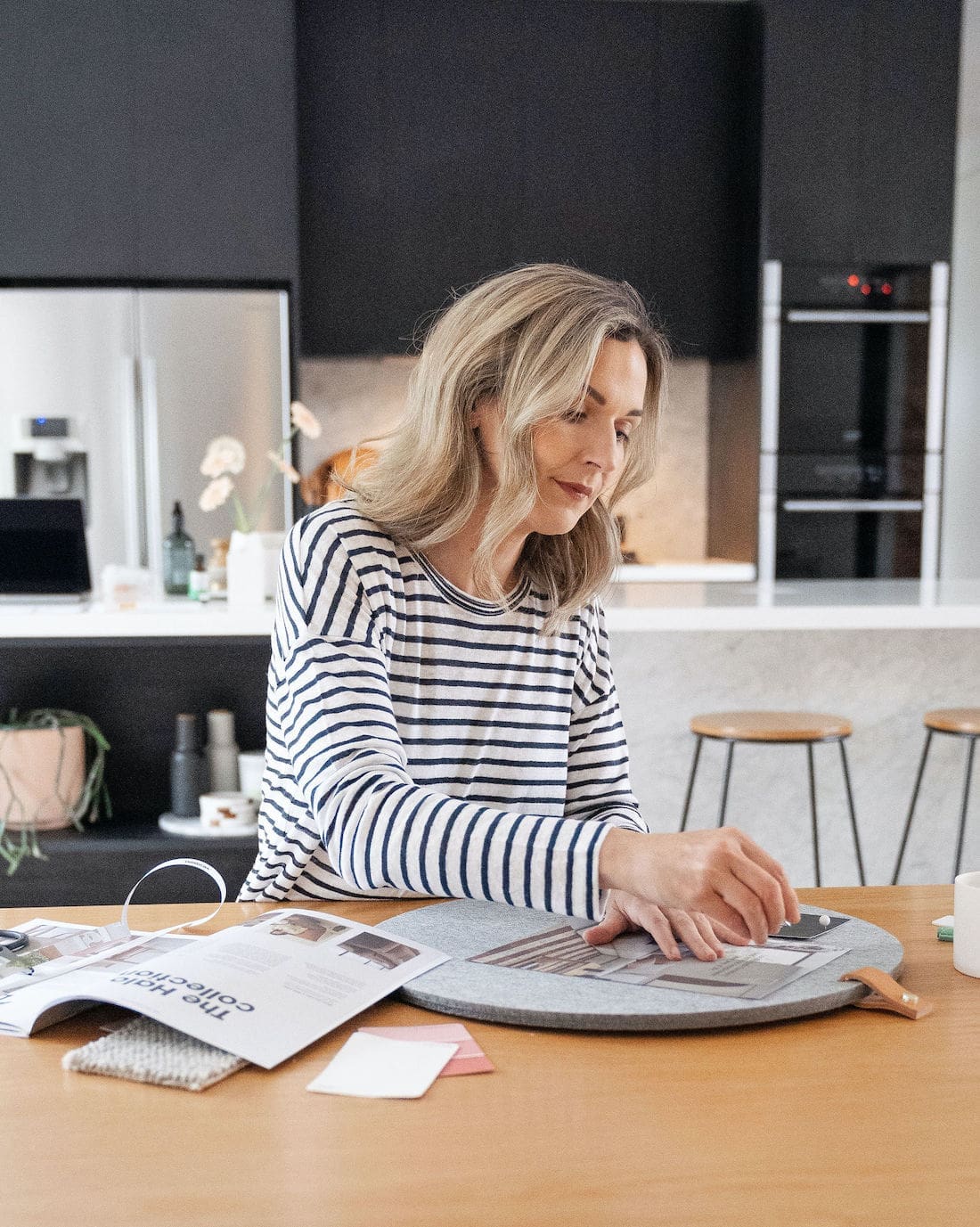 2. Choose the right format
The next step is to work out a mood board format that works for you.
Depending on your preference, you might like to create your mood board electronically or the traditional way by cutting out images and collecting physical samples.
Ways to create a mood board digitally:
If you prefer to create a physical mood board, there are still plenty of mediums to choose from including:
Pinboard: inexpensive and readily available, a pinboard allows you to easily add, edit and refine your ideas — plus they look fab!
Cork board: another great medium for creating a mood board where you want the flexibility to freely change your ideas is cork board
Cardboard: if you prefer to cut and paste your inspo, cardboard is a good option
Foam board: a little pricier, foam board has the benefit of not warping with glue
Tray: finally, you can simply place your inspiration into a large tray. This is ideal when you have samples, such as tiles, that cannot be adhered to any type of board.
3. Build up your ideas, edit and refine
As you begin to gather inspiration and pin it to your board (physically or virtually), you'll notice a trend or key themes starting to emerge.
Your mood board might help you to identify:
a colour or colour scheme you want to use in your space
a pattern you particularly love and want to build a room around
an overall design style, even a fusion style, that will guide you throughout the project
any other themes that will help define the direction of your project.
Keep adding and playing around with your ideas and swatches until you find your source of inspiration.
Developing a mood board is a process that can take several days, weeks or even months. So I encourage you to continually revisit it and ask yourself 'what's working and what isn't?'.
Perhaps you've taken your inspiration too literally and the entire board is one colour… a way to resolve this would be adding neutral colours (such as oatmeal tones) or natural materials (like wood) to balance the look.
Or perhaps your mood board is looking flat and boring? A way to add more life and interest is to introduce a broader spectrum of colours or different texture. From natural materials like jute and timber, to luxe finishes such as marble or brass, there's no shortage of materials and textures you could play with.
Alternatively if your mood board is too busy and isn't cohesive, you may need to look at refining your choices. Perhaps there are too many colours and they are competing against each other.
Continually refining your mood board until you're happy with how all the elements work together will avoid costly mistakes and help you get the best outcome for your project.
Have you been inspired to create a mood board to help you define your style or plan for your next project?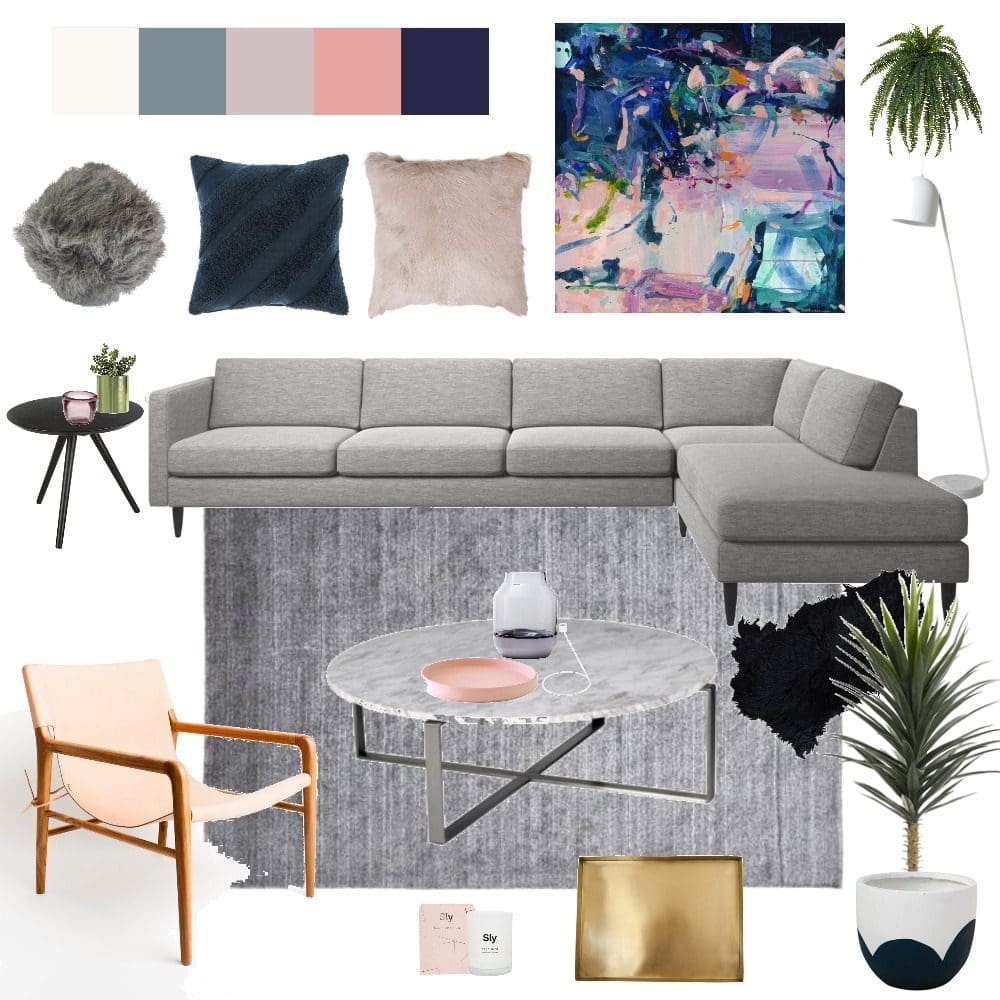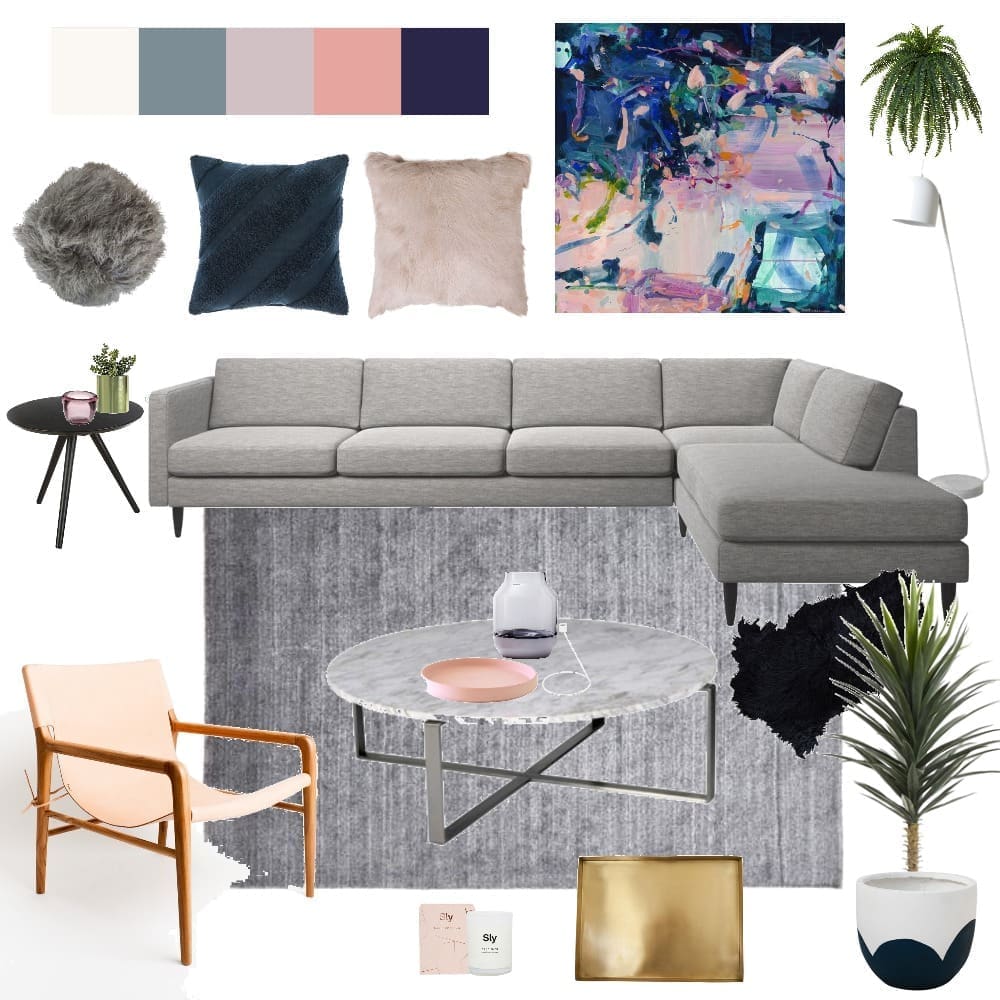 This article was first published in May 2018 and continues to be updated with latest information and images.