Supported by Canberra Outlet
Whether you're building, renovating or simply want to redecorate a room, a mood board is a useful tool to use.
When redecorating or designing a space, it can be hard to visualise how your ideas will come together. What looks good on the pages of a magazine might not necessarily work when you bring 10 or more different ideas together or when you need to consider the constraints of your space.
From deciding on a style to selecting a colour palette, working out what materials you can mix together and even applying that final layer of style, a mood board lets you see how those different ideas work together before making any financial commitments. They also help you to focus your ideas and identify your source of inspiration.
So how do you create a mood board?! Check out this quick video to get my easy 3-step guide to create a mood board or continue reading below.
Related article: Do you know what your interior style is? Take the quiz!
Related article: A guide to the 10 most popular interior design styles
1. Gather inspiration
The digital world is full of inspiration — Pinterest, Instagram and interior blogs — but don't forget to look for inspiration in the physical world too. Browsing shops and collecting latest catalogues from stores (the Adairs catalogue is one of my favourites) can provide a big dose of inspiration.
Also look at interior design and decorating books, house and garden magazines, and brochures from kitchen and bathroom companies.
You can also collect paint samples from hardware stores and gather fabric swatches. I often find inspo when I'm out and about so don't be shy to snap photos of design ideas from cafes or shop fit outs, too.
Tip: Don't forget to consider the constraints of your space, such as a paint colour you cannot change, existing furniture you need to work with or an awkward room layout. Make sure you're referencing these in your mood board while also introducing new ideas.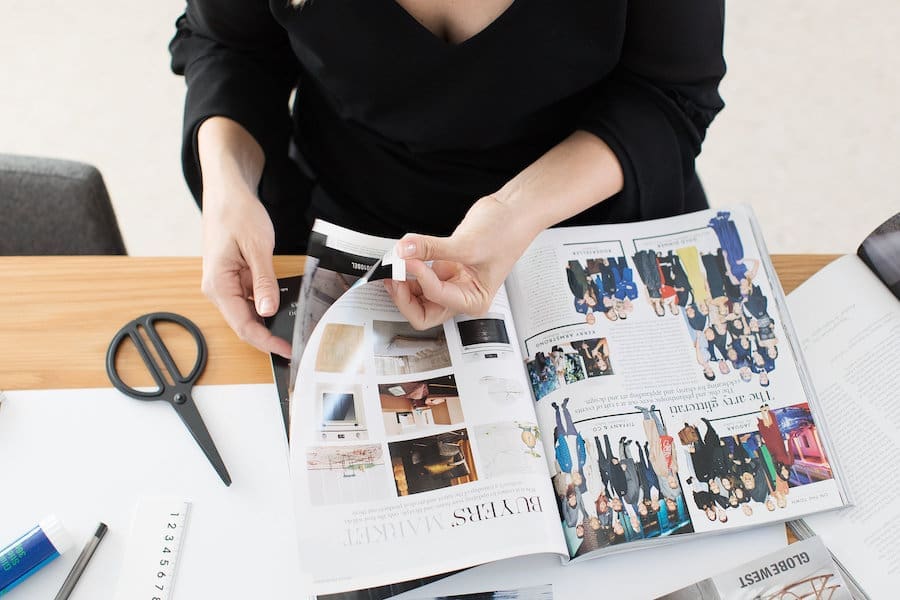 2. Choose the right format
The next step is to work out a mood board format that works for you.
Depending on your preference, you might like to create your mood board electronically using free tools like Pinterest or Style Sourcebook, or the traditional way by cutting out images and applying these to cardboard.
I personally prefer to use a soundboard or corkboard as you can pin up, move or remove ideas easily.
As you begin to gather inspiration, you'll notice a trend or key themes starting to emerge. You might spot a colour or pattern you particularly love and want to build a room around. Keep adding and playing around with your ideas and swatches until you find your source of inspiration.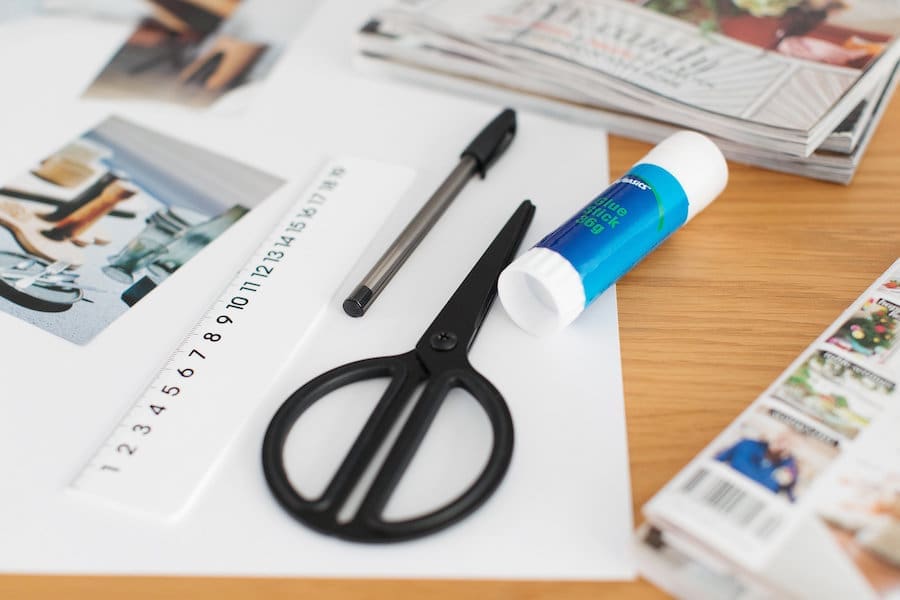 3. Edit and refine
The final step is to refine your mood board. Look at your inspiration board and ask yourself 'what's working and what isn't?'.
Perhaps you've taken your inspiration too literally and the entire board is one colour… a way to resolve this would be adding neutral colours (such as soft greys) or natural materials (like wood) to balance the look.
Or perhaps your mood board is looking flat and boring? A way to add more life and interest is to introduce more colour or texture. From natural materials like jute and timber, to luxe finishes such as marble or brass, there's no shortage of materials and textures you could play with.
Alternatively if your mood board is too busy and isn't cohesive, you may need to look at refining your choices. Perhaps there are too many colours and they are working against each other.
Look at your mood board for several days or weeks and make sure you're happy with how all the elements work together before hitting the stores and making any purchases.
Have you been inspired to create a mood board to help you define your style or plan for your next project?