Since Hulk became the newest member of the Style Curator team, we've gone a bit pet crazy! And since it's Pet Appreciation Week, we thought what better time to share tips on how to create a stylish, pet-friendly home thanks to our friends at Temple & Webster.
Related article: Product review: Dyson Cinetic Big Ball Animal+ vacuum cleaner
Related article: $5 5 minute pet portrait art tutorial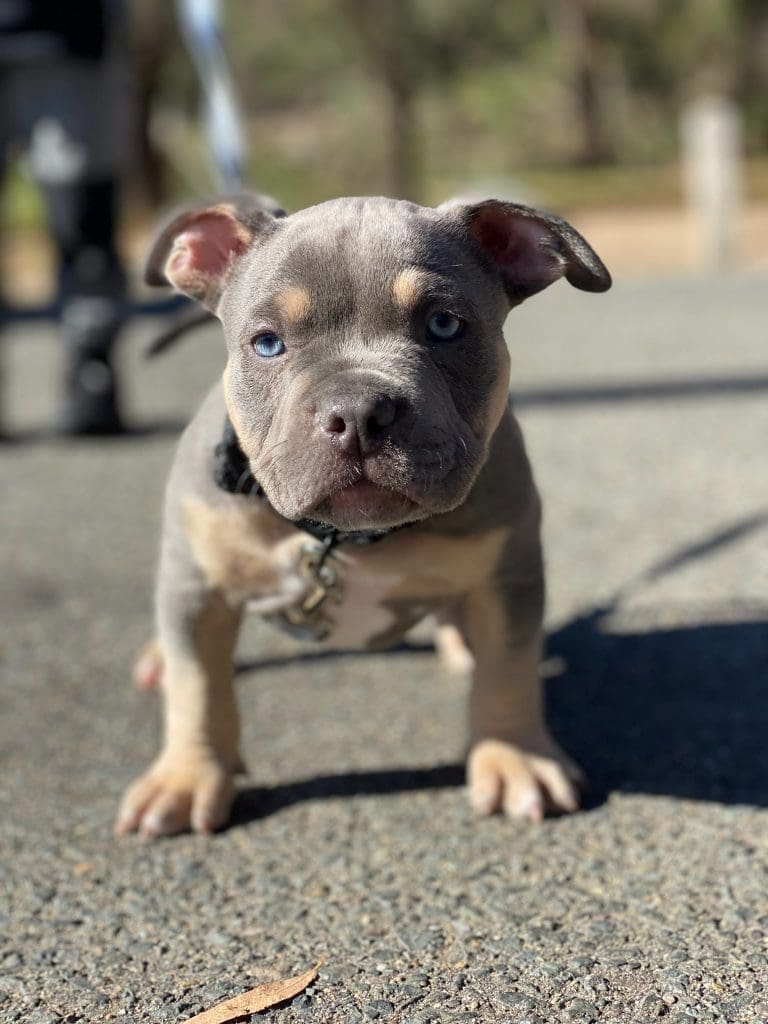 Invest in your sofa
No one can resist a cuddle on the couch with your furry-friend… especially during winter! So, choosing the right couch is an important thing to consider if you want to ensure it will stand up to the paws and claws.
The Temple & Webster style team suggest investing in a genuine leather sofa. Leather is extremely durable and is easy to clean and vacuum (we recommend this vacuum).
While you might worry that leather is susceptible to a few minor scratches, these imperfections help create a beautiful, distressed, aged-leather look. However, be sure you choose a genuine leather sofa, as bonded leather may flake and fall apart — no thanks!
If you prefer upholstered sofas though, it is possible to find ones in more durable fabric and as Gina recently showed us when she trialled the Britex cleaner, it is possible to clean your sofa like new.
Think low-maintenance floors
We love a plush rug as much as the next person, but with four-legged friends in the home, they're not the ideal choice!
The Temple & Webster team suggests going for something more durable such as polypropylene and indoor/outdoor rugs.
What's more, indoor/outdoor rugs are totally waterpoof and made of recycled plastic bottles! This means to clean, you simply hose them down — paw-fect 😉 !
Shop our favourite stylish pet-friendly items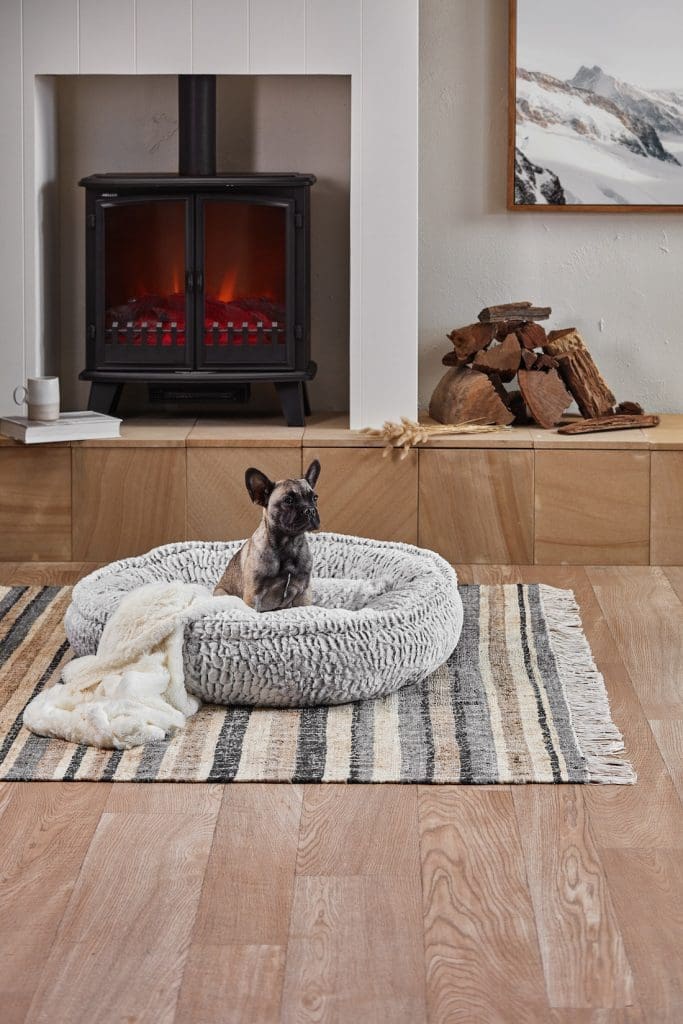 Choose hard-wearing fabric accessories
Ever noticed how pets always seems to gravitate towards your fave velvet cushion or chunky knit throw?! It's not surprising given how wonderfully soft they feel! But for practicality and durability, try choosing room accessories with evenly-textured, tight weave fabrics.
Opt for cushions, throws and rugs in canvas, denim, microfiber or tight weave tweed as these are less likely to trap pet hair, snag or tear. Scratch marks can be removed fairly easily and spills will bead on the surface so you can catch them before they soak in.
Go for stylish accessories
If your pet is anything like you, they're clearly going to have style and taste! To help create that stylish, pet-friendly home, there are so many great pet-decor items to keep within your home's style.
Love a bit of luxe? Go for a plush pet sofa. Bit more boho? Go for this stylish wicker basket. Is modern more your thing? This dome-style might fit right in! And if you're not sure what your interior style is, why not take our quick, free quiz to find out?!
Having some pet-specific furniture and accessories will distract your pet from destroying your beautiful human furniture. Also, opting for colours that match your decor means your pet's special pieces will blend right in and won't be an eye-sore.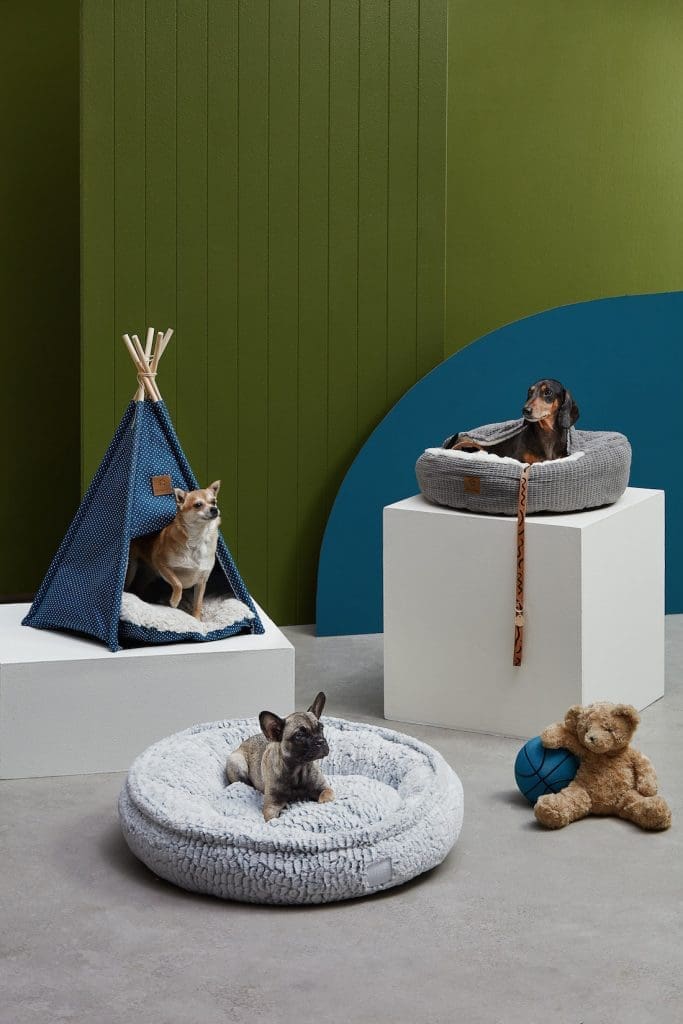 Keep clutter at bay
There's nothing better than spoiling your special pet with lots of treats and toys. But sometimes it might feel as if your home is bursting at the seams with toys and other pet products!
You might like to keep all your pet supplies in the one place like the garage or a cupboard. Or perhaps having certain types of products in areas where they are most convenient suits you better.
Grab some stylish fabric or woven baskets to keep pet toys in, or if you've got too many, you might like to store them in a cabinet or sideboard.
Whatever you do, make it your own and give yourself a stylish, pet-friendly home you can all enjoy and love.
We'd love you to show us how you keep your home stylish and pet-friendly! Tag us on Instagram @stylecurtorau so we can see… and also cause we love looking at cute pet pics, too!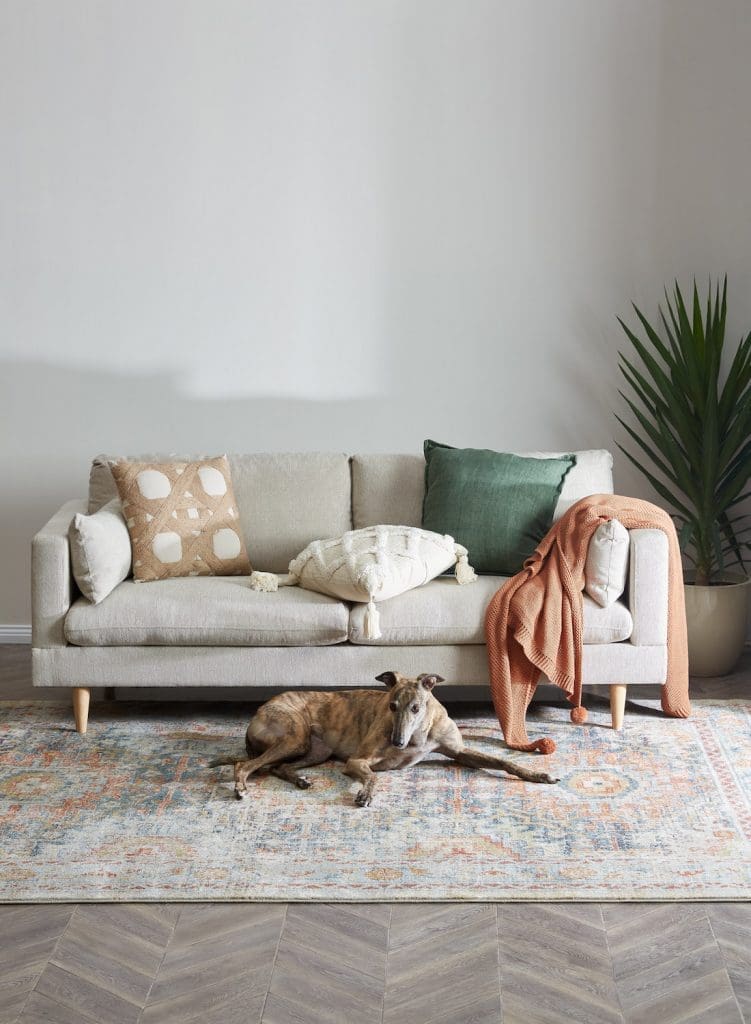 Shop our favourite stylish pet-friendly items
Disclaimer: This post contains some affiliate links. This means that when you click on a link and purchase something from that site, we may make a small commission at no extra cost to you.