Supported by SLH Furniture
Bigger isn't always better and sometimes a queen bed is the largest size you can fit in a master bedroom. That doesn't mean you can't create a sanctuary-like bedroom — far from it! Thanks to SLH Furniture, we're sharing our top tips on how to make a queen size bed look luxurious.
Related article: 20 bedside styling ideas: How to style your bedside table
Related article: 50 top items in home decor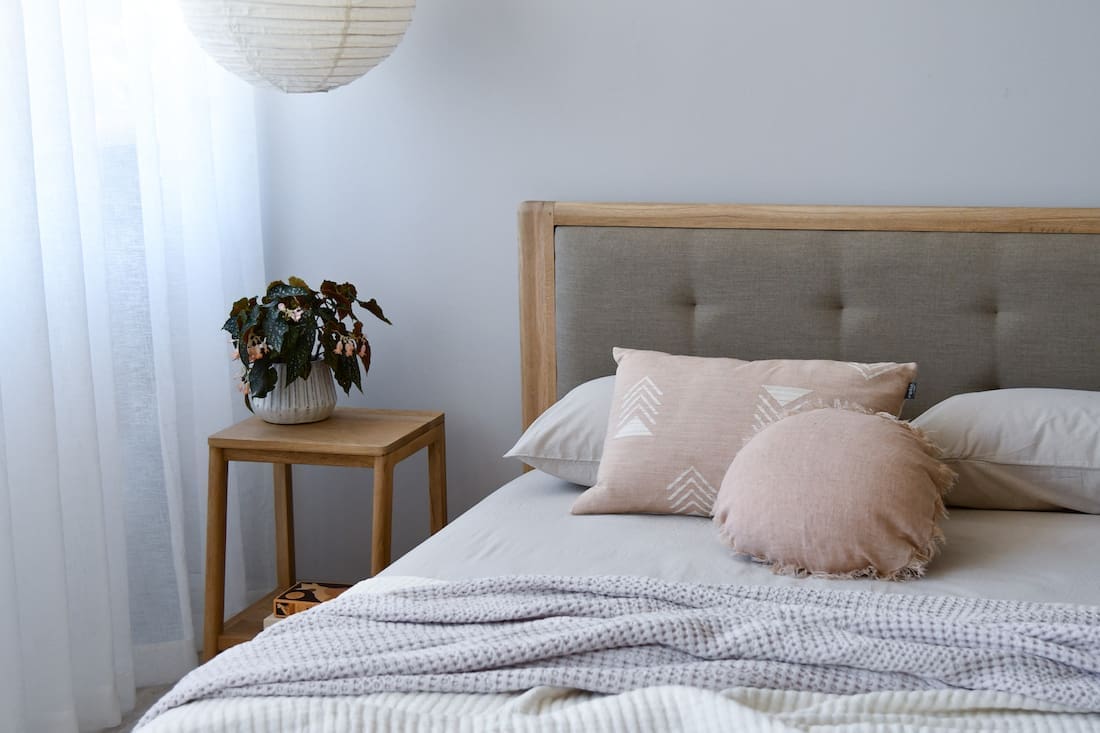 Choose your bed frame or headboard for a queen size bed
The hero of your bedroom, naturally, is your bed. Look for a bed frame or headboard that sets the interior style you want to achieve in your bedroom.
Want to channel the provincial style? Consider selecting a queen size bed with tufting detail in the headboard.
Or is the Japanese aesthetic more your style? A minimalist timber bed frame or headboard with slim vertical slat details could be the perfect fit.
If you're unsure what your interior style is — or you like to change up the look of your bedroom often — you can't go wrong with a timeless design. A high-quality timber queen bed frame, like the Taku European White Oak queen bed from SLH Furniture, is a classic yet contemporary style of bed that will last the distance.
Designer tip: to create the illusion of a larger bedroom, avoid a heavy 4 poster style bed frame. Instead, opt for a lighter, minimalist design with legs that lift the bed off the floor. This reveals more of your floor space, making your bedroom feel larger.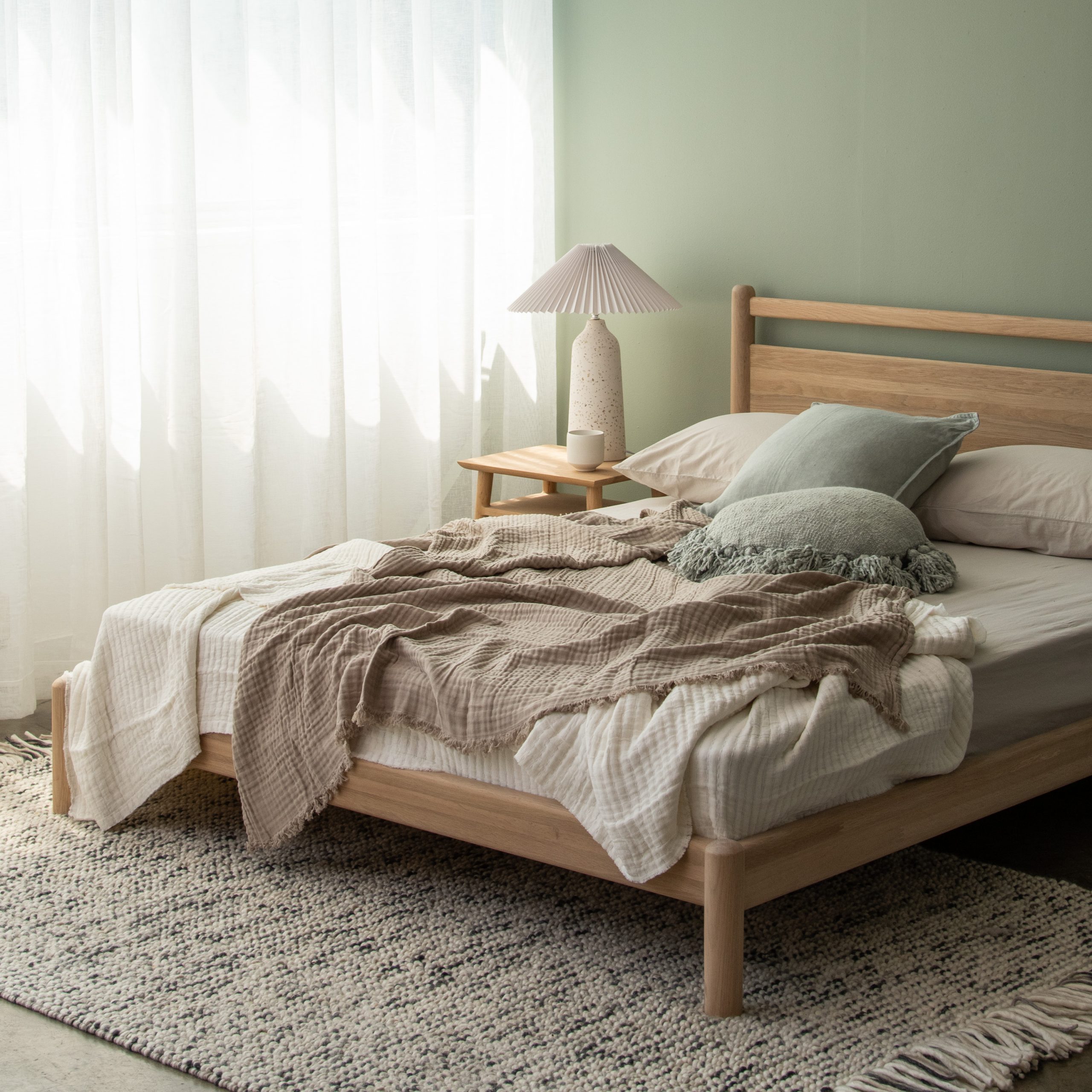 Dress your queen bed with luxury sheets
We often say your bedding can be like art for your bedroom. With so many prints, colours, and fabrics to choose from, you can create a bed that's as unique as you!
However, when it comes to setting a luxurious tone in your bedroom, you really can't beat the impact of high-quality white sheets. They instantly set a 'hotel luxe' vibe and offer maximum flexibility to change up the look of your bedroom over time.
With new cushions and throws, you can make simple white bedding look Hamptons or Hollywood, Mid-century Modern or Mediterranean. Keep reading below for our tips on how to effortlessly change the look of your bedroom with cushions and throws.
Designer tip: select high quality bedding that's breathable and will wash and wear well. Nothing detracts from a bed more than bedding that's pilled or pulled… Linen, cotton or bamboo are all great choices worth the investment.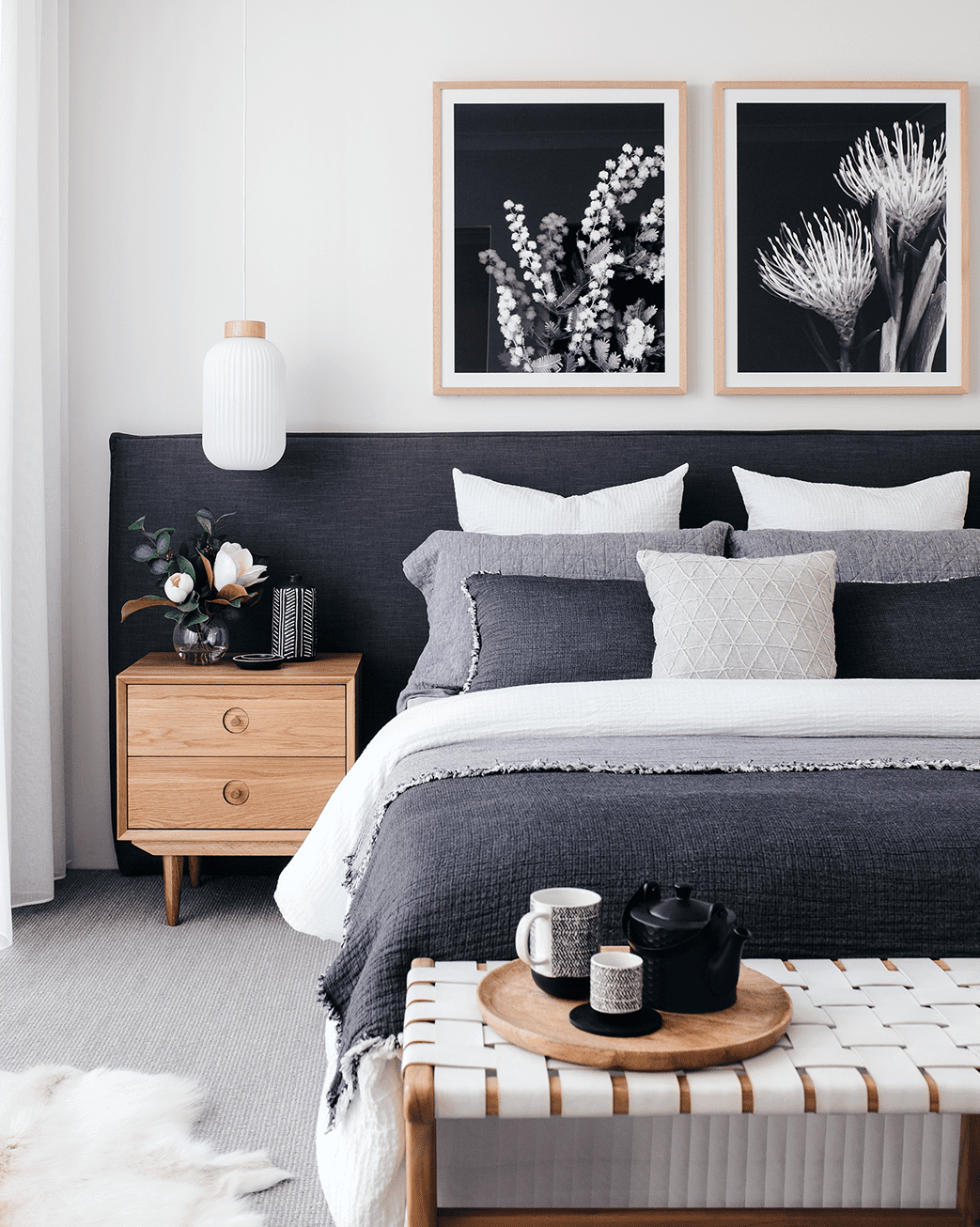 Style it up with cushions
How many cushions are too many? It's the top question in interior styling that just cannot be answered, ha ha. Seriously though, we've decided the answer is 'Whatever you decide!'
You can create a luxurious queen size bed simply using standard pillows or you can go a little OTT with 8 pillows and cushions.
These are the most popular cushion styling formulas for a queen size bed:
Traditional: 2 standard pillows at the headboard, 2 Euro pillows in front, finished with 2 decorative square cushions and one rectangular cushion in the centre
Effortless: 4 standard pillows against the headboard and 2 Euro pillows placed in front
Contemporary: 4 standard pillows and optional accent cushion in front (a long lumbar cushion can look great)
Hotel luxe: line the headboard with 2 Euro pillows, 4 pillows in front, and finish with a trio of accent cushions.
There are endless ways you can style your queen size bed with cushions so have fun with it! If you're not sure where to start, you can find plenty of inspiration on Pinterest, Instagram, in interior magazines or browsing stores.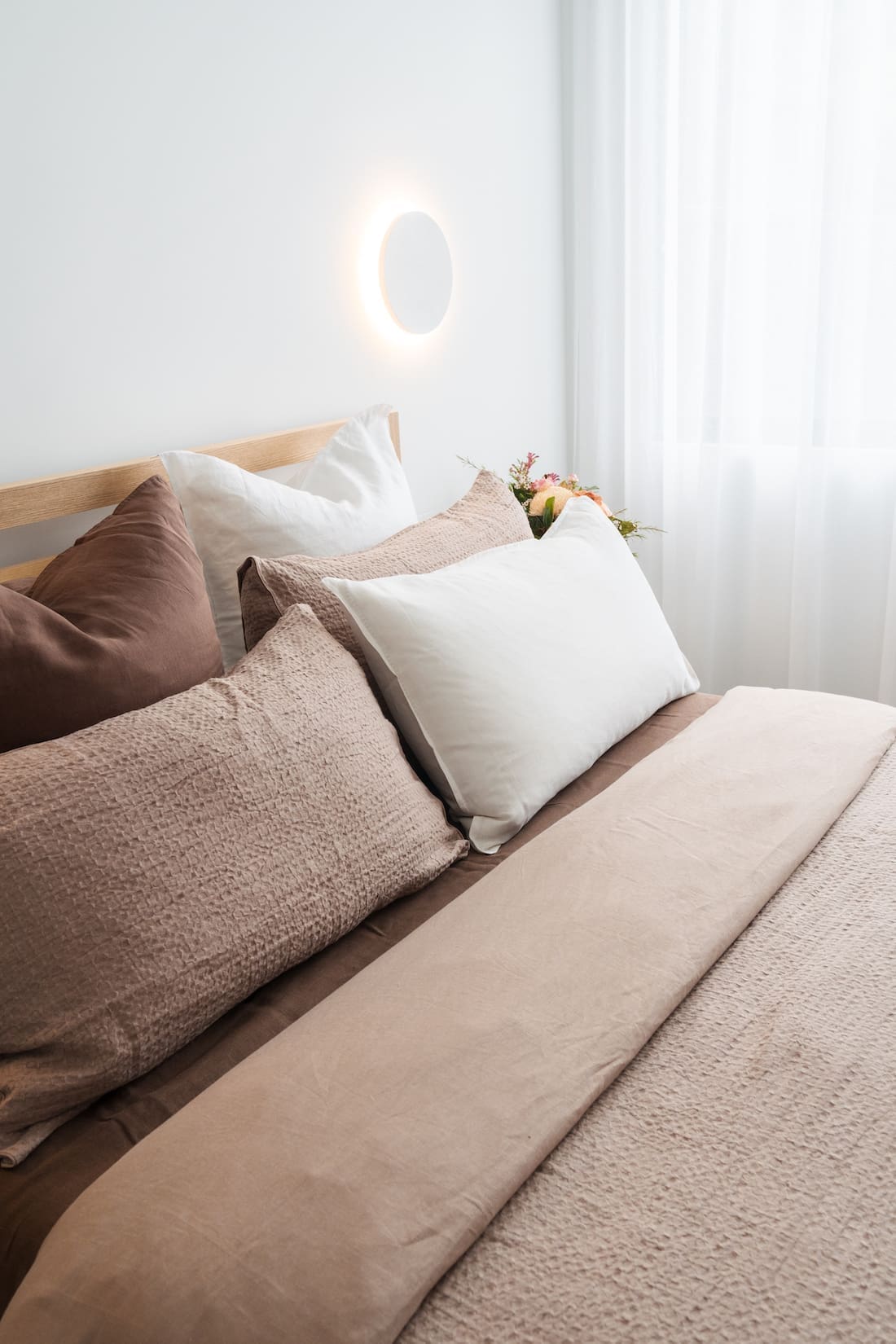 Don't neglect the foot of your queen bed
Your luxurious bed is almost complete but the final ingredient is what's happening at the foot of your bed.
A throw blanket can tie the look together. Fold it across your bed or drape it effortlessly over a corner, either way it's sure to add cosiness and elevate the look of your bed.
However, if you're a minimalist you may prefer to ditch the throw blanket. Perhaps a perfectly tucked duvet is more your style? Again, our rule is 'You do you!'.
Pay attention to the rest of your bedroom
Of course, it isn't just about your bed! There are plenty of interior styling tips and tricks you can use to make the rest of your bedroom feel luxurious.
Mirrors
Bounce light, reflect views and make your bedroom feel larger with strategically placed mirrors. Centred above a dresser table or on a side wall are popular places to position a mirror that also promotes good Feng Shui.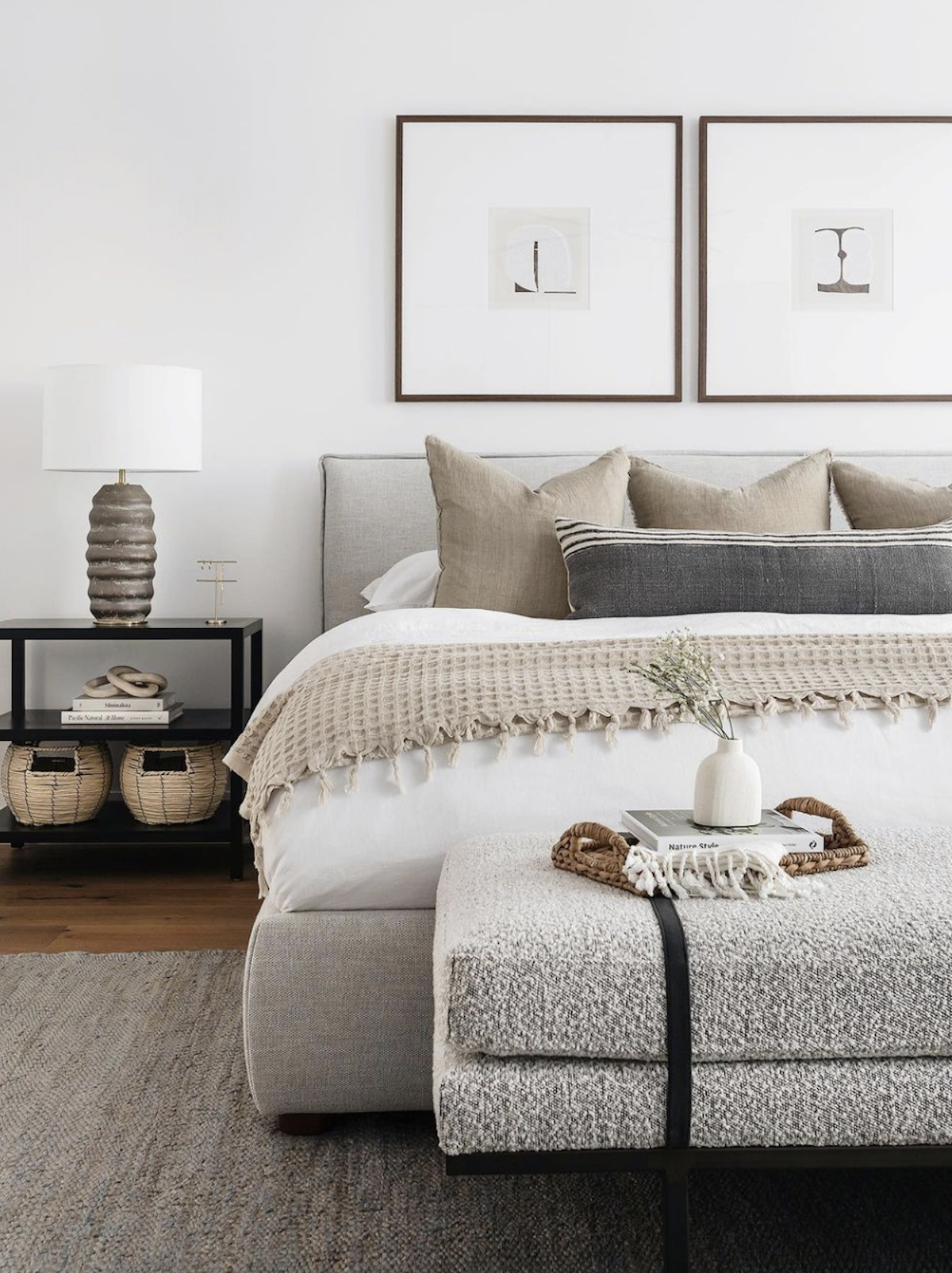 Lighting
Set a moody or relaxed atmosphere with table and floor lamps. Decor pieces in their own right, lamps also give you maximum control over lighting and are sure to elevate your space.
Other bedroom furniture
We mentioned your bed frame as tip #1 but what about the rest of your furniture? There's no need to go matchy-matchy but the last thing you want to do is let your perfectly styled bed down with other bedroom furniture that's seen better days.
Perhaps you could upcycle what you have to give it a fresh new look, or treat yourself to new bedside tables that will stand the test of time.
Home decor
Finally, home decor adds personality and a welcoming feel to your bedroom. A divine smelling candle is a MUST and the rest is up to you. Check out our top 50 items in home decor article for inspiration or these 20 bedside table styling ideas.
We hope these tips on how to make a queen size bed look luxurious help you to create your own dreamy bedroom. Which tip will you use first? Or do you have more to add? Chat with us in the comment section below!