When decorating your home, you can reach a point where you wonder 'what else can I use?'. You've maxed out the amount of photos you want to display and have more candles than your local boutique, so what other home decor or items can you use to decorate your house to make it feel like home?
It's a struggle we've experienced many times, which is why we pulled together this list of the 50 top items in home decor. Whenever we have an arrangement that's lacking or a room that's looking a bit sparse, we refer back to this list for inspiration on what else we can use in the space.
We hope this list helps you next time you have decorator's block — why not 'save' the image below to your Pinterest or share it on Facebook so you can find it when you need it?!
Related article: The tips and tricks to styling your coffee table with ease
Related article: 7 of my best interior styling tips to make a space work… when it just won't!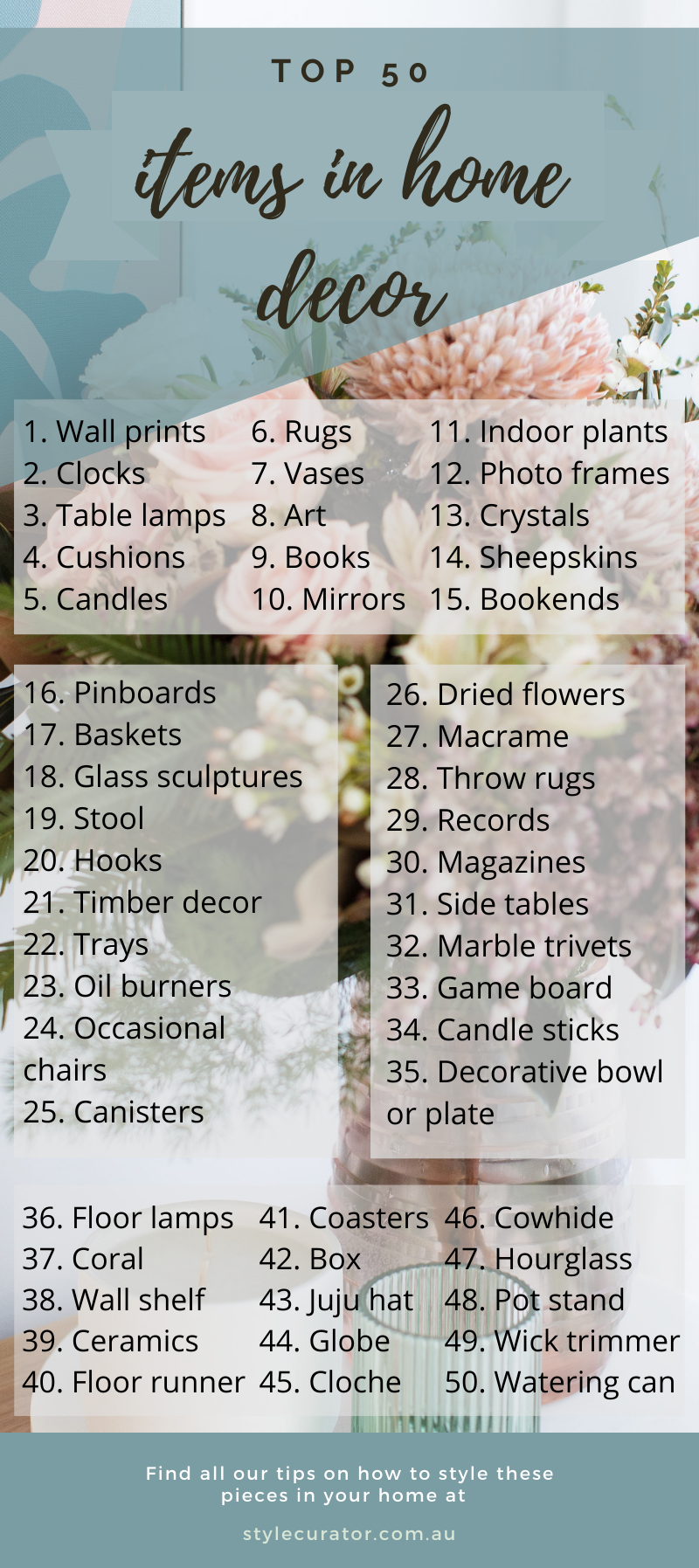 1. Wall prints
So often when decorating, we focus on what's on the floor and neglect our walls. There's a huge range of affordable wall art on the market now. You can find a large scale piece that looks fabulous without breaking the bank. We share our list of the best places to buy affordable artwork online here.
2. Clocks
A wall clock can be a beautiful decor piece — even if we have the time displayed on just about every device nowadays! Look for one that works in with your interior style, whether that's coastal, industrial, contemporary or something else. If you're not sure what your style is, take our fun and free interior style quiz here.
3. Table lamps
We often harp on about the importance of lighting and not just relying on ceiling lights to illuminate our homes. Table and floor lamps cast softer light and reduce harsh shadows in our home — and they can be a decor piece in their own right!
Shop our favourite lighting
4. Cushions
If you ask us, there's no better way to get bang for buck than simply switching over your cushions. They're a great way to introduce a new colour palette into a room or add more texture. Our hot tip, switch the regular foam cushion inserts over to feather inserts for a more luxe look and added comfort!
5. Candles
You know how obsessed we are with candles so this one was definitely going to be on the list! Candles add ambience to a home in a way few other decor pieces can because it works on our sense of smell. Look for ones made from soy wax and natural fragrances to avoid bringing toxins into your home.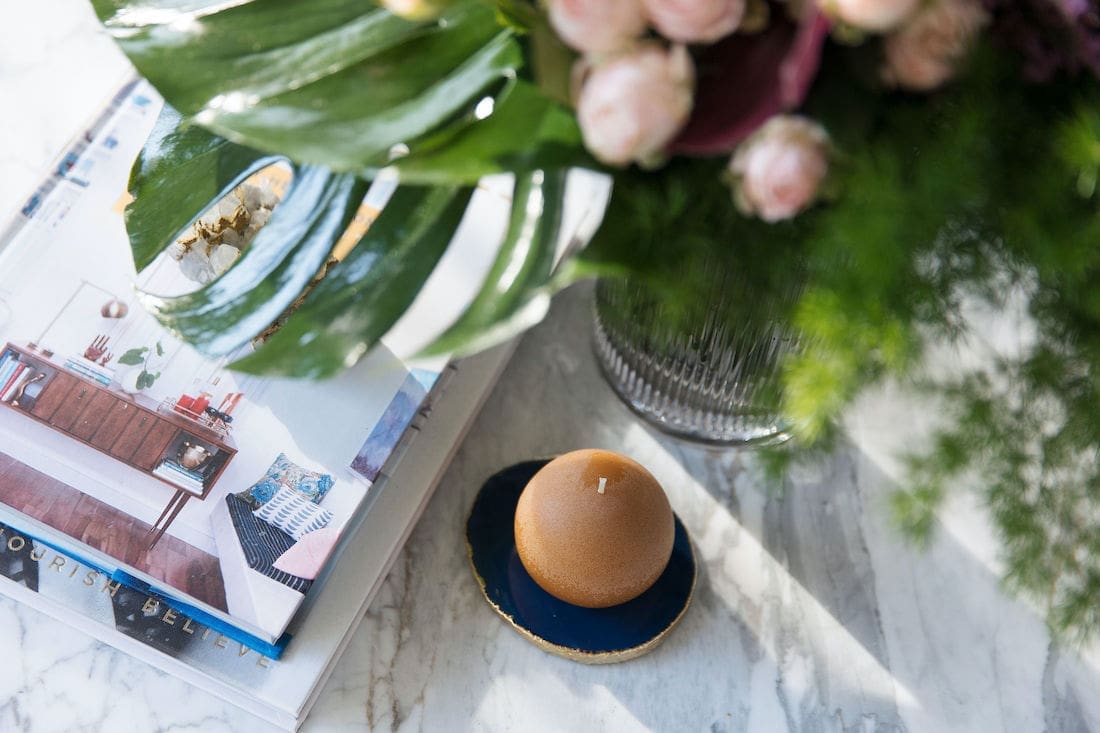 6. Rugs
Rugs serve so many uses in a home — they define zones, add warmth and can soften hard flooring. And when you use one with a bold colour or pattern, they can be like art for a room. Picking a rug isn't easy, which is why we share all the tips on how to select the right rug in the video below.
7. Vases
Glass or ceramic, metal or concrete, there's no shortage in choice of vases on the market nowadays! Depending on the size and style of your vase, these can look fabulous as a stand alone item (such as an oversized vase filled with dried branches on a sideboard) or work into a styled arrangement beautifully.
Check out our favourite vases this season!
8. Art
There's something so special about having a one-off or limited edition piece of original art in our home. Knowing the meaning behind a piece or about the artist adds to the unique story of our homes. Whether it's a painting, sculpture, glasswork or something else, we always recommend investing in art.
9. Books
Add that homely feel and display your personal interests with books. These look great in a bookshelf (obviously!), on a coffee table, bedside table and just about any other surface area you can think of. Our go-to store to buy books is The Book Depository, with free worldwide shipping and over 20 million books in their collection.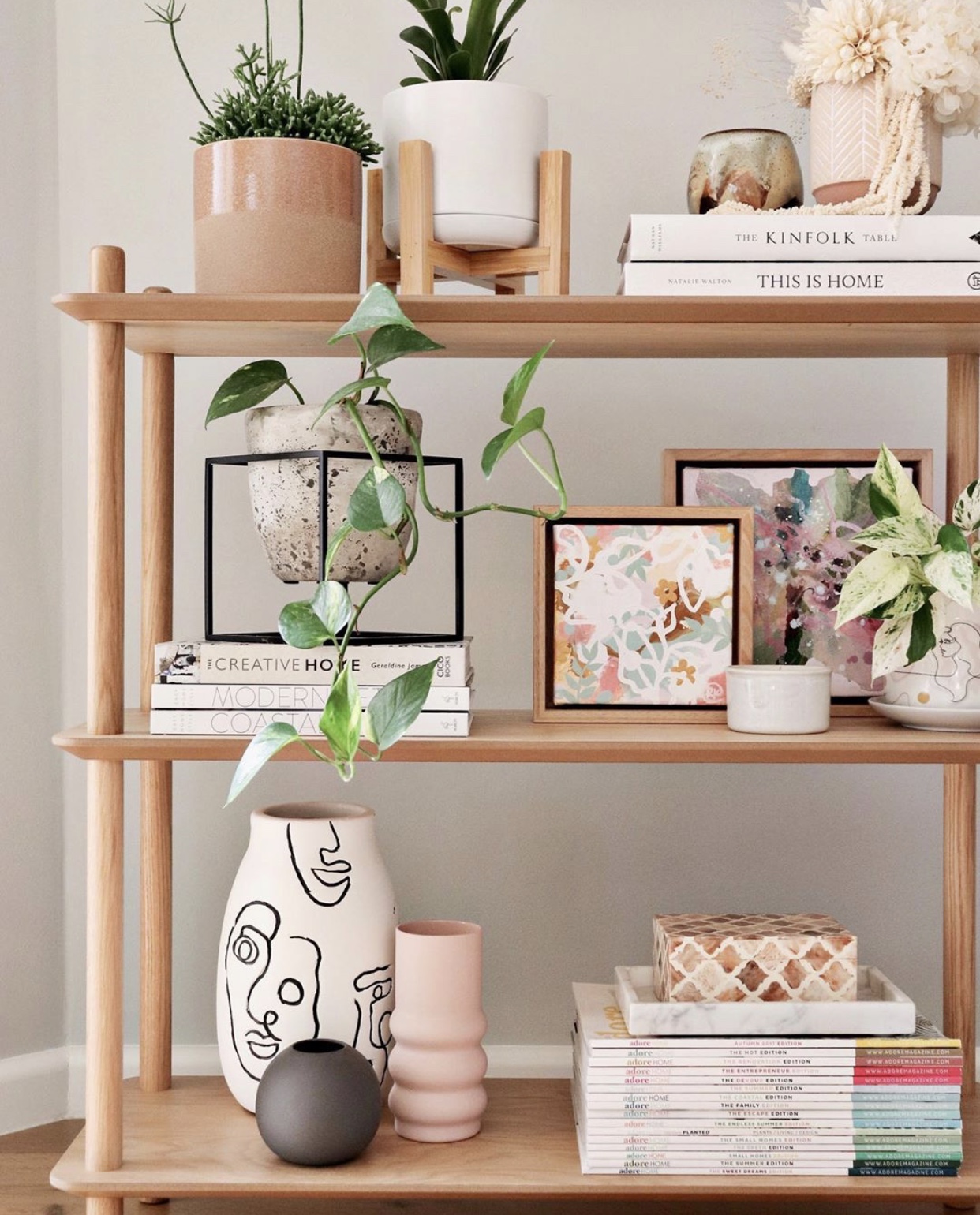 10. Mirrors
Bounce light around or create the illusion of a larger space with a strategically placed mirror. Naomi shares how you can use mirrors to attract the desired energy of abundance and calm in this article all about how to incorporate elements of Feng Shui into your home.
You can also shop our round up of the best floor mirrors here.
11. Indoor plants
You can never have too many indoor plants. Fact. And there's never been a better range of stylish vessels to display your indoor plants! If you lack a green thumb, check out this article on the top 20 hard to kill indoor plants.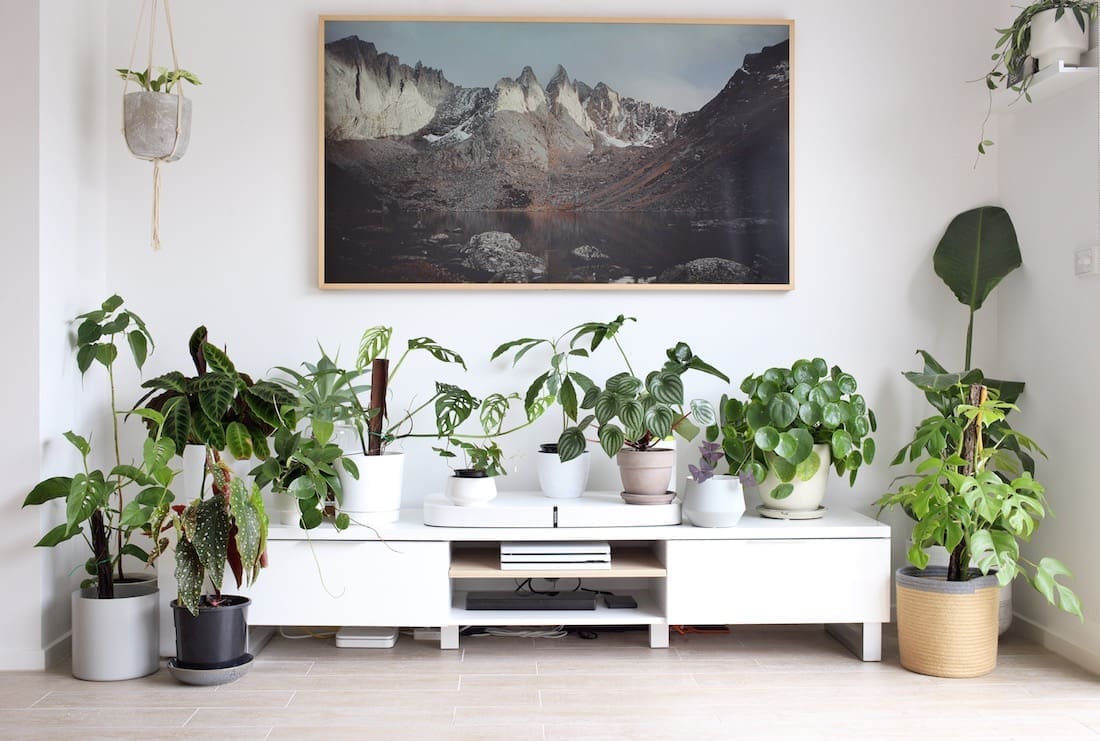 12. Photo frames
Framing photos or printing them onto canvas adds personality to your home and is a way of putting your happiest memories on display. But there's an art to doing it without going overboard, check out our tips here.
13. Crystals
Mmmmk, if you're not already on the crystal bandwagon, do us a favour and just try. Whether you believe in the natural properties of crystals or not, there's no denying they're a beautiful decor piece! We've got a room-by-room guide to using crystals in your home to help you get started.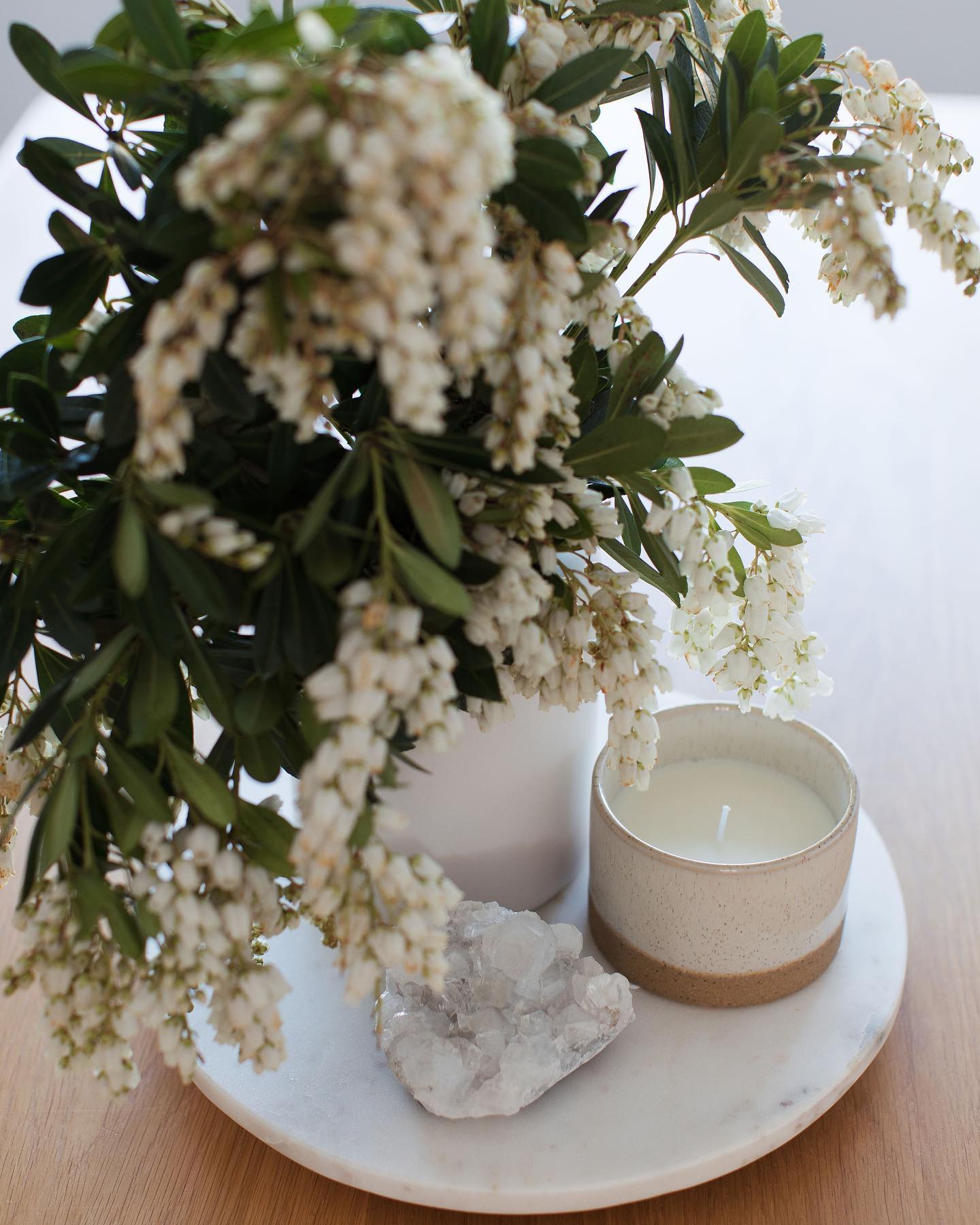 14. Sheepskins
Channeling Nordic vibes, we love a good sheepskin moment around the home. Draped over a bench seat, over an occasional chair or on the floor of a cosy nook, sheepskins look and feel amazing.
15. Bookends
It's been a while since bookends have had their moment in the decor limelight and we want to do our part to shine a spotlight back on them! Forget traditional L shaped bookends that only serve a functional purpose when you can find some that are truly gorgeous decor pieces. The marble step by Marble Basics is one of our faves!
16. Pinboards
From circular to arch shape, hexagonal or something else, pinboards have come a long way! Keep organised and add a dose of style to your home with a pinboard — Mocka is a go-to store to buy them or you may like to try our DIY to make your own. Check out how interior designer Michelle Hart grouped three pin boards in her office below (see the full home tour here).
17. Baskets
We've never met a basket we didn't like! Big or small, in a natural weave or colour, these are fabulous at keeping smaller items organised. In the pantry, baskets are great for keeping packet food items together and in play rooms there's no better way to organise kids toys. We use baskets in bookshelf styling, in bathrooms and just about every corner of the home. Get your hands on some!
18. Glass sculptures
When we first think of artists, generally our minds think of painters or perhaps ceramicists. There's a world of talented glass artists out there and we love the idea of incorporating glass sculptures into the home. You can find intricate designs or something more simplistic, such as the beautiful glass sculptures pictured on the coffee table below.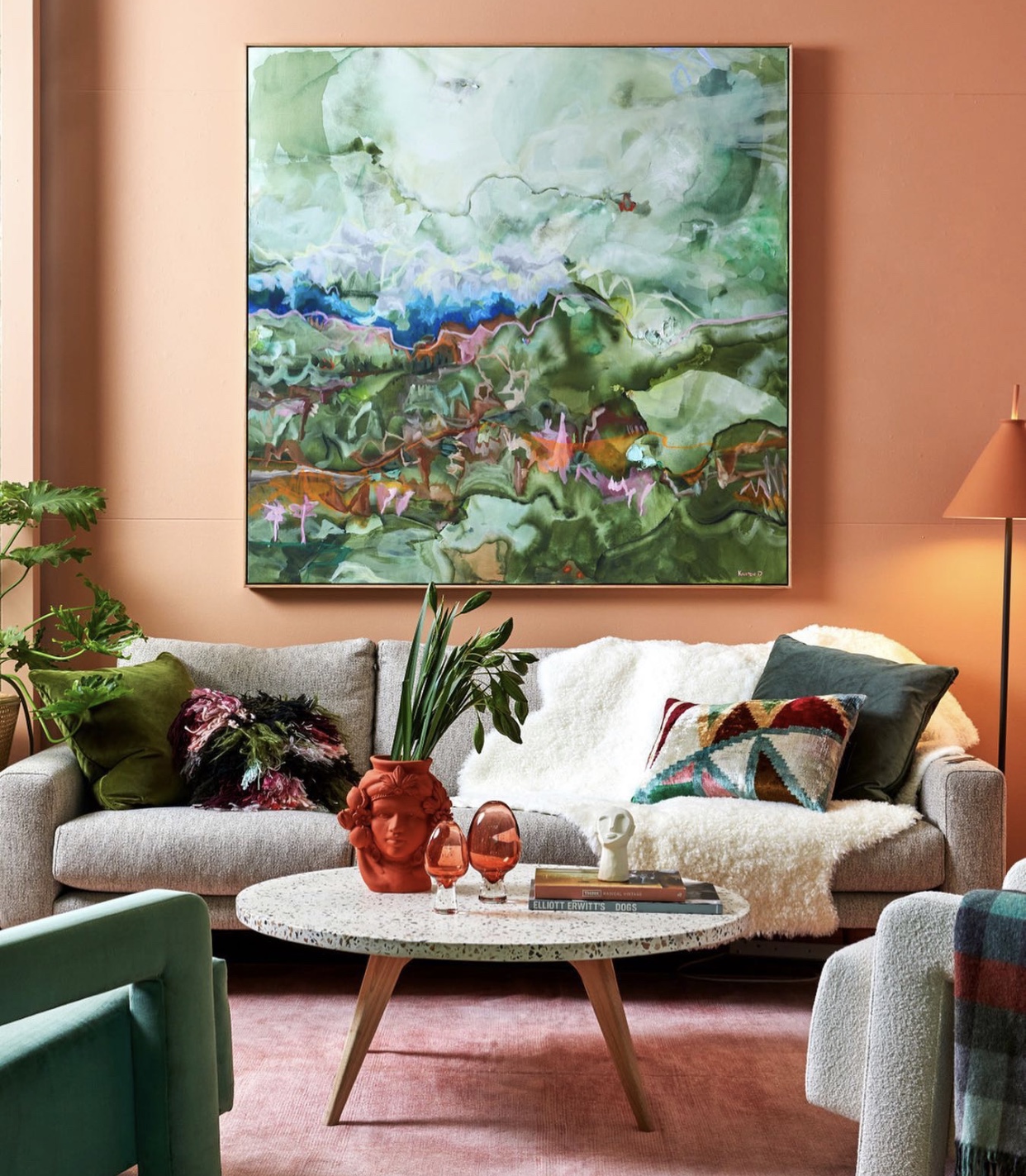 19. Stool
We've seen on The Block time and time again how a stool is a styling staple in every bathroom reveal. They provide the perfect surface to drape a towel and display some beautiful bath products. Stools are also a great idea in living rooms as they provide extra seating when you need it or can otherwise act as a side table. Kids play rooms are another zone of the home we'll generally incorporate a stool.
20. Hook
Functional and stylish, hooks can be arranged like art on your wall (think the Muuto dots). A wall-mounted hook rack can also create the sense of an entry in smaller homes that open directly into a living room or kitchen.
21. Timber decor
A garland of timber beads on the coffee table of a coastal style living room, a timber hand in a Scandi-style space, a timber sphere in a contemporary bookshelf, or a piece of drift wood turned into a beautiful timber sculpture, there's no shortage of ways you can incorporate timber decor into your home. Timber is a natural material that adds a sense of connection to outdoors. It is also a great way of mixing up the type of materials you use.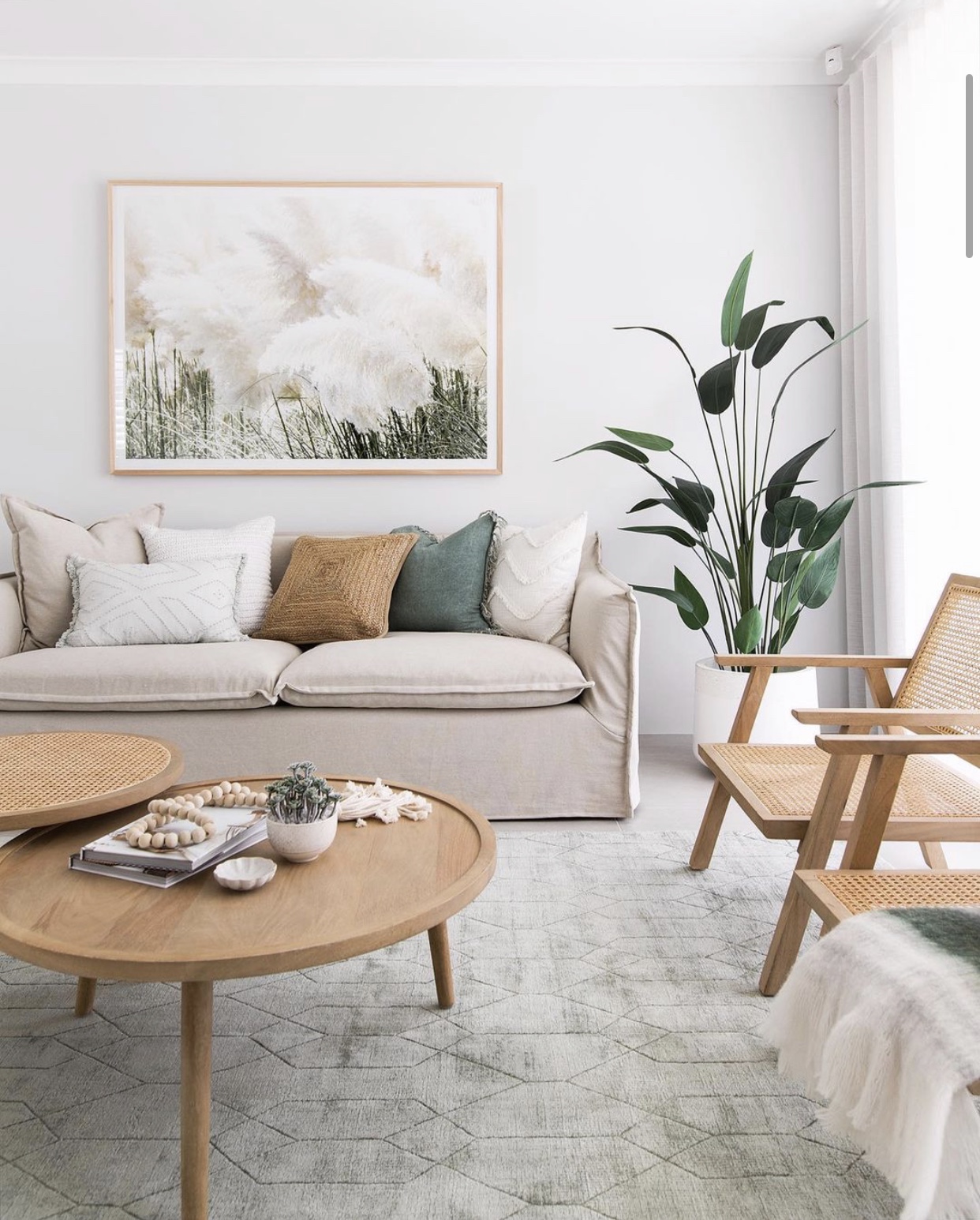 22. Trays
A catch-all tray in the entry of a home is a styling essential we think everyone should have. Trays can serve many other styling uses though — some just for looks (like as a tray on your coffee table to anchor your arrangement) and as a practical tool (such as near your coffee station).
23. Oil burners or diffusers
There's no denying the calming and uplifting benefits of diffusing oils in the home. Luckily brands have cottoned on to the idea and you can now find modern and stylish oil burners and diffusers on the market. Make it part of your morning routine and start your day on a positive note.
24. Occasional chairs
Whether you've got an empty corner of the home, want to create a more inclusive seating arrangement in your living room, or want to create a cosy seating nook, occasional chairs are always a good idea. We'll admit this one falls more in the 'furniture' than 'decor' category buuuut sometimes it's just the thing you need to make a space work.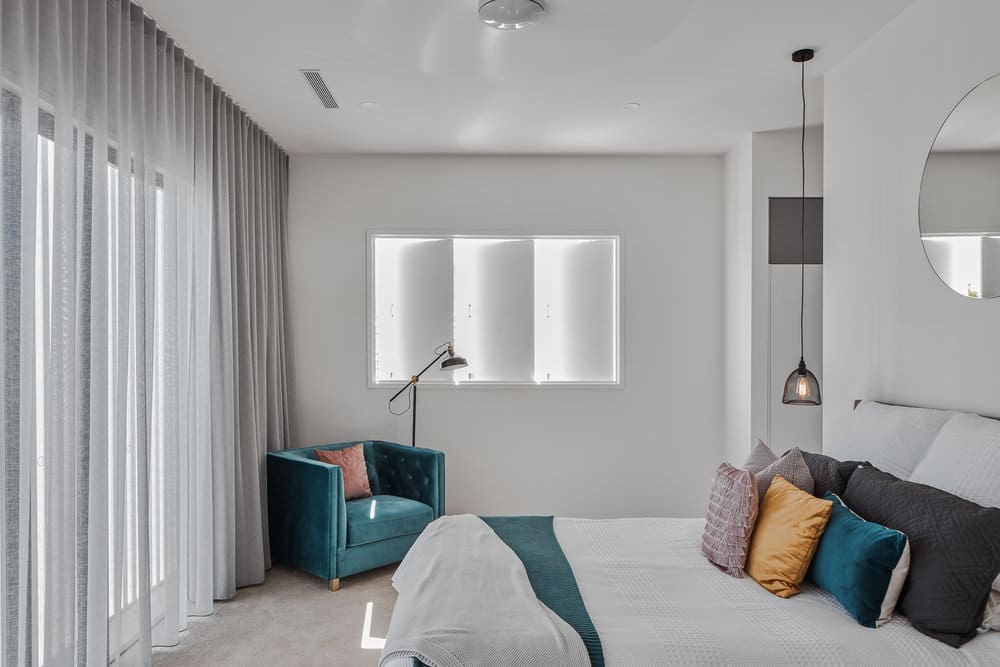 25. Canisters
You know how much we love using smaller boxes, baskets and storage solutions to hide away items. Canisters are an often-forgotten one. You can find beautiful organic canisters made my ceramic artists or something more modern. Whatever style you prefer, these are a great item to have when styling. Place it on a bedside table to keep jewellery safe, in your office to store smaller stationery or in a kitchen vignette for rock salts or sugar.
26. Dried flowers or branches
For a few years, dried floral arrangements were all the rage. While this trend may be fizzling out, don't throw away your dried flowers just yet! More organic and deconstructed dried floral arrangements have taken their place. Just take a look at how beautiful a vase of dried native flowers looks on our sideboard below. Alternatively, you could use branches for an even more rustic vibe. We share all our sideboard styling tips in this article.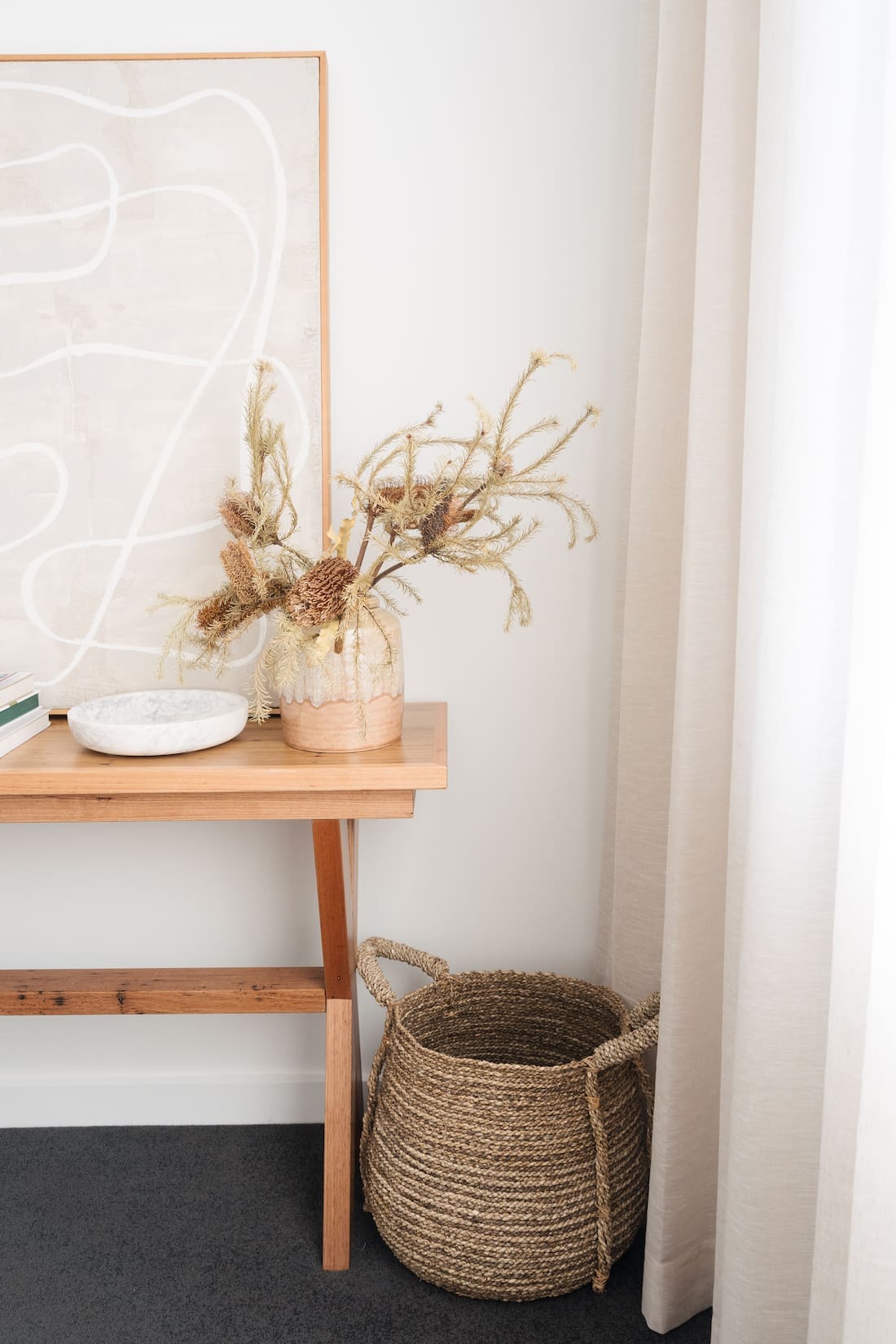 27. Macrame anything
Speaking of trends, another material we're beginning to see make a comeback is macrame. Let's not go OTT like we did 10 years ago though! In moderation, we love a macrame wall hanging or hanging pot. Macrame particularly suits boho and eclectic style interiors but also looks fab in a coastal home.
28. Throw rugs
Add layers to your interior styling and create a greater sense of comfort and warmth using throws. Similar to cushions, they're also a great way of repeating your colour palette throughout a space and we always suggest finishing your bed styling off with a throw.
29. Records
Record players are just cool and if you're lucky enough to have one, be sure to put your records on display! Similar to books, the worn covers add character to a home and showcase your individual taste.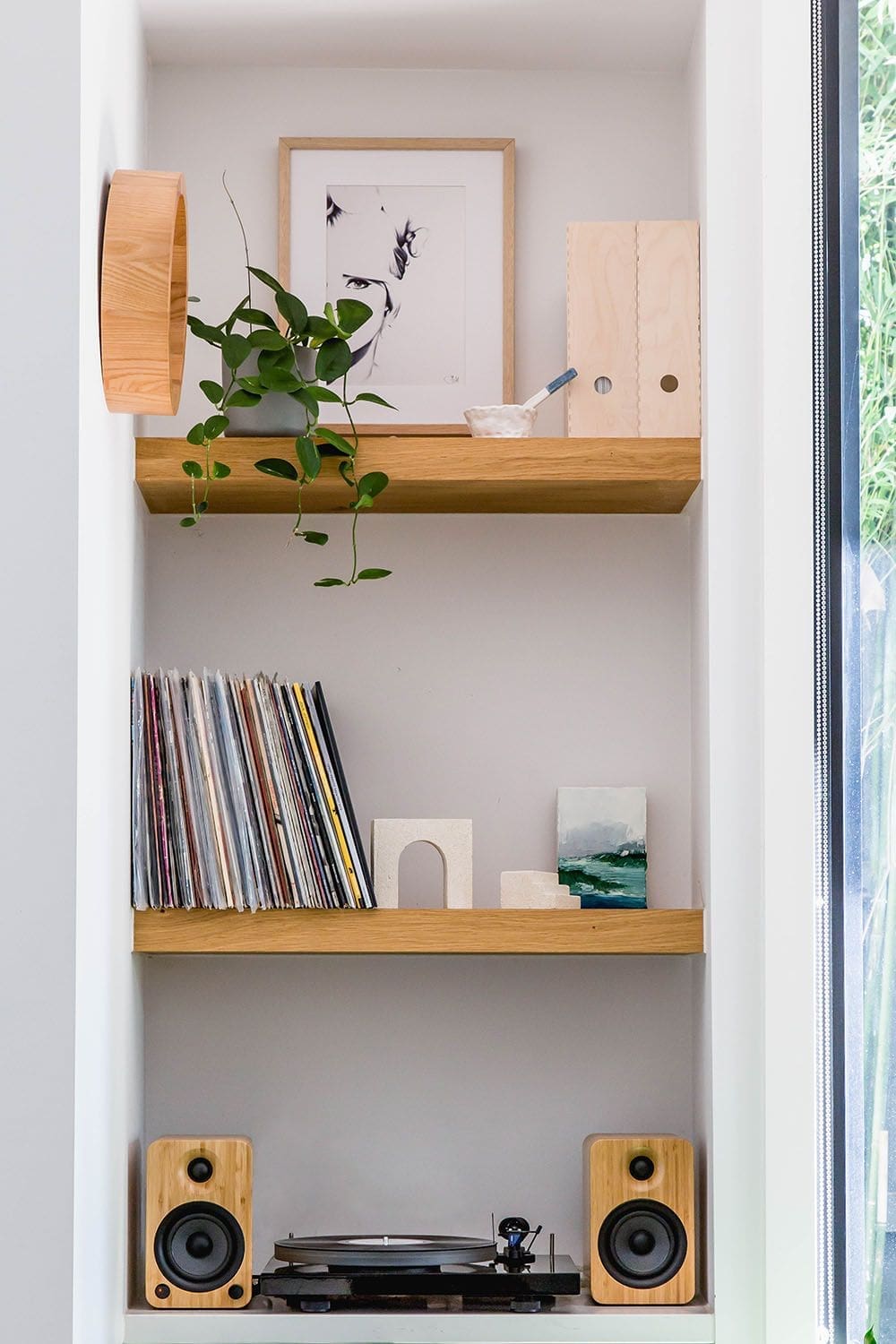 30. Magazines
Call us weird but we collect magazines and rather than hiding them away in cupboards, we'll often place a stack of these in a bookshelf or on a side table. When they're out on display, you'll be more likely to go back to a magazine and discover new things amongst the pages that you may have missed or forgotten about.
31. Side tables
Ok, so this one is technically a furniture item too but we're sure you'll forgive us for including it on the list. You can find amazing natural stone, timber, bone inlay and all sorts of other side tables in stores. And given the affordability of (and flexibility to change up) side tables, we're more lenient with our 'go neutral with furniture' rule 😉
32. Marble trivets
Whenever Gina posts a picture of the marble trivet in her kitchen, the DMs and emails start pouring in asking where it's from. Unfortunately, it's no longer available but you can generally find similar at Adairs or Freedom. Safe to say it's a firm favourite decor item!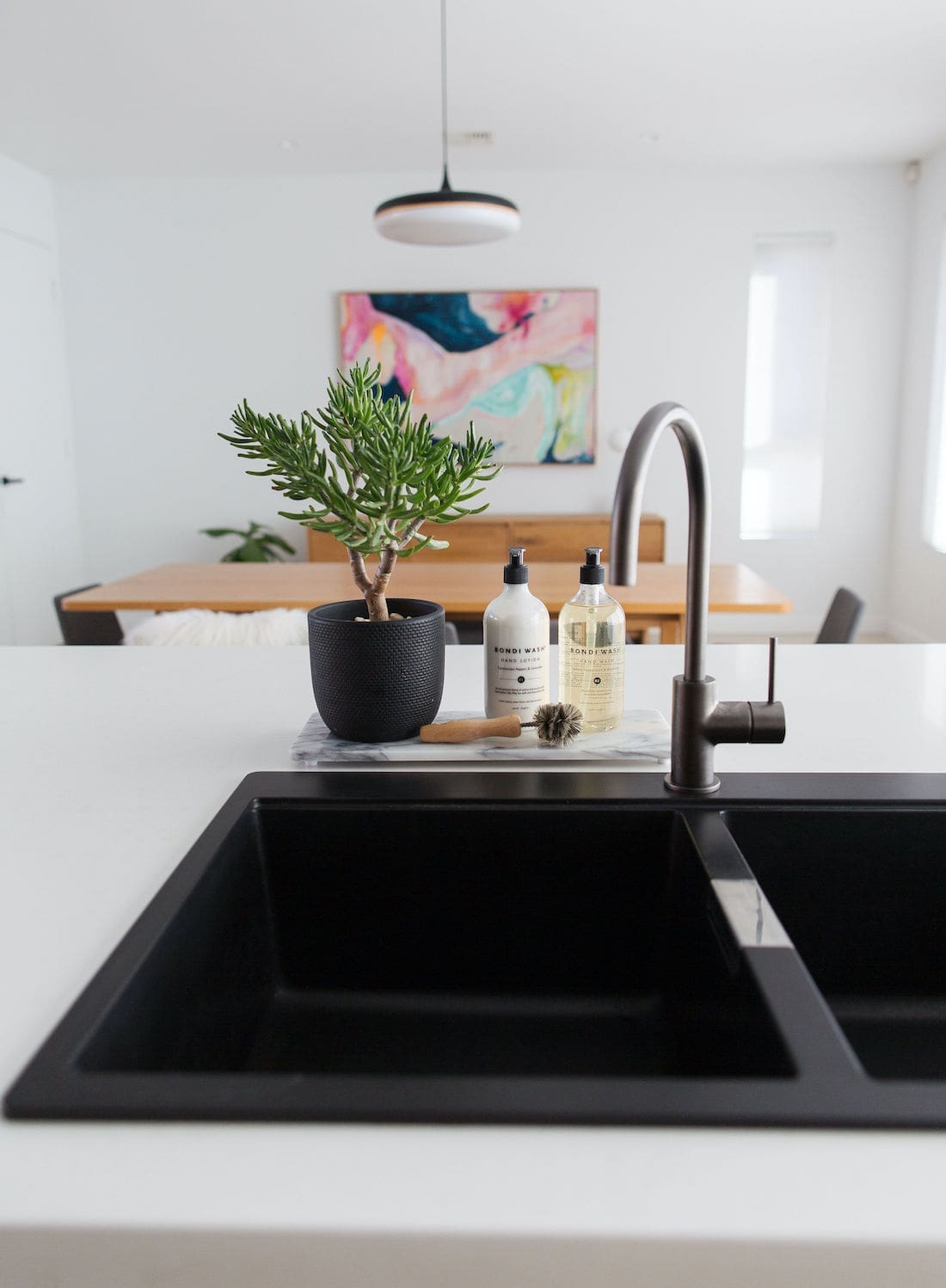 33. Luxe game board
Perhaps it's thanks to all the time we spent in isolation but game boards have had a major comeback. You can find some seriously luxe game boards now, such as a marble chess board, or antique ones that add character to a space. On a table in your office, sideboard of a living room or in a cabinet are a few places you could incorporate these.
34. Candle sticks
Candle sticks or candle holders look great on your dining table — we've got a whole article dedicated to how to style your dining table when it's not being eaten at here. You can also work them into a vignette on a sideboard for that tall element 😉
35. Decorative bowl or plate
Small decorative bowls are perfect for holding jewellery on your bedside table or acting as a salt pinch dish on your dining table, while larger bowls look beautiful in a cabinet or sideboard. You can also find stunning decorative plates that can be stood upright with a plate stand.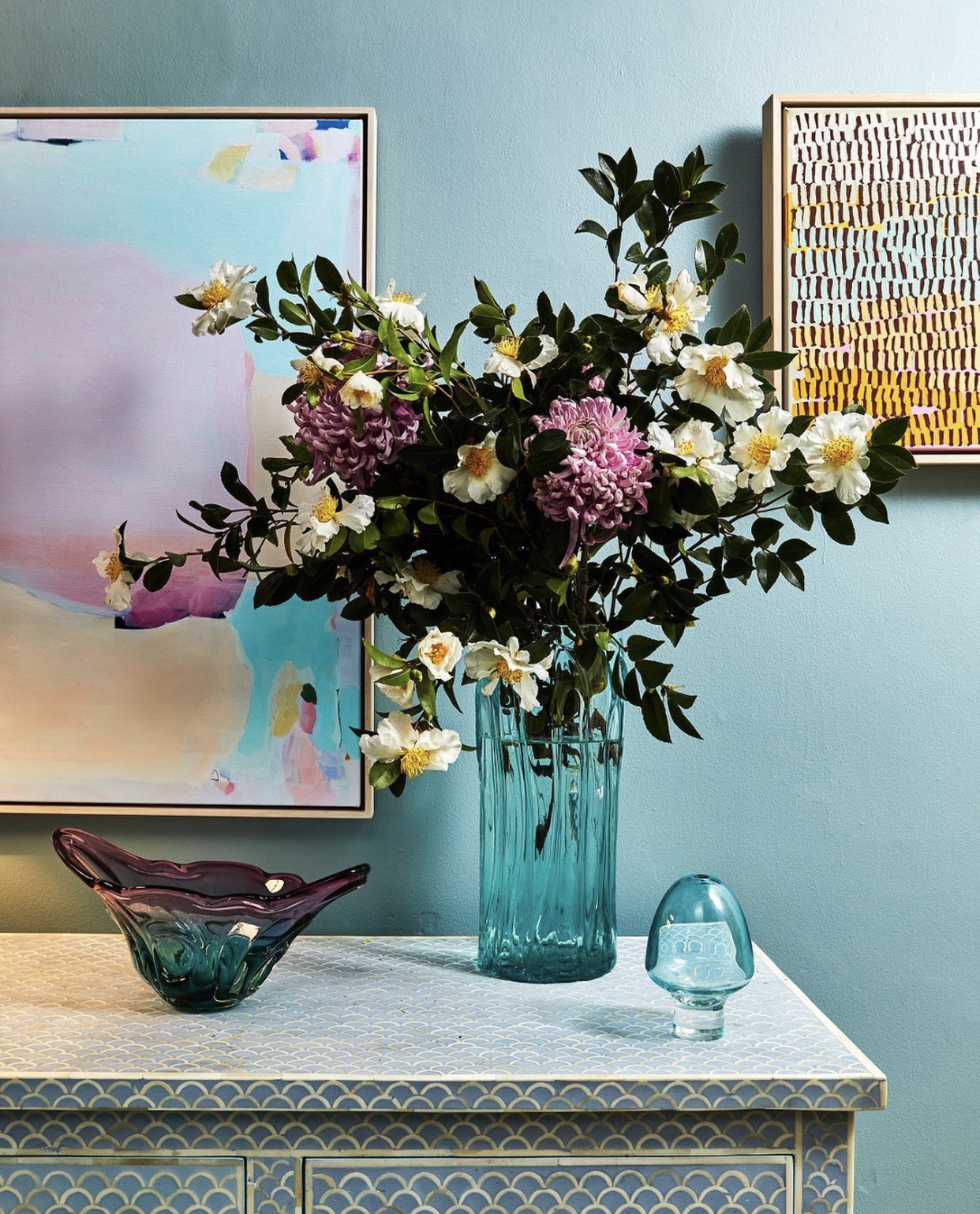 36. Floor lamps
Serving the same purpose as table lamps of casting softer lighting but floor lamps are perfect for filling those void corners of a room, or adding height to a room where everything else is lower to the ground.
37. Coral
If you love the coastal or Hamptons style, a piece of coral or beautiful shell is a must-have decor piece. And if you're concerned about the sustainability of these items, you should know there are some fab faux versions on the market now.
38. Wall shelf
Any kind of wall shelf — circular with smaller shelves, timber leather strap shelves, or even a picture ledge — are an opportunity to display some of your favourite objects. The picture shelf above the bed in Gina's guest room is ideal for easily changing artwork displayed in this space. Best of all, that shelf was a steal for under $20 from IKEA!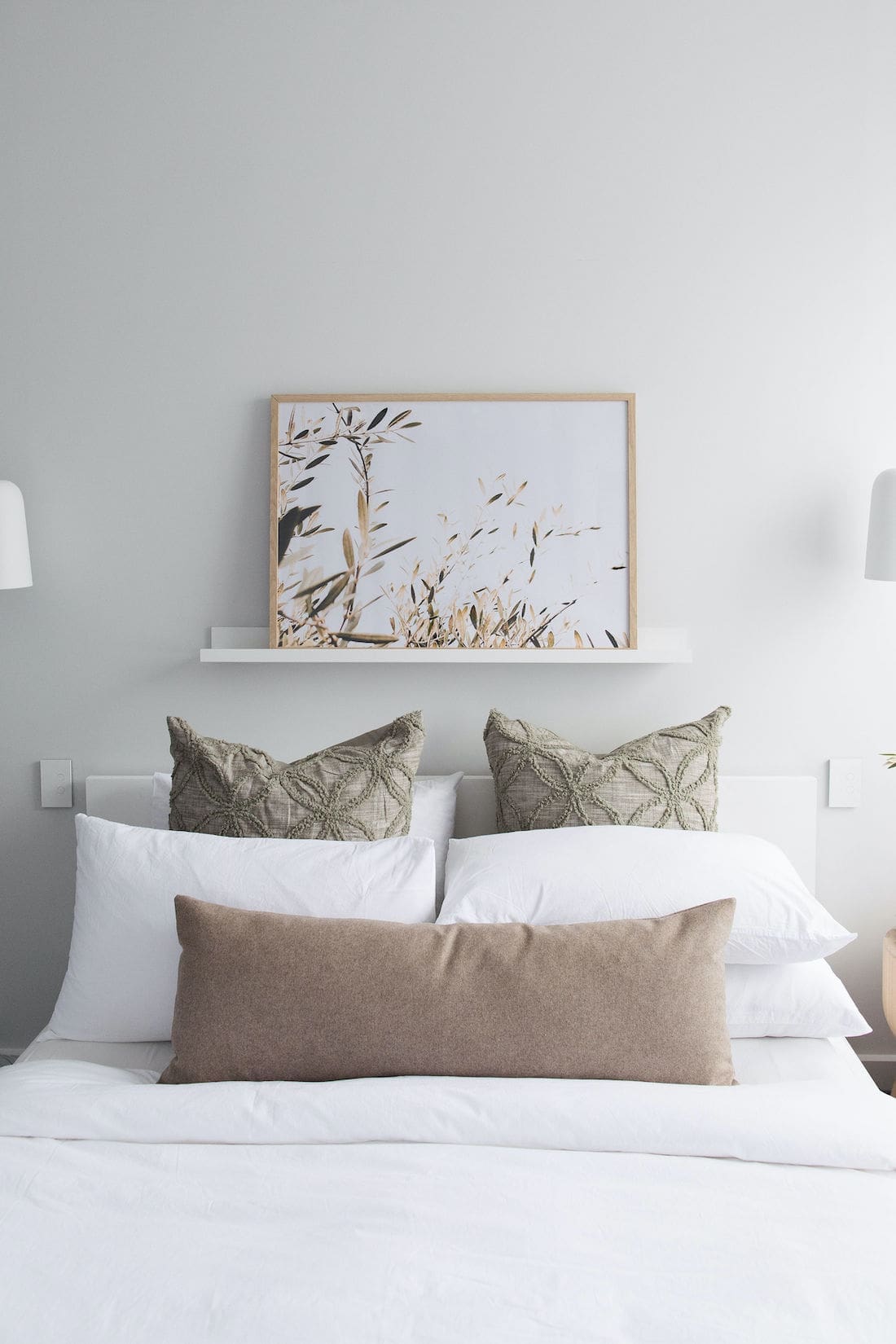 39. Ceramic vessels or sculptures
We have a serious obsession with ceramic pieces and who can blame us?! In brightly glazed or unglazed natural clay, there's something so special about the handmade beauty of ceramics. Find a functional piece, such as a candle holder or bowl, or you could simply pick up a sculpture for arts sake.
40. Floor runners
Ok, so this one is similar to rugs but because they're so overlooked, we felt it deserved its own point. Hallways, the area between your kitchen and island, in your laundry or beside your bed can be softened with a floor runner. It's another great way of introducing texture and pattern to a room.
41. Coasters
Coasters are often thought of as only being a practical item but gosh you can find some stylish ones around now — they're so pretty, you'll want to keep them on display 24/7! Agate coasters or marble are still our faves but timber or concrete are close seconds.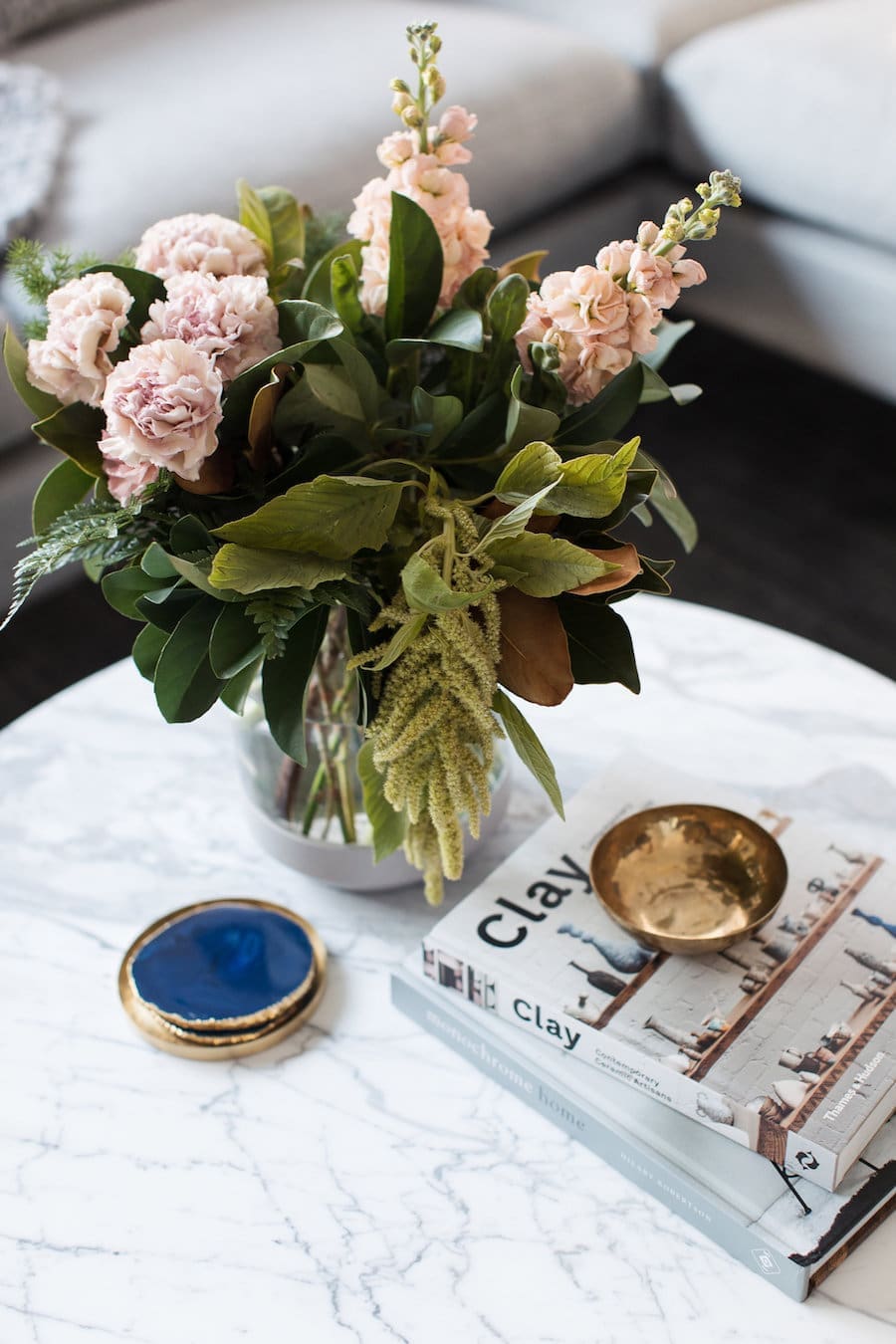 42. Decorative box
Similar to the canister idea, a decorative box made of any material can serve many uses and look great in almost any room of the home. Find one in a material to complement your interior style, such as a luxe marble or glass one or natural timber box for an earthier vibe.
43. African Juju hat
If the global, coastal or wanderlust style is your thing, a juju hat could be the hero of the room. We adore the texture they bring to a space and just check out how fab it looks in Lana's home below. Take the full home tour here.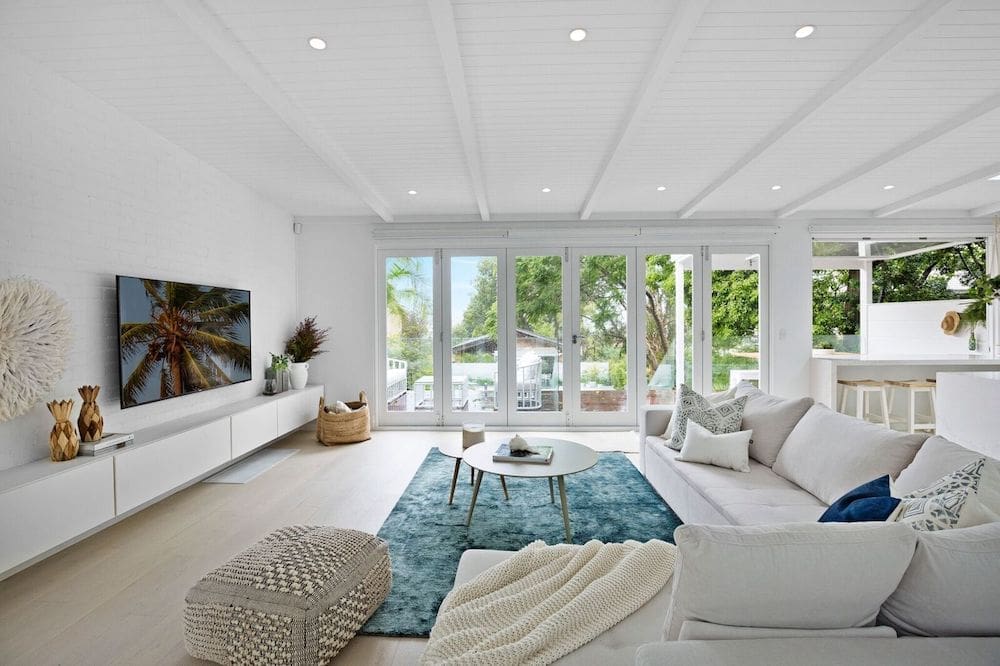 44. Globe
In an office or bookshelf especially, we love the idea of a world globe. Find them in big or small sizes, in antique look or modern styles, there's sure to be one out there to suit your space.
45. Glass cloche
You know you're getting fancy when you add a glass cloche to your home, ha ha. Seriously though, they instantly elevate any styling and are so affordable! While these glass domes are most commonly used over a candle, you can also place a plant underneath or an intricate object you don't want to get dusty, such as a piece of coral.
46. Cowhide
We know this one won't be for everyone but cowhides can introduce an earthier element to a space in a way that most rugs can't. Interior designers often use these in smaller or awkward spaces such as a study nook as you can see in the pic below.
47. Hourglass
Popular in an office or bookshelf styling, an hourglass is an elegant and timeless (see what we did there 😉 ) home decor item that's worth adding to your shopping list! Our favourite place to shop these is Temple & Webster — they have the largest and most affordable range in Australia!
48. Pot plant stands
A firm favourite of ours are pot plant stands. Available in all sorts of sizes, colours and styles, these are a way of casting your eye upwards in a room. This is another item of home decor we've bookmarked Temple & Webster. No matter your budget or taste, you're sure to find one to love!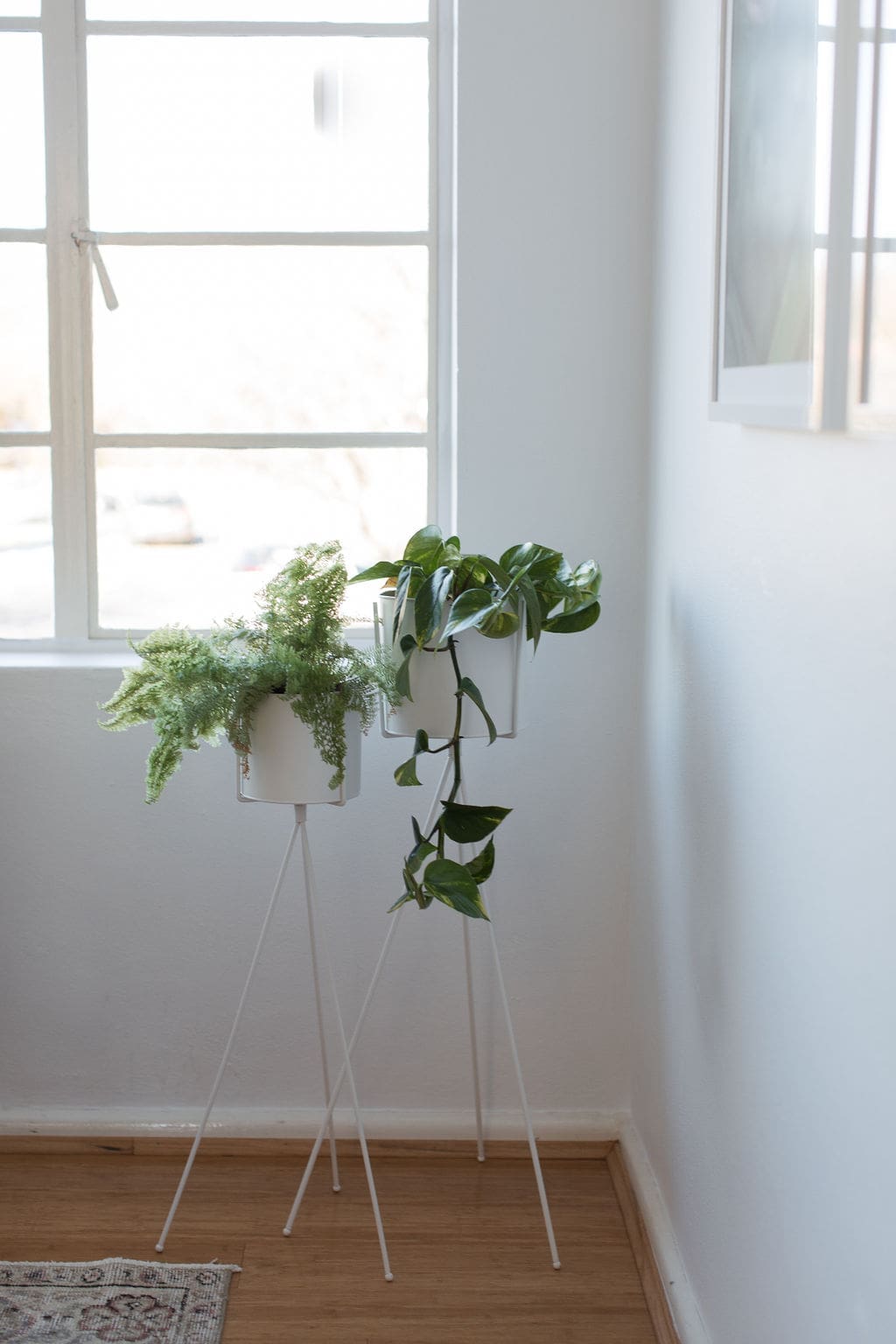 49. Wick trimmer or candle snuffer
If you're creating a styled arrangement with a candle, a nice low element to use is a wick trimmer or candle snuffer. There are many styles and different finishes so look for one to tie into your theme.
50. Watering can
This one probably sounds funny at first but hear us out! With indoor plants being more popular than ever — and we know a trick to keeping them alive is to stay on top of their watering schedule — it makes sense to have a stylish watering can on display so you're reminded to give them a drink!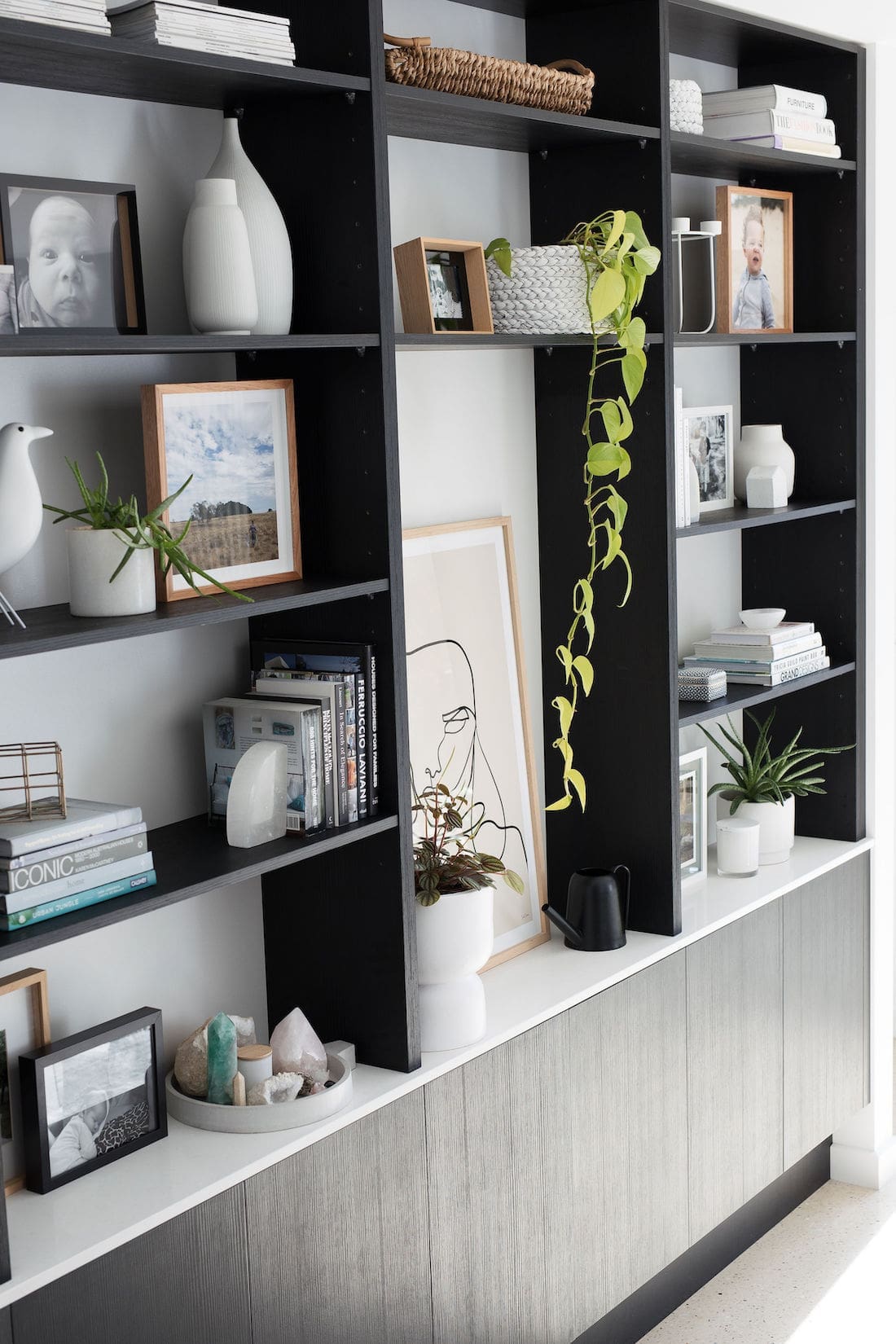 We hope our list of the 50 top items in home decor helps you! Do you have another top home decor item that hasn't been listed? Share it in the comments below!
Disclaimer: This article was originally published in October 2014 and has been updated with new information and images. The original list of the 50 top items in home decor is below. This post also contains some affiliate links. This means that when you click on a link and purchase something from that site, we may make a small commission at no extra cost to you.