Over the coming weeks, we're excited to share the stories of some of Australia's most talented emerging artists thanks to Bluethumb, Australia's largest online gallery.
The first artist we're profiling is Marnie McKnight. If her name sounds familiar, you may recognise her from a feature we wrote several years ago about milkcart, the contemporary and Scandi-inspired furniture label she started with her husband.
Related article: The experimental textures of abstract artist, Jessie Rigby
Related article: How to design a room around art: Using statement art in the home
She explains her journey to becoming an artist.
"For a long time, I was treading water in meaningless jobs but that changed when my husband and I started to design and create small furniture. It was hugely successful, and sparked a return of my creative tendencies.
"He encouraged me to start dabbling again, so I used a small section of our workshop to paint some starter pieces and one night, he showed two small works to our friends at a dinner party. They immediately ordered some for their shop and it kind of snowballed from there. I was quickly able to leave our little furniture company and am now lucky enough to be a full time artist."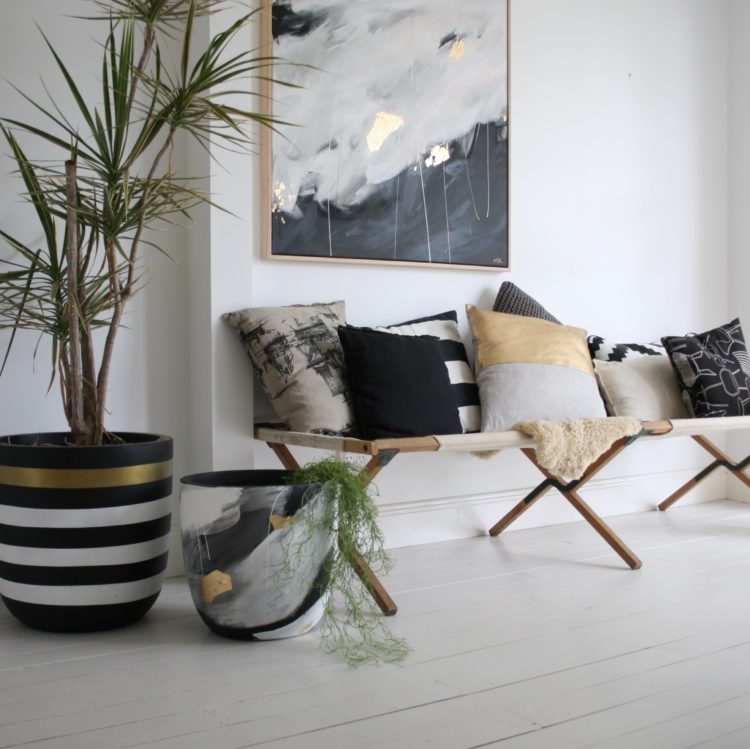 Her love of art started at a young age though.
"As a child, I would spend hours drawing and painting, and even sold some artworks as a teenager, however never really considered making art a career.
"When I was younger, I always worked with pencil, ink and watercolour and focused on images of houses and the human form but when I launched as an artist last year, I decided to use painting more as an emotional vehicle and that led me to abstract work and layers upon layer of acrylics.
"Since then, I have already seen my style change. A huge shift came when I moved out of the shared workshop and into my own studio space, where I feel calmer and believe that my mood translates into my work. I am also currently experimenting with minimal lines representing the female body over the chaos of my signature abstract background, echoing my early days of pencil sketches."
Marnie says her preferred media these days is primarily acrylic paints and gold leaf "But I often test my limits by leaving the canvas behind and painting furniture, clothing or pots… or any other available surface."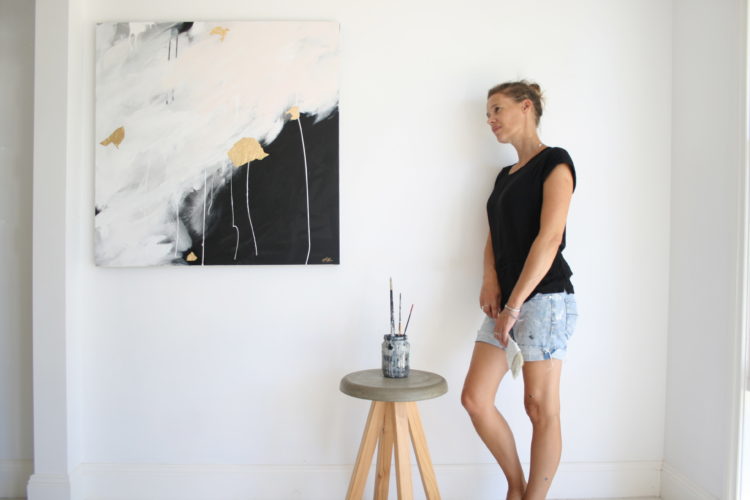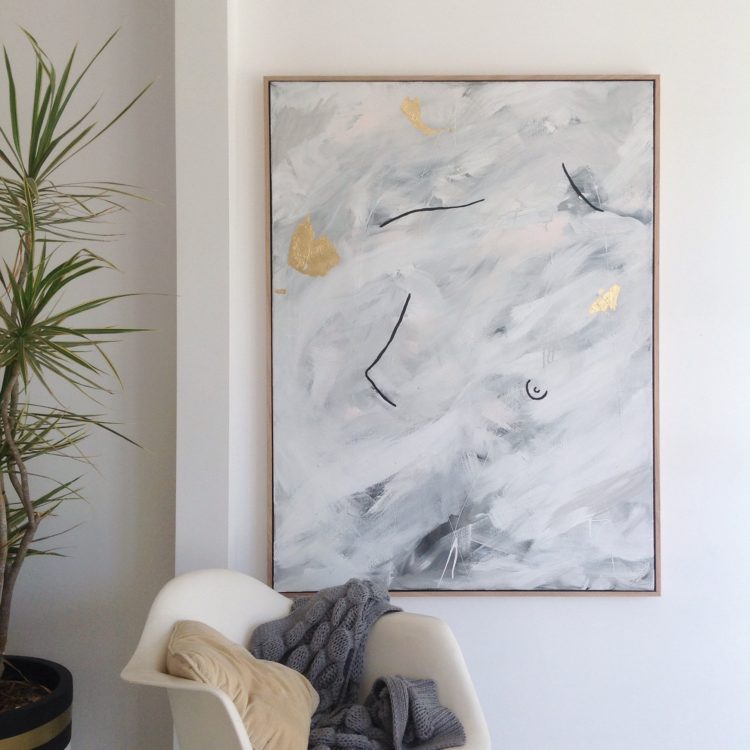 "Inspiration comes in many forms, from cloud formations, to the swirl in my coffee cup, to visual aids like Pinterest or Instagram. That said, I am more influenced by capturing feelings and emotions rather than images.
"I am trying to live a simpler, more positive life and aim to convey that in my art with simple palettes and flashes of fun and light."
We asked why she joined Bluethumb and what it has meant for her career as an artist.
"It's such a great platform for an emerging artist like me to get my name out there. Not only does Bluethumb provide a great website where anyone can discover all types of art but they promote and support the artists too.
"Already they have enabled me to collaborate with huge brands, connected me with other artists and designers, and brought my art to a much larger audience."
And on what she loves most about being an artist?
"The freedom. Not only do I honestly love what I do, and am constantly shifting my goals to challenge myself, I can also simply be there to pick up my kids from school (usually covered in paint!)."
You can browse the collection of Marnie Mcknight paintings on Bluethumb here or connect with Marnie on Instagram.