Art is extremely personal. It can bring contrast, interest and emotion to a room. But sometimes, the story behind the art is just as special as the piece itself. And as talented textile artist Monica Henry shares, her area of creativity is a form of beautiful, colourful therapy. It is art as meditation.
We explore more about this interesting idea and discover Monica's textile pieces that are full of life, colour and pure joy.
Related article: Weaving magic through her art: A chat with Australian tapestry artist Lee Leibrandt
Related article: Uncovering the unique woven wall art from Studio Nom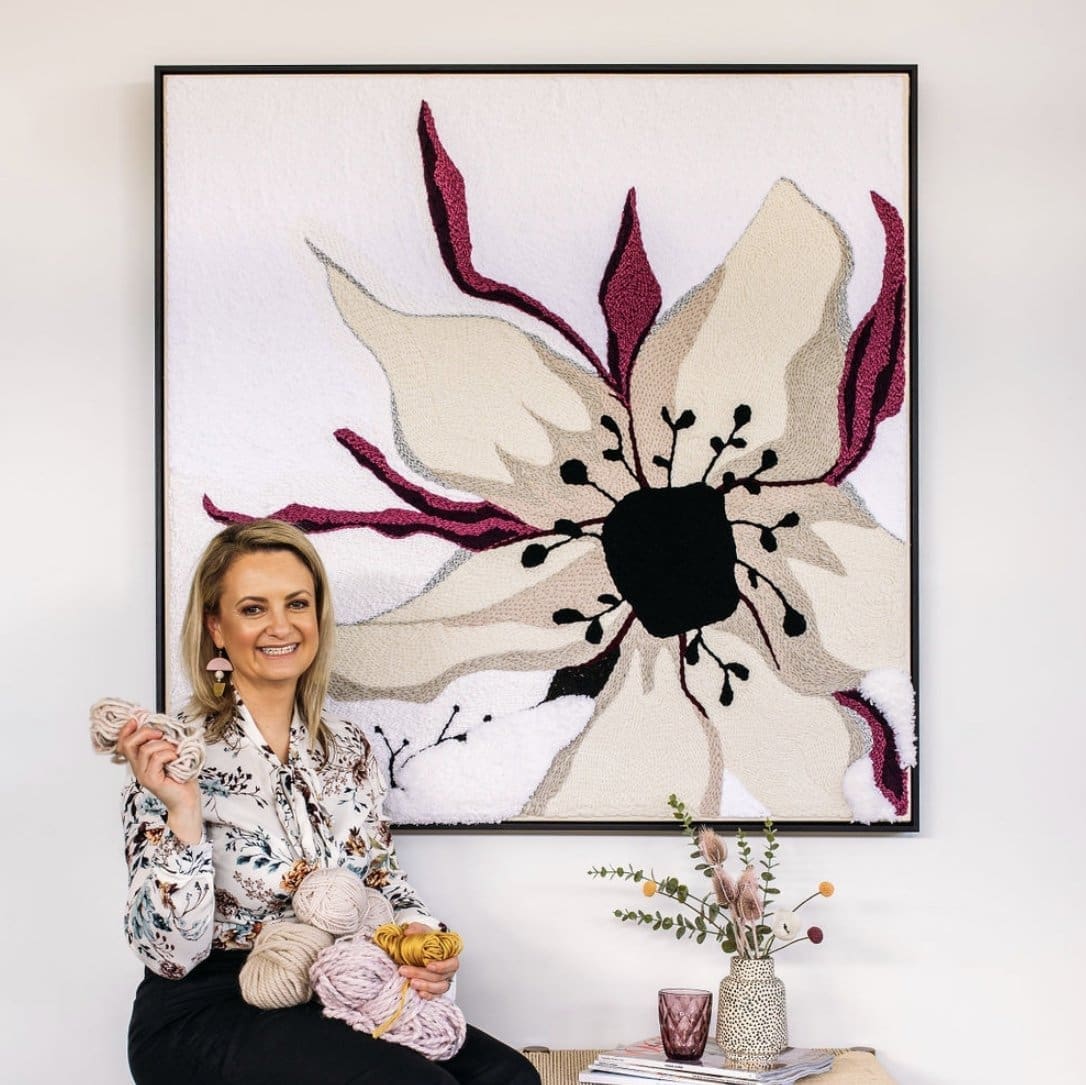 A life change saw textile artist Monica Henry focussing more on her art, in a time that was peppered with stress and difficulties.
"I'm a textile artist born and raised in Geelong, Victoria. I lived in Japan and Melbourne for a number of years but once our second child was born, we came back to Geelong," says Monica.
"I'm a Mum to two boys, ages 8 and 6 so that in itself keeps me busy! Then, in 2019, after a 13 year stint in government, I decided it was time to spend more time on my art career. I also work in my husband's advertising and media business.
"Like for so many, 2020 threw a massive curve ball at us. Much of the work in our business was dependant on crowds, so having my art was incredibly helpful.
"At the beginning of lockdown, I was incredibly fortunate to start selling my pieces with Greenhouse Interiors. As many of us were working and spending more time than every before at home, there was an increase in art sales. It seemed like people were keen to make their homes feel more beautiful and homely. This was hugely exciting for me and an opportunity I grabbed with both hands.
"I feel like my art really has progressed from here and I'm excited to see where it might lead me in the future."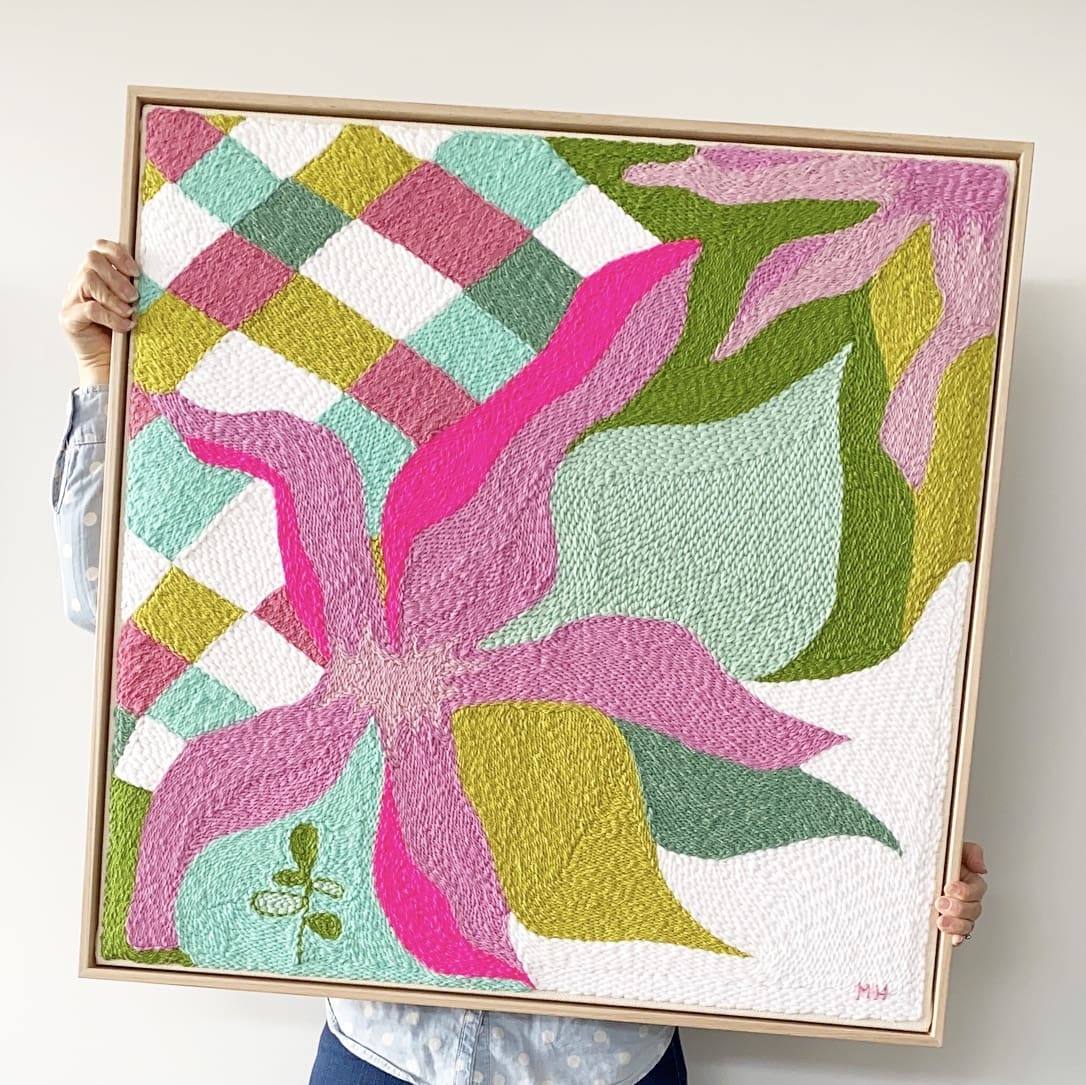 An artistic-form that's lesser know in the art world, we feel like tapestry art is having a moment right now.
"I've always been creative and have worked with some type of medium, whether that was paint, photography, flowers or clay. I've always loved trying new things.
"About 3 years ago, I really wanted to do something different that no one else was doing. I came across a cushion on Pinterest when I was looking at colour palettes. After doing a lot of research and experimentation on its technique, I knew I wanted to go large scale, but hang it on a wall like you would a painting.
"My first tapestry piece was massive — 1.8m x 1.2m! It was very ambitious, but I loved it straightaway. And I knew right then and there, this was exactly what I wanted to keep focusing on," smiles Monica.
"I also found out my great-great-grandfather used to make rugs using the same punch needle technique which I thought was quite special."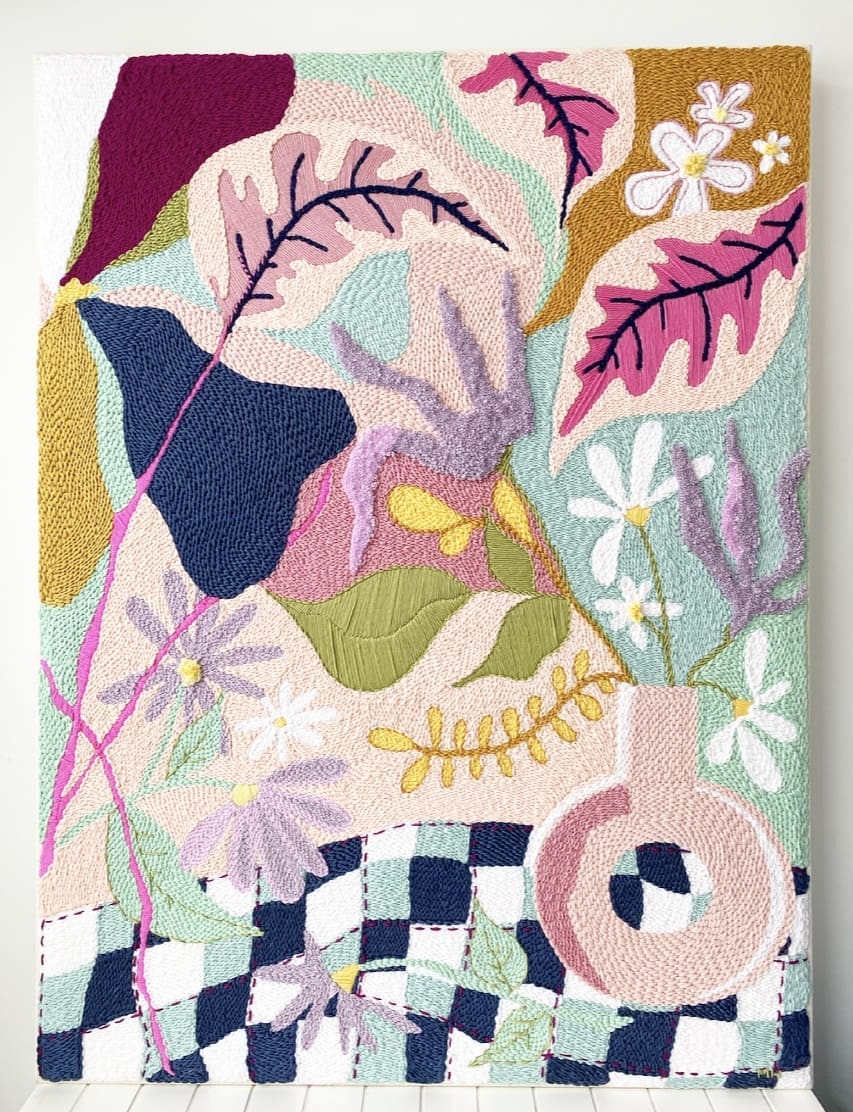 A common theme runs through Monica's works as she draws inspiration from nature and botanicals.
"When it comes to a new piece, I generally start with some sort of idea in my head, but often I work more intuitively. My frames are made locally, then I stretch them myself using 100% linen. Sometimes I lightly sketch an idea on the fabric first, then choose my wool and yarn and away I go!
"Some of my larger pieces can take up to 60 hours to complete. It's very satisfying finishing and getting them framed and up on the wall.
"When it comes to my ideas and inspiration, that comes from all around. I often go for a walk, take photos of plants and flowers and implement their shapes or colours into my pieces.
"As a family, we love to travel so I'm always on the lookout for inspiration when we're exploring somewhere different. We recently got back from a trip to Queensland and I took so many photos of all the tropical plants!" laughs Monica.
"I have a feeling these will play a big part in my next range. I love playing with big pops of colour, however I also like paring the colour right back and working with more of a neutral palette. It depends on what mood I'm in as to what colours I like to use."
Working in the family business, juggling life as a busy Mum and finding her feet during a global pandemic, art has become more than just a job for Monica.
"My art is more than just work. Like I said before, to me… it's a form of meditation. My life can be so hectic running after two young sons, doing all the admin of our family business as well as the day-to-day household jobs.
"I also absolutely love it when my pieces find their forever home. It truly is the biggest compliment an artist can get," smiles Monica.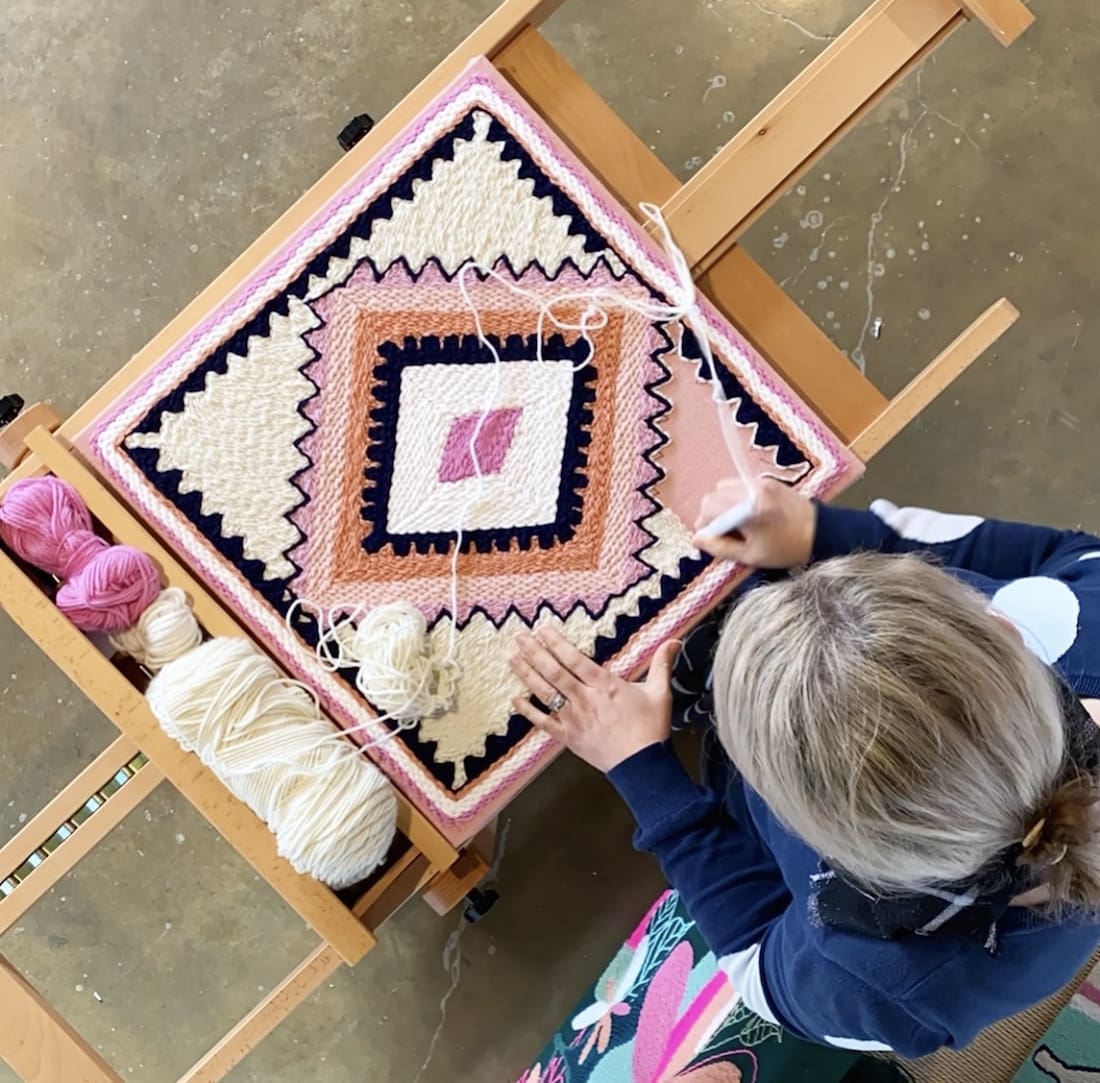 What's refreshing about Monica, is she tells it like it is. Her journey to becoming the artist she is today included knock-backs, determination and even changes to her creative style.
"Don't give up on yourself! Experiment, experiment, experiment. If art is where you see yourself, just keep going. Take different classes, learn from others, research by yourself. It can takes years to find your niche and even then, your work will continue to evolve.
"I've been an artist for over 20 years so I know it doesn't happen overnight! It takes hard work and determination. A real career highlight for me was being represented by Greenhouse Interiors. It was a dream come true when Julia contacted me. But I'm not going to lie… I had previously been knocked back when I was using a different medium," explains Monica.
"But I knew what I wanted and I knew I needed to work hard to get there. I like looking back to where I first began to see how far I've come. I'm proud of myself for never giving up. I'm grateful every single day to have this opportunity and continue to work hard because I love what I do.
"There have been times when I've felt the need to step away for a little while and I think it's important to allow yourself a break if you need one. When I do and feel ready to come back, I return feeling refreshed and full of new ideas.
"Another huge piece of advice is never try to replicate someone else's work. Originality is key and I think this shines through both in your work and in you as a person."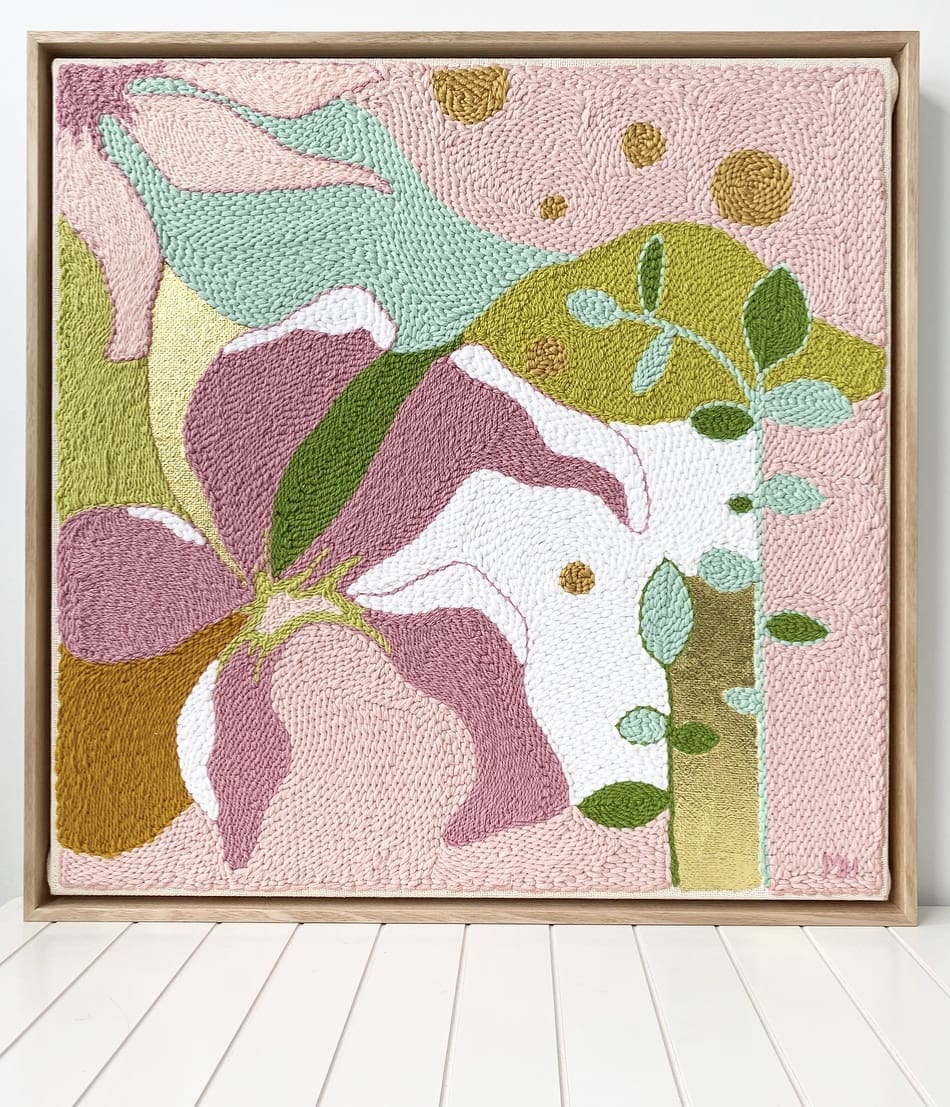 We love the idea of art as meditation, and thank Monica for sharing her creative world with us. To see more from Monica Henry, take a look at her Instagram, website or view her collection on Greenhouse Interiors or Vernissage Gallery.