That title should actually read 'Need to decide on ensuite design and finishes… HELP!'
You all went above and beyond when I asked for your help to plan my kitchen! Your advice was invaluable — giving me the guts to lock in marble bench tops (hooray!), warning me of design mistakes to avoid, sparking new ideas and so much more!
And now I need your help again…
It's time to design the ensuite and select all the finishes — tiling choices, layout, tapware, basins and bath, lighting.
Here's the floor plan of the space. WARNING: It's pretty tight!
Related article: Kitchen planning: See Gina's kitchen ideas
Related article: Bathroom planning: Deciding on products and finishes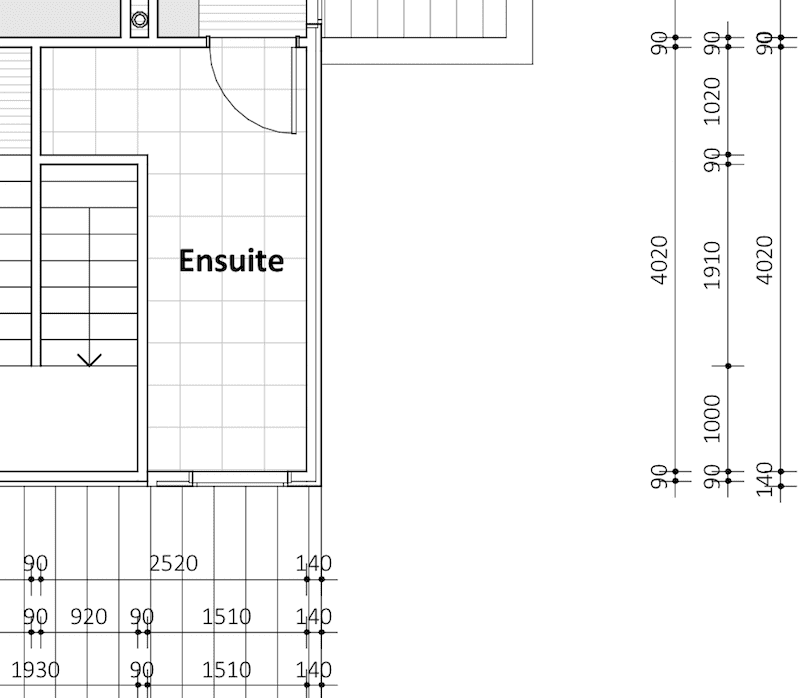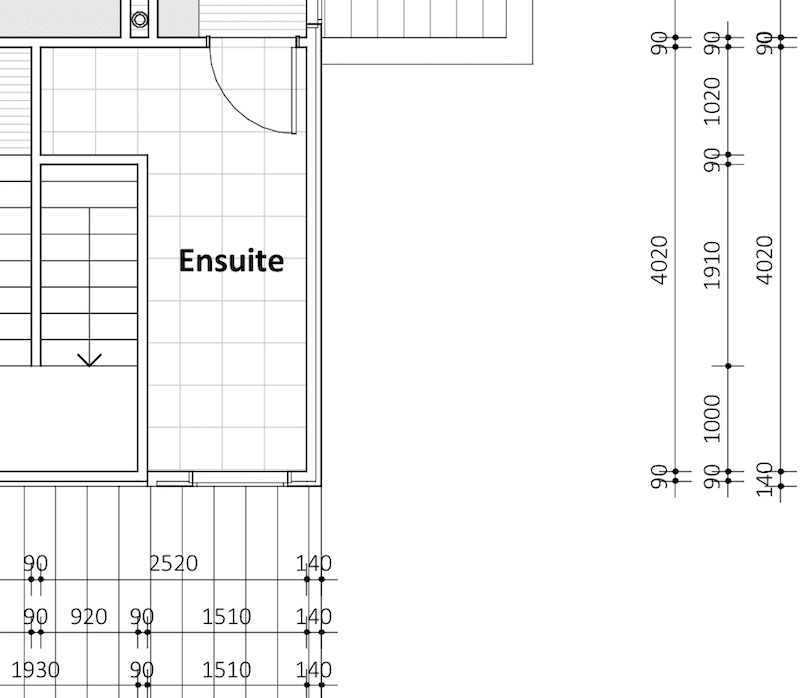 And for people who are more visual, I've had a go at creating the space in 3D (I have used all-white finishes — this is just to give you a sense of the layout and space).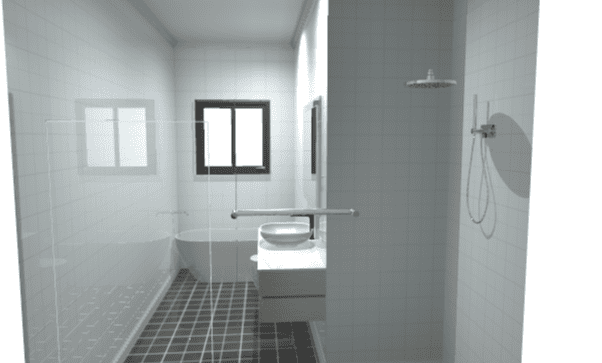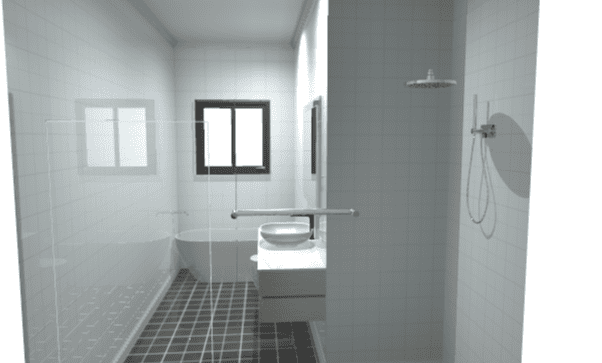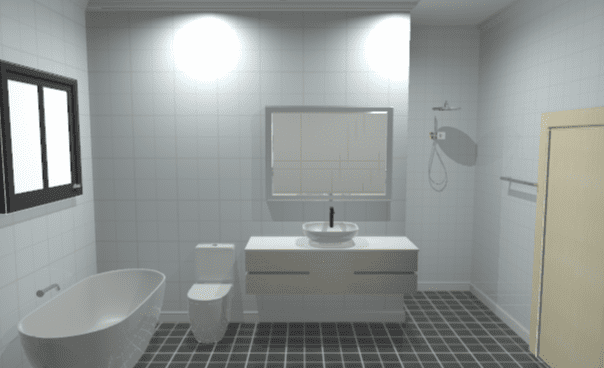 At this stage, we're working with a blank slate — nothing has been selected other than wood flooring in the master bedroom.
The challenge
1. Tiles — what tiles to select, how many different types of tiles to combine, where to have feature tiles (if any)?…
2. Layout — where to position the bath, vanity, shower and toilet…
3. Vanity — what kind of vanity to have, single or double basin, surface of vanity?…
4. Tapware — copper, black or something else…
5. Lighting — hanging pendants, down lights, under cabinet lighting…
Selecting tiles
Types
Feature wall
This is probably the decision I'm finding most difficult. And the problem is having too many ah-mazing choices!
I have always loved marble penny round tiles and thought for sure they would be the feature tile in my ensuite (see picture B below)… but then Dee delivered that breathtaking ensuite and I was like 'I'll have all of that!', ha ha.
Here is Dee's ensuite again if you missed it.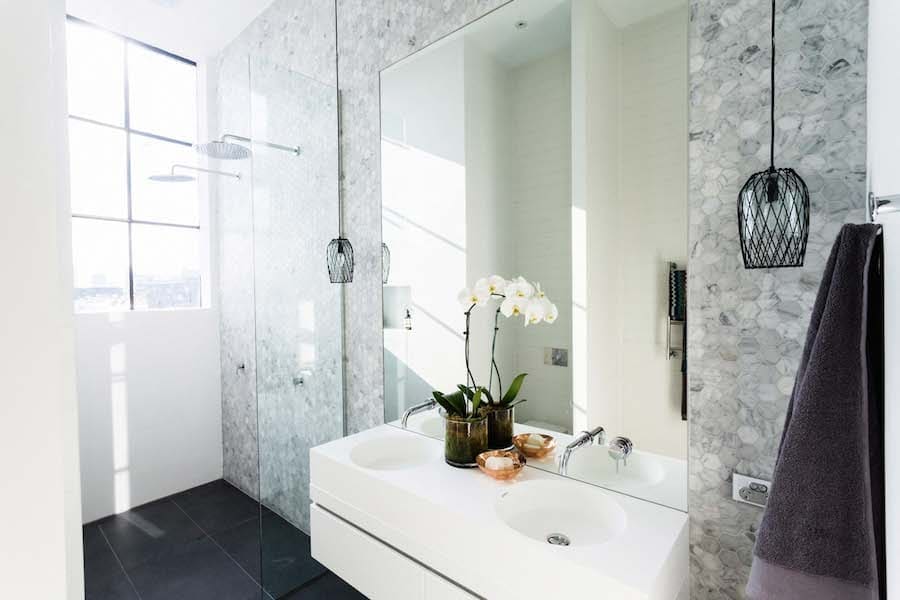 Instead of penny round marble tiles, she has used larger hexagonal marble tiles. What do you think is the better choice for a timeless ensuite?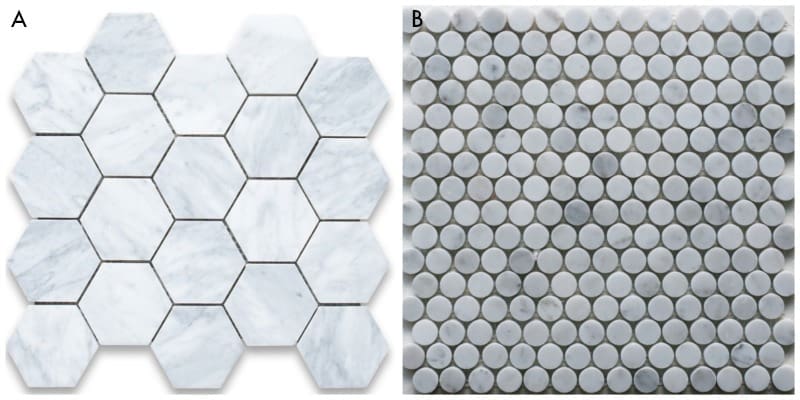 Loading ...
Other walls
For the other wall tiles, I thought a simple white tile would be best — if you know of the perfect white tile, please link to it in the comments below or describe it to me… size, finish and that sort of thing.
Flooring
If I have a marble feature wall, I thought a grey floor tile would be best (similar to Dee's ensuite above).
The other option is to use all white wall tiles and use the marble tiles on the floor like this bathroom.
What's your preference? Feature marble wall tile or all white wall tiles and marble flooring?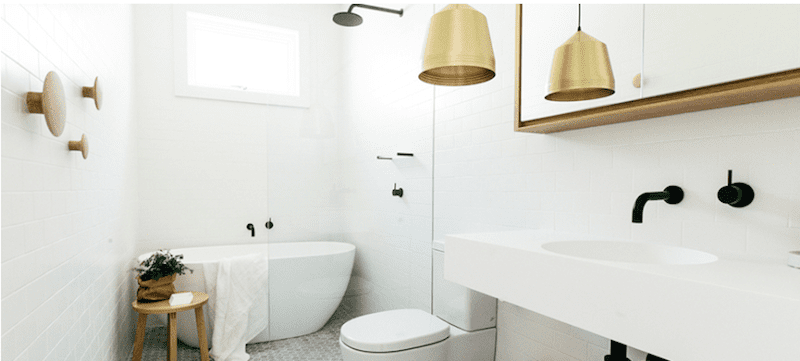 Positioning
Tiles
Sooooo… if I have a feature wall, there are a few options that I've highlighted in the images below.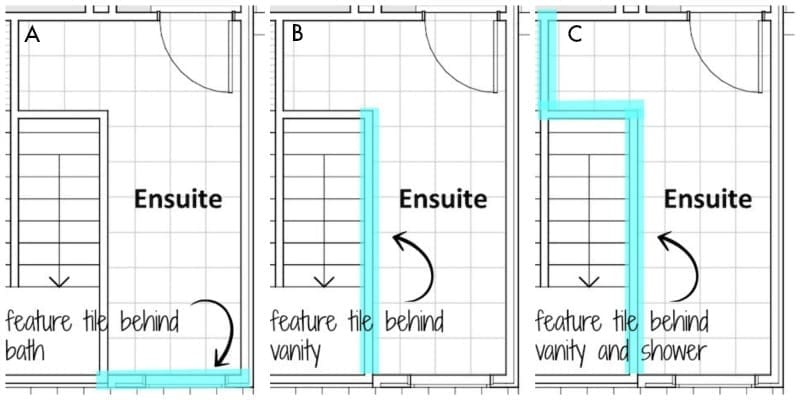 Loading ...
Ensuite layout
Our ensuite is only 1.5 metres wide which can just squeeze in a bath.
This is the best layout I can think of if we decide to include the bath. Do you have other suggestions of how I could layout our ensuite to maximise space? Or do you think it's better to only have a bathtub downstairs and have a larger vanity?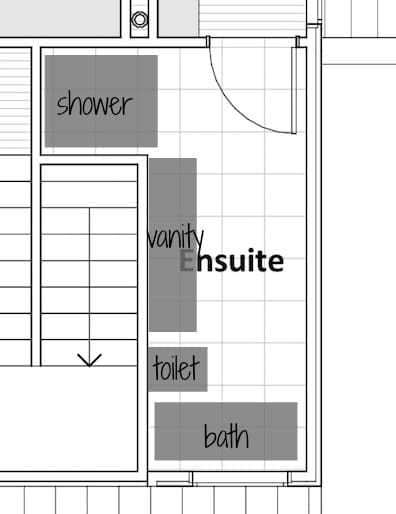 Vanity
It seems all-white, matt vanities are the look right now… both the bathroom inspiration photos above used them, but I have been warned they are a pain and a half to clean.
Has anyone got a matt white vanity? How have you found cleaning?
Another option could be to have a white vanity with a wooden top like Carlene's bathroom below.
What type of vanity would you recommend? Tell me in the comments below.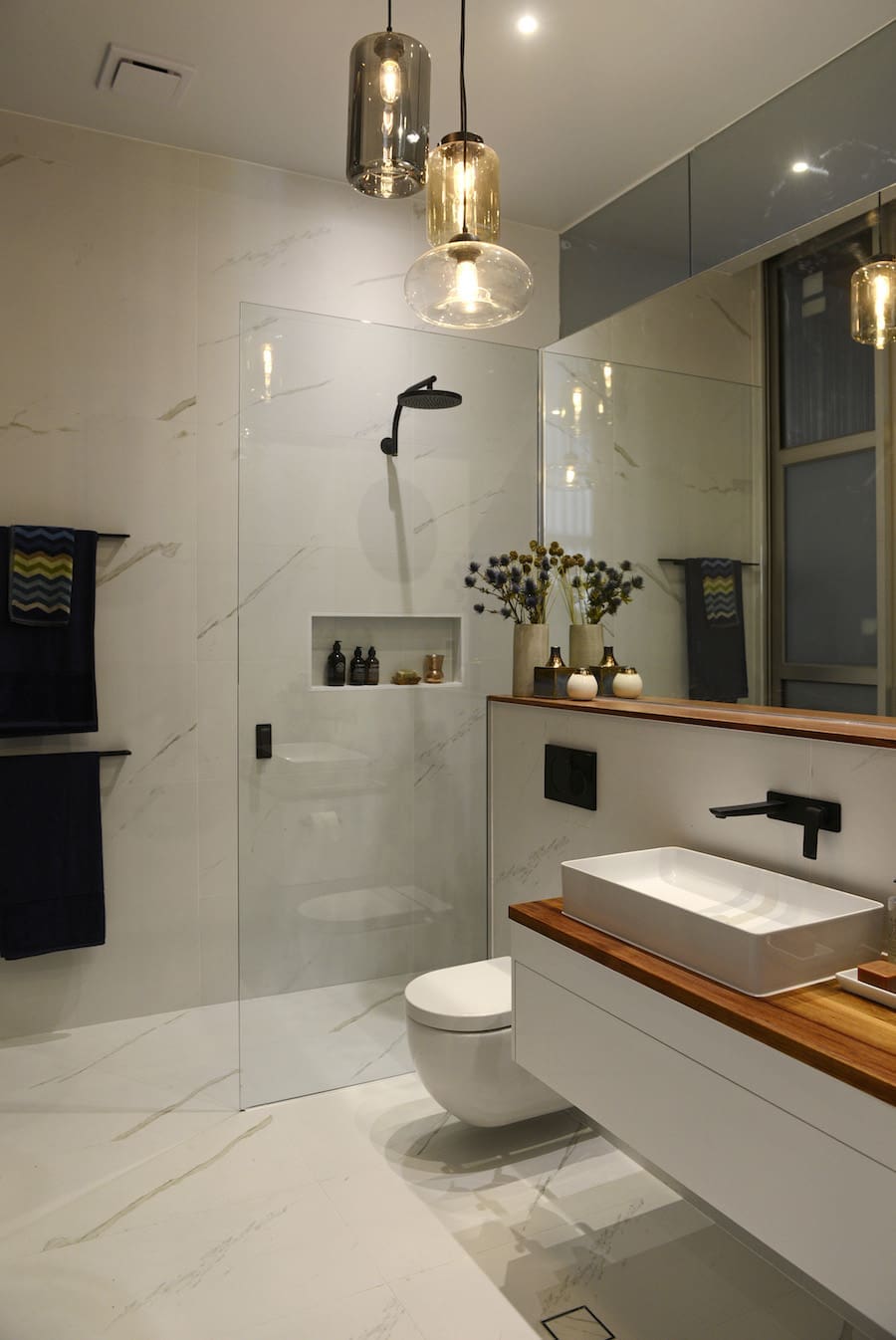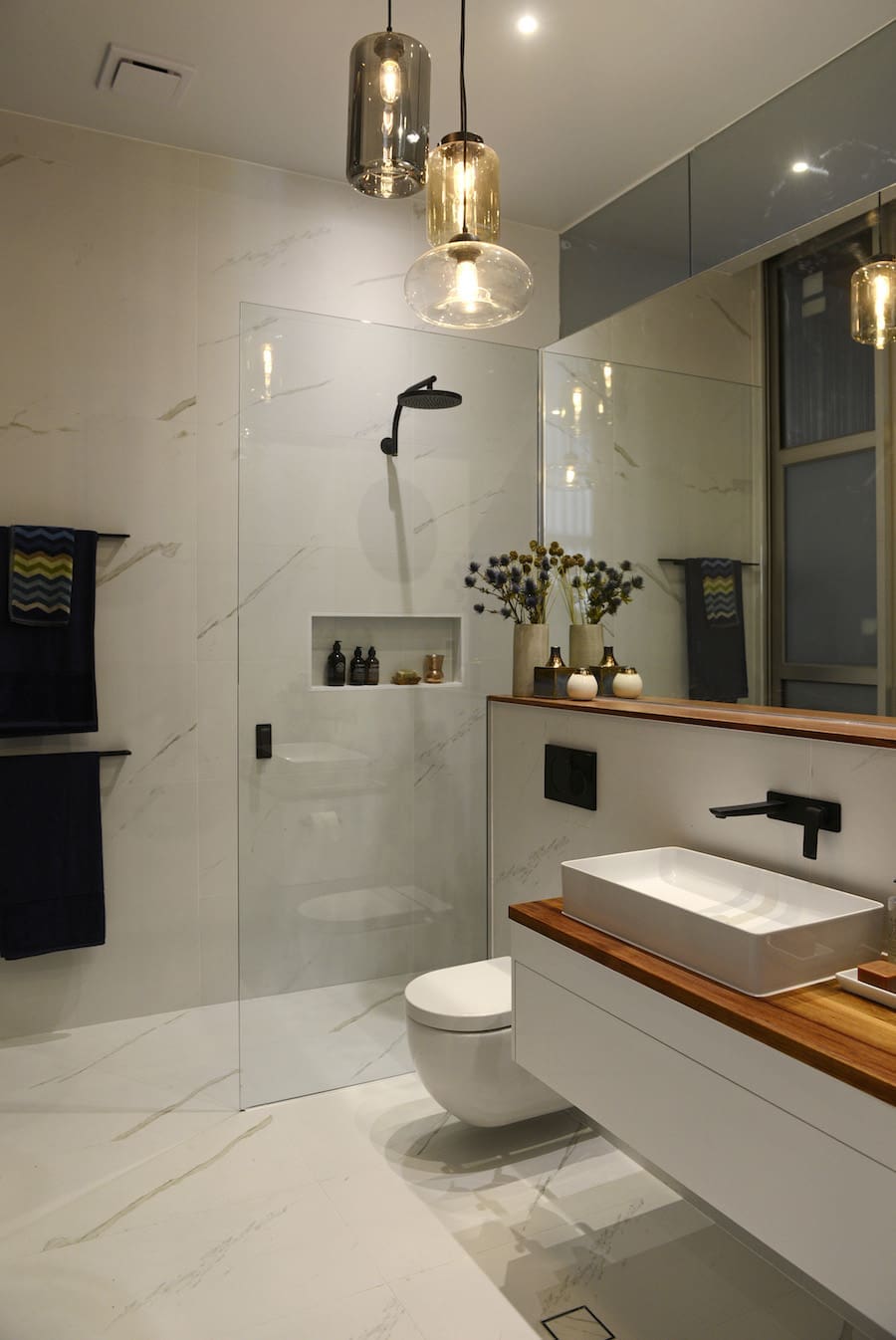 Tapware
OK, this choice is easy! I have found two stunning options so it's a simple A B vote.
Loading ...
If you've seen even hotter tapware than these two, please tell me in the comments below.
Lighting
If my dream of getting a glass ceiling above the bath comes true, I was thinking a downlight in the shower and hanging pendants by the basin would be plenty of lighting… possibly also some LED lighting under the vanity would look cool too.
Can you help me with my search for pendant lights? I love all things metallic but black could also work as our window frames are black… Would love to see any pendant lights you find, please link to them in the comments below.
The one thing I'm sure of…
If we do have a bath in our ensuite, which I'm 99.99% sure we will, I have found the perfect bath!
Most baths won't fit in our ensuite — we can only squeeze in a 1.5 metre wide bath — so I was doubtful we'd have one. But then, I discovered this baby…
This freestanding bath is from British brand, Clearwater, and is made from stone composite. It might not look like much in the photo but when I sat in it, I was sold! Bruno freaked a little when I told him it's the bath I want (it's a little pricey) so now I feel like Two Broke Girls needing to start a savings tally until I can afford it!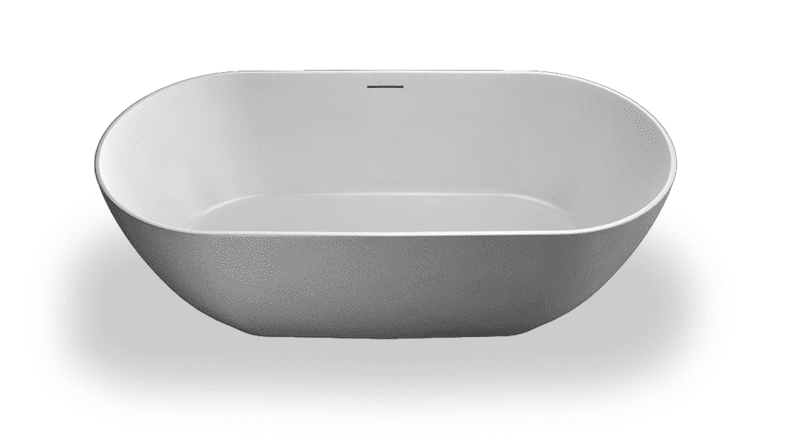 Phew, this has been an epic post, thanks for making it to the end… I know I'm asking for a lot of help here! Any comments, votes or suggestions you provide will be seriously appreciated. I read every comment! Thank you, x
Update: Room reveal
Huge thanks to everyone who voted and commented to help me design our ensuite. All your advice was so helpful and I'm excited to share our finished ensuite here!