In just a few weeks, our house will be fully sheeted and it will be time to install our kitchen, bathroom, ensuite and powder room… that means it's time for me to take the leap from my mood boards to actually locking in decisions and selecting all the products and finishes! *Freaking out*
This week I'm going to publish a post about each of these zones to show you what I'm thinking/have-already-locked-in-so-please-don't-tell-me-you-hate-them!!
Starting with the bathroom…
Related article: Where I started when designing and building our new home
Related article: Kitchen planning: See Gina's kitchen ideas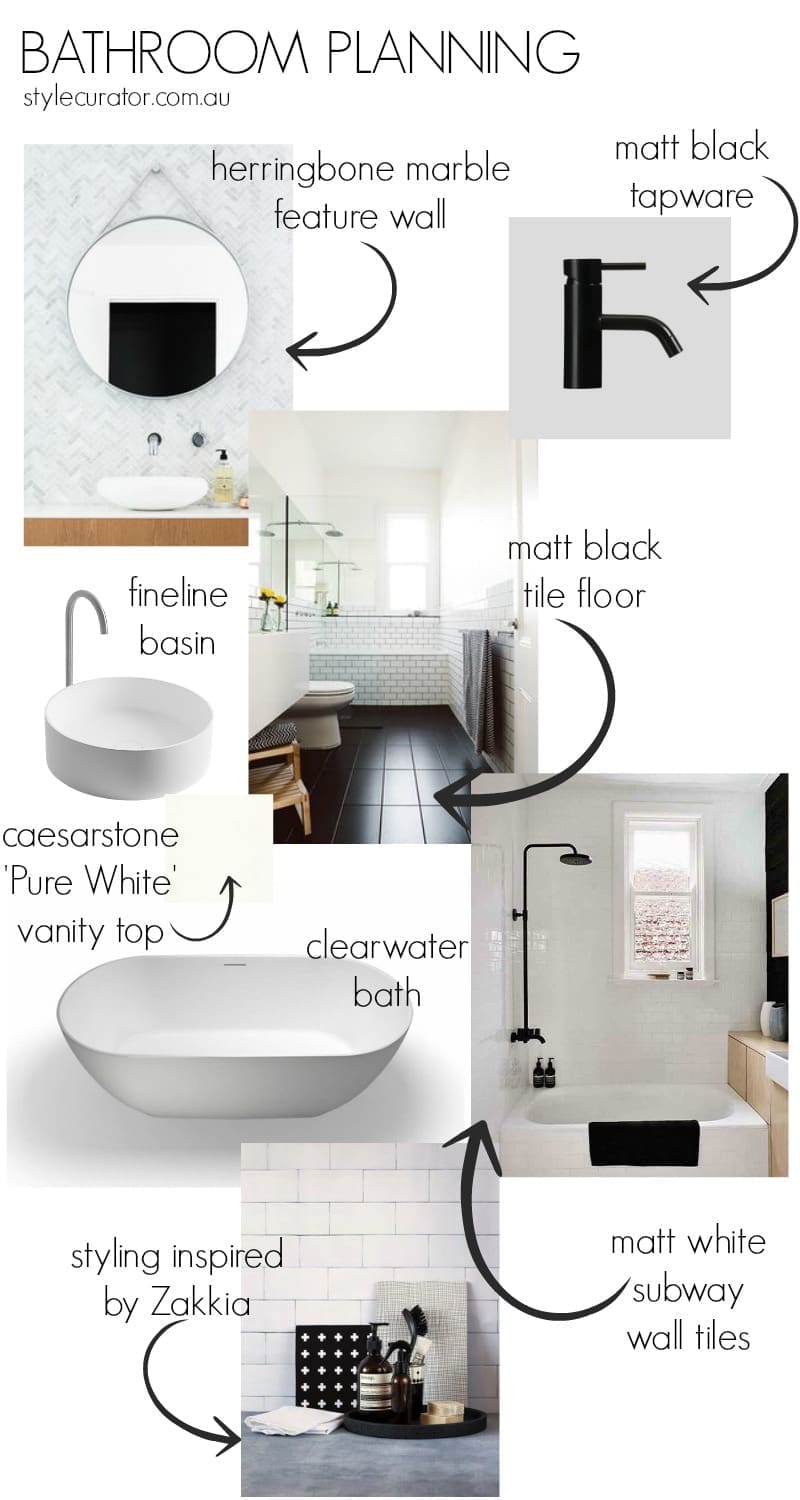 So many of you came to the rescue when I asked for your help to plan my ensuite (I'll show you what I decided for that space later this week) and I used many of those ideas to plan our bathroom.
I love marble tiles and this herringbone pattern is a bit different to the hexagon and penny round tiles we're seeing so much of at the moment. For the other wall tiles, I decided on a simple matt white subway tile — to me black tapware and subway tiles is a match made in heaven!
The Fineline basin is also matt and I'm thinking of sitting it on a vanity made of natural oak with 'Pure White' Caesarstone top.
Sadly, that Clearwater bath I love so much won't fit in our ensuite upstairs anymore so it will go in our bathroom instead (I even looked at putting the bath in our bedroom but it wasn't doable with plumbing) 🙁
We went a bit overboard in the shower — double ceiling showers and double hand-held showers all in matt black. And I love the slimline Parisi toilet we found.
What do you think of these bathroom choices? Do you have any other favourite bathroom looks? Share them in the comments below!