Supported by Godfreys
If there's one appliance I use more than any other in the home, it's the vacuum cleaner!
With a Rottweiler and toddler at home, trying to keep my floors clean feels like a losing battle. So I was thrilled to be asked to test out the Vorwerk Kobold VK200 vacuum cleaner. This vacuum cleaner is said to offer outstanding cleaning results and I was eager to put it to the test!
Like all product review on the blog, I'll share the key benefits, my favourite features and any cons.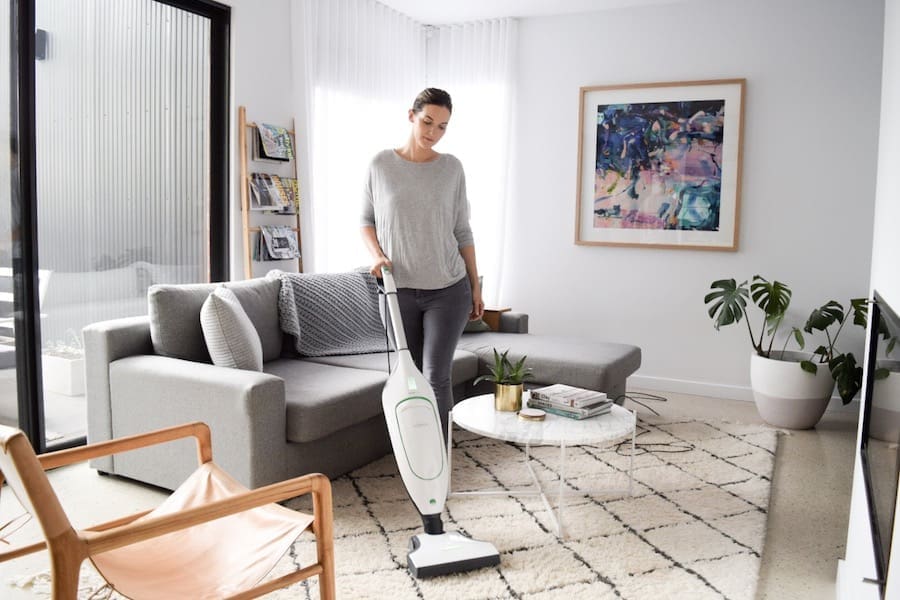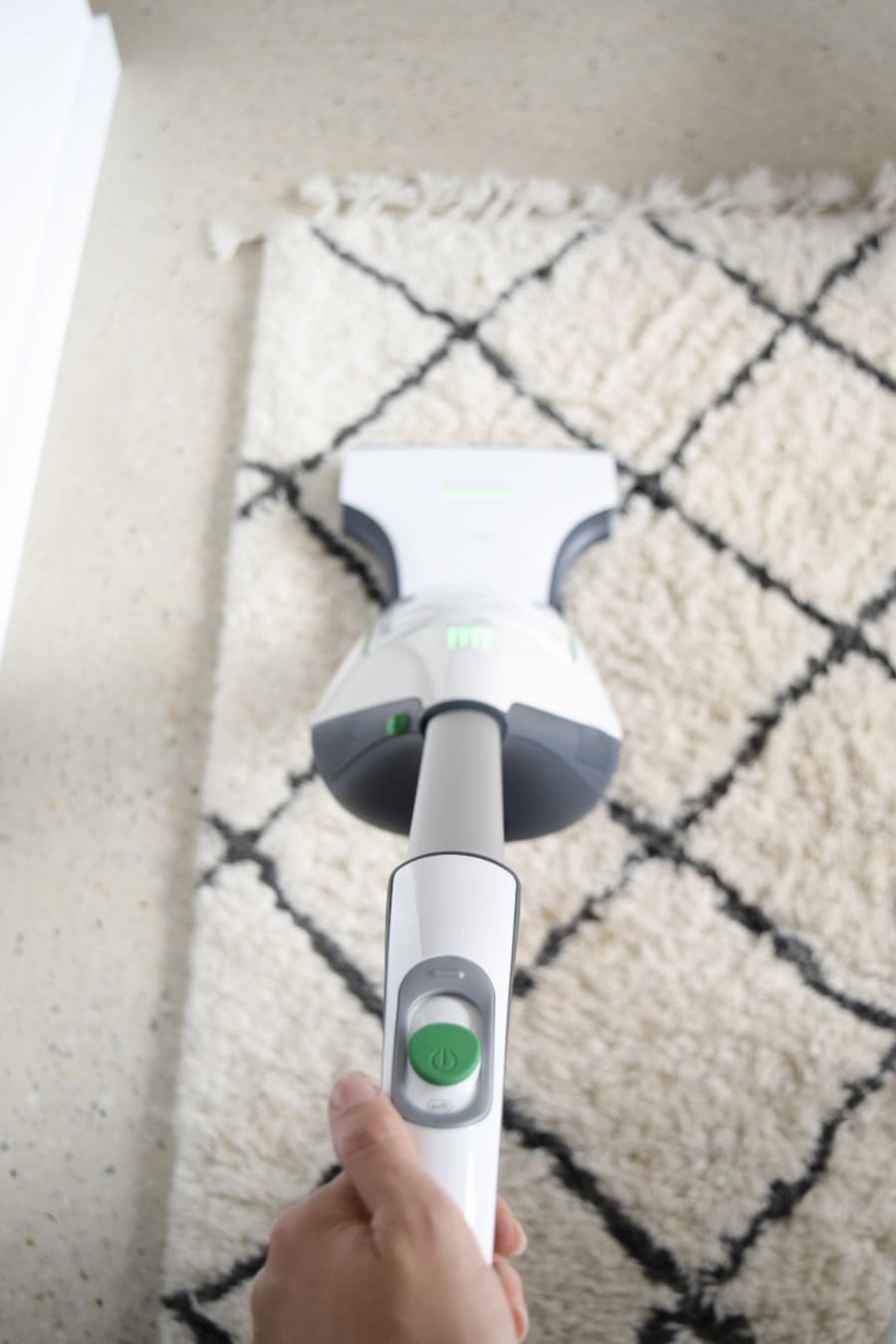 First impressions
My first impressions of this machine were 'Freakin' amazing' – I've seriously never experienced cleaning like it and I thought my old vacuum cleaner was supposed to be as good as it got. It's left for dead behind the Kobold. Even my husband said 'This vacuum cleaner is [*censored*] next level', ha ha.
I first tried the vacuum cleaner on my polished concrete floors using the hard floor head and was blown away by the intense suction power.
With any vacuum cleaner I've used in the past, I would be happy if it picked up everything in the area I would immediately vacuum over but sometimes I'd need to go back over certain sections a couple of times – not with the Kobold. This machine perfectly cleans the area it runs over first time PLUS has such strong suction that it also pulls in dirt and hair in an additional 20cm radius around the vacuum head. It's unbelievable!
Just when I thought I couldn't be more impressed by the machine, I vacuumed my carpets. This is where you really see the difference between the Kobold and other vacuum cleaners on the market.
Our carpets aren't great quality (for those of you who followed my build, you'd know we ran over budget and had to find cost savings at the end, and the carpets were one of these areas) so after two years of living in our house, our carpets had already become squashed down, flat and hard.
Recently I've been thinking we'll need to replace the carpets but since using the Kobold, I'm sure we'll get at least several more years use out of them. After just one vacuum, the carpets felt 5mm higher. The pile that had been totally squashed and flattened was lifted, making our carpets soft and fluffy again. For the first time, it felt like the entire carpet got an intense clean and not just the surface. No wonder the Kobold VK200 is approved by the National Asthma Council!
The other area of the home where this vacuum cleaner really impressed me was the shaggy rug in our living room. Despite my best efforts to keep our dog off this cream-coloured carpet (why-oh-why did I think this was a good colour choice?!) he continues to lay on it and his black hairs have turned the carpet brown. Eww, I know!
While I've already accepted this rug has to be moved to a different room where my dog doesn't have access, I was certain I'd need to get it professionally cleaned as my old vacuum cleaner couldn't remove his hairs from the rug. Just one vacuum of the Kobold lifted so much dirt and hair from the rug that it changed the colour several shades lighter. I'll give it a few more vacuums and then shampoo it myself before switching it for the new darker rug I got.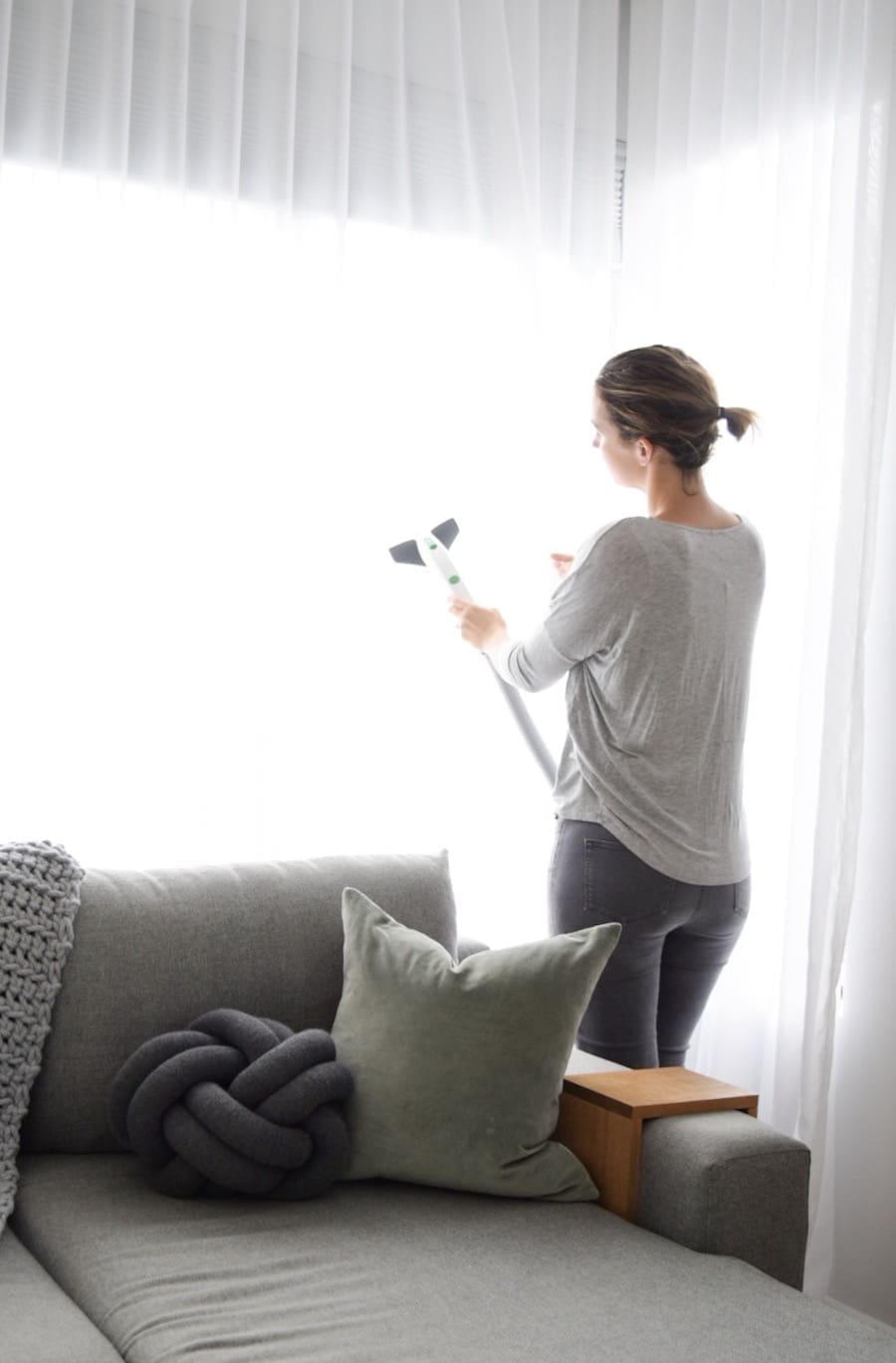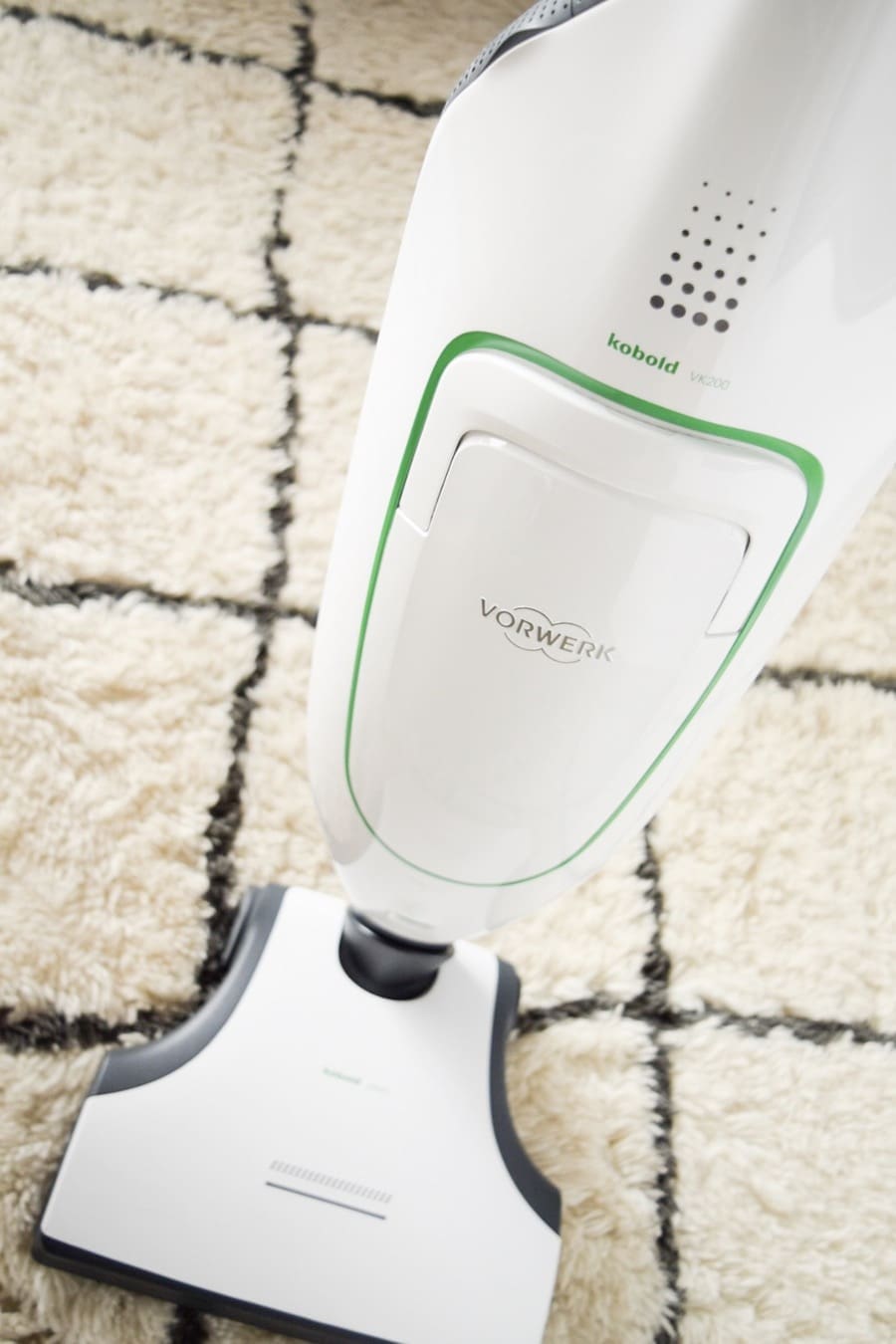 Key benefits
This multi-functional upright vacuum isn't just a floor cleaner, but a whole home care cleaning system in one and I'll talk more about my favourite features below.
Here is a snapshot of the key benefits:
– Intense suction and cleaning, ideal for allergy and asthma sufferers
– Automatic floor detection so it will adjust suction depending on the flooring material
– Easily adjustable handle
– Wide range of attachments to suit your cleaning needs
– LED filter level display so you can see when the bag needs replacing without having to open the machine
– Energy efficient
Favourite features
Suction power: no matter how much I rave about this vacuum cleaner, you really need to see the suction of this machine for yourself and you can head into your local Godfreys store for a free demonstration of the Kobold. Like I mentioned above, I've never experienced anything close to it and I love that I can get an intense deep clean in far less time.
Automatic floor detection: this machine is so intuitive, it immediately senses a change in flooring and adjusts suction accordingly.
Attachments: the Kobold comes with over half a dozen different attachments turning it from a vacuum cleaner into a curtain cleaner, furniture cleaner and even wall cleaner. The attachments include a suction hose, telescopic tube, variable nozzle, flexo nozzle and soft nozzle, and it's easy to change attachments with the press of a button.
Cord length: I love the extra long cord length that lets me vacuum a larger area before having to plug the machine into another power socket.
Compact design: who isn't short on storage space around the home? This vacuum cleaner takes up less than half the cupboard space of my old vacuum thanks to its compact design.
Outstanding pet hair pick up: perhaps this comes under the suction power but it's so amazing it deserves it's own point. I would vacuum certain things, like the side of my sofa or that cream rug, hundreds of times without removing my dog's black hairs and in just one vacuum with the Kobold I noticed the best results yet.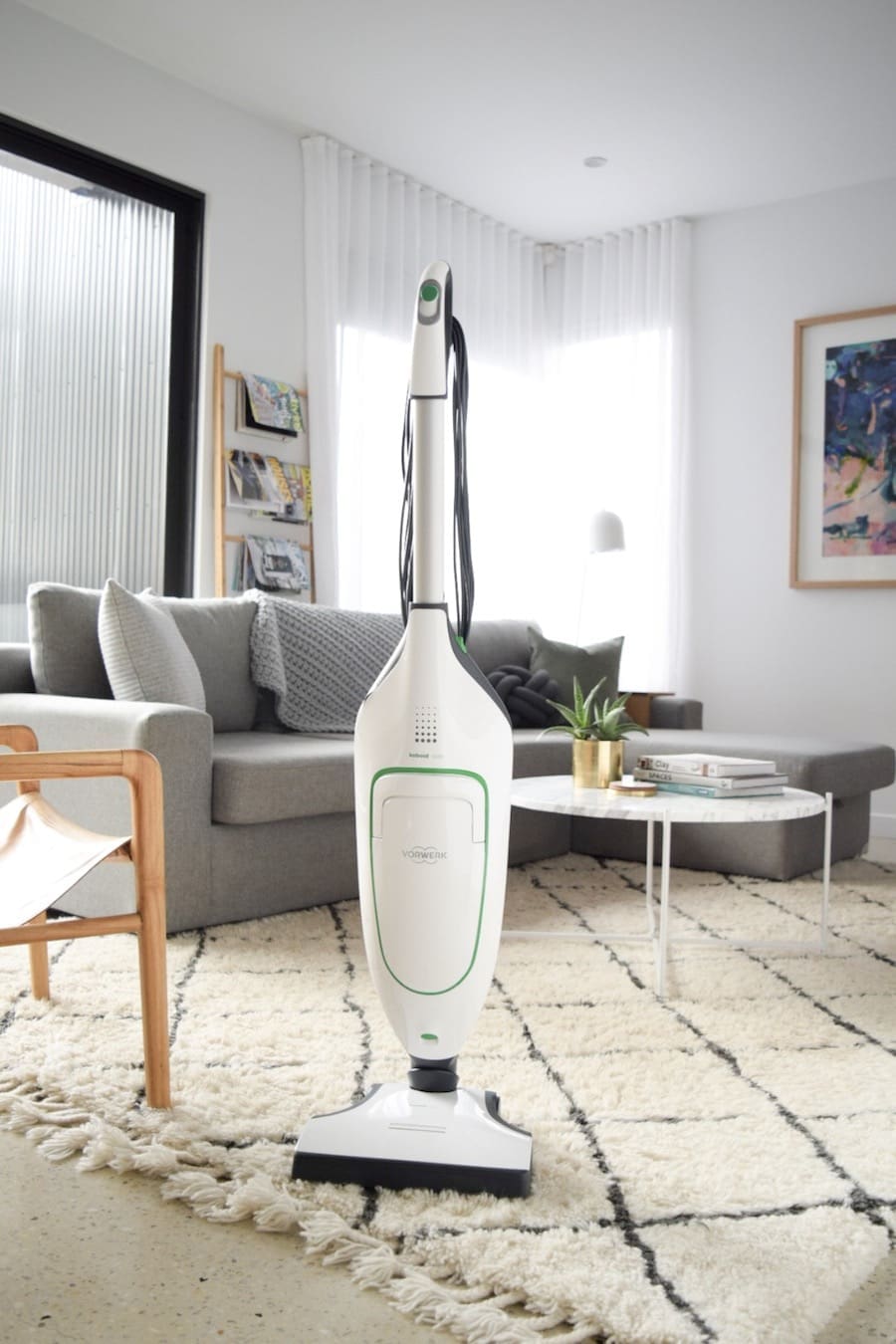 Cons
Incredibly powerful: it seems silly to have one of the main pros of the machine also a con but I think it's just worth mentioning that this machine is POWERFUL and with that comes the need to put in a bit more effort into your vacuuming. If I set the machine on 'High', I struggled to clean our carpets because the suction was so strong that I didn't have the strength to maneuver it. But, switching to 'Auto' mode resolved this issue, as the machine will automatically adjust suction depending on the surface you are vacuuming. The Kobold does have an excellent ergonomic design though, is lightweight and on the right setting is easy to maneuver.
Cord length: this is another pro that can also be a little negative if I'm really nitpicking and looking for issues. I like the retractable cord feature of my old vacuum cleaner and this is one 'nice to have' that's missing for me from this machine as you have to manually wind the cord around the back of the machine.
Vacuum bags: the final thing that could be a little con (I'm not sure yet) is that this machine uses bags which is new for me. There are lots of benefits to vacuum cleaners that use bags, including easy and hygienic disposal, more efficient suction and clog resistance, but there is an ongoing cost to running the machine. You can find more info on bagged vs bagless vacuum cleaners here to decide which option is best for you.
Price
The Kobold VK200 is in the top price tier of vacuum cleaners, retailing for $1999.
I was skeptical about how this vacuum cleaner would perform, particularly in relation to value for money. As I mentioned earlier in this review, my old vacuum cleaner is marketed as a 'leading' vacuum cleaner but it has nothing on the Kobold.
If the immediate results of the Kobold aren't enough to convince you it's worth the investment, you should know the lifespan of a Kobold is 17-25 years (some people saying they've had theirs over 30 years in other online reviews I've read). Most other vacuums on the market are only designed to last 5-8 years so there are huge savings to be made over the life of the vacuum cleaner. Gotta love German engineering!
This Vorwerk Kobold VK200 is honestly the best vacuum cleaner I have used – providing outstanding performance across all floor types – so if you are on the market for a top of the range vacuum cleaner, I suggest heading into your local Godfreys for a free demonstration where you can test it out for yourself.
You can also find more information about the Vorwerk Kobold VK200 on the Godfreys website here.