Spring is our favourite time of year! An opportunity to shake away the chill of winter, thoroughly clean our homes and inject some new season pieces to refresh our interiors.
We're all short on time and undertaking a deep house clean can seem like an impossible job when juggling a busy life so we've broken it down into 50 quick tasks. Work your way through this list like a checklist and we're sure your home will feel fabulous just in time for spring!
Do you have more quick cleaning tasks or decorating updates to add to the list? Share them in the comments below.
Related article: My secrets to keep your home organised and tidy
Related article: How to style and organise your pantry
1. Open your windows
This first tip is totally free and will instantly make you feel like spring is coming!
Many of us keep the home locked up over winter with the heater running constantly — meaning your home hasn't had a big dose of fresh air for several months and the ongoing heater use has likely contributed to dust in the air.
While it may not be warm enough to have the windows open yet, take one afternoon to keep as many windows open as you can for several hours. You'll be amazed how much better your home feels.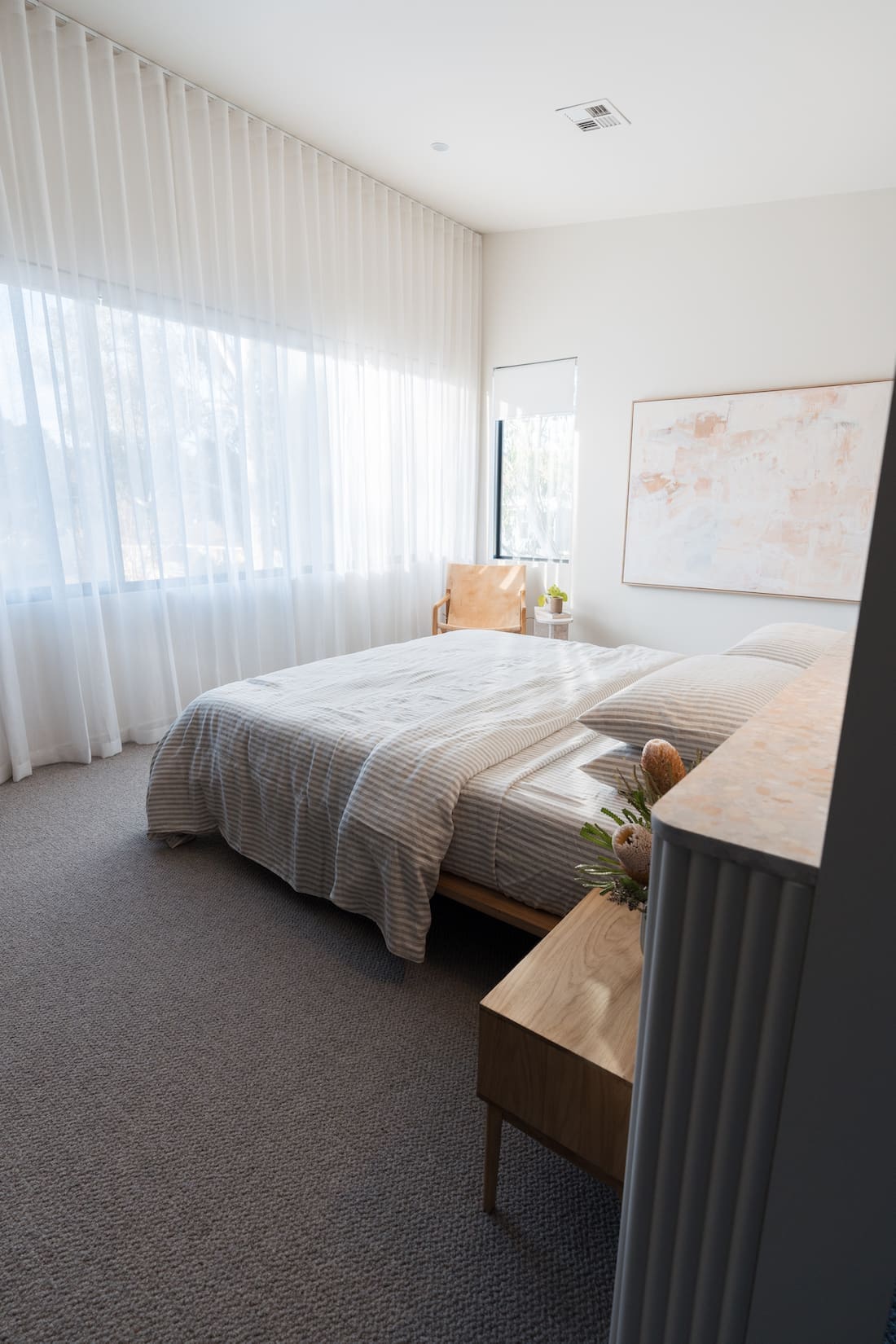 2. Sort your linen closet
With the weather warming up, you can start to wash and pack away fleecy and heavier-weight bedding. Pack these into vacuum storage bags and label them with their contents, that way they'll stay clean and dust-free until next winter and you'll know exactly what's inside without having to open them.
Check out our round up of linen cupboard inspo here.
3. Dust your shelves and surface areas
We mentioned dust above and unless you're a cleaning warrior, chances are you haven't thoroughly dusted your home for a while.
Dusting your whole home can take a long time so we've split the job up into several smaller tasks — starting with shelves and surface areas.
Take the time to remove all books and decorative items from shelves or areas like your coffee table and sideboard to wipe them clean. You might like to try one of our DIY natural cleaning recipes here.
Place items back or take the opportunity to reshuffle things and mix up your shelfie styling. We've got all the shelf styling tips and tricks you need here.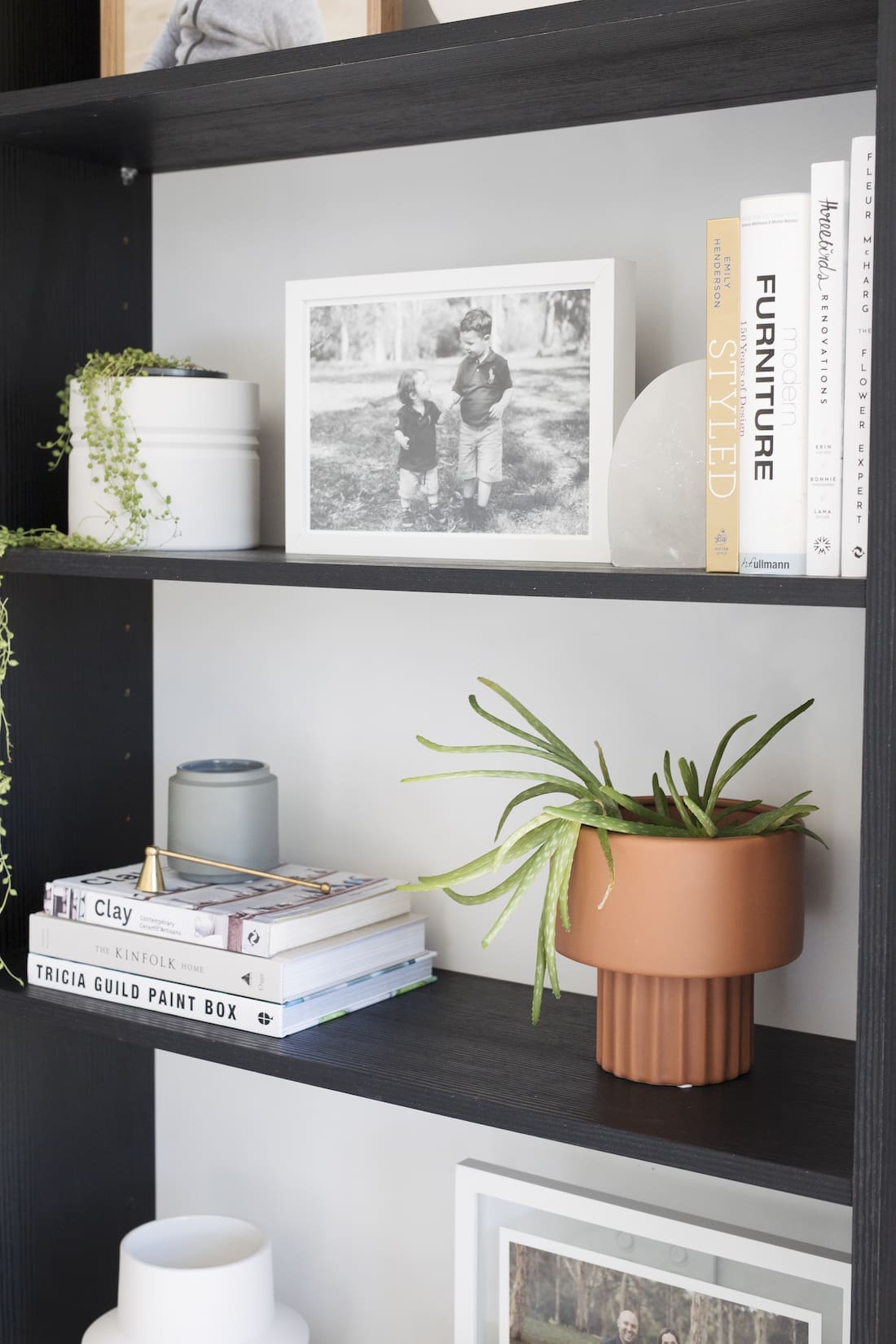 4. Update your cushions
Without a doubt one of the easiest and most affordable ways to give your home spring vibes is by updating your cushions.
Just a few new season cushions can introduce a fresh colour palette and make a tired sofa look great again.
While winter was very much about moodier colours and richer textiles, like velvet, this spring opt for lighter fabrics such as linen.
5. Declutter your wardrobe
Are you guilty of hanging onto clothes because you think you might wear them one day… even if they've been hanging unworn in your wardrobe for 10 years?
We're telling you now that day will likely never come and you'd feel so much better donating or selling the item to simplify your wardrobe!
So one way you can organise your home this spring is to take an afternoon to completely declutter your wardrobe. Simply remove everything and sort items into piles of keep, donate, sell and bin. Then group like items together, such as all basic T-shirts, and work out a logical way of organising the clothes in your wardrobe. Smart storage solutions such as hanging shelves, shoe boxes and baskets for accessories can help keep your wardrobe organised.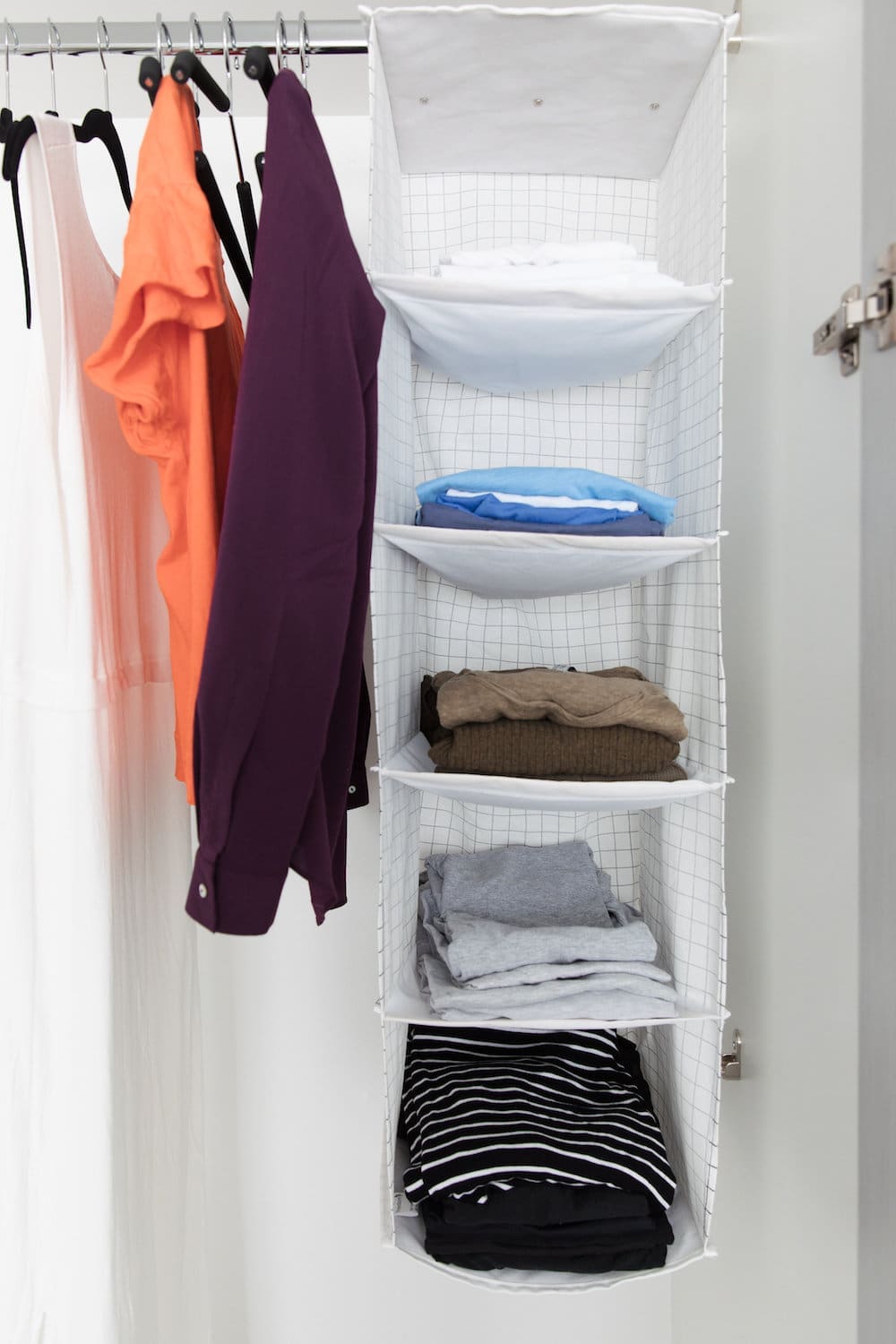 6. Sanitise remotes and other tech
A super quick task to tick off the list is disinfecting all remote controls, computer keyboards or mobile phones. Simply get some Detol or alcohol wipes and wipe each of them clean.
7. Introduce new indoor plants
Have you jumped on board the interior plants trend yet? Or perhaps some of your plants didn't make it through the winter?
Either way, you can never have too many indoor plants! They are a great way of enhancing that indoor outdoor connection and offer a wealth of health benefits from improving air quality to even helping lower blood pressure or assisting with insomnia.
Check out what plants are trending here or play it safe and pick one of of these top 20 hard to kill indoor plants.
8. Throw away old beauty products
Storage space in bathrooms is valuable so don't waste any with out of date beauty products you'll no longer use (or shouldn't use!).
Simply go through your beauty and body products checking the expiry date and throw away anything that's passed its use by date or you'll no longer use.
If you're feeling super organised, you could invest in a few simple storage baskets to better organise your drawers. You can find containers with or without lids in all different sizes so you can configure these to fit whatever drawer size you have.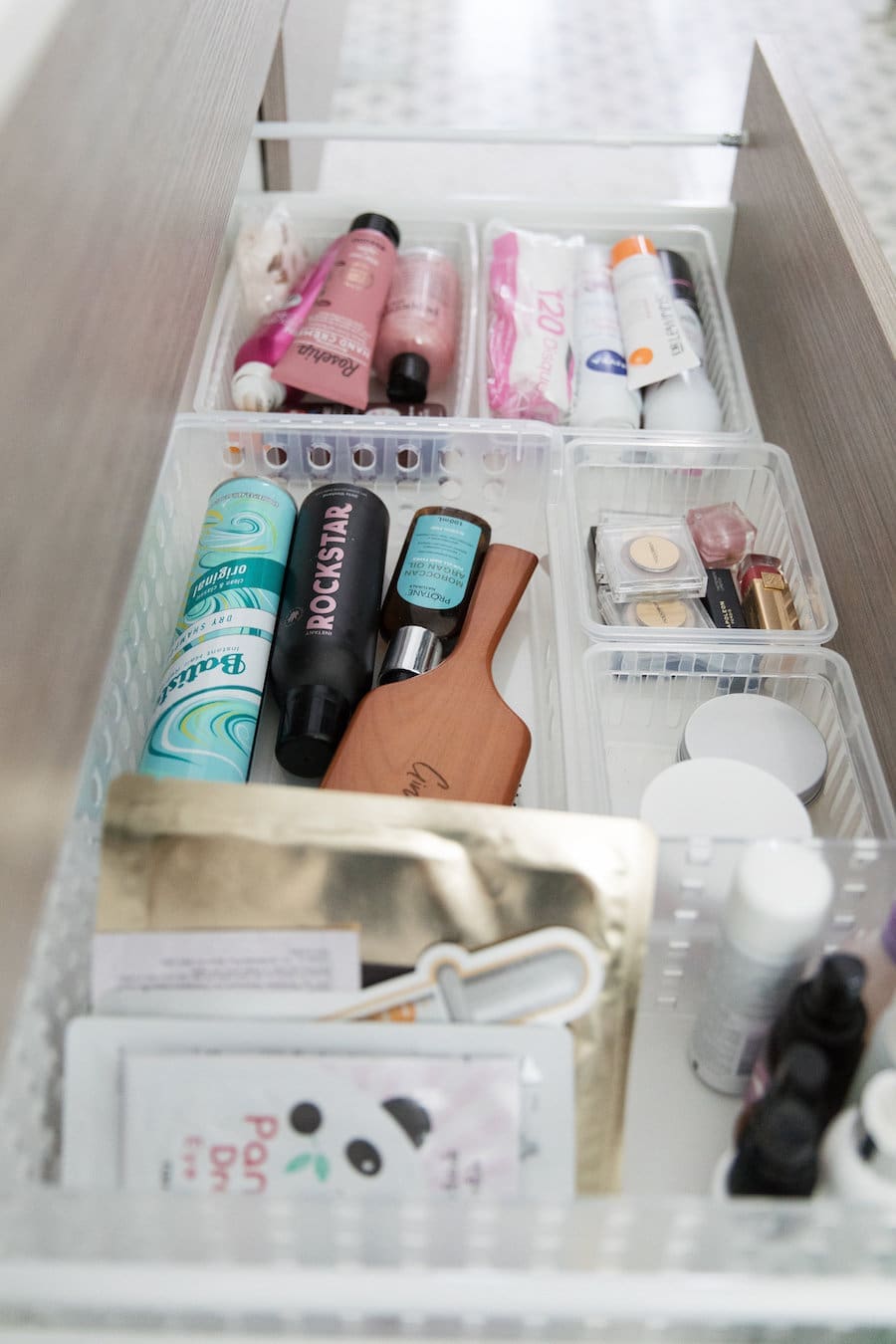 9. Wash your mattress protector and revive your mattress
Before you layer your bed with gorgeous new season bedding, give your mattress a good clean. This spring cleaning hack simply involves using your vacuum's upholstery head and firmly pressing as you slowly vacuum over the whole mattress. If there are any spots or stains, clean these with mild suds and warm water. Finally spray your mattress with a disinfectant spray, we like natural ones like Lil' Bit disinfectant spray. Let your mattress dry completely before placing your washed mattress protector back on.
10. Style your bed
Now that your mattress is refreshed, you can have fun creating a new spring bedding look.
Your bed is one of the largest surfaces in your bedroom so simply treating yourself to a new quilt cover, and possibly some fun new cushions, you can create a big impact with minimal spend.
Gina shares all her tips on how to style a bed like a pro here including a quick video showing just how it's done.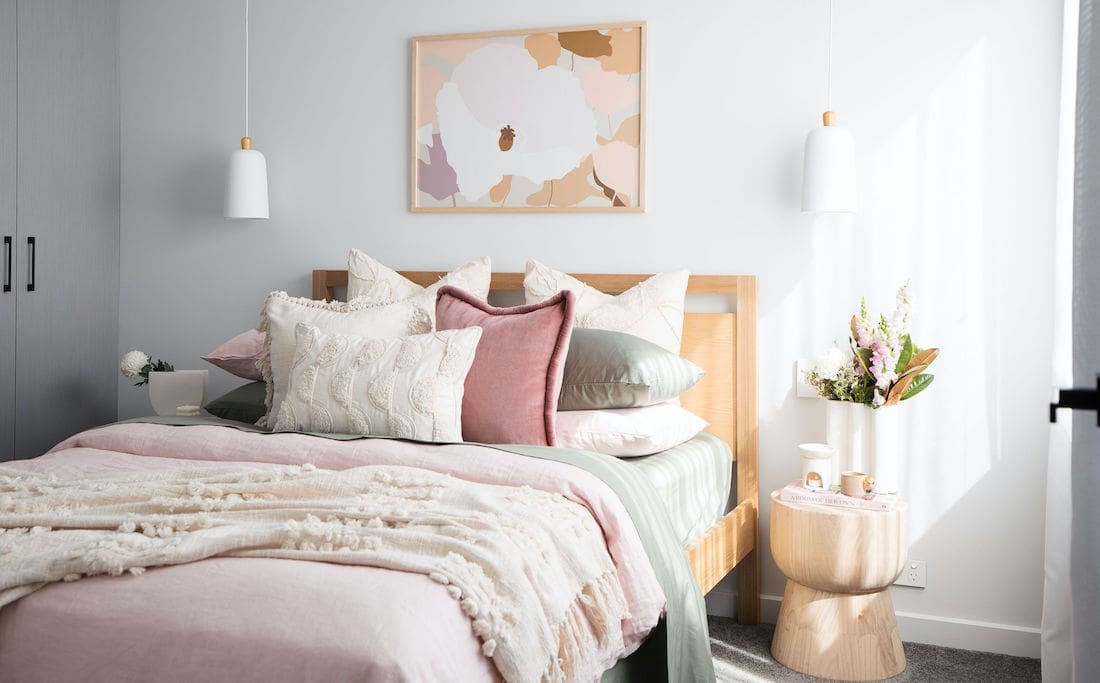 11. Wash doors and walls
It's incredible how much dirt, dust and scuff marks can build up on walls and doors throughout the year but it's relatively easy to remove most using a bucket of warm water with sugar soap and a sponge.
Giving your walls and doors a good wash is the next best thing to repainting. It's also great at eliminating house odors (for example if you have pets who like to lie against the wall).
12. Vacuum or wash window coverings
Whether you have plantation shutters, curtains or roller blinds, there is a way to safely clean your window coverings. Take a moment to Google the safest and most effective way to clean your window coverings and then work your way one room at a time around your home.
13. Add a splash of colour
If you're up for a DIY project, painting a room or several feature walls in your home can totally transform the feel with minimal spend.
This season we're seeing a broad range of new colours trending — from terracotta tones to foresty greens, warm greys, and even light and bright sorbet tones too.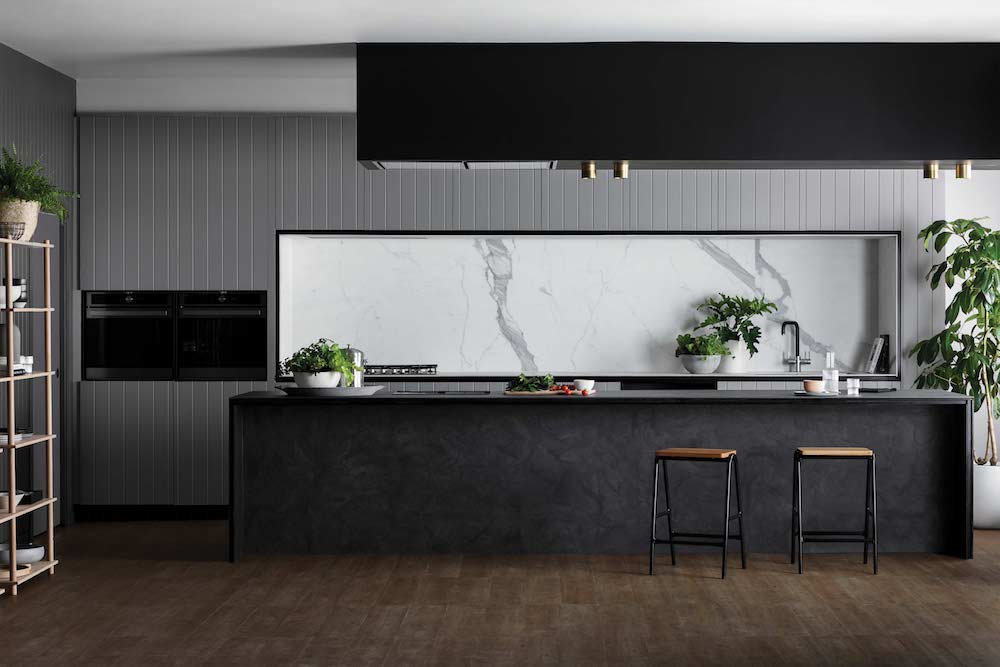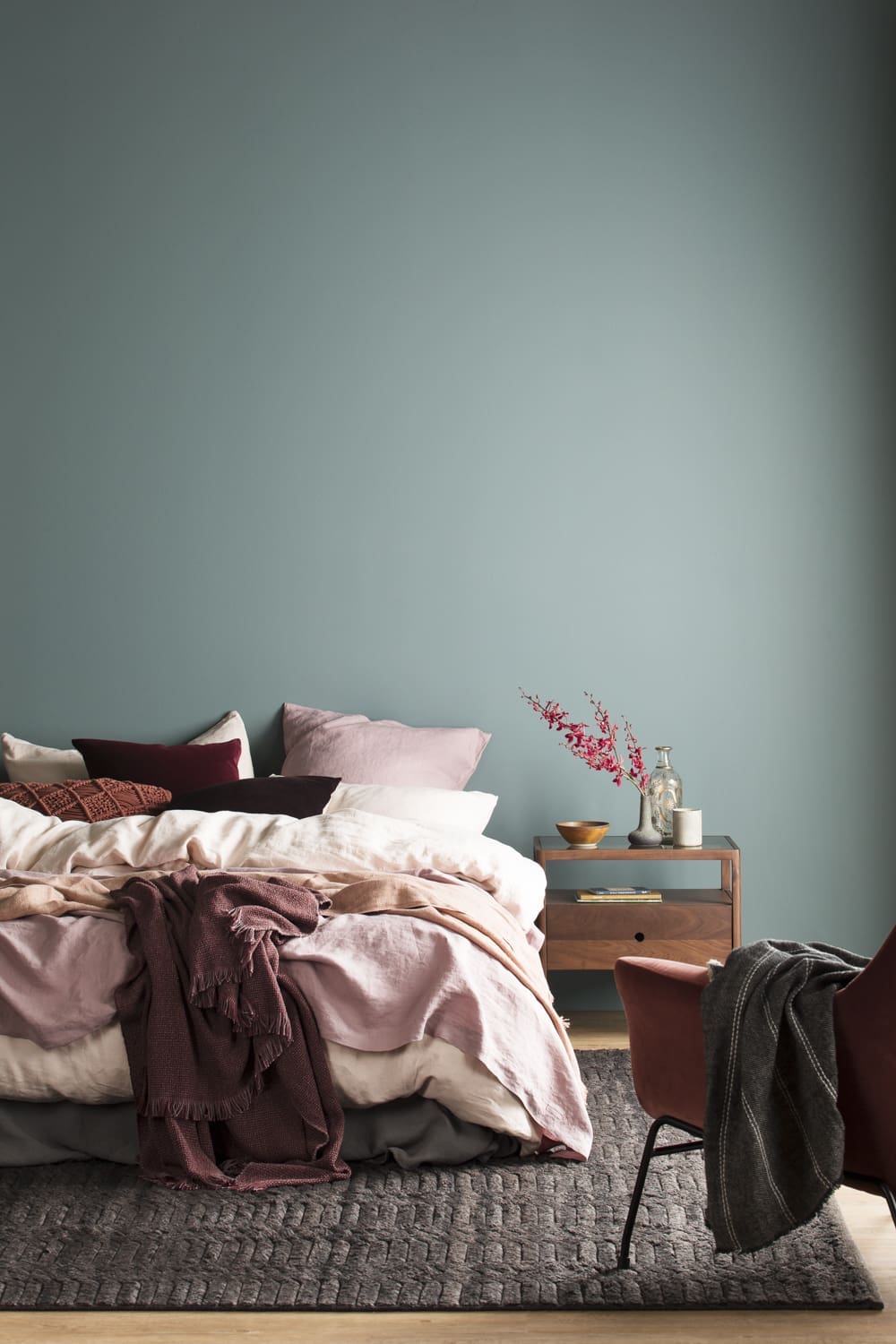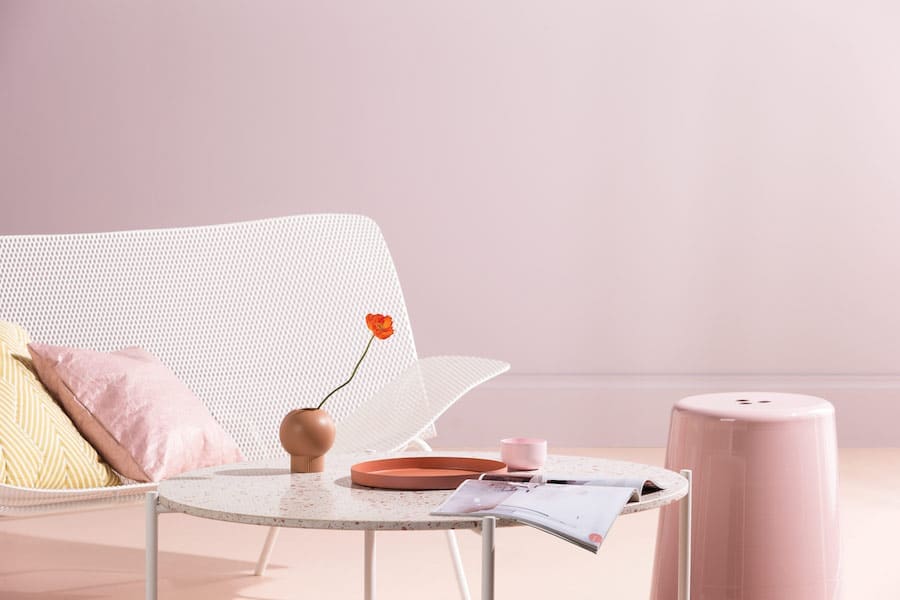 14. Clean all stainless steel surfaces
Make your appliances or stainless steel surfaces sparkle! A mild cleaner or vinegar and microfibre cloth is one of the most effective ways to remove all finger prints and spots from stainless steel.
15. Style your coffee table
A central spot in most homes to do a touch of spring styling where it'll have maximum impact is your coffee table. Wipe the surface down and then look for pieces you already have (or treat yourself to a few new ones) that evoke feelings of spring. Pops of colour and floral patterns are always popular but the options are limitless. Check out these tips and tricks to style your coffee table with ease.
16. Clean windows
Ok we know, we know, this is the mother of all spring cleaning jobs! But you can break it up into smaller tasks by working your way through a few rooms at a time, starting on the inside of the house before moving your way outside.
We find a combination of methylated spirits, white vinegar and warm water cleans windows beautifully and doesn't leave streaks. Do you have a secret window cleaner formula you can share in the comments?
Alternatively, you could consider giving yourself a year off and calling in the professionals if budget permits.
17. Sort and organise kids toys
Get organised this spring and do something about all those kids toys that you've been putting off… surely it can't just be us who has kids toys taking over the house! From getting rid of broken toys to toys they've grown out of, you can simplify the amount of kids toys in your home. Perhaps you could also better organise these so that daily toy clean up is made easier. We're a big fan of baskets to quickly gather and pack away toys, and cube shelves are great for storage too.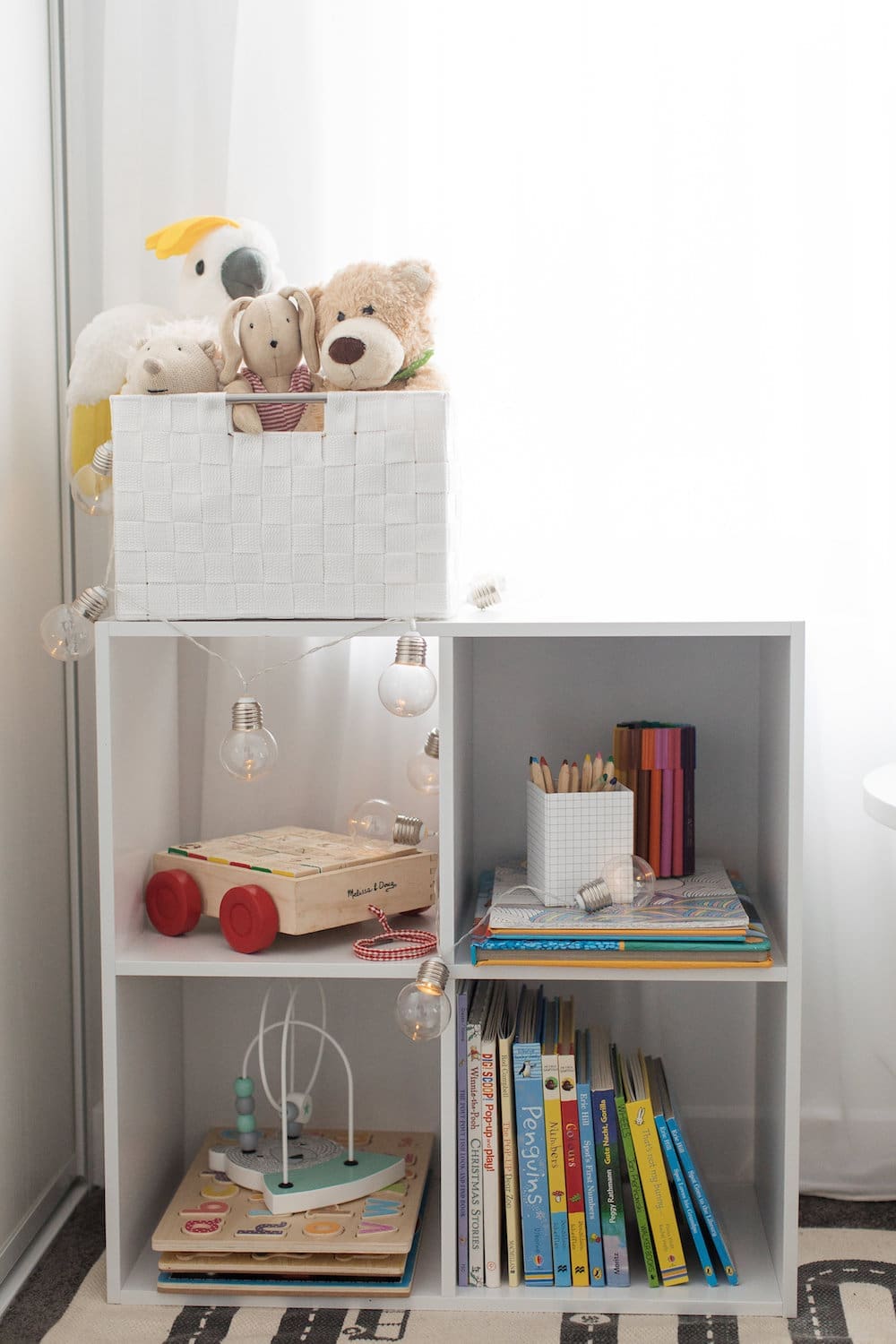 18. Declutter your office
It's ok if your home office gets messy but it's important that it stays under control.
If you're drowning under a sea of paperwork or find you're completely unproductive in your office space, it's time for a good declutter and to establish some new systems for staying on top of things.
You may be able to immediately throw away a stack of paperwork that is no longer needed or relevant, while other documents could be scanned and stored electronically (just be sure you have back ups in place).
Using a system of in/out trays may help prevent your office getting out of control and you can take advantage of online tools such as online letters or direct debit services to keep your paperwork down.
We've got loads of tips on how to streamline your office for a more stylish and productive workspace here.
19. Treat yourself to new art
A new piece of art is another great way to liven up your walls or introduce a new colour palette in your home.
There's never been a bigger selection of affordable places to buy art. Bluethumb is one of our 'go to' places for original art and we recently rounded up some of our favourite abstract artists here. Online stores such as Urban Road and Gioa have a large and ever-changing collection of affordable wall prints too. Here's our complete list of places to buy affordable art online.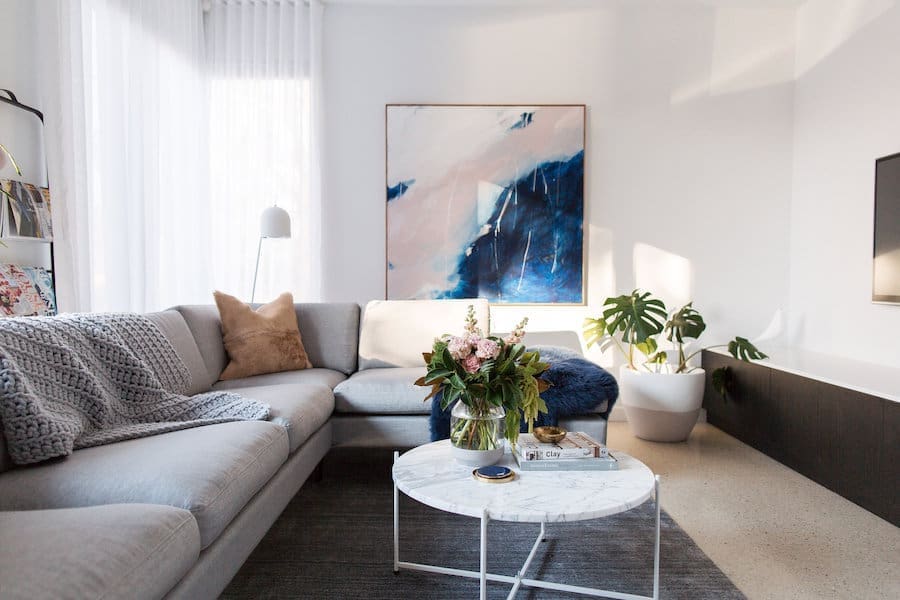 20. Clean out all drains
Eww we know, this job is gross! Wearing heavy duty gloves (and possibly a face mask, ha ha) get stuck into cleaning out your sink and shower drains. If your drains have become a little clogged, you may need to use a tool of some kind to remove any debris that has become lodged.
But if your drains are still flowing well, you'll just need to clean them with a cheap combination of baking soda and white vinegar. Simply tip half a cup of baking soda over the drain and then pour one cup of warmed white vinegar (heated in the microwave) over the top. This will create a bubbling reaction in the pipe that's very effective for cleaning. After five minutes, pour half a kettle of boiling water down the drain to rinse clean.
21. Remove stains from carpet or flooring
Another spring cleaning must do is to address stubborn stains in carpet or flooring. There are some stains or dirt that just won't lift from your floors with regular cleaning so set aside some time to get rid of any problem areas or stains that have built up.
You can now find loads of products that allow you to give your floors a deeper clean without having to call in the experts, such as carpet cleaner powder, but be sure to test these in an inconspicuous area or on a sample piece of flooring before tackling the job.
22. Declutter and organise your pantry
Whether it's expired foods or foods you bought on a random health kick that you know you'll never use again, it's time to tackle your pantry!
We've got a great article on how to declutter and organise your pantry.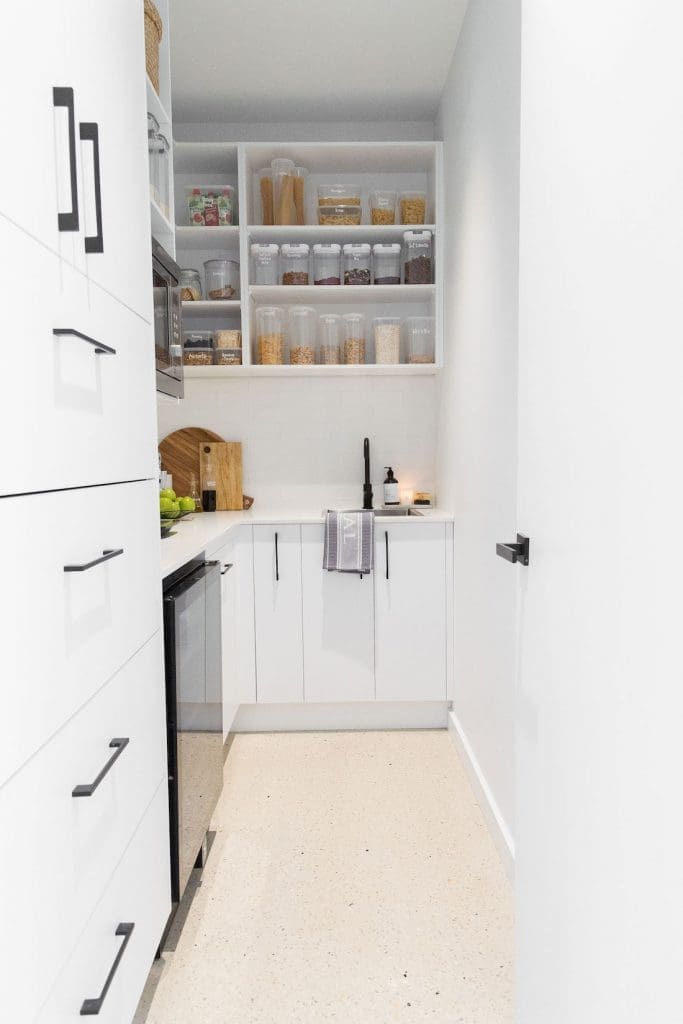 23. Create a spring inspired vignette
We already mentioned styling your coffee table but if you prefer to keep your coffee table clear, look for another spot in your home (perhaps a console table in your entry or sideboard in your dining room) where you can create a small spring inspired arrangement. We've got loads of tips on how to create different arrangements here.
24. Dust all lights and light switches
Nothing ruins the look of pendant and feature lights more than floating cobwebs or a build up of dust so pull out the step ladder and get stuck into cleaning your lights. While you're at it, use a disinfectant spray to also clean all your light switches.
25. Change your candles or diffusers to summery scents
Often when we decorate we focus so much on what we can see, but paying attention to the other senses — particularly touch and smell — can really enhance our interiors.
Set the spring mood with new candles or diffusers in fresh scents with citrus notes. This is our round up of the best summer scent candles.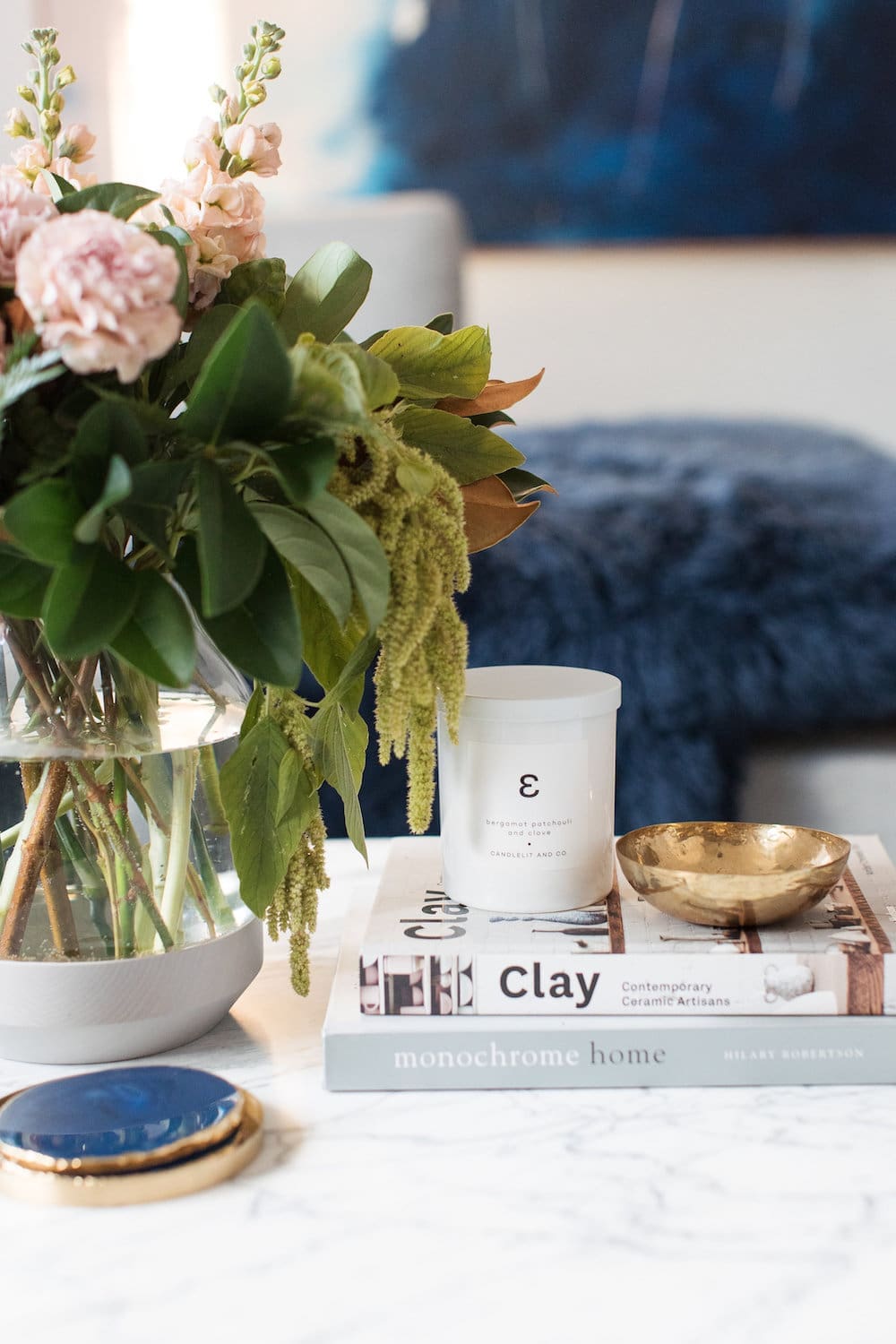 26. Clean out 'that' drawer
You know the one we're talking about… because we all have one drawer in our home that becomes the junk drawer for random bits that we most likely don't need or can never find when we do!
Go through your random junk drawer and throw away what you can or find a more suitable spot to store the items that serve a purpose.
27. Sweep and tidy your front entry
A clean and tidy home for spring starts at your entrance. Give the area a good sweep. Shake out your doormat or consider getting a new one if yours is looking tired. Also look up and dust away any cobwebs. Check on the state of your plants or flowers — did they make it through winter OK? Or if your front entry is fairly bare, perhaps add some pops of colour by picking up a new plant or two.
28. Clean and disinfect your rubbish bins
Take your rubbish bins outside and spray them with a solution of white vinegar and disinfectant, leave for several minutes before rinsing clean. White vinegar helps eliminate odours while disinfectant will reduce any bacteria that has formed from food spills.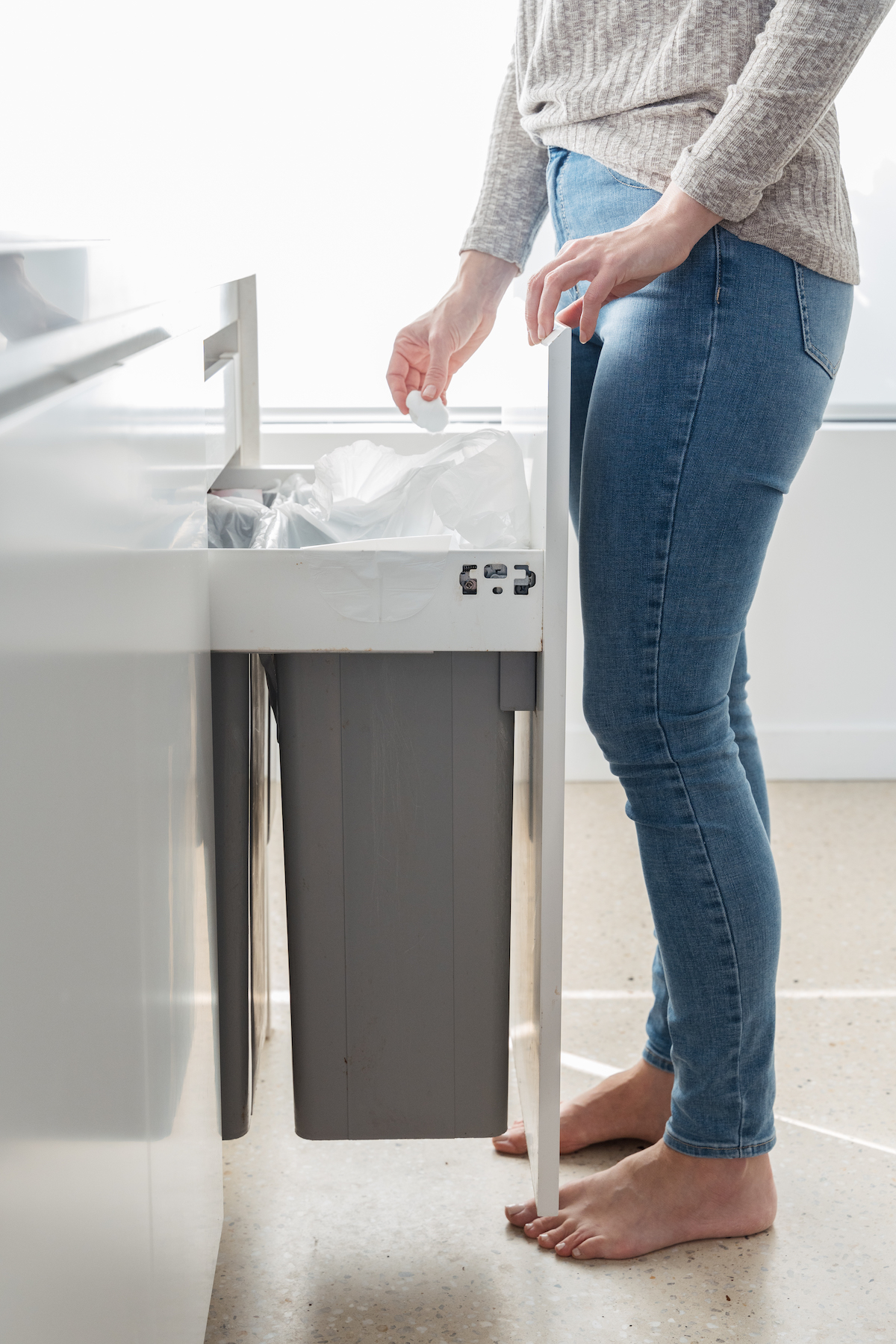 29. Organise electronics and cables
With technology changing as quickly as it is (and items no longer lasting for as long as they should), it's likely that you're holding onto electronics that you either no longer use or that don't work. Cables are a particular problem point because too often we don't know what they're for but we're too worried about throwing them away because they might be needed for something important. Try to go through all your electronics and cables and eliminate things you're sure you don't need.
30. Wipe down and vacuum furniture
When was the last time you looked under your sofa cushions? You'd be amazed at what you might find, ha ha.
Work your way through the house one room at a time to wipe down and vacuum all your furniture.
31. Pick up new a hand soap
Another way to add summery scents into your home is with new hand soaps — plus with all this cleaning you're doing, you deserve it! We recently rounded up our top 7 liquid hand soaps at all price points here.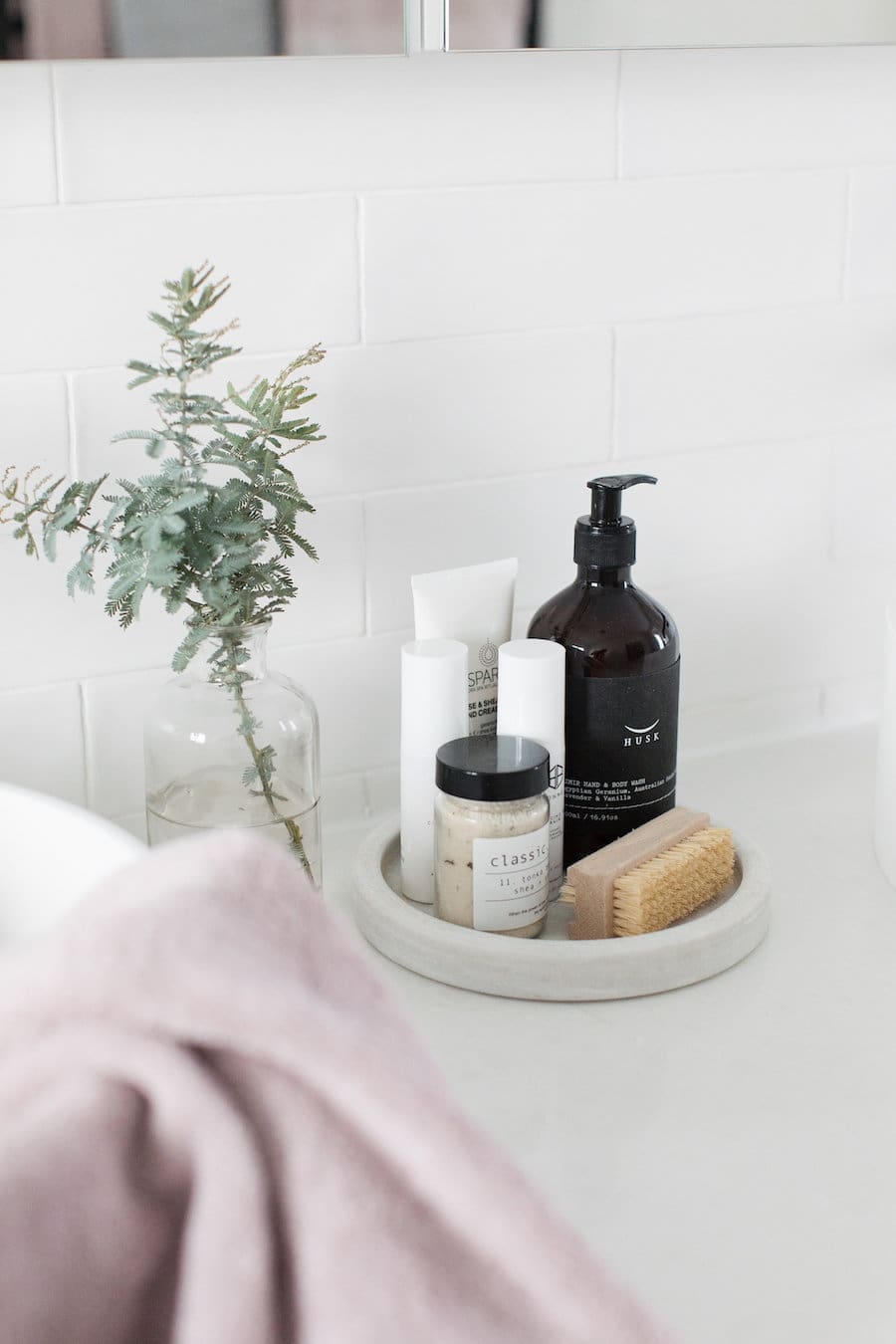 32. Clean your microwave
You're not alone if your microwave makes you cringe a little each time you use it but there is a super quick and simple way of cleaning it — simply 1/2 fill a large microwave safe bowl with water and place several slices of lemon in the bowl, cook on high for 8 minutes or until the microwave becomes steamy. Then use a clean damp cloth to wipe away any food residue that has softened with the steam. Your microwave should now have a delightful citrus scent too. If your microwave hadn't been cleaned for a long time, you might want to repeat this at least twice to get it sparkling clean.
33. Oil or polish wood furniture
Whether it's an outdoor timber table or a sideboard in your dining room, most of us have at least one or two pieces of wood furniture that could do with a little TLC.
Clean the furniture pieces before using polish or furniture oil (depending on the finish of your furniture), to bring them back to their best and better protect them for the hotter, dryer weather ahead.
34. Clean and organise pet products
If you have pets, there's bound to be more than a few quick jobs you can do this spring to clean and organise their products. From cleaning feeding bowls to sorting through their toys or accessories, take some time to organise their things.
35. Tidy and dust your bedside tables
Get rid of any clutter or things that have piled up on your bedside table, wipe the surfaces clean and only replace items that are essential or look great. We have 20 bedside styling ideas here.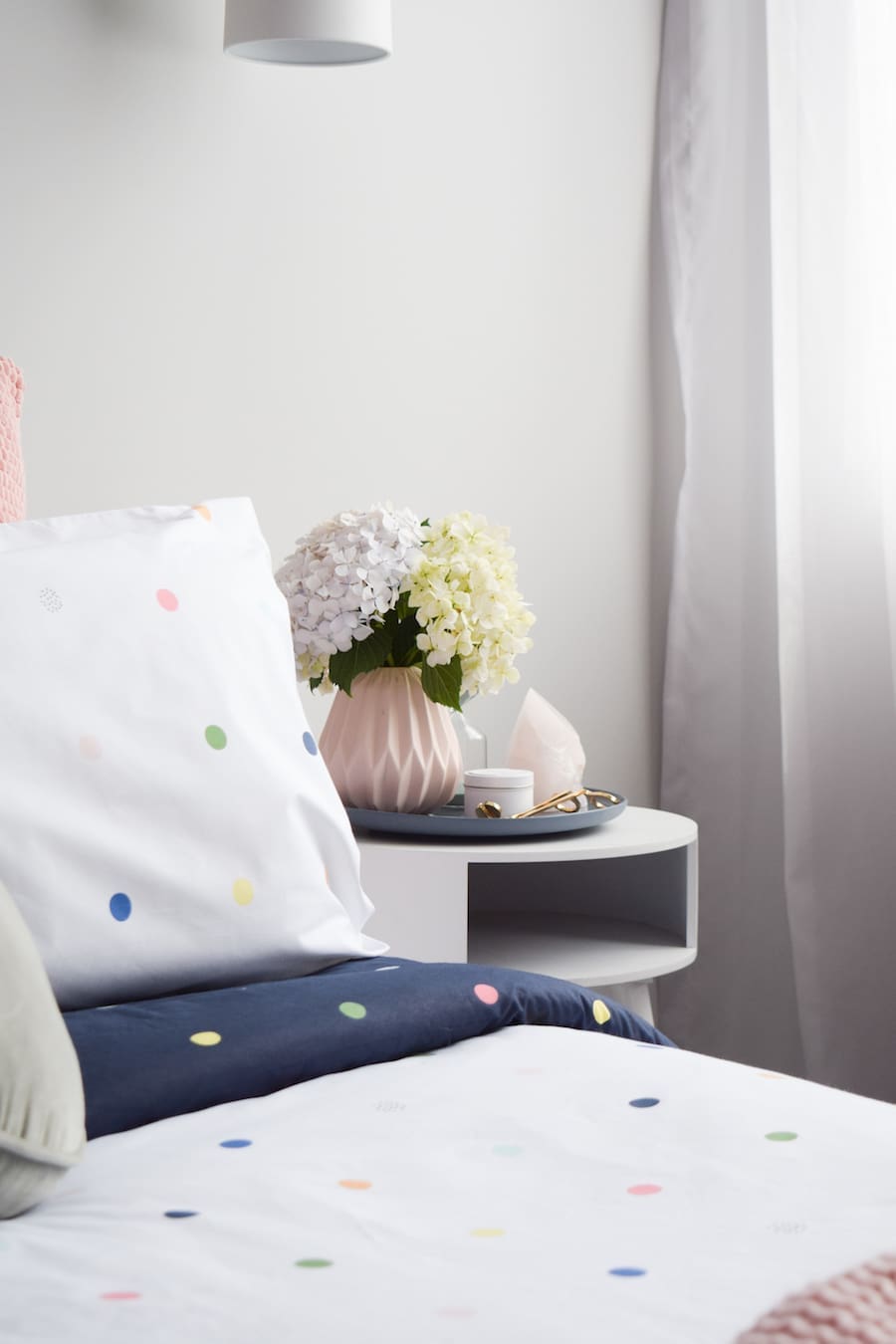 36. Clean your oven
Although most of us wipe down our ovens regularly, baked on grease and food can be hard to budge. Use an oven cleaner inside your oven and on all racks to completely dissolve all that grime away. Be sure to rinse your oven and trays thoroughly before using them for cooking again as oven cleaner is toxic stuff!
37. Wipe down sticky bottles
While you're in your kitchen, another quick cleaning task is to wipe down sticky or greasy bottles. From honey bottles to oils and vinegars, chances are you've got more than a few bottles that would benefit from a clean. Alcohol wipes are great at cutting through grease or you may need to use a warm damp sponge to soften and wipe away heavier build up.
38. Clean rugs
Remove rugs to outside and give them a good shake and possibly shampoo wash. Thoroughly clean the flooring where the rugs were before returning your cleaned rugs inside.
39. Declutter your garage
OK, so this task isn't exactly quick buuuuut if you're not going to do it in spring, when are you going to do it?!
Don't waste precious storage space in your garage by holding onto things that no longer serve a purpose.
Or if you do need everything in your garage perhaps you could pick up some better storage solutions to help you maximise space. Large clear boxes are great for keeping 'like' products together, such as Christmas decorations, whereas bike racks and shoe racks can help save on floor space.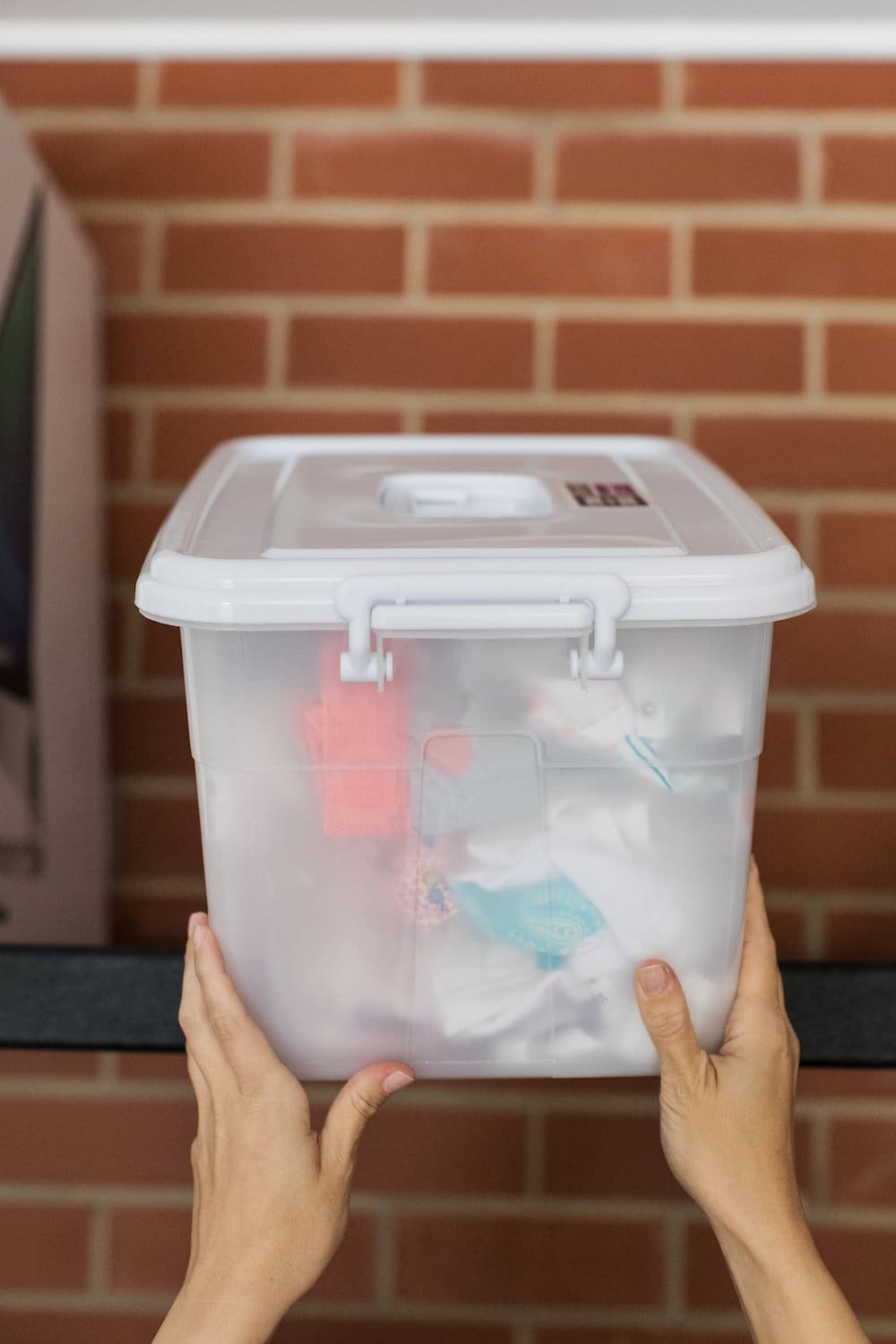 40. Organise books
Still holding onto books just because? You can donate books that you won't read again, including old text books.
Or if you love all the books in your collection, perhaps you just need to give them a bit of a clean up? You can sort books by type, eg kids books, coffee table books, reading books etc, or alphabetically, or by size or even colour… whatever works for you!
41. Dust cornices and ceiling fans
Pull out your duster and look up… do you have floating cobwebs around your cornices or ceiling fans? Work your way through each room of the home and banish dust and cobwebs up high. This is a particularly important dusting job to do before the warmer weather sets and you start using your fans as you don't want to be spreading that build up of dust around your home.
42. Wash your washing machine
Every washing machine needs a wash from time to time. Depending on your model, there may be a central compartment that you can unscrew and clean out? Be sure to check if your machine is under warranty first though and whether or not you need a licensed professional to service your machine.
At the very least, you could do a wash using a chlorine bleach instead of regular detergent and running a normal cycle with hot water (and no clothes of course). You can also wipe all rubber seals and the exterior surfaces, and ensure the inlet hose is free of debris.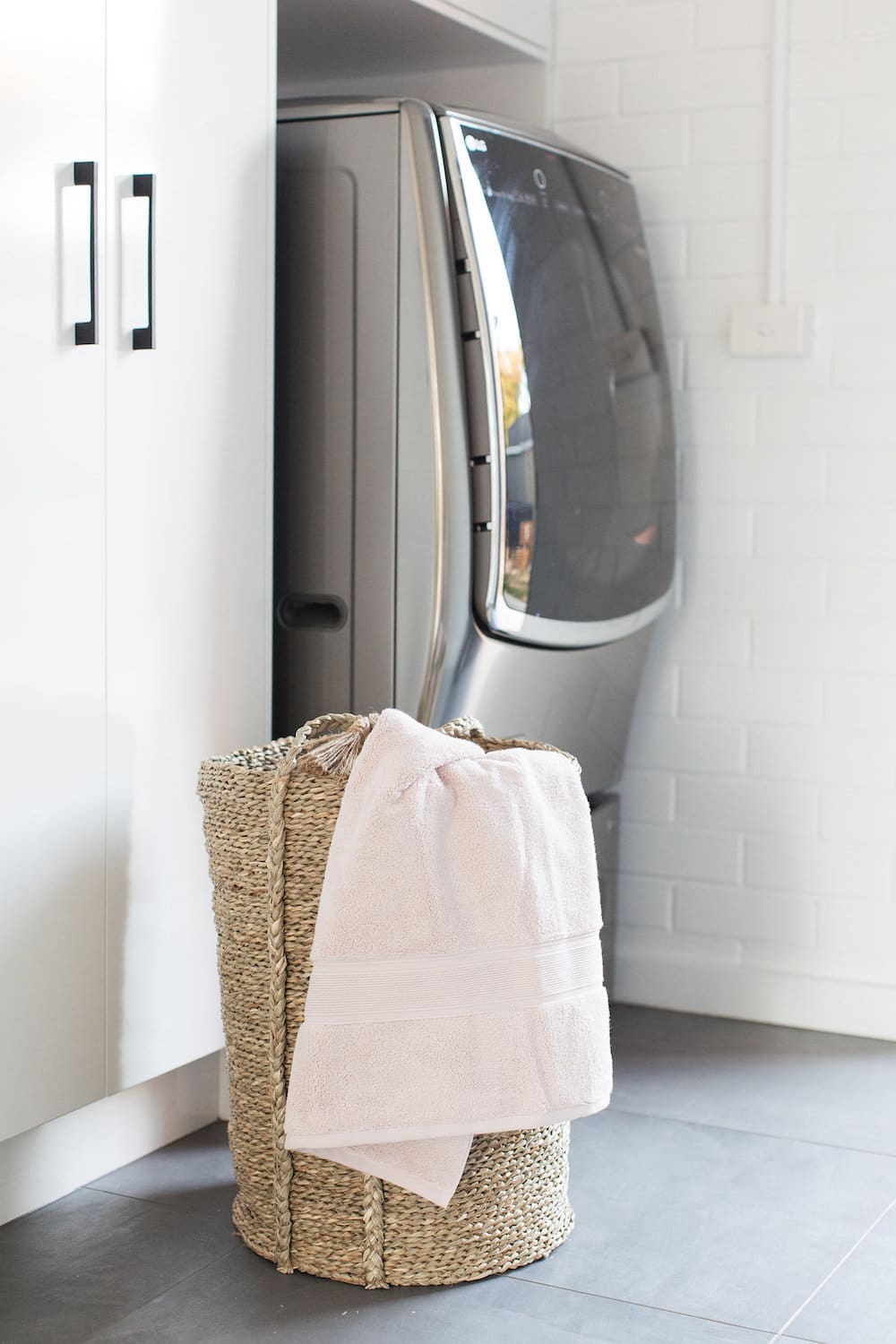 43. Clean or replace vent filters
With your heater getting lots of use over winter, you can be sure those vents need a thorough clean or possibly even a filter replacement.
If your heater has a thin foam vent filter, take care when cleaning it — you may find vacuuming it will cause it to dissolve. Rather, simply rinsing it under warm water on both sides should remove most of the dust. Allow it to dry out completely before replacing it.
44. Scrub your shower and possibly reseal
Give your shower a deep clean by scrubbing grout joins with a tooth brush and cleaning product of your choice (we like to use a professional grout cleaner but bicarb or vinegar based cleaners work effectively too).
Also scrub away soap scum from all glass surfaces, including your shower shelf if you have one.
And take a moment to look at the state of your seal joins — are they cracked or mouldy? You can reseal these joins yourself using nifty products like we share in this blog post.
45. Empty and clean your fridge
Remove all items from your fridge and use warm soapy water to wash down all internal surfaces — it's amazing how many small spillages you'll find or food crumbs that have found their way into hard to reach places. Thoroughly cleaning out your fridge will help eliminate bacteria. While you're at it, check the expiration of foods and throw away out of date items.
46. Degrease kitchen cabinets
Dust and grease can build up on kitchen cupboards to form a sticky grime, particularly around your rangehood.
A warm, damp cloth and white vinegar should dissolve away most grease but for tougher areas, you may need to use dish soap or a degreaser.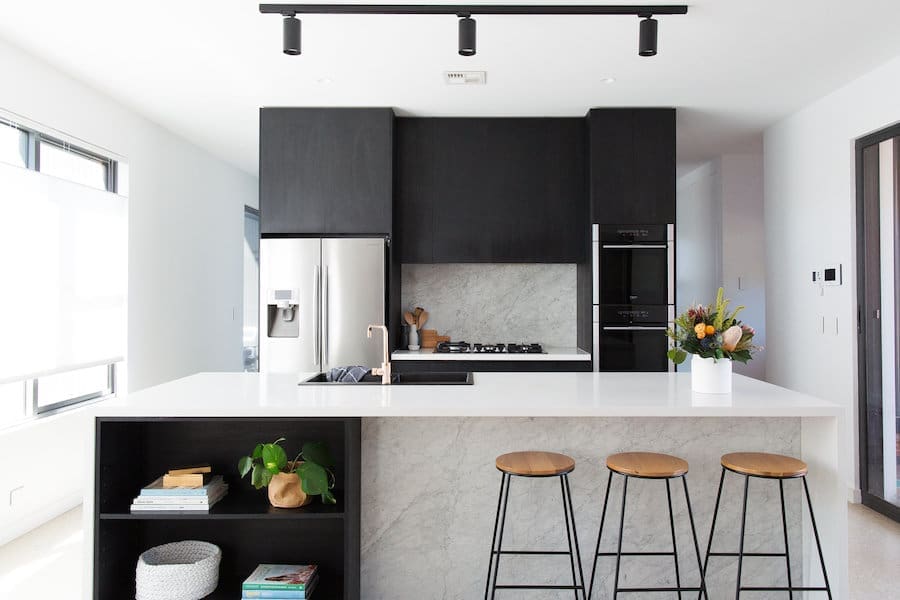 47. Deep clean floors
By this point in the checklist you've already cleaned your rugs and spot cleaned any stains but now it's time to address your general floors. Vacuuming and mopping are great for general cleaning but every 12-18 months it's a good idea to give floors a deep clean.
Depending on your flooring material that could involve investing in some higher quality products, such as using a professional tile cleaner, or hiring tools such as a floor cleaner/scrubber if you have large areas of polished concrete. Alternatively, this may be a job you want to bring the professionals in to do, such as professionally steam cleaning carpets. Whatever you decide, just be sure to do your research first so you select products or professionals that are right for the job!
48. Dust all skirting boards and window tracks
Over the course of a year window tracks can accumulate a lot of dust, especially if you have pets! Get stuck into cleaning these well by vacuuming first and then using paper towel sprayed with disinfectant spray to pick up fine dust.
You can also use paper towel and disinfectant spray over the top of all skirting boards — you might be surprised just how much dust you pick up!
49. Declutter other cupboards or problem areas
We've addressed the most obvious problem areas to declutter already but every home is different. Is there another cupboard or room that could benefit from a declutter this spring? Use the tried and proven technique to declutter; remove everything, sort into piles of keep, donate, sell or bin, and then place items back in an organised way adding better systems or storage solutions whenever possible so the problem doesn't come back.
50. Take a trip to the tip or Salvos
Has all this cleaning and decluttering helped identify larger pieces you no longer need? Perhaps excess furniture you've been storing in your garage, a bunch of garden pots you're never going to use, or something else?
Rather than continuing to store things you no longer want or need, it may be a good time to let them go. If the pieces are still in good condition, you could donate these to your local charity but if they are looking worse for wear, take them to the tip instead.
Have you been inspired to tackle some spring cleaning jobs or update your interiors? Tell us in the comments below!
This article was first published in September 2020 and continues to be updated with latest spring cleaning tips and tricks.