Despite the cost of a real estate agent, it is rare to find a property sold without one. This is for the simple reason that real estate agents are worth the cost. For the same reason, the use of pre-sale property styling is increasingly common. Particularly in high value markets such as Melbourne and Sydney where a 1% increase in sale price, easily makes property styling worthwhile.
Related article: Minimising stress when selling your home
Related article: Modernising an investment property with clever upgrades and styling
Works by Emma Tobin
While statistics show a property stylist is worth the cost, what do they actually do? Is the service provided worth the cost?
This home in Middle Park, Melbourne, is one of our latest projects and shows what a property stylist can achieve. We completely transformed this property by:
de-cluttering
de-personalising
replacing the clients furniture
achieving a cohesive and modern interior with broad appeal.
However, our role as a property stylist goes further. In this case we also offered advice on small, inexpensive works to prepare the property for styling.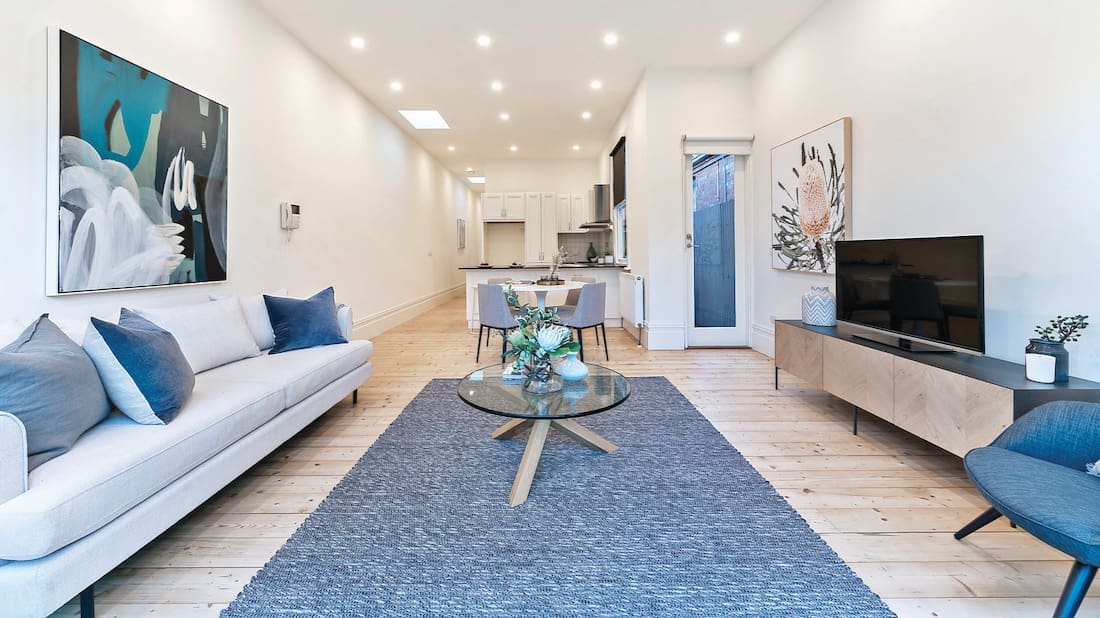 Advice on preparing the property for sale
Overcapitalisation prior to sale is a big no-no but a few small updates can make a big impact. We were delighted when our client was willing to take on our advice to update the bones of the property. You know what they say about prior preparation? It provides perfect presentation.
Firstly, we recommended a fresh coat of paint throughout. Small marks and scuffs build up over many years living in a property — particularly so with children. These marks are generally too small to notice individually, but their accumulation makes walls appear tired and worn. A fresh coat of paint was applied and immediately freshened and brightened the home.
With the client willing to pay an expert painter, we saw another opportunity — the kitchen cabinets. The previous cabinetry had a dark timber stain. This would not suit the modern styling to stage the property for sale. Transforming these cabinets to white, modernised and brightened the space dramatically without being a major expense.
Secondly, there were outdated light fixtures throughout the property which could be easily removed or replaced as quick wins. Removing unnecessary wall sconces in the hallway modernised the entry and added to de-cluttering and opening the space. In the master, the original coloured pendant shade didn't fit the neutral, broad appeal that's required when selling a home so we prescribed a neutral ivory replacement, which created a classic look that would appeal to a wider range of buyers.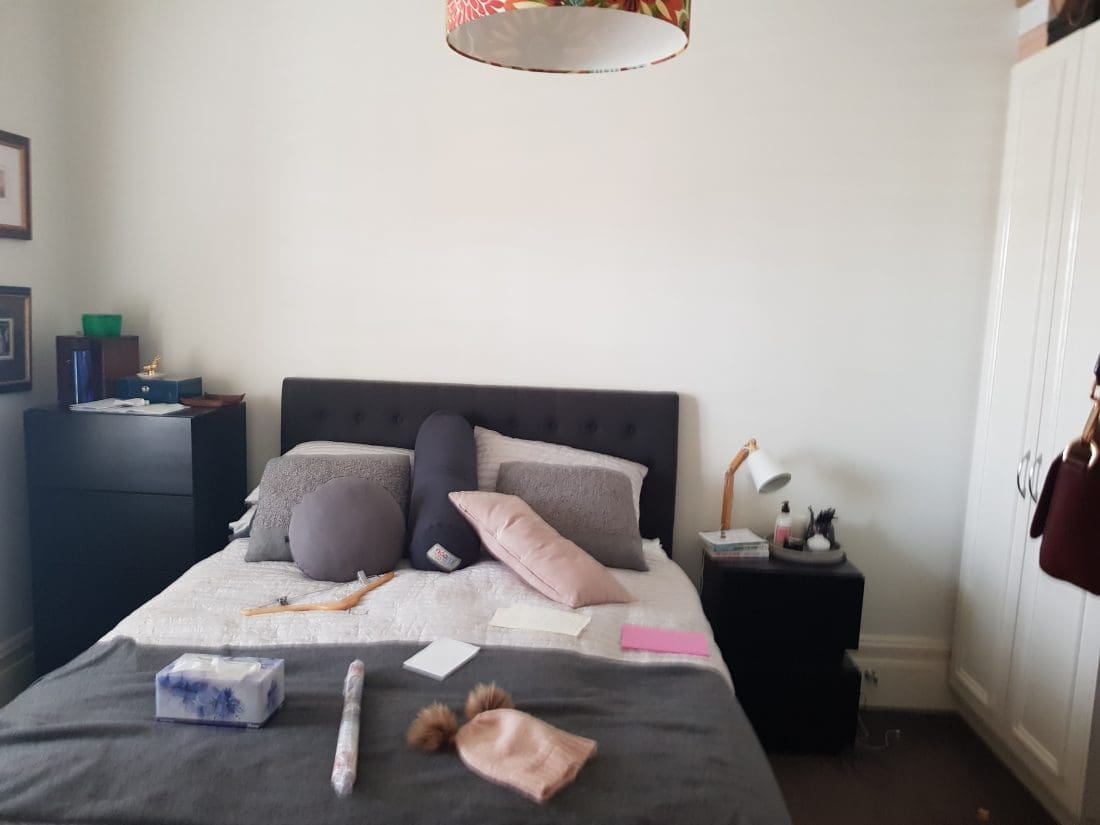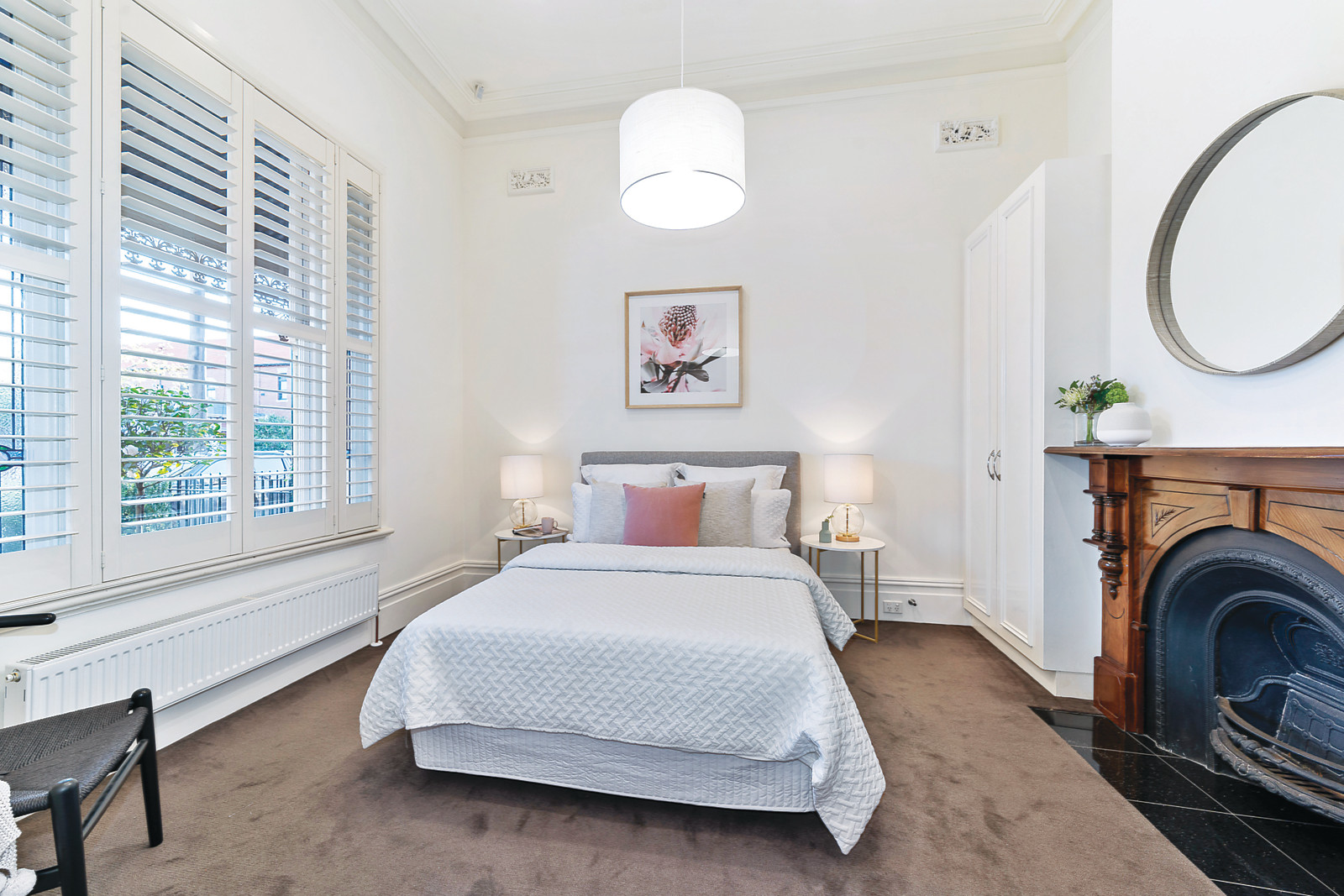 Dining before and after
While the Middle Park home is generous in size, the living and dining areas compete for space. We wanted to present a dining area that did not encroach on the living space.
Initially our client had a large dining table pushed up against the kitchen bench. This prevented flow around the dining table and drew attention to the compact size of the space. To rectify this, we selected a small round table with four chairs. Selecting a smaller table made the area appear much more spacious and functional. It also provided adequate seating for the likely purchaser of the home; a family of four.
With new found space, we added a pair of kitchen bench seats. This retained the original number of seating positions, six. It also created a multipurpose space which is an achievement considering the limited area.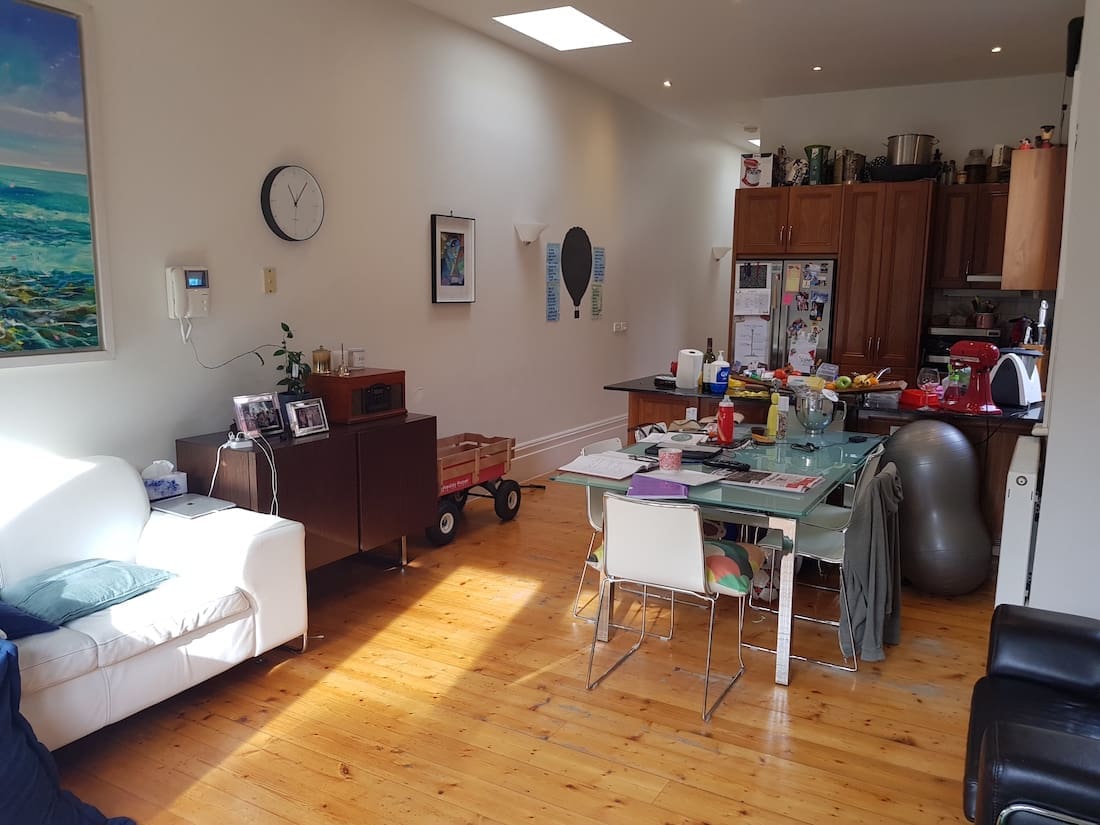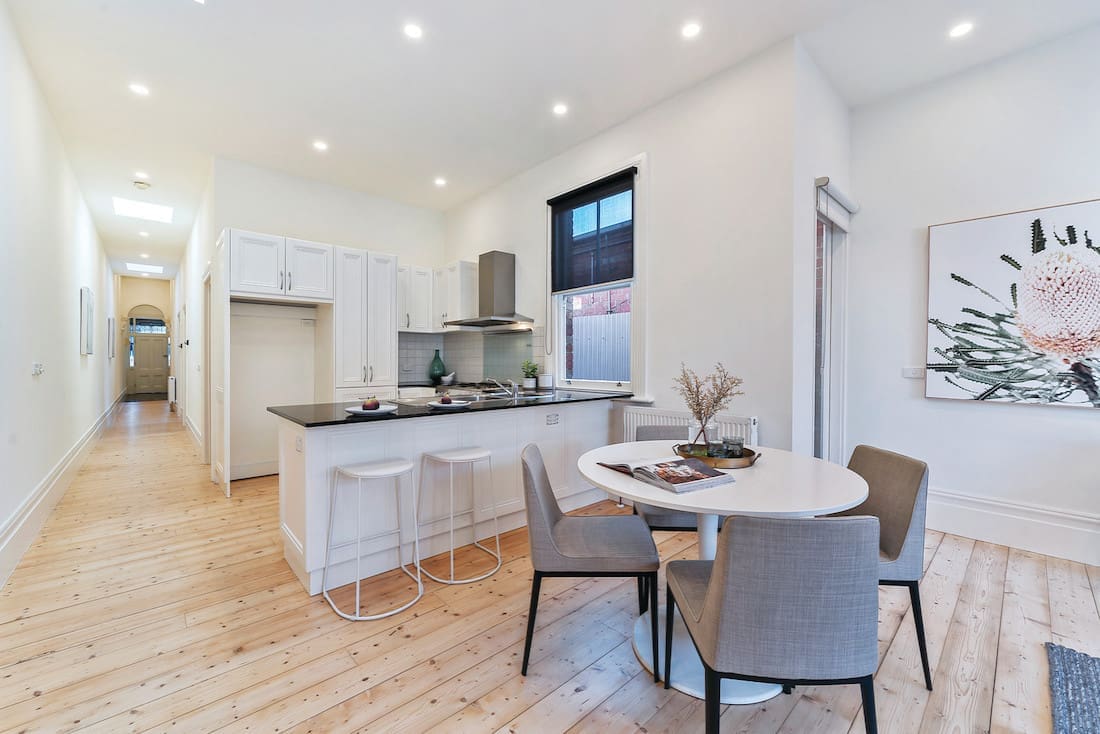 Living before and after
The immediate opportunity was to open the space up by removing excess bulky furniture. Lining walls with buffets and bookcases can cramp and shrink a space. Once these pieces were removed, the space immediately felt larger.
The bulky sofa and armchair were also cramping the room. These were replaced with more streamline pieces. Small details such as selecting a sofa that sits off the floor rather than a low bulky sofa provides for more flow through the room. Again, the same number of comfortable lounge seats were retained. Style does not have to come at the cost of function.
The addition of a rug to the living room creates a distinction from the dining. This limits competition between the two spaces. It frames the living area, giving the illusion of an entirely separate space.
We loved the timber floorboards but you can have too much of a good thing. We selected a rug to soften the floor and create a more inviting living area. Although this property was styled for sale, the use of a rug in this way is also practical. With only a single couch available, the rug provides comfort for extra guests particularly for little ones.
A glass coffee table was selected instead of a timber or marble. It limits the appearance of an obstruction in the centre of the room.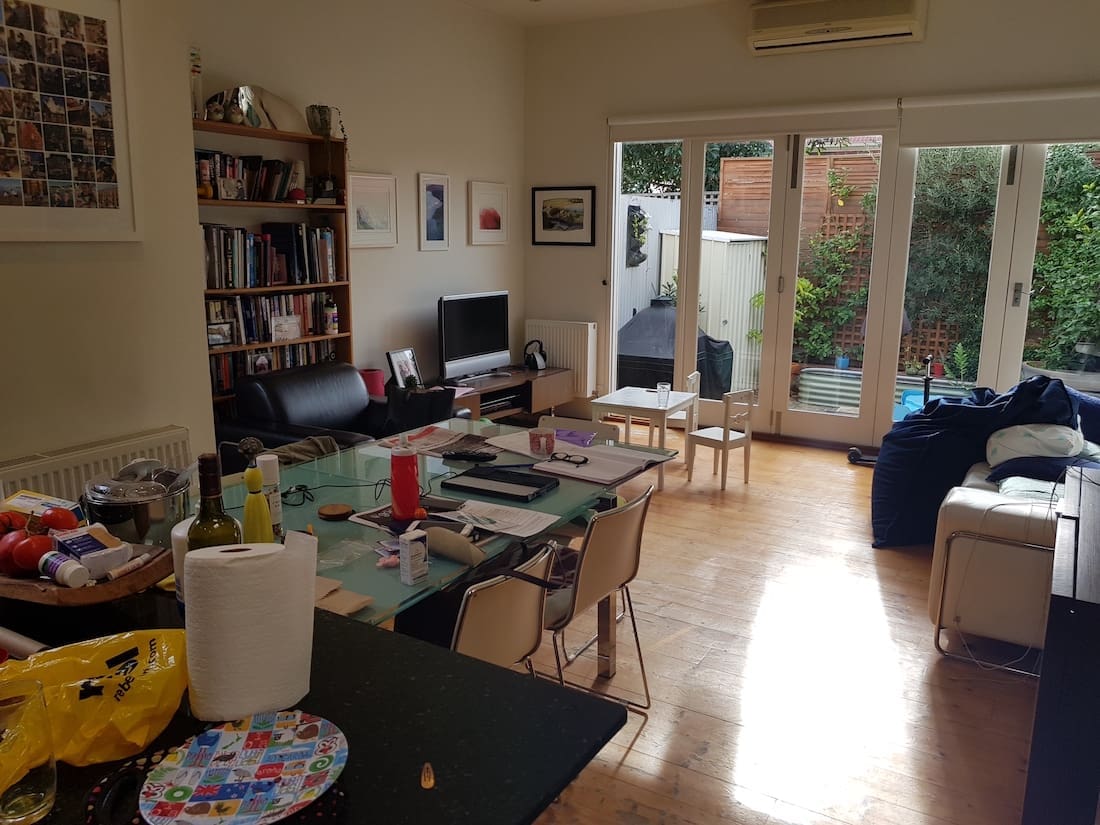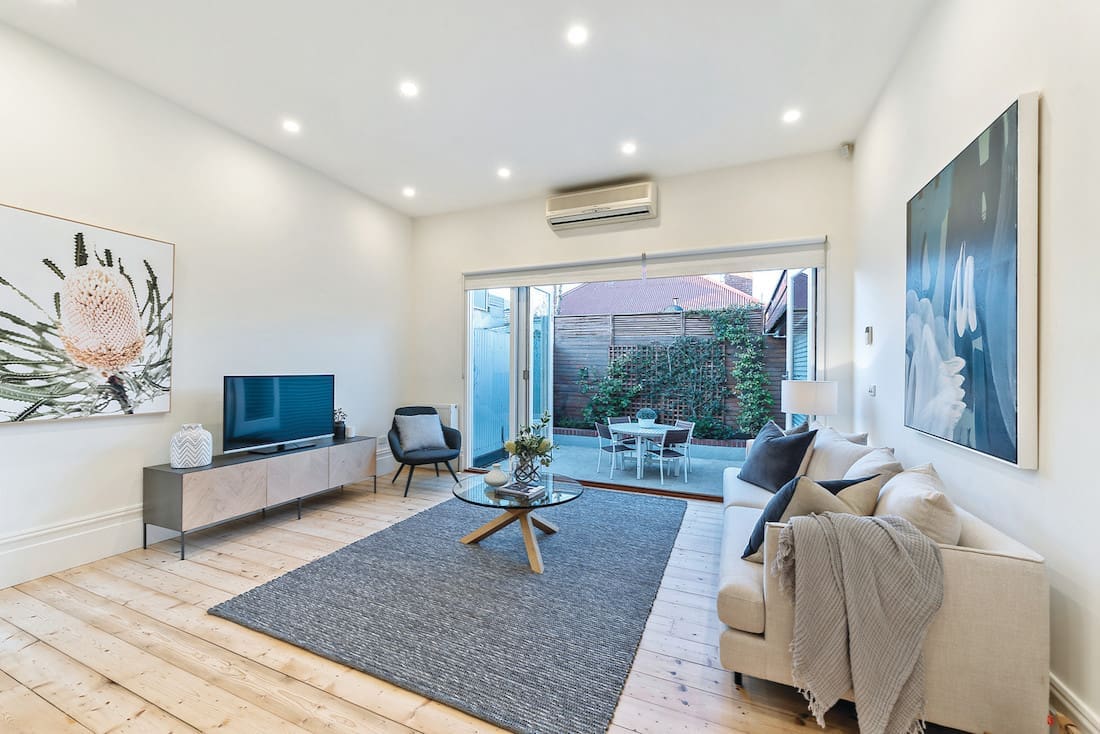 Is a property stylist worth the cost?
This before and after example showcases the value of a qualified property stylist. And yes, it is worth the cost. A property stylist can multiply the space, flow and function of a property. Most importantly, they apply the contemporary styling required to appeal to a wide range of buyers.
A property stylist should cost more than furniture hire. The service encompasses hours of planning and vision to ensure furniture is the right size, finish, form and colour to suit the home. An untrained eye lacks the experience to coordinate all the aspects in their mind.
Furthermore, a property stylist will also provide advice for small works that can add serious value. Consult them early in your pre-sale preparation to give yourself time to action their advice.
About the author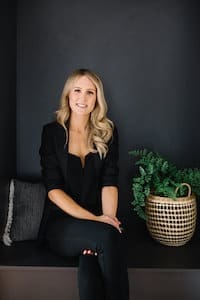 Emma Tobin, Director and Lead Stylist at The Urbane Property Stylist, holds a B.D. (Interior Design). With over ten years experience in Interior Design, Landscape Architecture and Property Styling, Emma has earned a reputation for her attention to detail and her ability to deliver.
The Urbane Property Stylist was born out of Emma's love for creating beautiful spaces. She has a passion for colours, textiles, shapes and all things styling. So much so, that when her home ran out of space for all her loved pieces, she realised it was time to style outside her home and into yours. When styling your property, Emma applies the same care and attention to detail that she would to her own.
Web: theurbanepropertystylist.com.au
Facebook: facebook.com/theurbanepropertystylist
Instagram: @theurbanepropertystylist