Over the years, we've featured artists who just pick up a paint brush and get going on an artwork… or some who like to start by sketching out a composition to plan a piece. But never have we discovered an artist who begins by fully creating a digital version of their artwork. Until now — introducing Sarah Leslie. It's her background in graphic design that enables her to create these intricately layered and precise Australian botanical artworks.
Guaranteed to make you look at least twice, we chat with Sarah to learn more about her artistic style and inspirations.
Related article: Marcia Priestley: Taking the international art scene by storm with abstract works
Related article: Painting happiness: The colour, joy and textured artworks from Kelsie Rose Creative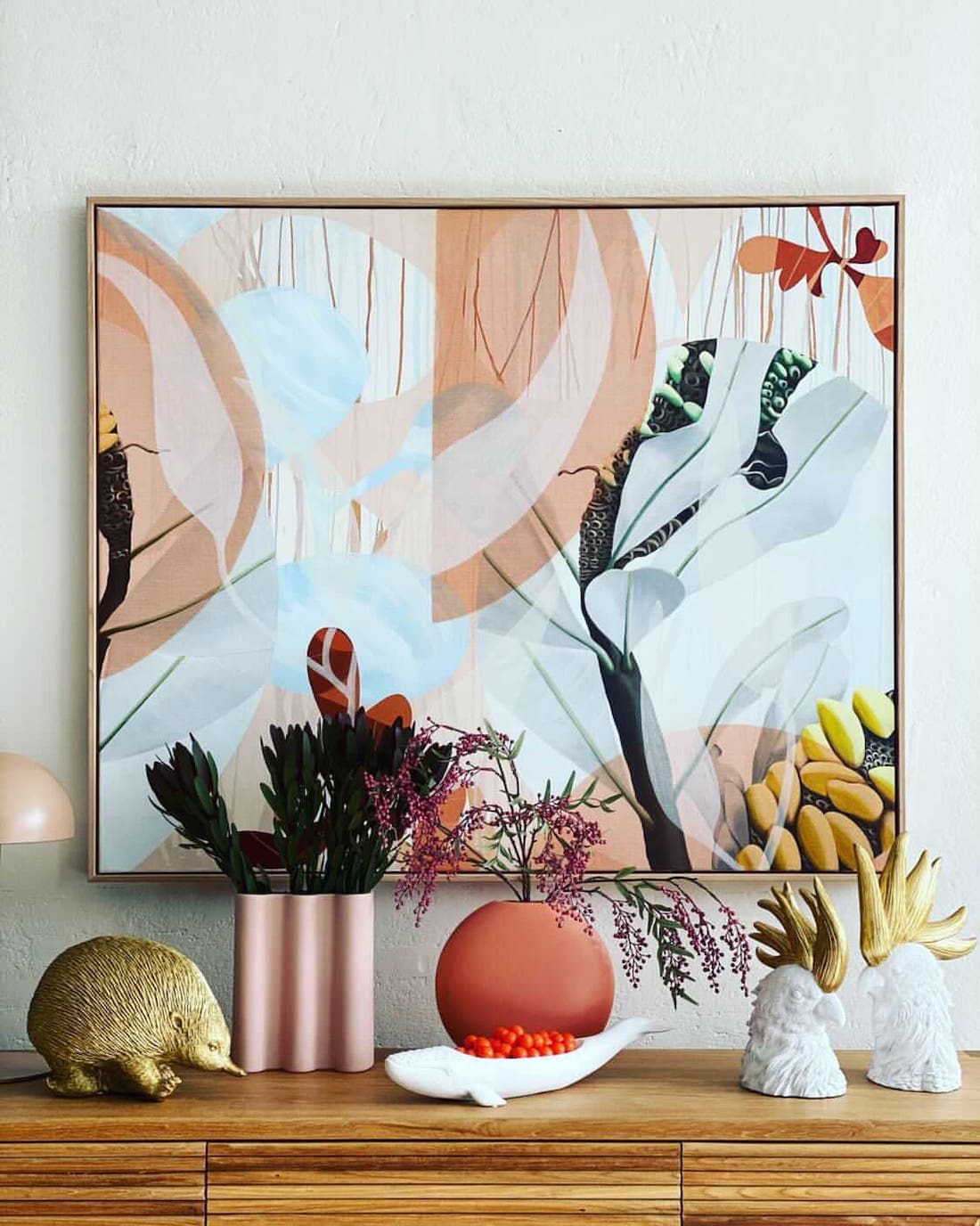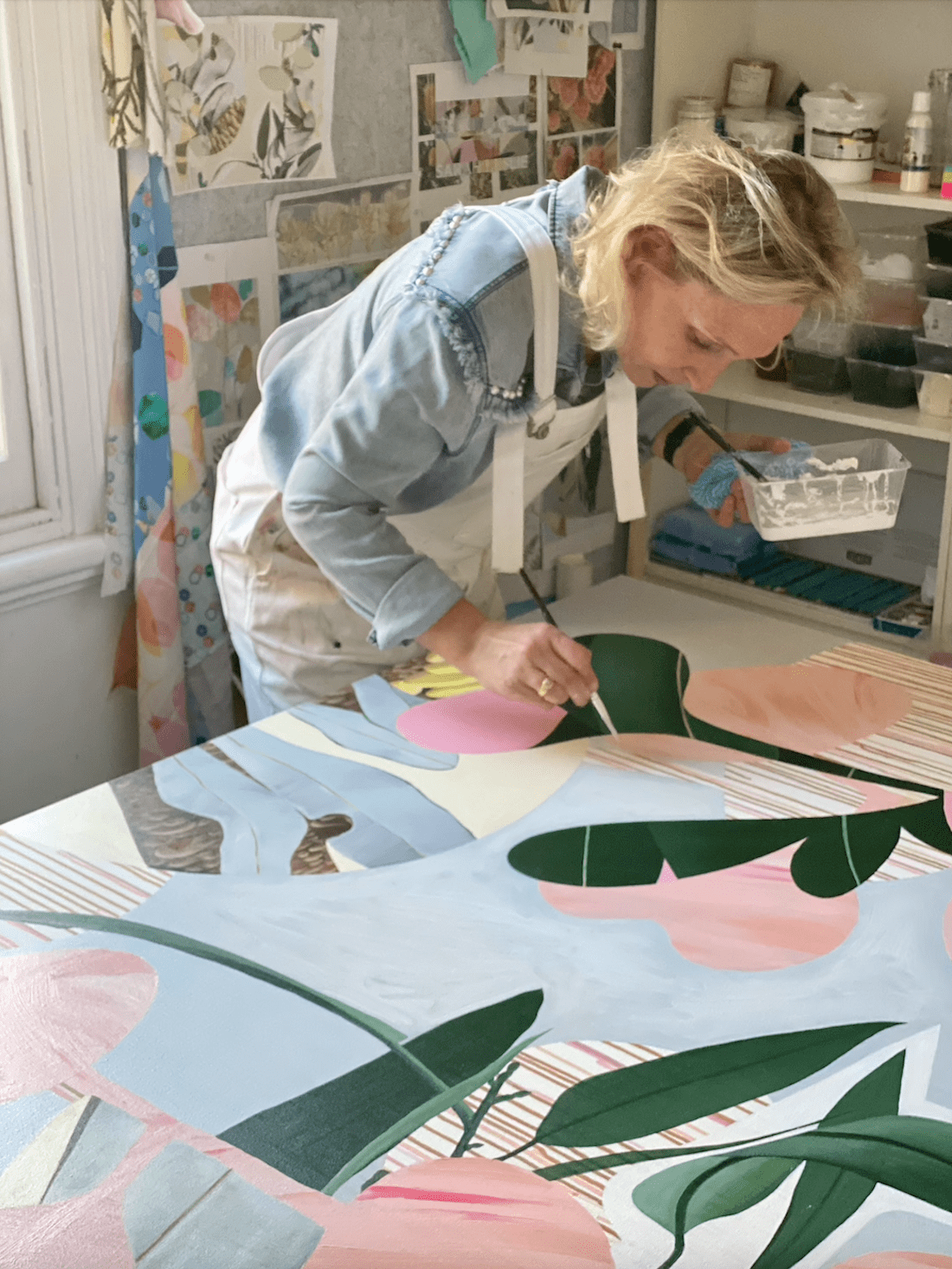 Sarah's love affair with art began as a child.
"I have drawn with pencil since I can remember and my parents always made sure I had cartridge paper and pencils at my disposal. They were really wonderful about encouraging my talent and gave me every opportunity to explore the world of art.
"I studied graphic design at university and worked in this industry for years. My graphic design background has a strong influence in my work. It's evident in the precise edges, transparent multiple layers and palettes.
"After uni, I worked at various advertising companies in graphic design. When I started my family, I kept my hand in the design world and freelanced too. After my second son was born, I started to dream of picking up my pencils again and to paint."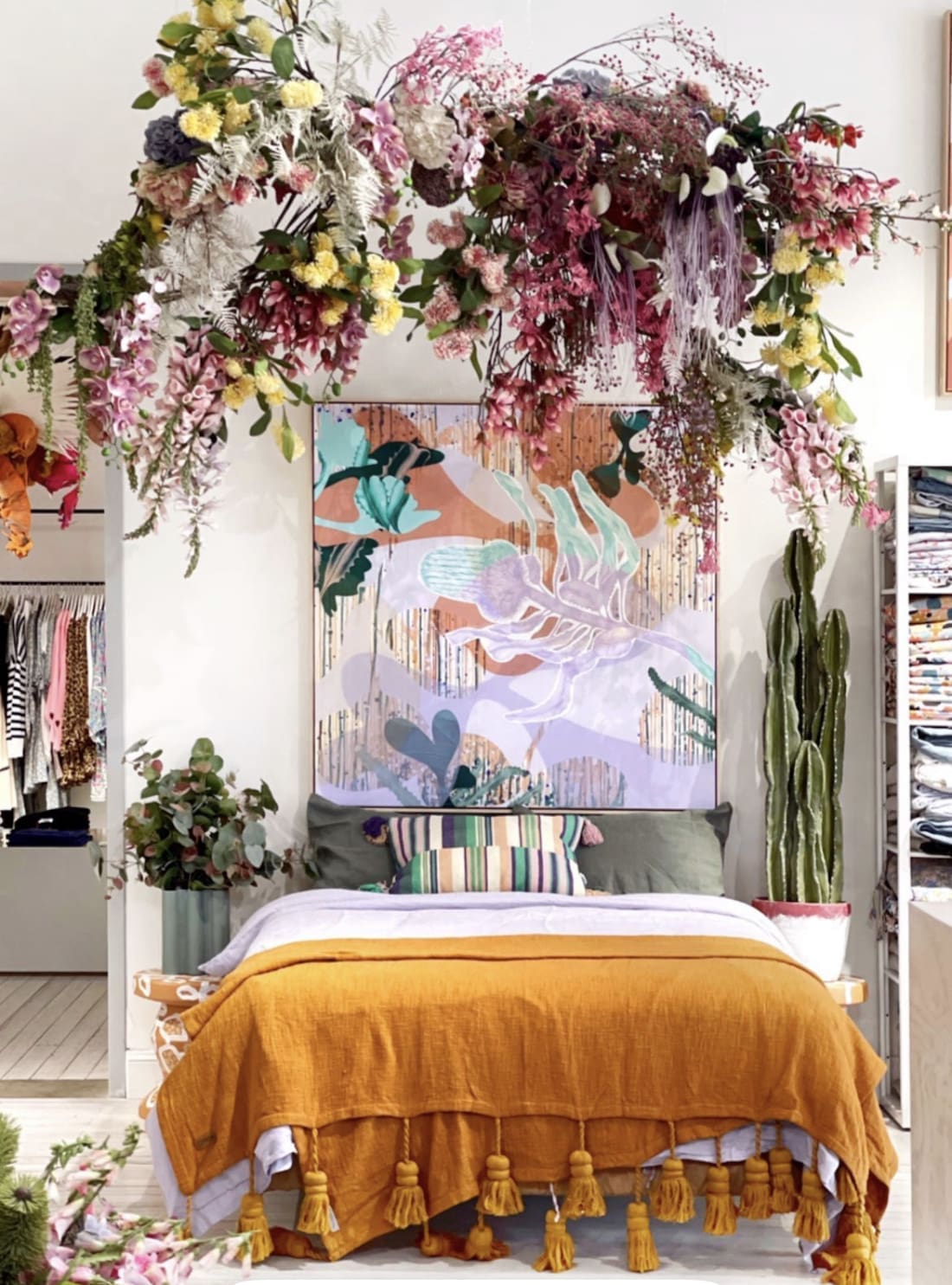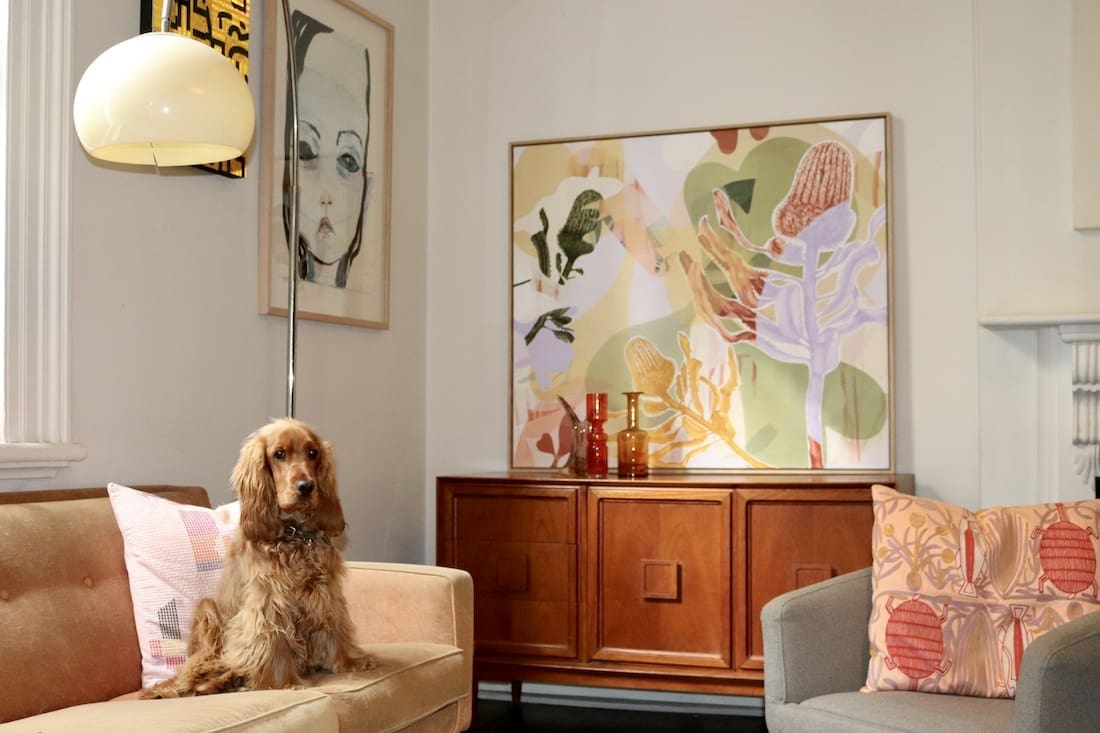 And that's exactly what she did. Now a busy Mum of 4 (5 if you count her fur-child Chilli!) Sarah is a full-time artist based in St Kilda, Victoria.
"When the kids were younger, I rented some studio space to work and develop my abstract style. It was incredibly valuable to me to have that time out from being a Mum. I saw the importance of it and I adored my 7 years in that studio!
"Now that my youngest is 15, I work from home. I start most days with a run along the beach. I'll then have that all important first coffee before heading to my at-home studio.
"It's such a luxury to have unlimited time and access to indulge my passion," smiles Sarah.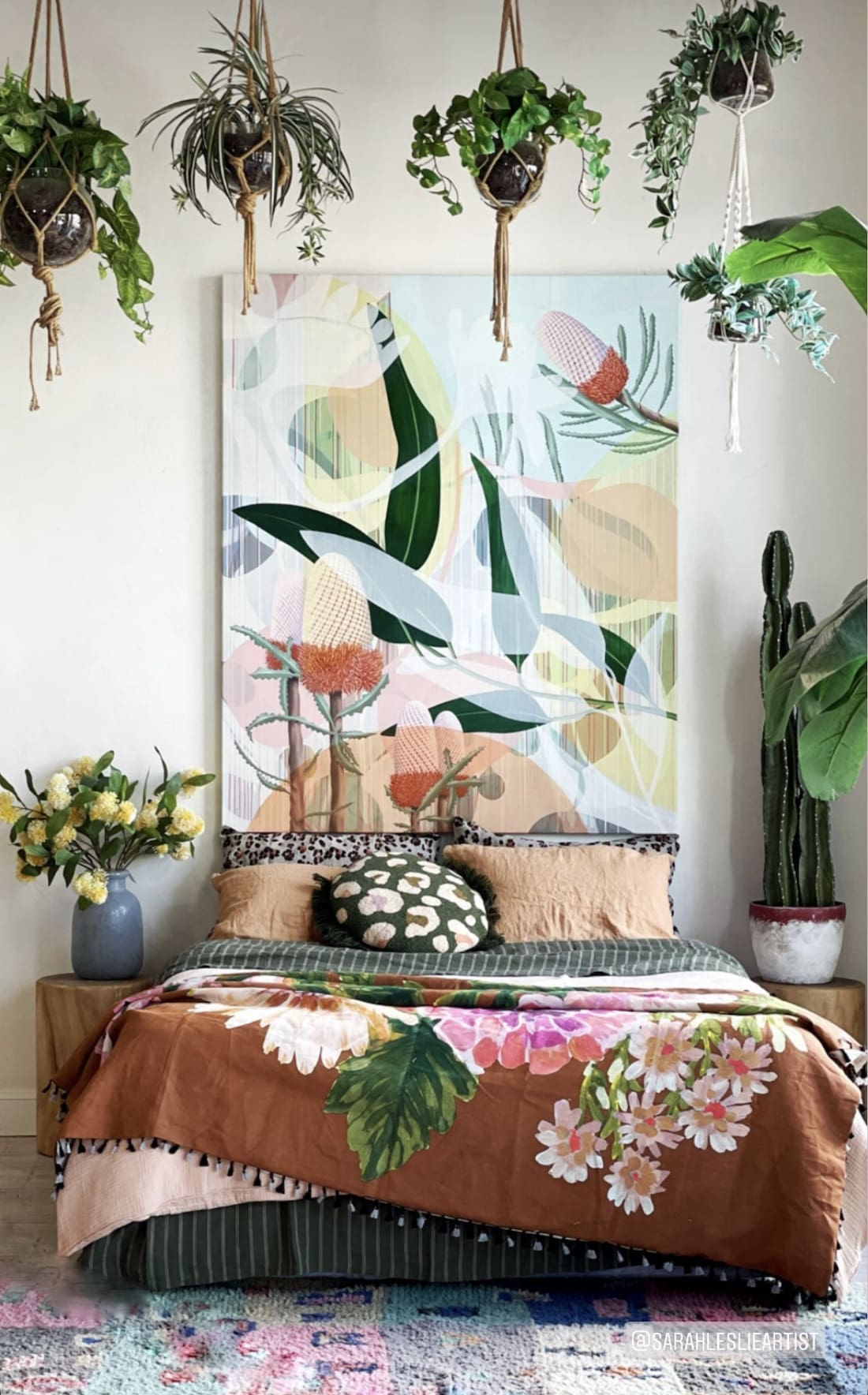 There's no denying Sarah has developed a unique artistic style defined by intricate layers, realism blurred with abstract, and dreamy colour palettes.
"With a strong background in design, I create all my concepts in Illustrator on my laptop. This way I'm able to slowly evolve a concept and play with different compositions, palettes, layers and scale.
"These tools of my trade give me a huge amount of design freedom and options to explore concepts and push myself outside my comfort zone without committing to anything in hard copy," Sarah explains.
"Once I'm happy with a draft, I will print it out and paint from an A4 mock up. It almost always changes as I lay down the layers and colours. I allow the process to navigate the journey and happy accidents occur!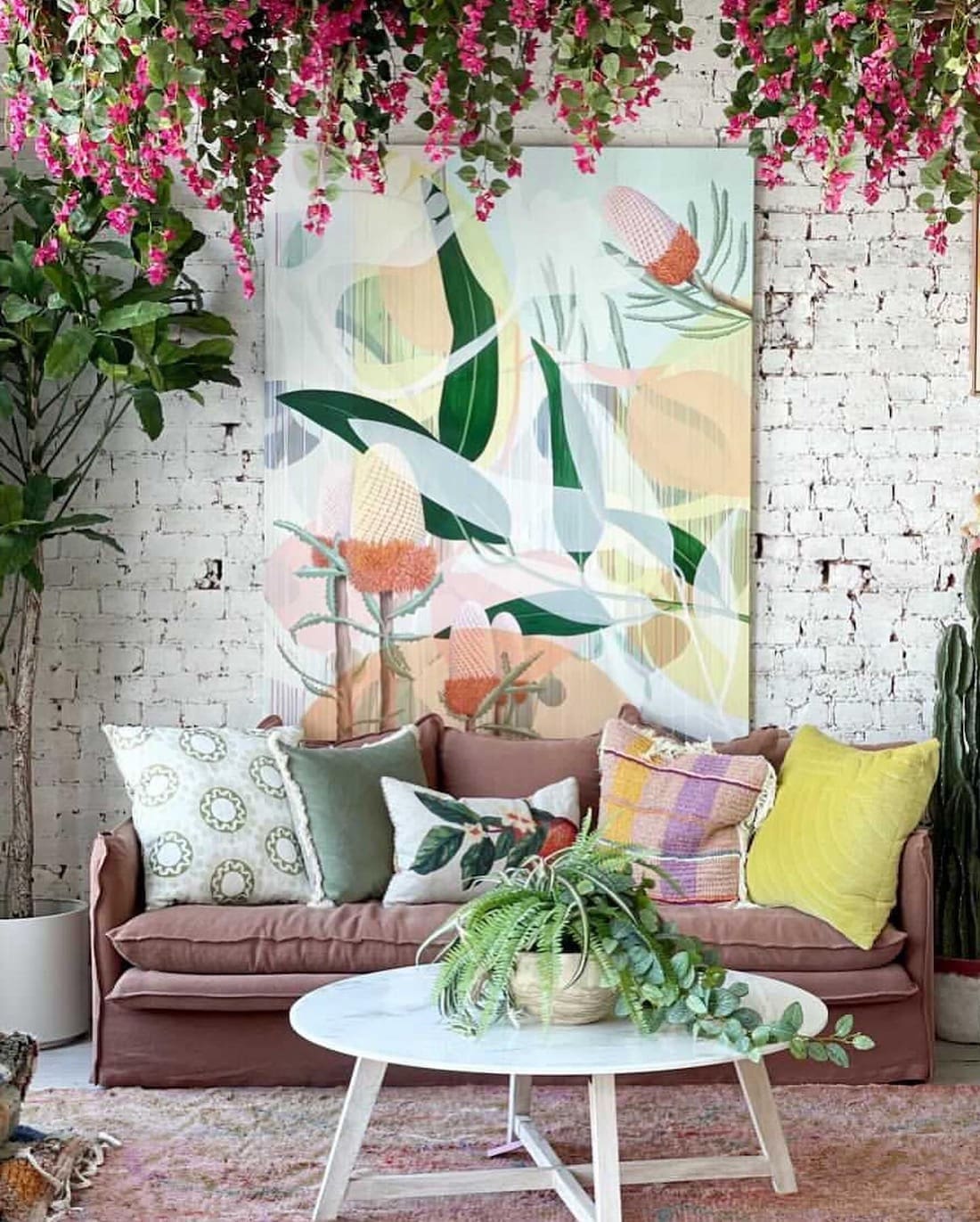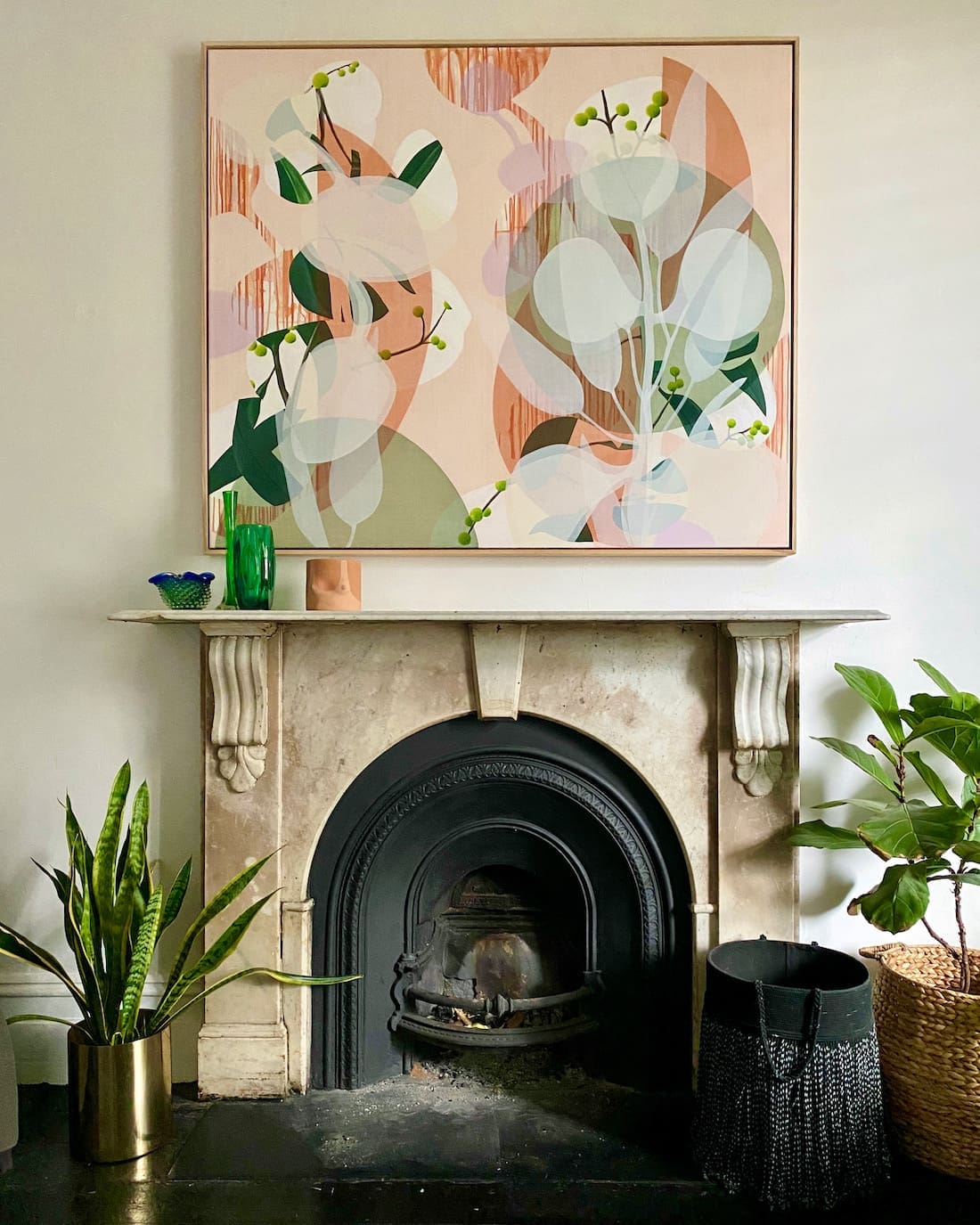 There's a clear and distinctive Australian theme that runs through Sarah's artworks.
"My paintings are inspired by our Australian native environment. The characteristic light at different times of the day. The colours of our landscape," Sarah explains.
"Indoor plants have become an obsession, and are creeping into my work lately. So are the colours of quintessential Australian home interiors. I love my home and have passion for interior design. I can't help but be influenced by palettes and shapes in design, fashion and interiors.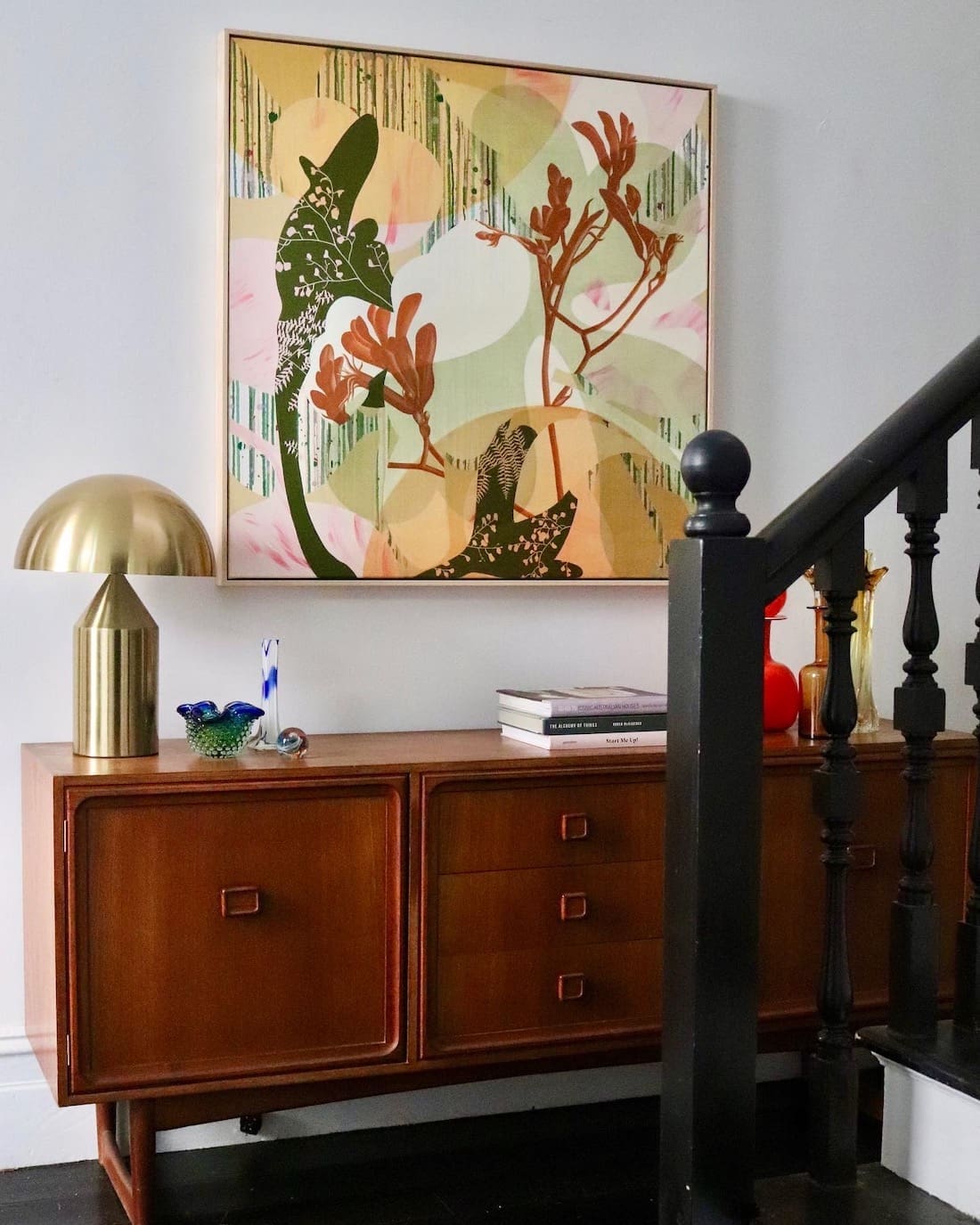 Not content with just creating stunning works of wall art, Sarah recently introduced linen throws to her collection.
"Creating a range of organic bed linen featuring my artwork was an idea I had when we moved to Bali in 2011. Back then, I faced massive challenges as digital printing was only just emerging and the island didn't have the suppliers I needed," Sarah recalls.
"Too many hurdles came my way, so I put the project to bed until last year when I had a conversation with a friend who encouraged me to bring the idea back to life.
"I've started with linen throws and I guess we'll just see where it takes me! I love the result of the throws with the special details I added.
"The gold and neon thread, and the raw edges really add another dimension to the original artworks they feature. They really allow them to stand out from the crowd."
A massive thank you to Sarah Leslie for sharing her artistic journey with us. You can keep up to date with Sarah on her Instagram page or explore her website to see more of her incredible artworks.
You can also discover Sarah's original artworks and textiles available at these wonderful stockists: Jumbled, Crate Expectations, Scout Home + Soul and her name was Nola.