After a recent scroll through Etsy (is anyone else as addicted as we are?!) we stumbled across the playful designs from Soleil Studios. A happy and beautiful discovery, as we're sure you'll all agree!
We caught up with designer, Tiffany Wys, on how she creates her rope rainbows and graphic art pieces, born from a new found love and hobby.
Related article: A chat with ceramic artist Wendy Fisher from Mrs Fisher's Pottery
Related article: Meet the makers: Alison Jackson handcrafted tableware and jewellery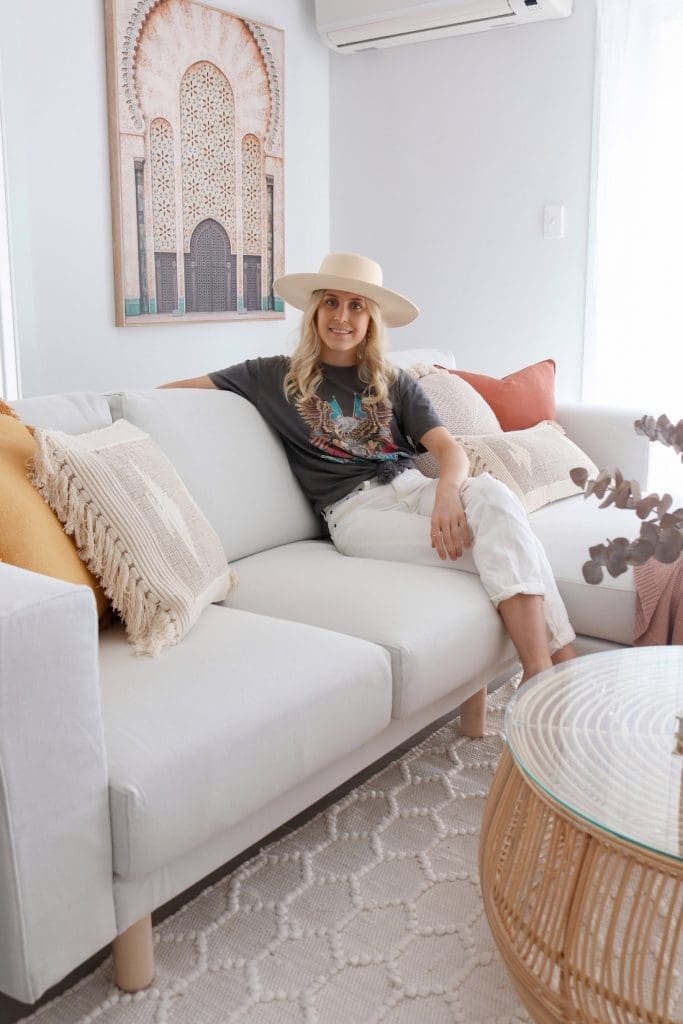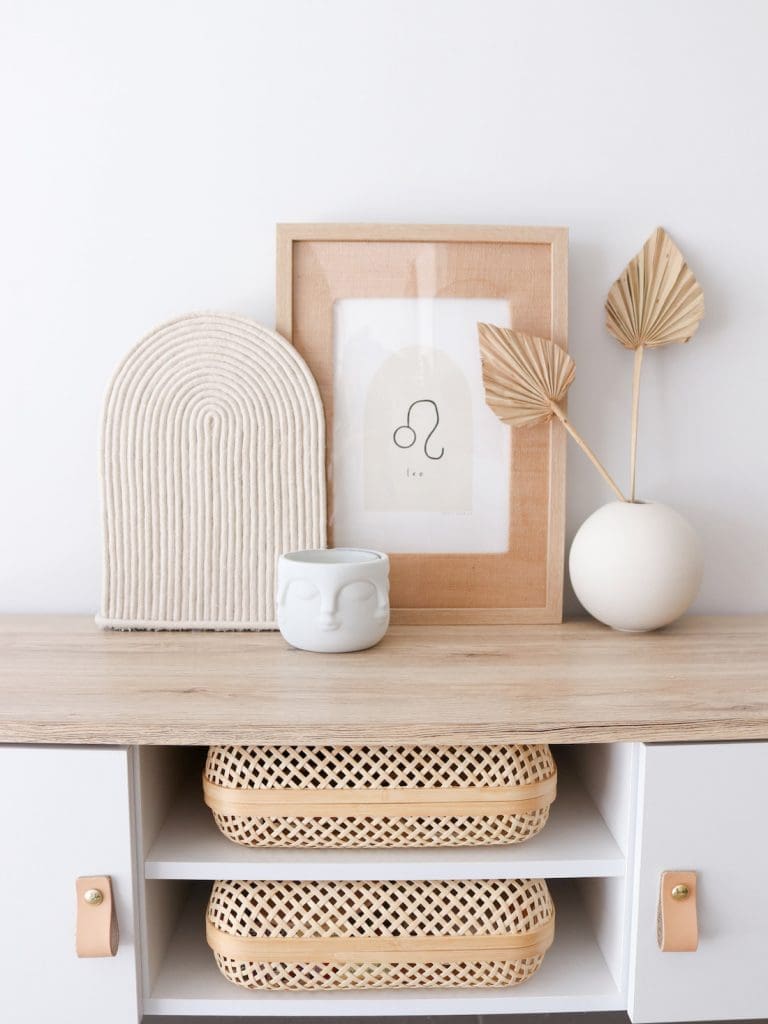 Already a lover of interior design and decorating, Tiffany started Soleil Studios as a passion project.
"Soleil Studios came about when I found a new hobby in graphic illustration," Tiffany explains.
"I started doing illustrated photos of my friends and family, I created abstract prints and then decided to open my Etsy shop.
"Next up, I released my Zodiac collection — I love zodiac signs and astrology so I decided to combine it with my new found love of art."
Shop our faves: Soleil Studios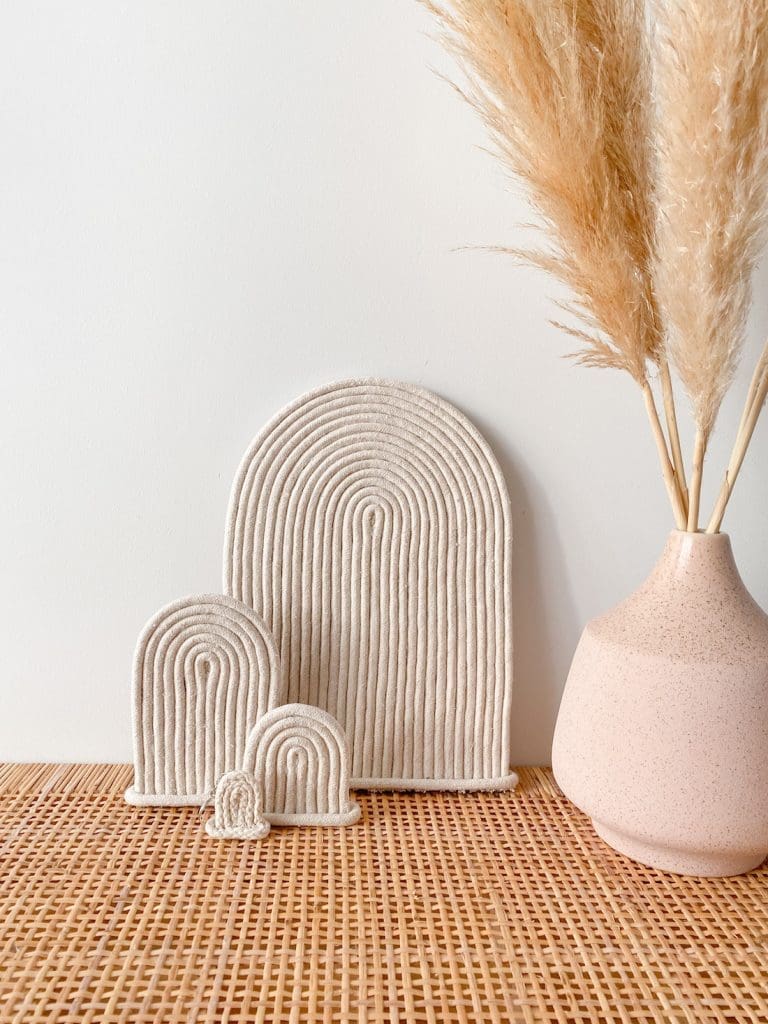 As well as graphic illustrations — and certainly what caught our attention — Tiffany designs handmade rope arch rainbows.
"I needed something minimal to suit my new home and the rope arch rainbow was just a random DIY project I was considering!
"Then, when the recent isolation period hit, and temporarily having no job, I had some time so I decided to give it a go.
"My friends loved it, then one stranger loved it and asked me to make one for her… and then another, and another! So that's how they came to be on my Etsy shop!" says Tiffany excitedly.
"I started making them in different sizes after my sister requested a mini one for her nursery and believe it or not, the mini is the most popular piece now.
"I really just give my customers what they want. They ask for it, and I create it! Many of them are return customers, which is amazing.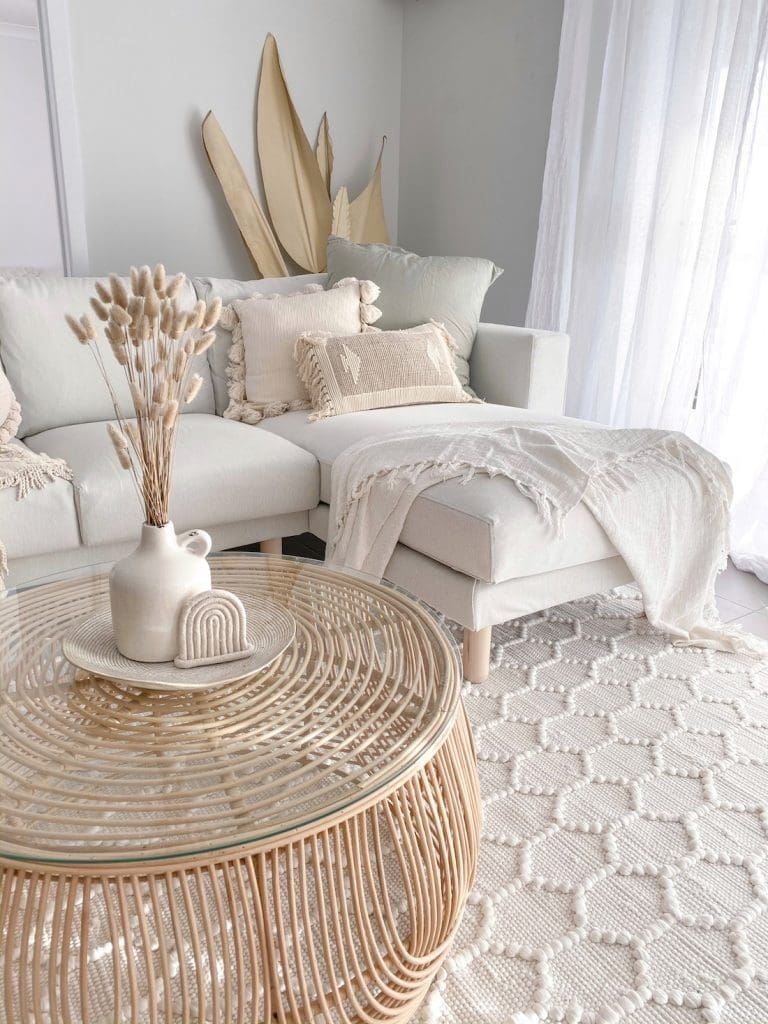 Known for her simple, natural colour palette, Tiffany's creative style fits right in to her own beachy abode.
"Neutral goes with anything, and I really love the minimal aesthetic of it. I recently moved out on my own and did a mood board for every single space," she laughs.
"Surprisingly, living by myself has been very soothing for my soul and great for my creative mind."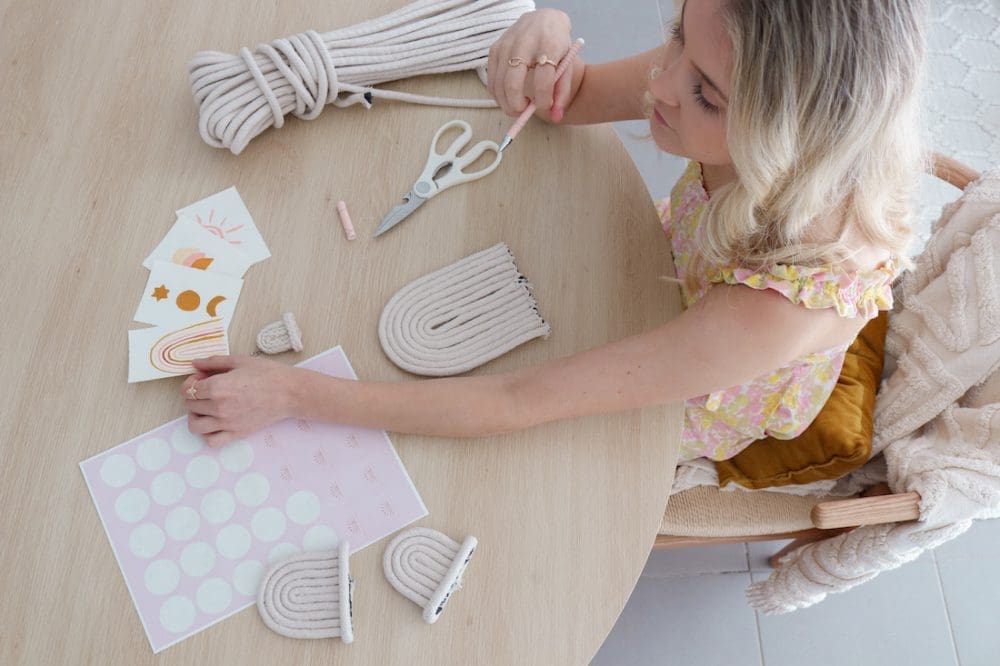 Starting her craft as a side hustle, Tiffany proves that if you love it, it doesn't have to feel like work.
"Soleil Studios is my side hustle. Before work, after work, and on my days off, I am working on Soleil Studios.
"Anything from hand making pieces, packing orders, photographing products, designing new prints or sharing things on my social media channels.
"I love working on my little business and it has achieved so much more than I ever thought it would.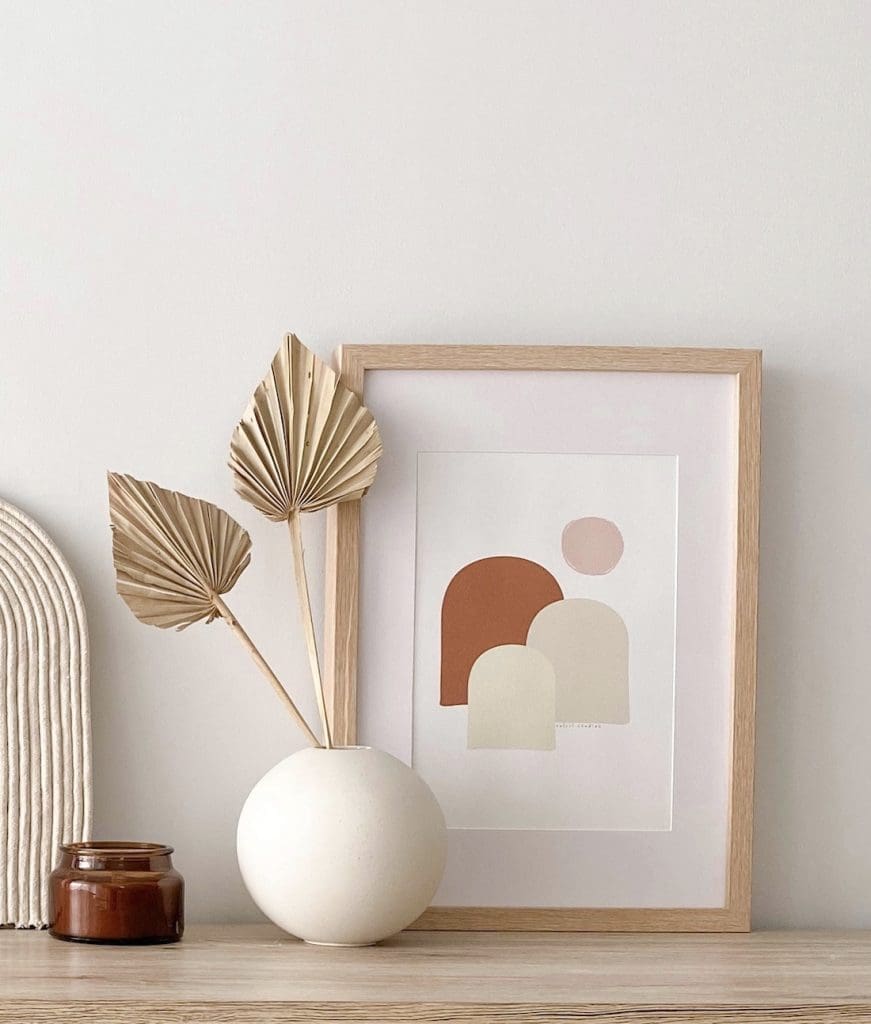 Constantly thinking of new ideas and projects to keep her busy, there are certainly bigger (and brighter!) things in the works for Tiffany and her beloved Soleil Studios.
"As a designer, I constantly get creative ideas, especially late at night right before I go to sleep. I keep a dedicated book next to my bed now, so when I think of something new, I write or draw it to explore at a later date.
"When it comes to creating something new, I just keep trying new ways until I love it. The initial concept I had in my head often just continues to evolve until it becomes the finished product.
"I have been thinking about adding some different materials and colours into my collection so there are definitely some new ideas being thrown around," says Tiffany.
"Recently some local homewares and baby stores have asked to stock my rainbows and art prints which is SO cool. I never thought established businesses would come across my products, let alone want to stock them!
"I would really love to make Soleil Studios my full-time job — that's the goal. I'd love to create more home decor pieces and eventually have my own website or perhaps a little market stall."
Thank you so much to Tiffany for sharing her creative journey with us. To see more of her handmade designs, check out her Instagram page, or visit the Soleil Studios's Etsy store.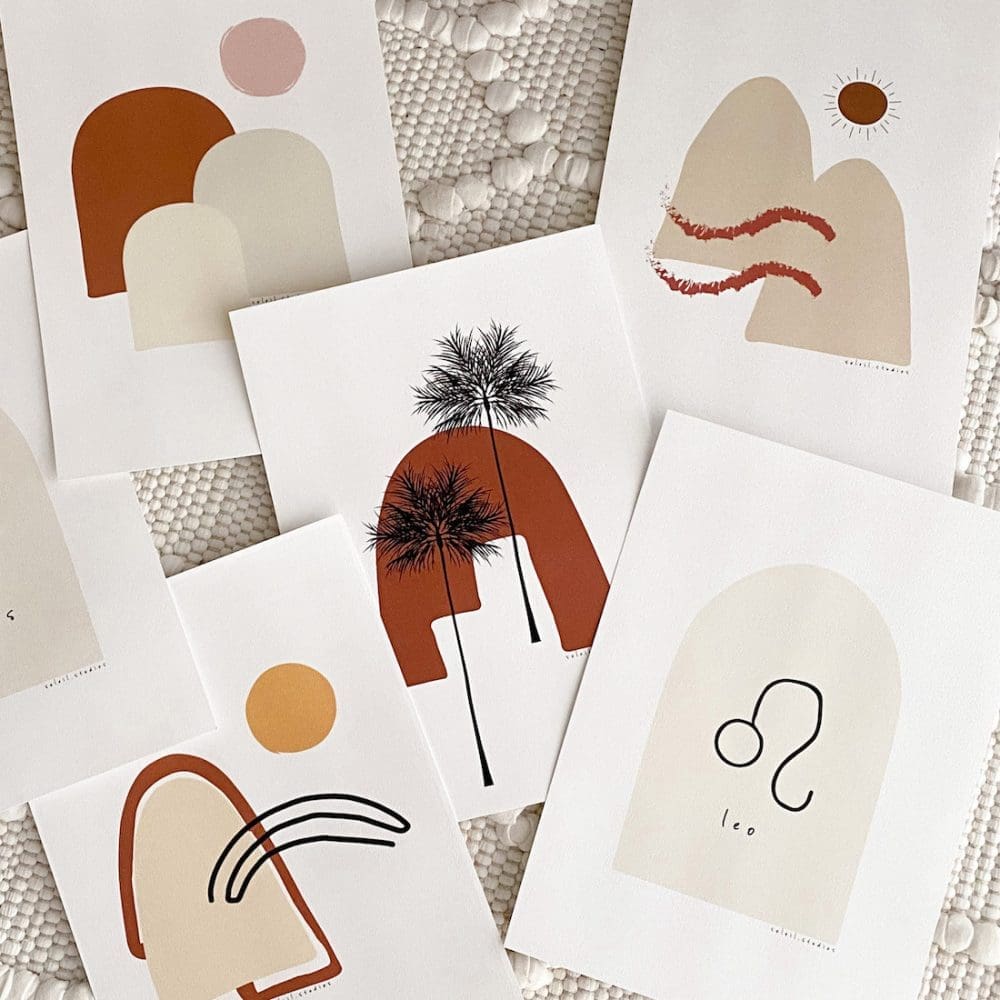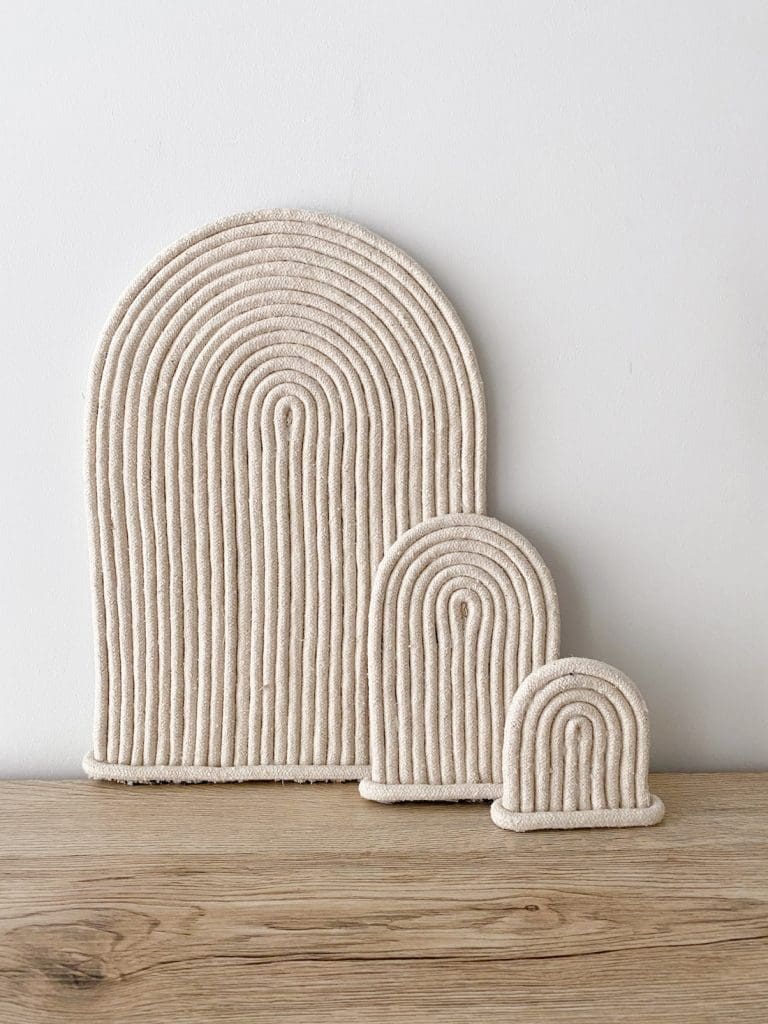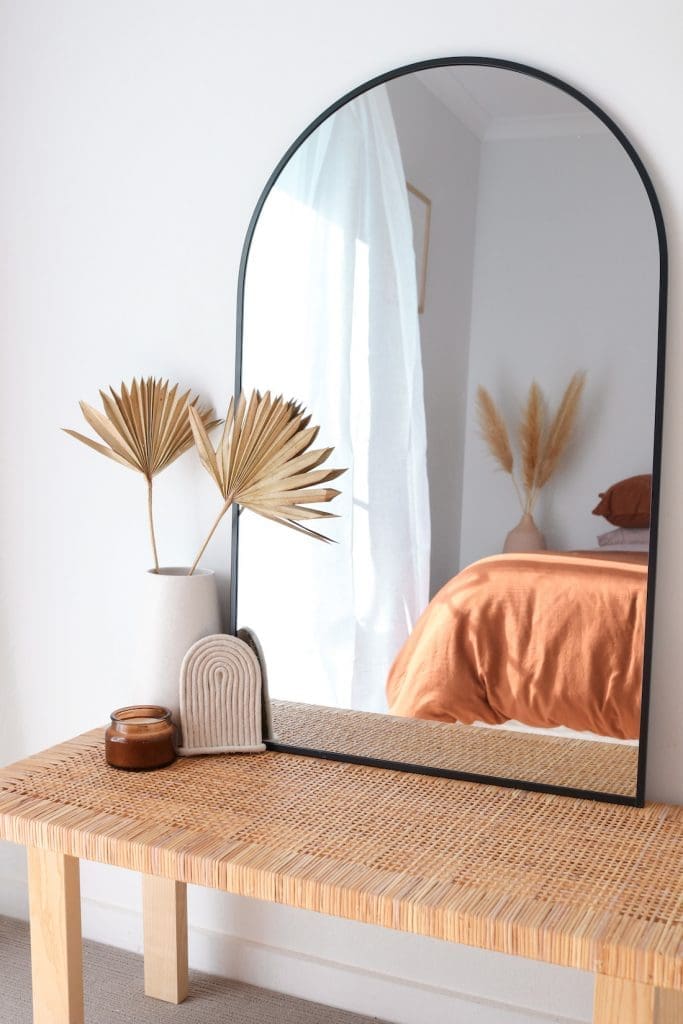 Shop our faves: Soleil Studios
Disclaimer: We're proud supporters of Etsy and this post contains some affiliate links. This means that when you click on a link and purchase something from that site, we may make a small commission at no extra cost to you. We promise we only work with brands we know, love and trust.