Supported by Forty Winks
We're so excited Spring has decided to show its pretty face and we can now bring some summery freshness into our homes!
The bedroom is one of the first spaces we like to transform when the seasons change — it's where most of us spend the majority of time in the home after all — and this Spring the bedroom furniture trend is all about tasteful upholstering and light or reclaimed timber in timeless clean designs.
Thanks to Forty Winks, we're sharing some of the freshest bedroom designs and giving our tips on how to style your bedroom this Spring.
Bed trends
Super dark timber furniture or overly complex/busy designs have seen their day and this Spring it's about embracing cleaner designs and crisper finishes.
Upholstered bedheads, particularly in grey tones, continue to be popular and our favourite pick has got to be 'Tara' from Forty Winks (pictured above), which brings a modern edge (those legs are soooo fine, he he). Or if you prefer a more classic and elegant design, the 'Cino' with its curved wing design and button detail tracing the bed head arc may be more your style.
Timber is also making a comeback in fresh new ways, focusing on quality craftsmanship. Dark and heavy mahogany woods have been replaced with blonde and chocolate tones, and even multi-coloured stained one-of-a-kind look and feel pieces like the 'Crisp' bed that is constructed from recycled pine. Something all these timber beds have in common though is a classic, clean design.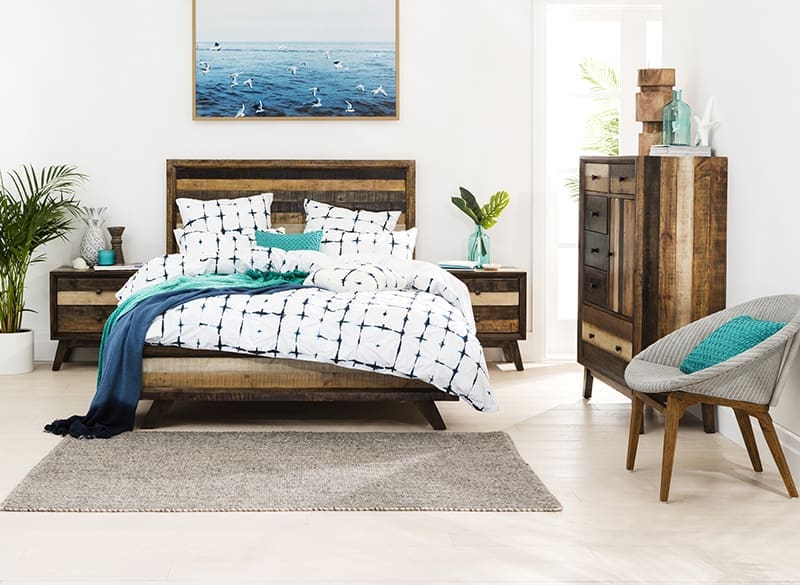 Bedroom furniture trends
If you're looking to update your bedroom furniture too, we know how hard it can be to find stylish and quality furniture — particularly bedside tables!
This season we're loving bedside tables with Scandi-style legs — the two-drawer design or one drawer with open shelf are among the most popular.
While there are some super-budget simple design pieces on the market, something they lack is quality hardware. So if you're in need of bedsides or a tall boy that will last longer than a few months (or even weeks) before running off the tracks, it's worth spending a little more to buy a piece that will last the distance.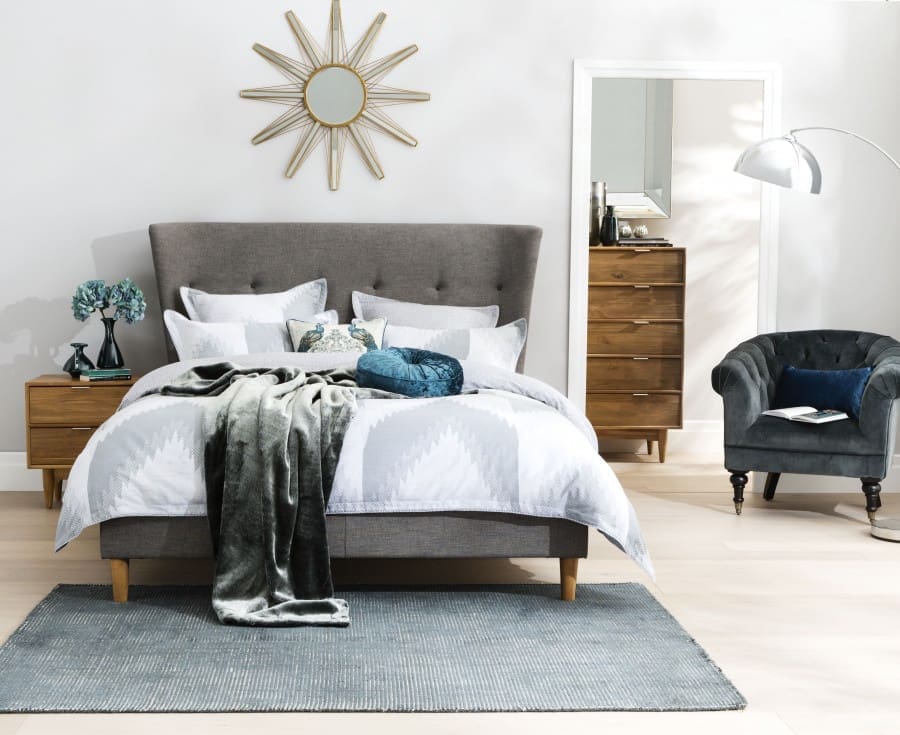 We love the idea of mixing and matching furniture too. Play with different finishes to create a complete bedroom look with interest but remember to keep timbers to a similar stain treatment i.e. all pale, medium or dark. But if the thought of this is a little too daunting, you can always add interest with bedding, art and décor… we'll get into this in a sec.
Bedding trends
The addiction that keeps us in a state of constant bankruptcy — bedding!
Spring/Summer bedding collections are being released and there is so much gorgeousness to keep an eye out for this season, including:
– Gelato and ocean tones – summery pastel colours in block or geometric patterns, or ocean tones, are the fresh new bedding trends we're loving this season
– Quirky patterns – the perfectly symmetrical geometric patterns that were so big last season have evolved into more quirky designs — mixing block colours with bold prints in one design is a new trend to watch for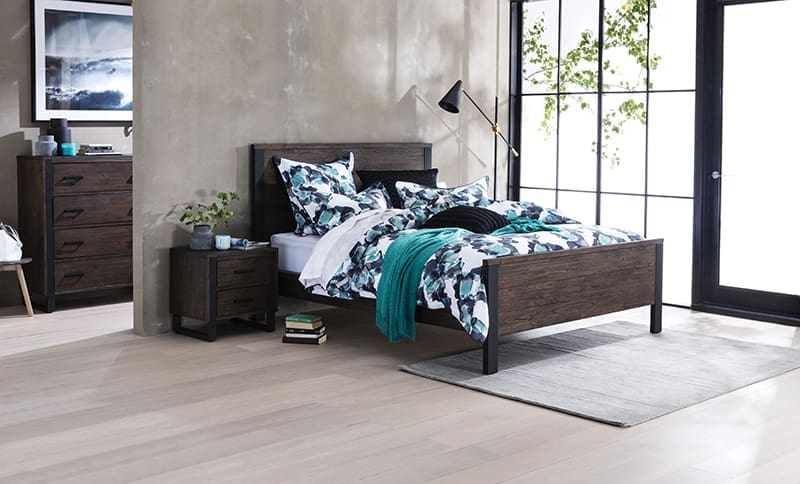 – Mixing prints – this season it's time to push outside your comfort zone and embrace mixing up prints and colours (particularly with your cushion styling) to create a bed with maximum interest
– Embrace shapes – again, you can up your cushion styling game by looking beyond standard cushions and picking up some smaller square, rectangular and round cushions (that blue cushion in the pic above is giving us heart eyes). The last year or two, some people were saying the Euro cushion had died but all signs are pointing to a resurrection this year
– Lighter weight throw – complete the bed with a throw at the foot of the bed. While chunky knits and furs were a must during Winter, it's time to look at lighter weight and possibly even more colourful options. If you're not sure what colour to pick, take a cue from artwork in your room or create your own colour palette by selecting two colours and a neutral such as a light and dark ocean blue and white, or a more daring sky blue, sorbet peach and soft grey.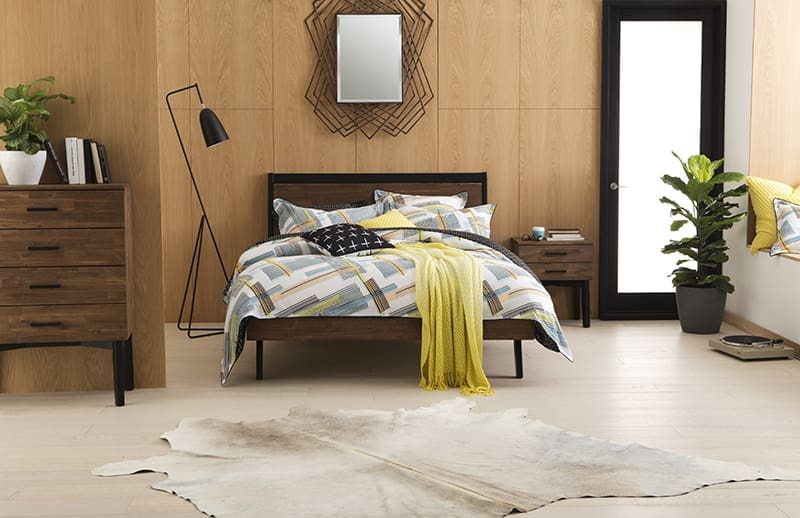 Bedroom styling trends
When it comes to styling, so much of the impact is created with the final additions or things you edit out.
To create a bedroom you'll love this Spring, consider:
1. Layers – layering textures, patterns and colours will create a space that feels inviting and luxe
2. Colour palette – a winning room is often the result of a winning colour palette. Consider the colour of your furniture, walls and flooring before selecting a colour palette to embrace this Spring and remember the trending colours you may want to incorporate — Gelato shades and ocean blue tones

3. Plants – it's Spring after all so inject some of life with greenery. Even plants go through trends and the ones to look out for this season are the Rubber plant, Jade, and Devil's Ivy
4. Walls – too often we just think about floor space and the bed that we neglect the opportunity to bring style with a gorgeous mirror, artwork or other decorative wall pieces
5. Less is more – a bedroom is a space to relax, so keeping the space clutter-free and pared back will help to keep it a space you'll enjoy and can truly relax in.
Of course, Spring bedroom styling isn't just for adults. You might like to show your kids some styling love — all these styling tips apply but you can colour a bit outside the lines and opt for quirkier décor, bolder colours and more whimsy styling.
What do you think of these latest bedroom trends? Will you change things up in your bedroom this season to create an inviting space you'll love to wake up in?
You can shop all the bedroom furniture featured in this post at Forty Winks stores or check out their website for more from their latest Spring/Summer collection.